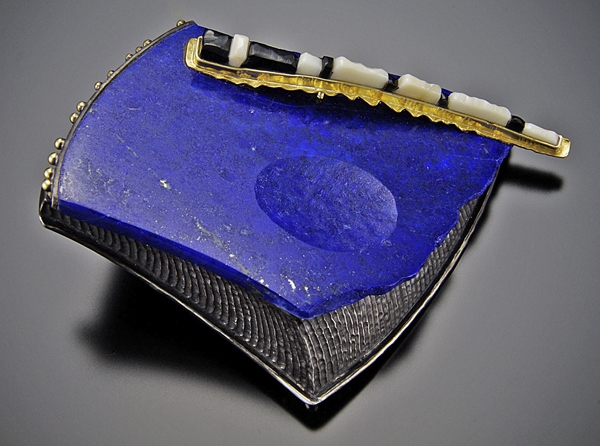 Susan and Jeff Wise collaborate not only as man and wife, but to make jewelry together. The couple is known for cutting their own sculptural gemstones and integrating them into bold designs—their work has been collected by the Smithsonian American Art Museum and the Museum of Art and Design in New York. On the occasion of their show, An Exhibition of Modern Jewelry, at Patina Gallery, I had the chance to ask them a few questions.
Olivia Shih: This is your first gallery exhibition in two years. Did you take a hiatus from gallery exhibitions, or does it take this long to prepare for a show? Why exhibit now?
Susan and Jeff Wise: We show in galleries on a regular basis, but this is an unusually large collection for us, and it's especially exciting to have it featured in a gallery as beautifully curated as Patina. We have a very long history with Santa Fe—in Jeff's case, going back to his teens in the 60s, when the family would take road trips from their home in Denver in a 1948 Chrysler Town & Country Woodie. In those days, there were lots of highly skilled Navajo and Pueblo silversmiths selling their work under the portico of the governor's palace, where Jeff bought turquoise heishi beads.
We currently are able to produce around 60 pieces a year, and we'll have around 80 pieces at Patina, so this show represents a significant amount of bench time. Many of the pieces had been put aside as our own retrospective collection, and we don't normally show them or offer them for sale—but together, Allison and Ivan (Patina's owners) can be most persuasive. Anything for art. The idea for this show started when Allison came up to Durango and stayed with us while she judged awards for a show at the Durango Art Center, which Susan and I had done the initial jurying for.