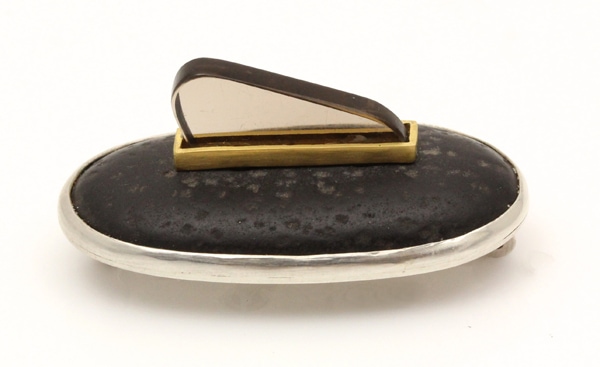 April Higashi is a jeweler who opened a lovely intimate gallery called Shibumi in Berkeley, California, a number of years ago. I know her to be industrious and thoughtful, which is reflected in the work she does as well in how she has structured her life and her gallery. She is lots of fun, a woman of many talents and has a good time making things work in her life. At the moment she is having a show called Geologica by Brigid O'Hanrahan, who works in both porcelain and metal and often combines the two in her jewelry. Her sensitive rings and brooches give you a hint of her shy nature.
Susan Cummins: I know we have worked together in the past, but please refresh my memory about how you got to be the owner of a jewelry gallery.
April Higashi: I've been making jewelry for twenty years. Even in the beginning when I was first starting to make jewelry, I always thought about how it would be shown, grouped together or how it could be worn. When I worked at your gallery (Susan Cummins Gallery, Mill Valley, California) you instilled in me the importance of thought, idea and craftsmanship in each piece. While there, I realized how much I enjoyed aesthetically arranging and grouping the work. I also realized during that time how much I liked working directly with clients. So I knew I would enjoy curating a gallery. When my husband and I were looking to buy a house we found a building that was zoned for partial commercial use. The space was large enough to have both a workshop/studio and a gallery on the bottom floor. With this set up I felt I could continue to be a jewelry maker as well as take on a new role as curator and gallery owner. Originally I was thinking I would only do the gallery part-time. The reality, however, is that I have ended up creating two full-time jobs for myself. Fortunately I am a good delegator and so I have also 'curated' an amazing creative team to help me.