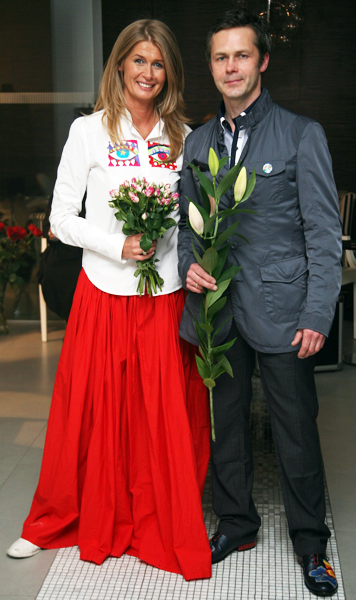 Susan Cummins: Congratulations on being AJF's first Latvian gallery.
Agita Putane: I am excited and happy about it. This is the best birthday present for our gallery. I would like to thank you for this fantastic opportunity. This is a great chance to tell the world that Latvian jewelry designers are highly professional artists and that Riga is home to a fantastic art gallery, PUTTI.
First of all I have to ask why your gallery is called Putti? I know that in renaissance art the 'putti' is a little pudgy winged baby. How does that image work for you?
This story dates back to the times when the gallery was located in another place in Old Riga. Its brick wall had been preserved since the seventeenth century. During that period, baroque dominated in art and in architecture. The figure of the angel was used in paintings and in arches. The figure of angel – 'putto' – in Italian means 'a guardian angel.' 'PUTTI' in Italian means 'guardian angels' (plural). They are protecting us and we feel it all the time. For our logo we used a font from the baroque period.
Please tell me something about yourself and your background. What lead you to open a contemporary jewelry gallery?
My first professional degree is mathematics and the second degree is international economic relations. Art has always been a source of energy for me. It is my belief that when you really want something, the universe will help you to achieve it. This is how it happened to me and the gallery. I met Latvian jewelry artists, I was offered a nice place, came across the right people. This is how I stepped on the path of art and became an art gallery director. A good business is the highest art. I am not an artist but I work in the world of art that I love so much. The first exhibition took place in the gallery on May 31, 2000. It was a solo exhibition by Guntis Lauders . At that time the jewelers were scattered all over the world so that in Riga there was no place where people could see, buy and get to know our artists and their works. The gallery still represents Latvian contemporary jewelry artists.
How would you describe the criteria you use to choose the jewelers you show?
The key criteria is the professional background. Besides that, I simply follow my intellectual and emotional intelligence and professional opinion.
In looking at your website I am under the impression that you present not only jewelry but also clothing and other fashion accessories. Do you feel contemporary art jewelry is best seen as a fashion statement?
The gallery is spacious therefore I could divide it into two parts. The main and most important part is contributed to jewelry works. The second part belongs to fashion. I prefer classically independent fashion, which you can find in the gallery. The clothing is basic black and white – eternal and reliable. Jewelry and fashion go hand in hand. It's impossible to put on a piece of jewelry without choosing clothes. And vice versa. Clothes, jewelry and the wearer are interconnected. There is fluidity. I enjoy feeling this flow. No one in the world is immune against beauty. People have always been searching for beauty both in good times and in bad times.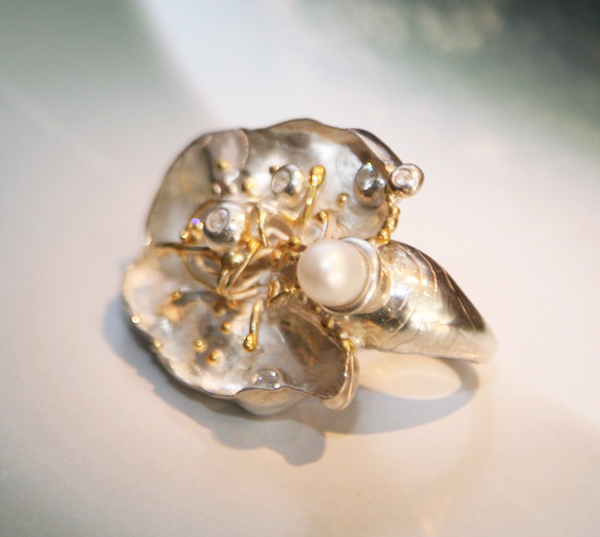 Among all artists represented in the gallery, Maris Sustins is the most romantic one. His jewelry, clothing style, speech have a great romantic note. The world of Maris is a world of fairy tales with stars, clouds, birds, princesses. In this new collection Maris wanted to escape from his old world and get closer to minimalism. Looking at this collection Maris's own words come to my mind: 'You cannot escape from yourself.' I cannot relate the other gallery artists to romantics. Each artist is unique in their own way and in how they express their thoughts and feelings. After all these years of working in the gallery I have come to the conclusion that 'Once you have fallen in love with their jewelry, this will last forever.'
Since Maris doesn't speak English I am going to ask you some questions and I am hoping you can work with him on the answers. Can you tell me something about his background and how you ended up working with him?
Maris held his very first exhibition exactly 20 years ago, after graduating from the Art Academy of Latvia. For a few years his priority was interior design and manufacturing. After a time he understood his own calling – to make jewelry. Maris has had a creative relationship with art gallery Putti for the past ten years.
He says. 'On my daily teaching work I introduce my students to many types of metal processing. We are making projects for interior design objects, environmental objects, learning the basics of painting and drawing, 3D designing and jewelry making. One of the most interesting projects I gave to my students was their final assignment a few years ago. It was called "City 2020." The graduates of the school had an assignment to create a futuristic design object in future city. Students started with an idea and a project, but in the end they realized their idea by creating and manufacturing the object.'
Is this show featuring a new body of work for him? How is it the same and different from past work?
Again I quote Maris: 'The new challenges for me are different processing technologies and materials that I am working with. Rare materials like titanium, niobium, tantalum and molybdenum.'
What is your favorite recent movie?
From Maris: Apocalypto by Mel Gibson

I understand that you love jackets. Who is your favorite fashion designer?
Maris again: John Galianno and Alexander McQueen.
Thank you.