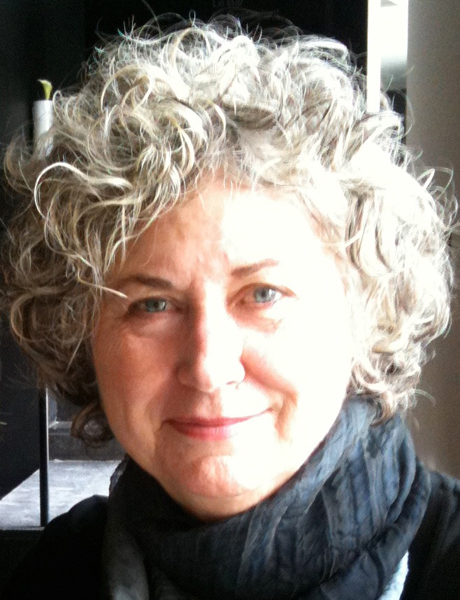 'What is your favorite piece of jewelry and how does it reflect your whole collection?' I am thrilled to answer the question.
In truth I have many favorite pieces of jewelry that are held in a trust called the Rotasa Collection Trust. But I rarely get the chance to talk about any of them or reflect on why I like them, what they mean, the material they are made from, who made them and why that maker is interesting to me, what gallery I got it from and perhaps even a funny or sad story about the process of getting them. In fact I have taken advantage of a number of very polite visitors who feigned interest when I thought I could get away with it. I do love to share my enthusiasm but seldom get the chance.
I know right off the bat that the artist I chose is Dorothea Pruhl. I have eight pieces of hers and she forms the heart of the collection. I have a harder time picking the piece. But first let me tell you what I know about Dorothea. She was born in 1937 in Eastern Germany and until 1961 lived under Soviet rule. She went to school at Burg Giebichenstein in Halle and eventually came back to teach there. She developed new ways to teach that produced work that defied preconceived notions about design and what constituted artworks. She retired from teaching in 2002 and now continues to work in Halle and in the tiny rustic village of Augustenberg. Along the way she has received many honors and has achieved somewhat of a mythical status as a jeweler's jeweler. She has done this by making big, powerful and bold jewelry with the very simplest techniques. It is this old-school quality of doing something simply and beautifully that has endeared her and her work to me.
However, I must admit that it took me quite a while to appreciate Dorothea's work. Were it not for jeweler Kiff Slemmons, I probably never would have paid attention to her. One day Kiff handed me a book titled Jewelry by Dorothea Pruhl when we were looking through some books Charon Kransen had on display at a conference in Boston. She said, this is the jeweler I would most like to meet. I thought the pieces were a bit ugly. But when I finally made my way to Galerie Marzee in the Netherlands a few years later and saw the work in person I finally understood the allure. Marie-Jose van den Hout who owns the gallery was also very clever and told me I couldn't have Dorothea's work unless it was going to go to a museum. She wouldn't just sell to anyone. This of course made me want them even more. When I assured her that it was my plan to do that then she sold me one and since then I have gotten many others. Galerie Marzee is in control of all of Dorothea's work and is careful about how the pieces are placed. That gives me confidence in the value of them.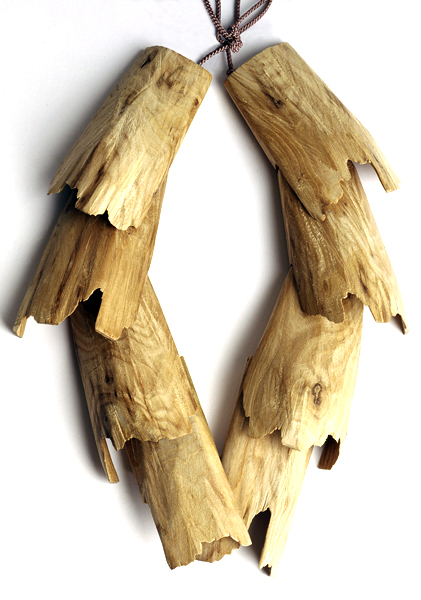 Dorothea is impossible for me to really understand personally because her life has been so different from mine but I love the sheer strength of her work and admire her keen observations of nature. I am inspired by the primitive feeling of a piece like Habicht (Hawk) and yet understand the deep levels of skill that are required to make it. In that conservative, hard-working, old-school way she has made something formal that carries content. The chisel marks are evidence of the time it took to make it. The thin edges of each section break away irregularly, which resembles the wing feathers of a hawk.
In a funny and fascinating article in Artforum about the abstract expressionism movement, the painter Amy Sillman said, 'Even now, as we pass into a time when pencil smudges themselves are an increasingly exoticized thing of the past, the world is still tactile and material. To touch it is to know it.' Picking up the necklace and touching it produces the deep sound of the wood clanking together. The pieces twist and make themselves difficult to place around your neck, but once the necklace is in place the connection to nature in all it's awkwardness is immediate and the weight of the wings is felt. I love the roughness of the wood. It represents real nature, not beautified nature to me. It seems to embody a spirit – a life.