Died Blackheath, New South Wales, Australia, 2014
Margaret West, jeweler and poet, lived a life rich beyond most imaginations. And it was on her own terms, through intellectual energy, fierce love of beauty, and compassion. From what was originally a wide-ranging creative project, Margaret came to value compression, reduction, the exquisite exercise of precise choice—in jewelry and poetry, and recently in dialogues between them.
Originally trained in sculpture and printmaking at the Royal Melbourne Institute of Technology in the 1950s, Margaret returned to study ceramics, painting, and gold- and silversmithing in the 1970s. Widely read, intensely musical, a lover of philosophy and other varieties of conceptual elegance, she finally settled on making jewelry, objects, and installations, participating in many solo and group exhibitions, both in Australia and internationally. Her simultaneously bold and refined works, always identifiable by their rigor and sensuality, are held in many major collections, including the Philadelphia Museum of Art; Cooper-Hewitt Museum, New York; Museum of Fine Arts, Houston; and National Gallery of Australia, among many others.
Margaret West was a singularly important teacher, both in her formal role and as a mentor and exemplar. From 1979–1999, she taught in the Jewellery and Object Studio at Sydney College of the Arts (now the University of Sydney), where she had an incalculable effect on generations of makers, constantly exhibiting and contributing to discourses around jewelry and poetry.
After moving to Blackheath, in the Blue Mountains west of Sydney, in 2000, Margaret continued to exhibit and publish widely, most recently in Paris in late 2013, along with speaking at conferences and sharing ideas. In 2012 she published the acclaimed volume of poetry, Leaf and Stone. (Visit her website for images, poetry, essays, and conference papers.) Importantly, in the last 14 years, Margaret made a marvelous garden in Blackheath that informed her work. This is from the text accompanying the 2011 works entitled …from a Garden: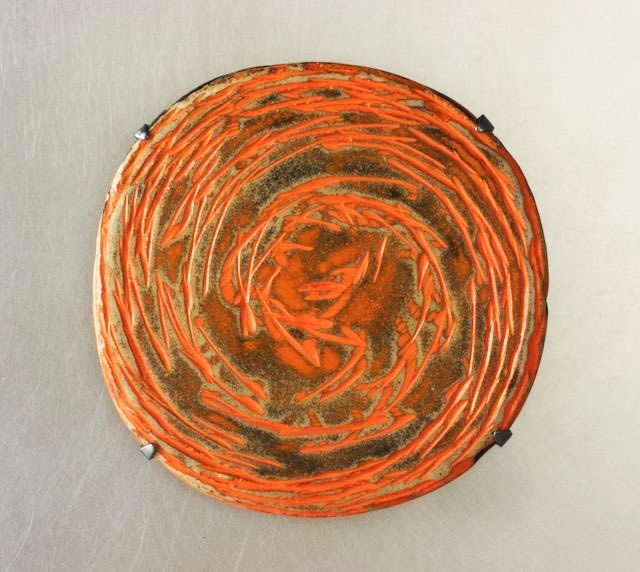 when there is heat…, illustrated here, speaks with its fierce orange to the constant threat of bushfire in that garden bordering bushland, and the knowledge that some plants only germinate after fire. Hers was a knowing and accepting practice.
Margaret West died at her home in Blackheath, on November 2, surrounded by her family—husband David West, sons Robert and Vincent Jasulaitis, and their partners. Clear-minded, determined, and poised to the end, she had said farewell to friends and colleagues, knowing that her battle with cancer was nearly over. With her passing, we have lost a formidable and generous intelligence. What lives on, in those of us who worked or studied with her, is Margaret's legacy of undying curiosity and uncompromising commitment to excellence. Does that phrase seem exhausted? Margaret never abandoned its true meaning. In years to come I will hear Margaret West's beautiful resonant voice speaking to my better self, urging me to renew my efforts, to be more thoughtful, to find greater clarity. I will always be grateful.