Mill Valley, California, November 10, 2014—Art Jewelry Forum (AJF) is pleased to announce the five finalists for the 2014 AJF Artist Award for emerging artists. One winner will be selected from this short list and announced in December 2014. Applications were received from 123 artists in 27 countries.
Criteria used in the judging were originality, depth of concept, and quality of craftsmanship. The criteria were revised this year to include emerging as well as young artists under 35. Jurors for the 2013 competition were Carin Reinders, director of CODA, Apeldoorn, Netherlands; Karen Rotenberg, founder and director of Alianza Contemporary Craft and collector of contemporary jewelry; and Sooyeon Kim, jeweler and recipient of the 2013 AJF Artist Award. Jurors met in October and selected the following five finalists for the 2014 AJF Artist Award: Attai Chen, Benedikt Fischer, Lauren Kalman, Heejoo Kim, and Seulgi Kwon.
Finalist Credentials, Artist Statement Excerpts, and Juror Statements
Lauren Kalman
Masters Fine Arts, Art & Technology, Ohio State University, Columbus, Ohio, USA, 2006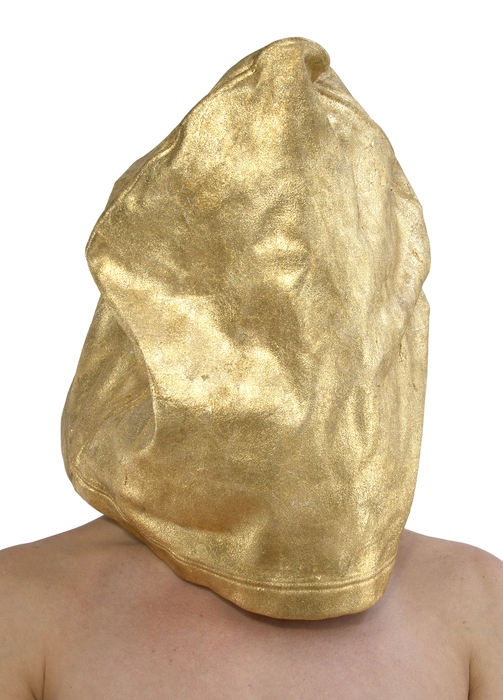 "I create wearable jewelry that investigates contexts relating to sex, gender, power, pleasure, pain, taste and beauty. This project originated in response to the architect Adolf Loos's 1910 lecture Ornament and Crime, criticizing the use of decoration in utilitarian objects. My jewelry, when on the body, enacts Loos's 'crimes' of individualism, eroticism, and ornamentation."
—Lauren Kalman
"Kalman's work goes far beyond the meaning of contemporary jewelry as decoration of the human body. Wearability is not her 'goal,' rather she generates interesting experiments and a critical dialogue on actual themes within society."
—Carin Reinders
Heejoo Kim
Masters Fine Art, Kookmin University, Seoul, Korea, 2011
"The process of putting metal layers on the object carved out of wax in a bath by electroforming means life creation. The thickness of piled layers represents time, and colors mainly expressed in my works mean accumulation of time. Through this process, my works are born with powerful vitality beyond the flow of time."
—Heejoo Kim
"I was quite impressed by this work and the surface treatments. The forms are beautifully conceived, original, and wearable."
—Karen Rotenberg
Benedikt Fischer
Bachelor of Design, Gerrit Rietveld Academie, Amsterdam, Netherlands, 2011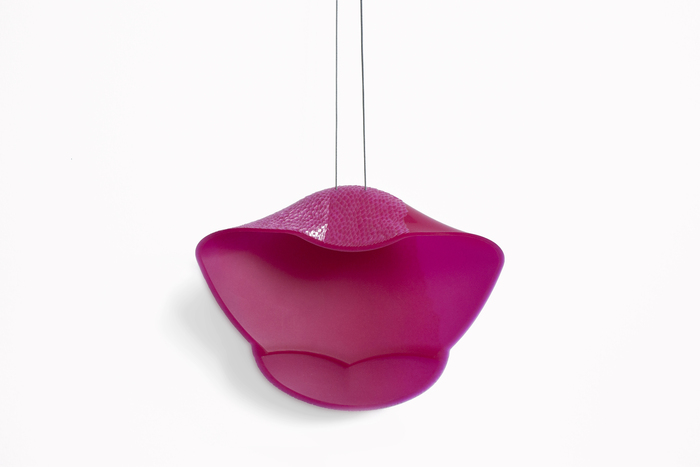 "I explore how things withstand the test of time … I choose to work with industrially made mass products in plastic as a research of aesthetics in our time … I have the desire to stop this fast production process for a moment and make them last for much longer than these products were originally set out to."
—Benedikt Fischer
"The surface of Fischer's pieces is beautiful and remarkable. He works the brightly colored plastic as if it were precious stones or ivory. The mostly abstract shapes are bold but very suggestive."
—Carin Reinders
Attai Chen
Master of Fine Arts, Academy of Fine Arts Munich, Munich, Germany, 2011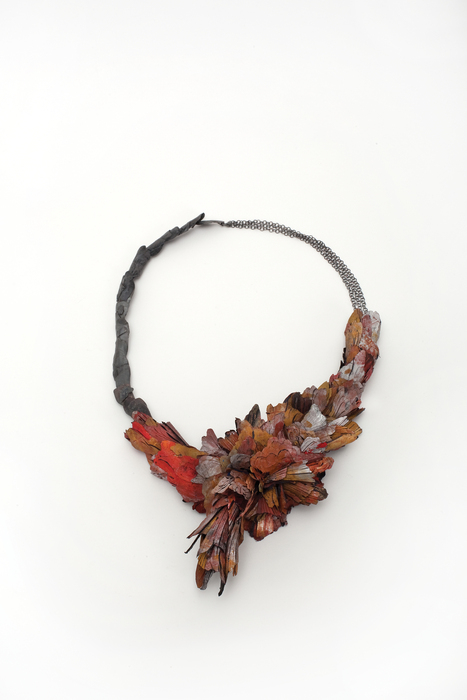 "In nature I have observed, and always been intrigued by, the cyclical motion of growth. In my work I wish to capture … and follow a process of unraveling growth to a fully evolved form that has emerged from fragments of piled-up discarded scrap material, tangible yet transitory."
—Attai Chen
"There is perfection in the whole work; it seems the body of work is very well reflected in the concept of the artist. The application of the material is also great, the artist has a remarkable ability to express colors of nature."
—Sooyeon Kim
Seulgi Kwon
Masters of Fine Art, Metalwork and Jewelry, Kookmin University, Seoul, Korea, 2010
"In my work, I actively express the organic movements of plants with their mysterious colors and constantly changing forms, creating texture with the materiality and transparency of silicone. I always try to express the living in my work so most of my pieces have rich colours and unique shapes."
—Seulgi Kwon
"Kwon's work is innovative, visually compelling, and a beautiful use of the material."
—Karen Rotenberg
About the Award
The goal of AJF's Artist Award is to acknowledge promise, innovation, and individuality in developing jewelers. The entry criteria were revised this year to be less restrictive, in order to offer opportunities to both newly minted jewelers as well as those who have had some years of experience and have gained recognition in the field. Changes were made based upon input from past applicants, jurors, the Award Program Committee, and AJF's board. The 2014 competition was open to art jewelry makers who make wearable art jewelry, are less than 35 years of age, and are not currently enrolled in a professional training program. Work submitted must have been unsupervised, completed between 2012 and 2014, and not submitted for a BFA or MFA show. This year applications were accepted from individuals who have had a solo exhibition.
About AJF
Art Jewelry Forum is a nonprofit organization spreading awareness and increasing appreciation of art jewelry worldwide since 1997. Its diverse community of artists, collectors, critics, educators, galleries, historians, makers, and writers is united by a passion for art jewelry. AJF advocates for art jewelry through an ambitious agenda of education, conversation, and financial support. It commissions critical writing that sets the standard for excellence in the field and publishes artjewelryforum.org, an Internet resource for original content on art jewelry.