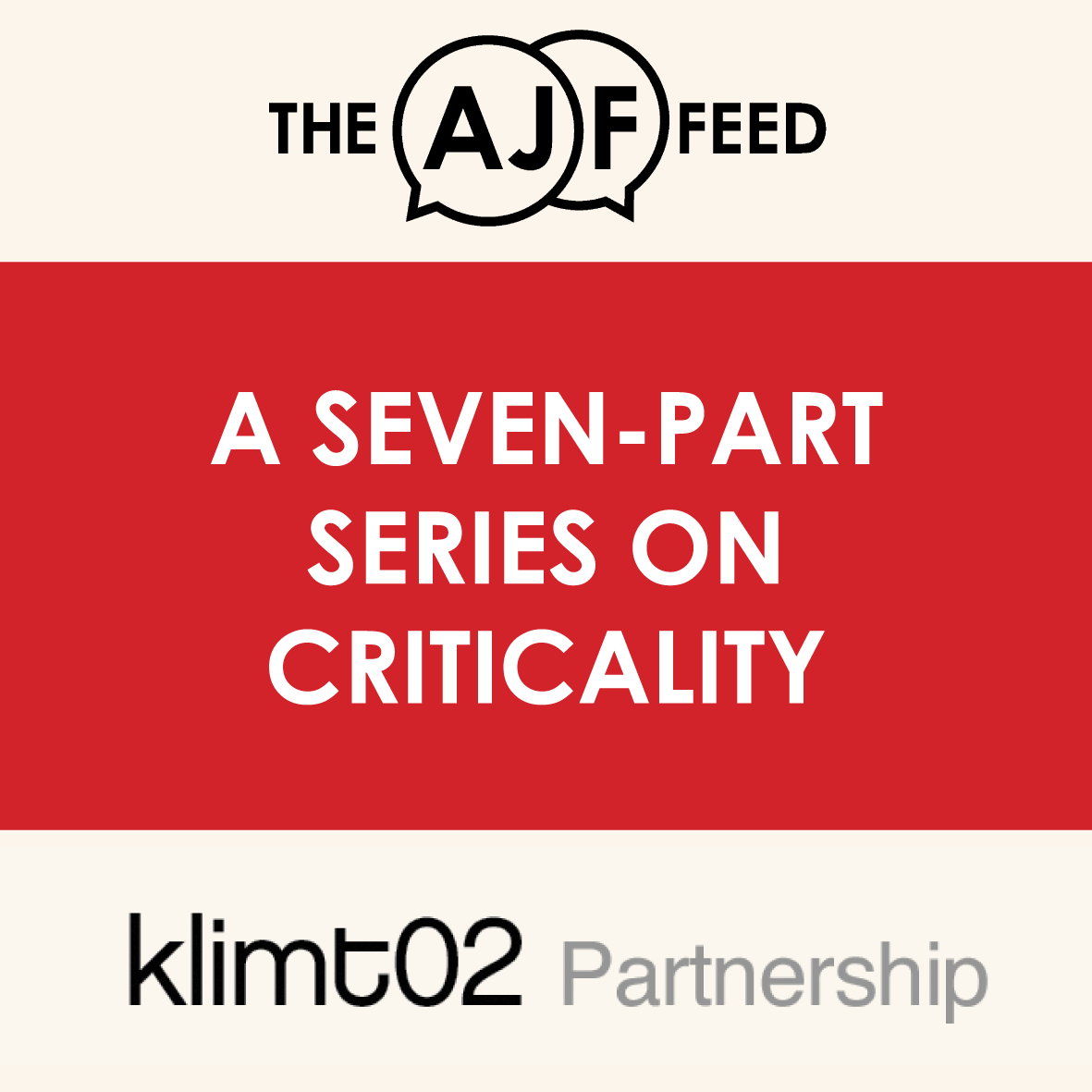 Over the month of August (as part of our lighter summer reads!) we published a five-part series on criticality, as part of a partnership with Klimt02, under the label "the AJF feed." The five essays, although diverse, all embraced the idea that criticality is a good thing, and that criticism is a necessary compost for the growth of contemporary craft.
Hence my excitement when Pravu Mazumdar agreed to develop his own thoughts on the role of the critique in a two-part essay titled Against Criticism. Readers who cringed at the previous essays will surely rejoice over the one from the Munich-based Foucauldian master. If you want to refresh your memory before embarking on this dense two-part argumentation, please check out the excellent texts written by Moyra Elliott, Clare Finin, Damian Skinner, Garth Clark, and Suzanne Ramljak. The second part of Pravu's essay will be published in 7 days.
—Benjamin Lignel
"I don't, ultimately, care for handing out grades to works of art (which is why I mostly avoided the opportunity of writing about things I didn't admire)."
—Susan Sontag (1966)
1.
A favorite pastime at the royal court of the Mughal Emperor Akbar consisted in solving riddles. One evening an old man approached the monarch and asked to be allowed to present a new task. Upon receiving permission, he took out a piece of chalk, drew a long straight line on the floor, and turned to the select gathering with his question. Could anybody reduce the line without touching it? After several unsuccessful proposals were voiced, a young boy stood up, took the chalk from the old man's hand and drew a second line, parallel to the first and longer than it. Without touching the original line in its physical reality, he had reduced its value by creating a longer line.
Speaking with Nietzsche: all creativity entails a specific type of critique that—as in any other critical practice—transforms existing values by attacking ideals, books, artefacts, but not in a negative mode. Such a critique does not touch, measure, or reduce its object and differs radically from the normative criticism we have got so used to in our daily lives. In other words: such a critique does not compare its object to a norm, but supersedes it through the new object created by it, which—be it a text, a crafted thing, or whatever else counts as a work of art—embodies a new ideal manifesting the inbuilt limits of the ideal incarnated in the original object. Nietzsche's critique of ascetic ideals or the New Testament renders the critical subject creative by restraining its inherent judgmentalism and letting it "put on gloves," as he terms it,[1] before turning to its object. Reining in the drive to touch something before criticizing it triggers off an alternative critical process, in the course of which Kant's transcendental ideal finally seems to acquire a body.
2.
Four years before his death, Michel Foucault did an interview with Le Monde,[2] in which he mentioned a friend of Courbet, who would wake up every night and scream, "I want to judge! I want to judge!" Foucault finds it amazing that people are so crazy about criticizing others and fancies that the last human subject, having reduced its last enemy to ashes, would get hold of a rickety old table, take up position behind it, and start judging all those responsible for the calamity. Foucault himself understands critique as an activity that is not concerned with judging, but tends instead to "assist a work, a book, a statement towards attaining reality. Such a critique would light up torches, watch the grass grow, listen to the wind, catch the foam in flight and whirl it around. Such a critique would not pile judgement upon judgement. It would instead gather all possible signs of existence, summon them and shake them out of their sleep."[3] Critique in this sense needs no red robes, because it is charged with the thunderstorms of possible thought, enabling it to tap the corona of alternatives surrounding a work and lead them toward their own future being.
Almost two decades earlier Foucault had coined the term "non-positive affirmation" in his famous little essay on Georges Bataille.[4] The term meant: not critiquing something by negating its existence, but by affirming its non-existence, which is where creativity comes into play. Affirming the non-existence of something means breaking up its identity, transgressing the limits of its definition and discerning the inner dynamism prompting it toward growth and movement. Darwin does not criticize a reptile for being a reptile, but simply describes what it is possibly evolving into. There is always something of a non-positive affirmation in watching the grass grow, listening to the wind, reducing a line without touching it and, essentially, following the in-built drift of a work toward being. Such a critique deals with things that are still half asleep and still lacking in the strength needed to move other things. Instead of hurling judgments at them, it proceeds to give them the impetus for crossing the threshold to their own being.
3.
The topic at hand is not pleasant. For more than two decades we have been experiencing a veritable deluge of judgmental practices, issuing from an insecurity typical of modern societies and their lack of universal norms. Such practices can be observed in a burgeoning trend toward ranking and standardization all over the globe, involving not only explicit acts of judgment or judgment of judgments, but also all those debates, comments, controversies constituting in their entirety the typically normative discourses revolving around public pronouncements like a death penalty or the annually recurrent decisions of the Nobel Committee. The practice of judgment is intimately connected with our industrial mode of living, driven by the dual exigency of sustained productivity and a sustained evaluation of the products for ensuring their circulation.
In the context of industrialism, artistic practice can be seen as generating a paradoxical type of non-utilitarian product. On the one hand, art is brought into circulation like any other commodity through the agency of money, while, on the other, art products remain immaterial, so that it is not easy to assess them under modern conditions, which are typified by a lack of universally accepted standards. Art works cannot be measured in terms of volume, weight, or temperature, or any quantifiable standard for that matter, specific to an "aesthetic substance"—unless one takes vague things like a "need for quality," or a "reflection on the medium," or a "questioning of tradition" as guidelines for regulating artistic practice. In spite of the traditionalists' clamor for a return to pre-modern aesthetic standards, the inherent incommensurability of art becomes acute in the context of its modernity.
Judges tend to overrate their work by understanding it as a safety measure toward ensuring quality and therefore as an invaluable service to community. In truth, however, the work of a judge—unavoidable as it might be for the process of circulation—is parasitic, thriving on the real production of quality by artists and artisans. Even if it is not true that all makers produce quality, it is only from the hands of makers that quality can emerge. Judgment is basically a second-hand activity. It is no more than a response to a widespread need for assessment. In other words, it is not a productive practice, but at best a technique for bringing order into the consumerist mind, when it is unable to focus in the general commotion of products tugging at it in different directions and paralyzing it in the bustle of buying and selling. Some people would never touch a book or go to the cinema without consulting the critical oracles presented by the mass media. In general, it can be safely stated that the popularity of judgment is directly proportional to the demise of aesthetic education and instinct.
4.
At this point, I would like to spell out an elementary distinction between criticism and critique, which I have been making use of until now in a somewhat tacit manner.
Criticism in my understanding is expressive of an inbuilt tendency in modern societies toward restoring some kind of an ancien régime in art. In fact, the term used for a critic and connoisseur of art in eighteenth century German is "Kunstrichter," meaning a "judge of art" administering some kind of aesthetic justice. It is clear that such a term goes back to the assumption that artistic processes are governed by a set of pre-existent "natural laws" making themselves felt as a kind of aesthetic logos through the agency of the "Kunstrichter" as their priest and spokesman. A lot of what counts for criticism in today's art world continues to function in this vein, understanding itself as an "ontologically" necessary enforcement of "laws of quality" and responding to a widespread demand for standards and authorities to measure works of art by virtue of universally acceptable norms.
In the perspective of criticism, the world of art is populated by well-defined objects as well as values attached to them, which decrease with any increase in the distance between the objects and a norm, however contingent or fragile the latter might be. Such a world is not unlike the theological myth of a Creation, in which things lose their value with increasing distance from God, so that criticism ultimately boils down to measuring the distance between a work and a norm, even if the latter might have been set up for the express purpose of enabling a judgment. Even when advocates of criticism strike a constructivist pose and emphasize the importance of the debates accompanying art works, criticism, as demanded by them, remains a yearning for absolutes and, ultimately, a call for a return to God and the King.
Critique, on the other hand, is not interested in the quantum of conformism constituting a piece of art. It cares little for the rapport between a work and a pre-existent norm, or that between a work and a wishful thinking on the part of the critic. Instead, it treats a work as a vector pointing in the direction of its being. Instead of seeing the work as a finished thing within the limits of its definition and maintaining a distance from a preconceived notion of what should be, critique describes a work, reading it as a tendency and a thought process, which ultimately leads beyond the work, and applying itself as an act of intervention. Critique, in other words, is not interested in grading a work, but in cooperating with it toward a common end. In its perspective, the world is not populated by well-defined objects, but by values, which it questions by creating values of its own.
The methodological consequences are clear. Critique does not yield itself to the moralism of comparison, but evolves instead as a passionate description done with an accuracy and intelligence guiding it, as it unearths the subtleties of resemblance and difference. The telos of critique is not a verdict, but a description carried on to the point where a work begins to speak for itself. In other words, critique teaches not how to judge, but how to read a work by giving it the words it lacks.
However, accuracy is not neutrality, and while critique does not come with the red robes typical of a Kunstrichter, it is a participant in a discourse, invested with a discursive drift of its own. Not unlike the work it deals with, critique has a vector of its own, since it is not merely an opinion on a work, however well founded, but is in itself a "work" with a style and posture of its own, aligning itself with the vector of its object, but at times also reading it against the grain, obviously not in the name of a given norm, but by virtue of its own existence as a force in a field of cultural forces. In other words, critique does not operate from a deeper or a higher level than the work it discusses. It does not simulate the voice of God, but interferes with a work on its own terms and at its own level. It intervenes actively in the process unfolded by the work and pushes forward the project, pursued by it implicitly or even incompletely.
In his Genealogy of Morals, Nietzsche distinguishes between an active and a reactive posture.[5] The active posture issues from a state of strength and triumphant self-enjoyment, in which only others in similarly active states can be perceived/enjoyed, whereas all else is necessarily overlooked. The active posture is autonomous and sovereign, as contrasted with the reactive posture, which issues from a state of dependence and resentment, in which we define ourselves with respect to what we oppose, so that we are first confronted with what we reject, before we can even begin to see ourselves and whoever else is similar to us. The opposition between criticism and critique can evidently be related to such a genealogy. Criticism issues from a reactive posture, starting out from the "danger" of a deviation and merely reacting to a work, as soon as it perceives it as its other. Critique, on the contrary, issues from a sense of enthusiasm or admiration for a work and proceeds to connect it with its own perspective and use it as a springboard for plunging into its own activity.
I can well anticipate the kind of arguments likely to be pitched against such contentions, pointing out the importance of juries, committees, mentors involved in the ubiquitous procedures of marking out quality, whether in teaching institutions or the art establishment at large. However, I doubt if that is not putting the cart before the horse. Does judgment really generate quality or influence the production of quality? Or is it not rather a reaction to a quality already in existence—or its lack? I guess the question is ultimately undecidable. Nonetheless, I will be candid: if I had the choice, I would push for critique retaining the upper hand over criticism.
For critique is certainly tuned better than criticism to a modern temperament, its only outside frame of reference being the rule of thumb: No transcendence, not even that of a norm! Contrary to all judgmental practice, critique is based on the kind of observation and fact-gathering that is usually termed "research," involving all that goes with the paradigm of scientific investigation and ending in a product, which is the critical text itself.
5.
Before summing up these observations, I would like to note that the two isolated and opposing modes of criticality that I have termed criticism and critique are obviously not to be taken as real things. As the outcome of an analysis, they are abstractions. Critical discourses never employ one or the other mode in a pure form, but a wide range of their possible combinations, in which they figure in varying proportions as contrasting elements differing in weight and frequency, with criticism usually getting the greater share of public attention.
It is this power ratio between the two types of critical practice that I would like to question at this point, by emphasizing—even at the risk of overstating my point—in 10 "flash points" the importance and superiority of critique as an alternative to criticism:
1. Art teaches us to read the world by applying the senses. Criticism teaches us to categorize art by applying rules. Critique teaches us to read art by applying language.
2. Criticism is the application of an ideology, assuming pre-existent standards and functioning on their basis as a technique of measurement. Critique is by contrast the practice of an art, which is invested with the intellectual and aesthetic skills of the critic and unfolds as a technique of description.
3. Criticism reduces the complexity of a work by comparing it to a norm. It sets out to measure the quantum of conformity or deviance in a work with respect to standards set by other works. It is therefore necessarily blind to the singularity of a work. Critique, on the contrary, gives back a work its complexity simply due to its fidelity as an art of description capable of revealing the ontological vector inherent to a work.
4. Criticism does not require any patience for the details of a work or any specific responsiveness toward its singularity and is not hampered by the usual demands of scholarship. It simply requires a working knowledge of the rules it applies, which it never sees a reason to challenge. Critique, on the other hand, is based on patient observation and scholarship supporting it in its descriptive adventure.
5. Criticism ends up with a judgment: "good" or "bad." Critique ends up with a text, which is in itself a "work" functioning as a verbal rendition of the artist's work and cooperating with it to reveal its ontological drift.
6. Criticism opposes a work by hurling a judgment at it and affecting its public image. Critique opposes a work by describing it and transforming the thought process incarnated in it.
7. Criticism focuses on the artist's consciousness, including the chronology of thoughts, emotions, professional training/experience, prejudices preceding the production of a work. It compares these with what should be and uses the work as a point of entry for a judgment on its maker. By contrast, critique focuses on the work as a readable thought process leading beyond the work itself. It does not in the first place take recourse to the consciousness or the verbal discourse of the maker, but suspends the authority of the artistic subject by trying to describe the work independently of its maker. Why should a retrospective account by an artist be more dependable or more authoritative than any intelligent observation undertaken by the critic? Why should the words of a maker be free of things like a faltering memory or a "professional" blindness toward certain aspects of the work? If critique ever heeds the words uttered by an artist, it does so only to the extent that they do not contradict the results of its own close reading of the work.
8. Criticism ultimately functions as a governance of mediocrity, starting out with the suspicion of a deviance, which it feels obliged to monitor as a part of its self-appointed role in protecting the world from "bad" works. Critique, on the contrary, begins with the experience of being struck by something exceptional or unprecedented in a work and proceeds to analyze and explain such an experience by describing the work and revealing its direction of movement.
9. Criticism provides at best an orientation to sellers/buyers/collectors in finding their way through the labyrinth of the art market. It helps decide the issue of market value: Which works are to be brought into circulation and which are to be barred from it from the outset? Critique, on the contrary, inculcates its readers with a competence, showing them how to read a work.
10. Criticism is interested in finding out whether a work remains within limits, like the limits distinguishing between good or bad craftsmanship, between strong and weak thinking. Critique is by contrast interested in finding out whether a work extends existing limits or sets new ones and ultimately transforms the world thereby through its own being. In this sense, critique is truly interested in the critical potential of a work as opposed to its conformism. Does the work question our contemporary ideas about craftsmanship? Does it suggest a paradigm shift in our thinking in a manner that fascinates me, the critic?
I am certainly not pleading for an abolition of criticism, but trying to draw attention to a practice, which is rarely taken note of, although it has been around for quite a while, like in Foucault's reading of Manet, Barthes's reading of Racine, or Sontag's reading of Barthes. Such writers cared little about rules or standards when they launched their critique as a powerful alternative to criticism in the mode of a nuanced and intelligent reading of a work. It is obvious that critique in this sense is better adapted than criticism to the scientific temperament. For in perceiving a work of art, critique is not driven by faith—in an ideal, a norm, an ideology—but by intelligent senses, an experienced mind, and a good dose of curiosity.
Nonetheless, I am not making the naïve suggestion that we do away with criticism altogether, but rather that we explore possibilities of subordinating it to critique. Criticism can at best pave the way toward critique. But it cannot be allowed to dominate, let alone replace, critique.
---