It was jewelry from dawn to dark for a week in September, as 23 members of Art Jewelry Forum toured Estonia and Sweden, part of the "coolest corner" of the jewelry world.
The trip took us to Tallinn, Stockholm, and Gothenburg. We visited artist studios, galleries, and museums, with the occasional free moment for sightseeing.
We began in Tallinn, Estonia, where few of us had been. The Telegraaf Hotel, at one time home to the city's telegraph offices, was our headquarters. It is located in the old city, a beautiful area of cobblestone streets, churches, historic buildings, shops, restaurants, and many artist studios. Tanel Veenre, a jeweler and member of the AJF Board, served as our informal host and tour director.
Our study of Estonian jewelry began with a small show at a 12th-century monastery that featured the work of Carla Castiago. This was her master's degree project; the show was displayed in a candle-lit room that was accessed via narrow stone staircases. There was a feeling of going back in time, but the work itself was stark and startling and focused on the 21st-century topic of sexual abuse in the church. In a way, this set the tone for much of the jewelry we saw: It felt rooted in tradition, but was often very modern in its ideas. Mysticism, carved materials, masks, and darkness were traits of the pieces we saw over our three-day visit.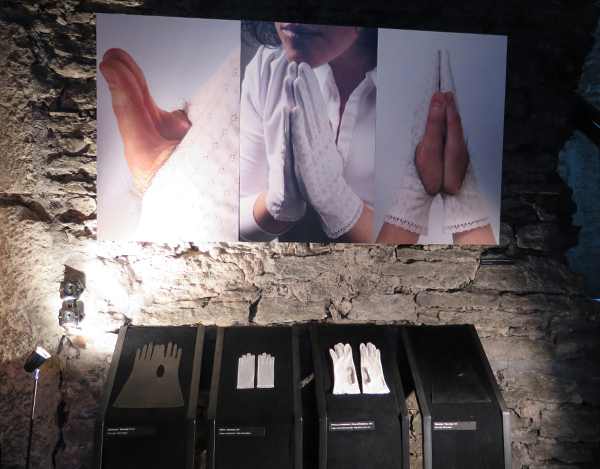 A visit to the home of Kadri Mälk gave us the chance to see many of these themes developed in her wonderful work. Mälk is the professor of jewelry at the Estonian Academy of Arts, and has taught or influenced most of the students and younger jewelers of Estonia. For years, her work was not widely known, because until the fall of the Soviet Union it was not shown in the West. Mälk is reserved and quiet, but has clearly been a strong force, helping shape the work of Estonia's contemporary jewelry community.
At the Academy, we saw the work of four master's degree students. The jewelry program is part of the design department; the master's program requires students to apply with a project they would like to work on during their two-year program. The work was technically solid and visually interesting and diverse. Clearly, this is a strong program that is giving students skills, but also encouraging them to find their own vision.
More work by these students was on display at a wonderful, large gallery show called Ferromenaalne, which featured works by about 30 Estonian artists, from young to old, and which was introduced to us with comments by Mälk. The work was mounted on huge curved steel plates that weighed around 80 kilos. Materials included wood, wire, paper, silicone, and precious metals. Later in the afternoon, after a festive outdoor lunch, we were able to see more work by some of the artists in the show, as we visited the studios of Kätrin Beljajev, Kristi Paap, Julia-Maria Künnap, Katarina Kotselainen, Jens Clausen, Urmas Lüüs, and Nils Hint. Hint's jewelry and objects are made using blacksmithing techniques; his crown made of flatware was one of the standout pieces in the show.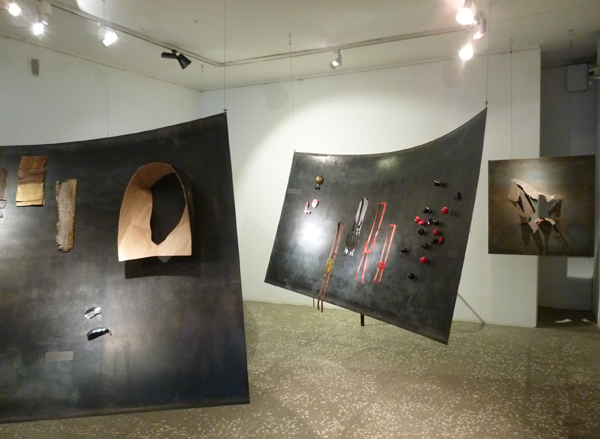 That evening, we had the opportunity to visit with members of the Tallinn art and journalism community. About 25 writers and artists joined our group at the Baltic seaside residence of the American ambassador for a cocktail party, giving us a chance to talk individually with leaders in these communities.
The next morning, we visited the Museum of Applied Art and Design and were led through Estonian design of the last 50 years by Ketli Tiitsar. The museum collection includes furniture, jewelry, lighting fixtures, and textiles, and had a special exhibit of wallpaper patterns on display. Many of the colors and shapes in the wallpaper patterns were repeated in other Estonian work of the same time periods, as well as designs from other Scandinavian countries. The oldest patterns tended to be small and colorful, and through the years became bigger, bolder, and more international. Interestingly, some of the traditional patterns showed up in selected pieces of contemporary jewelry—such as the series of hearts made by Tanel Veenre. Many of the pieces shown in the museum were made in craft workshops that operated during the Soviet era. These workshops produced items for general sale, as well as special pieces ordered periodically by the government, and did let a limited number of artists work at their profession, although with artistic limitations.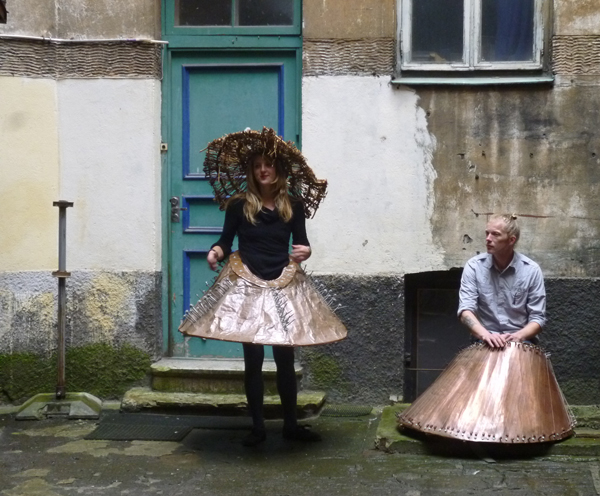 Dinner that night was at the very special NOA restaurant (yum, yum!), which sits along the shore of the Baltic Sea, and has a view over the water.
The next day, the group flew to Stockholm. We hit the ground running—and never stopped. During our stay in Sweden we were introduced to some young, new jewelers, but most that we met are already very well known in the art jewelry world. Unlike the Estonian jewelers, the Swedish and Finnish jewelers whose work we viewed at a special event have been represented in the West for decades. They also have been able to interact with other jewelers across Europe, and consequently their work often seemed more European than particularly Swedish. While some artists seemed to prefer the wood of the Swedish forests, many others worked in metal, and we saw beautiful examples of enamel work.
Stockholm is a gorgeous city, spread along an archipelago that extends into the Baltic Sea, with islands connected to the mainland by bridges or boats. The weather was sunny and pleasant throughout our stay, making it occasionally tempting to stay outside rather than visit another studio or museum. Most of the group lodged at the imposing Grand Hotel, although some stayed in smaller hotels or in the homes of friends.
Our first visit was the Agnes Larsson studio. Larsson won the AJF Emerging Artist award in 2010 and her work has continued to be strong and original. We saw pieces from various bodies of work, some completed and some in progress. Larsson said she often draws inspiration from a material, and will spend months researching before she begins any hands-on making. Some of her current and previous work has used aluminum, horsehair, calfskin, and a carbon-charcoal material formed from activated carbon powder. She shares her studio with her husband, a furniture maker.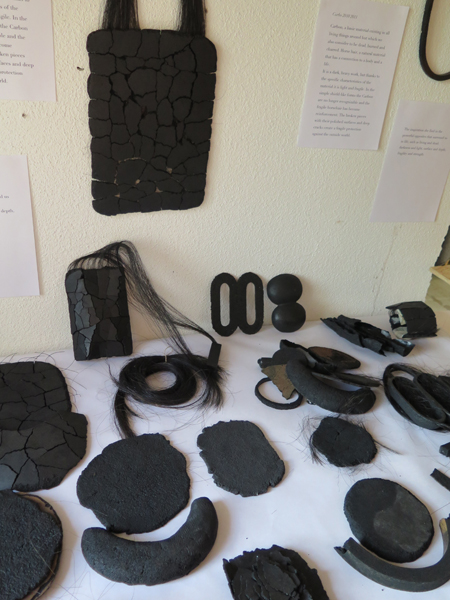 From there, it was a short walk to Färgfabriken, a multistory exhibit space. Sofia Björkman, who owns Platina Gallery in Stockholm and who was our host in this city, had put together a show there to celebrate the fifteenth anniversary of her gallery. The space was light and white and airy, and the show featured the work of 17 artists who Platina has worked with since its founding: Tobias Alm, Yasar Aydin, Hilde De Decker, Jenny Edlund, Iris Eichenberg, Karl Fritsch, Hanna Hedman, Aud Charlotte Ho Sook Sinding, Catarina Hällzon, Agnieszka Knap, Karen Pontoppidan, Miro Sazdic, Lisa Walker, the group A5 (Romina Funtes, Adam Grinovich, Annika Pettersson), and work by Björkman. This was a good opportunity to have something of an overview of the diversity of jewelry being made or shown in Sweden. There were enamel works, a piano taken apart and made into necklaces and brooches, large metal pieces by Hedman, Walker's quirky art, and much more. After a frenzy of buying, we adjourned to dinner downstairs.
After that, we heard from Professor Kerstin Wickman, with the Swedish Society of Crafts and Design, on the history of Swedish jewelry. Then it was off to the shared studio of Åsa Elmstam and Hanna Hedman, followed by a quick visit to the Rut-Malin Barklund Studio. We ended the day with drinks at Berns café and restaurant with members of the Stockholm jewelry community.
Our last full day in Stockholm began with a visit to Konstfack University's College of Arts, Crafts and Design. Karen Pontoppidan, the jewelry professor at the school, explained that the metals program offers a three-year bachelor's program and a two-year master's program, with eight students a year admitted to the master's program. Many of the students were present to show examples of their work and discuss their techniques. Also on display was A Sense of Place, a show that featured the work of 16 students or former students and celebrated the last 10 years of the school's jewelry program. The work was made in a variety of mediums, including silicone and carved woods, and it was amusingly hung against sheets of foam in a long hall of the school.
From there we went by subway or taxi to Sven Harrys Museum restaurant for lunch, but before long we were back on the jewelry trail, visiting the nearby studio and small gallery shared by Agnieszka Knap, Åsa Lockner, and David Taylor. Their gallery is walking distance from Björkman's Platina Gallery, where we went next. Björkman had a special show of work by Märta Mattsson—her jeweled bugs and butterflies—and more work by Tanel Veenre, our Estonian host.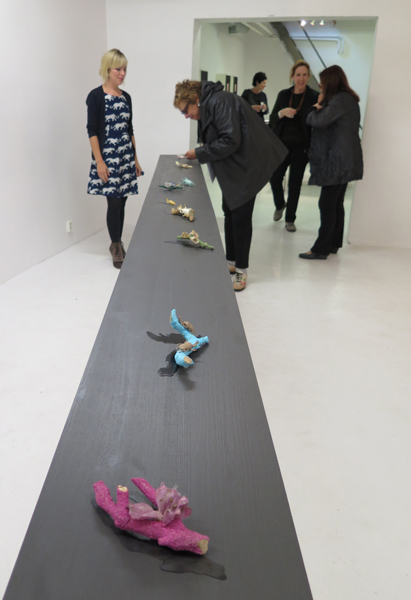 The final visit of the day was with four Finnish artists, who came to meet with our group and show their work. Jenny Edlund hosted the group at her studio. Participating were Helena Lehtinen, Eija Mustonen, Tarja Tuupanen, and Janna Syvänoja. There were also works by Nelli Tanner and Anna Rikkinen. Work ranged from the lightweight (paper) to the very heavy (necklaces of stone).
For dinner, we ascended the Gondolen, in downtown Stockholm, which offered a panoramic view of the city and the sea.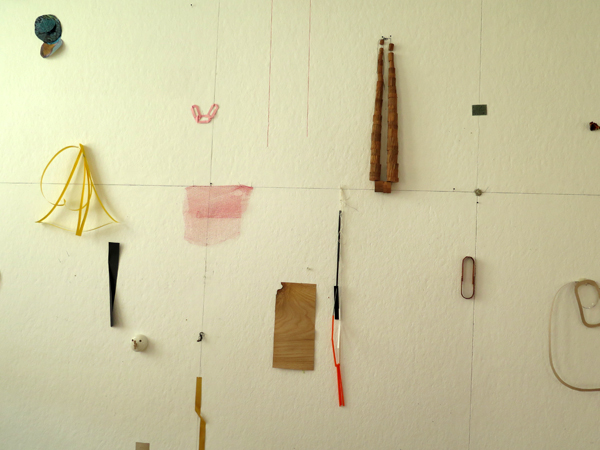 We began at Konstepidemin, a large campus that originally was a hospital but now offers studio space to many artists. There we visited with Tore Svensson and Mona Wallström, and saw the show 4 Souls in the complex's gallery. This was curated by Hnoss Initiative and featured four young artists: Despo Sophocleous, who works in wood; Noon Passama, AJF's 2013 Emerging Artist, who creates mask-like faces; Nhat-Vu Dang, whose work was made of folded paper; and Benedikt Fischer, who used recycled plastic to create minimal, textured brooches and pendants.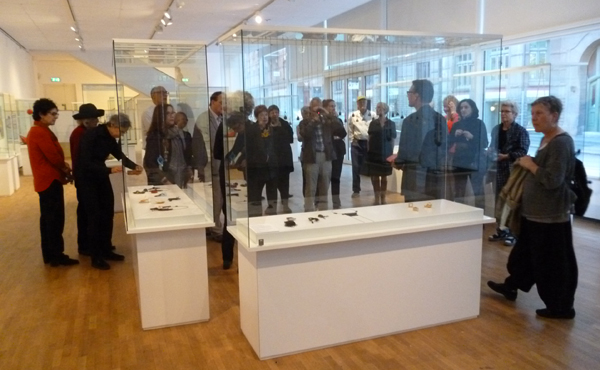 We ended the day with a choice of either a visit to Karin Johansson's studio or a visit to Gallery Four and Galleri Anna H to see a good selection of other jewelry. Johansson walked her visitors from the museum to her studio, and then back to the train station via one of the city's charming canals, giving some of us a few minutes to see more of the city.
Our train ride back to Stockholm was uneventful. But it was hard arriving at 10 pm and realizing the trip was at an end! Many of us had morning flights back to the US; others were able to spend the next day touring the city at a more leisurely pace.
All in all, it was a wonderful trip. While the time in Estonia was busy and full, the Swedish portion was faster paced. But the week provided us a wonderful overview of jewelry being made in that "cool corner" of the world, and introduced us to many of the artists whom we had previously only known through their work.