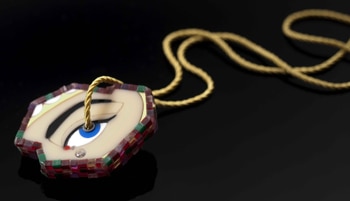 The National in Chistchurch, New Zealand, was founded in 2004 by Caroline Billing to raise the profile of New Zealand jewelers. She is currently showing work by a really imaginative jeweler named Octavia Cook. I love artists who make up myths or narratives about their work and Octavia is one who does. The jewelry itself doesn't have to carry the full story but the story can be in addition and just go along with it. For me, it adds an another element that helps me to both understand the work and remember it.
Susan Cummins: Octavia, you have made up a character for this show. What is Cocoa Vitako's story?
Octavia Cook: Cocoa Vitako is the latest alter ego I invented to move my work in a new direction since killing off Cook & Co, my fictitious family jewelry company (which has been a vehicle for the ideas in my work since 2003).
The name is an anagram of my own name, so she really is a part of me. I wanted the name to sound exotic but unplaceable in terms of nationality. The 'Cocoa' part is a bit of a reference to the fashion world that crops up in some pieces of my work – I made a piece for a show last year where I borrowed one of Coco Chanel's well known portraits and replaced her face with mine. I believe jewelry and fashion are closely linked. The 'tako' part in Vitako is meaningful to me as well. Tako is the Japanese word for octopus and both Japan and octopi have been twisted into the narrative of Cook & Co in the past.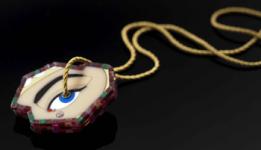 Is she based on an historical figure?
As mentioned above she isn't based on any one person but represents a type of person or a part of my personality that I have chosen to indulge for this exhibition. I see her as a slightly shallow magpie prone to seduction by distinctive objects and clothing.