It has been a long time since the Musée des Arts Décoratifs de Paris has hosted an exhibition exclusively dedicated to contemporary jewelry. The Triennale of contemporary jewelry occurred in 1992 and in 1999, when eleven contemporary jewelers were featured in an exhibition alongside the jeweler Line Vautrin, who was popular in the 1950s. In 2003, costume jewelry and high fashion jewelry won the attention of the museum, while in 2008 there was a small survey of the Swiss designer Dieter Roth. This was more a design statement than a jewelry event. The great 2009 exhibition of the jeweler Jean Després, active in the 1930s, housed in the imposing nave of the museum, concentrated on the production of this jeweler before World War II, with few big names of that time. In 2011, the musuem rejected Also Known As Jewellery, an exhibition of seventeen contemporary French jewelers. (You can read a review of the catalog for this exhibition on the AJF website.) Wishing to present these experimental jewels in Paris, the organizers of that exhibition had to 'settle for' space of the Ateliers de Paris. A farce: talented jewelers institutionally unrecognized in their own land!
In addition to antique jewelry, the Musée des Arts Décoratifs de Paris has opened a space called 'The Gallery of Jewels.' It is the permanent host to a nice collection of contemporary ornaments from the 1960s to the present, even if more recent pieces would be welcome. In all, there are about 500 items of purchased, loaned or donated jewelry, presented in this space, renovated in 2004. Even if it is a little dark, with the labels not easily readable and difficult to see in the dimness, the space exists and can be visited. But a museum does not only live through its permanent collections; temporary exhibitions can provide an opportunity to address, prospectively, other issues or specific themes. How can we begin to understand such a lack of love for experimental jewelry in general in France? If the first duty of a museum is transmission, how is it possible to skip a whole section of contemporary creation?
Of course, the Musée des Arts Décoratifs de Paris is not the only institution responsible for this invisibility or denial; the whole country seems to participate in this rejection. Compared to the more than dozen traditional schools in France and all the traditional shops that sell traditional jewelry every day, there are very few galleries, very few collectors, very few newspaper articles and very few schools (Afedap in Paris, Atelier Bijou de l'école des Arts Décoratifs de Strasbourg and école Nationale Supérieure d'Art de Limoges) dedicated to contemporary, experimental jewelry. However, 'some' is not none – galleries like Helene Poree, Naila Montbrison and Elsa Vanier, join collectors like Flo Fleiss and Barbara Berger and a few auctions to act as proof of the existence of a very small market. But the absence or rejection of contemporary jewelry is not noticeable only in France. Recently, the Jewellery Unleashed! symposium in the Netherlands discussed the lack of visibility for contemporary jewelry on a European scale, among other things. We are facing a general problem: a difficulty to recognize a particular area, which is no longer the same as jewelry in general.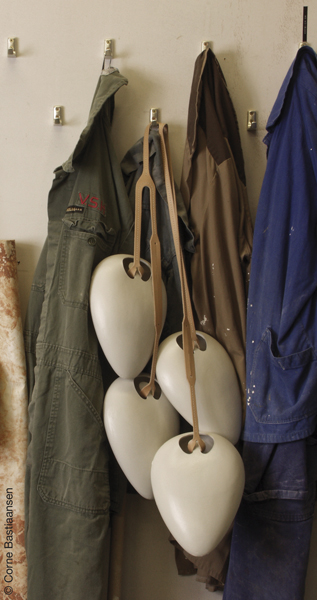 In this difficult and paradoxical context, the arrival of the exhibition Un peu de terre sur la peau is a small victory, its form and content being very stimulating. While Monika Brugger organized it, the Bernardaud Foundation, established by the Limoges porcelain industrialist Michel Bernardaud in 2002, is both the initiator of this project and the financial sponsor – perhaps the reason why the exhibition has been shown at this very museum. In recent years, this famous porcelain factory, founded in Limoges in 1863, has set a goal to explore new areas and to generate interdisciplinary dialogue through the Foundation, which works with artists, organizes exhibitions and celebrates the intelligence of the hand. This exhibition is one of its beautiful fruits!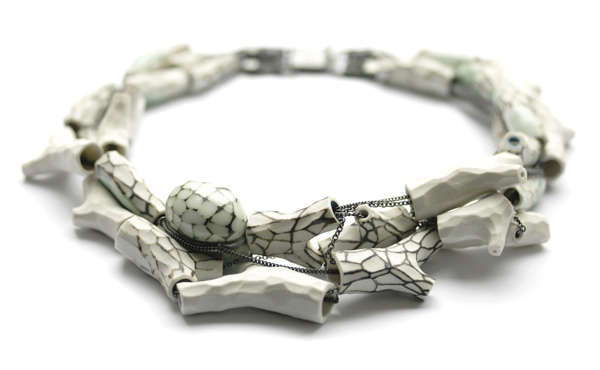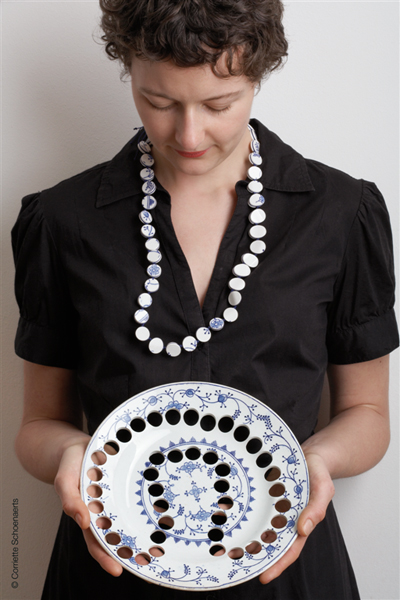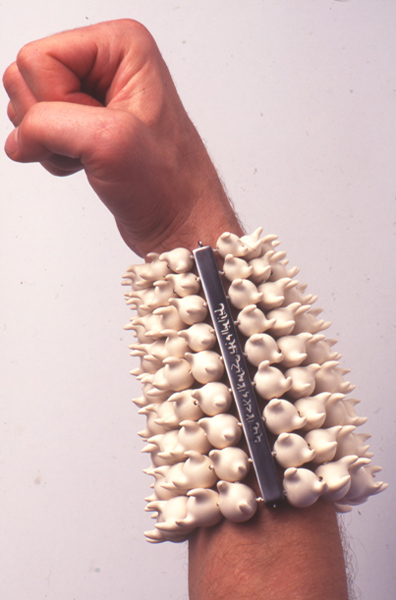 More strictly oriented to the exploitation of the technical aspects of ceramics, bulky jewelry from Dutch jeweler Peter Hoogeboom consists of a systematic assembly of small units of porcelain of the same dimensions, to create a new piece of clothing: a large bracelet like a sleeve, a scarf, a shirt collar. For her jewels, which are of fairly standard configurations (pearl necklaces or earrings called 'girandole') the Taiwanese jeweler Shu-lin Wu worked with the Japanese technique of mokume-gane, traditionally devoted to samurai armor. This ancient technique allows the jeweler to obtain many random new textures: duskiness, irregularities, inhomogenous colors.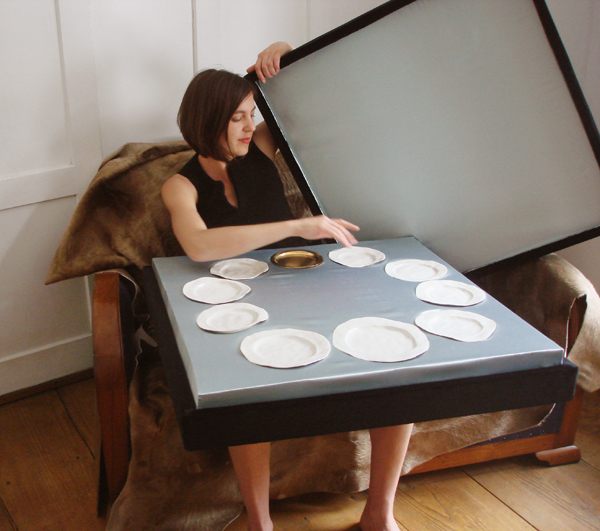 Finally, two jewelers have specifically developed the notion of the unportable. The large elements in white porcelain by Swiss jeweler Christof Zellweger, hung by strips or straps of leather, are suspended from a coat rack with work clothes. Breakfast at Tiffany's by fellow Swiss Natalie Luder is a disparate set of plates arranged in a large box, like beads of a necklace.
Dimension, recovery, technical operation, manipulation or provocation . . . Brugger's selection highlights some creative levers of contemporary jewelry. Applied to jewelry, the implementation of this specific material highlights its wealth of creative possibilities. This demonstration of beneficial innovations is economically vital for a company like Bernardaud and for contemporary jewelry, which is always ready to experiment but which has no real space to expose its strengths and creative resources.
The author would like to thank Nathalie Nyault for her help in translating this text into English.