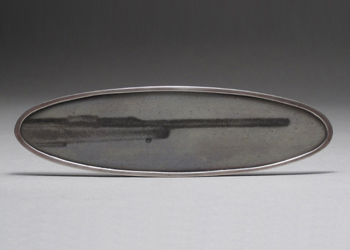 Susan Cummins: I understand that you feature antique and contemporary jewelry in your gallery and have an interest in both. Do you ever organize exhibitions that combine the antique and contemporary jewelry? If so please describe one.
Karen Lorene: We always have antique jewelry on display and jewelry art on display. We have found there is cross over interest because the customer who likes unique jewelry (one-of-a kind, particularly) likes both the uniqueness of antique pieces as well as the strength and uniqueness of contemporary jewelry art.
I understand that you are also an appraiser and I know you wrote an article about getting contemporary art jewelry appraised for the AJF website. How did you become one and what kind of appraising are you often asked to do?
I have been active in ISA (International Society of Appraisers) and NAJA (National Association of Jewelry Appraisers) for the past 20-some years. I've taken the classes offered by ISA and taken the tests they require. Our local chapter of ISA is active with fascinating lectures from cars to tin toys to paper products. Since my husband is an appraiser of vintage airplanes and vintage boats, we both enjoy learning about unusual items that demand appraisals. For a number of years Christie Romero and I taught a class for NAJA entitled 'Appraising Antique Jewelry.' We loved teaching together (three days in a row, eight hours a day!) and she is missed in the world of antique jewelry. Come August 2012 I will be lecturing at the NAJA conference on building a business. My relationship with both organizations continues.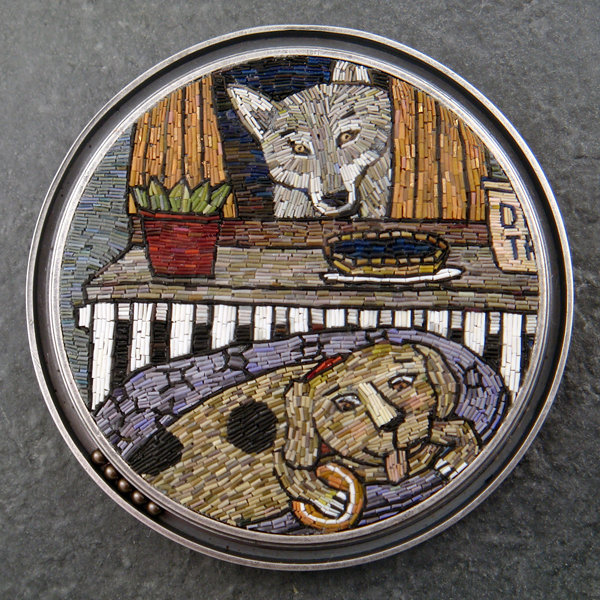 We began with the idea of having a show on vices and virtues. Guess what? The jewelry artists all wanted to tackle the theme of vices! We changed the name of the show and now everyone has created the most amazing pieces about greed, envy, sloth and so on. The word Idiosyncratic was chosen because SIN was in the middle of a word that referenced an unusual theme for jewelry! Whimsy guided us . . . no other deeper meaning.
Does jewelry lend itself to the topic of sin? How? Are there historical precedents? Can you describe one or two?
Susan, this is a challenging question and deserves a graduate thesis (I'm sure there is one somewhere!). But what immediately comes to mind is the 'evil eye,' which wards off evil, or amulets that protect the wearer from disease or death. Jewelry has since the beginning been associated with magical powers. And magical powers bring transformation. I believe every person who wears jewelry art is transformed. Jewelry art makes viewers say hello. Makes viewers ask questions or give compliments. Jewelry art invites both the viewer and the wearer to engage.
Can you describe something about the following artists and why their works were chosen to be included in the show?
Each artist in the show was chosen because they have a tradition of doing narrative work. Assuming they had 'told stories' in the past, we had no doubts that SIN would be a topic they could handle. We did not choose the pieces for the show, we chose the theme. Each artist tackled the theme in their own way.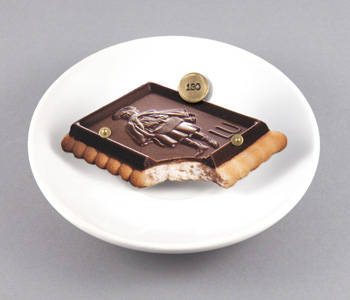 Kim Eric Lilot: The- inspiration for Stanislovki Tears is the cardinal sin of Sloth (Acedia in Latin and Greek: despair that leads to suicide or not caring even that one does not care).
Gary Schott: Fancy Cookie – 130 calories. Although I had not considered this immediately, I am curious whether people will perceive the 'sin' to be the calories per serving or that bothering to count the calories at all is the sin.' Perhaps the lack of eye contact in the frozen dessert section of the grocery store speaks of the weakness and guiltiness we all experience now and then. In the end, those wonderful images and the anticipated deliciousness wins us over and now there is a brooch to commemorate your favorite sinful treat.
Jessica Calderwood: Buckstalker Muzzleloader. I chose the word 'wrath' because I've been interested in images of guns for quite a while and saw them as one particular symbol or representation of violence. I enjoy participating in themed shows because it forces me to think differently about the content and forms in my work.
David Chatt: Army Man. For the sin of wrath.