Art Jewelry Forum is pleased to present a short series of critical essays, collectively called
Crafted Words
, as a result of our partnership with Radiant Pavilion. Supported by AJF, Creative Victoria, and the City of Melbourne,
Crafted Words
encourages craft writers from Victoria, Australia, to consider critical discourse around contemporary craft, and supports reflection and discussion on work shown at Radiant Pavilion and issues in the field from a range of perspectives.
The theme, direction, and format was entirely up to the writers, but the pieces reflect on the event in some way—what they saw, issues that arose, discussions that were sparked, etc. This essay by Anna Gray, an early-career writer, is the first of four and serves as an engaging introduction to the series.
It started underneath the city. In a drab tunnel on an ordinary pathway to a mundane workday … suddenly, jewelry! Entire fantasy worlds of color, texture, forms: a glimpse into possibilities for magical encounters with, or facilitated by, contemporary jewelry and objects. This one around the neck, this one a brooch. One might climb into the cabinet and slip, body first, into a piece, or pick it up and, transported, begin to explore any of these new lands. Jewels that might transform us—jewels that might one day be made from our very remains. Futures, pasts, alternatives. The metropolitan mass kept moving, relentlessly trudging onward, but I hung back, mesmerized. I recognized these forms. I saw their unwritten message. Get ready. It's coming!
Next was a conference. On the first day, I was surprised by how much of an outsider I suddenly felt, despite knowing so many jewelers and object makers. So few of them had come. I made new connections with others who had similarly been drawn to this format for communication. The lecture hall felt oppressive and hierarchical but practical and familiar, and one of the convenors repeatedly called us "Comrades." The presentations were romantic, idealistic, engaged—the works they talked of were imaginative, political, investigative. The processes and discoveries were exciting, and the access to industry and technology astounding.
I asked someone in the very long coffee queue if we might riot. He replied, "Jewelers don't riot." I didn't ask then, but I wonder why not?
Back upstairs, someone asked of the speakers, "But how do you make a living?" It's a question that arises again and again, a sign of a political disparity that can't seem to be settled, between a grant- and scholarship-funded model and a jewelry retail model of production, both inherent with insecurity. Is it unique to Melbourne because of its education, gallery, and retail systems? Unique to jewelry because of its functional history? Questions for future research, but I put them aside and continued with the festival.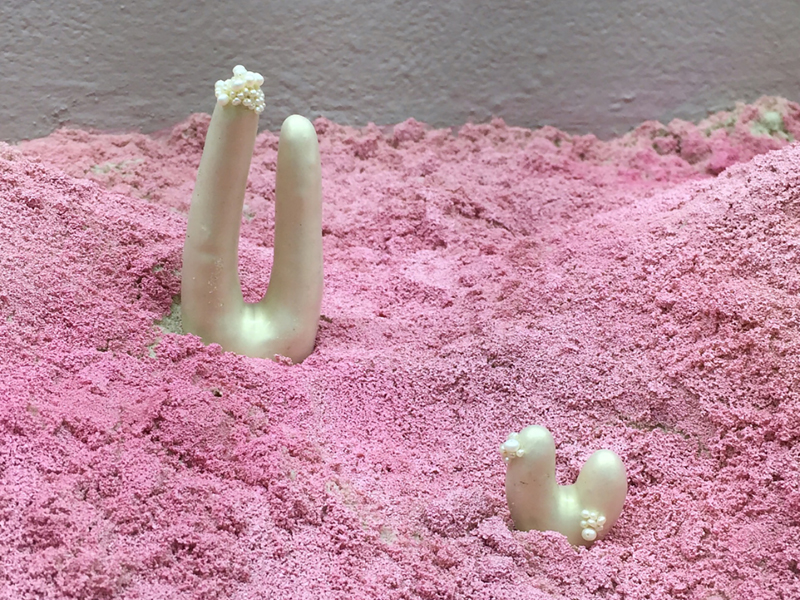 The first night of Radiant Pavilion was like a dream. There were six openings across the city. Many flocked from the conference while others came in fresh to commence the festivities. It had arrived! We traveled separately but repeatedly recognized each other, familiar faces, mostly jewelers, at each venue.
To be a jeweler in the midst of a festival celebrating contemporary jewelry was euphoric. These were my friends, colleagues, teachers, artists whose work I admired, and artists and objects I had yet to encounter! It felt like the city lit up entirely for us. Even within the contemporary jewelry community, the crowd was diverse. The program represented artists across institutions and borders. Artists made connections with each other and with gallerists, retailers, homeowners, passers-by, and the generally curious, extending the wider city's awareness and participation in our art. It's now ready for our future shows and the next biannual festival.
I appreciated the gleaning nature of the program. You could follow a map to find exhibitions nearby. Some were missed in the rabbit warren of Melbourne's laneways and suburbs and the university's plethora of buildings, but missing out became itself another part of the festival experience. Physically getting around to 80 shows in the space of a week was a mission for the most dedicated. Openings and events were held simultaneously across venues. I encountered works in display contexts of domestic, café, and bar settings, and out on the street. I viewed exhibitions online and saw many more works that I missed in person through Instagram feeds. I tried to see too much in too little time to take it all in or to pay each object and exhibition the respect it deserved. I was on a mission to do everything, and in so doing my focus was lost to a more generalized experience of the milieu.
I saw a beautiful, sensual materiality in many works, a concern with process and manipulation of form. I saw works engaging the body: of maker and wearer, user, recipient, and with the body political, decisive in boardroom meetings, welcoming the disadvantaged, or rendered voiceless. Some works observed landscapes: urban, rural, familiar, foreign. Traditions were noted and broken, processes dissected and interrogated. Everything about making was questioned, reordered, and remade.
The co-directors were ever involved and present to support artists at openings, exhibitions, and events. There is debate around the role of curators, and the efforts of the co-directors to remove their voices from the work on display was apparent. Their aims were listed online, but not on the printed program. The printed document launched straight into maps and an alphabetized exhibition program.
Their aims were not listed on the printed program, but appeared in an online document that launched straight into maps and an alphabetized exhibition program. Yet the festival was steered by an initial selection committee, so was it misguided to leave out a sense of their intended direction? If we want to include outsiders—those "uninitiated" or unfamiliar with the field—could the program have been an instructive access key? I wanted to see a printed page that introduced the nature of the festival, a curatorial word to help outsiders learn the language and guide them to appreciate the works and settings they might encounter.
This festival is two years young. It introduces Melbourne as a jewelry capital to the world, and to its jewelers. As it continues, I believe more outsiders will come, and I feel a little sad for what will be lost—that energy focused on community building and connection—but also excited that others will know the world I choose to live and work in, and they too will share our excitement and appreciation for contemporary jewelry and objects!
The week ended too soon, though also with some relief that the pace would slow. I dreaded my return to a routine and was therefore delighted to note that exhibitions continue after the official closing. There will be more exhibitions. There will be more jewelry.