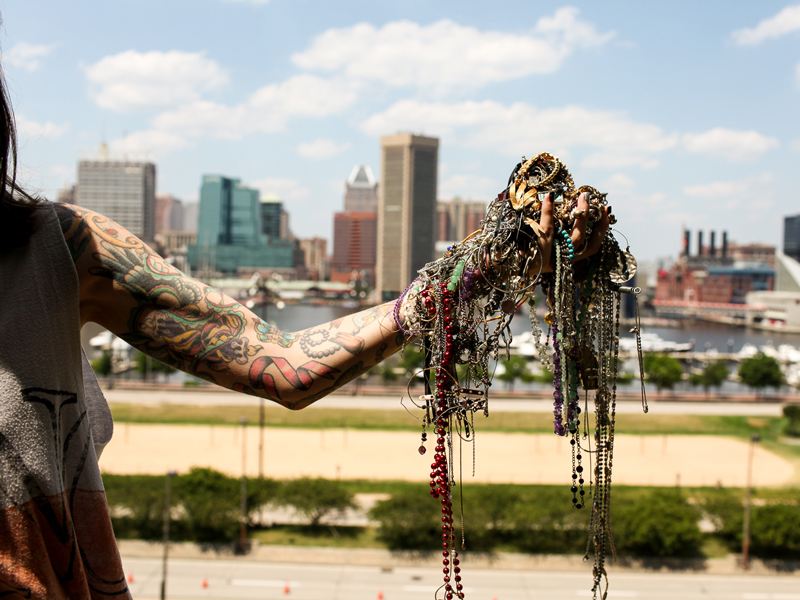 The Baltimore Jewelry Center is a refreshing addition to the art jewelry and metalsmithing world on the East Coast. A crafts school, exhibitions gallery, and retail space under one roof, the center is the creation of a passionate group of artists—educators and students—with an entrepreneurial and upbeat spirit. It's an impressive success and a good story, and I'm excited to discuss it with Shane Prada, the Baltimore Jewelry Center's director.
Adriana G. Radulescu: The Baltimore Jewelry Center, founded in 2014, is a relatively young institution. Tell us about the need to create it, its founders, and the challenges involved in starting such an enterprise.
Shane Prada: The Maryland Institute College of Art (MICA) had an established jewelry program that for 22 years fostered a diverse community of students, many of whom became notable in the art jewelry field. That program ended in the spring of 2014. There was a lot of interest in starting a new organization. The core faculty and a group of students, myself included, came together to start a new program. We were fortunate to have a community of students from the MICA program who helped us make essential connections to start building the organization. In 2013, we acquired nonprofit status, developed an education program, promoted our offerings, and launched a capital campaign. We officially opened our doors in the summer of 2014, and in July 2015 moved from our old location to our brand-new studio in Station North. We've grown incrementally each year.
We needed a new space for many reasons. Our ventilation system needed major updates, our studio was too small, our location wasn't very visible or accessible, we didn't have a gallery space, and the location had a history and future threat of flooding.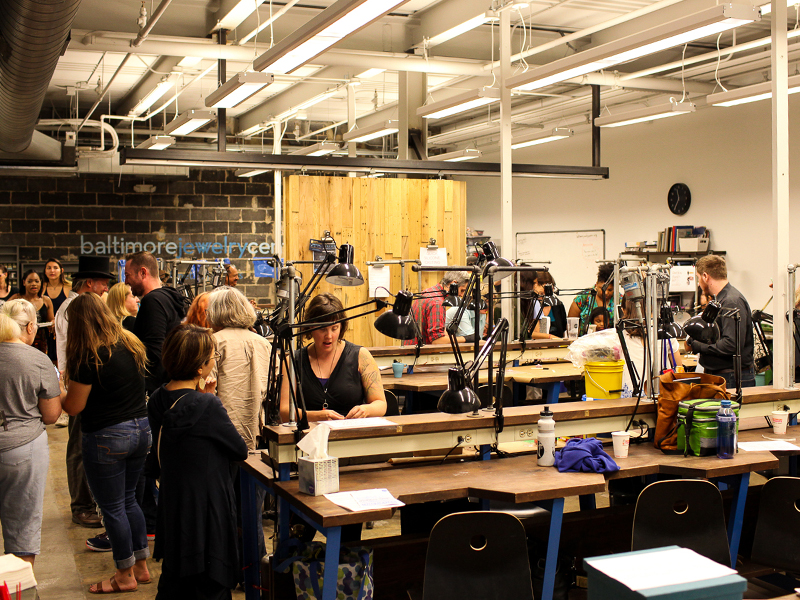 Since 2015, the Jewelry Center has been located in a historic building in Baltimore's Station North Arts & Entertainment District. The building was constructed in 1913 as a two-story auto-body shop, then converted in the 1930s to a theater and radio studio. After being abandoned for 20 years and now renovated, it's a thriving mixed-used space with a coworking hub, a film program, a video game company, a collaborative workspace for nonprofits that serve Baltimore neighborhoods, and the Baltimore Jewelry Center studio, which houses artists of many mediums. Lots of history in this place. How did the Baltimore Jewelry Center end up in this location, and how does it interface with its neighbors and the community?
Shane Prada: Our neighborhood is a great place to be if you want to make and share art. The art scene here has grown steadily over the last decade thanks to many hard-working individuals and groups. Within a four-block radius of our studio, there's a tool lending library, a public access letterpress and screen-printing studio, and a maker space offering multiple fabrication labs, as well as two independent movie theaters and several art galleries.
Being in the footprint of MICA is incredibly helpful. We're able to schedule gallery exhibitions and events in conjunction with other art events in the neighborhood. Plus the neighborhood is centrally located, making it more easily accessible to a broader range of patrons. We're just three blocks from Penn Station, Baltimore's main train station, which is also wonderful. The building that we're located in, the Centre, houses a diverse mix of tenants. We have the best landlord; he and his team at Jubilee Baltimore have done fantastic things for the city, including developing two apartment buildings specifically for artists and sponsoring neighborhoods as they seek to bring more arts and education opportunities to the individuals that live there.
We frequently host free workshops in our space for the local community. Often, we host these in an open adjacent lot to increase accessibility and visibility. We're building partnerships with local schools to bring more workshops to elementary, middle, and high school students. We also frequently partner with other art spaces and maker spaces in our neighborhood to bring fun art-making opportunities to our neighbors.
The center's mission and vision refer to building a creative community and reconnecting Baltimore to its rich history of metalsmithing and jewelry making. How is the center organized, and what are its offerings to achieve your mission and vision?
Shane Prada: The center consists of 500 square feet of gallery space and 3,000 of working studio space. We have 46 jewelry benches, including 10 dedicated for semi-private rental. Ours is a fully equipped metals and jewelry studio, offering areas for soldering, welding, casting, enameling, electroforming, forming, powder coating, and much more. We offer classes, workshops, and studio access to both new and established artists. We see ourselves as a small craft school dedicated to jewelry and metal arts and as an alternative to a university/college education for those who want to pursue metalsmithing or art jewelry. We also offer plenty of workshops for those who just want a taste. Our gallery and exhibitions program is very robust; we host at least seven exhibitions a year, featuring the work of local, regional, national, and international artists.
In addition to studio classes in metalsmithing and jewelry, the Jewelry Center also offers scholarships. How do you see the impact of these scholarships in supporting artists and the local community?
Shane Prada: First, these scholarships provide people who would otherwise not be able to afford our offerings a chance to learn from us and work in our studio. A primary goal is to get new people who have no prior experience in the door and educate them in both art jewelry knowledge and skills. Additionally, these scholarships benefit people in our own community who have prior jewelry education but can't afford to take classes to gain additional skills. Furthermore, the scholarship program increases the diversity of students working in our space, which benefits everyone involved.
You also provide a business practice program for metal and jewelry artists. What does it consist of? And how does it work, given the tendency to think of "art" and "business" as mutually exclusive?
Shane Prada: It's not so much a business practice program as a structured educational program to support students in achieving specific goals related to building a jewelry practice, whether for personal goals, production and business goals, or studio art goals.
The Baltimore Jewelry Center certificate is a structured plan for taking classes that ensures students receive the education most suited to their jewelry-making goals. The certificate program is a match for students interested in one or a combination of the following goals: developing a fulfilling personal practice; creating a body of production work and applying for shows; creating a body of one-of-a-kind work suitable for exhibitions. It assists students in the development of their craft, helps them increase their competency in creating high-caliber work, and ensures that students leave the program well versed in the skills and craftsmanship of jewelry design and fabrication and knowledgeable about the contemporary jewelry field.
We don't see art and business as mutually exclusive. The fact that so many people covet the work of artists demands a marketplace where artists can sell and exchange what they make. However, given that the marketplace is flooded with so many inexpensive alternatives to hand-made art, it's a tricky business. We see ourselves as providing a unique meeting point for artists and patrons. We can support artists in selling and promoting their work and educate patrons so they understand the dynamics of the art jewelry market. With education, people become patrons of jewelry artists. They're willing to spend more money as they learn more about the artists, their processes, and the costs associated with their work.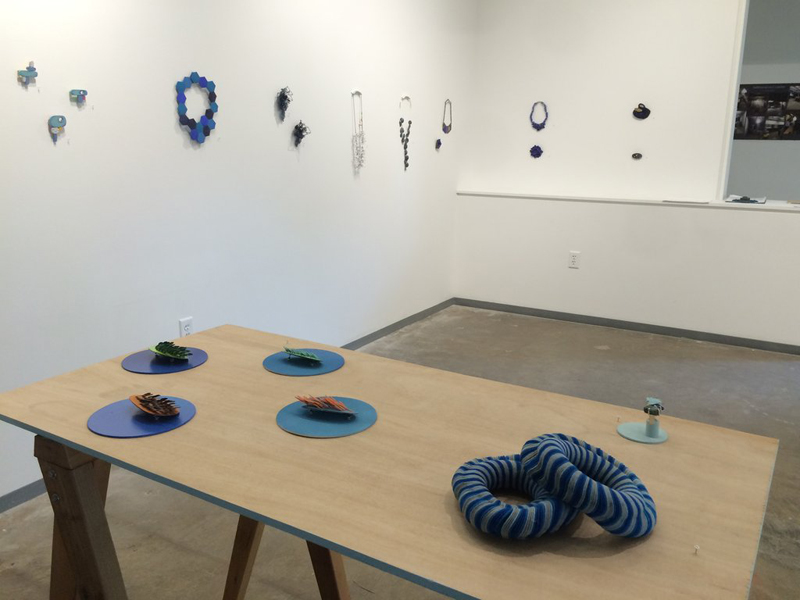 The center's gallery was inaugurated in 2015. What was the process of opening it, and what was your first exhibition?
Shane Prada: Our gallery was a very important aspect of our new studio. It was essential, in designing the new space, that we have a gallery area and that it be the first thing that people see when they walk in. Our mission is to educate people about art jewelry and metalsmithing. Our gallery and our exhibitions are a part of this mission; not only do our students benefit from the exhibitions we feature, but the broader community is able to experience art jewelry in our gallery—many people for the first time in their lives.
We knew we wanted our inaugural show to pay homage to the history of art jewelry and metalsmithing. Betty Cooke, one of the most prominent mid-century modern art jewelers, is a Baltimore icon. Our first show, Passing from One Hand, honored her work as well as that of two other Baltimore jewelers, Joyce J. Scott and Shana Kroiz. Together, they represent three generations of art jewelry in Baltimore.
The show also featured artifacts from G. Krug and Son, the country's oldest continuously operating blacksmith shop, and Stieff Silver, a Baltimore silversmithing company. The title of the show comes from a pamphlet produced by Stieff and references the value of craft objects made by hand rather than in an industrial setting.
Your past, current, and future gallery exhibits have a variety of themes, from artists' processes (With Moves Like MacGyver) to color-based (True Blue) to site-specific art (CrossPASS). What's your process for conceiving and curating exhibits? How do you interact with the artists?
Shane Prada: We cast a wide net for exhibitions. Some are developed in house by staff and instructors. Others are developed by outside curators, while still others are traveling shows with many venues. By hosting at least seven exhibitions a year, we're able to provide a wide variety of shows, featuring over 100 artists and highlighting diverse themes. We hold a few open calls a year for exhibition proposals, and almost all exhibitions include both artists we've asked to participate and selection of "open call" artists. This way, we feature a mix of established, early, and mid-career artists. We strive to communicate frequently with our featured artists and share promotional materials with them, and we highlight artists via social media.
In 2016 you inaugurated a new gallery retail shop. What's the relationship between the gallery and the shop?
Shane Prada: Our retail shop, Metal Shop, features production work by prominent art jewelers from around the country, as well as work made by our instructors. The work is generally priced at $500 or less. Our exhibitions often feature more one-of-a-kind art pieces that are attractive to collectors. Metal Shop is located within our gallery, so visitors are able to experience both aspects when they stop by. We see Metal Shop as a gateway shopping experience, a way to inspire jewelry lovers to buy art jewelry rather than mass-produced jewelry. Many of our new students make their first art jewelry purchase in our retail shop.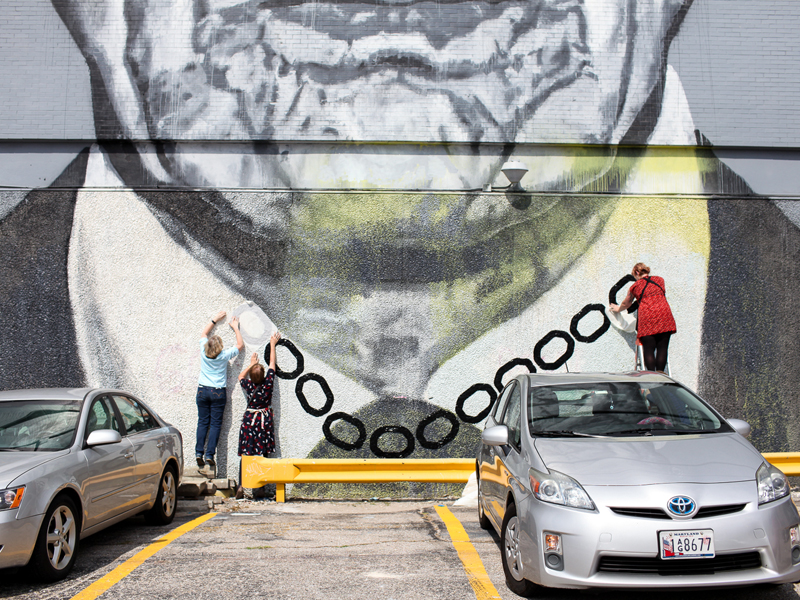 There's an upcoming Ethical Metalsmiths' project called Radical Jewelry Makeover, in collaboration with the Baltimore Jewelry Center, Towson University, and Montgomery College. The project is meant, among other things, as social commentary about over-consumption, and the base materials for creating new pieces for the exhibit consist of donated pieces of jewelry and their owners' personal stories connected to those pieces. Tell us more about this project, its purpose, and Baltimore Jewelry Center's involvement.
Shane Prada: Radical Jewelry Makeover was founded in 2007 and has been iterated 12 times. In each makeover, the broader community is mobilized to donate jewelry (costume or fine jewelry, intact or broken) and "mine" their own narratives connected to that jewelry. The donated jewelry is then utilized by a team of jewelers, students and professionals alike, in the creation of new work. The project culminates with an exhibition of the newly produced work. Each project's host is given the opportunity to develop a project that suits the goals and creative aspirations of its particular community.
Radical Jewelry Makeover: Baltimore is built on the belief that all jewelry has intrinsic value and that jewelry is a powerful means of collecting and transmuting memories and narratives. By creating an egalitarian space around jewelry, we can increase connection, empathy, and understanding for both ourselves and others. Radical Jewelry Makeover: Baltimore will engage over 75 artists, up to 150 donors, and at least six partner institutions, with the aim of creating three exhibitions and 100+ new works. We'll have several community-building and educational events to draw interest and support for the project, reaching an audience of over 700 people.
The donation portion of the project just ended. We received over 10,000 pieces of jewelry from 126 unique donors! We then sorted the jewelry based on material and style. Last week, we hosted a one-day symposium to kick off the making portion of the project. The free symposium featured workshops, demos, and talks that all connected to the reuse and recycling of jewelry. At the end of the symposium, participating artists were invited to "mine" the donated jewelry to choose materials to make new work.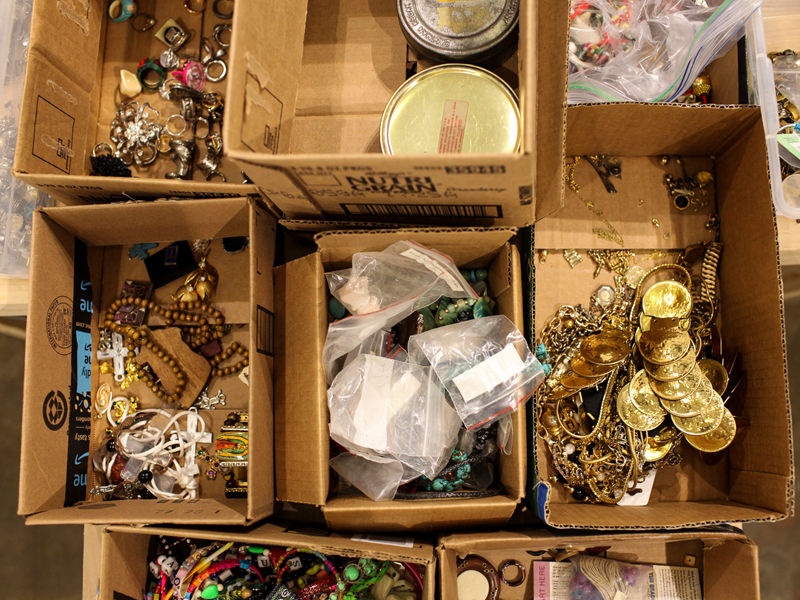 How do you see the current and future role of the Baltimore Jewelry Center in Baltimore's arts and crafts community and public life at large?
Shane Prada: The Baltimore Jewelry Center is the only organization of its kind in the Mid-Atlantic. No other comparable institutions exist. We're very proud to offer exceptional metalsmithing and art jewelry educational opportunities to the broader public. As university and college tuitions continue to rise, we're well positioned as an alternative to those institutions. We're centrally located to serve both Baltimore and the surrounding region, and our program offers something for everyone, from people totally new to art jewelry to veteran jewelers.
Our gallery is also a huge asset to the arts community here. Art jewelry galleries are few and far between. Baltimore now boasts an art jewelry gallery of its own. I do hope that as we continue to present exhibitions, art collectors in the area who may not already be tuned in to the art jewelry scene will come to respect and patronize the field. I also see our free workshops and the scholarship program as excellent assets to the city. By offering accessible and free art education opportunities, we're introducing more and more people to the field, as well as serving the greater good.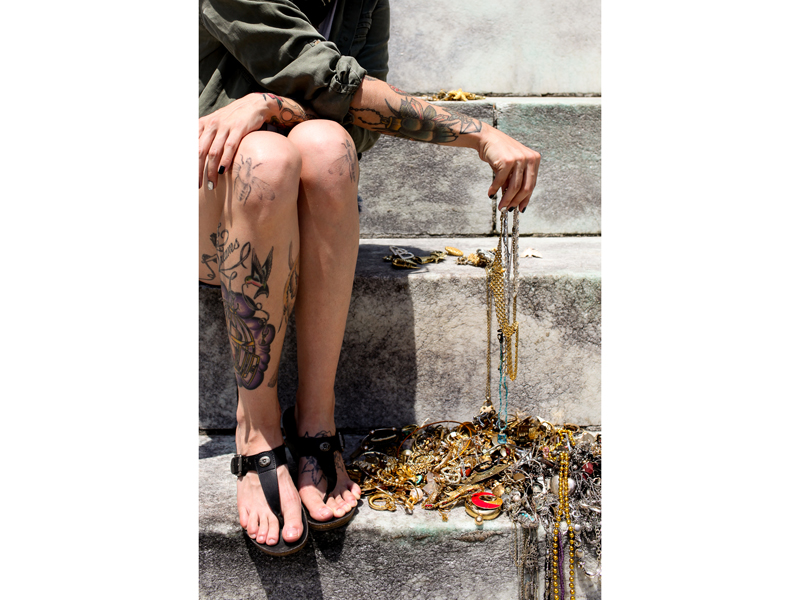 Your gallery exhibits feature collaborations with artists in other media, such as ceramics and film. You're obviously involved in interdisciplinary arts and community connections. Are there any books or articles currently inspiring you in your work and/or personal life?
Shane Prada: Yes! I adore art jewelry books and have developed a pretty robust collection. I frequently revisit On Jewellery, Ornament as Art, and Exceptional Jewellery. I also love the New Jewelry series by Nicolas Estrada, of which New Necklaces is just one example. And I find inspiration from craft books like The Gift, by Lewis Hyde, and The Hand, by Frank Wilson. I'm inspired by fashion, architecture, and furniture design as well, so I frequently peruse Vogue and Architectural Digest. Instagram is an excellent source for inspiration and a great way to find new artists and galleries.
Thank you!