Art Jewelry Forum is pleased to present a short series of critical essays, collectively called
Crafted Words
, as a result of our partnership with Radiant Pavilion. Supported by AJF, Creative Victoria, and the City of Melbourne,
Crafted Words
encourages craft writers from Victoria, Australia, to consider critical discourse around contemporary craft, and supports reflection and discussion on work shown at Radiant Pavilion and issues in the field from a range of perspectives.
The theme, direction, and format was entirely up to the writers, but the texts reflect on the event in some way—what they saw, issues that arose, discussions that were sparked, etc. This essay by Meredith Turnbull, a visual artist, jeweler, writer, and curator, is the second of four and describes some works by practicioners conscious of and deeply engaged in the intellectual, social, environmental, and ethical dimensions of producing objects and jewelry.
Radiant Pavilion, the Melbourne contemporary jewelry and object biennial, ran for its second iteration between August 26 and September 3, 2017. It included 80 projects and associated events—including the allied conference Making OUT (the 17th Jewellers and Metalsmiths Group of Australia (JMGA) biennial conference)—held at the National Gallery of Victoria (International) and RMIT University. Participants and visitors, fueled largely by their interest and dedication to this field of practice, slept little, talked a lot, and attempted to experience every event in the program. Not unlike Melbourne's other more well-known festivals,[1] participants made a commitment and imbedded themselves in the programing for the duration.
Concurrent with this sense of elevation and passion for Radiant Pavilion and its program came the desire to see and engage with everything, and the sheer impossibility of doing that very thing. Perhaps this sense of flurried activity and desperation will decrease as Radiant Pavilion occurs every two years for the foreseeable future. This intensity can be understood in part because, despite Melbourne's vibrant and robust contemporary object and jewelry communities, there are still far more artists than there are formal opportunities to exhibit work. Object-based practitioners can often exhibit at, and engage with, many of the artist-run galleries, initiatives, and institutions across Melbourne if they can successfully blur the boundary between visual art and craft or design. However, there's only one dedicated public exhibition space that focuses on contemporary craft and design in Melbourne: Craft. The other avenue for artistic practice across craft and design is the strong commercial gallery sector in Melbourne. But despite the engagement or support of these contexts, the limited opportunity invariably shapes the outcome of artworks and inflects them with a commercial dimension.
As artists, object makers, jewelers, and writers, we avidly discuss growth and organize offsite exhibitions, shows in studios, and other alternate spaces—not merely as animal laborans or homo faber, as the political theorist Hannah Arendt would have termed us, but perhaps, as Richard Sennett suggests, something between the two: practitioners capable and conscious of the intellectual, social, environmental, and ethical dimensions of producing objects and jewelry in the 21st century. Radiant Pavilion is the first umbrella platform[2] in Melbourne that illuminates not only the diversity of practice in the field of objects and jewelry but actively encourages a critical dimension in it.
Radiant Pavilion's program included beautifully staged exhibitions of static objects and wearable jewelry conveying diverse interests, material uses, and techniques from local, national, and international artists. However, some projects engaged more actively than others with the aforementioned concerns. What was also significant to observe across the festival's programing was the discussion around the potential for artworks and projects that incorporated a performative or experiential dimension, reflecting the desire of audiences for art to engage with an experience that stimulates and provokes outside of the context of entertainment. This is undeniably a reflection of our times, certainly a reflection of the current political climate in Australia, but also a reflection of our need to connect, emotionally, physically, and spiritually, across cultures and geographic locations. Notable projects with these dimensions in mind were Without a Jewel, Jeweller's Behaving Badly, Pieces of Place, Island Welcome, Paved with Gold, Labour Exchange, P.D.F.* Exchange (*Portable Demonstration Facility), and Voveo: How to Make a Promise.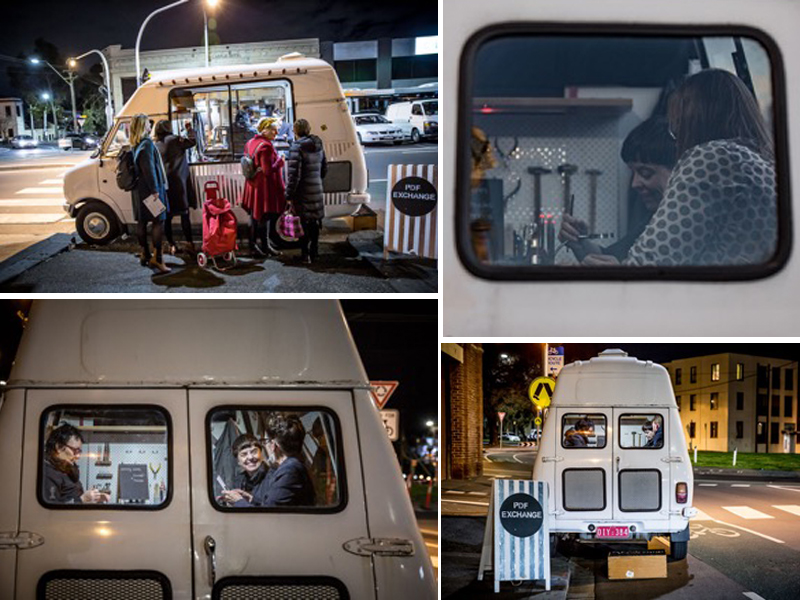 Melbourne-based artist Roseanne Bartley is well known for her performative, socially- and environmentally engaging projects like Seeding the Cloud: A Walking Work in Process (2010–present) and Human Necklace: Pendant 2005-2006, 2007. For Radiant Pavilion, Bartley collaborated with Melbourne-based artists Ceri Hann and Lynda Roberts to produce P.D.F.* Exchange (*Portable Demonstration Facility). P.D.F.* Exchange consisted of a series of encounters and activities in a mobile studio, a van called Daisy. Staged across Melbourne as the van shadowed various openings and events during the festival, and focusing on "fostering alternative education models for the transmission of tacit knowledge,"[3] P.D.F.* Exchange involved various trained visitors or Volunteer Instructor Participants, coordinated by Hann (as the Concierge), teaching Roberts (in the role of Novice Maker) how to make an earring hook. This process could be observed by festival attendees, and was recorded by Bartley (as the Dedicated Scribe). What in all seriousness was a project about how and what we learn developed a slapstick dimension as both Roberts and then Bartley repeated each of the directive verbs spoken by the Volunteer Instructor Participants. Echoes of words such as "hold," "stroke," "cut," and "manipulate" reverberated around the van to comic effect.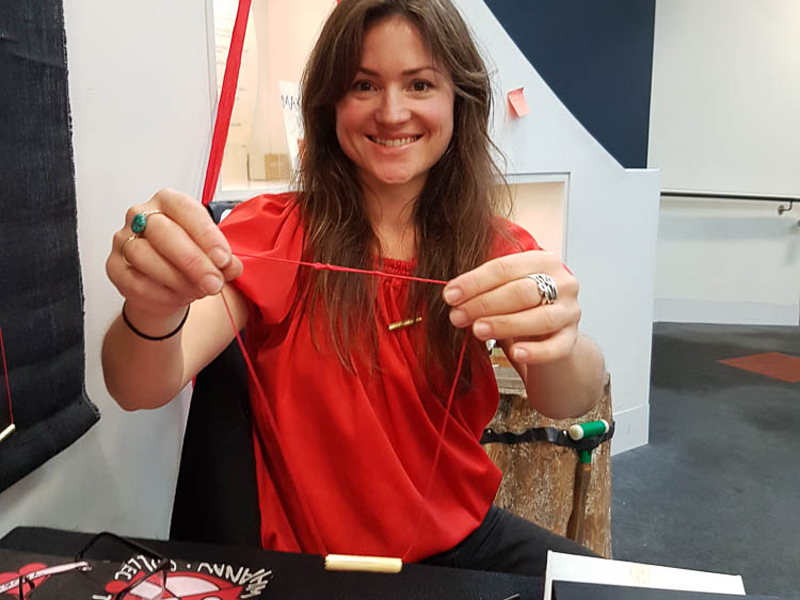 Voveo: How to Make a Promise, curated by Kevin Murray at the Melbourne City Library, featured Louiseann King, Vicki Mason, Clare Poppi, Gina Ropiha, and Alice Whish—all Australians—and Raquel Bessudo, from Mexico; This Means That, from Thailand; and Mia Straka and Keri-Mei Zagrobelna, both from New Zealand. Each artist's contribution focused on the idea of making a promise to ourselves or to others. This process was intended to build levels of trust and understanding between people in the face of deteriorating social empathy and understanding.[4] The artworks for Voveo were installed in vitrines throughout the gallery, but also extended beyond these confines. Straka occupied the library every day with her participatory project, Valere Talismans. Clare Poppi's Seed Jewels were distributed informally throughout the exhibition, and Melbourne artist Sarah Heywood tangentially contributed braided wristbands as part of the project East West Meet. In this ongoing project, the artists will further develop their contributions so they can continue to be disseminated and provide income. The next iteration will also focus on the ex-votive and its contemporary manifestations.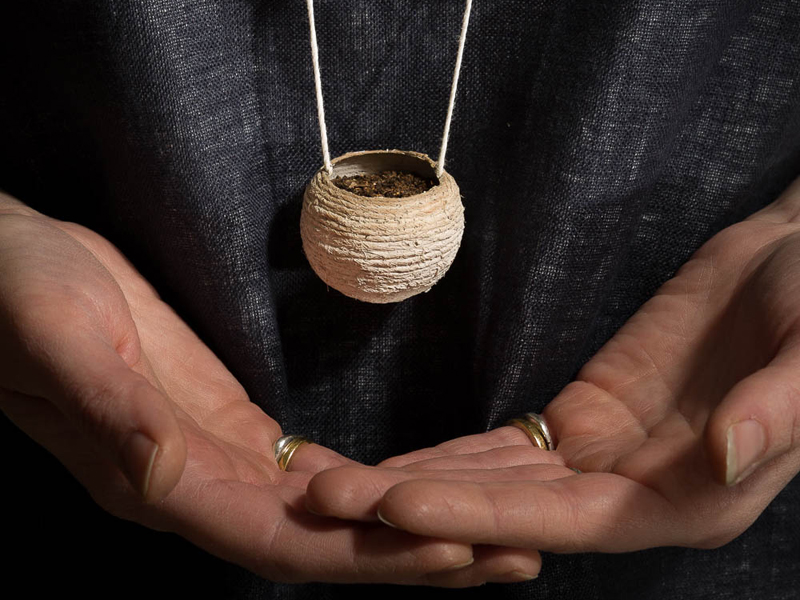 Labour Exchange (at The Stables at the Meat Market) literally reflected an engagement with ideas of labor- and trade-based economies through the artist Renée Ugazio's endurance-based activity of disassembling and reusing the material produced from the process of deconstructing her jeweler's bench. Materials ranging from drilled samples and offcuts to shavings were fashioned into objects and jewelry items at varying degrees of resolution. Individually and in negotiation with the artist, these pieces were traded with visitors to the exhibition in return for an outcome, skill, or activity to be undertaken at an agreed-upon time and location.
Also contributing to a deepened understanding of contemporary object-based practices internationally were the lectures and presentations from the Making OUT conference. Over three days there were some transcendent moments. These were often not the keynote or curatorial contributions but specific artist presentations that enhanced our understanding of contemporary object-based practices. From a local perspective, this included South-Australian artist Yhonnie Scarce, who belongs to the Kokatha and Nukunu peoples. She delivered a presentation about her sculptural and spatial installation practice, which often incorporates glass. Scarce's artwork takes as its subject matter the effects of the colonization of Australia and the subsequent genocide of Aboriginal and Torres Strait Islander peoples, including the testing of nuclear devices at Maralinga, in South Australia, between 1956 and 1963, and the devastating effects of the nuclear blasts and fallout on the land and its peoples.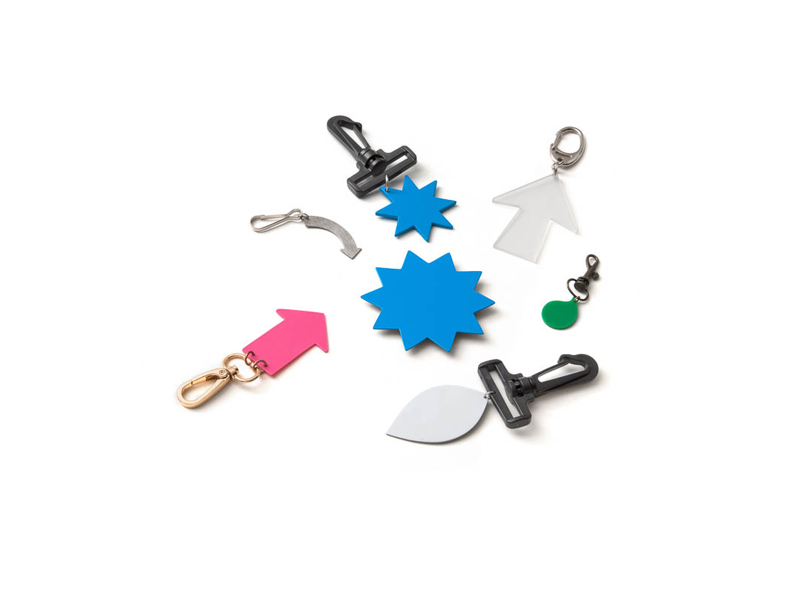 Also during Making OUT, South-Australian artist Sue Lorraine[5] (interviewed by Melbourne-based artist Bin Dixon-Ward) gave thoughtful and at times funny and moving responses to rapid-fire interview questions about life, making, and its idiosyncrasies, and contexts. The projects and artworks of Australian artist and designer Grace Lillian Lee were another highlight. Lee's presentation addressed many of her concerns and interests in learning, facilitating, and sharing knowledge about art, fashion, and traditional Torres Strait Islander weaving techniques with local communities.[6]
In recent years, artists have often discussed and debated the need for more support for the object-based and jewelry communities of Melbourne. Radiant Pavilion has not only delivered this support; it has provided us an ongoing opportunity to develop as artists and thinkers. It's our responsibility to strengthen our knowledge and understanding of these communities and to continue to engage locally, nationally, and internationally with artists about practice, culture, and the intellectual, social, environmental, and ethical dimensions of making.
---