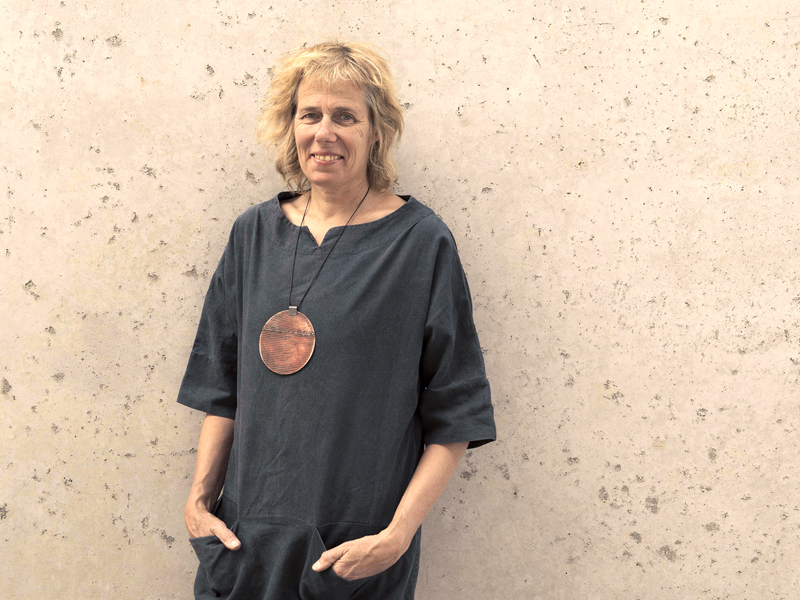 New Zealander Becky Bliss first trained as a graphic designer before becoming a contemporary art jeweler after completing a bachelor's in applied arts at Whitireia Community Polytechnic in 2010. The works in the exhibition Found, at Avid Gallery, Wellington, further develop Bliss's exploration of surface using traditional and found materials, in particular the contemporary use of the badge as a wearable art form.
Sandra Wilson: Can you tell us what first attracted you to art jewelry?
Becky Bliss: My discovery of art jewelry was complete serendipity. In about 2006 I went quite by chance to the New Zealand Jewelry Show in Wellington. Seeing some of the work at this show made jewelry so much more exciting and interesting.
While there, I saw an exhibition of work by students studying jewelry design at Whitireia Polytechnic. A year later I applied to do the course!
What kind of educational experience did you have at Whitireia Community Polytechnic?
Becky Bliss: We were exposed to many materials, ideas, and jewelers, both hands-on and academic. The course is structured in a very open way, allowing you to follow your own path while getting the critical, practical, and technical education you need. Each year there were two week-long intensive workshops with some of New Zealand's best contemporary jewelers, giving us exposure to a wide range of creative thinking and different approaches to making.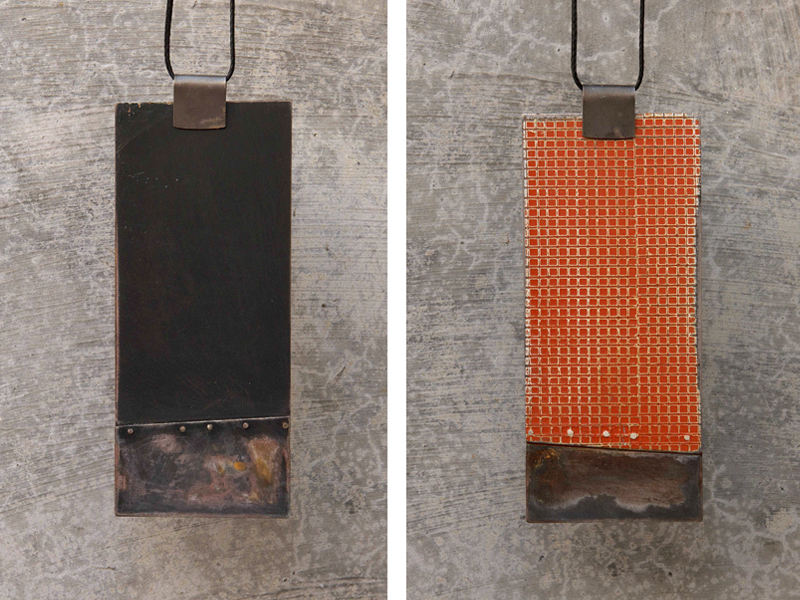 You have been part of the Handshake project. Can you tell us a little about this program, and how being paired with Italian maker Fabrizio Tridenti challenged you?
Becky Bliss: Handshake is a mentor/mentee program devised by Wellington-based artist and teacher Peter Deckers. Emerging artists selected to take part in Handshake are matched with a chosen mentor and supported with a series of developmental opportunities including symposiums, masterclasses, and exhibitions. Handshake is a bit like the old apprentice system but using contemporary technology and social media to share ideas and feedback.
Working with Fabrizio was a lot of fun. He has a wonderful sense of humor and he and his partner, Sahaja, were very generous with their time and knowledge.
He has taught me to see jewelry opportunities everywhere. He's always looking around, evaluating possibilities with everything he sees. He's also taught me to take the time to experiment.
How would you describe his influence in the work you have produced since collaborating with him?
Becky Bliss: Fabrizio has given me the confidence to take greater risks with my jewelry—using inventive materials and putting them together in unexpected ways. To use scale and be more daring. Adding a surprise! We are currently collaborating again as part of Handshake 3, to be held at Objectspace in Auckland in July. We are sending each other images (with no words) and are making work in response to those images.
What have you been doing since you graduated in 2010?
Becky Bliss: Handshake 1 kept me very busy for a few years. Since Handshake 1, I have had several solo and group shows, most notable being the Penumbra series, first at The National in Christchurch, and Avid in Wellington, then accepted into Schmuck 2015.
I'm also a member of Occupation Artist in Wellington. Occupation Artist is a Wellington-based group of contemporary jewelers with a determination to make our art and get it out there. We each exhibit regularly and have a high level of professional engagement in the art life of Wellington and beyond. It was during Occupation Artist's involvement at Radiant Pavilion, Melbourne, in 2015 that I started experimenting with badges, which form the basis of the new work in Found.
I've recently been selected to be part of the next phase of the Handshake project, which will consume much of my time for the next year. 2016 started with a six-day workshop with Sofia Björkman and Hilde De Decker. Exhibitions are planned for Stockholm and Auckland this year, and Munich and Wellington in 2017.
You make work that is the opposite of bombastic: You work with "modest" materials (plaster, paint, metal), use a muted palette of colors, and favor subtle gestures over bold statements. How do people engage with this form of understatement?
Becky Bliss: That's a good summary of my work! It seems to attract people of a similar nature to me—perhaps a little introverted, looking for an aesthetic that still carries real meaning.
This is not the first time you have shown at Avid. Can you describe the challenges of exhibiting there, and how you have installed your work to make sure that people spend time with it?
Becky Bliss: The work in Found was suspended from a series of pegs coming out from the wall at different lengths, creating a three-dimensional effect. The work has both an A and B side, so it was important that the viewer could relate to both sides. The pendants also cast shadows that nicely relate back to my previous Penumbra work.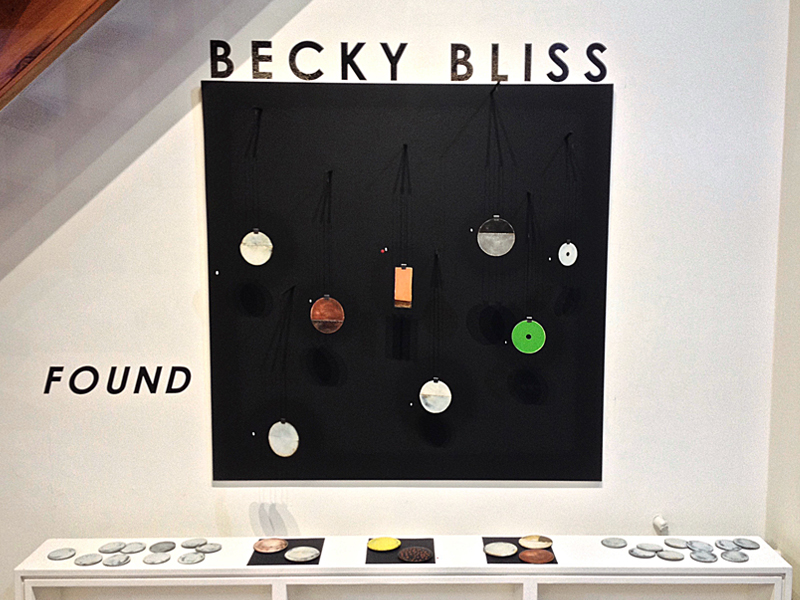 With the newest series, you are reconnecting with the idea of a palimpsest (a document that has been partially erased and written over). You also say you are interested in "traces of the past." Is time an element you use to create depth in your work?
Becky Bliss: The badges I use are overruns from a badge company in Auckland. The current badges are commemorative ones. I strip the current message off and use them as a canvas, so they closely relate back to the palimpsest theme.
Time is definitely a factor in my work. I try to create a sense of history with the materials and layers.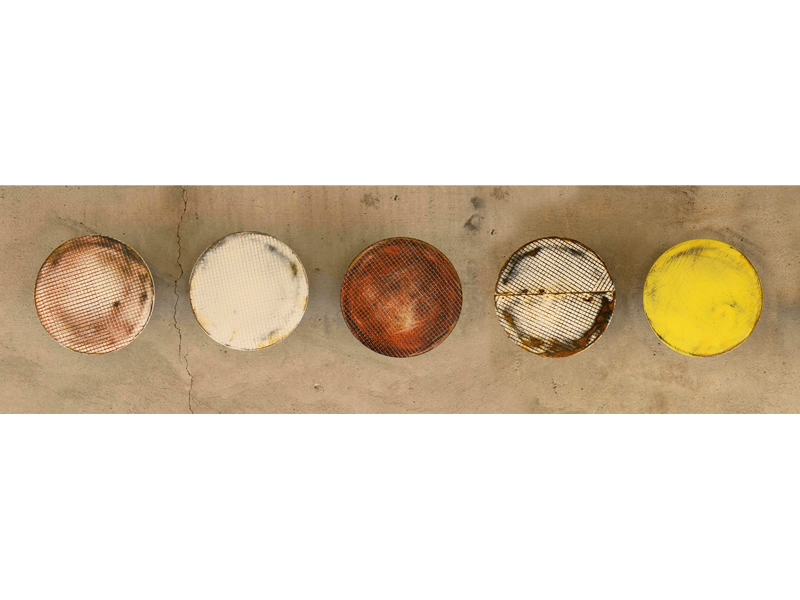 But in fact, why should the past matter to us? Is the future not more important now?
Becky Bliss: We need the learning from the past without living in it. "Lest we forget …" The human condition is to ignore the past, hence repeats of wars, etc. Even feminism got lost and has had to be rediscovered by subsequent generations. The gender pay gap is still significant. Despite all the advances in overcoming discrimination over the past 20 or 30 years, it's hard to believe that Mississippi has just signed a law allowing businesses to refuse service to gay people.
Can we separate the past from the future? The future has never been more important than now!
How important are aesthetics in your work? And is there an aesthetic system that you base your work on?
Becky Bliss: I'm a graphic designer! Composition, color, texture, and form are very important to me. Aesthetic always wins out, but it is also subjective. I try to combine aesthetics and interest, but I'm an intuitive maker.
If you had to locate your work in a particular art jewelry genre, where would you position it? Is the difference of approach between you and your colleagues something you have ever discussed?
Becky Bliss: I try not to put labels on things, but I'd probably be in the minimalist camp. I try to simplify form to convey an idea. I can only liken it to designing a logo, when you need to put meaning into a simple form.
I don't recall having specific conversations about our different approaches with colleagues. Perhaps that's a discussion we should start having!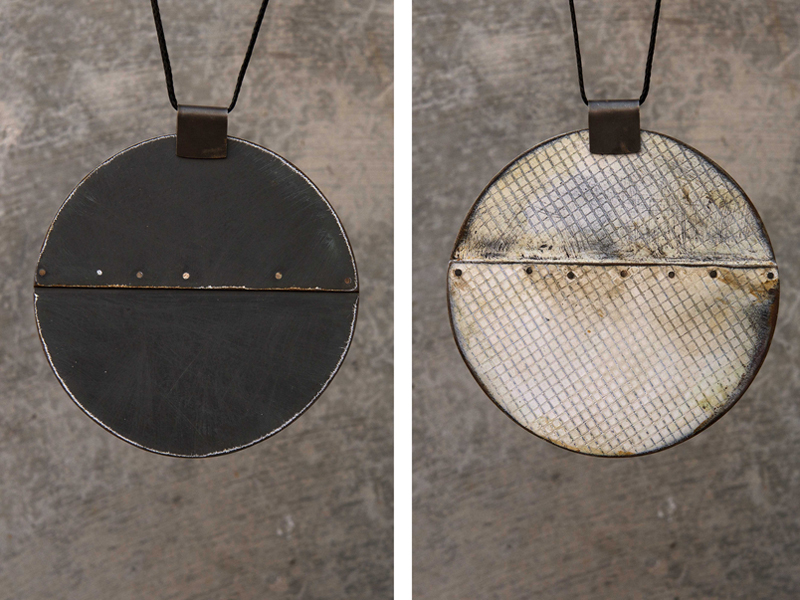 Are you able to make a living from your work? How do you balance generating an income and satisfying your creative and expressive passions?
Becky Bliss: I have a big studio. One end is jewelry and the other is graphic design. A good day is when I work both ends. If I have a design job to do, it has to take my daytime priority as that is still my principal income. My jewelry is starting to provide a small income stream, and I'm hoping that in time the balance between the two will change. Since I've been making jewelry, I find I am enjoying design more. They feed and inform each other.
What advice would you give a young graduate just setting out?
Becky Bliss: Create a project. Who knows, someone might pick it up and create an opportunity for you. It's also useful to have a group to share critiques with.
Can you share with us which book is currently sitting on your bedside table?
Becky Bliss: I have an eclectic book taste. My favorite book lately was Natural Born Heroes by Christopher McDougall, which I find interesting because it talks about the origins of parkour, but also from an historical perspective, it talks about the role of Crete in WWII. I currently have two books on the go—a book by Donna Leon, a crime novel set in Venice with Commissario Guido Brunetti; and Bernhard Schobinger's The Rings of Saturn.
What exhibition most inspired you recently?
Becky Bliss: I really like the new work by Andrea Daly. She recently had an exhibition called Panopticon at Avid Gallery. Her pieces are made in oxidized silver and have simple, interesting forms. I find them very contemplative.
Thank you!
The works in this show range in price from NZ$100–$520.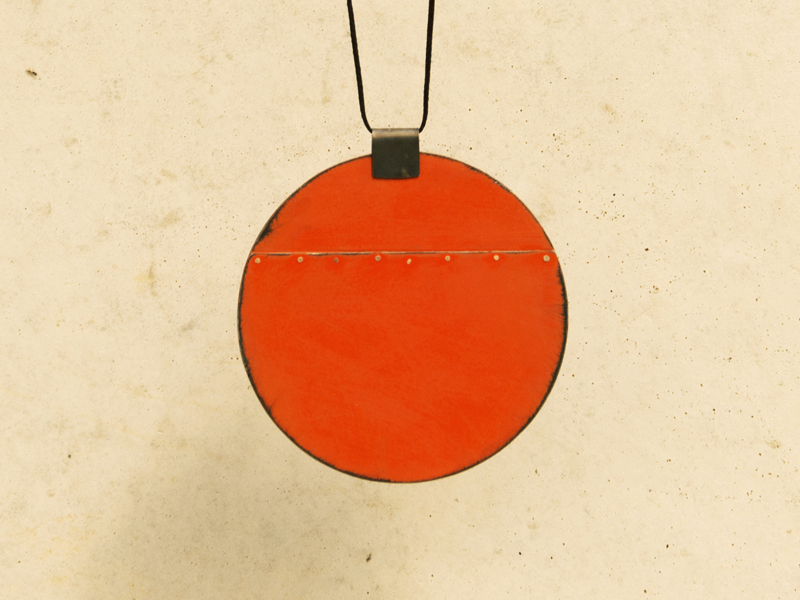 INDEX IMAGE: Becky Bliss, Pendant: Found, 2016, reversible pendant, mild steel, paint, silver, 100 x 100 mm, photo: Sandy Connon