A new group show at Aaron Faber gallery showcases work from around the world which flaunts spectacular—and unusual—gems. These gems are rare curiosities and, to some extent, they fall outside the conventional market for precious stones. When set by studio makers, they generate a niche market—somewhere between haute jewelry and contemporary practice. AJF editor Benjamin Lignel catches up with gallery co-director Patricia Faber, and asks her about the makers' backgrounds and specific skill sets, and what the gallery's collectors are interested in.
Benjamin Lignel: Your latest exhibition, Phenomenal Jewelry, gathers a cast of 21 makers or design houses from around the world who busy themselves with rare, spectacular gems. Can you tell us what spurred you to curate an exhibition around this theme, and how long it was in the making?
Patricia Faber: As a gemologist (G.G., Gemological Institute of America), the idea came easily to me, but was spurred by the serendipity of language: phenomenal in everyday/slang use, meaning something like "fabulous" or (forgive me) "awesome," and the gemological meaning of phenomenal, which is a specific category of gems, those which demonstrate a change of color or play of light. These gems, which include moonstone, labradorite, opal, are often of particular interest to artist-jewelers, I think for their nuance and less commercial use in general. The show was nine months in the making.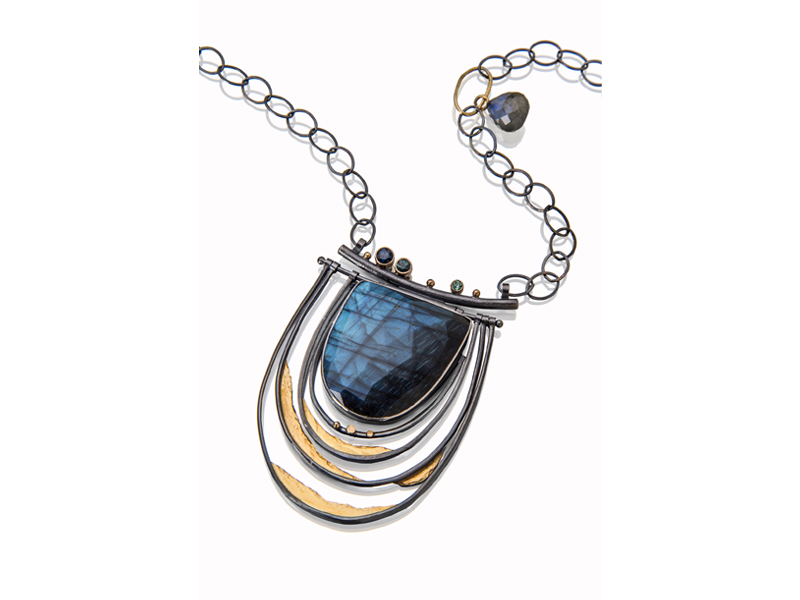 The setups of the participants are quite diverse: Some—like Sydney Lynch or Michael Boyd—are studio jewelers in the traditional sense (one person making their own work in their own studio). Others—Omi Privé or Katherine Jetter—seem to function like bespoke haute-jewelry houses (which implies a bigger team, and an in-house promotional machine). Munsteiner, finally, is both a producer of jewelry and a supplier of uniquely cut gems. Is an interest in spectacular gems what brings them together? Is there something else that justified corralling them under the same headline?
Patricia Faber: They are all masters or best-practice makers in their points of view as jewelers, and it's educational and revealing to see their work together at one time with a focus—phenomenal gems—proposed by the gallery.
Many of the artist-jewelers used these phenomenal gems as a stepping-off point for the work, in which the gem and metal are integrated into a final object or form that dominates the eye. They are also using less well-known or unusual or less costly versions of these gems, which is interesting. Other participants do use the gem as the focal point, but from a unique perspective within that field, such as Omi Privé, with their studio-style approach to sourcing gems, providing full documentation on the material, and creating one-of-a-kind settings that are perfectly proportioned for the gem, a rare accomplishment in the wider world of gem-set jewelry.
Gems are the focus of this show. How is that reflected in the exhibitors' practices? Are they all—to a smaller or larger extent—gemologists, and if not, where do they get their expertise?
Patricia Faber: Michael Boyd and Jeff and Susan Wise are studio jewelers who are also lapidaries, cutting their own gems from rough. Claudio Pino cuts many of his gems. Tom Munsteiner is a gem sculptor/cutter, and he and his wife and goldsmith-partner Jutta Munsteiner collaborate on the design of the mounted gem. Élise Bergeron and Paula Crevoshay are gemologists. But the expertise on display in the exhibition is not gemology itself, but the unique way each of these participants uses this particular group of gems in the work.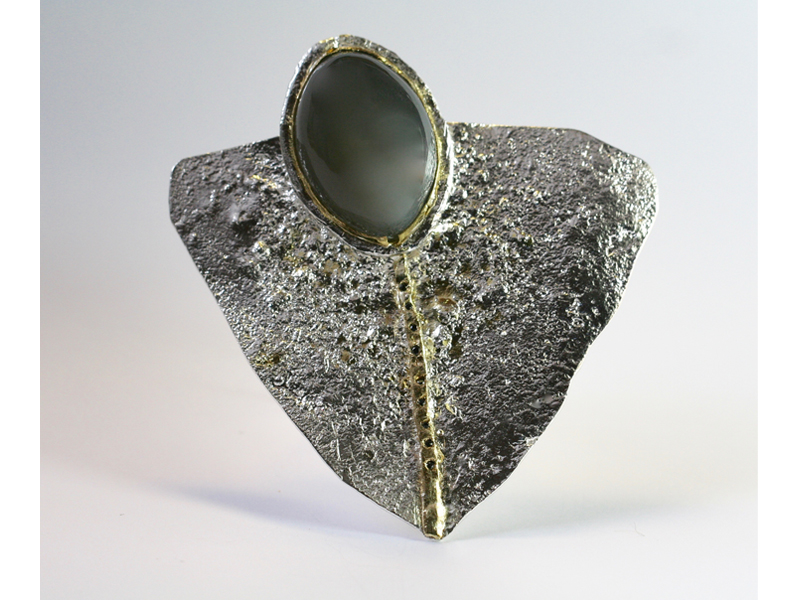 Is the exhibitors' reliance on superlative material this business model's Achilles heel? Are you, in effect, as good as your supplier is?
Patricia Faber: Material value is not the primary focus of the work in this exhibition. And, if it were, for these exhibitors, the so-called "supply chain" is small, fairly direct, and verifiable, as opposed to mass-market jewelry where the chain is often unconnected or unknown.
Munsteiner's signature approach of "designing the stone" is rather unique amongst the exhibitors. How involved do they all tend to be in (re)cutting the stone?
Patricia Faber: All the works in the exhibition are one-of-a-kind jewels, made for the gem or gems selected by the artist, so recutting isn't usually part of the process. The exception is those artists who are also lapidaries or cutters, where their vision of the final work involves both shaping the gem and forming the jewel.
Katherine Jetter "regularly sources materials for her clients upon request and specializes in acquiring extremely special opals and other fine gemstones. It's like having a personal shopper for the most rare items in the world!" Are you encouraging, at this end of the market, a more intimate relationship between client and jeweler than you would with low- to mid-range work?
Patricia Faber: Katherine Jetter has unusual expertise in Australian opals, having spent much time in Australia at the mines. She is also a passionate champion of the miners, so she brings a special perspective to the gem conversation.
These "rare" stones are not rare in the same way that diamonds are, in the sense that they are not subjected to an international grading system that rewards purity and clarity, but are also valued for their imperfections, or the accidental nature of their formation. How does that give them an edge over more "classic" gems?
Patricia Faber: It's fair to say that for the most part classic gems have become commodified, making it difficult to separate asset value from aesthetics. The gems used in the Phenomenal Jewelry show are unusual, letting the viewer or buyer appreciate the maker's concept, or form, or construction, or singular presence, of something they will not see elsewhere, and whose value is in the whole, rather than the gem alone.
These gems are nature's bounty (Sydney Lynch in fact says, "In an era of special effects and astounding technology, the natural world still provides some of the best light and magic around.") So one way to look at the craftspersons participating in the show is that they are "just" highlighting the beauty of a rare rock. But there are in fact two very distinct groups of makers: those who play up the roughness of the rock, by giving it a very sleek setting, and those who tend to emulate "roughness" through sophisticated fabrication and finishing techniques (distressing, granulation, reticulation). Is that a useful way of categorizing them?
Patricia Faber: In very few cases are the makers just highlighting the beauty of the gem. Most often, they are taking the opportunity to investigate how the gem challenges their mode of expression, and how the process of making resolves that challenge.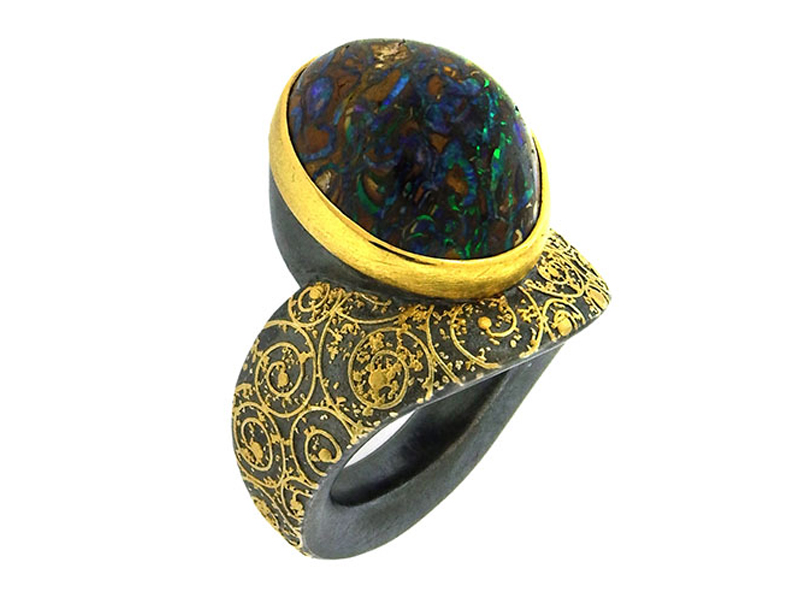 Everything in the show is superlative, which must translate into superlative prices and a rarefied client base. Do these works tend to have a specialized collector's base—people who actively look for the rarest stone? What is their usual background?
Patricia Faber: Most of the collectors gravitate visually first toward the artist's style or work and respond to that. Gems add to the conversation but most collectors in our gallery are looking for jewelry that sparks their imagination, or expresses or complements their aesthetic taste.
The pieces in the show flaunt three different core values: craftsmanship, the uniqueness of the jewel, the rarity of the stone. Which one do your clients react to most?
Patricia Faber: The uniqueness of the jewel.
How has the response to the exhibition been? From private collectors? From institutions? Will you be doing another one on the same theme?
Patricia Faber: The response has been excellent from private collectors. Institutions are curious but not yet committed.
Thank you!
The work in the show was priced between $2,000 and $220,000.