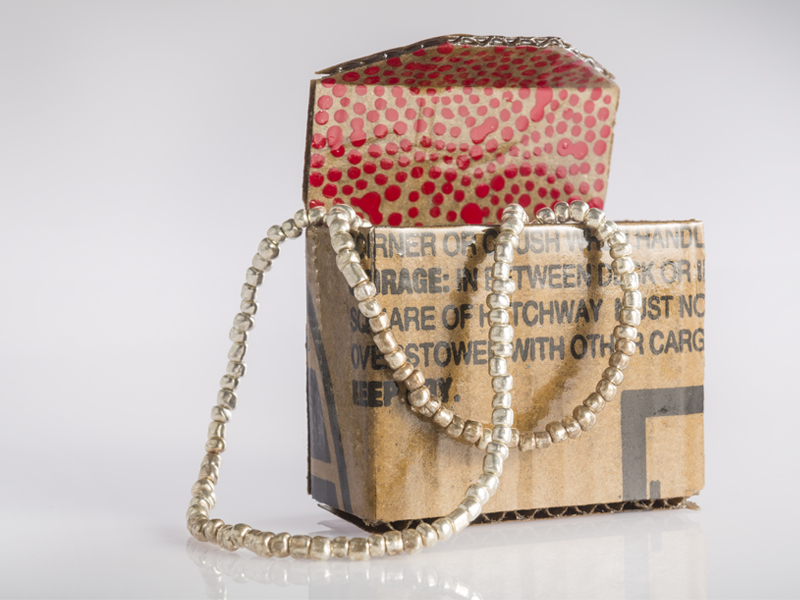 The husband-and-wife team of Tatjana and Peter Panyoczki has collaborated on an exhibition at Avid Gallery using the theme of the box. He is a painter, and she is a jeweler, so they each brought their talents to the object and came up with an imaginative collaboration. They have been married for many years and I was curious how this project affected them.
Susan Cummins: Can you tell us the stories of your background? Where were you born and raised, and where did you go to study? Where do you live now?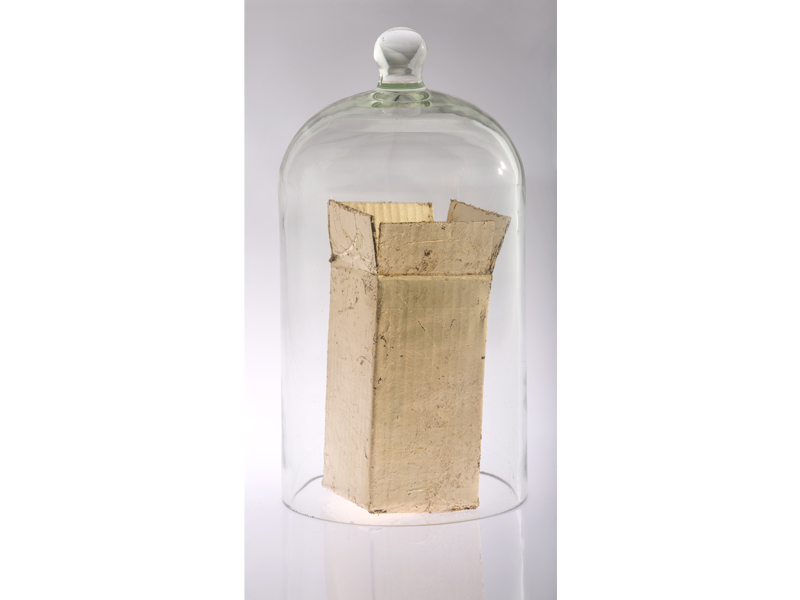 Peter Panyoczki: I am a New Zealand artist based in Kaiwaka. Born in Hungary in 1953, I escaped with my parents after the revolution in 1956 to Switzerland. I studied literature and art history at the University of Zurich and received an MA in 1980. I taught at Purdue University, Lafayette, Indiana, and in Zurich. I worked in studios in Barcelona, Vienna, Budapest, and Rotterdam, and have exhibited internationally since 1979. Since 1995, I have been living in New Zealand with my wife Tatjana and our son Janos, where I initiated a synergetic project, the Kaipara Foundation.
Tatjana Panyoczki: I was born in Zurich, Switzerland, in 1969. My family traveled to New Zealand by boat when I was three years old and returned to Switzerland six years later. There, I trained as a wig maker and make-up artist in theater. After working in London for a few years, I returned to New Zealand where I studied 3D design in Auckland. Since 1998, we have lived in a small rural community in the north of New Zealand.
Where and when did you meet?
Tatjana and Peter: We met in Zurich in early 1991, thanks to Csibi, a Husky puppy.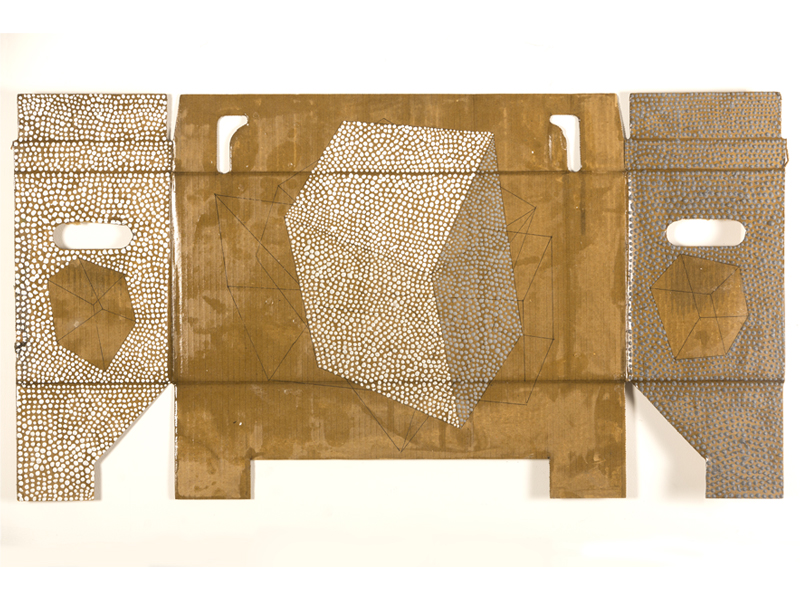 How would you describe your own artwork? What ideas are you working on? What materials do you work with?
Peter Panyoczki: I describe my work as a method of navigation in a field of relations embracing space, time, and my continuously changing psyche. I orient myself by playfully arranging materials, on canvas and other membranes. I lift familiar things to the light and into a wider field of vision. The things that have always been there push abruptly into consciousness. I don't create anything new, just maybe a new way of seeing through things into the invisible.
Tatjana Panyoczki: My work is meant to be worn. Form, surface textures, and the body are key elements in my visual language; finding the balance between them is the goal. I have become a lot more intuitive over the years and let unfamiliar materials lead me astray on experimental journeys. These escapes teach me a lot about myself and my practice, and sometimes even a good piece is made, but I love returning to metals, my core and, I guess, my comfort zone.
Do you critique each other's work and share ideas? Are your studios near each other?
Tatjana and Peter: Since we both have separate studios at home, we regularly communicate about our creative processes and often have inspiring critique sessions.
In the press release for the show, it states that you reinterpreted the concept of Gertrude Stein's "A rose is a rose is a rose" by naming your show ABOXISABOXISABOX. Have you read a lot of Gertrude Stein's writings, or did you just like the idea of the phrase?
Tatjana and Peter: We have come across Gertrude Stein's writings, even though we can't say we know them intimately, but the "rose is a rose…" has always been intriguing. We brought our reinterpretation into play because it expresses pretty much our intention. Here is our statement, which we have written for the exhibition:
A box is a container for things. It embraces and protects them, forming an outer space. By itself a box is a spatial membrane with a void inside. This void has potential.
As a couple living and working together, creating our own sphere—a little universe, a "box." By experimenting to amalgamate our diverse practices, we find surprising results; that would not happen when working alone. The cross-fertilisation of ideas and techniques opens new avenues to explore. It's a beautiful, challenging adventure and learning curve. We have shared ideas, contemplated on our work, given each other input for many years. Now our marks meet in this body of work.
We deal with boxes in our everyday life. We send our objects away in boxes, receive things in boxes. Boxes turn into charismatic objects, forming their own history. This is the starting point for our collaborative work: to acknowledge their aesthetic value, to play with the membrane of a three-dimensional shape—turning the hierarchy upside down. The membrane, the box itself, becomes a value in its own right.
"A box is a box is a box." Following Gertrude Stein's notion, a box reduced to its "boxness" is void of any metaphoric content. Now it starts gathering new meaning all over again.
Tell us about the concept of ABOXISABOXISABOX. Give us an example of how you worked together on a piece.
Tatjana Panyoczki: As described in our statement, the starting point was the recycled boxes I send my work around all over the place (as do many other jewelers), they circulate, gather layers of time and place, the marks of other artists. I find them beautiful and started collecting them. Peter builds boxes/crates for his work to be sent around the world. This was our common ground where we started with our collaborative investigation of ABOXISABOXISABOX. So we made boxes together, literally four handed on some of them, other pieces evolved separately and allowed cross-fertilization to come into play.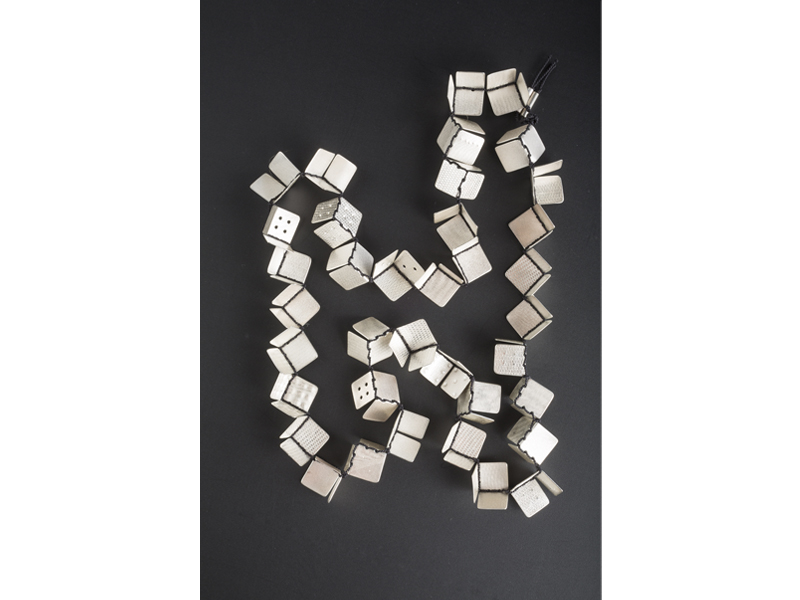 Did your collaboration lead to new ideas for your individual practices?
Peter Panyoczki: Because we had to leave our usual practices, there was for both of us certainly a portion of adventure into unknown territories involved. I had to redimension my work, i.e. work on a much smaller scale. Over all, there was lots of playfulness involved in our collaborative work, definitely opening up doors for future concepts and ideas in our individual practices, too.
Tatjana Panyoczki: It was really stimulating not having to think "jewelry" for a change, so it opened up a whole new dimension for me, particularly in terms of scale, which naturally led to new ideas and urges to translate back into wearable pieces.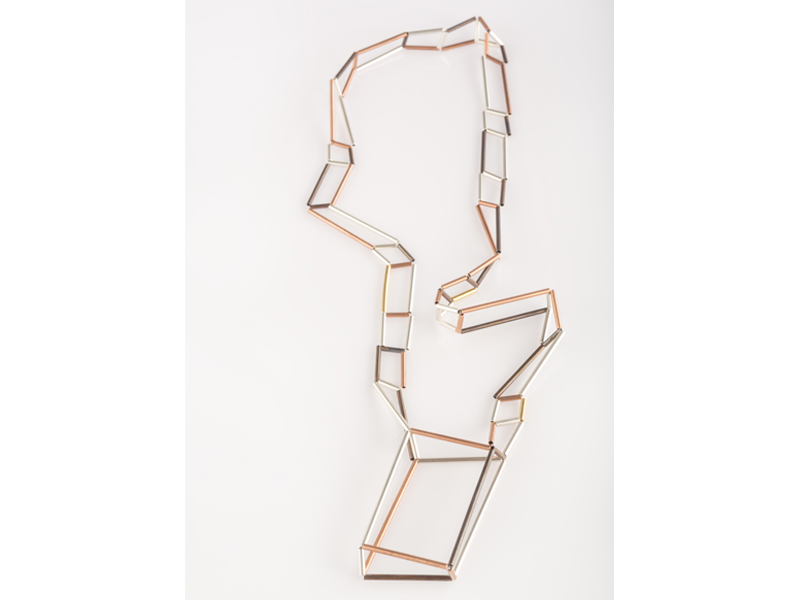 Do you think you will try this collaboration again sometime? Did it create a strain in your relationship?
Peter Panyoczki: On the contrary, this was a great experience for us, showing our closeness and our similar aesthetic views. Our collaboration was remarkably harmonious, which should not be taken for granted when a couple works together.
Tatjana Panyoczki: One would think that being a couple of 25 years, living and raising a son together, it would come easy. And it did … it came down to healthy communication skills and similar aesthetic values.
Letting go of individual authorship and egos. Collaborating is a very humbling and humanizing form of the creative process, which I would recommend doing from time to time.
How would you describe the difference between showing as a painter and showing as a jeweler?
Peter Panyoczki: Showing as a painter falls (or has been falling) under a different category, because of the traditional perception differences, i.e. art and craft. Of course, there has been in the last years lots of discussions and efforts in rectifying these two realms, putting them under the same "umbrella." This definitely should be the case! We have come across this problem while pricing our work. The so-called "fine arts" are always priced higher than "craft." Quality, work input, materials have nothing to do with their value. They are just by definition two different pairs of shoes. It is time to adjust them.
Tatjana Panyoczki: AVID Gallery shows objects and applied art; they have represented my work for years. Judith Carswell, the owner/director, approached me about a collaborative show with Peter, something quite new for AVID. She gave us total freedom and a lot of trust in merging our practices. We all understood from the beginning it wasn't going to be a show with Peter's two-dimensional work on the walls and my jewelry in cabinets. It was a wonderful collaborative process working with AVID, a dream for every artist.
Have you seen, heard, or read anything you can recommend to AJF readers?
We recently watched a documentary filmed by Reto Caduff, The Visual Language of Herbert Matter. A portrait of an unsung hero, but an incredible, influential creative genius (Pixiu Films, 2011).
Thank you!