Art Jewelry Forum's extensive network of international
gallery supporters
is dedicated to celebrating and showing art jewelry. On Offer is a monthly series that allows AJF galleries to showcase a piece that they've personally selected to tempt and inspire you. Please contact the gallery directly for inquiries. Enjoy!
ESTABLISHED ARTIST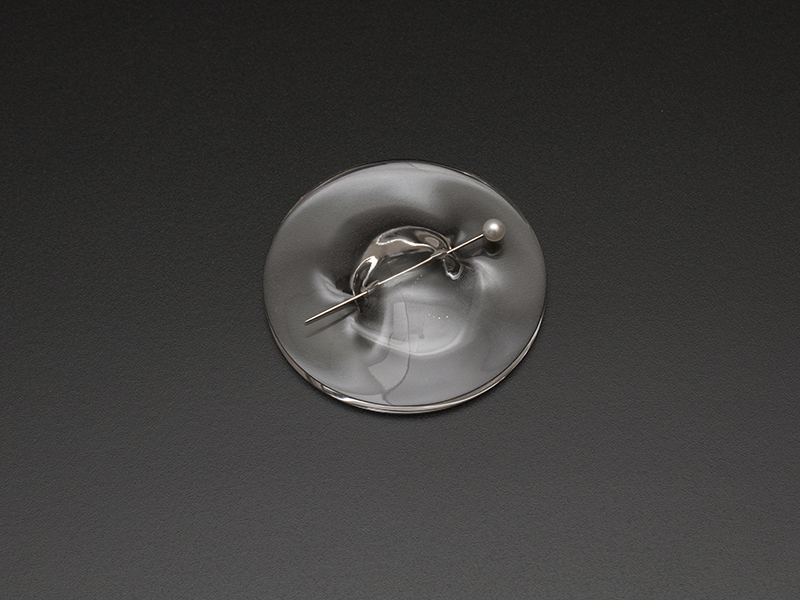 Artist: Lin Cheung
Gallery: Gallery S O
Contact: Katharina Dettar
Retail: £1,450
An ordinary-looking pin needle made out of 18-karat white gold and a freshwater pearl fastens onto a transparent piece of skillfully carved rock crystal, which almost looks like plastic when pinned to the body. But don't be fooled, this isn't just a material trick. It goes as far as questioning ordinary acts of wearing—temporary brooches, the unconsciously ornamental decision to thread a needle through a jumper or T-shirt to keep it safe while sewing to the very origin of the brooch itself.
ESTABLISHED ARTIST
Artist: Gésine Hackenberg
Gallery: Galerie Noel Guyomarc'h, bijoux et objets contemporains
Contact: Noel Guyomarc'h
Retail: CAN$1,465
From March 26–April 19, 2020, Galerie Noel Guyomarc'h will display Gésine Hackenberg's recent work. About this new series: When life suddenly falters, new energy gets released. This experience inspired Hackenberg to making jewelry that explores the perception of repetitive circular movements. In the Tumbling series, brooches depict the dynamics of tumbling and spinning. Rims and rings of subtly tinted glass are arranged in spatial rhythms. The play of different hues seems to enhance the movement in time and space. The wearer becomes part of the delicate moment between falling and breaking or finding balance. The Drawing necklaces and brooches want to catch the dynamics of movement in three-dimensional drawings. A single black metal line becomes an expressive gesture and sometimes it whirls with the energy of a pot on a potter's wheel. When worn, the lines come to life. Falter not fall is consistent with Hackenberg's aim to charge the ordinary into something that can symbolize personal feelings.
ESTABLISHED ARTIST
Artist: Reiko Ishiyama
Gallery: Gallery Loupe
Contact: Patti Bleicher
Retail: US$3,200
Reiko Ishiyama was born and raised in Japan, where she made sculpture in metal before adapting it to a wearable format. She shapes thin sheets of silver so the layers seem to breathe and float in space. "My work has an almost fragile quality," she states, "stressing lightness and mobility." Ishiyama was selected to show her work this year at the International Trade Fair in Munich (Schmuck).
ESTABLISHED ARTIST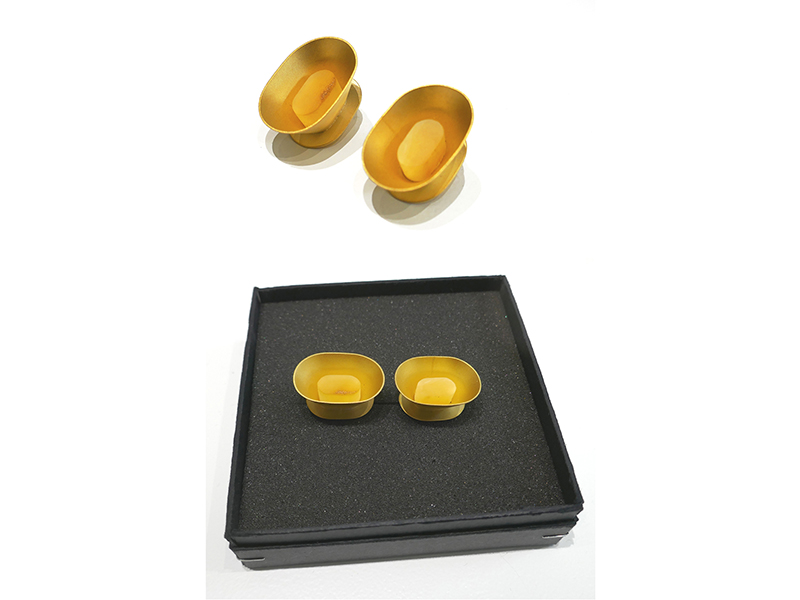 Artist: Ruudt Peters
Gallery: Galerie Spektrum
Contact: Jürgen Eickhoff
Retail: €2,800
This pair of clip-on earrings is part of Ruudt Peters's well-known Suctus series. It's very rare for Peters to make earrings, so this is therefore a good opportunity for anyone who loves his work and has always wanted to have earrings made by him.
ESTABLISHED ARTIST
Artist: Nuria Carulla
Gallery: Tamagit
Contact: Marta Tamagit
Retail: €1,680
In this brooch, renowned artist Nuria Carulla captures the sadness of Chocó, an Atlantic region in her dear Colombia. Mafias and armed groups around the mechanized mining business have led to huge plunderings, causing extreme poverty and the annihilation of ancestral communities that had managed to combine their extractive activities with the conservation of the environment.
Chocó expresses how chaos emerges as a result of the breakdown of order and rhythm and reflects on how alienating elements disrupt the equilibrium between human beings and their environment. Through the use of colors, the artist expresses the symbolic dimensions of this theme.
Maya Figueroa, who was born in Lloró, a town in Chocó, 95 years ago, says, "In Lloró, when I was a child I used to play in the street with my neighbors with golden marbles that my family used to keep in glass jars."
MID-CAREER ARTIST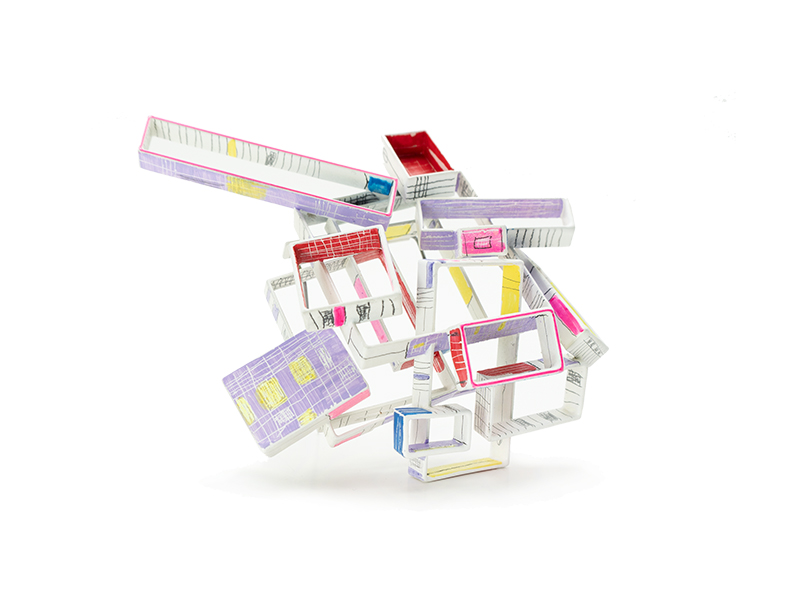 Artist: Demitra Thomloudis
Gallery: Baltimore Jewelry Center
Contact: Shane Prada
Retail: US$710
Demitra Thomloudis is a studio jeweler, visual artist, and assistant professor in the Jewelry and Metalwork area at the Lamar Dodd School of Art, located at the University of Georgia. Originally from the Philadelphia area, she received her MFA from San Diego State University and her BFA from the Cleveland Institute of Art. Her work is recognized nationally and internationally and she has been invited to exhibit, lecture, and teach at institutions/fairs/events such as SOFA Chicago, Athens Jewellery Week (Greece), and the Penland School of Craft, to name a few. In her new body of work, Proposed Excavation, Thomloudis explores architectural sites in progress, taking monumental experiences she has witnessed and introducing them to the body. Systems, colors, forms, and marks are observed and excavated from the built environment and reorganized in a new system to inhabit the space on the body as ornament.
MID-CAREER ARTIST
Artist: Marianne Anselin
Gallery: Galerie Elsa Vanier
Contact: Elsa Vanier
Retail: €2,880
Having trained with such big names as Gilles Jonemann, Esther Brinkmann (HEAD Genève), and Sophie Hanagarth, Anselin is the essence of contemporary jewelry: personal expression, the relationship to the human body, and a reflection on the meaning of beauty. Wrought iron or rusted iron is her favorite material. Her jewelry seems to have a soul and to inspire subtle poetry.
GALLERY CHOICE
Artist: Kelly Ann Temple
Gallery: 108 Contemporary
Contact: Susan Baley
Retail: US$90
Kelly Ann Temple is an artist and jeweler who is interested in our relationship with medical interventions; she is both fascinated by and fearful of the body's ability to adapt, accept, reject, and repair. Her work addresses ideas of surface, acceptance, and transformation as it captures intimate moments where the biological and mechanical touch. This brooch incorporates microbial cellulose, a material used in medicine for wound care, to represent the human body. Temple grows, manipulates, and combines this material with fabricated metal parts to create a dialogue between the living and nonliving, the human and machine.
GALLERY CHOICE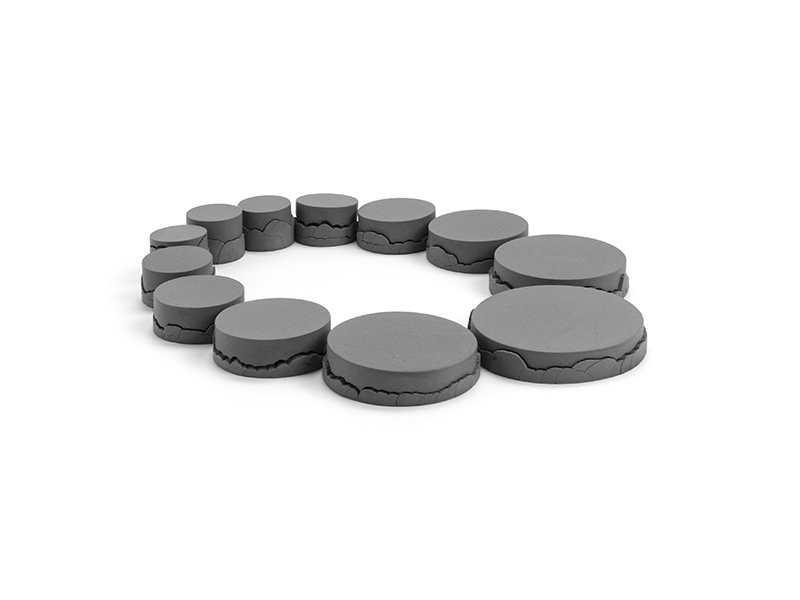 Artist: Patricia Domingues
Gallery: Galeria Reverso
Contact: Paula Crespo
Retail: €2,955
Patrícia Domingues's interest in the division of things—of earth, people, elements, processes, and the spaces that define their beginnings and endings—have driven her to explore different ways of approaching and working with materials. Tracing spaces that provoke separation and facilitate unions, Domingues questions the material, fragmenting it and uniting it, creating intervals that could just as easily liberate as find new restrictions. Fragmenting and reconstructing have been her process and the foundation of her research; she is always conscious that one cannot speak of separation without speaking of union.
GALLERY CHOICE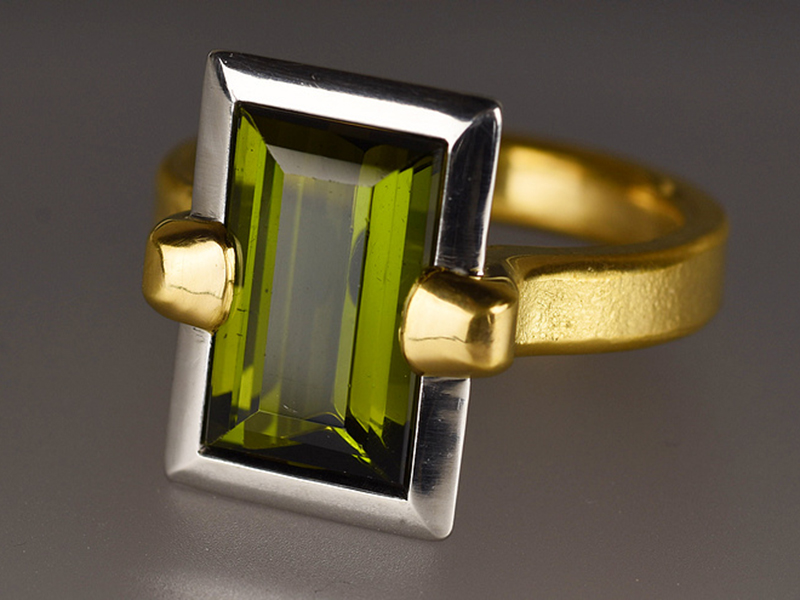 Artist: Michael Couper
Gallery: FINGERS GALLERY
Contact: Lisa Higgins
Retail: NZ$4,500
Michael Couper started making jewelry with Daniel Clasby in 1976 and became a partner in Fingers Gallery in 1977. Early works using nonprecious materials such as pounamu and paua shell are held in the Museum of New Zealand, the Dowse Museum, the Auckland Museum, and in private collections. "More recently I've specialized in working in platinum and high-karat gold of alluvial origin from the West Coast of New Zealand's South Island," says Couper. "My aim is to create jewelry that is contemporary, but also sufficiently enduring in its design and materials to be worn permanently and to age beautifully."
GALLERY CHOICE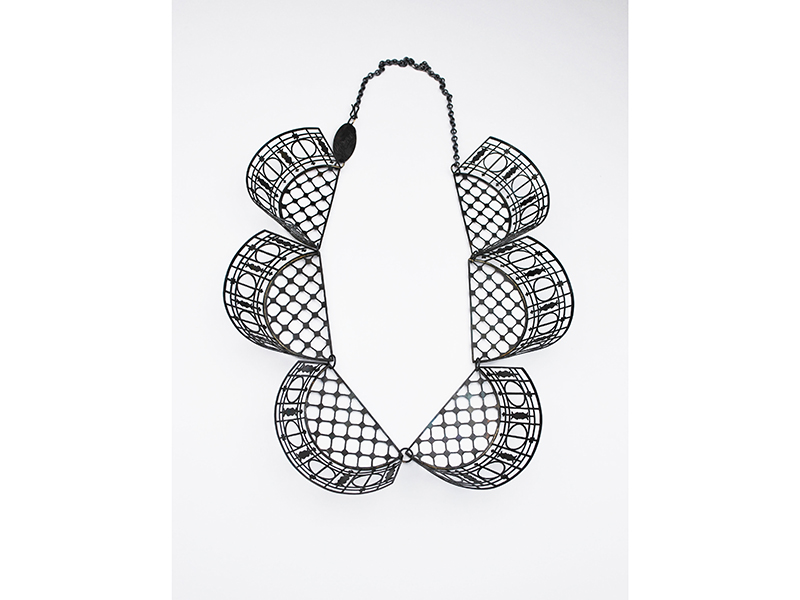 Artist: Vera Siemund
Gallery: Gallery O
Contact: Miwha Oh
Retail: US$3,000
Vera Siemund will have a solo exhibition at Gallery O March 26–April 4, 2020.
GALLERY CHOICE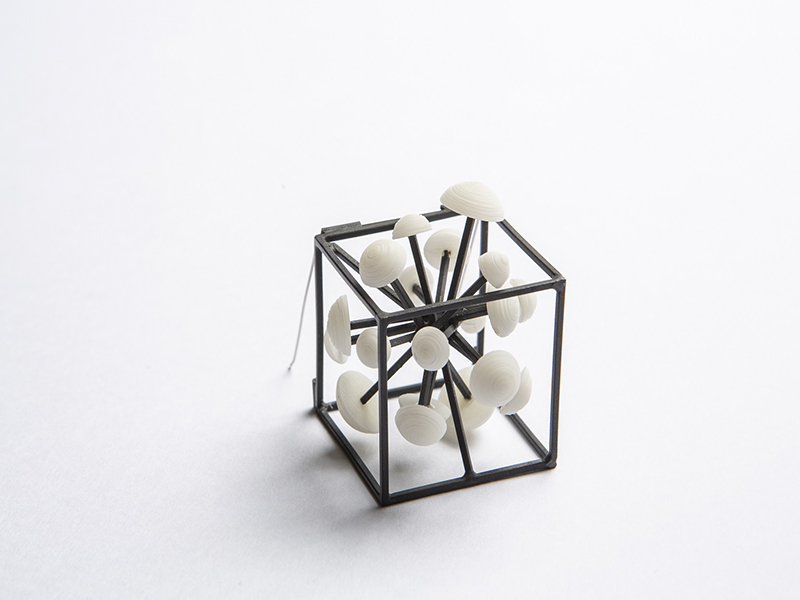 Artist: Panayiotis Panayi
Gallery: myday-byday
Contact: Laura Helena Aureli
Retail: €1,125
myday-byday gallery presents Cypriot artist Panayiotis Panayi with his brooch from the DATA collection, in black, oxidized sterling silver and polymeric dental material. "The amount of information that our brains compute every day is staggering," says Panayi. "Just by looking at the tiled ceiling while reclining on a Belmont X-calibur dentist's chair, as one does on these most reluctant, prescheduled, and somewhat painful appointments. Even in these mundane experiences our brain's 100 billion neurons are firing at unbelievable speeds. My idea was to isolate some of these processes of the human brain. I noticed the material the dentist used on me that day to close the hole on my tooth, created mostly by soft drinks and gummy bears. I ended up with the Data collection."
GALLERY CHOICE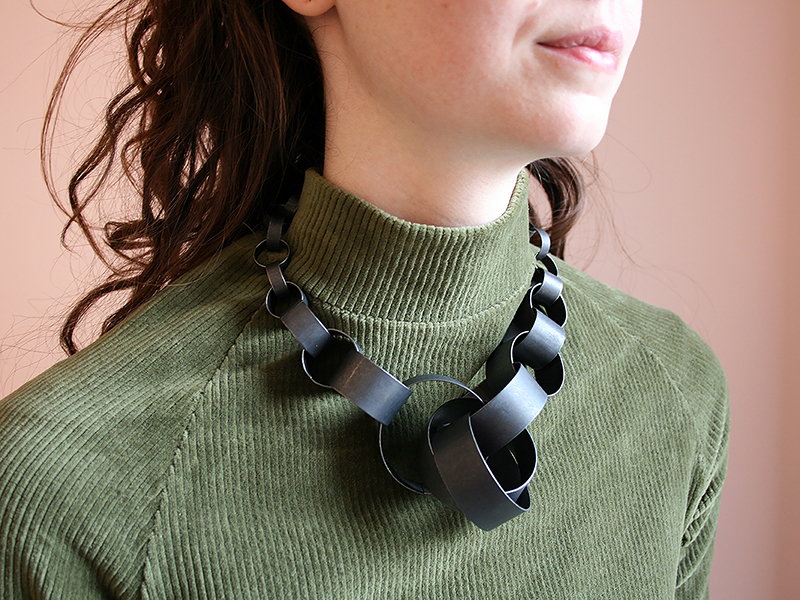 Artist: Susanne Henry
Gallery: Gallery 2052
Contact: Nora McCarthy
Retail: US$1,100
Paper-like links of steel gently envelop the wearer as a cluster of larger links interconnect to create a dynamic focal point at the base of this elegant choker by Chicago native Susanne Henry.