Wunderrūma
July 17–November 1, 2015
Auckland Art Gallery, New Zealand
Three different Wunderrūma shows in three different locations with three different outcomes: Peter Deckers unpacks the first two quite different Wunderrūma exhibitions, one at Galerie Handwerk in Germany and one at The Dowse Art Museum in New Zealand, and ponders its third iteration in Auckland, opening mid-July.
I was fortunate to see the two Wunderrūma exhibitions in both locations, Galerie Handwerk in Munich in March 2014 and at The Dowse in Lower Hutt in June of the same year. The show is now on its way to the prestigious Auckland Art Gallery. These New Zealand (NZ) exhibitions and their accompanying catalog were put together by jewelers Warwick Freeman and Karl Fritsch. It was courageous that these two internationally renowned artists would stick their necks out to select and present an introductory show of NZ jewelry, originally aimed toward an international audience during Schmuck 2014 in Munich. In my experience, the two Wunderrūmas were two almost unrelated shows, and I am still amazed by how transformative a few more pieces and a new display strategy were to the project. This review will mainly focus on this aspect of the two initial iterations of the show, without discussing or comparing individual art works.
1.
The NZ curators are quite aware of what international and national jewelry shows usually contain. They both operate from different ends of the postmodern spectrum, and their Wunderrūma collection of work and its presentation were both unexpected and excitingly contradictory. The original brief was to showcase NZ jewelry in Munich to a European audience. Later it was decided to also show the "complete" Wunderrūma in New Zealand.
The process of how the curators went about their task is not an unfamiliar one for NZ jewelers. Late last century, several curators went around NZ workshops to select artists for participation in the highly successful Dowse Jewellery Biennales. The curator would first visit the makers in their workshops, essentially "doing their research" before making their artists' choices. Warwick and Karl went around in a similar fashion—not to invite makers themselves, however, but to find work from makers (know or unknown, dead or alive) that suited their exhibition vision. They called it "their fishing trip," herding the "clumps" of work they had in mind to make up a show. A Dropbox folder was also created so that all NZ jewelers (both emerging and established) would have a chance to showcase their work for the curators.
Warwick and Karl fished and hunted through peoples' workshops, looked at work in development, even rummaged through the makers' "question mark" piles, their table and ledge collections, their drawers and old containers. They also went through gallery drawers and museum collections. The search went even beyond the usual jewelry makers and gathered some additional work from fine artists with an object focus. All the work chosen from craft and fine art artists was jewelry-focused, and had to have a real "jewelryness" that would match one of the envisaged clumps—such as beads, tools, flowers, etc. The curators wanted to showcase objects only and avoided any installations, works with explanations, or idea-based works.
The breadth and seriousness of their search led people to expect that the curators would showcase a comprehensive representation of NZ jewelry, but the audience came to realize that it was more a personal selection expressing the curators' own vision.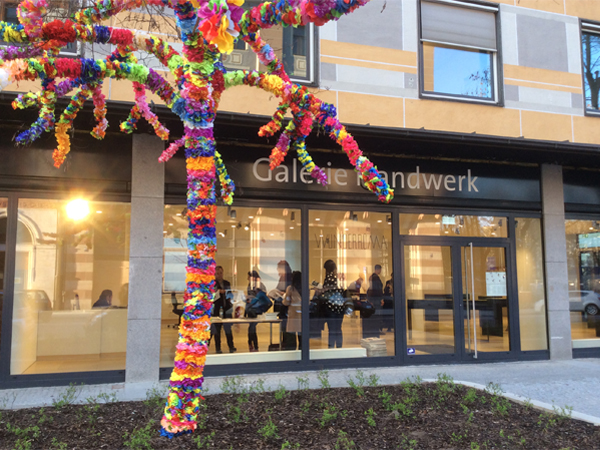 The curatorial choices of Wunderrūma represented the Kiwi preference for understatement. NZ jewelry is often rough around the edges, low-tech, with a backyard shed attitude, and this came through in a majority of works in both shows. The fact that a range of selected works didn't best represent their makers was widely discussed by some participants. Indeed, the selection was not a "best of," but sought to find a balance within each clump, rather than let individual works fight for attention: In the end, nobody really jumped out. This might be a first, because curators and artists alike generally favor making a big rumble with specific works rather than instigating a motley conversation that includes lots of voices. Wunderrūma does not mean to showcase the cream of NZ jewelry, or NZ's most prolific makers. It constitutes an idiosyncratic cross section of contemporary jewelry today: finished pieces from a wide variety of makers next to jewelry made by non-jewelers, the odd student entry and works in development, as complemented by historical and indigenous works. The inclusion of fine artworks and historical artefacts made this exhibition more interesting and less about showcasing treasures of contemporary jewelry.
2.
How the two shows looked so different concerns both display furniture and the exhibition list.
In the newly renovated Galerie Handwerk, a playful scatter of dark, waist-high cabinets was placed over two floors. The first impression when walking through the gallery's stark, modernist space was the dominant presence of those cases. Almost all works had been placed inside the cabinets, with the odd piece hung on the few available walls. I expected a jumble of the 200 pieces on display. Not so—each cabinet displayed a minimal amount of work and most works were placed in a sea of space, so nothing felt cluttered. The only viewpoint into most of the cabinets was from the top, and one experienced the works as individual pieces rather than in a conversational cluster. I was not overly impressed when I saw the first Wunderrūma show. The objects lay in their near-empty cabinets, saying very little. Even Lisa Walker's raw laptop necklace was eerily silent.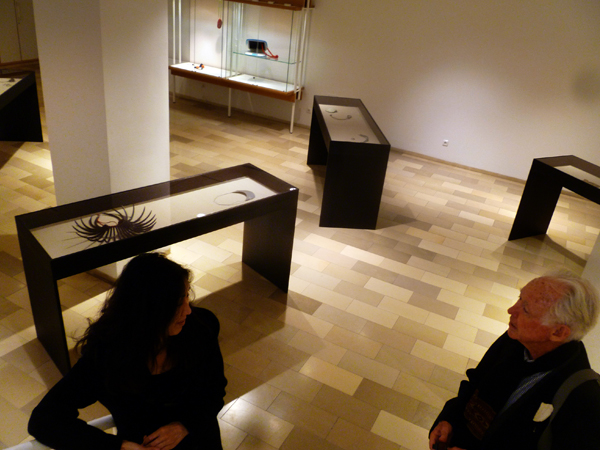 In stark contrast, the curatorial concept unfolded loud and clear three month later at The Dowse, and this can be credited in large part to the creative use of displays. See-through Perspex cases produced in the museum were cheerfully stacked on top of one another to form sculptural, light spaces that enabled the work to be viewed from different angles and heights, with bigger works at the bottom and smaller works closer to the top. The unique positioning of work and use of cabinets made reference to both Karl's usual playful displays and Warwick's tendency toward the modernist's grid. This combination situates Wunderrūma at The Dowse among the best jewelry shows I have experienced.
However, the experience of the show requires a certain patience. No artist names, captions, or artist statements were displayed near the work, and those who bothered had to plow through a gallery list to locate individual letter-referenced captions. The absence of artist information, statements, and artist names is becoming a trend that I hope will be short-lived. I believe that captions and works are symbiotically connected, that the title and consequently the story or concept behind the work contributes to a much richer reading of it. This intellectual process helps visitors connect the visual aspect of a work to the context of ideas in which it grew, and provides in return other sensory benefits.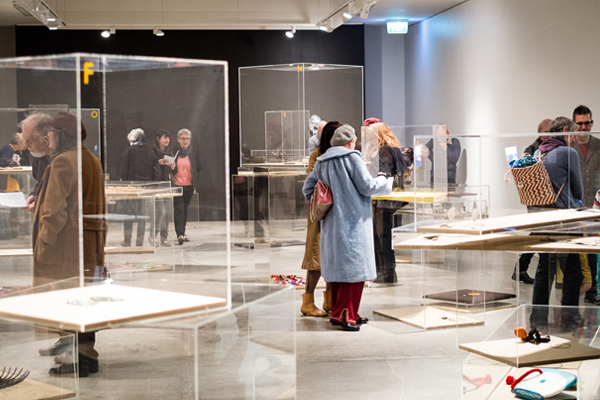 For me, the biggest rumble about The Dowse version of Wunderrūma was the inclusion of the non-jewelers, mostly from Te Papa's collection and the interplay of the refurbished Perspex displays. This may further explain the comparative weakness, or muteness, of the Munich show: Due to its strict lending rules, Te Papa did not allow the selected work to travel to Germany. Instead, the Te Papa pieces were replaced with New Zealand works from the Bayerisches Nationalmuseum. There was a tiki and some other historical carvings from their collection, but the contribution those works made was unable to pull the contemporary NZ work into context.
3.
At the time, the exhibition in Munich received much positive attention. There was an agreement in the Schmuck audience that Wunderrūma in Munich was a fresh revelation among the 80 or so exhibitions on offer during the 2014 Munich Jewelry Week.
The most pointed criticism I heard concerned the raw or low-tech attitudes some of the NZ makers have in their practice. Schmuck attendees, many closely involved with contemporary jewelry either as makers or collectors, are exposed to legions of technically and conceptually refined jewelry. This did not prepare them for some of the "back shed" Kiwi entries. I could understand that criticism, but I also thought that it showed an inability to appreciate how different making approaches may add to the rich cultural discourse of jewelry.
The next location for Wunderrūma is the renovated Auckland Art Gallery, where it will open on July 17. The art gallery is handsomely nestled opposite Fingers, New Zealand's best-known jewelry gallery, which will host a response to the Wunderrūma exhibition. Due to the large amount of space available, Auckland Art Gallery invited the curators to choose extra works from the gallery's collections, to be added to the already large Wunderrūma selection. The jewelry will be placed in the usual clumps, presented in the same unique display formation as in The Dowse, but accompanied by a larger selection of complementary art. While before, the "fine art" inclusion was based on artists who made "jewelry-like" work, now jewelry and artworks will be clumped thematically, connecting for example floral jewelry with Old Masters containing flowers. In other situations, the connection is more peripheral and may relate to just the name or provenance of the artwork. "To some extent the accompanying artworks are used a bit in a 'jewelryish' way, not as totally autonomous works for themselves but applying a jewelry condition of being able to build an intimate relationship with other bodies of works that in our eyes benefit from each other," says Karl about this new focus.
Normally I would be suspicious when curators use art work in a purely supportive role. The integrity of the artwork can be at stake, and exhibitions were curators "paint" with art, craft, or design works often end up looking like theme parks. Moreover, museums have strict rules that frame the way art can be handled and used, which can water down even further the curator's intentions. But beside all those issues, I know that having these two keen artists-turned-creative curators at the helm may produce an exhibition we have not experienced before.
Within the first week of the Wunderrūma exhibition opening, expect all kinds of guerilla jewelry exhibitions and exciting response activities around Auckland. The activities will most probably be driven by the The Jewellers Guild of Greater Sandringham, responsible for publishing the snappy online magazine, Overview. There will be surprise infiltrations during the opening, window displays spread over town, pin swaps, fundraisers for noble causes, even small exhibitions on pathways, park benches, the Internet, tarmac, and protruding from dark drains.
The Wunderrūma name is a mix between Māori for "room" and the German "wonder," but in Auckland it promises to become more of a wunder-fest: a hot destination for the eager jewelry enthusiast and potential new jewelry audiences.
Wunderrūma, Auckland Art Gallery: July 17–November 1, 2015
For more information on the events surrounding the exhibition, please consult Wunderweek (July 17–26) and watch for Overview #22.5.
Note from the editor: this article is a version adapted from an article originally published in Overview #18.