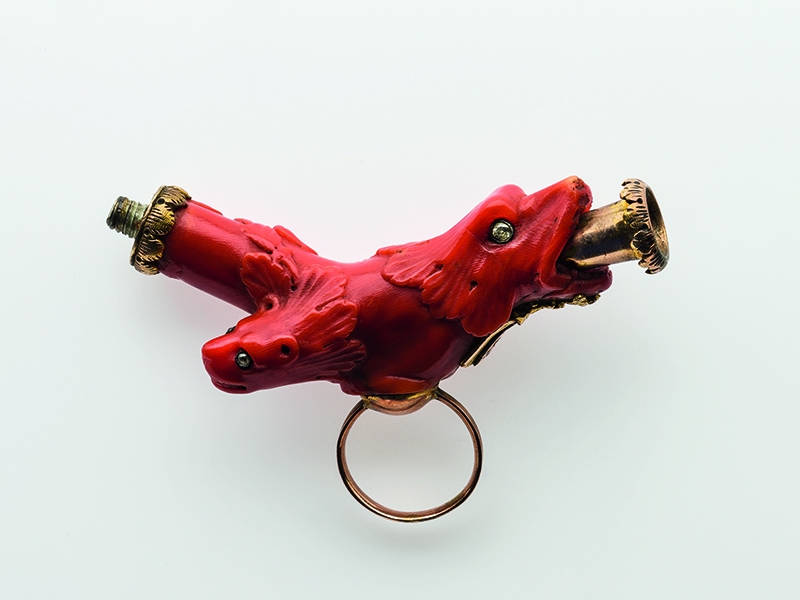 Jewels! The Glitter of the Russian Court
September 14, 2019–May 3, 2020
Hermitage Amsterdam, Amsterdam, the Netherlands
Room after room in the exhibition Jewels! The Glitter of the Russian Court shines with gold and sparkles with diamonds. For the show, hundreds of jewels and decorative objects, spanning more than two centuries, traveled from St. Petersburg to Amsterdam, all of them produced by the best Russian and international jewelers for the tsars and their entourages. There is craftsmanship to admire, timeless beauty, and more such blah, blah, blah. The fact remains that, as a 21st-century jewelry lover, I don't find it that easy to connect with the pieces of the super rich. The Hermitage Amsterdam tried some different approaches to address that issue.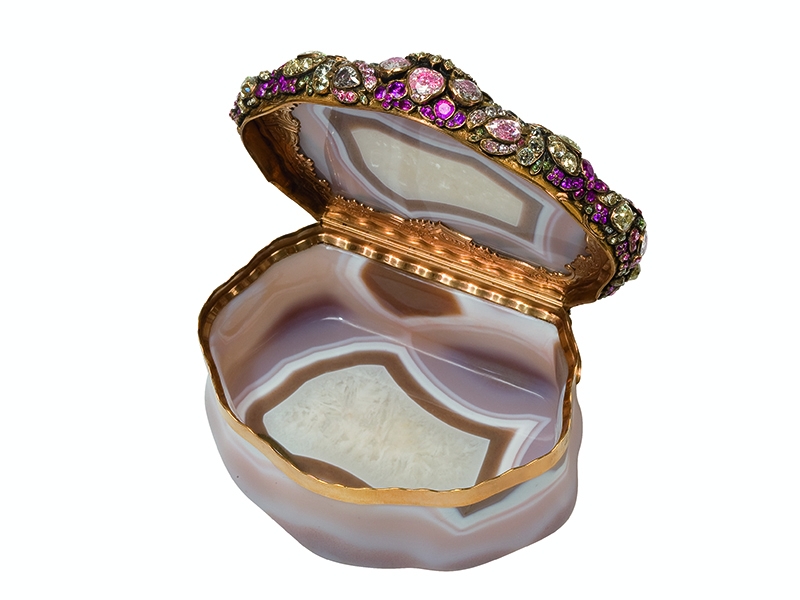 RELATED: A Dutch Queen Wears Ceramic Peanut Jewelry
RELATED: Curator Anni Nørskov Mørch Explores the Relationship Between Power and Jewelry
RELATED: Helen Drutt Showed Some of Her Collection at the Hermitage
This exhibition is one of two marking the 10th anniversary of the Hermitage Amsterdam, the satellite of the famous museum in St. Petersburg. It's packed with jewelry, bejeweled dresses, and personal items such as fans and swords with dazzling hilts dating from between Peter the Great and the Russian Revolution. And snuff boxes, many snuff boxes. For the early pieces, court jewelers traveled abroad to find stones and metals. Sourcing materials became a lot easier in the late 18th century, when Russia discovered its own gold and lots of different precious stones in the Urals. Only lapis lazuli still had to come from Afghanistan, and pearls from Persia (natural ones—cultivation wasn't discovered until the 1920s).
It was interesting to learn that Russian noblemen were equals to women when it came to wearing jewelry. It wasn't until the late 19th century that men there adorned themselves more soberly, like in the rest of Europe. From then on it literally rested on the shoulders of the tsarinas and princesses to show the status and wealth of the family. No pain, no gain. Diadems, hugely popular by that time, often had to be kept in place with hairpins, the whole arrangement causing little wounds and headaches. The Bolsheviks would put an end to this whole ostentatious overkill by the elite. When the royal family of Nicholas II was in front of the firing squad, it is said that some bullets ricocheted off the many jewels hastily sewn in the princesses' clothing. Later, one of the Empress's pearl earrings was found near the pit where their bodies were dumped. But the Russian Revolution isn't the focus of this exhibition, although there is one telling photograph from the 1920s of a table loaded down with jewelry, a crown, and Fabergé Easter eggs. Most probably these were the crown jewels prepared for sale. Hundreds of pieces of jewelry like the ones in the exhibition got dispersed or lost. The items on view here are what has been salvaged from the imperial collections, from nationalized private collections, and pieces sold and bought in those turbulent years.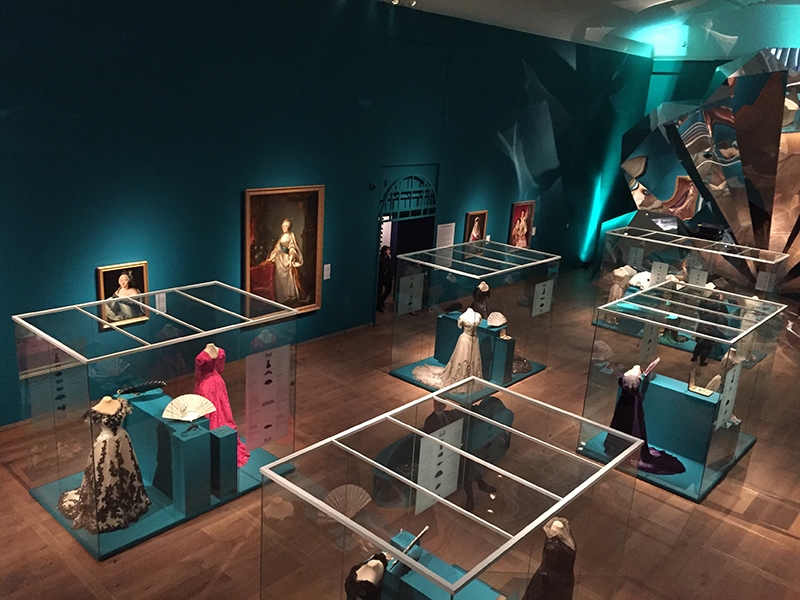 So, no political history. Instead, a suggestion of chandeliers and waltzes over the sound system: We're "present" at a court ball. An enormous faceted stage prop at the far end of the main room probably evokes a diamond. With its bluish flickering lights, it could have been borrowed from the set of Metropolis. It does its job nonetheless. This mirror wall is much more Instagrammable than small jewelry pieces! From there one finds rooms and cabinets with themes such as "Men's World" or "Eroticism"—quite a liberated lady, that Catherine the Great, with her ring hiding, or revealing, a cameo that depicted her most intimate fantasies!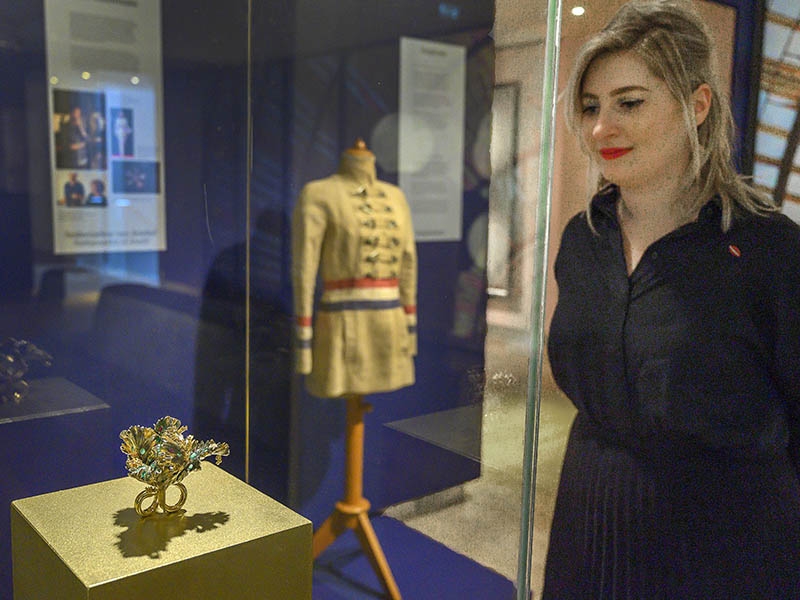 One attempt at getting into the hearts of visitors to the Hermitage Amsterdam was the invitation of three Dutch artists to be "ambassadors." Two fashion designers and one jewelry designer visited the main museum in Russia, picked a favorite piece of art, and set to work. The display of the results, in the last room, is not exactly an impressive final chord. Jan Taminiau's post bag jacket may have been worn by Dutch Queen Máxima in 2009, but it whipped me right out of the Russian fairytale. Besides, for goodness sake, was it that hard to find more than one contemporary jewelry designer to participate in an exhibition called Jewels!? Bibi van der Velden at least took on the challenge and designed a new piece with the inspiration handed to her by the Romanovs: a multigemstone, multicolor, multifinger ring in the shape of a withering tulip.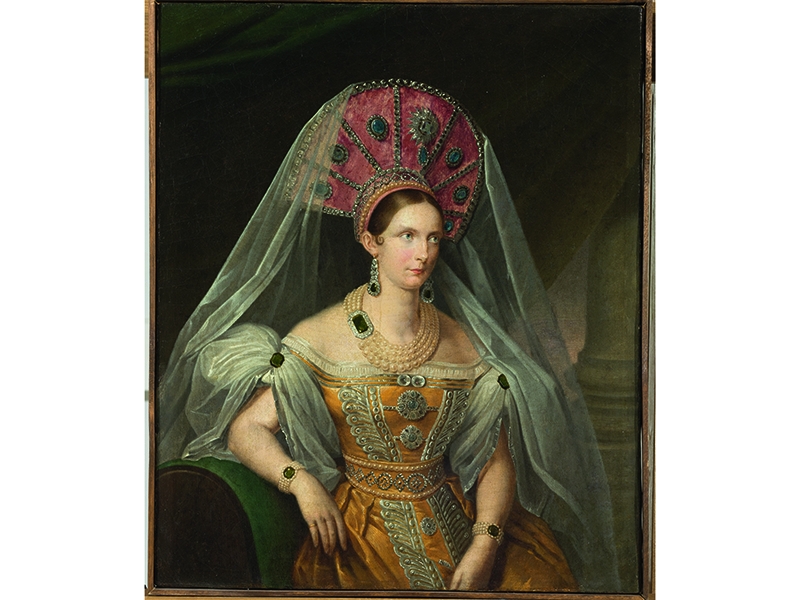 Another approach that was tried was to bring the main characters to life by anecdotes. The stories didn't portray them as overly human, but magnified their vanity instead. In the audio tour, jewelry historian Martijn Akkerman dishes up one delicious anecdote after another. At three quarters of the way through the exhibition Jewels! I could not no longer keep track of kinship relations and the several Alexandra Fyodorovnas. I will try and to name a few of the key episodes. There was Catherine I, who was scorned when visiting Prussia, although she had more than enough gemstones sewn to her bodice. According to her host, Wilhelmine of Prussia she shouldn't have worn those horrible religious relics hanging from her skirts, "which rattled when she walked." Peter the Great's daughter Elizabeth issued decrees that only genuine jewels could be worn at court, and preferably in luxurious quantities. She remained one step ahead of her lady friends and forbade anyone but herself to wear jewels on both sides of the head.
Catharine the Great—take a look at her wig with silver wire for hair—was famous for many reasons, one of them being her "cameo fever." She had the habit of presenting people with jewelry featuring her own portrait and monogram. Numerous objects were executed with E's for Ekatarina wrapped with a Roman numeral II. I couldn't help imagining Angela Merkel's political inner circle wearing medallions bearing her portrait. Would they be proud? Or grit their teeth? Catharine the Great is also the one who revamped the St. Petersburg Winter Palace. Her ceremonial bedroom became the Diamond Room. One can't wear everything at the same time, so a 24/7 display in glass cases is always a good idea! With later empresses, it wasn't uncommon during receptions to leave the door open to allow a peek at the collection. The exhibition in Amsterdam displays a three-domed glass case from a later date to give an impression of the ambience back then.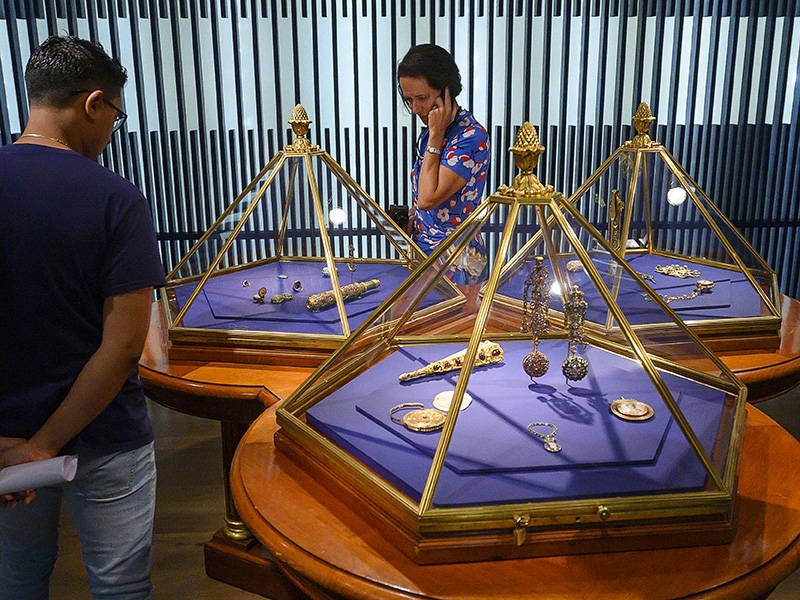 A portrait of Alexandra Fyodorovna, consort of Tsar Nicholas I, shows her with the traditional kokoshnik (cockscomb) headdress that later influenced the shape of diadems. The humongous pearls and emeralds in the painting haven't survived, probably because they never existed at this size except in the devoted eye of the painter. Contemporary accounts describe court balls where one would literally tread on pearls. Stringing took place without knots at the time, so you took a risk wearing a long, swinging sautoir. Another case of breakage: One morning an honest innkeeper came to the wealthy Zinaida Yusupova's doorstep with a handful of pearls and stones he had picked up from his floor. She discovered that her son Felix had the habit of going out in drag. Wearing her jewelry! Later this son would go down in history as Rasputin's killer.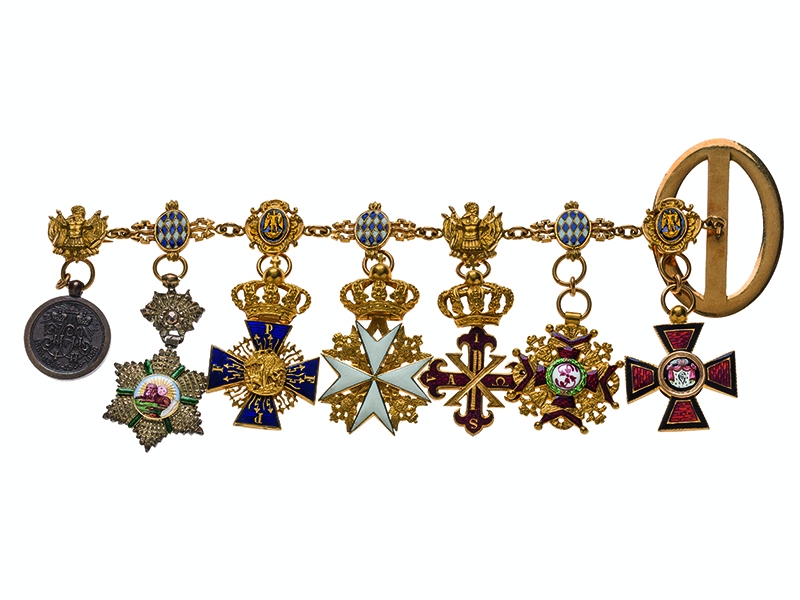 Some objects puzzled me. I adored a coral pipe with an animal mouth, mounted on a ring. Functional jewelry, yes, but not exactly a forefather of the smart rings that track your health or control your phone. What elegant gestures did one have to master to smoke this beast? I saw bracelets in the shape of military insignia that did double-duty as hairpieces. What daring! Name me one proud army spouse today who would wear such an exploit in his or her locks! Also, in the middle of the 18th century, social interaction was influenced by a world of fashionable snuff boxes. After snuff boxes, cigarette cases came and went. A bit sad not to have such a mini art piece on you anymore to casually but visibly offer someone … what? A breath mint, a vitamin supplement, or a tablet of Ecstasy?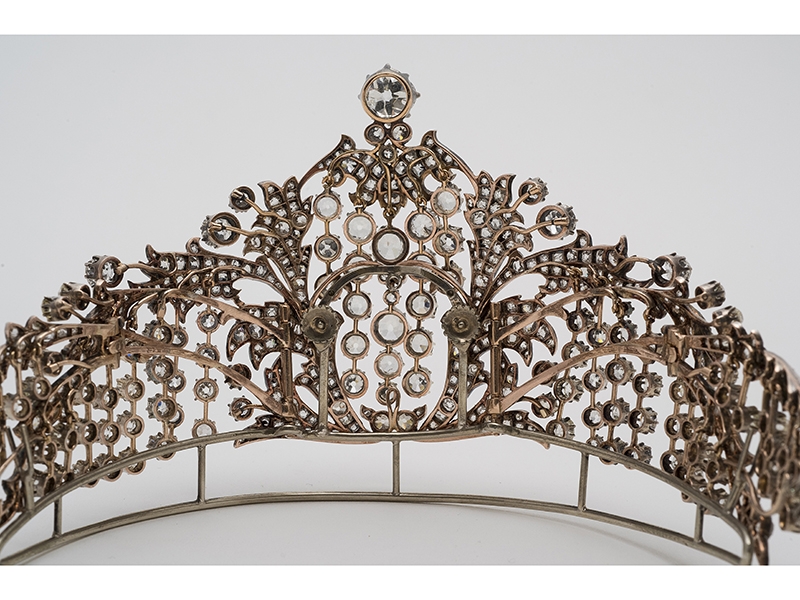 In the second-to-last cabinet, visitors swarmed around glass cases with Fabergé pieces. This is refinement on the square millimeter. On a circular display, a kokoshnik-style diamond diadem revolved, making it possible to clearly see the screws and hinges on the back. Many parures are in fact kits of removable components from which a brooch could be taken one night and earrings on another. A text panel invited the visitor to shine the torch of a mobile phone on the diadem "to enjoy its glittering effect to the fullest." Phones in exhibitions are hardly sacrilegious anymore. And as promised, the strands of hanging diamonds, the so-called pampilles, sparkled like a disco ball.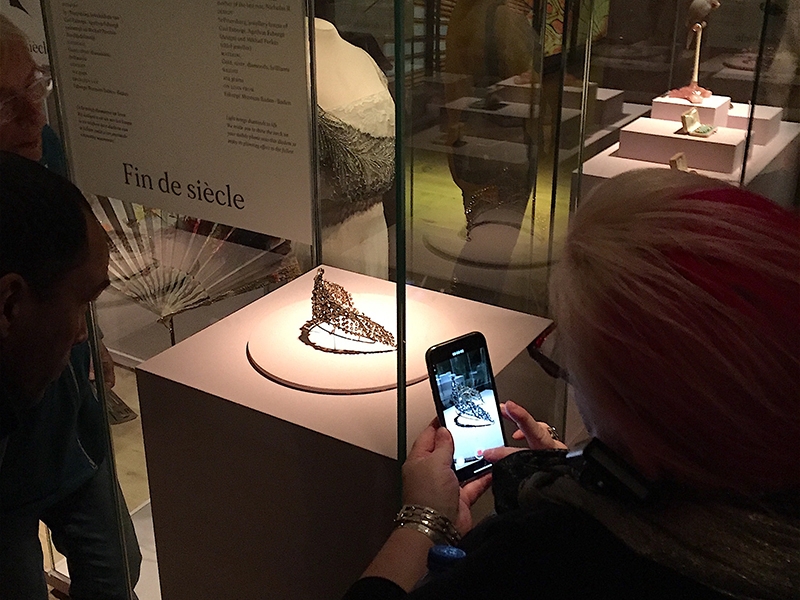 Romanovs, Yusupovs, Fyodorovnas, they all wore thousands of rubles worth of diamonds with the same sprezzatura as Jennifer Lopez or Cristiano Ronaldo do nowadays. To be able to live with such quantities of diamonds, emeralds, and rubies is just as inconceivable as trying to think of the size of the universe. The anecdotes in the audio tour were certainly entertaining, in a schadenfreude kind of way. I can't shed the sense that I'm looking at the artifacts of aliens. Loaded, spoiled aliens, oblivious to the needs of anyone outside their high society.
Note: Jewels! The Glitter of the Russian Court was accompanied by an exhibition catalog with object descriptions and essays by Ekatarina Abramova, Martijn Akkerman, Larisa Peshekhonova, Julia Plotnikova, and Olga Kostiuk (editor), published in 2019 by Hermitage Amsterdam/W Books.