Drag Power – Gender, pride & glamour
November 3, 2019–March 1, 2020
CODA Museum, Apeldoorn, the Netherlands
Curated by Paul Derrez, Willem Hoogstede, and Roosmarij Deenik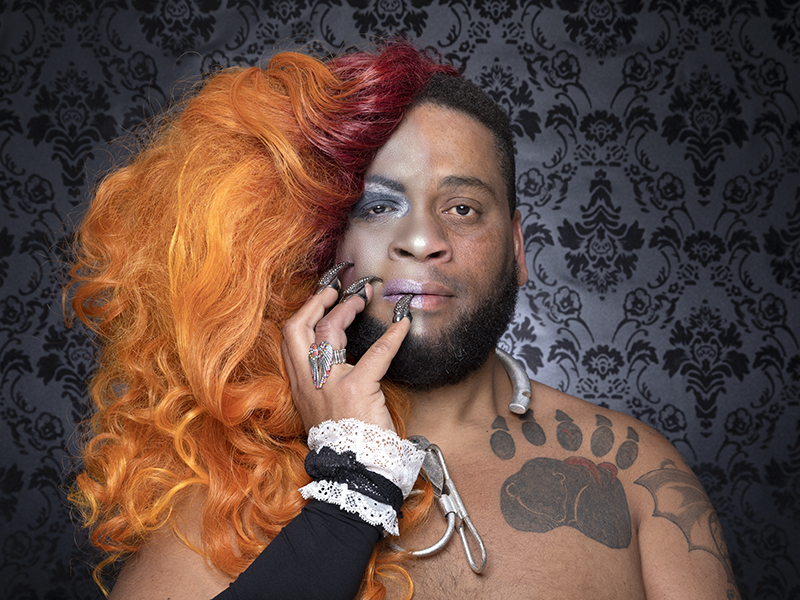 The exhibition Drag Power – Gender, pride & glamour spotlights drag queens and kings. They metamorphose in larger-than-life male, female, or even alien personas, and back. An alluring lust for life radiates from their theatrical performance. What is it that does the trick? The clothes, the wigs, the jewelry? Drag Power, although it shows many accessories, invites you to look beyond that outer layer.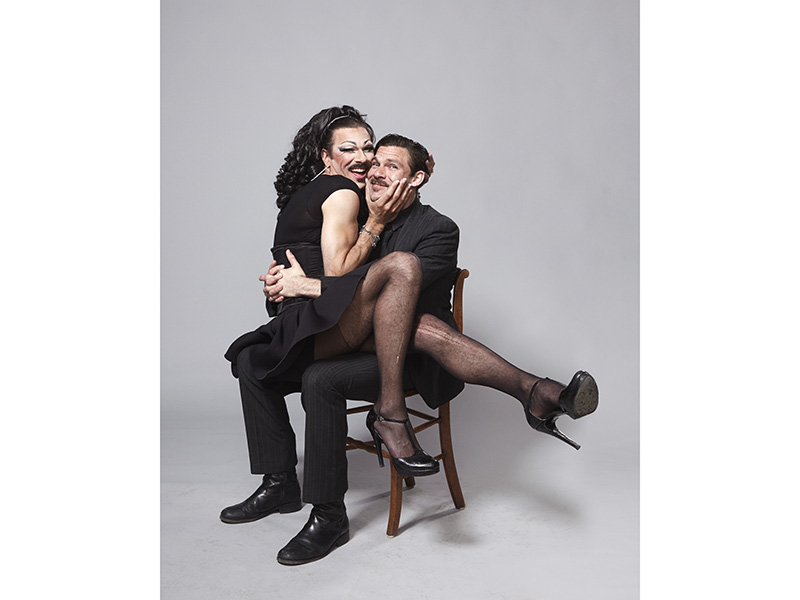 RELATED: Nolia Shakti: Male Made
RELATED: Jessica Calderwood Explores Gender and Identity
RELATED: AJF Interviews Paul Derrez
It was the dream of Paul Derrez, the artist and owner of jewelry gallery Gallery Ra, and his husband, Willem Hoogstede, to present the drag queens that they had come to admire in Dutch nightlife. Why? Drag culture doesn't seem so underground anymore. Drag queens do television shows, and I even came across drag queen-themed coloring books. True, according to Derrez and Hoogstede—but their motivation lies elsewhere. They want to show that the notion of drag is expanding in a positive way. For some older drag queens, it was an escape from rejection by society. For the younger generation, drag has become a positive celebration of creativity. They agree with well-known American drag queen RuPaul when he says, "We're born naked, and the rest is drag." So if gender is something all of us put on every day, what choices do we have? Lately, there's so much more than the classic ingredients of sky-high heels, handbags, and false lashes. But there was an activist streak to their plan, too. While the drag queen's glamorous appearance might do well on television, in the street violence is increasing—a sad fact after 50 years of emancipation since the Stonewall riots. The Dutch museum CODA, known for its jewelry programming, embraced the idea of this exhibition (one not specifically about jewelry at all), and made one of its curators, Roosmarij Deenik, available for the project.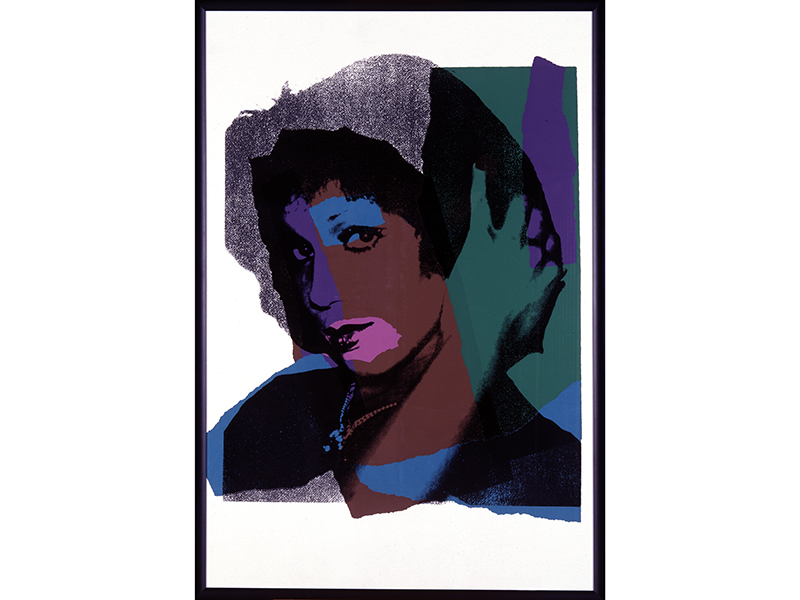 The first room offers a slightly scholarly introduction, one I wouldn't dare skip because I'm not that up to speed on the differences between cross-dressing, cabaret, and vaudeville, nor on the historical ups and downs in acceptance. The Bible passage from Deuteronomy (A woman shall not wear that which pertaineth unto a man, neither shall a man…) has been very dominant. Then there are Andy Warhol's screenprints from the series Ladies and Gentlemen looming on the next wall. We move closer to home with the self-made costumes of 80s drag queen and HIV activist Hellun Zelluf. On a gay magazine cover, she poses with velvet cuffs and rows of firecrackers as a stole. Many photographs of contemporary drag queens follow. And we arrive at the core of the exhibition: five video portraits. Initiators Derrez and Hoogstede filmed four drag queens and one drag king at home. No make-up, no wigs. They share their joys, doubts, and worries on what drag life has brought them. These 10-minute videos are worth every second of watching.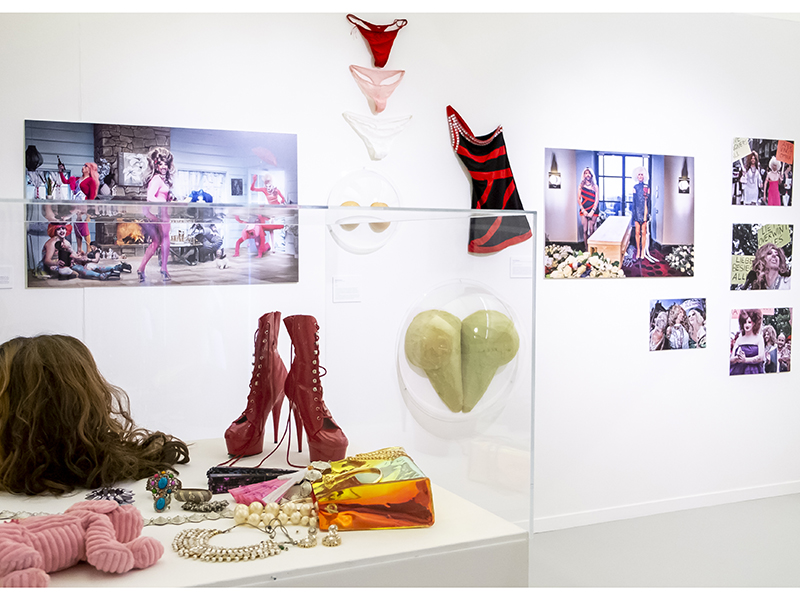 The portrayed king and queens lent costumes, accessories, and other props for the exhibition. It is these objects that give an intimate glimpse of what happens every time someone becomes their drag persona. This transformation is a combination of mystery and hard work. The signature hips of Richard Keldoulis, alias Jennifer Hopelezz, sculpted out of foam, bear witness to that. When he is ChelseaBoy, Brian van der Heijden escapes every category by combining comic book, sci-fi, and street style ingredients. He makes all his clothes himself, except for the platform boots, and some nights tops off his graphically patterned makeup with a bold, horned head. Around another corner, I stop at ornaments of green parakeet feathers (picked up from the exotic species invading Dutch inner cities), that Sander den Baas made and wore the first time he dressed as a woman on the streets. The ornament feels like a monument to den Baas's creativity and courage in the early days, before he grew to be the successful Lady Galore. Lady Galore, by the way—and here's a bit of free advice coming from the diva herself—often wears hoop earrings as they make the neck look longer.
Whether it's the strong visual aspect or the appeal of the gender play, drag culture has always inspired artists. Drag Power owes a great deal to the photo-series on the walls. One shows fabulous nightlife action shots of drag queens in full regalia. For me the pictures provide a chance to study their accessories up close. I see faux nail fingertip rings in another series. From what I understand, these nail rings are a practical alternative to removing your nail polish every time you need to appear as your other self again. Drag turns out to be about impermanency and ingenuity. Some accessories remain the domain of specialists, such as the wigs given tribute to in another series. Then there is a wall of somewhat puzzling images. In every picture two figures embrace, one in an everyday outfit and one abundantly in drag. They are one and the same person, a masterpiece of Photoshop work. A bit more serious-looking are the drag kings. The kings usually report less harassment because they blend in with their realistic outfits. One photographer asked drag queens to return to the places where they experienced violence. In a picture, Jennifer Hopelezz hails a taxi at the stand where taxi drivers refused to take her. She felt humiliated by the rolled up windows and didn't know where to go in her high heels. So much for the tolerance of the Dutch. Being the activist she is, she took her story public, which led to the rainbow thumbs-up window sticker for taxi drivers.
No wonder drag queens organize themselves to stand strong. A fascinating aspect is the creation of "houses." A seasoned drag queen functions as a mother over younger queens. The house is a safe haven and a substitute for family. Competition between the houses takes place in events with battle categories such as lipsync-for-your-life and the dance-off. In his video portrait, the Malaysian Afif Shafit, alias Licka Lolly, says the house and the competitions served as motivation to abandon drugs and get in shape. Shafit also recounts that once he "got to know his friend" Licka Lolly, she surprised him with the ability to make his own outfit. When their house won the catwalk category at Superball, it was a great moment.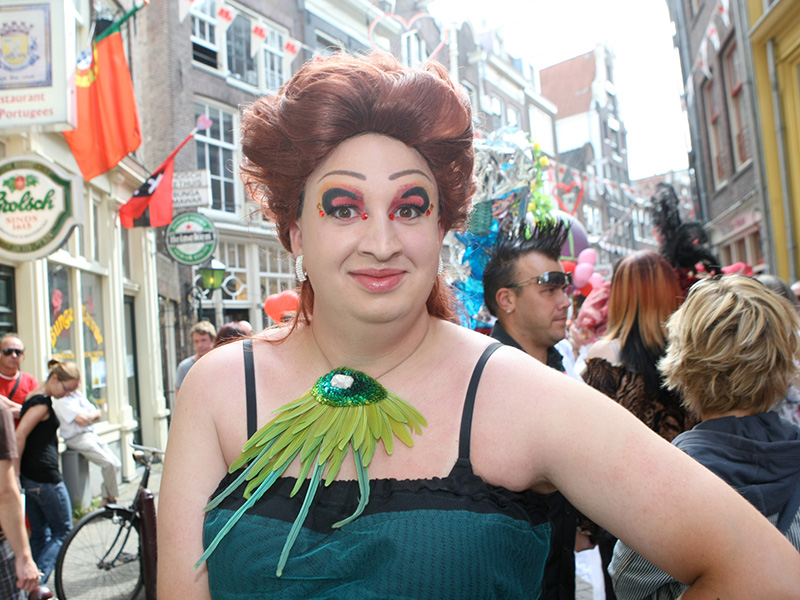 The days when drag came in only a few flavors, either a classy Whitney Houston or a tacky Beyoncé impersonation, are behind us. Drag Power shows a woman becoming a boy band member, an activist drag queen with a beard, a fearless diva, an enchanting fairy, and one who remains an enigma. The five are a palette of what is possible. But still, it all starts with the courage to explore who you want to be. How free are we truly in the construction of our selves? Drag personas express themselves with over-the-top, theatrical but perfected adornment. By giving their looks so much attention, they take this exploration seriously. Sewing and making accessories might be born out of necessity—where to find what you need, in the size you need it, for a reasonable amount? But more than that, making outfits is an empowering act of creating a self. It made me say the word "self-made" out loud when I looked at the gorgeous A-shaped earrings in Annie Alcohol's ears.