Lyle Reimer, Lyle XOX: Head of Design. New York: Rizzoli, 2019.
Let's push the conversation about art jewelry by looking at a makeup artist from the drag and fashion world who photographs himself while wearing trash on his head, shall we? Lyle Reimer's fantastic assemblages, captured with formal portrait photography, are collected in Rizzoli's stunning new linen-bound coffee table book, Lyle XOX: Head of Design. While they don't show wearables in the traditional sense, Reimer's portraits add to the art jewelry conversation if we consider the materials, methods, and style of the work used to create them.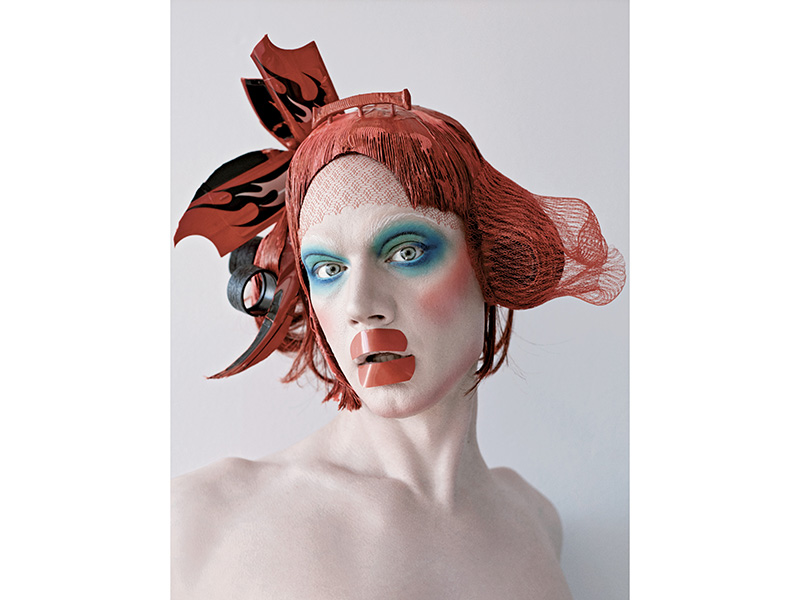 RELATED: Mask-Maker Magnhild Kennedy
This collection of full-color portraits shows the artist traditionally posed in headshots, with the face tightly framed, impossibly defined clavicles, and a direct, deadpan gaze. They are selfies all grown up with a dash of panache. Reimer combines dramatic makeup with a broad selection of household objects—ranging from dryer lint to bicycle chains to broken crockery—attached to his face, creating an amusing cast of puzzling characters.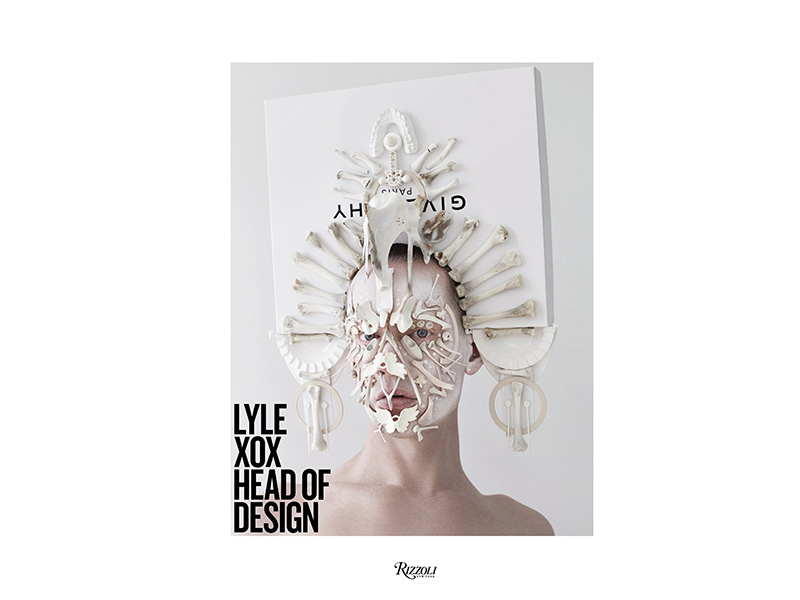 The effect isn't mask-like, as you might expect when multiple pieces of trash are placed on a person's head, covering the wearer's features. Instead, Reimer incorporates the objects along the structures of his face, head, and neck, creatively integrating the trash with the lines and planes of his face. The lineage of this work can be connected through the refined character studies of Cindy Sherman, the formal arrangements of Joseph Cornell's boxes, and even the delightful photo series Eyes as Big as Plates,[1] by Karoline Hjorth and Riitta Ikonen, of people wearing plants on their heads. However, Reimer's work is connected more explicitly to the hyperbolic presence, personality, and fashion of drag queens, including the witty snark of a drag queen's banter.
In handwritten vignettes, each character's name and story provide context for the portrait's materials and arrangement. A textual explanation of the material isn't given because the original object is transformed beyond recognition; the riot of colors, textures, and positioning of the objects makes their original identity difficult to decipher. The effect is a feedback loop between the words, the objects, and the overall impression of the portrait in a kind of "wait, what am I looking at?" cycle of discovery and engagement.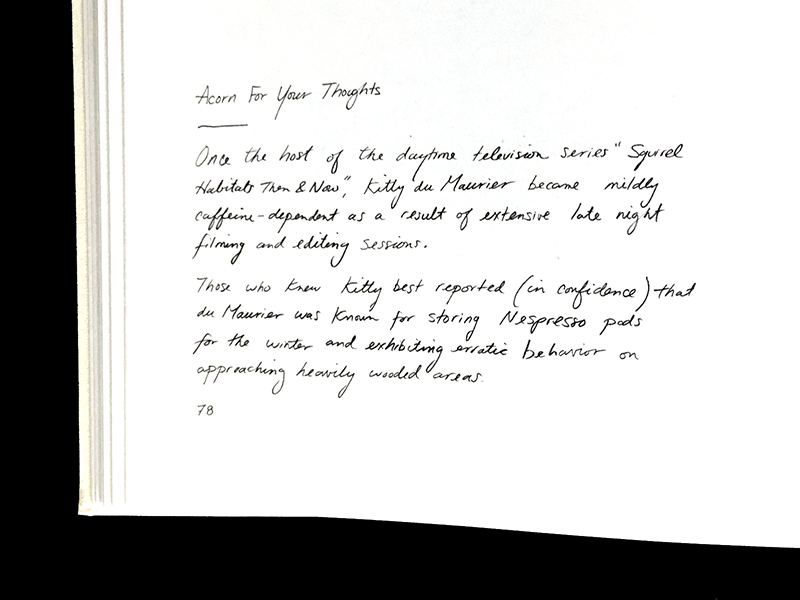 The vignettes are both nonsensical and instructive, and the portraits are both graceful and strikingly serious, creating a seemingly effortless balance that in reality is difficult to achieve. Most impressive is the creation of such a wide variety of looks, personas, and stories. Most jewelry artist will recognize their own practices in the process of creating these portraits, described by Viktor & Rolf in the foreword as "obsessive, meticulous, rigorous, and precise."
Many artists have used found objects to make assemblages, and the jewelry world is no exception. Incorporating mixed media, which covers all manner of materials, is a popular way of creating jewelry. A recent social media query about jewelry artists who work with found objects resulted in more than 50 international names—some very recognizable to an engaged art jewelry audience—including Bob Ebendorf (US), Kranitzky & Overstreet (US), Judy McCaig (Spain), and Barbara Paganin (Italy). However, the jewelry artist creating work that most connects with the exuberance and excess of Lyle Reimer's portraiture is Anna Rikkinen (Finland), with her mixed-media series Memento—Still Lifes (2017–2019), which uses bits and bobs, beads, and other inconsequential objects to create layered memories affixed on traditional oval portrait frames.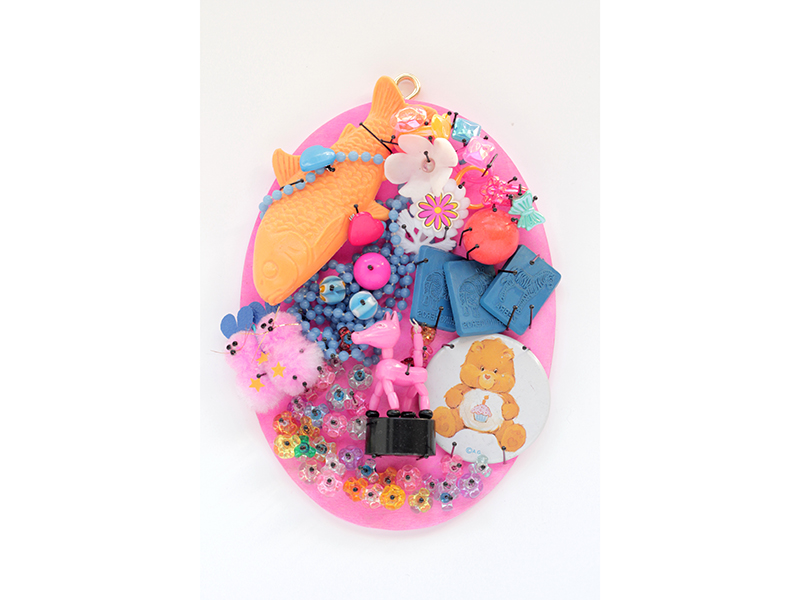 But let's get back to Reimer's playful and unorthodox use of materials to create high-fashion portraiture. His work has garnered a lot of attention, with about 150,000 Instagram followers,[2] an exhibition of the photographs, and even the opportunity to dress the windows at Bergdorf Goodman, on 5th Avenue in NYC. At a time when RuPaul's Drag Race is in its 12th season, when Pose looks deeply into the complexity of the ballroom scene in the mid-80s, and when Queer Eye is going to Japan, there's more room in our cultural conversation for camp, drag, identity play, and subversive messaging, delivered with humor and a bit of a twist.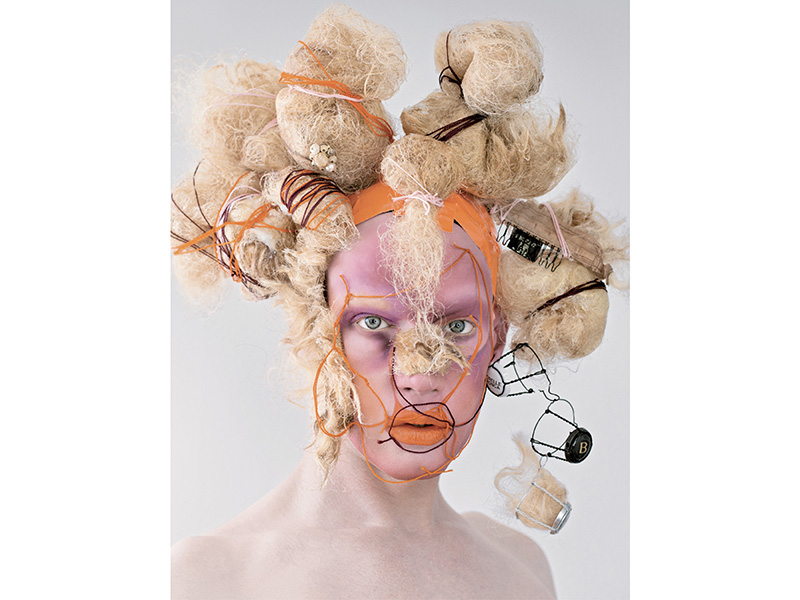 Between the gorgeous images, the intriguing vignettes, and the clean layout, this book shows a constructed fantasy that's in contrast with the real-world experience of drag queens and trans women. Reimer doesn't pretend to say anything deeply political with his work. Instead, in a short introduction he thanks the women in his life who encouraged him to be himself. In reality, life is a bit messy, more The Sisters of Perpetual Indulgence[3] than RuPaul's Drag Race, but in this case, a perfect face delivered with gentle snark is an enjoyable conversation starter.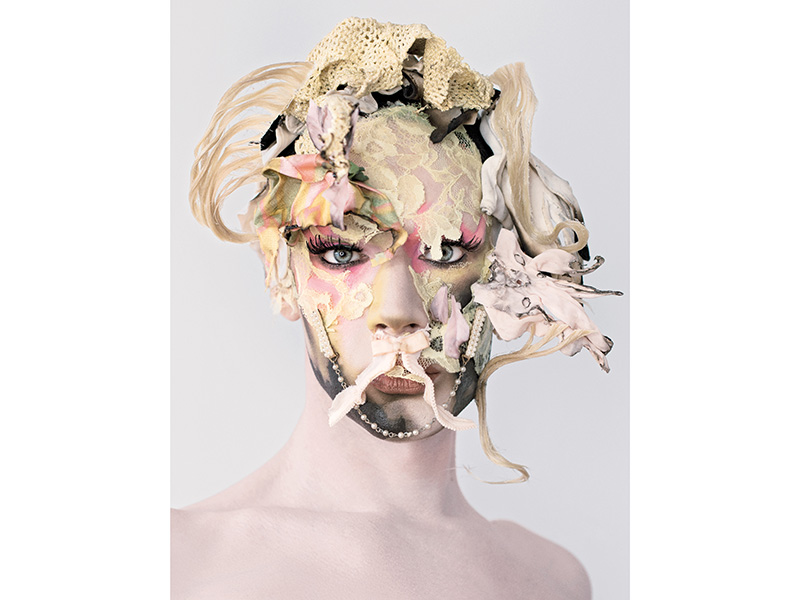 "This book is dedicated to all of you who create their own rules—in love, in life, and in art."
—Lyle XOX, in the introduction to Lyle XOX: Head of Design
---
[3] https://www.thesisters.org/