Art Jewelry Forum's extensive network of international
gallery supporters
is dedicated to celebrating and showing art jewelry. On Offer is a monthly series that allows AJF galleries to showcase a piece that they've personally selected to tempt and inspire you. Please contact the gallery directly for inquiries. Enjoy!
ESTABLISHED ARTIST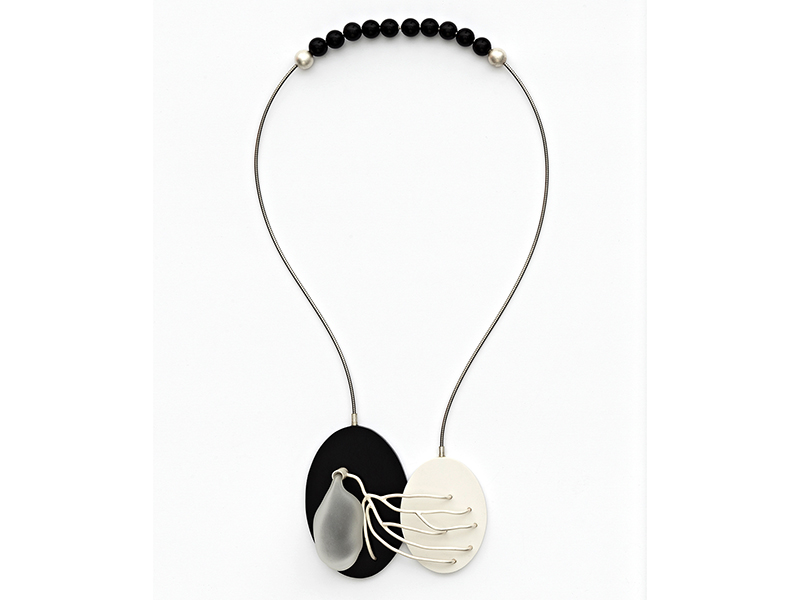 Artist: Katja Prins
Gallery: In the Gallery at Brooklyn Metal Works
Contact: Brian Weissman
Retail: US$2,350
Dutch artist Katja Prins has long been fascinated by the human ability to adapt our environments to suit our needs with the aid of technological innovations. This interest in our survival strategies has led Prins to explore the fragility of human bodies in relation to scientific discoveries and dependencies through jewelry. "Will this bring us a utopia or a dystopia?" she asks. "It's the ambivalence, the contradictions, the thin line between good and bad, improvement and danger, the uncanny valley of familiar and unknown, that always intrigued me and what I've been trying to express in my jewelry."
ESTABLISHED ARTIST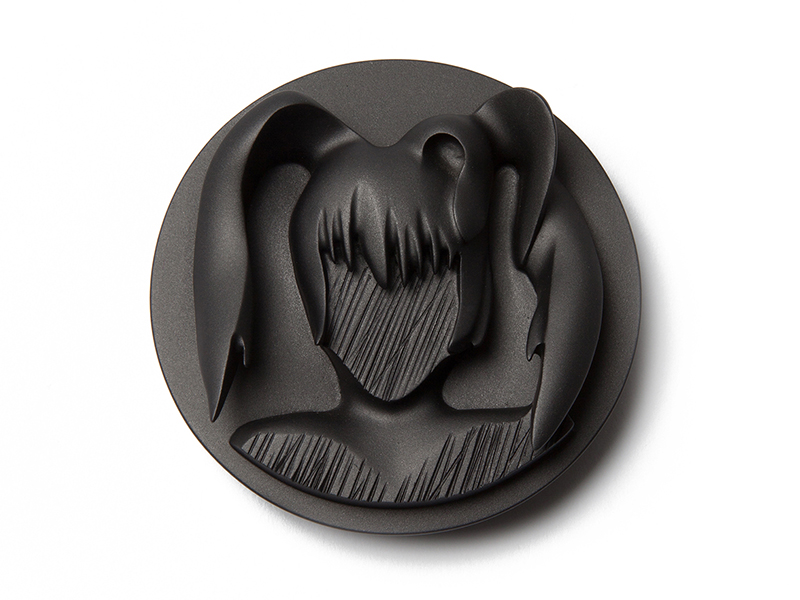 Artist: Alexander Blank
Gallery: Galerie LA Joaillerie par Mazlo
Contact: Céline Robin (curator)
Retail: €1,450
An eternal teenager, Alexander Blank is a born storyteller who draws with a contagious fantasy from his childhood memories, filled with skateboards, American comics, and science fiction stories and movies. With bluffing virtuosity, his works question the idea of shifting identities—as in the Jimmy series, which relies both on the historical portrait and jewelry history by renewing the cameo genre. Born in 1975 in Büdingen, Germany, Blank is a trained goldsmith. He graduated from the Design Academy of Hanau in 2004 before joining the Academy of Fine Arts in Munich, where he studied until 2010 under the direction of Otto Künzli. He received the Herbert Hofmann Prize in 2012 and is one of the selected artists for Schmuck 2020.
ESTABLISHED ARTIST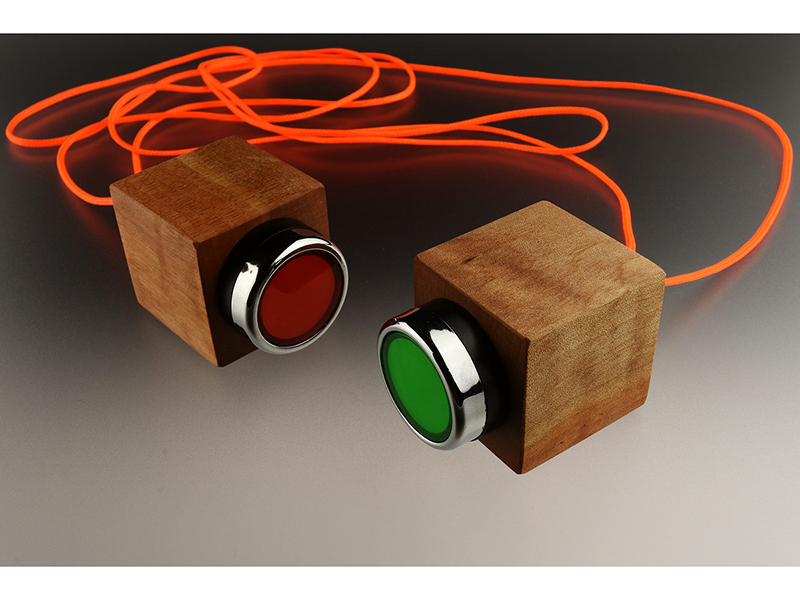 Artist: Sharon Fitness
Gallery: Fingers Gallery
Contact: Lisa Higgins
Retail: Each NZ$320
Sharon Fitness explores the concept of "jewelryness," testing the fine line between everyday objects and wearable jewelry. In these Emergency STOP/GO pendants, she shares her love of wearing readymades. "Sometimes in life you need the ability to stop everything," says Fitness. "Sometimes you really just need to get up and go." (Note the functioning buttons.) Fitness has exhibited extensively in New Zealand and internationally, including Wunderrūma (Munich, Wellington, 2014; Auckland, 2015), Attitude as Form (Sydney, Brisbane, 2016), and Medusa (Paris, 2017). Her work is in the collection of Te Papa Tongarewa and the Auckland War Memorial Museum NZ.
ESTABLISHED ARTIST
Artist: Annemie De Corte
Gallery: Galerie Beyond
Contact: René Darmont
Retail: €1,800
Annemie De Corte's fine silver lines are created with passion, endless patience, and a steady hand. The artist assembles, arranges, and combines. She threads the elements onto thick thread to form a jewel, object, or sculpture. Using traditional methods, she painstakingly shapes her own delicate world of proportion, movement, light, and shadow—a sober and poetic world.
ESTABLISHED ARTIST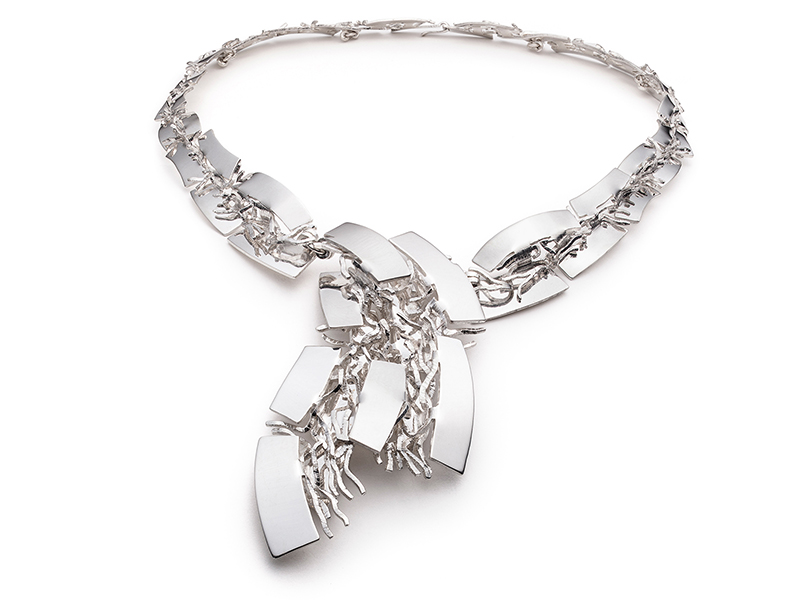 Artist: Roland Dubuc
Gallery: Aaron Faber Gallery
Contact: Patricia Kiley Faber
Retail: US$3,950
Roland Dubuc's extraordinary cut-and-folded jewels, made by hand in metal in a process similar to origami, are dramatic and dimensional, constructed in sterling without heat or solder. This necklace was sculpted by Dubuc in his Montreal studio using curved polished sterling segments interspersed with smaller ribbons of silver that, like stitching, add texture to the work. The necklace measures 457 mm, the pendant section 38 x 83 mm.
ESTABLISHED ARTIST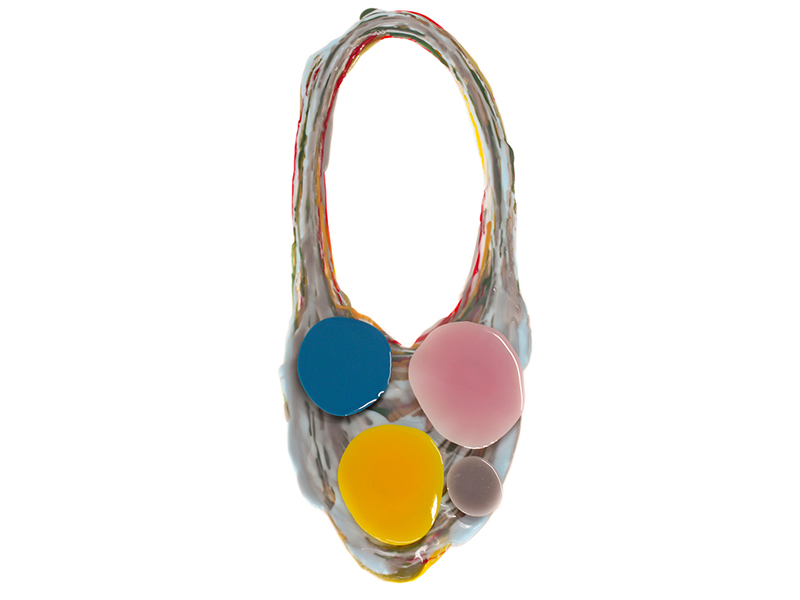 Artist: Ela Bauer
Gallery: Galeria Reverso
Contact: Paula Crespo
Retail: €1,225
This neck object, N.T. (Panta rhei), embodies the fluidity of things and situations. Nothing is clearly defined; events and "things" do not begin or end, they're rather a momentary result of ongoing processes. The materials—soft and hard, transparent and opaque—express fluidity on one hand and popping concrete moments on the other. This necklace is extraordinary in size and color, and in its form questions the concept of what jewelry is/can be.
MID-CAREER ARTIST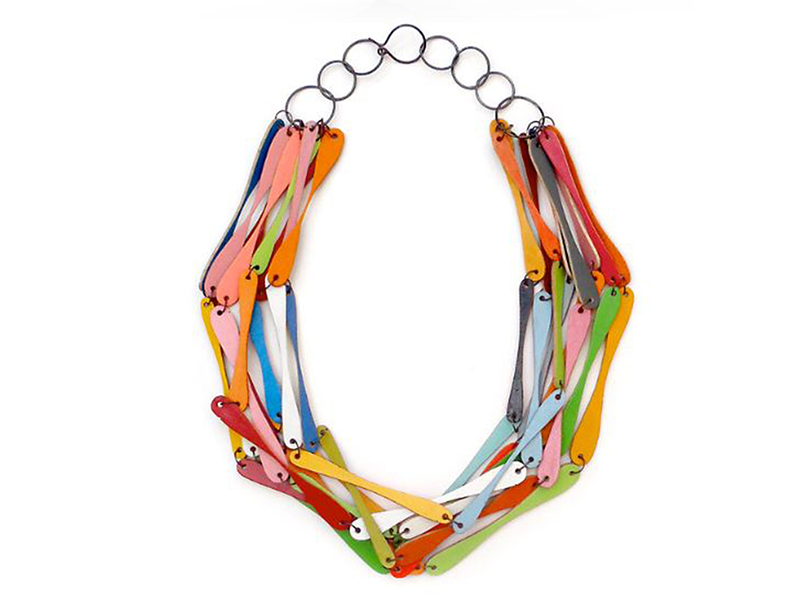 Artist: Karola Torkos
Gallery: Galerie Elsa Vanier
Contact: Elsa Vanier
Retail: €1,040
"As a jewelry designer, I am interested to discover the different and sometimes contrasting aspects of a concept, idea, or collection," says Karola Torkos. "Therefore, I work across categories using more than one formal language." Torkos holds a master's degree from the Royal College of Art, in London, and also studied in Germany with Dorothea Prühl. After a decade of working, teaching, and living in London, she returned to Germany, where she is now based.
MID-CAREER ARTIST
Artist: Maia Leppo
Gallery: Gallery 2052
Contact: Nora McCarthy
Retail: US$320
Bold, but without frills, this statement-making Maia Leppo necklace is ultra-modern and easy to wear.
MID-CAREER ARTIST
Artist: Estela Sàez
Gallery: Galerie Rob Koudijs
Contact: Rob Koudijs
Retail: €1,150
Oppositions already defined society in ancient times—between divine kings and laboring paupers, between the life-giving sun and its ever-changing counterpart, the moon—and they still seem to have echoes in the present-day city. In Estela Sàez's new work, silver refers to the moon, the night, emptiness; the sun-side is represented in the texture of papyrus rolled into the metal. It's a representation of the eternal connection between two extremes. In this arena there are not only contrasts, there is also the comfort of irrepressible life: even on the seemingly barren sand things will grow. Therefore Sàez applied tourmaline crystals as some sort of sprouts from mysterious plants. Perhaps we should say—in the words of the late Marjan Unger—zonder wrijving geen glans: without friction, no shine.
EMERGING ARTIST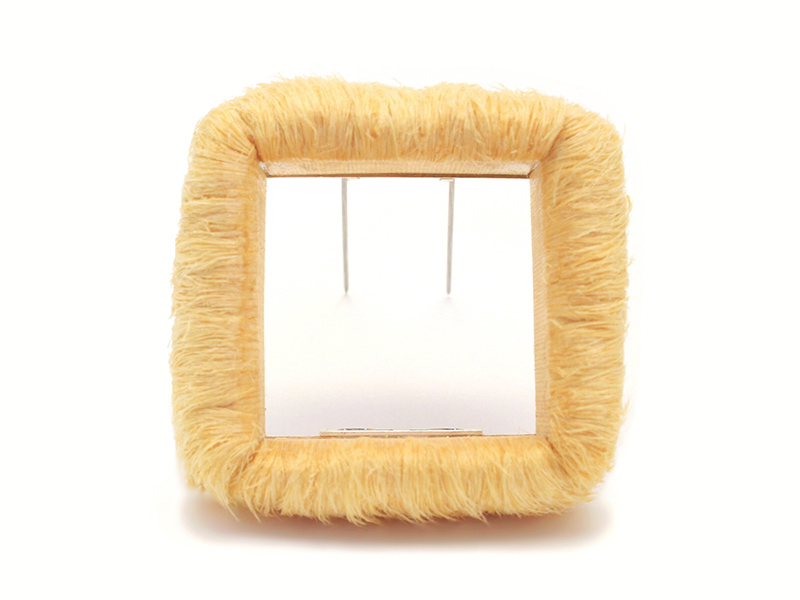 Artist: Manami Aoki
Gallery: Four
Contact: Karin Roy Andersson
Retail: €1040
The material, and exploration of it, is central to many jewelry artists. In Manami Aoki's work, this process becomes apparent. Aoki reveals the wood fibers by slowly hammering pieces of cedar or cypress, creating works that both literally and on a more emotional level illustrate the qualities of the material.
EMERGING ARTIST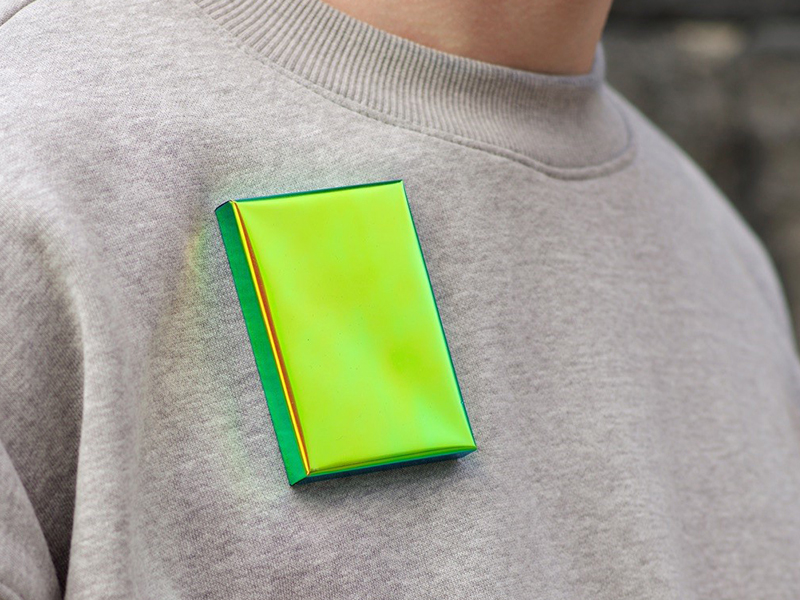 Artist: Gustaf Lindblom
Gallery: PLATINA Stockholm
Contact: Sofia Björkman
Retail: US$850
The talented young jewelry artist Gustaf Lindblom's brooches are surprisingly well made. With the touch of a finger, he makes the materials shine and the brooch with the recognizable square shape comes to life.
EMERGING ARTIST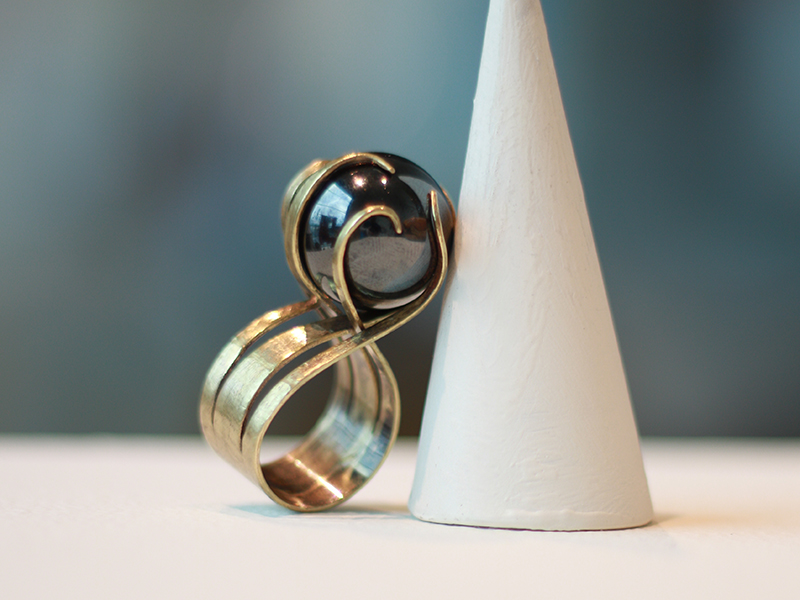 Artist: Maria Irvine
Gallery: 108 Contemporary
Contact: Susan Baley
Retail: US$40
A native of Tulsa, OK, US, Maria Irvine has experienced the art and lifestyle of diverse cultures by living all around the country. Since she returned home to Tulsa, Irvine has found a passion for creating jewelry pieces as eclectic and bold as her life and upbringing. A skilled metalworker, her inspirations range from the vastness of the cosmos to the delicacy of lace. She uses a variety of materials to create work that "can be worn by anyone who would love to make a statement."
EMERGING ARTIST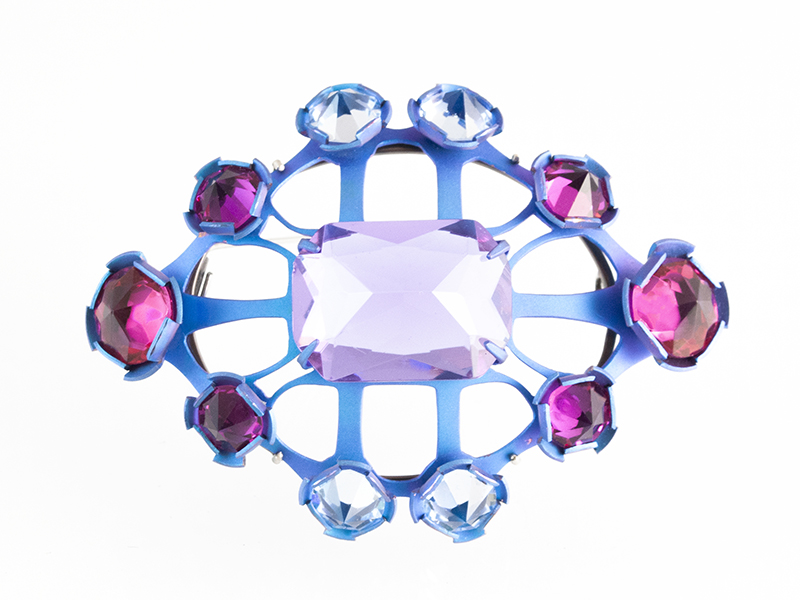 Artist: Everett Hoffman
Gallery: Baltimore Jewelry Center
Contact: Shane Prada
Retail: US$650
Engaging in a multidisciplinary approach of making, Everett Hoffman makes work that reimagines the function of ornamentation and its relationship to the body. Everett holds both a BFA and an MFA in metals and jewelry and has experience working as a goldsmith and bench jeweler. He approaches new materials and found objects with the eye of a jeweler, highlighting and exploiting the subtle, often invisible links between material histories and their connection to identity. His newest body of work, of which this brooch is a part, was created as resident artist at the Baltimore Jewelry Center. This piece is a combination of adornment made from vintage rhinestones, steel, and titanium exploring the tedious and precise process of stone setting. Trapping the soft glass rhinestones in steel and titanium is an almost Sisyphean attempt of patience—an act exploring how we preserve what is precious. Hoffman says of the work, "Re-creating versions of their costumed brethren I am constantly attempting to find where the original lay in the simulacrum of costume jewelry."
GALLERY CHOICE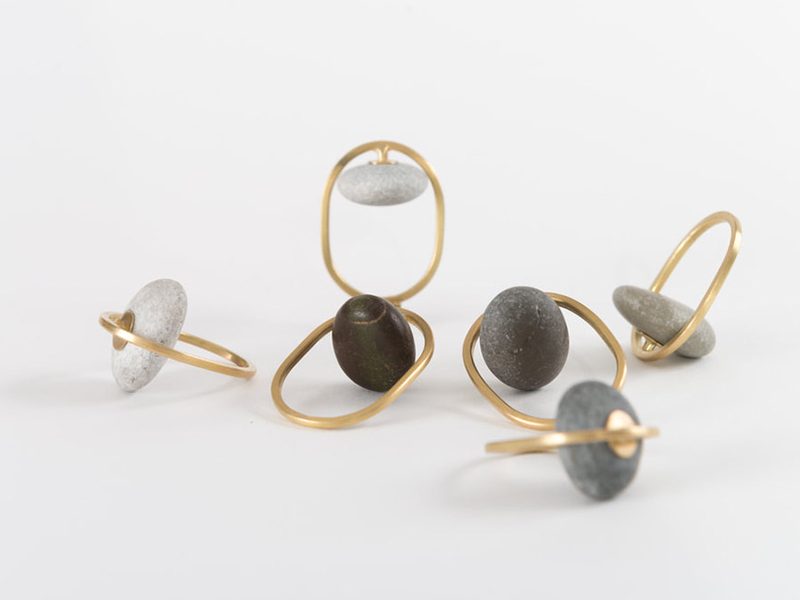 Artist: Millie Behrens
Gallery: Gallery Loupe
Contact: Patti Bleicher
Retail: US$770
Pebble Rings are an elegant representation of the artist's connection with her surroundings in Oslo, Norway. Behrens suspends the pebbles from gold bands, allowing for an intimate experience that lets the stone touch the skin.
GALLERY CHOICE
Artist: Petra Class
Gallery: Patina Gallery
Contact: Allison Barnett
Retail: US$17,670
Masterfully capturing eclectic, earthen beauty in this sumptuous work of art, Petra Class creates a piece exquisitely fit upon the body. Across a shapely cascade of deep ruby stone, the artist exemplifies its fine character, eloquently illustrated upon its surfaces. This unique, varying eccentricity is ever a scene to gaze upon while simultaneously adding further dimension to its captivating form. To complement this palpable assemblage, Petra neatly frames the stones in high-karat gold—a fine pairing between the lustrous gleam of the precious metal and the vivid treasure it holds within its opulent grasp. All the while, the piece is a dynamic statement that sits perfectly around the wrist. Skillful discernment of design and artistic ingenuity embrace in an exceptional work of sheer craftsmanship.
GALLERY CHOICE
Artist: Agostina Laurenzano
Gallery: myday-byday
Contact: Laura Helena Aureli
Retail: €375
Argentinian artist Agostina Laurenzano presents her nature-inspired necklace in pine tree leaves, painted by hand and covered with acrylic gel typically used in medical treatments, at mydaybyday gallery, in Rome. Her bold designs are groundbreaking as she creates one-of-a-kind jewels experimenting with diverse natural materials. This is her premise. Once a new natural element draws her attention, it awakens her imagination and she turns it into a functional piece of jewelry and art. "Considering nature as a source of inspiration and material to create jewelry pieces, trying to turn an organic material in an eternal element," explain Laurenzano.
GALLERY CHOICE
Artist: Anna Talbot
Gallery: Galerie Noel Guyomarc'h
Contact: Noel Guyomarc'h
Retail: CAN$1,100
Anna Talbot's jewelry is inspired by fairy tales, nursery rhymes, songs, and stories. Wolves, deer, trees, forests, and Little Red Riding Hood are all central elements in her universe, and they don't necessarily stick to their traditional places. She's also inspired by the patterns and forms in traditional Norwegian costumes and wood paintings. She wants to tell a story through characters, colors, and materials. She expects from people to keep inventing new tales inspired by her jewelry.