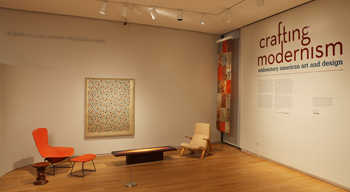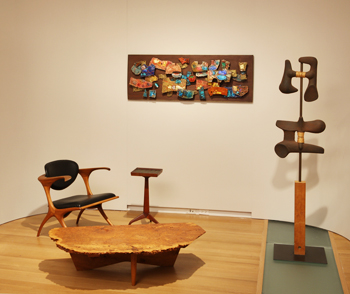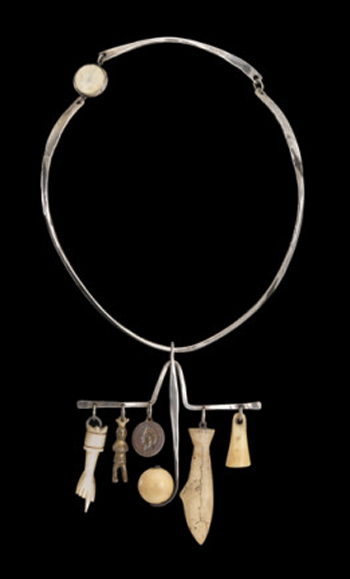 The other aesthetic category is 'Biomorphism,' which, according to the wall text, 'is typified by undulating lines and curved forms that mimic nature and the human body.' Biomorphism started in art, we are told, and then moved to craft and design. This feels somewhat cursory. Nine objects (one painting, one textile, two items of furniture and five ceramics) are used to explore this theme, which was a major movement at the time.
'Jewelry and Enamel in the 1940s and 50s' contains about fourteen pieces of jewelry, almost all of them in two wall cases. The introductory text isn't particularly interesting, more sociological in flavor than suggesting what is at stake in jewelry of this period, or exactly how this jewelry is modernist. (It talks about artists making jewelry, the dates and names of those who did, and others who were jewelers exclusively.) In one case is work by Bertoia, Cooke, De Patta, deFeo, Wiener, Wilson, Ziegfeld. It is linked by its interest in space, often using wire, a kind of general aesthetic of abstraction or biomorphism, and the predominance of silver. John Paul Miller has a scarab necklace in its own case, with no information about how it is modernist, and then there is a third case with Craver, Falkenstein, Kramer, Smith and Calder in it. This is more powerfully a case of jewelry connecting with art – especially surrealism. But through all this, there is nothing about precisely what the modernism of jewelry might be.
Indeed, moving through the galleries, it begins to feel to me as if the exhibition is trapped: the objects aren't art enough to be treated totally as autonomous artworks (and thus lined up as exemplars of the various 'isms' that form the roll call of modernism), and there is no interest (from the museum, or the makers, who want to be cultural players) to have them be released as craft and design. It is as if MAD knows this isn't really art, but is too ambivalent about what this means to set these objects free. Treated like this, modernist craft becomes a poor version of the art that you would otherwise see if you went to MoMA. (The actual art in Crafting Modernism makes this point too, being examples of lesser works by major figures.)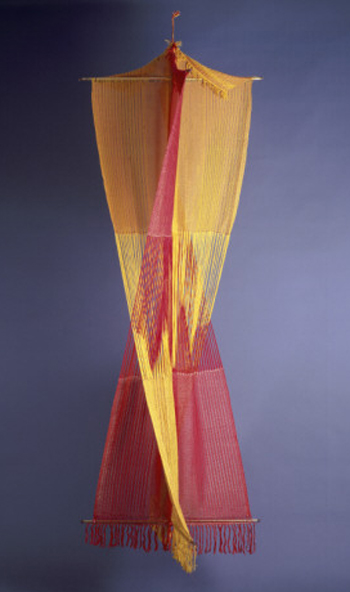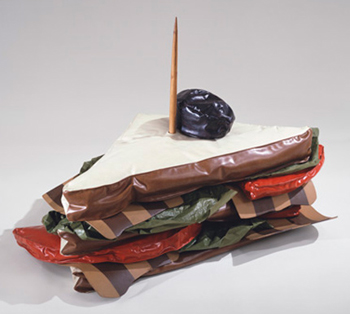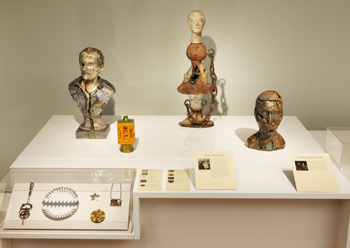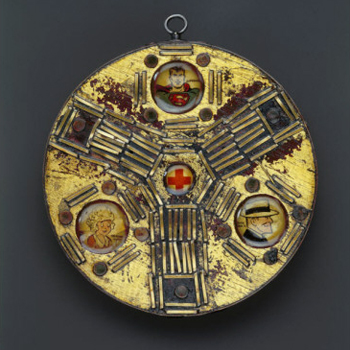 The catalog works hard to assert the claim that art and craft dissolved into one another, which is probably the issue I would most disagree with, especially after seeing the exhibition. On the evidence, craft and art, by the late 1960s, had turned into two very different things and this happened despite the rich interaction at the heart of modernism in the 1940s and 1950s. Falino's claim that the crafted object arrived as an aspect of modern art is disputed by the exhibition she has co-curated – not at the level of individuals, many of whom do actually complicate the relationship, but at the level of infrastructure or practice. Glenn Adamson gets it right when he writes in his essay that 'The history of the movement's institutionalization, therefore, serves as both an inspiration and a cautionary tale.' In hindsight, quite a bit was lost when craft became constituted as a single field (as Adamson puts it).
In her essay Falino writes that 'Long subservient to an artificial hierarchy of the arts that had been established in the renaissance, the handmade object underwent a paradigm shift in the postwar period to become an assertive form of artistic expression.' She's right, but what has been achieved by the end of the 1960s is not craft attaining the rarefied heights of art, but something that, ultimately, seems a more ambivalent achievement. What Crafting Modernism demonstrates, at least for me, is that the crafting of modernism was not quite a success. Certainly, if craft was a player in the 1940s and 1950s, this exhibition demonstrates precisely why that wasn't true by the end of the 1960s.