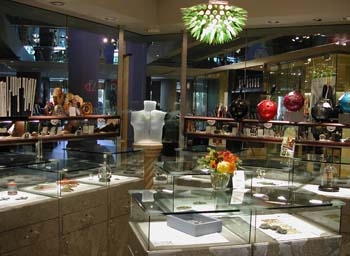 Susan Cummins: Karen, I know you have written a tell-all book called Building a Business, Building a Life: A Memoir and Workbook, but can you give me a condensed history of your background? How did you become interested in jewelry and what led you to start the gallery?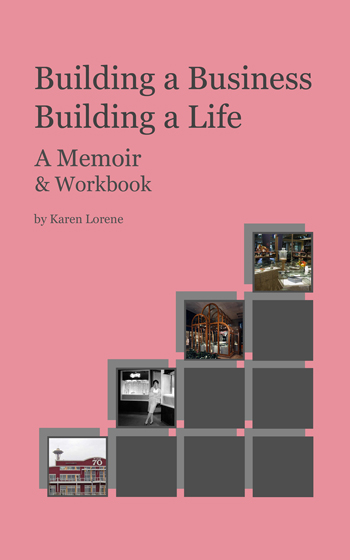 A condensed history: I went from teaching school at The Laboratory School in Chicago, to graduate school (so I could teach teachers, only to learn that the professors hadn't seen a child in twenty years . . . and my passion for teaching drowned in their boredom). With nothing to do, in 1972 I fell into the world of retail and morphed from selling antiques to selling antique jewelry to selling modern jewelry, to discovering the strange, wonderful world of jewelry art.
Through five locations (sequentially) and forty-plus years, I grew from a shop to a salon to a gallery. Choosing jewelry art had more to do with size (what exactly does one sell in a very small space?) and a passion for the arts.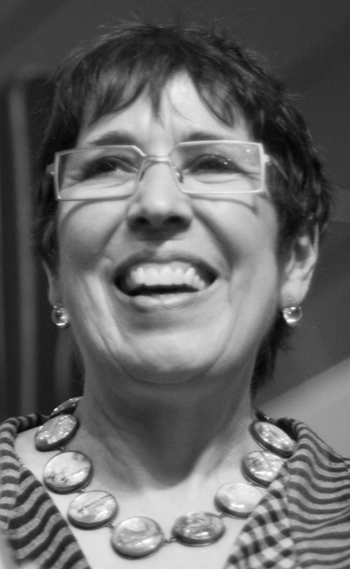 Thank you Karen. Now I am going to address some questions to Gail Brown, the curator of the show. Can you tell me about your background?
Gail Brown: I was trained as a printmaker and I have been a constant viewer for 35 plus years. I am a passionate observer of the unique potential of art in craft media: for the communication of issue oriented and aesthetic ideas coupled with extensive examination of the chosen material process within the decorative arts continuum. As an independent curator, over the last 25 years I have curated more than 65 craft focused exhibitions (those in diverse media or a single medium). I am interested in exhibitions/works of 'ideas' and imagination as well as experimentation and fine craftsmanship.
Why did you choose to work with a jewelry gallery and put together a bead show at the time of NCECA, instead working on another kind of clay show?
I have found it rewarding to curate exhibitions for view during academic conferences: the audience of artists, peers, teachers and students exude intensity as viewers. One can feel that potent energy and response in the gallery. I have curated several exhibitions for view at NCECA in the past and Karen Lorene asked me specifically if I thought she should mount a ceramic jewelry exhibition during NCECA, Seattle and, if so, would I curate it.
This quote appears on Facere's website as a lead into the show: 'Ceramics as body adornment is as old as history and can be as new as today. The paring of clay and beads is and ever-enticing fit. Beads can have limitless forms, personalities and "possibilities." The tactile nature of the material and the form equally entices our touch: as makers, wearers and viewers.' You seem to be very interested in a certain quality of clay being present in the work. What jewelry qualities were you looking for?
I am always interested in challenges, which offer opportunity for growth for artists and audiences. For this exhibition, I wanted to create a visual dialogue between ceramists and jewelers in focused works; I invited jewelers who had ceramic experience or were open to experimentation with clay in their jewelry and ceramists, potters and sculptors who were willing to explore the scale and challenges of ceramic body adornment.
A bead is anything which one can make a hole in and then string . . . with this open definition in place, there are few limitations and there are so many right answers. Wearability was always an expectation. And, the curator's expectations were based on these invitees to show by example what is always possible: the known and the unexpected.
I prefer to talk about a particular jeweler and a particular ceramic sculptor, as examples of my expectations being more than well-met.
Billie Thiede, who many of us know as a jeweler with a broad metals palette, also has a simultaneous passion for porcelain. She has worked at the Ceramic Center of Eastern Europe in Kecskemet, Hungary several times. There she has access to exceptional Herend porcelain whose fine qualities are unique. Billie led a Symposium in summer 2010 in Kecskemet to explore porcelain body adornment. Her porcelain pendants of repeated chosen forms, the pieces in this exhibition, are evidence of the delicacy and translucency which porcelain offers, combined with her design and narrative ideas which correspond to recent, larger porcelain still lifes she is exploring.
The title of the show is A Feast of Beads. How did you come up with that name?
As my ideas, wish list and expectations began to grow, I knew I could anticipate a cornucopia of wearable objects and diverse ideas, a 'feast' of visual and tactile pleasures, if you will.
I have in my head a large visual 'dictionary' of makers. I am watching and adding what is new to what I know of each artist's work. I look for personal vocabulary, imagination, authenticity, self-exploration and growth, motivation, experimentation and that particular, authentic, 'something to say.' I look for promises of the new and I always find even more – the 'unexpected.'
Clay can be quite heavy as a material for jewelry and dangerously breakable and cumbersome. Did any of these functional considerations enter your thinking about who to choose for the exhibit?
I identified and found those who were up for the challenges. Clay people can be very daring and adventurous. Even with years honing their craft, they know that the kiln 'god' has the last word in the process. Jewelers, too, respond to their own challenges. They experiment with new palettes and processes, adding richness to their palettes and take what they learn and choose or not to utilize it in the longer run.
Are there any makers in this show that break away from the use of beads in a traditional manner? Can you give an example?
Did the gallery do a catalog of this show?
There is no catalog this time, but AJF members can see the show under 'Exhibits' on the Facere website. A feast.