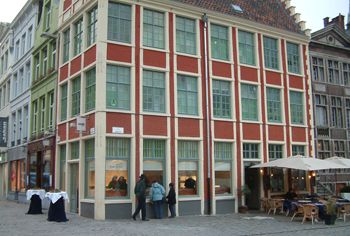 Susan Cummins: Can you describe your background as a jeweler?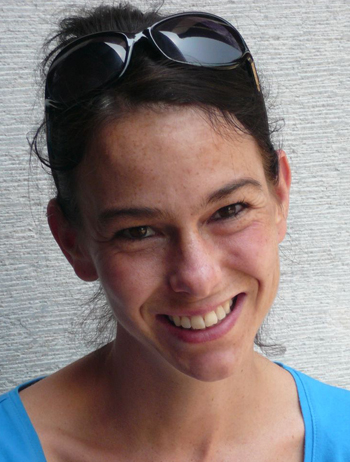 Was there a particular teacher or artist that influenced you?
I guess Iris Eichenberg, who was one of my teachers at the Gerrit Rietveld Academie, has influenced me most in my way of working and looking at materials. Though I believe that also my background as a goldsmith in Germany has always stayed with me.
How would you describe your work in general?
A basic theme in my work is placing ordinary objects of use in the perspective of jewelry. I reflect their emotional value and possible position on the body. The pieces are based on craft techniques and various materials that tell their own stories about preciousness and adornment, like ceramic tableware, (precious) metal, Japanese Urushi lacquer and glassware. They refer to the validity of traditional themes and their heritage. In the same time, they merge concepts like jewelry, ornaments and objects of use.
The paintings from the Dutch Golden Age in the seventeenth and eighteenth century were my starting point for the Still Life collection.
At that time, almost all of the Netherlands was engaged on some level either with trade. They were involved with the production of traded goods like cheese, butter and fish or they imported goods as bread, wine, nuts, porcelain and so on. I discovered that these paintings should not only be read as vanitas symbols, as I always believed, but also as historical indicators of the economy of the time.
So these paintings very often simply portrayed the commodities that had an emotional and economic value to people of that time. Studying these became, for me, the reason to have a look in my own life and compose still life out of contemporary tableware for the body.
I guess I choose this topic because of my interest in Dutch culture and history that I – as a German citizen living in the Netherlands for fourteen years – am still studying. But also because I was struck by a new insight, a new aspect of jewelry: why still life paintings were so popular.
Are you also looking at painters like Morandi? I can see a similar spatial relationships and subtle tonalities.
Yes, of course. I'm very aware that my work is referring in atmosphere more Giorgio Morandi's paintings or even younger artists than those of the Dutch Golden Age that were my first source of inspiration. My own formal language is much more reduced and I consider myself a product of our times.
Diverse. Contemporary art jewelry is a medium in the field of fine arts as well as design with its own visual possibilities: it is able to express ideas and concepts that usually on some level are linked to the body, adornment, value and emotion. But it also requires functionality. Through history, it has developed its own imagery. But in our days it can be made from very different materials and by means of diverse techniques.
Contemporary art jewelry is the kind of jewelry that matters and is able to move people deep in their heart.