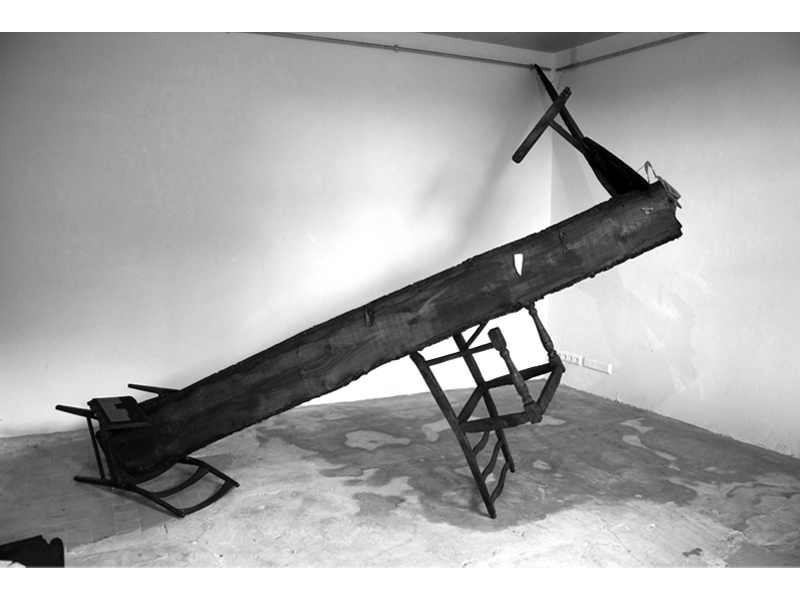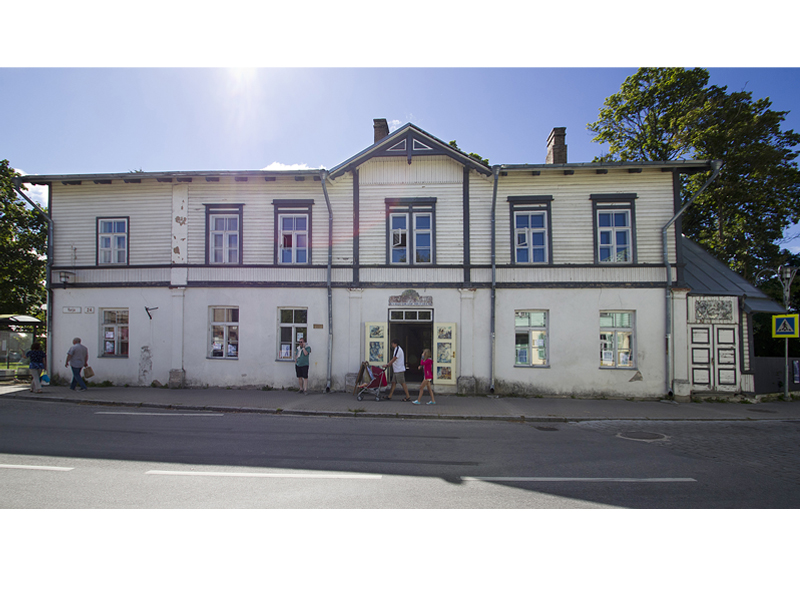 õhuLoss/Castle in the Air (Piret Hirv, Kristiina Laurits, Kadri Mälk, Eve Margus-Villems, Villu Plink, and Tanel Veenre)
August 12–September 6, 2015
Evald Okase Muuseum, Haapsalu, Estonia
This summer, the Estonian jewelers belonging to the group õhuLoss/Castle in the Air exhibited their work in Haapsalu, a small seaside town in the western part of Estonia. The proposal came from the Evald Okase Muuseum, a private museum dedicated to the life and work of the well-known Estonian artist Evald Okas (1915–2011). The two-story house in the idyllic town of less than 10,000 residents used to be an art school for children before it became a museum, so the venue has a long cultural tradition. Piret Hirv, Kristiina Laurits, Kadri Mälk, Eve Margus-Villems, Villu Plink, and Tanel Veenre have been exhibiting as a group for 16 years (at the beginning, Katrin Sipelgas was involved, but she has by now chosen a different path). The exhibition, their seventh in Estonia, and curated by the jewelers themselves, was displayed on the first floor of the house, in one large room and a smaller one. The six artists exhibited artwork created mainly in the last four years, including new pieces that have never been shown before in Estonia. Kadri Mälk also included some works from the 1990s. Altogether, almost 90 pieces were on show. õhuLoss has never exhibited in Haapsalu before, and it was their intention to give an overview of their recent work. The exhibition design was developed together with the architect brothers Lembit-Kaur Stöör and Ülo-Tarmo Stöör.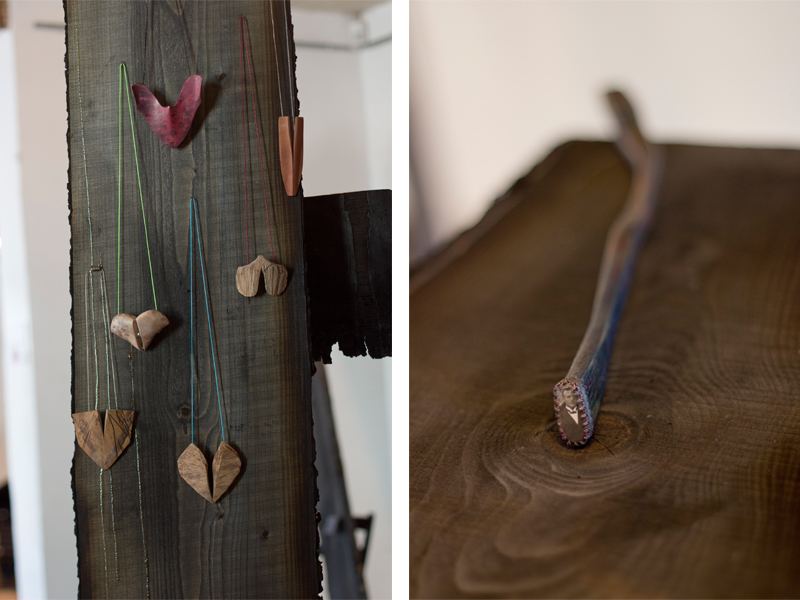 There has always been something mysteriously and captivatingly dark about Castle in the Air. Not only because of the person central to the group, Kadri Mälk, and her inclination toward the more romantic, poetic, and dark side of the world. Not only because of the colors of the materials they use, "intensifying to dark brown and black," as Rüdiger Joppien has pointed out,[1], but also thanks to a certain unspoken knowledge of "the real things" that the group seems to share: things that really matter, that have true value. This mystical world comes alive in their brooches, necklaces, rings, and objects.
In the Evald Okase Muuseum, their jewelry was placed on fragile-looking but carefully arranged constructions of burnt wood, black and dark brown, gleaming in the daylight. Boards of different length, chairs with legs missing or holes in them: the remains of a fire. Amazingly picturesque and at the same time simple and not too "loud" for the work of the most well-known jewelry group in Estonia. After a fire, people start building up again, and that's exactly what Castle in the Air did—they built a new castle. A dark and poetic one. Perfect in its imperfection.
"Burnt wood or to be more precise, an object made of burnt wood stands for destruction, fragility, the evolving of something new, the exposure of the important. And in addition, fire is an important tool for jewelers and blacksmiths," says Lembit-Kaur Stöör, one of the architects involved in the exhibition design.[2]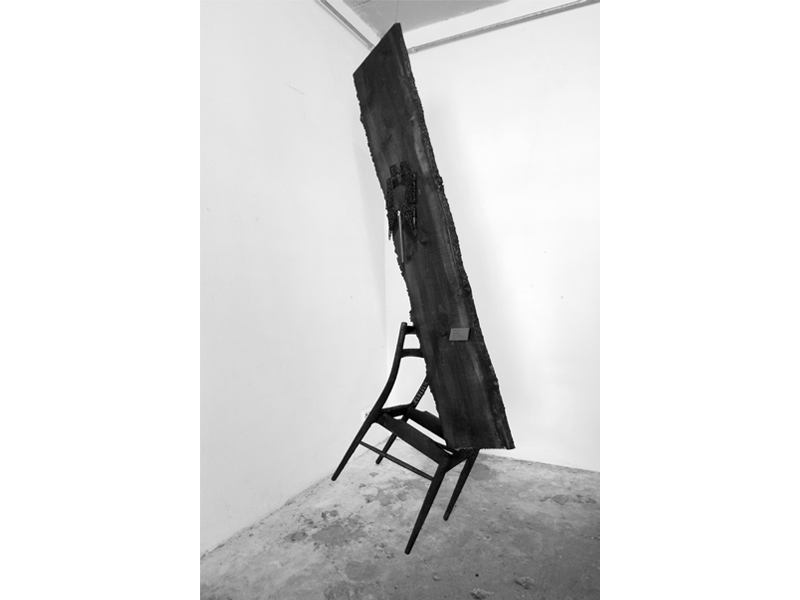 The group is known for unconventional exhibition places and also very varied ways of designing their exhibits. They've had their jewelry hang from the ceiling to the floor on red strings (luchtKasteel, Galerie Marzee, Nijmegen, the Netherlands, 1999); they've shown their artwork in a manor house on an island at night (Nocturnus, Muhu Island, Estonia, 2002); they've had an exhibition at a cemetery (luftSchloss, Alter Nordfriedhof, Munich, Germany, 2010). Bearing that in mind, this summer's location is an appropriate complement to their exhibition chronology. Haapsalu is loved by creative Estonians and foreign visitors alike; a horror movie festival takes place in the town every spring; and, last but not least, Haapsalu does have a real medieval castle.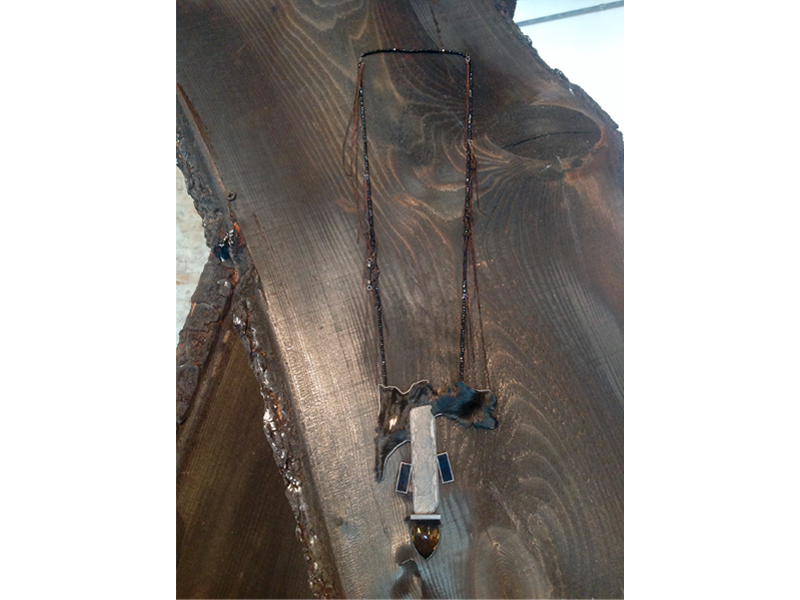 One of the highlights of the exhibition is definitely Kadri Mälk's necklace The Finishing Angel, exhibited in Estonia for the first time. The piece seems to have been made exactly for this particular environment. It's exhibited alone on a wooden board that's supported by a chair and another board. The fragility of the construction and the mysterious strength of the necklace create a beguiling combination. In the last few years, she's been working on a new theme—the testament. "I still do as I've always done. If something pains me, interests me, I detangle it in my artwork. To see what's inside. Like cutting open the stomach of a teddybear," she wrote to me.[3]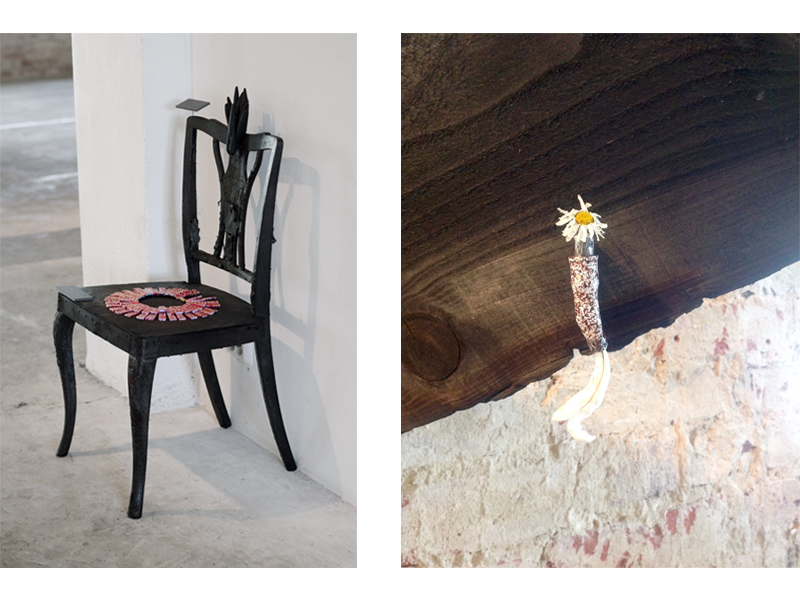 Kristiina Laurits's neckpieces and brooches were also eye-catching in the dark burnt atmosphere of the exhibition, creating fascinating color and material contrasts. Neckpieces Lumene III, Red-blooded, and Thunder, with their wide range of materials, their inventiveness, and overall attention-demanding presence on the cracked wooden background, seem to be the precious survivors from the hidden treasury of a burning castle. Laurits's brooch Julius was also a stunner. It's an elegant small-sized piece designed to perfection by Laurits, who then added a living daisy to the brooch, an ambassador of Estonian nature.
One exhibitor, Villu Plink, is often less of a jeweler and more of a conceptual artist. His two objects, Successes and Failures, consist of fragments of paintings from 2000–2015 exhibited in Plexiglas containers on window sills. He's recycling paintings, like he's done before. In an exhibition in Tallinn nine years ago, he turned more than 50 paintings from 1996–2006 into seven sculptural objects. Plink's conceptual objects are in intriguing contrast to many of the other artists' more jewelery-like pieces displayed. And yet, his objects don't disagree with the mindset of the rest of the group. They work well together, six individuals creating a whole.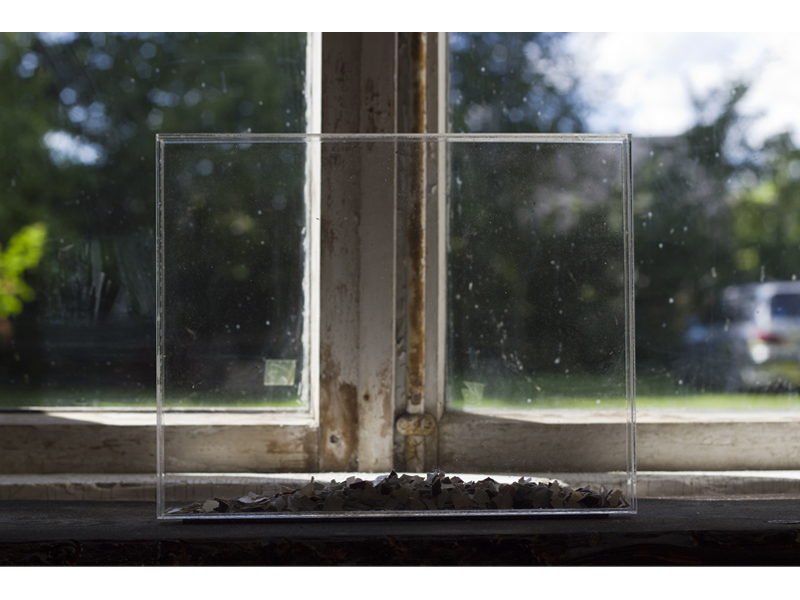 õhuLoss brings to mind an old saying: "You have the clocks, we have the time." The jewelers of Castle in the Air are the ones who have the time. Time to build up a new castle after the fire. And then another one. Their newer work shows a continuous evolution: Piret Hirv continues her elegant handling of silver in two new brooches called A Straw, Tanel Veenre shows for the first time in Estonia his wood pendants Heart Studies, continuing with heart-themed jewelry. They haven't taken revolutionary steps in this exhibition, they move forward calmly and constantly. As per their usual practice, the exhibited artworks have not been dated. "This century and last century!" Kadri Mälk has said.[4] "The more basic the subjects are, the less visible the time," Piret Hirv added.[5]
They do have the time.
In 2016 the same selection will be shown in Putti Gallery, Riga, Latvia.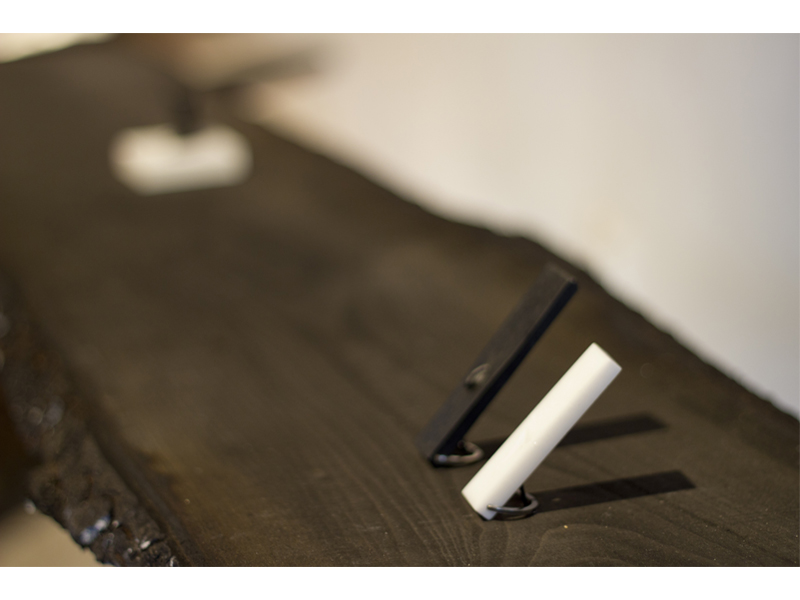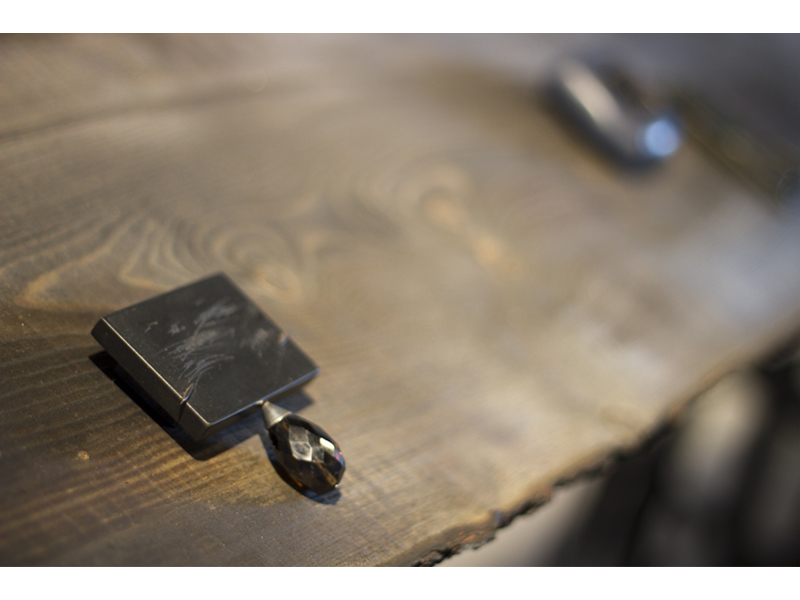 ---
[1] Castle in the Air/õhuLoss, Jewellery from Estonia, eds. Kadri Mälk, Tanel Veenre (Stuttgart: Arnoldsche Art Publishers: 2011), 19.
[2] Author's e-mail interview with Lembit-Kaur Stöör, September 2015.
[3]
Author's e-mail interview with Kadri Mälk, September 2015.
[4]
An interview with õhuLoss on the occasion of their exhibition at Galeria Reverso. Cristina Filipe for PIN. April 2015. http://www.pin.pt/index.php/en/reflexoes-teoricas/entrevistas/2983-ohuloss-passion-compassion-love-understanding-of-patience.