Earlier this year, Mia Maljojoki, a Munich-based jewelry artist, spent 24 hours in a Munich subway station "performing" in a project called 1000 Stardust. What started as performance art has now been made over into a window installation at Galerie Spektrum in Munich. 1000 Stardust explores the concept of the equality of every human being and our common roots: we are all one. Here, Mia talks about the project, what she learned, and her inspirations along the way. You can also read an earlier interview with Mia about her exhibition called Life Is Juicy—How Fragile Is Your Day, which was held at Galerie Spektrum as well.
Bonnie Levine: Your current installation at Galerie Spektrum, 1000 Stardust, started as an urban performance for 24 hours in the Münchner Freiheit Underground Station in Munich earlier this year. Tell us about the project and how it came about. What was the significance of 1000 Stardust? What role did jewelry play?
Mia Maljojoki: The cultural department from the City of Munich asked me to make a proposal for a project for a public space. I proposed 1000 Stardust—Everyone matters. Everyone counts. Each soul has an important role to play in the tapestry of life. It is a site-specific project for the city of Munich and the Münchner Freiheit Underground Station. It is for and about the people that live in the city of Munich. It is about the equality of all of us, no matter where we come from and what we look alike. It is also a 24-hour project that reveals what happens in the city metro station during 24 hours.
In terms of the jewelry, the Stardust pins are laser-cut stainless steel plates. They exist in three different skin tone colors, and they glow in the dark. They are numbered from 0001 to 1,000. Together as a whole, they seem the same, but once picked up and worn, they become individuals creating their own paths with their wearer.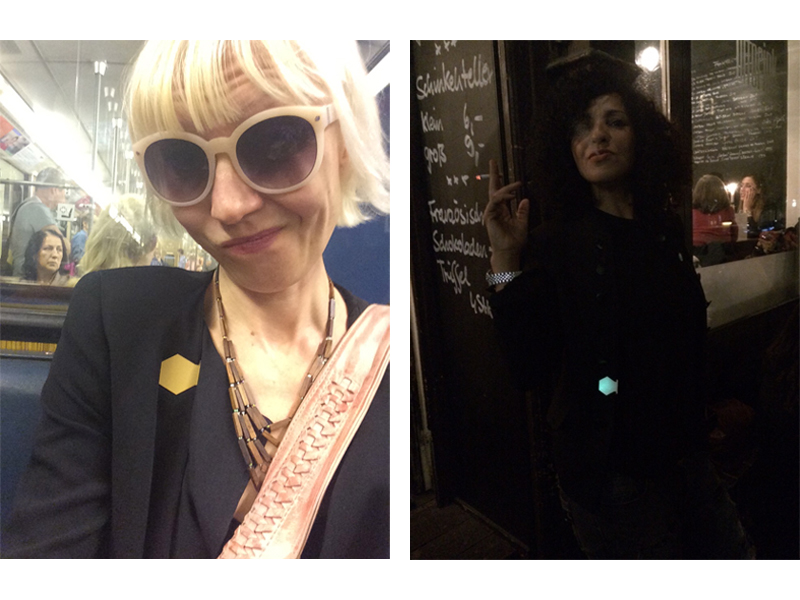 Describe the 24 hours and what happened during that time. Did it accomplish what you hoped? How do you assess that?
Mia Maljojoki: I was in the subway station with one other performer, Monika Gomis, and a photographer, Conny Marshaus, who filmed the full project. It was a place in constant motion with people moving quickly. Our plan was to "perform" a live 24-hour daily routine, like having a sign "EAT" and we are eating there, and to offer our Stardust pins to passersby on a silver plate so they could take one. But it was interesting—people wanted to talk with us and tell their stories and have long discussions. There were so many opinions about the equality of humans that my project was very political—my first ever political project. I could not agree with some of the opinions at all, but lots of them were positive.
Also, being awake for 24 hours in a public space was very demanding on my body. It made me think about people who have many jobs and hardly have time to sleep. We saw morning people rushing to work and back later; evening was more calm; and some daytime visitors came back to have a longer look and talk with us.
It is impossible to prepare yourself to do a 24-hour performance project. I have done a six-hour performance in public before, but this was heavy on my body and it was hard to actually stay awake that long. But for me the heaviest part was the negative reactions people had about the equality of humans. It was an interesting project that took over during that 24-hour period. I would love to do it again but in another country.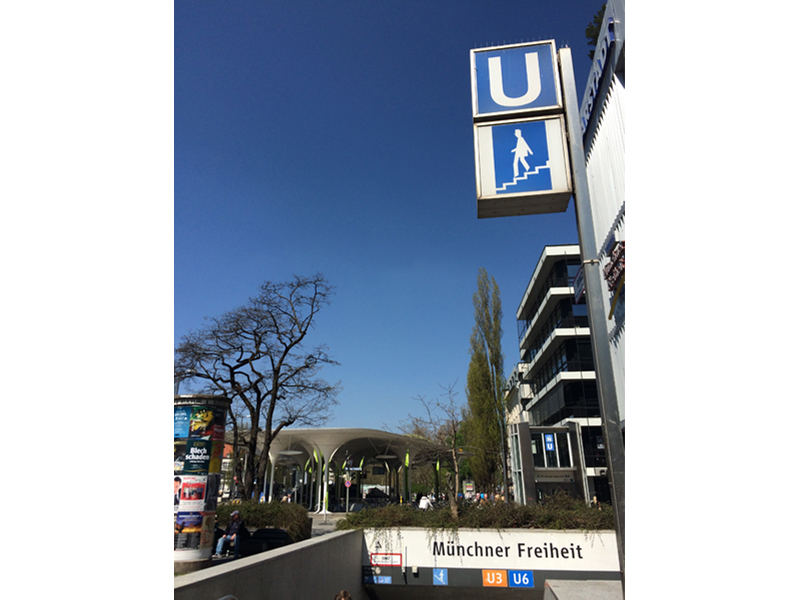 How is your current installation at Galerie Spektrum, 1000 Stardust, similar to and/or different from the performance in the underground station?
Mia Maljojoki: For Gallery Spektrum I have built a window installation. It is very different from the underground performance presentation. At the moment this project does not need me to be there. It stands by itself and becomes actually more of a commercial design presentation where a pin can be purchased for 15 euros. There are still some left!
I've read that Professor Otto Künzli and jewelry designer Helena Lehtinen were your mentors early on. How did they influence your work and what did you learn from them?
Mia Maljojoki: Simply I have learned patience and trust—patience meaning slowing down to give myself space and time to really finish a piece and project, and trust of my own way of developing and moving through from the beginning to the completion of each project's journey.
You've said that jewelry is a powerful form of social interaction made solid. Can you elaborate on this? Does this idea relate to 1000 Stardust?
Mia Maljojoki: Yes, it does. Stardust pins are three different tones of skin color. They refer to us, humans. They are solid, wearable reminders of the idea of human equality.
Over the years you've created several bodies of work using different materials and techniques—some more refined, some seemingly unfinished, all very different from each other. Are there common themes that you explore in these different collections?
Mia Maljojoki: My themes come from everyday life of the present. Once I have an idea, I search for the most suitable material to represent it. This is the reason I am not attached to one material. I also do not need to know how one should work with my chosen material. I enjoy "making friends" with it, and discovering new ways to work with it. This is a very important part in my work.
Quite different from these bodies of work are the jewelry collections you've designed for Marimekko, the international Finnish textile and clothing design company. This jewelry is more geometric, organized, patterned, and structured, like the clothes. How did you come to be associated with Marimekko? What's the inspiration behind this work? Is it different from the themes you explore in your other projects?
Mia Maljojoki: Marimekko contacted me in 2011, asking if we should try to collaborate. They sent a big box of fabrics and asked me to make some jewelry with them. I have designed eight jewelry collections for Marimekko.
My "toolbox" to create Marimekko collections contains very different tools from my own artistic work. Mainly my inspirations for the Marimekko collections have been my memories and experiences of my home country of Finland, like open-air dance (Lavatanssit) or outside games I used to play with my friends growing up. I deliver a PDF file to them with drawings that someone else will produce. The pieces need to have a flow so they are easy to wear, easy to produce, work nicely with the clothing, and are FUN!
What are your thoughts about the intersection of fashion, art, and jewelry?
Mia Maljojoki: I believe everything is connected, overlapping and supporting each other, and sometimes creating confusion. There is often discussion about where does design end and art start, or what design is and what art is, and this differs from one field to another. I am often asked how can I do both.
Do you have a fashion icon? If so, how does he/she inspire you?
Mia Maljojoki: Coco Chanel and Grace Jones, to mention a few. They are iconic and beautiful with a strong presence. They inspire me: I see both of their styles to be linear—classical but rebelling at the same time, or the other way around. Hmmm … perhaps it's the opposites that attract me!
What projects are next for you?
Mia Maljojoki: I have a jewelry performance installation coming up during Schmuck 2016 at Giesinger Bahnhof (a public space that belongs to the city of Munich) in collaboration with Annika Pettersson, a jeweler from Sweden. I welcome everyone to Munich and please come and see our project
Thank you.