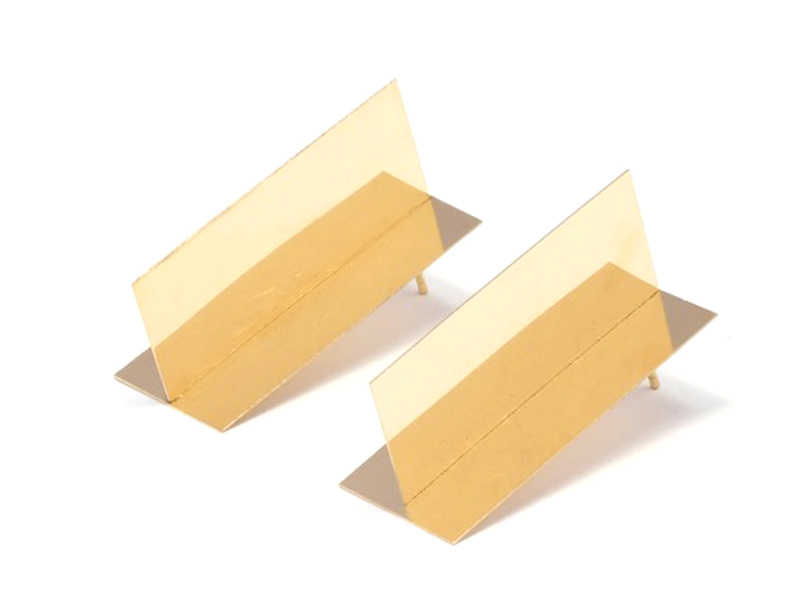 Known for his insightful forms and well-designed jewelry, Marc Monzo is an artist living and working in Barcelona, Spain. After studying jewelry at the Escola Massana in Barcelona, he has gone on to give numerous lectures and workshops and to exhibit work internationally, from Tokyo to Germany to Australia. Additionally, the 2016 Françoise van den Bosch Award was granted to Marc Monzó right after he gave this interview. In this interview, we talk about his exhibition, Blank, at Gallery S O in London.
Olivia Shih: Where were you born, and where do you live now? What drew you to jewelry in the first place? Why have you stayed with it?
Marc Monzo: I live in Barcelona. I was born here in 1973.
I studied jewelry because I feel comfortable working with small-scale objects. I like to put my attention to them.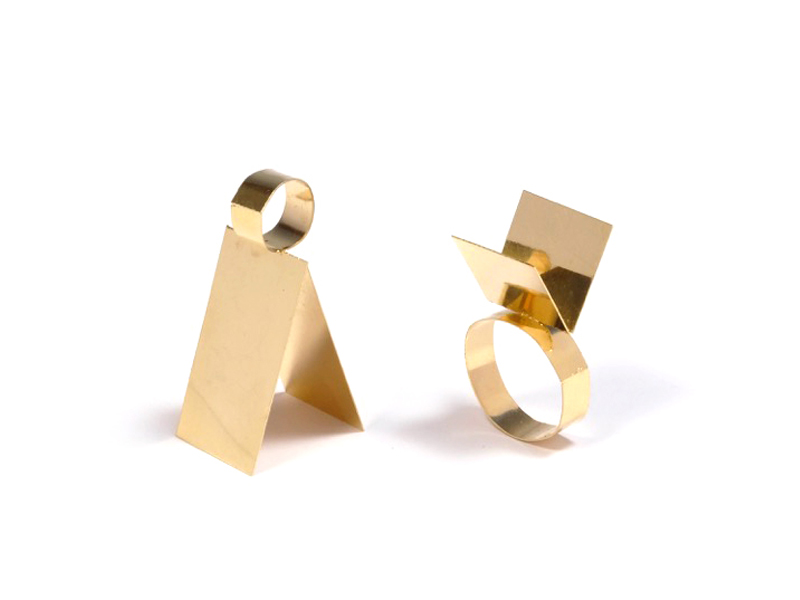 Much of your jewelry in this collection, Blank, seems to embody the idea that less is more. Simple lines, simple shapes, but with endless possibilities—what were you thinking about as you made this collection?
Marc Monzo: When I order gold plates from my metal provider, I always get these perfect, industrial, totally flat, polished plates of gold. I always found these elements interesting. The way they look fits with the idea of what this metal represents for me.
The pieces are made first with paper, cutting small papers with scissors and sticking them together with tape or glue. Then I order the plates in the measurements of the papers. The providers cut them with a guillotine so they are always a bit different. Once I have them, I weld them together with a laser. I don't change their proportions and don't use any tool in the process, just the laser.
The plates are thin, 0.22 mm. They are tempered metal, so they are hard.
I like the thinness of the plates, nearly immaterial, confronting the symbolism of gold.
I very much like prototypes, the nature of them … the unfinished exercise. Using paper to build them. I consider the nature of the prototype precious. That is why it is represented with gold now.
I don't try to do minimalist works. Things happen this way.
You seem to be playing with reflections and the mirroring aspects of polished metal. How does that play into the construction of the piece?
Marc Monzo: Some years ago, when I did a brooch titled Fire, I realized that when you confront two yellow polished surfaces of gold, an orange color appears. Due to my discovery, many of the surfaces of these works are flat and polished, and if I place them perpendicularly in the middle of another plate they produce a reflection and they seem partly transparent. This seems to make these works even lighter.
Your jewelry suite, Blank Earrings, Blank Pendant, and Blank Ring, contains almost no trace of the jeweler's hand. There is one school of thought that defines craft as a practice tied to specific medium, specific techniques, and making by hand. As a jeweler who values craft, what does craft mean to you?
Marc Monzo: I admire people who can be precise while working with their hands. That they have a profound knowledge of any material. Sometimes I think they can understand and experience this context through a precise practice with matter.
At the same time, nowadays the concept of "handmade" is not a sign of quality anymore.
Technology is developing very fast new tools that are getting in our workshops. I see this technology just as tools. Maybe what makes me think a work is interesting is the thing that keeps in mind the human dimension.
This way of projecting an object has similar values to the concept of craft, even if there is no sign of hand manipulation.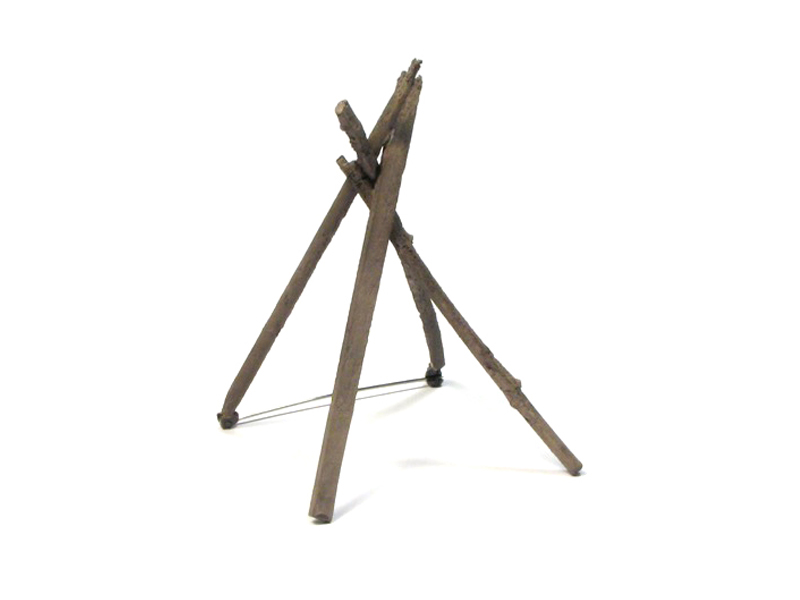 In this exhibition, there is a set of brooches that resemble a brick wall. What inspired you to translate everyday brick and mortar into metal? Into jewelry?
Marc Monzo: I construct jewelry. The works I do are always made by adding material, not taking. The Wall brooches represent this fact. I also like the experience of building walls in a jewelry workshop. I find it funny to wear architecture.
Your use of materials is very playful but specific to each piece of jewelry. When working on a new piece, do you begin with the material, or the concept?
Marc Monzo: Sometimes materials bring you somewhere. Other times you are somewhere, and you need a material.
Could you describe a day in your life as a working jeweler and artist?
Marc Monzo: I like to wake up early. I have breakfast at home. I go to the workshop. I share my workshop with a friend who is a product designer. His name is Curro Claret. Each of us has an independent space. I mostly work alone, but there are periods during the year when some students do internships at the workshop.
For the last year, I have been taking part in a new project of a new brand of fine jewelry, Misui. Every day I dedicate time to this project.
In the late afternoon I close the workshop, I have dinner, and go to sleep early.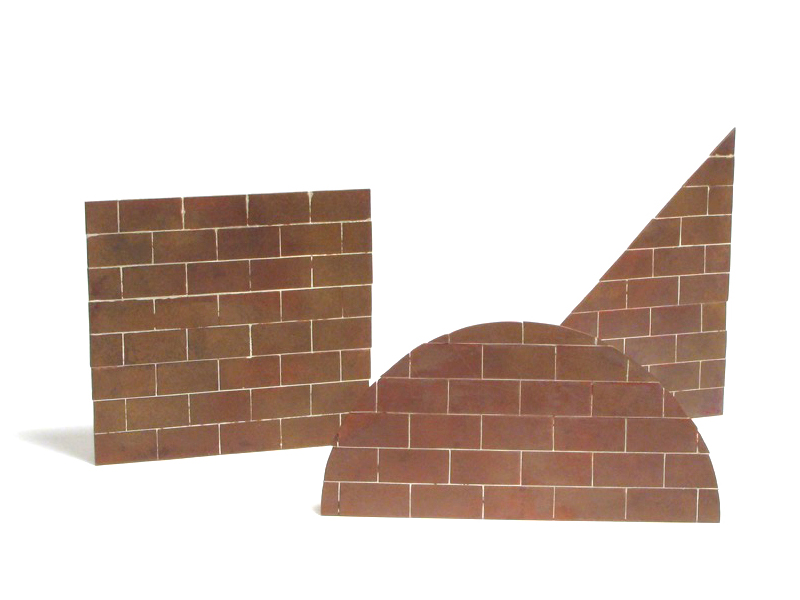 Have you seen, heard, or read anything you would like to share?
Marc Monzo: There is a Catalan music composer, Frederic Mompou, that I like, and I sometimes listen to his music at the workshop. His pieces of music are short.
Thank you.
AJF has decided to begin posting the prices of pieces in the gallery shows we are highlighting each month. For Marc Monzo's show, the prices are between 70 and 2000€.