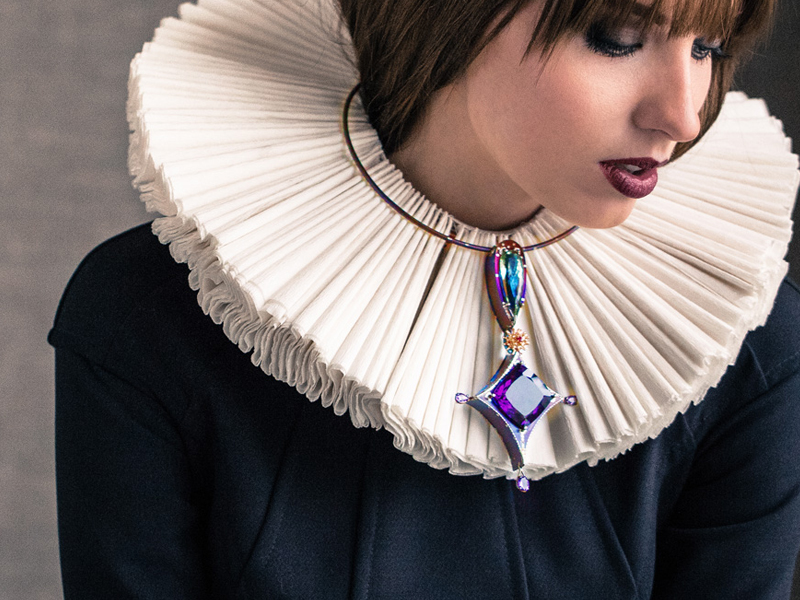 The infinite possibilities of metal as a material for exploration and the magical aspects of the creative process underlie and inform Māris Šustiņš's jewelry. In Raining Stars, his latest solo exhibition on show at Putti, each jewel is charged with a message of positivity. In this interview, Šustiņš talks about jewelry as "little architecture," his love of experimentation, and his diverse stylistic output as being a result of a constantly inquiring mind.
Vicki Mason: You were trained in Latvia. Can you tell us about your training and what the key learnings were that you took away from your time spent studying?
Māris Šustiņš: In Riga Design and Arts School, where it is possible to receive the best professional education in Latvia, I studied in the metal design department. I got the basic knowledge in how to work with metal as a material. For graduation I designed a light for the school's entrance hall. After graduation I studied for six years at the Latvian Academy of Arts in the metal design department, which is a sub-department of the functional design department. I received my master's degree there. It was a very exciting and eventful time in my life, during which I came to the realization that I definitely wanted to work as a metal artist and designer, because I see metal as a very interesting material with great potential and a wide amplitude of ways to work with it—mechanical and chemical treatments. There is always the big mystery—what will be the end result? I like to be in control of the result.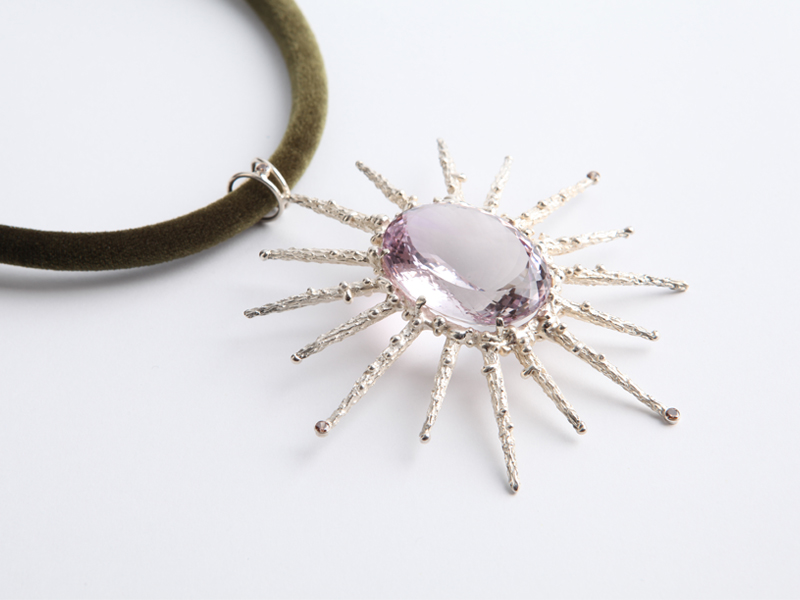 In your new body of work, Raining Stars, the star is your key motif. Stars are ancient symbols assigned many meanings, most commonly associated with magic. What was your motivation for using the star?
Māris Šustiņš: I guess this is due to the fact that the whole process of creating jewelry has some kind of magic in it. It is some sort of a positive witchcraft. I have used this beautiful star motif in my works before—but more as a compositional element rather than a magic symbol. Stars are so numerous and so multishaped that in my mind they are the perfect source of inspiration.
Can you open up for us your working process in the development of this series of works? Did you for example start with an overarching theme or concept, or with a single idea that then led on to the next idea? Does a particular material or stone fire a work or body of work? What comes first?
Māris Šustiņš: Stones certainly play a central role in my works, but they are not the only materials. In the making of this collection I used titanium, among other things. It is neutral enough to work well with gold and silver. It works well as a bright background and also offers good technical solutions, which can be tricky when dealing with precious metals. My previous solo exhibition, Sphere, was four years ago. It also had a kind of cosmic tendency, due to the fact that I used scarce metals such as niobium, tantalum, titanium, and others. This time I wanted to go further and add a more exuberant and radiant effect to the exhibition. Therefore Raining Stars seemed a very inspirational title for the creative process.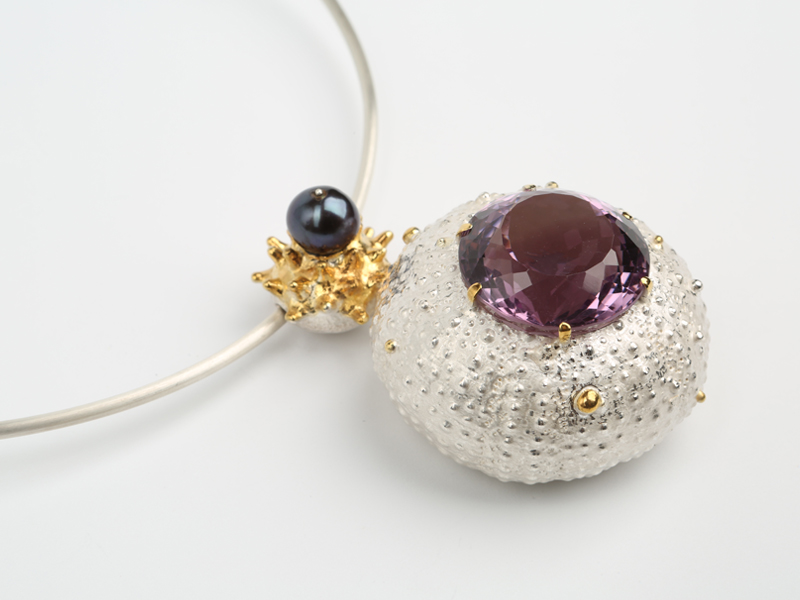 Tell us about your necklace, with what appears to be a casting of the skeleton of a sea urchin. This shell is like a star of the sea, not the sky. How does this work fit into the themes you are working with here?
Māris Šustiņš: In these works I try to not focus on the star as an object in the sky. I incorporate the star motif as a mystery, an untold story. In this way, a person who looks at or wears my piece can have the opportunity to visualize their own imagined star.
There is a poetic and perhaps even a spiritual aspect in the text of the press release that introduces this new body of work. Your use of words like "hope," "inner dialogue," "body of energy," and the way you speak about giving and receiving energy through these works, for example, leads me to this conclusion. Are there bigger picture, more profound philosophical undercurrents at work in this series?
Māris Šustiņš: Yes, definitely. In my mind, pieces made by jewelry artists always hold some kind of message. I always try to invest only positive creative energy in my works. I think that jewelry is a very powerful "condenser" that ensures energy circulation between the wearer and the surroundings.
The promotional image publicizing the exhibition shows one of your necklaces fastened over a large white fabric ruff. Ruffs bring to mind Pierrot, Elizabeth I, and a form of clothing still worn by Danish ministers and bishops today. What did you want to convey through combining your work with this type of clothing and presenting your work in this way?
Māris Šustiņš: I cannot comment on the choice of this particular clothing, as the photo session was not styled by me, but I loved how this outfit works together with the necklace.
Are all the works in the exhibition necklaces and pendants?
Māris Šustiņš: The collection Raining Stars consists of necklaces, brooches, pendants, earrings, and rings. But, yes, somehow this time there are a lot of powerful necklaces. I think at the moment I have created around 20 necklaces for this collection.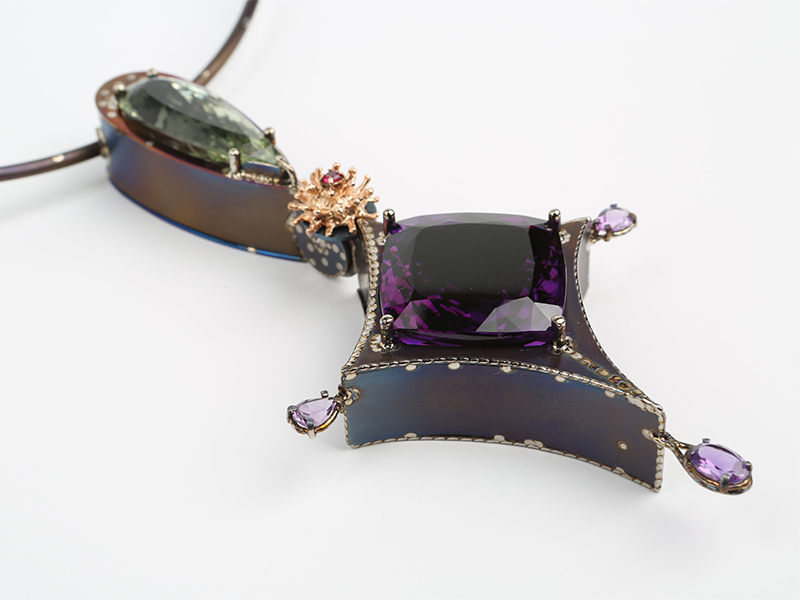 You use a broad range of materials in these works. It allows your technical mastery to shine forth, but on certain pieces you leave visible traces of "unfinished" making, seen for example in the titanium necklace with its spot welding marks in evidence. How would you define your interest in materials, the criteria you employ to select them, and the way you make decisions regarding the finish of a work?
Māris Šustiņš: I have worked in jewelry design for around 20 years and of course I have acquired wide technical skills on how to overcome the many different types of material resistance. I have been working with titanium for a while now; it works well in my design composition. Titanium allows me to build jewelry pieces as small constructions. If we call it little architecture, titanium works as concrete. I trust my instincts in assessing if a piece needs to be 100% finished or whether there should be some visible working details, just as in a sketch. When not everything is polished and the working process is visible, it gives the piece a distinct spark of life.
For this particular necklace, I chose to leave welding parts visible because these parts spoke to me as effects, not defects. These golden dots contrast well with the dark blue and red coloring of titanium, which I achieve by heating the titanium to a specific temperature. In my eyes, they bring the piece to life and create the effect of a little stardust between the large and bright amethysts.
Stylistically your work is diverse, mercurial even, ranging from simple crisp pared-back forms (your titanium cufflinks, for example) to the busy, highly patterned and ornamented jewels seen in Raining Stars. Do you enjoy the freedom working across diverse stylistic bases offers up, as opposed to being pigeonholed into creating work of a certain signature style?
Māris Šustiņš: Exactly. Freedom in my creative process is the most important thing for me. Therefore, I am very reluctant to make commissions. I think that those who know my style will always recognize it without doubt, although my work really is diverse. There is always constant seeking, experimenting—that is my principle.
You are the head of the metal design program at the Riga Design and Art School. Do you encourage your students to be technically versatile, or to focus on one technique that may become their "signature"?
Māris Šustiņš: I try to give my student knowledge of many different technics. It is important that they have a wide understanding and skill set to help them to express what they have to say through jewelry. One should not be limited by one technique, only if it is by choice. In school I teach composition, we always seek new ideas, forms, characters, and contemporary expressions—they are all very closely connected to mastering techniques.
Metal is a core material used in your work. Where do you source your metals from, and do you ever consider the ethical aspects with respect to the sourcing and mining of the metals you use?
Māris Šustiņš: At the moment I use materials from my own reserves of materials.
Your love of fashion, more especially the "jacket" as a form of clothing, has been documented. Do you wear jewelry, perhaps brooches, on these jackets, and do the men around you wear the sort of jewelry you make, or that is for sale at Putti?
Māris Šustiņš: Actually I have not worn a brooch for a long time. Thank you for reminding me! It is very difficult to find time to make something for myself, as there are always ideas stacked in my mind that await being created.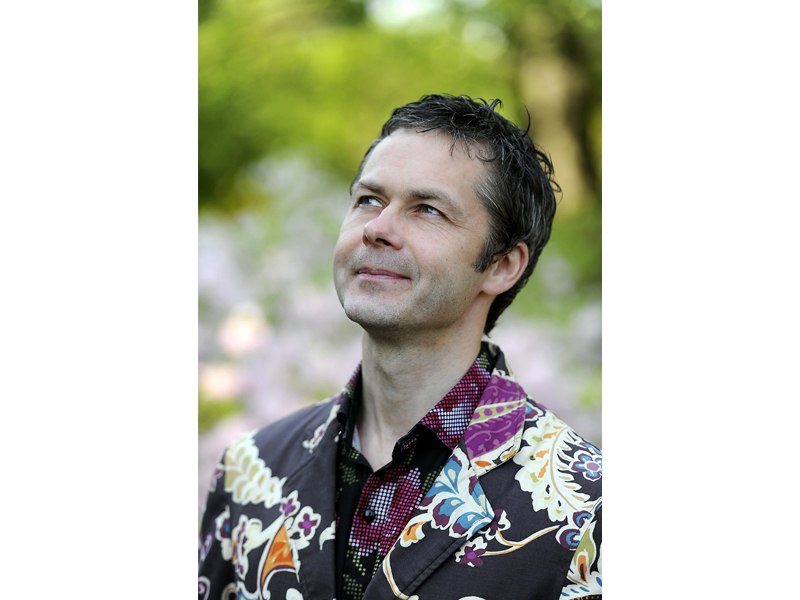 Do you think there is a relationship between fashion and jewelry, and if so can you share some of your thoughts on this connection?
Māris Šustiņš: Fashion is all-inclusive. It is a global sponge that unites countless creative minds—fashion designers, stylists, artists, scenographers, photographers, and of course also jewelry designers. They all create what we call fashion. It is a story that is being created and told simultaneously.
Who are you influenced by? For example who are your favorite painters, jewelers, writers, filmmakers?
Māris Šustiņš: I am inspired by many creative minds in the worlds of art and music. It is often when I look at a painting that I can visualize jewelry in my imagination. It feels like a connection to a creative ocean that you have access to only at moments of inspiration.
What is your favorite period art historically?
Māris Šustiņš: The period that starts with the French impressionists. Belle Époque and the art trends that followed it up until the present.
If your jewels were to feature in a film or TV series, which genre do you think would be a good fit for you? For example, are you inclined toward Game of Thrones, or do you see yourself more as a sci-fi Mad Max jeweler?
Māris Šustiņš: Game of Thrones would be my favorite.
The works in this exhibition are priced between US$225 and $2,250.