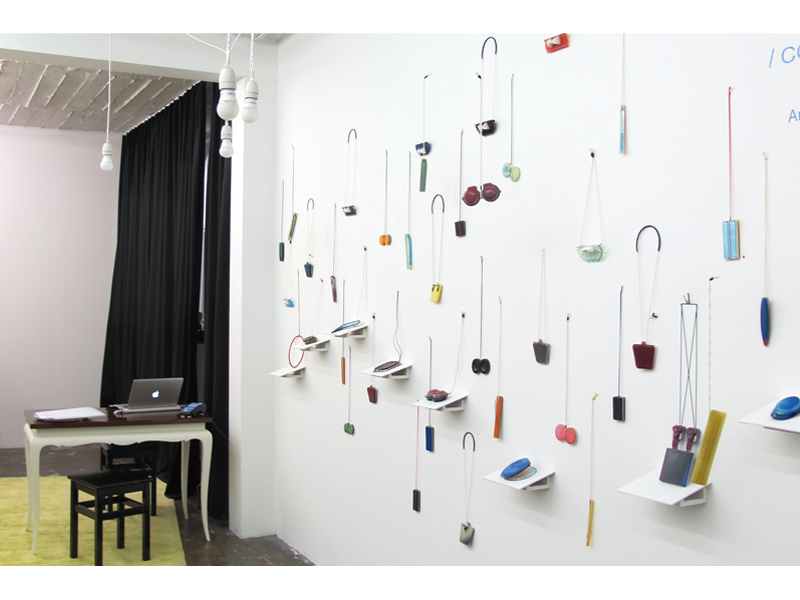 Founded by the couple Karin De Buysere and René Darmont in 2000, Beyond Fashion is a contemporary jewelry gallery in Antwerp, Belgium, that is invested in questioning the limits of "traditional jewelry," often through themes like transgression and reflection.
Olivia Shih: Please tell us a bit about yourself. What were your education and work backgrounds like?
Karin De Buysere: After finishing high school at De Kunsthumaniora in 1979 in Antwerp, Belgium, I completed my studies in fashion design at the Royal Academy of Fine Arts Antwerp in 1986, after a five-year combination bachelor's/master's. At the same time, I also studied figure drawing at the Royal Academy, and I received a certificate in 1982. I then started combining jewelry design with my day courses at the Academy of Fine Arts Berchem/Institute R. Avermaete, where I received a certificate in 1989, after two years of study. (I also followed a one-year course of pattern drawing and CAD-CAM, and got a certificate for that in 1987.)
Besides running the gallery, I started neuro-linguistic programming at the Arcturus International Training Institute in Kessel out of personal interest. I was awarded a programmer certificate in 2015, and will continue this year with the Master module.
I needed a new challenge after 15 years of running the gallery, and we are proud to announce the imminent opening of Galerie Beyond at a new address. Beyond Fashion will continue to exist, but in another format. More info soon …
I have designed fashion collections for different Belgian brands and worked as an independent stylist for several companies. In 2000 I started Beyond Fashion with my husband, René Darmont, where I currently work as art director. Recently we welcomed Juan Harnie as our new assistant.
René Darmont: After completing high school in economy and commerce in 1982, I continued with two years of marketing management at SIVEHO Antwerp Belgium.
I have worked for 20 years as senior sales and marketing manager for a chemical production company. In 2011 I started the company PRO2 (Products and Projects Bvba), which specializes in sales and distribution of iodine.
Could you share with us the genesis of Beyond Fashion?
Karin De Buysere: Beyond fashion invites you to question the limits of the area traditionally occupied by jewelry. Many of the works we select for our permanent collection of national and international jewelry artists somewhat transgress the functions and uses normally associated with jewelry, go beyond the existing framework of the body, and sometimes invites themselves into your home, among the furnishings. If due to their scale, some of the jewelry/objects lose their wearable nature, nonetheless their very fabric is still intimately related to the body, due to the process of creation or to their workmanship.
Crossing the borders of their respective fields, the artists we represent offer a new space for reflection, favorable to the blossoming of thought—and to your own blossoming, as well.
The name of your gallery, Beyond Fashion, suggests that you exhibit work that is related to and is in opposition to fashion. How exactly does fashion fit into your gallery?
Karin De Buysere: Beyond Fashion was founded in the year 2000. My experience working as a fashion designer/stylist for mass production was not satisfactory from an ecological point of view. As I trained for many years in art and was raised in an artistic family, I decided that I didn't want to work in that environment anymore.
I was looking for a way to apply my interest in art and my organizational talents in an artistic environment. It seemed obvious to me that it was going to be a gallery. Working as a gallery director with independent artists, and organizing expositions where everyone has his/her own goals, freedom, and responsibility became my new challenge. I had the opportunity of using a great space where I could make my dreams come true.
Since the early beginning, we have been organizing six to seven solo/group shows a year, often with related lectures and workshops. Today, our permanent roster consists of 26 international artists.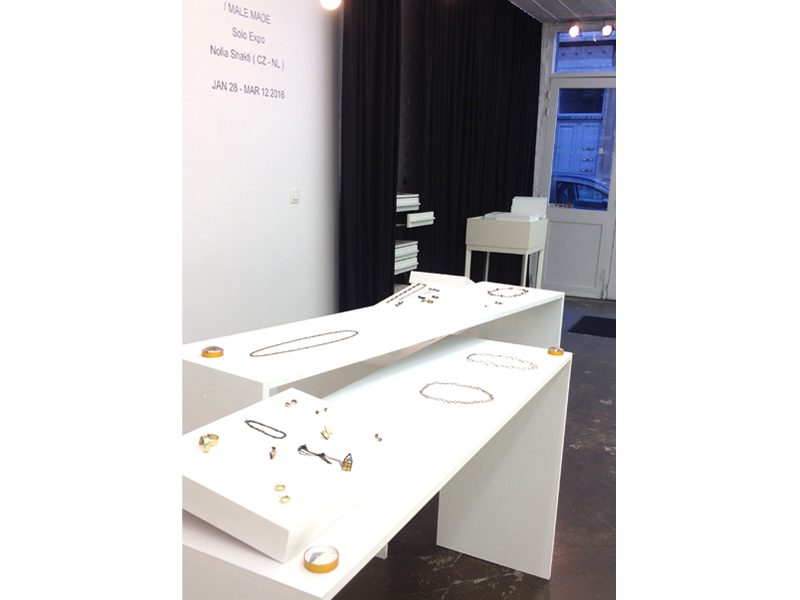 How does your collaboration work? Who takes on which roles at the gallery?
Karin De Buysere:
René Darmont—founder/financial director
Karin De Buysere—founder/art director
Juan Harnie—assistant
Beyond Fashion selects work from international jewelry artists who work on topics from gender politics to subverting functionality. What are your criteria when selecting jewelry artists to represent?
Karin De Buysere: The conceptual part of the work is essential and needs to provoke emotion. The story that the artists want to show in the work has to be touching and the work itself has to be technically beyond perfection. I need to be able to imagine a perfect combination between the work and a cosmopolitan person, and/or between the work and a global and contemporary interior, for example.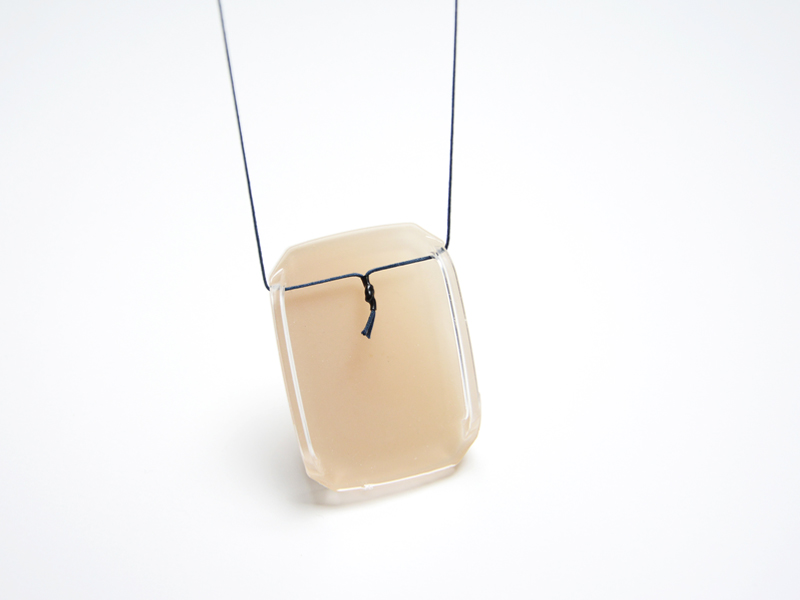 Recently, you celebrated your gallery's 15th anniversary. How do you stay current with what's happening in the contemporary jewelry field?
Karin De Buysere: We stay tuned through the connection with our artists and global social media/networks, AJF, Klimt, Apparat, Facebook, and Instagram. We are also dealers and in close contact with Art Aurea and Current Obsession.
Furthermore we are in close touch with (Belgian) art schools and international (art) fairs and (art) museums and (art) galleries. Also while traveling worldwide and always keeping an eye open for jewelry/art/interior/people, and beyond.
What do you enjoy best about running a gallery, and what do you find most challenging?
Karin De Buysere: Giving my passion a reason to exist gives me joy. To be surrounded with that much art energy is heart-warming. The connection with so many beautiful artist/persons worldwide gives me a rich feeling. We're all ONE and I feel blessed to be able to be part of it.
Every challenge is worth being overcome and that makes my day.
What is it like running a gallery in the city of Antwerp, Belgium? What kind of clients do you encounter?
Karin De Buysere: Antwerp is a small town with an international, global, and cultural vibe. There is a well-known art scene and we have two important art schools. We are happy to be able to welcome international customers on a regular basis.
Where do you see the field of contemporary jewelry heading next?
Karin De Buysere: The borders between applied and fine arts are slowly becoming thinner. Jewelry (art) students are studying abroad more frequently and teachers and professors are teaching worldwide more often. It is clear that everything is becoming more global. It is clear that today's generation and the next will soon recognize and understand more about art jewelry and related objects.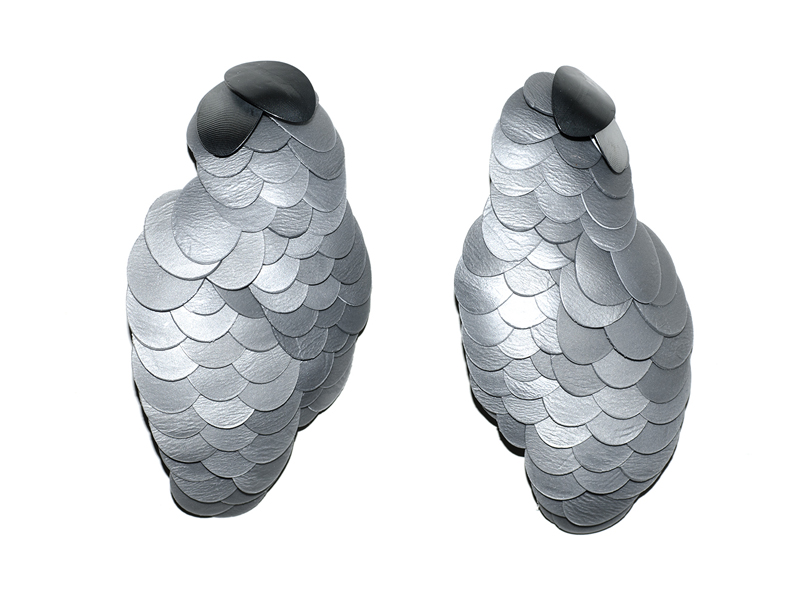 Do you have any advice for emerging artists and curators in contemporary jewelry?
Karin De Buysere: Let's stay close to ourselves and be proud to be unique. Learn how to feel with your heart and listen to the beat of art. If we can dance in balance with the audience (artists, customers), we can make the difference. Let's spread some art from the heart.
Beyond Fashion will be continuing its gallery activities as Galerie Beyond in the center of Antwerp, Belgium. The opening will be in May of 2016. Beyond Fashion will transform into a project room and will act as a frame in which artists will be invited to show their work in relation to the wearer and to their environment. Viewers will have the opportunity to visit the changing projects on a 24/7 basis.