The Gallery of Art in Legnica has not only been an ardent advocate for contemporary jewelry for more than 40 years, it is also the organizer of the Legnica Jewellery Festival SILVER, a spectacular annual event that celebrates the depth and breadth of contemporary jewelry. In May 2021, the festival will launch 15 exhibitions showcasing work from various countries including Poland, France, Belgium, Lithuania, Germany, Slovakia, the Netherlands, Great Britain, China, and more. In this interview, we talk with Justyna Teodorczyk, director of the Gallery of Art in Legnica, about the theme of the festival's international jewelry competition, which is "Still Human?"
Olivia Shih: The Gallery of Art in Legnica has been sharing silver contemporary jewelry and artistic objects with the world for more than 40 years. What's the secret behind the gallery's longevity and continued success?
Justyna Teodorczyk: To talk about our success, we must mention the early days of the gallery, in the 1970s. The Gallery of Art in Legnica owes its origins to a young art historian, Marek Nowaczyk, who—inspired by his wife—abandoned the idea of ​​making Legnica an exhibition center for artistic glass and fell in love with jewelry instead. He took to creating jewelry, curating exhibitions, and gathering a community of Polish jewelry makers around Legnica. In 1978, the first jewelry exhibition in Legnica took place, and so it continues to this day. Our success lies in the respect for traditions and people who built the festival during its humble beginnings, our network of national and international contacts, and also the dedicated professionalism of our team.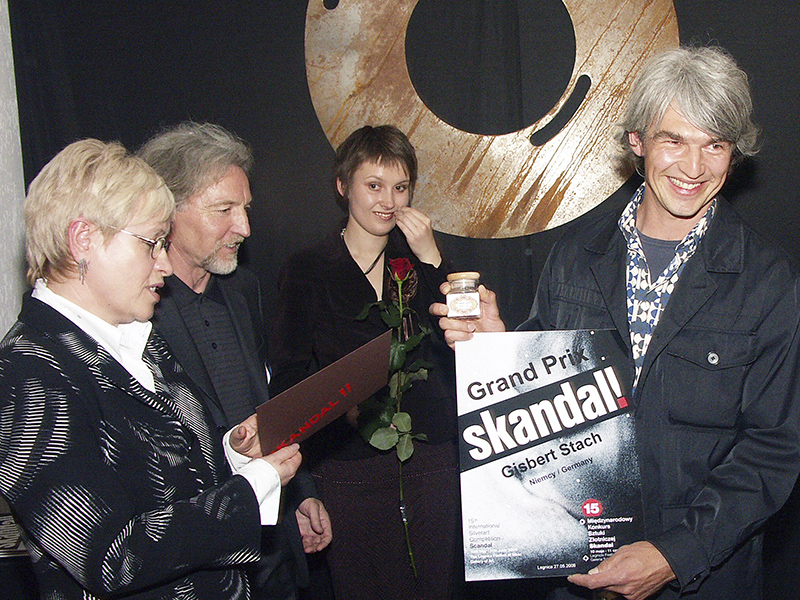 Can you share what makes Legnica such a unique location? What is its historical relationship with silver?
Justyna Teodorczyk: Legnica is located in the Copper Basin, where for many decades KGHM, a copper mining and smelting company, has operated and grown into one of the world's leading producers of copper and refined silver. The company, by the way, supports our festival to this day. The Legnica Jewellery Festival SILVER was born and developed in this capital of silver, becoming the child and the product of the region. There is no better place in Poland for a festival of silver, so we are here, cherishing our traditions and history.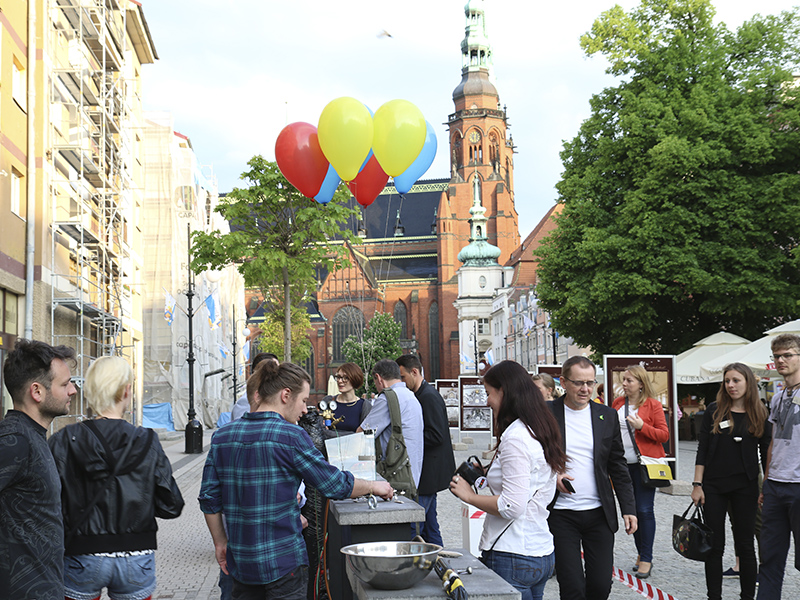 The Jewellery Festival SILVER encompasses a range of events, including solo and group exhibitions, conferences, jewelry workshops, and a jewelry competition. Tell us more about the festival and the exciting schedule it offers.
Justyna Teodorczyk: The festival is prepared all year long so that it can be enjoyed for a few weeks. It's composed of a dozen or more exhibitions: solo and group ones, thematic and monographic, Polish and international, debut and retrospective. The exhibitions feature more than 1,000 unique jewelry objects in several venues in the city. Jewelry artists' achievements are recorded through several catalogs that get published during this time. The event further promotes those achievements at the theoretical seminar titled "Boundaries of Global Art," where the cultural and social contexts of jewelry and art in general are discussed. However, the most important and prestigious event within the festival framework is the International Jewellery Competition, which attracts submissions from artists from all over the world.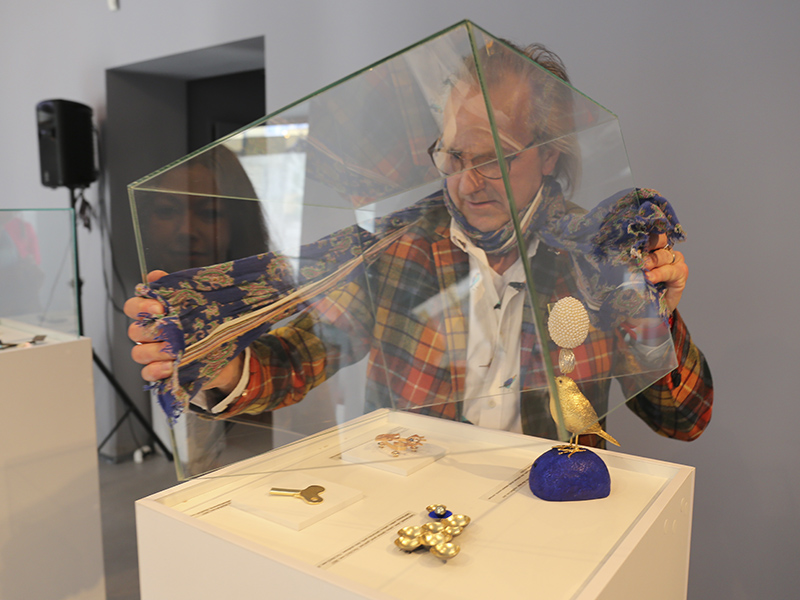 The last weekend of May is the culmination of the festival, when the city hosts authors, artists, experts, jewelry lovers, students, representatives of the industry, media, and jewelry-oriented galleries. The culmination weekend is filled with artistic opportunities for children, jewelry making, evening concerts, and fashion shows for the city's residents and visitors.
The main theme of the 29th Legnica International Jewellery Competition is "Still Human?" What was the thinking behind the selection of this theme?
Justyna Teodorczyk: For many years, the themes of the competition have been quite universal and conceived in such a way as to facilitate artistic expression. It's important to be open and welcoming to work from all corners of the world. After all, artists from over 30 countries take part in the contest, contributing their own unique perspectives. We work hard to bring in as many voices from outside Legnica as possible. When we came up with the topic "Still Human?" we didn't know that there would be a pandemic that would change the entire world so much. We wanted to discuss the crisis of anthropocentrism, which manifests itself in every facet of life, from economies to ecology to identity to phobias. This theme turned out to be extremely relevant in our current environment.
I've read that the Gallery of Art has a permanent collection of about half a thousand works of contemporary artistic jewelry—what was the motivation behind tackling such a formidable project?
Justyna Teodorczyk: As I mentioned before, the Gallery, as the organizer of the competition, shows several hundred works of art every year. We want to preserve this art for art's sake, and collect often very conceptual, innovative, experimental, and daring jewelry in terms of content or technique. The idea of buying the awarded works is quite a well-known way of building a collection, and ours is the only one of its kind to be gathered by an art gallery—a public institution. Because of that and our connection to the festival, we are absolutely unique on a national scale. Today, our collection is indeed large, but when you first start something, you're not usually aware that you're making history, and only later, when you look back, do you realize that, well, it did make history.
Are there any new innovations or trends in the contemporary jewelry field that you find exciting? What kind of jewelry do you hope to see more of in the future?
Justyna Teodorczyk: The creativity of artists is enormous, the range of possibilities is expanding, and the very definition of jewelry is traversing boundaries. We are constantly amazed by the technological progress in jewelry making, in both advanced technologies such as rapid prototyping and the use of new materials, such as bioplastics created from PLA corn.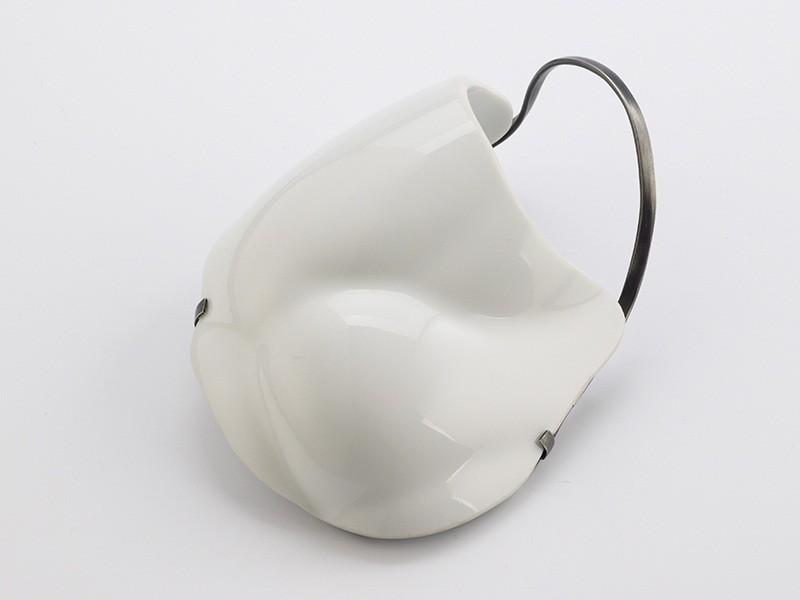 We are especially interested in the idea of wearable devices, which combine the roles of art objects and useful, technological devices. The fields of bio-art, advanced body art, interdisciplinary arts, and new media are potential sources of inspiration for jewelry artists.
What advice would you give to emerging contemporary artists who are struggling to find their place in the contemporary jewelry field?
Justyna Teodorczyk: We treat jewelry as design and art, so we suggest that artists develop and create their unique and inimitable style or message. We are also guided by the ideas of ecology, sustainable development, and care for our planet. At the same time, we consider questions such as whether art is in fact created to decorate and please, or whether perhaps—in light of our current context—it should speak up, engage others, and point to better directions and solutions.
Let me use a metaphor of the Polish Nobel Prize winner Olga Tokarczuk by paraphrasing her words: Is it possible to be an innocent, unaware creator in a world full of evil, suffering, injustice, and—I would add—useless, poorly designed, and badly executed objects, produced at too high an expense (of human dignity) in the factories of countries with lean economies?
During the pandemic, many of us have started reading for pleasure again. Is there a specific jewelry publication or book you would recommend for our readers?
Justyna Teodorczyk: We are particularly proud of SilverMeetings Legnica, which has recently lived to see its second volume. It's an extensive, large-format album documenting the history of the Legnica Jewellery Festival SILVER. It spotlights works of art presented over the years in Legnica, several hundred in total. It also features lots of photographs of historical events—exhibitions, meetings, and people.
The book also contains articles describing the silver-related activity of the gallery, starting from more than 30 years ago, and an index of exhibitions, names, and awards from the festival—an extremely valuable document in itself. The set of two catalogs is a reliable compilation of written and photographed records of the festival and is inextricably connected to the latest history of jewelry design.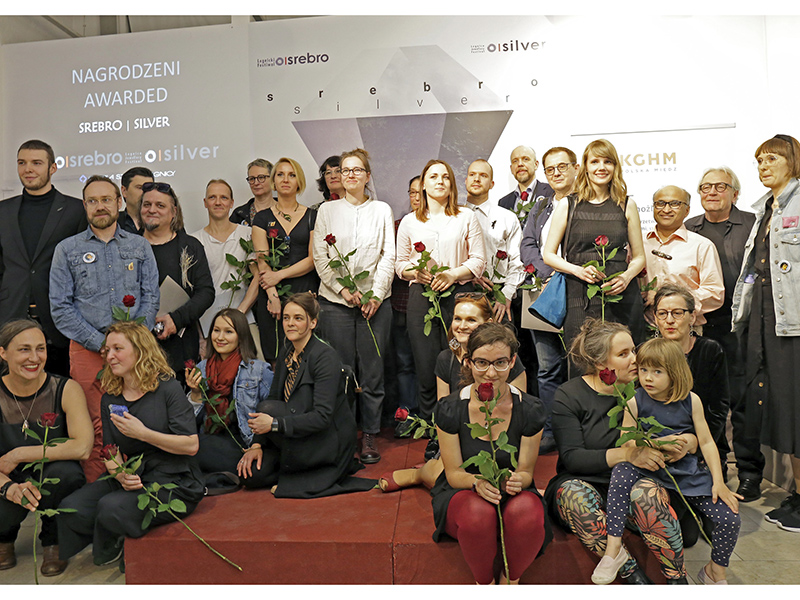 Thank you, Justyna.