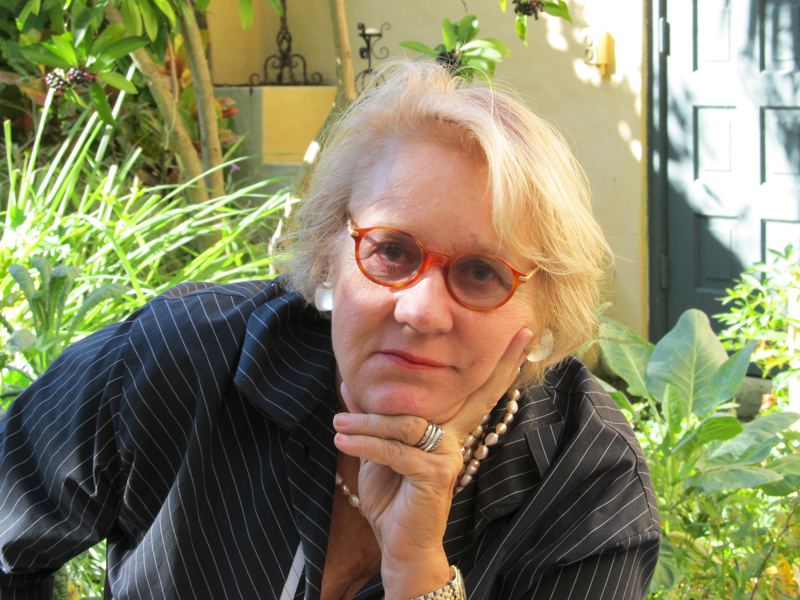 Beth Dunlop is the editor-in-chief of Modern Magazine, which puts out four issues per year. The magazine has recently become a corporate sponsor of AJF and has shown increasing interest in art jewelry as a topic for their articles. Beth is the person who oversees the concept of each issue and decides on the overall direction of the content. Because this is a design-oriented publication, it was of interest to me to find out a bit more about her and about the magazine, and to try to understand how art jewelry fits into it. It is an interesting puzzle.
Susan Cummins: How long has Modern Magazine been in existence? Who is your target readership, and what topics do you cover?
Beth Dunlop: Modern is a young magazine—especially compared to its sister titles (The Magazine Antiques, Art in America, and ARTnews), which are 94, 103, and 114 years old, respectively. Modern was founded in 2008, with an inaugural issue in the spring of 2009. It was initially envisioned as a companion to The Magazine Antiques, but it soon became clear that its readership was drawn more from those interested in contemporary art and culture. Modern still shares an editing team with Antiques, however.
We don't have a single target readership, but several: collectors, connoisseurs, curators (the "three Cs"), plus architects, designers (ranging from interior designers to industrial designers to jewelry designers), their clients (another "C," I realize), craftsmen (craftspersons? makers? and still another "C"), artists and art lovers, historic preservationists, scholars, museum-goers, and enthusiasts. I also hope that a reader who doesn't fall into any of the previous categories could pick up Modern and find something interesting to read.
In terms of what we cover, it is design in all its facets, craft, architecture, preservation, public art, culture, history, and more. My primary goal is to look at the ways in which design (used here to cover all the aforementioned subjects) reflects culture. Modern is different from most other magazines covering design because we delve into history as much as we look at what's happening now, and I like to think that we do both in a satisfying, intelligent, and informative way.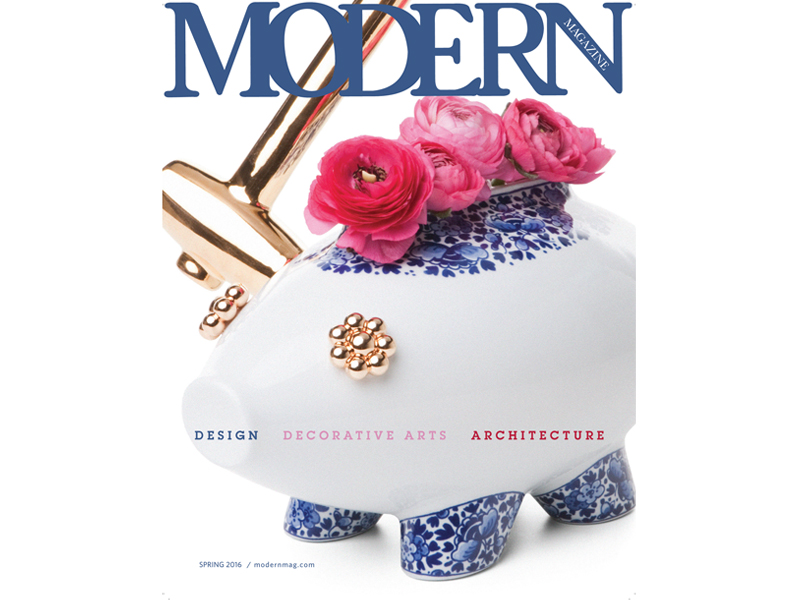 How long have you been the editor of Modern Magazine? And what are your duties?
Beth Dunlop: I became editor in December 2011, so I am about to celebrate my fifth anniversary. As editor-in-chief, I am responsible for developing the overall content of the magazine, conceiving and assigning the articles we run, editing them, and overseeing the design and content of the magazine. I also am the public face of the magazine, representing us at design fairs and other public events. But more than that, I am responsible for the conceptual and philosophical underpinnings of Modern. For example, I've made a determined effort to run stories about women designers and to reach out to cover topics that might be considered tangential to our central focus of architecture and design, to wit art (when it intersects with architecture or design either physically, as in public art, or in terms of subject matter) and craft, as it is called for better or worse (personally, I think it is a fine and worthy and uplifting term). It has been a conscious move on my part because I truly believe that design should embrace craft—ceramics, textiles, glass, metal, and, of course, art jewelry—and that it should have equal status on Modern's pages, which it does!
Can you tell us when you first became aware of the untraditional world of art jewelry?
Beth Dunlop: Hmmm… Probably incrementally and most likely through my love of museum gift shops: I have long liked what I guess would be considered ethnic and/or handmade jewelry. I made my family go to various pueblos in Arizona and New Mexico in that quest, though I think my interests lie more in Mexican and Native American jewelry from the 40s and 50s, and I've been interested in, well, I guess you'd call it beads—unusual glass from Venice and Africa—for quite a while. We also had a neighbor who was a fine modernist silversmith, when I was a kid. Much later, I made the acquaintance of the publicist and collector Susan Grant Lewin, and it was through her that I began to meet other collectors, curators, and artists.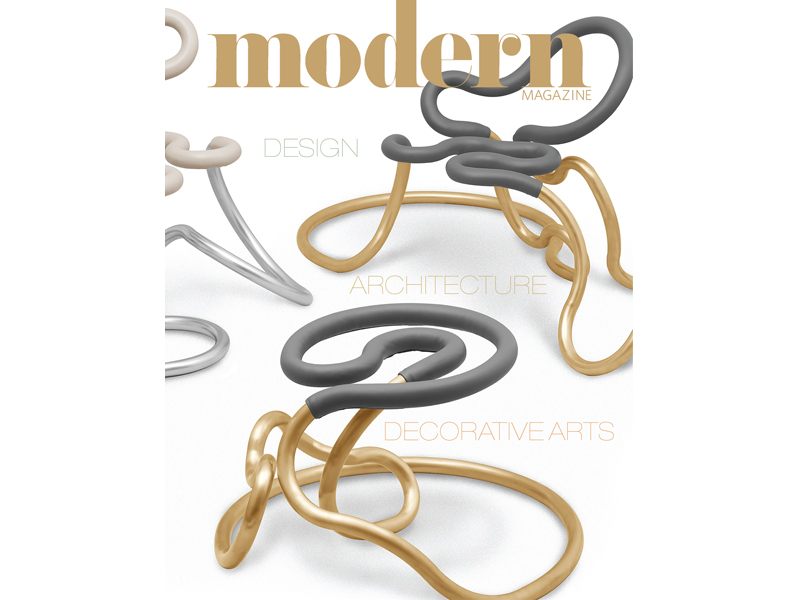 How many articles have you devoted to this subject in the past three years?
Beth Dunlop: I would say nine, including stories on such historic figures as Harry Bertoia and Claire Falkenstein.
Art jewelry as a field is always busy trying to define itself as different from other kinds of jewelry, but I wonder how you, as someone knowledgeable about design and architecture, see it.
Beth Dunlop: Funny, but I've been grappling with this very subject for a while, and more intensely as I've answered these questions. I'm not a collector of art jewelry, but I have a few comparatively inexpensive pieces from such designers as Annemieke Broenink, and I admire so much of what I've seen in the past few years. I think art jewelry poses many of the same questions that are prevalent in architecture and design—about innovation, aesthetics, the use of new materials, the conceptual versus the pragmatic. It's important for the avant-garde (which is now such an old-fashioned term) to push the boundaries, and I think work at the smaller scale often leads the way.
From my point of view, there's some very profound thinking going on in jewelry design as well as in product and furniture design. I'm not sure I think the same of architecture: the stakes are so much higher there because we all have to live with the buildings architects design, and so many of our big new buildings are really just glitzy skins over some form of engineering—new materials, new surfaces, new patterns, yes, but not new concepts.
Do writers occasionally pitch stories to you about this field? How should writers approach you if they want to pitch a story?
Beth Dunlop: Writers do approach me, though perhaps not often enough. I prefer stories that have a larger scope more than those about an event or a specific exhibition (the exception here being shorter pieces for our website). Modern is a quarterly, and I hope that it has a long shelf life; thus I like the stories we run to be as "evergreen" as possible. A pitch should contain a fully fleshed-out idea, and I like to know a bit about the writer (bio, links to previously published work). I like our work to be intelligent and authoritative and yet accessible.
In the past couple of months, what extraordinary things have you seen, heard, or read that you would like to pass along to our readers?
Beth Dunlop: This probably falls outside the specific domain of Art Jewelry Forum, but last year the design dealer Mark McDonald showed me a small brooch by Gustav Klimt. I thought that was thrilling. Two other memorable moments: seeing the exhibition of Harry Bertoia's jewelry at the Museum of Arts and Design and getting an opportunity to see your collection, which was breathtaking, intellectually stimulating, and spectacular.
If someone wants to subscribe to Modern Magazine, how can they do that? Can you give the AJF supporters a discount code?
Beth Dunlop: Go to the website www.modernmag.com. The subscription form is right there. The discount code for AJF readers is I608SCHO.
Let us imagine, for a moment, that you are the head of the (non-existent) jewelry department at MoMA, and that you are thinking about sending out a call for submission to jewelers around the world (in the tradition of the 1948 International Competition for Furniture Design). How would you pitch it?
Beth Dunlop: I think I would make it an ideas submission, something like Small Work, Big Ideas: How Art Jewelry Foretells the Future of Design. Then I'd ask for work in several categories: preserving the past, conserving our resources, invoking new materials, exploring technology. I think that an open call often turns up the most interesting work, but, then again, I'm not a curator!
Thank you.
INDEX IMAGE: Beth Dunlop, photo: William Farkas