AJF's network of gallery supporters has now increased to more than 60 galleries worldwide. This new monthly article series allows each AJF gallery the opportunity to share a piece that they've personally selected from their shelves to tempt and inspire you.
MUSEUM WORTHY
Galerie Biró—Kadri Mälk's work is present in all leading collections. Her jewelry is a benchmark in the European art jewelry field and far beyond. RETAIL: €2,400
CONTACT: Kinga Zobel
---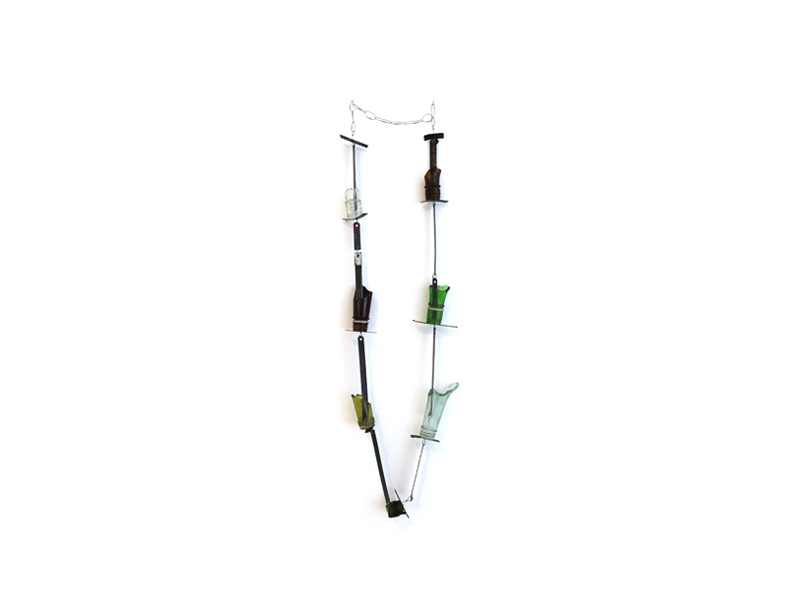 Gallery S O—This is an iconic piece by Bernhard Schobinger (born 1946, Zurich), who has been defined by Glenn Adamson as "one of the most provocative, critical, and artistically inspiring contemporary jewellery artists, who has revolutionised his craft." Found fragments of glass bottles and saw blades are usually seen as threatening materials, but the thoughtful formal balance makes for a piece that is pure and punk at the same time. We love Flaschenhalsfragmente Okinawa II because it embodies the uncompromising honesty of Schobinger's work, which has remained unchanged throughout his career. The piece is currently included in the show Les Liaisons Ambiguës at the Hermes Foundation in Tokyo (December 21, 2016–February 26, 2017). RETAIL: Price on request
CONTACT: Valentina Bin
---
GALLERY CHOICE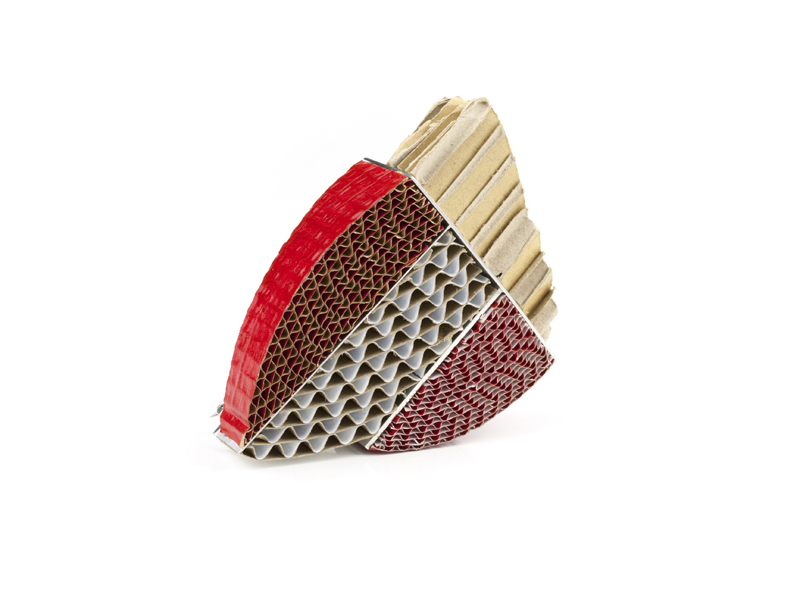 Alternatives Gallery—Ritsuko Ogura uses cardboard to make jewelry, giving new life to a material that is normally used for packaging and then discarded after use. She is fascinated by the idea that cardboard is not inherently beautiful and indulges in the transformation process, whereby beautiful body sculptures are created from what would be considered waste material. She exploits the difficulty encountered in cutting cardboard to her advantage, using this drawback to create new modes of expression. The finished works are contradictory and may give the impression of being delicate yet robust and bold in appearance at the same time.
This particular brooch is made up of four segments, each with its own color and texture, creating an array of interweaving patterns. The artist has mastered this humble material and skillfully creates voluminous pieces to be worn or simply admired. An asset for any personal or museum collection. RETAIL: €920
CONTACT: Rita Marcangelo
---
Four—This piece was developed from a visual research of New Zealand. It is made of hand-carved Perspex acrylic and small elements of silver. The metal scales become a contrast to the plastic material. Like water pouring down a mountainside, they point out the underlying structure, they catch the light and make the dark background come to life. Emmeline Hastings's pieces capture fleeting moments: something glimpsed and remembered. Her jewels reveal rough crystalline forms, surfaces dotted, bristling with glittering metallic elements that shift and change in color and perspective. Worked in Perspex acrylic, her pieces are light and wearable.
"All of my work shares an ephemeral quality while being eminently wearable. I create mysterious miniature landscapes through a unique visual language. I hope to make associations with varying natural phenomenon through this individual making process."—Emmeline Hastings. RETAIL: 10,500sek
CONTACT: Karin Roy Andersson
---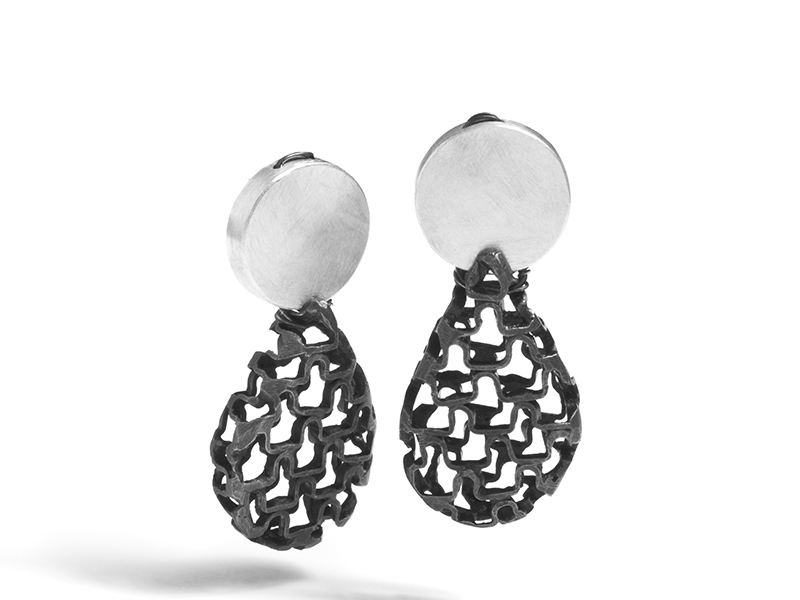 Lillstreet Gallery—The Ruffle Pear Drop Earrings by Sarah Holden are unique yet timeless. Sarah's signature mild steel ruffle pattern in a gorgeous pear shape is combined with a solid silver post—resulting in large, light earrings in a universally flattering shape! Sarah Holden is a longtime Lillstreet artist, our January Featured Artist, and author of the blog Inside a Maker's Mind. RETAIL: $250
CONTACT: Nora Ann McCarthy
---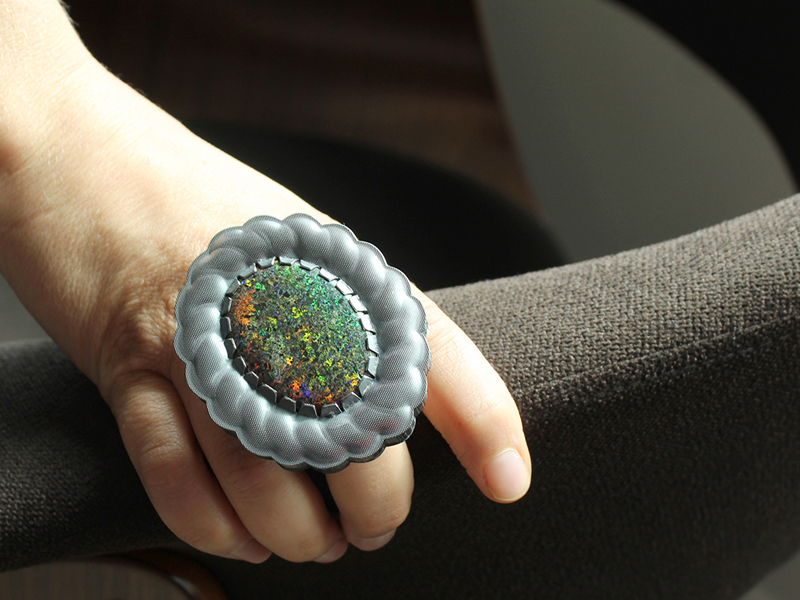 Sienna Patti—This ring is a highlight from Helen Britton's recent series, Wildstone. The series, inspired by her residency in Idar-Oberstein, Germany, was a years-long investigation into the history of stone cutting and jewelry making that this area was known for. Featuring a brilliant and specially chosen Australian opal sourced from her homeland, this piece brings together so much of what Britton's work is about: a celebration of materiality simultaneously honoring history, process, and a sense of place. This ring harkens back to the large cocktail rings of the early 20th century. Almost eclipsing the hand when worn, it has lightness to it, both in weight and novelty. Set amidst Britton's signature dark patina, the iridescent opal catches the light and illuminates the silver. Britton uses this ring to show off her skills and her talent for making a hard material feel soft, inviting, and sensuous. Britton, one of the most influential and admired artists working with jewelry today, has the ability to make anything she wants. What she chooses to make is what becomes important. As with much of her recent work, the design of this ring intentionally transcends time, feeling both contemporary and at home in the past. This is a cocktail ring to celebrate with far into the New Year. RETAIL: $4,800
CONTACT: Sienna Patti
---
ESTABLISHED ARTIST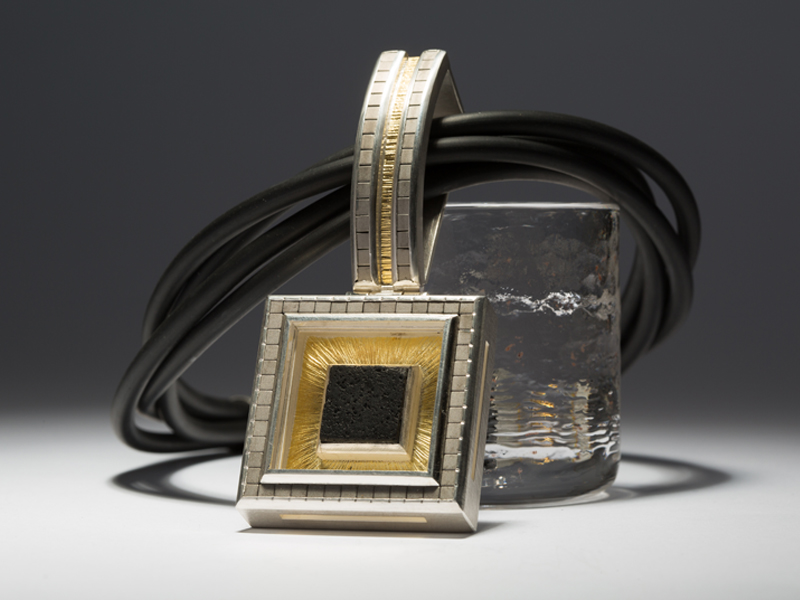 Art Gallery Putti—This necklace is part of the new collection by Latvian contemporary jewelry designer Andris Lauders, which he presented in his ongoing solo exhibition at Art Gallery Putti, What's That? The central form of this exhibition is a square. The artist looks at the square, rolls it, twists and turns it—different forms take shape, colors, other wonders develop, because black never is only black, just as white is not only white. Nothing is absolute—neither form nor color. In 1913, artist Kazimir Malevich reached his black square. It simultaneously was his dead end and the beginning of further growth. The black square holds a massive amount of information, hundreds of edges, colors, and forms, including the circle. RETAIL: €1,940
CONTACT: Zane Putane
---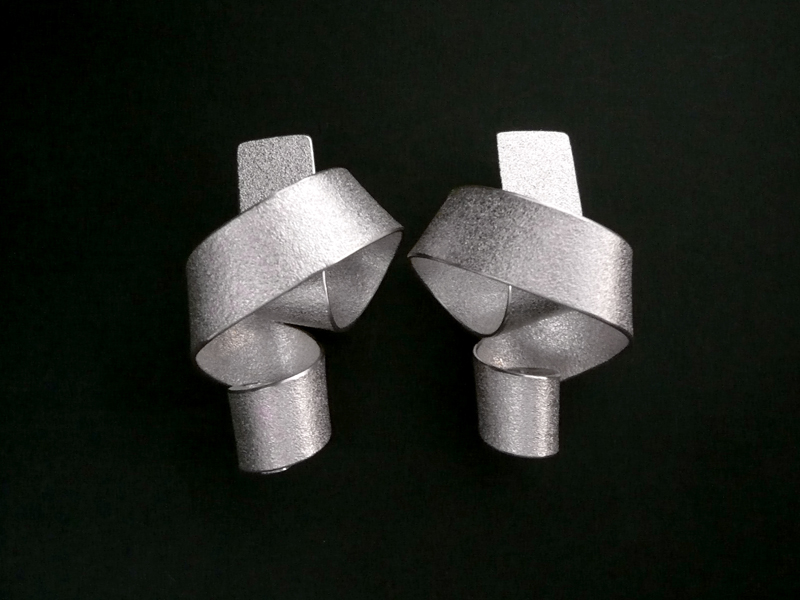 Hedone Gallery—London-based artist Ute Decker, a leading proponent of the ethical jewelry movement, creates minimalist wearable sculptures from the finest sustainable materials. Her work has been exhibited internationally in more than 50 exhibitions, including Design Basel, and is in several notable collections, including the Helen Drutt collection and the Victoria and Albert Museum. These Man Ray Swan ear sculptures are a limited edition of 30. RETAIL: US$950
CONTACT: Bonnie Levine
---
OHMYBLUE—Isabel Dammermann explores by making what her language, jewelry, has to say about a shell she found in Greece. Through minor adjustments, this shell becomes a complex sculptural object that lies dormant on the thread that connects experience and memory. The artist says in an interview with AJF: "I have a special love for materials that I find in nature, for example while I go tracking with my dog or while I am at the seaside. One of the most wonderful places for me in the world is an island in Greece called Euboea (or Evia). I have some pieces that are directly linked to this spot, such as Evia." RETAIL: €1,545
CONTACT: Elena Rizzi
---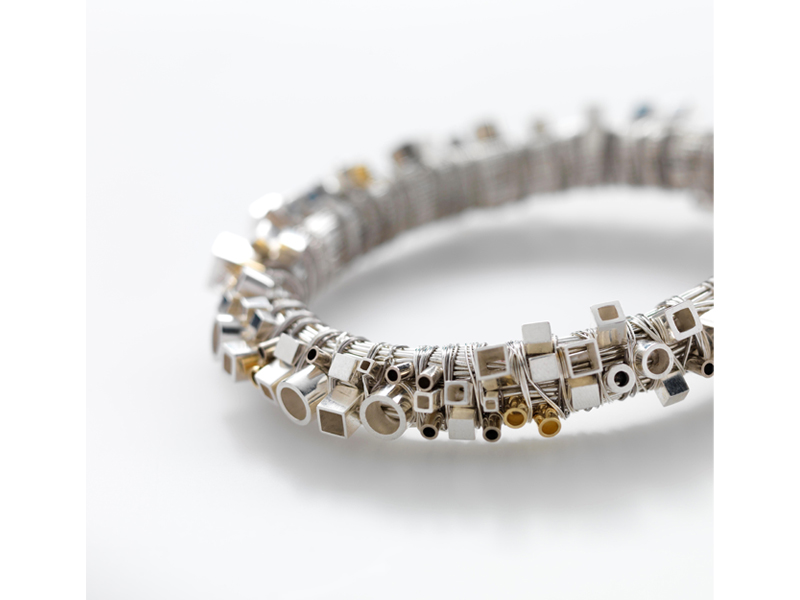 Zu design – jewellery + objects—I thought we would start this gallery object feature by introducing our own work. I am the proprietor of Zu design, and we showcase more than 100 makers from across Australia. I made this particular piece for an exhibition in London and it showcases a style of my work, which has developed over my 26 years of making. My pieces are often very process-driven, and this particular style developed from my woven work, and specifically from the annealing of fine round wires. RETAIL: AU$4,170
CONTACT: Jane Bowden
---
MID-CAREER ARTIST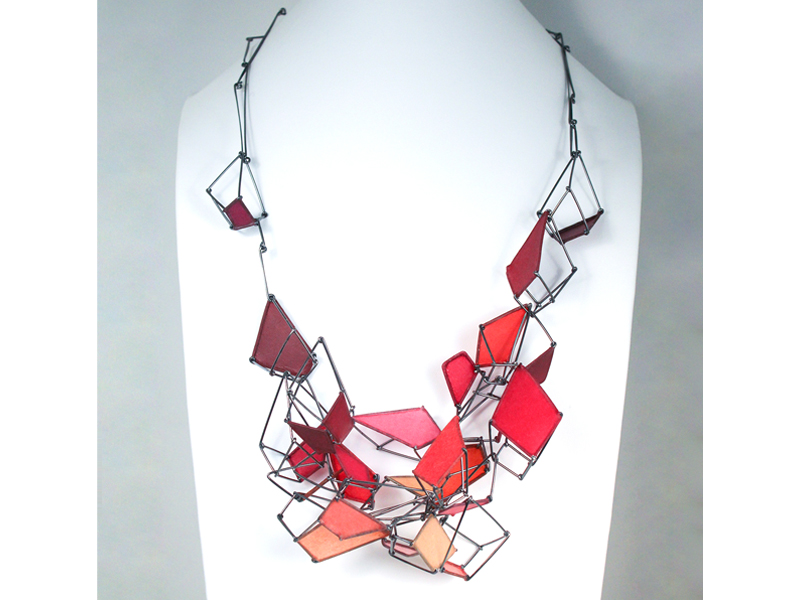 The Gallery at Reinstein|Ross—Artist Tia Kramer is an installation, sound, and adornment artist who has been integrating handmade paper into her work for the last 10 years. Her durable and water-resistant handmade paper jewelry is safe for daily wear. Each sheet of distinctive paper is handmade using Philippine plant fibers and treated to protect from water and abrasion. The steadfast colors will not fade or bleed over time. Using cold-form fabrication, she builds organic and geometric wire forms that pare down our complex environments to simple line modules. These nonsoldered jewelry structures move independently of one another, dancing on the ears, neck, and wrists of the wearer. Kramer calls her adornments "performative sculptures for one's ears and neck, architecture for the body." Like leaves on a tree limb, her adornments punctuate the wearer's movement and expression. RETAIL: US$1,320
CONTACT: Bella Neyman
---
EMERGING ARTIST
Brooklyn Metal Works—Coliflor is Spanish for "cauliflower" and refers to the spiraling patterns in this expertly designed ring constructed entirely from heavy-walled sterling silver tubing. The circle and tube motif is consistent throughout the ring, from fabrication method to final composition. This piece displays kinetic features with moveable components, which is in keeping with other pieces from this series by Samuel Guillén. Incredibly wearable due to the rounded ring shank and evenly distributed weight across the top of the finger, this beautiful ring is a very functional piece of jewelry. RETAIL: US$1,480
CONTACT: Brian Weissman
---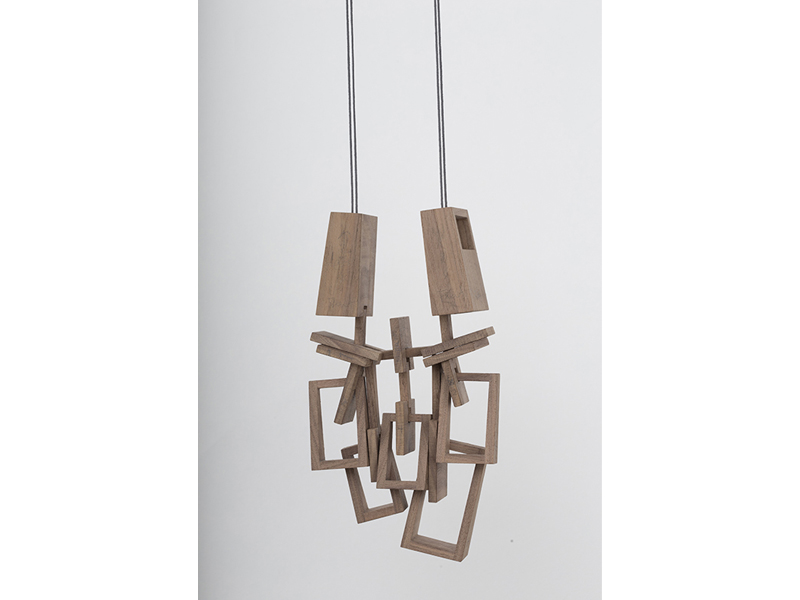 Galerie Noel Guyomarc'h—Continuing her research on the notion of space and balance by creating architectural shapes, Despo Sophocleous meticulously constructs her solid or empty wooden structures, all connected, which become animated as soon as they are worn. This series brings open spaces for many new possible interpretations. RETAIL: $1,900
CONTACT: Noel Guyomarc'h
---