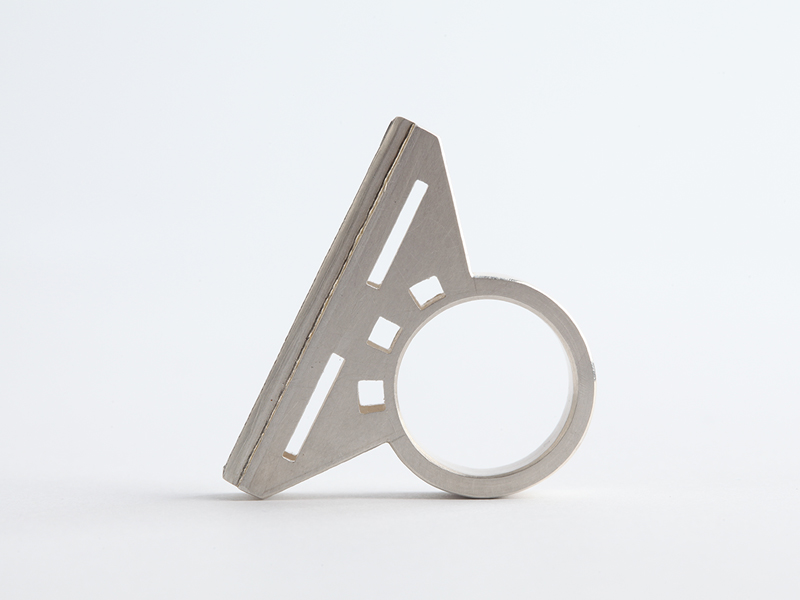 Andris Lauders is a leading Latvian jewelry artist with a well-established European reputation. He is well known for his use of unconventional materials—mammoth bones, lava, coins—but his recent work uses a pared-down material palette of silver, gold, and onyx. The press release for his current show at Art Gallery Putti, What's That?, calls his intricate riffs on the square "historicist." Sandra Wilson caught up with him to discuss what that means, learn about the Latvian jewelry scene, and find out about his future hopes for the field.
Sandra Wilson: What first attracted you to art jewelry, and did you expect to have such a long career in this field?
Andris Lauders: Since childhood, I was sure that I would take the way of art, because I loved freedom and an artist has his own world. Sculpture, ceramic, and metal art were my favorites, but before starting in art school, I preferred to be in the metal art world. I was fascinated by the many ways of working with different materials and stones. I expected to do this all my life. It is very important to make people happy with my jewelry.
History clearly informs your approach. What periods in history or which particular cultures are you drawn to, and why?
Andris Lauders: I am impressed by ancient Egyptian art because of their laconism, and I like gold and the different stones and rhythms they apply to their jewelry art works.
Both ancient Roman art and ancient Greek art fascinate me, too, and this has been so since art school. I find it very interesting to study symbolism and the ornament system associated with different cultures. Viking art is very special to me, with the wild power that exists in their metal works. And of course Art Nouveau, with its very fine and special line and ornament system. From this foundation of interests, I have developed my own style, which develops year by year.
Does this interest in history also extend to historical techniques, tools, and materials?
Andris Lauders: Today, jewelry masters work with modern tools and techniques, and I do the same, but I use ancient Roman and Greek coins in my jewelry. Mammoth bone is a very old material—I work with it a lot. For me it is very interesting to put in my works old fossils—that are very old! So by using those materials I make connections with history and with time itself.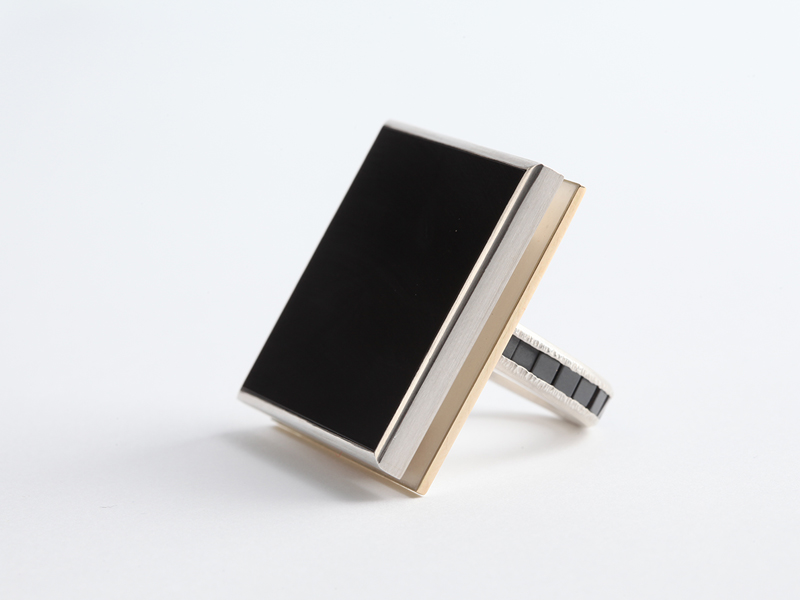 Geometric forms are strong in your work. How much does mathematics inform your approach?
Andris Lauders: To construct geometric forms, I have to use mathematics, of course. I was actually really strong in mathematics in school. I think because of that I have geometric forms in my works.
Do you consider geometry an expression of masculinity? If so, why?
Andris Lauders: I don't think geometry is an expression of masculinity. It is a field of its own, but in my 40 years of experience making jewelry, I can say that men wear simpler forms—and that means geometric ones.
Another strong aspect of your practice it to isolate and separate certain constitutive elements of the ring. The result creates unexpected layers and concentricities. Is this a form of anatomical dissection?
Andris Lauders: Every ring has to be wearable, this is very important to me. Therefore, the anatomical aspect is really important. I cannot agree that I isolate and separate elements of the ring, because in my opinion the ring has to be a whole, not combined from two or more elements.
Your unconventional approach clearly still values craftsmanship. Do you see the next generation of makers continuing to value this, or is craftsmanship a convention that they may rally against?
Andris Lauders: My opinion is that craftsmanship will never die. These values will always be important for people. This is the opposite of industrially produced jewelry. Very individual and unique, and people who are looking for something special will keep these values alive forever.
Describe for us the Latvian art jewelry scene. When and how did it emerge? Who are its current advocates?
Andris Lauders: The Latvian art jewelry scene is not very big. We have only certain art schools for young jewelry artists and only one art academy where you can study metal art design. There are not many artists who create their own collections and produce exhibitions, but these artists are very unique and everybody has a very special style, totally different from one another. Valdis Brože, Māris Šustiņš, Guntis Lauders, Māris Auniņš, and Jānis Vilks are some of them.
How have you seen the field of art jewelry change and evolve over your career? And how have you or your work responded to these changes?
Andris Lauders: The world changes, and design has to change as well, of course. But every artist has his own way to develop himself individually. Of course I look at what's new in the world, and somehow perhaps I follow some trends in the art world. But I think that, in my art, my own very individual style dominates and is not much influenced by changes in the wider field of art jewelry.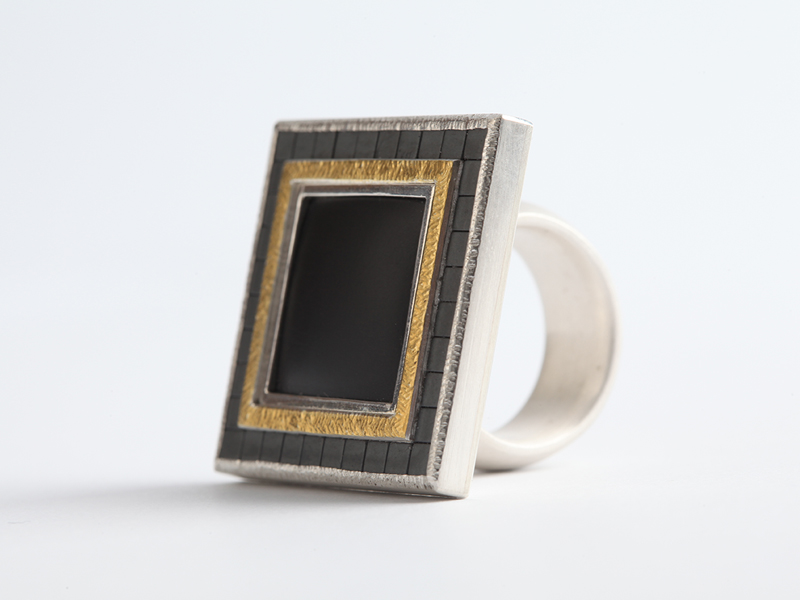 The title of your show, What's That?, expresses a desire to surprise, and maybe create objects that are slightly alien, or illegible. Why do you think this is an interesting strategy?
Andris Lauders: My opinion is that every exhibition must be a surprise—at first for me, but also for other people. All my life I have tried to look at the world, people, and different events from the funny side. It makes me smile and feel good. The title What's That? is more of a joke. In Latvian, the title of the exhibition is Eyes in Square—we say this when someone sees something very special and their eyes go in a square. For the English translation, I couldn't find any similar expression, so I decided to name it "what's that?"
With over 40 years of experience as a jewelry artist, what advice would you give to someone just starting out on that journey?
Andris Lauders: I was 15 years old, just starting in applied art school. My father joked with me—do you think that you can make money at it? I was never without ideas about what to do. I have fans in Latvia, Germany, Spain, etc. So, to young jewelers: Be creative, don't stop your journey in the art field, don't be afraid of new forms, techniques, and methods to make excellent jewelry.
What are your future ambitions—both personally and for the wider art jewelry field?
Andris Lauders: Ambition is a good thing—it makes you try to be the best, and it is important for my development. I cannot say anything concrete about the future, it is in the hands of God, but I see myself searching new ways for my designs, creating new forms in my works—and a lot of happy customers wearing my jewelry.
Thank you!
Works in this exhibition sell for up to $1,000.
INDEX IMAGE: Promotional image, Andris Lauders, What's That?, 2016, Art Gallery Putti, photo: Art Gallery Putti