Art Jewelry Forum is pleased to share the news that members of our community find noteworthy. Is something missing? The success of this compilation of compelling events, exhibitions, and items of interest to the jewelry community depends on YOUR participation.
If you're a member of AJF, you can add news and ideas to the monthly report by going here. If you aren't a member, but would like to become one, join AJF by making a donation.
ANNOUNCEMENT
The 3rd Annual Chicago Responsible Jewelry Conference takes place October 25 and 26, 2019. It unites groups, businesses, and individuals who believe jewelry can act as a positive force in global affairs and who strive to align the industry with the United Nations's 17 Sustainability Goals. Presenters include: World Bank, PACT Worldwide, Tanzanian Women's Mining Association, National Geographic, Google, Responsible Jewelry Council, Cortez Pearls, Occupational Knowledge International, IMPACT, Human Rights Watch, Enough Project, Ethical Metalsmiths, U.S. State Department, Federal Bureau of Investigations, Fairmined, Peoples Training, Dana Broffman, Department of Defense, Environmental Engagement.
Topics include: Responsible Sourcing of Pearls; Public Health Impacts of the Jewelry Supply Chain: Challenges and Solutions; The Impact of 1 Ounce of Gold Responsibly Sourced from the Democratic Republic of the Congo; the US premier showing of the movie Shadow of Gold; Illegal Gold in Our Supply Chain; The Jewelry Designer Panel; Deforestation and Mining Panel; Cottage Gemstone Cutting and Silicosis in India; The Jewelry Glossary; How and Why to Single Source and Mine to Market in Colored Gemstones; Diamonds beyond the Kimberly Process the Future of Reforms; Indigenous Land and Mining Rights in the Amazon with the Chiefs of the Paiter-Surui People.
Learn more here.
ANNOUNCEMENT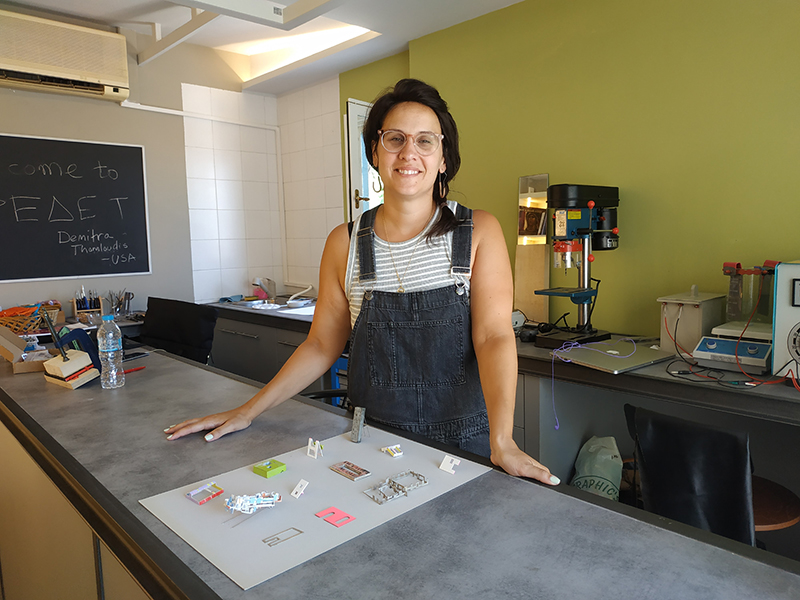 Seats for jewelry artist in residence are now open at the Ilias Lalaounis Jewelry Museum. The first jewelry artist in residence program to run in a museum worldwide is now open to national and international artists all year round. The museum residency applies to young and mid-career artists who wish to engage in cultivating their art in fully equipped workshops within a public space. Residents may choose to work in the new Metalsmithing Studio – ZEM or the Jewelry Crafts Studio – ZEDET, both located on the museum premises. A priority for enrollment dates is granted to artists who also attend the Hephaistos Summer School. For a combined internship and summer course, contact [email protected]
ANNOUNCEMENT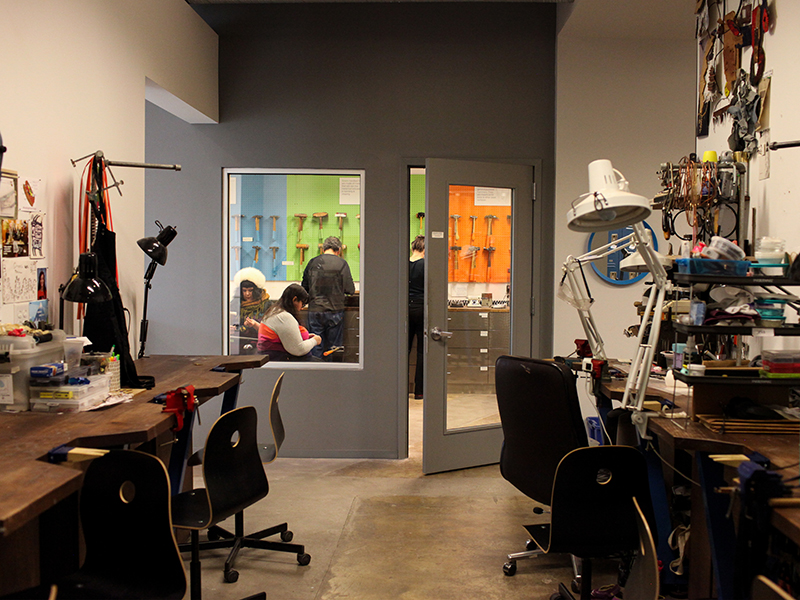 The Baltimore Jewelry Center is offering a new residency opportunity: a one-month long professional mid-career artist residency. The residency includes full access to the BJC studio and a semi-private studio space, housing, $1,000 stipend, a travel stipend, a materials stipend, and a culminating pop-up exhibition and artist talk (and the opportunity to teach a one or two-day workshop). Residency spots are available for May through November of 2020. The exact start date will depend on the resident's schedule. Applications for this residency are now open. Application deadline: November 30, 2019. Applicants should be working artists—not hobbyists—who can demonstrate dedication to their artistic practice as professionals. Teaching experience is preferred.
ANNOUNCEMENT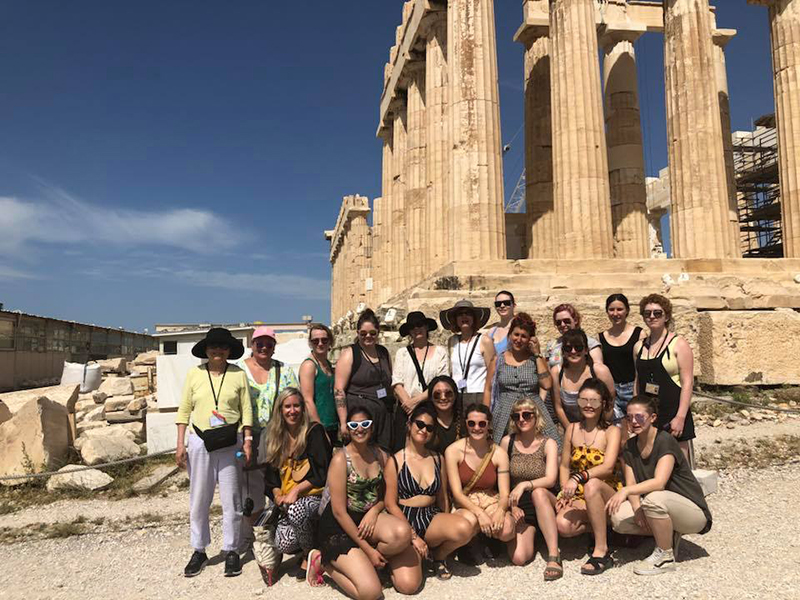 Applications are now open for Hephaistos Jewelry Program 2020. The Ilias Lalaounis Jewelry Museum's Education Center offers this unique accredited program on the History of Western Jewelry in collaboration with Greek and international academics, archaeologists, and jewelry experts. The ILJM will challenge students to discover the fascinating world of ancient Greece and the history of western jewelry through its most spectacular artifacts.
Classes: The history and archaeology of ancient Greek jewelry from classical Greece to the Byzantine era will be followed by a survey of the history of western European jewelry up to contemporary artistic productions. The class on studio jewelry is tailored to the discipline of contemporary art jewelry and researches its creative methods. Participants will map diverse aspects of wearability and social coding of the body, and investigate how concepts and cultural values materialize into jewelry formats.
Includes guest lectures on a wide range of topics, from illicit trafficking of antiquities to Athenian architecture and museum management. Study visits: Instructive guided tours of and on-site lectures by academics in the historical center of Athens and museums with the most important jewelry collections (Acropolis, National Archaeological Museum, Byzantine and Christian Museum). Visits to jewelry-making workshops. Apply here.
ANNOUNCEMENT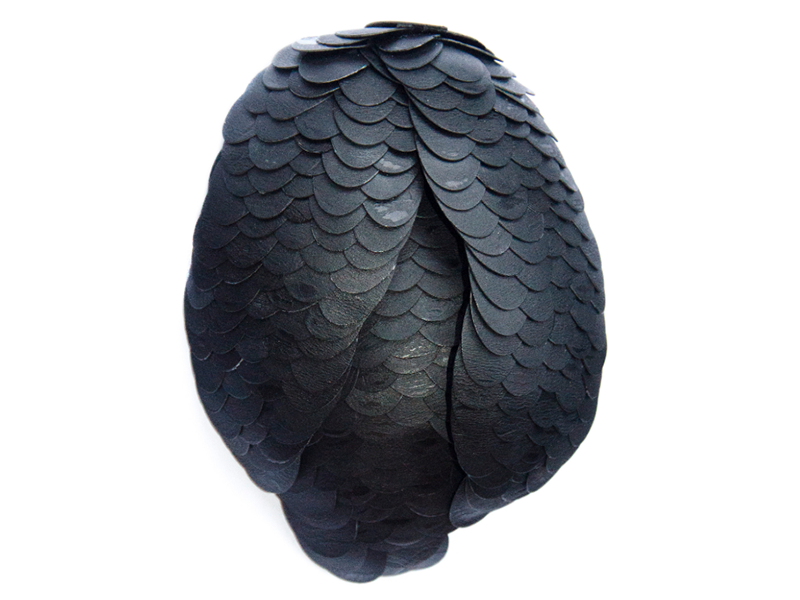 Koltrast, a brooch by Karin Roy Andersson, will appear in the exhibition Garbage Is Good, at Rian Design Museum, in Falkenberg, Sweden, through November 24, 2019. Andersson was a finalist for the 2018 AJF Artist Award.
ANNOUNCEMENT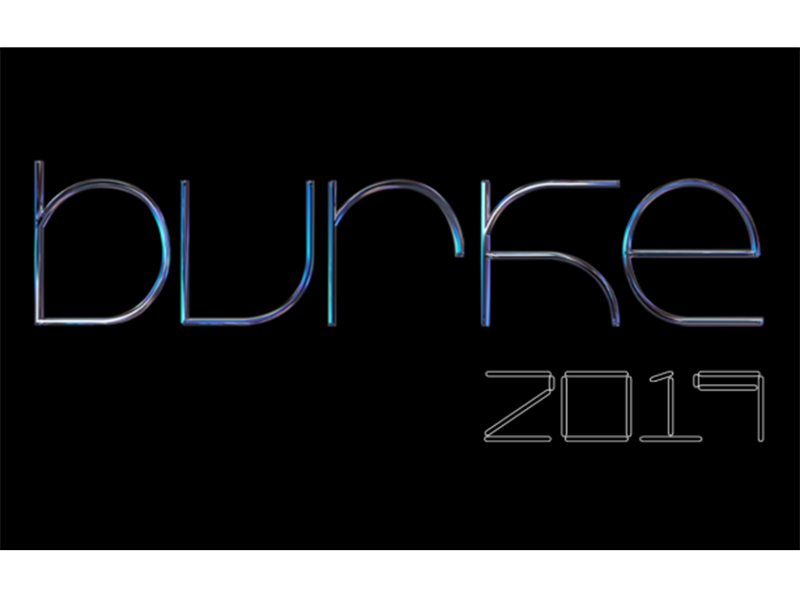 Burke Prize 2019 is an exhibition of works from the 2019 finalists for the Museum of Arts and Design's Burke Prize, awarded to a contemporary artist under the age of 45 working in glass, fiber, clay, metal, and/or wood. Selected by a jury of professionals in the fields of art, craft, and design, the 16 finalists represent emerging voices expanding the disciplines at the core of the American studio craft movement whose highly accomplished work demonstrates a strong use of materials, innovative processes, and conceptual rigor and relevance. The finalists working in metals are Lauren Kalman, of Detroit, MI, USA, and Jaydan Moore, of Richmond, VA, USA.
The Burke Prize is an unrestricted award of $50,000. The winner will be announced November 4, 2019, at MAD Ball, MAD Ball, the Museum's annual benefit gala and dinner. Burke Prize 2019 will be on view at the Museum of Arts and Design, in NYC, October 3, 2019–April 12, 2020.
MUSEUM EXHIBITION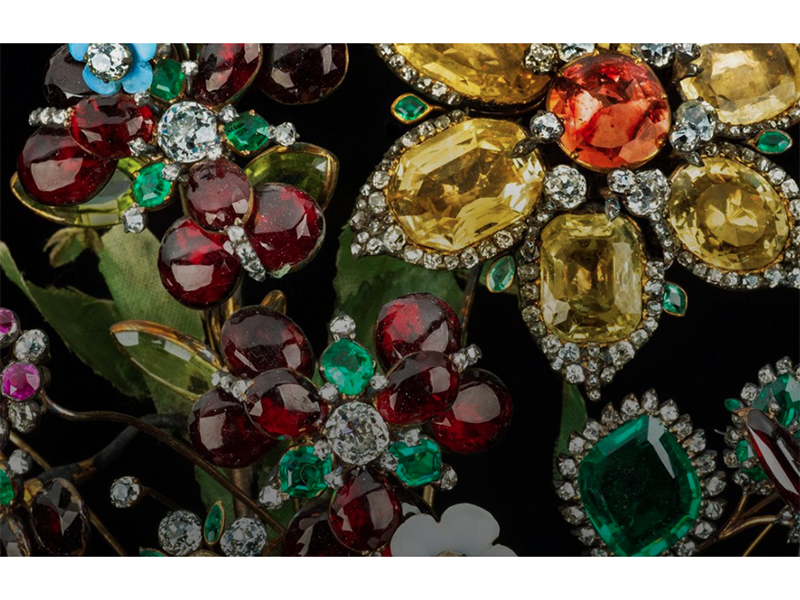 One of the Hermitage's greatest treasures is its fabulous jewelry collection. Hundreds of them sparkle in Jewels! The Glitter of the Russian Court. Together with many portraits and a profusion of richly decorated gowns and ensembles once worn by the highest echelons at the Russian court in St Petersburg, they represent two centuries in fashion and jewels. Meet the country's flamboyant empresses—Anna, Elizabeth, and Catherine the Great—as well as grand dukes and duchesses, tsarinas, and noble fashionistas of the 19th and early 20th centuries. For balls and parties they wore dazzling costumes, set off by bijoux carefully selected to demonstrate identity, taste, breeding, and wealth. Jewelry might also be designed to provoke or convey secret messages. Pieces were ordered from leading houses like Cartier and Fabergé. Many pieces were lost following the Russian Revolution. Jewels! presents a glittering array of surviving masterpieces. At the Hermitage Amsterdam through March 15, 2020.
MUSEUM EXHIBITION
Visitors to the Rian Design Museum, in Falkenberg, Sweden, will soon be able to borrow a piece of jewelry. The institution's jewelry library will contain around 20 pieces by modern and contemporary jewelry artists, both Swedish and foreign, with a wide breadth of expression and material. Prior to the start of loan operations, which are planned for early 2020, the jewelry purchased so far will be shown in an exhibition called Smyckoteket, which translates as Jewelibrary, and which runs October 19–November 24, 2019. In conjunction with this show's opening, the Danish duo Makers will bring their mobile jewelry workshop to Falkenberg, and jewelry artist Jelizaveta Suska will demonstrate how to experience her jewelry as a landscape using virtual reality glasses. Also, nomadic jewelry gallery JAAG, Jewellery As A Guest, will host pop-ups around town.
MUSEUM EXHIBITION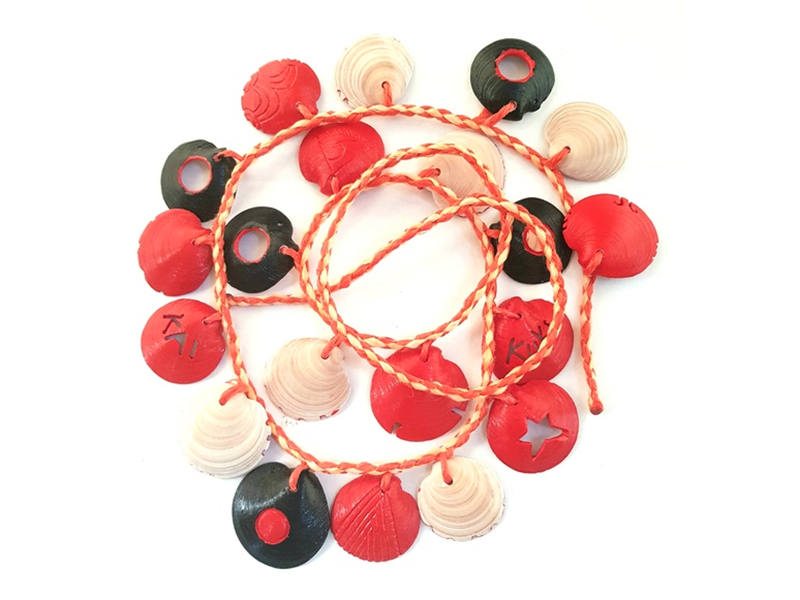 In the exhibition Neke Moa: No Te Moananui-a-Kiwa—Stories from the Pacific, Neke Moa presents Kuki kai kai Kuki—Cook food eat Cook (2018) for the first time in Aotearoa, alongside two new bodies of work called Ko hai ho hingoa—What is your name? and Toto—Blood (2019). Together, these pieces draw from whakatauki (proverbs), oral histories, and the mauri (spirit) and knowledge of her ancestors, while critically responding to the 250th anniversary of James Cook's arrival in Aotearoa.
Moa (Ngāti Kahungunu, Ngāti Porou, Kai Tahu, Tūwharetoa) completed a BA in 2007 at Whitireia NZ. Moa has exhibited widely across Aotearoa and also internationally through The Handshake Project in Munich, Prague, Australia, London, and Thailand (2010–2018). She represented Aotearoa in 2016 at the 12th Festival of Pacific Arts (Guahan) and in 2015 at Schmuck (Munich). In 2014, Moa was selected for Wunderrūma. Neke Moa: No Te Moananui-a-Kiwa is at The Dowse Art Museum, in Lower Hutt, New Zealand, through November 10, 2019.
MUSEUM EXHIBITION AND EVENT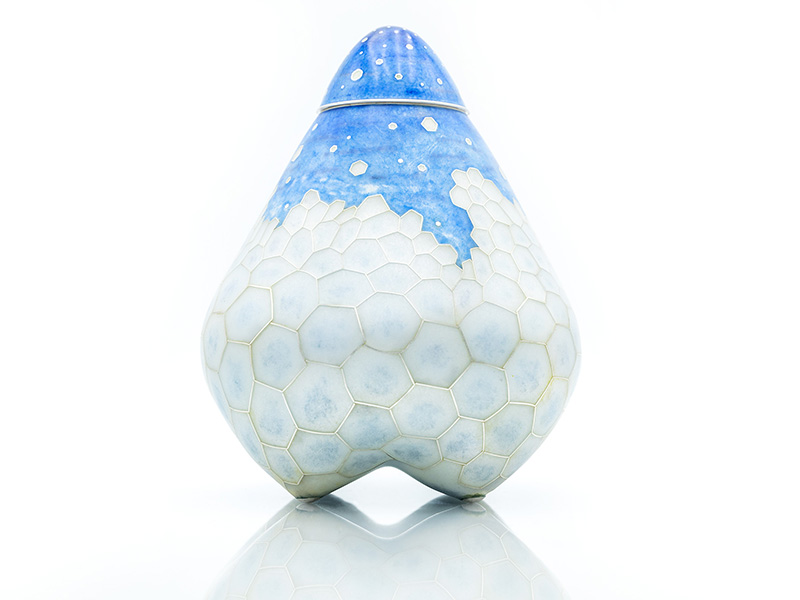 The Metal Museum is proud to announce Sarah Perkins as its 2019 Master Metalsmith. For over 30 years, this exhibition series has honored the most influential metal artists of the day, bringing the work of internationally acclaimed metalsmiths to Memphis for solo exhibitions.
With an artistic career that spans more than three decades, Perkins is best known for her hand-formed and enameled metal vessels and containers. She has shown artwork in the United States, India, Canada, Europe, Korea, and Taiwan, participating in over 300 competitive and invitational exhibitions. Perkins is now Professor Emerita at Missouri State University (Springfield, MO, USA), where she taught from 1994 to 2017. See Master Metalsmith Sarah Perkins at the Metal Museum from October 6 through March 8, 2020. A reception and gallery talk with the artist will take place October 19.
MUSEUM EXHIBITION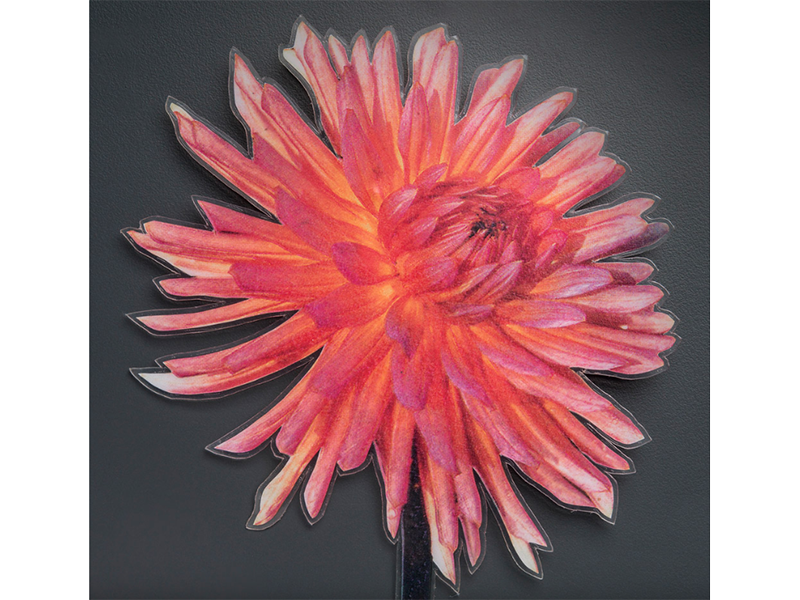 Avant-garde Montrealers: Jewellery, Glass and Ceramics as Envisioned by Gallerists Jocelyne Gobeil, Elena Lee and Barbara Silverberg focuses on three Quebec gallery owners who used their expertise to ensure glass, ceramics, and jewelry become recognized as fully fledged artistic disciplines.
Bringing together 60 works in the museum's collection, Avant-garde Montrealers attests to the vast creative potential of jewelry, glass, and ceramics, and pays tribute to these audacious women and their resolutely contemporary vision of these practices. Jocelyne Gobeil, Elena Lee, and Barbara Silverberg opened their galleries in a period when these changing fields were shifting focus from utilitarian and decorative objects to sculptural and conceptual works of art, the fruit of comprehensive artistic practices. These gallery owners fostered the dissemination and promotion of such creations by way of their sound solo and group exhibition programming, presence at fairs, publications, and pursuit of other avenues. Teachers par excellence, these women convinced the artistic milieu and a wider public of the relevance of their endeavors. At the Montreal Museum of Fine Arts through March 20, 2020.
MUSEUM EVENT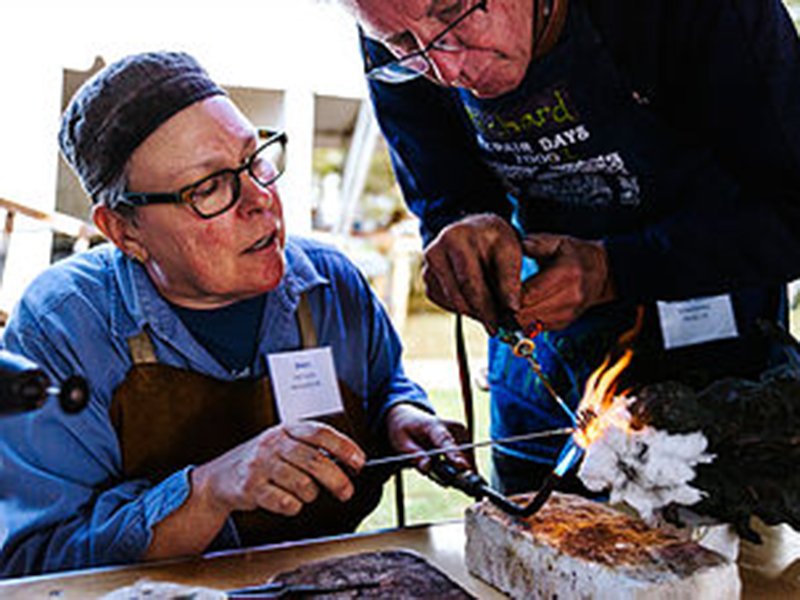 Repair Days. Every year, over 100 metalsmiths from across the country come to Memphis to make repairs on metal objects brought in by the community, all to raise funds for the Metal Museum. Bring your metal items to the Metal Museum October 17–20, 2019, and have them restored to their former glory. All proceeds help support annual programming such as educational initiatives, new exhibitions, and artist residency programs.
EXHIBITION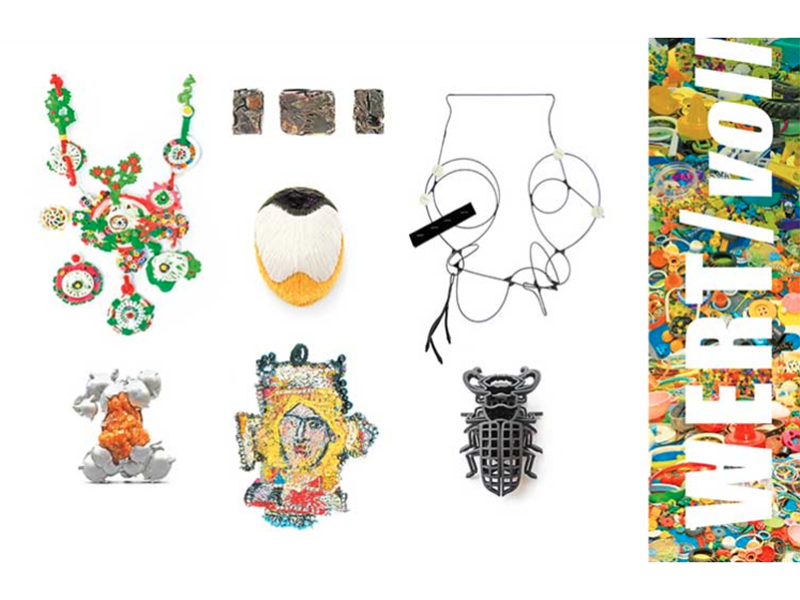 WERT/voll (VALUable) is a jewelry exhibition on the topic of the environment and ecology. It presents work by 20 selected jewelry artists and designers who challenge our throwaway culture via the conscious use of resources, unconventional materials, and upcycling techniques. Over 100 exhibition pieces set an example for sustainability and propose a more careful use of material resources and energy. At the same time, the exhibition addresses the conditions under which raw materials such as gold, silver, or rare earth are obtained today. Includes jewelry made of plastic or e-waste, edible ingredients, bird feathers, or 3D printing, and reflects on the ecological and socioeconomic consequences of our hunger for raw materials. Curated by Christoph Ziegler and Loukia Richards. At the German Environmental Agency (Umwelt Bundesamt) Dessau until October 10, then at the Grassi Museum Leipzig, October 15–November 3, 2019. A two-day workshop will be held November 2 and 3, 10 a.m.–4 p.m., in the workshop areas of the museum.
CALL FOR ENTRY—AWARD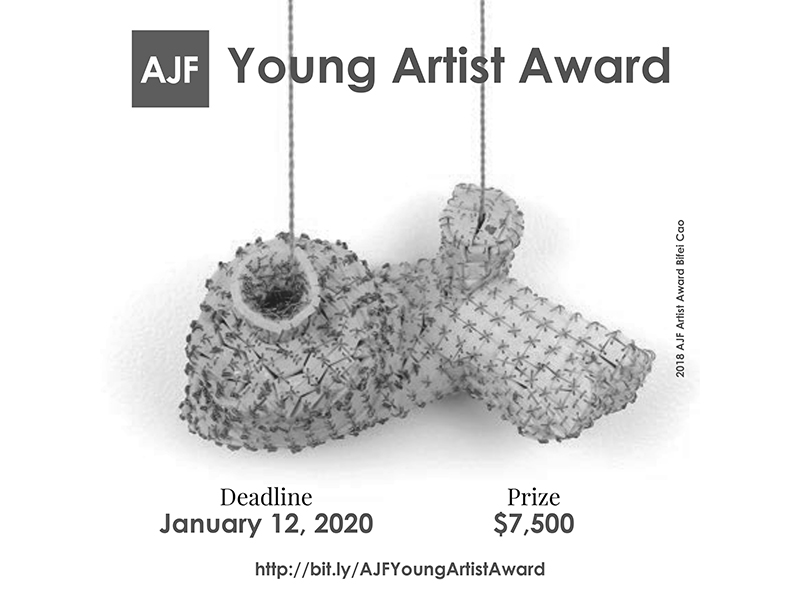 Art Jewelry Forum (AJF) is pleased to announce the 2020 Young Artist Award (formerly the AJF Artist Award) guidelines and jurors. Applications are now being accepted through January 12, 2020. Read the press release for more info and application guidelines.
CALL FOR ENTRY CLOSING SOON—SCHMUCK AND TALENTE
Call for applications to Schmuck 2020. The deadline is October 8, 2019. Get information (in German, English, and French). Apply here.
CALL FOR ENTRY—AWARD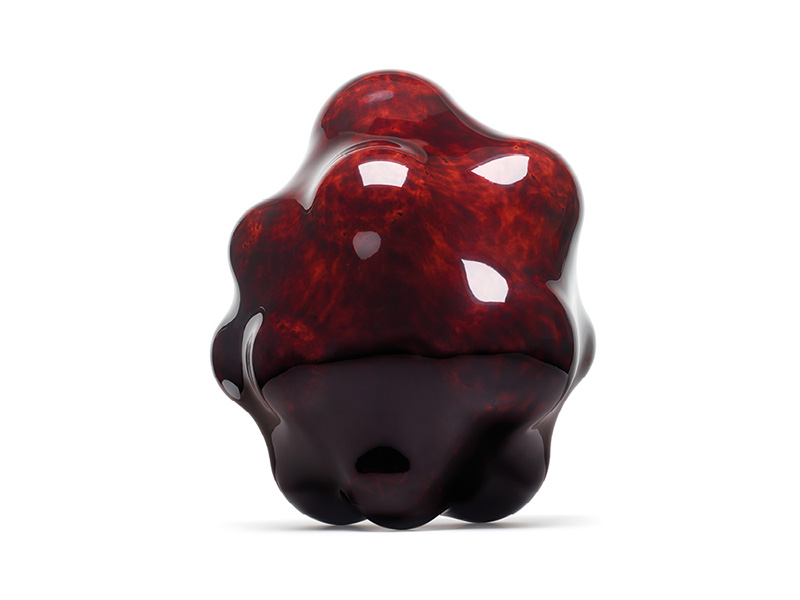 Submit your application now to the Loewe Craft Prize. The prize is €50,000, to be awarded in 2020. Entries must be submitted through the Loewe Foundation's web page by October 30, 2019.
CALL FOR ENTRY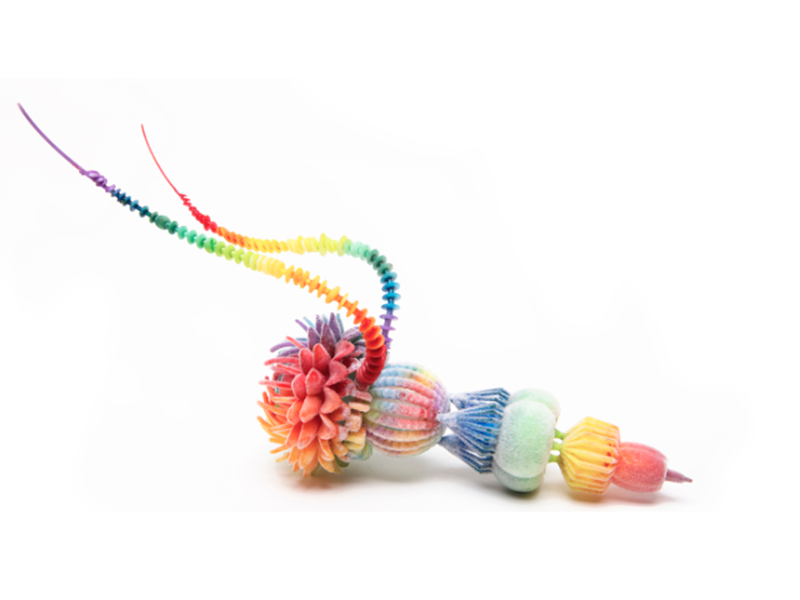 Preziosa Young is an international competition dedicated to worldwide emerging artists, goldsmiths, designers. It invites artists, goldsmiths, silversmiths, designers, and young professionals worldwide to apply to its 2020 edition. The aim is to contribute to the circulation of what is new in research jewelry, as well as showcase what the new generations of goldsmiths/designers/artists are "brewing." PY is not suitable for students or recent graduates. Candidates may not be older than 35 in 2020. The deadline to apply is November 15, 2019. Find more information here.
INTERESTING LINK
This article from Dezeen is about a fabricated diamond made into a ring with 2,990 facets, produced by Jony Ive (of Apple fame) and Marc Newson for an AIDS auction. What do you think? Would you use a manufactured diamond? It sure would be less environmentally destructive.
INTERESTING LINK
How will technology transform the body? Lucy McRae—body architect, designer, and science-fiction artist—contemplates this question through film and images in the exhibition Lucy McRae: Body Architect. While these pieces aren't jewelry, they're a self-described "stalking of fashion, architecture, performance, and the body" that you might find interesting.
The first survey exhibition of McRae's provocative and beguiling work, Body Architect traverses the Australian artist-designer's numerous concerns—from art to commerce, science to popular culture—by showcasing her collaborations with brands, scientists, and pop musicians alongside her creative research practice over the past 13 years. At the National Gallery of Victoria, in Australia, through February 9, 2020.
INTERESTING LINK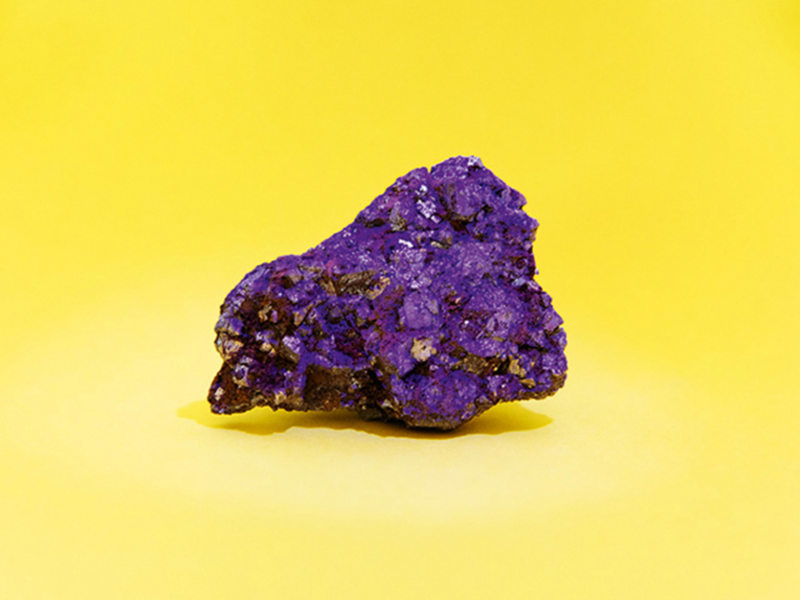 This is a review of a book about gold called The Canary and the Hammer that, with its combination of photos and essays, sounds both inspiring and educational. Its author, Lisa Barnard, is a photographer.
INTERESTING LINK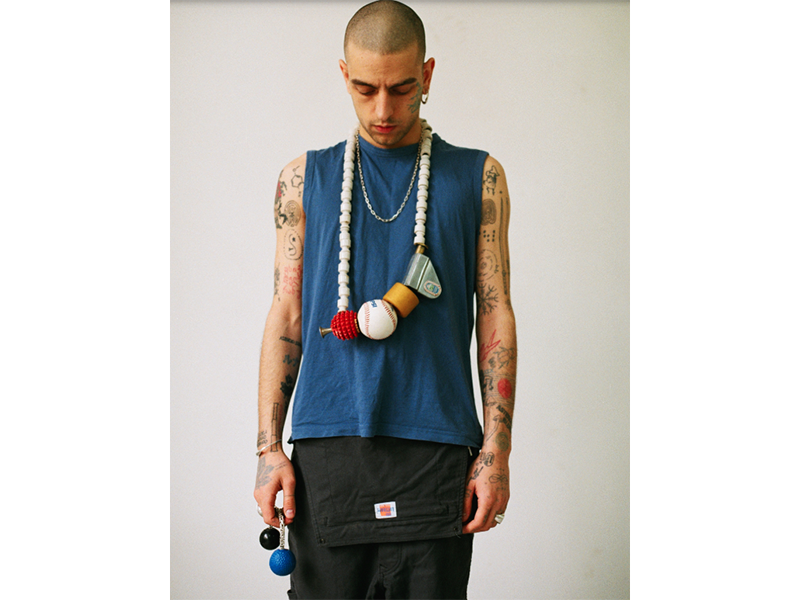 This summer, Dezeen reported on Tbilisi designer Max Machaidze, who has created a range of jewelry made from found objects including pom-poms, skateboard wheels, and industrial ceramics from Soviet-era machinery. The oversized jewelry and a parallel series of sculptures are based on childhood memories of creating towers by piling up stones.
INTERESTING LINK
Gallery Schmucke, in Berlin, celebrated its third anniversary in September. Art Aurea interviewed gallery owner Petra Brenner, asking if a gallery/workshop for jewelry and glass can be successful in a city like Berlin. Read the interview.
INTERESTING LINK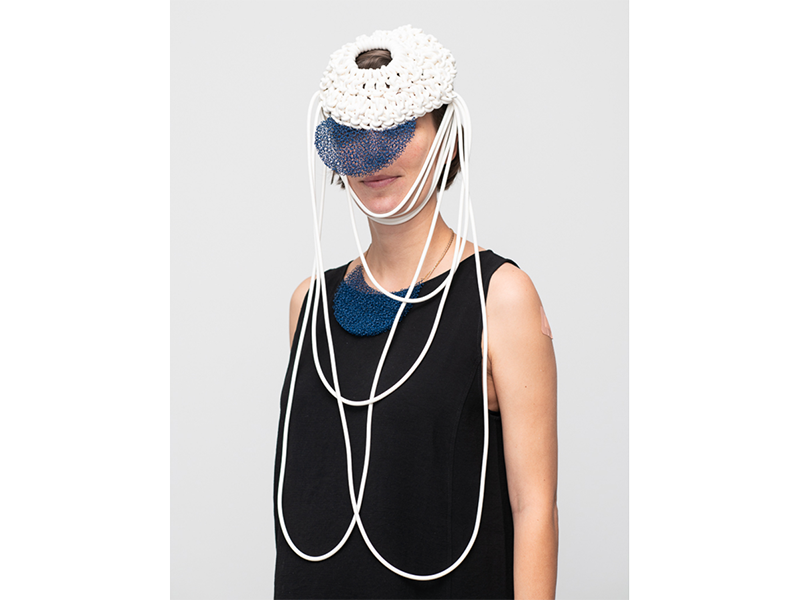 London's Seeds gallery presented Masters of Disguise, a show featuring 23 different masks (each designed to represent the character of its maker) in an exhibition at the London Design Festival. Marina Dragomirova, of Studio Furthermore, made a crocheted piece that blurs the line between hat, mask, and jewelry. Read more here; scroll to the bottom for a slideshow of all the masks.
JEWELRY IN THE NEWS
From an August article in Artspace: "Contemporary jewelers traffic in destabilization as their primary mode of artistic stagework, teasing out the unexpected intersections of presentation, experience, and craft. There's an argument to be made for applying a post-Internet lens on jewelry's recent pivot towards self-reflexivity; in an era of constant surveillance and curated media feeds, this hybridized approach to ceremonial identity construction, fusing commentary and utility, seduction and context, slows our frantic pace by engaging physicality on a one-to-one basis, often to eerie, confronting, or radical ends. Craft, design, art, or bling—why not all of the above? Here are 7 artists on the forefront of contemporary jewelry." Read the article.
JEWELRY IN THE NEWS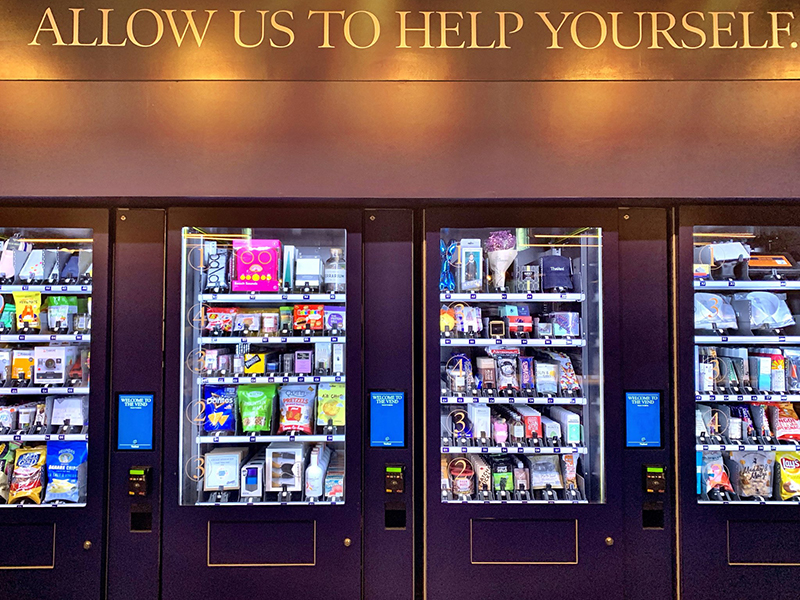 Candy bars, chips, drinks—you can get them all in a vending machine. Oh, and a diamond ring just waiting to drop for a proposal, too. Read the article Press B3 to Be Mine, about a vending-machine engagement ring, in the New York Times.
JEWELRY IN THE NEWS
"Pearls are officially back," says Galerie Magazine. "No longer the single strands found in your grandmother's jewelry box, the trend right now is modern and minimal. And there's perhaps no one cultivating that look more creatively than the young Greek-born, London-based talent Melanie Georgacopoulos. With a background in silversmithing and sculpture, she brings an artistic approach to her jewelry line that challenges traditional concepts with boundary-pushing contemporary pearl designs.
Dicing, slicing, and stacking are just a few of her inventive methods. For her Royal College of Art graduation collection in 2007, she caused a stir for slicing a pearl in half. Now, some of her boldest earrings and necklaces feature wedges cut from freshwater pearls that reveal the magical inner treelike rings. She also creates minimal cuffs and rings crafted with mother-of-pearl tiles and a single pearl discreetly embedded on the side." Read the interview with the artist.