Art Jewelry Forum's extensive network of international
gallery supporters
is dedicated to celebrating and showing art jewelry. On Offer is a monthly series that allows AJF galleries to showcase a piece that they've personally selected to tempt and inspire you. Please contact the gallery directly for inquiries. Enjoy!

MUSEUM WORTHY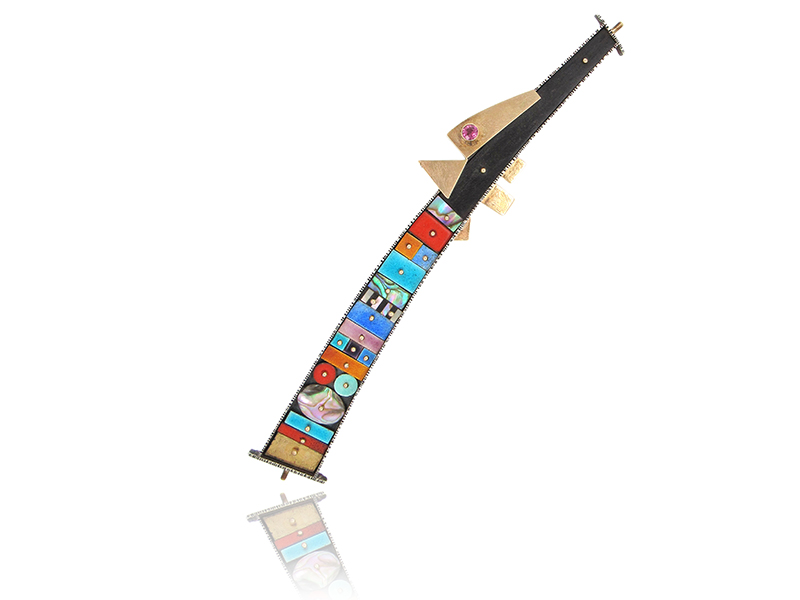 Artist: Earl Pardon
Gallery: Aaron Faber Gallery
Contact: Patricia Kiley Faber
Retail: US$3,970
Earl Pardon's long curved brooch, circa 1980s, is an exploration of his interest in the late 70s and early 80s using organic materials like wood and ivory, and bold, almost calligraphic or brush-stroke forms. The colorful enamel mosaics, each one individually created and assembled in sterling silver, curve toward the inlaid ebony segment, overlaid in part with triangular 14-karat gold on silver, rhodolite garnet, and mother-of-pearl. Pardon's colorful jewels are a signature style for this Modernist, whose artistic investigations in precious metal, from 1953 to 1991, are museum-worthy works. The brooch measures 13 mm at the widest x 156 mm long.
MUSEUM WORTHY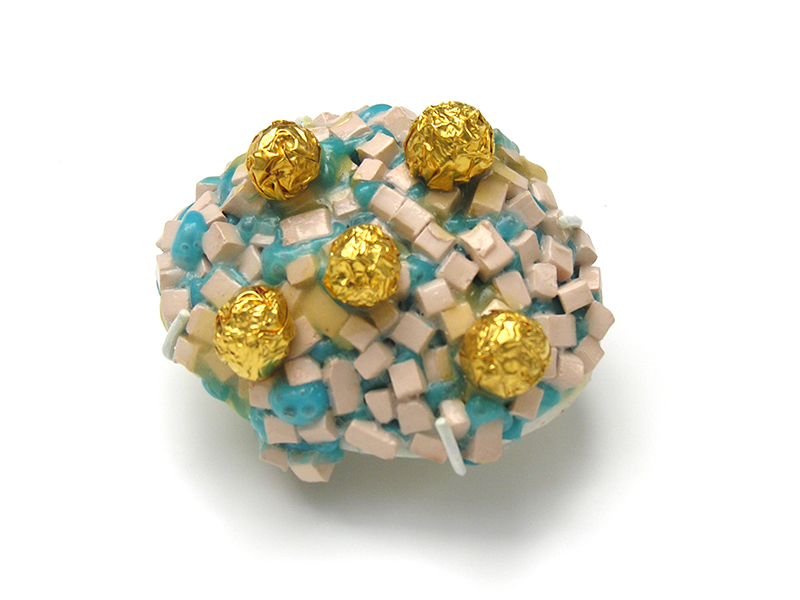 Artist: Lisa Walker
Gallery: Gallery S O
Contact: Katharina Dettar
Retail: £2,400
Pushing the limits of what jewelry can be just by being herself, Walker gives her Brooch an essence of disobedience that presents itself in the unapologetic merging of materials. Gold with plastic, plastic with ceramic, glue, and so on. Walker has always explored brilliant ways of storytelling through materials, creating a new life for them and altering their meaning and position in our consciousness. Her use of color and composition is one of the strengths. One might consider it all to be accidental; however there's a symmetry visible that draws the eye and insists that you touch. Playful and meticulously made, this piece is ready to wear.
MUSEUM WORTHY
Artist: Evert Nijland
Gallery: Gallery Loupe
Contact: Patti Bleicher
Retail: US$9,850
For over 20 years, Evert Nijland's objects and jewelry have navigated a spectacular course between the primal and sophisticated, raw and genteel, historic and modern, luxe and commonplace, tangible and conceptual. Open-cage constructions of oxidized silver, combined with textiles, ceramics, and hand-blown glass, are the starting point for Nijland's latest jewelry series, CAGE, in which he aims to express the contrast between captivity and freedom, beauty and decay.
MUSEUM WORTHY
Artist: Thomas Gentille
Gallery: Galerie Spektrum
Contact: Jürgen Eickhoff
Retail: €8,600
Thomas Gentille is one of the most important jewelry artists from the United States. This piece from the wood series is a wonderful example of his consequence and strength in form, material, tension, and craft. It's worth being in any collection.
MUSEUM WORTHY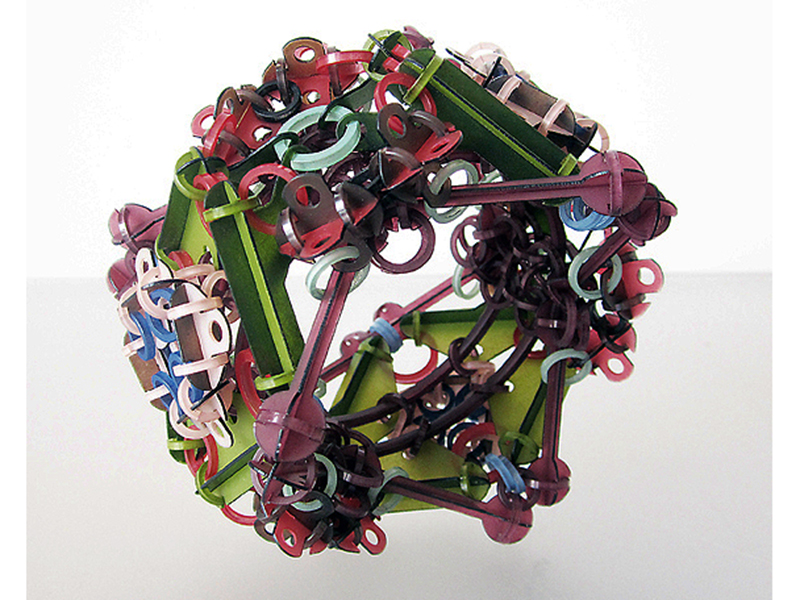 Artist: Svenja John
Gallery: OONA Gallery
Contact: Anna Schetelich
Retail: €6,200
The German artist Svenja John is known for her delicate and complex constructions made of high-quality resin polycarbonate. Thinking and working in a three-dimensional way has been a characteristic quality of the artist from the beginning. Working with an ongoing growing set of self-drafted elements, John is able to create shapes that remind one of crystal structures and various nature-inspired shapes. Beside the constructive aspect, the artist gives a lot of attention to coloring. Each of her works appears as an inspiring composition. This bracelet is definitely a highlight of her work, uniting color matching and stunning construction.
ESTABLISHED ARTIST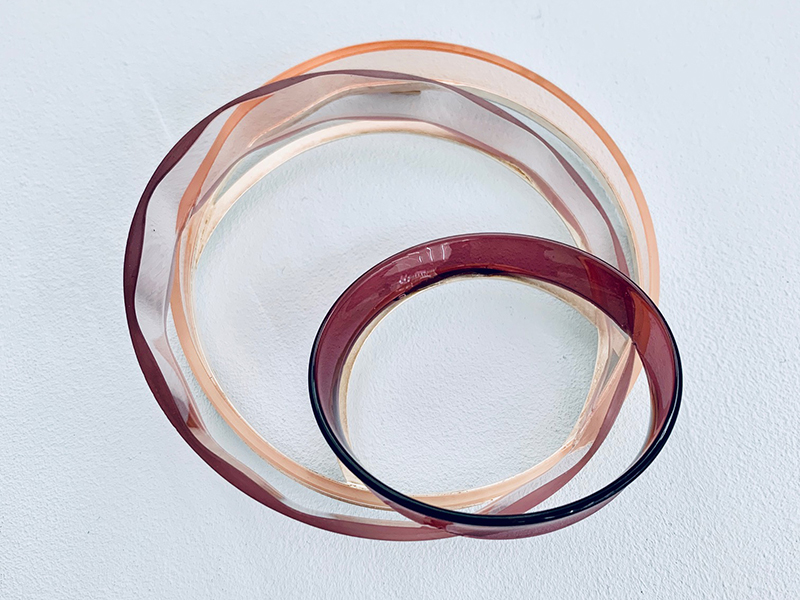 Artist: Gésine Hackenberg
Gallery: Galerie Beyond
Contact: René Darmont
Retail: €1,175
"When life suddenly falters, new energy gets released." This experience inspired Gésine Hackenberg to make jewelry that explores the perception of repetitive circular movements. Her Tumbling brooches depict the dynamics of tumbling and spinning. Edges and rings of subtly tinted glass are arranged in spatial rhythms. The play on different shades of color reinforces the movement in space and time. Hackenberg allows the wearer to be part of the precarious moment between falling apart or regaining balance. Falter not fall is in line with Hackenberg's aim to change everyday life into objects that can symbolize a personal sense of life.
ESTABLISHED ARTIST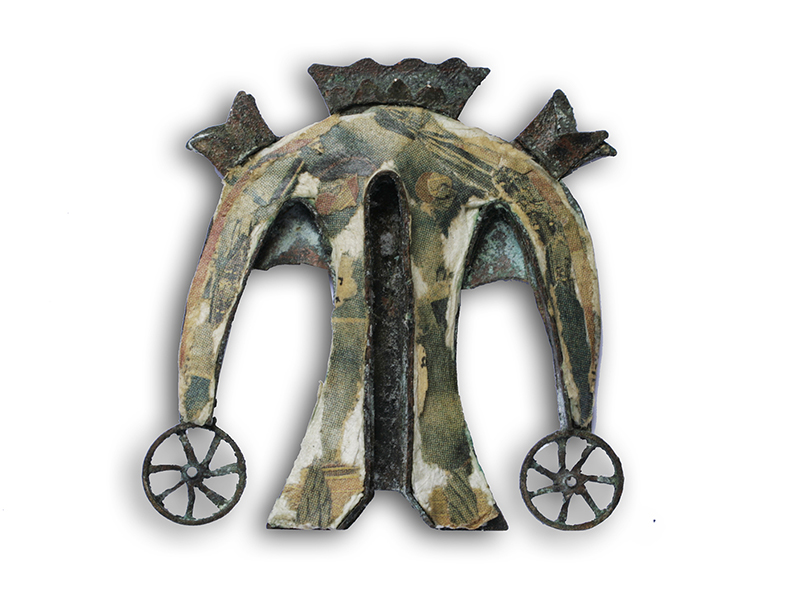 Artist: Silvia Walz
Gallery: Galerie Noel Guyomarc'h
Contact: Noel Guyomarc'h
Retail: CAN$2,075
This brooch, The Elephant, was made in 1991. Using mixed media, including various metals and, in this case, paper, Walz tells us whimsical stories. Maybe just one, perhaps two elephants on wheels, which then form into the big top of a circus tent. Like a child marveling, we are transported into our memories and our emotions. Refreshing work.
ESTABLISHED ARTIST
Artist: Karl Fritsch
Gallery: OHMYBLUE
Contact: Elena Rizzi
Retail: €3,330
With a practice that focuses on the ring, Fritsch explores taste, aesthetics, and desire as he manipulates perceived ideas of preciousness and convention.
ESTABLISHED ARTIST
Artist: Karen Gilbert
Gallery: De Novo Fine Contemporary Jewelry
Contact: Cherry LeBrun
Retail: US$800
In this bracelet, Karen Gilbert uses hand-blown glass that she creates for her jewelry. The way the piece is constructed causes it to drape gently on the wrist, and it's filled with movement and light. It's both elegant and playful, and is a joy to wear.
ESTABLISHED ARTIST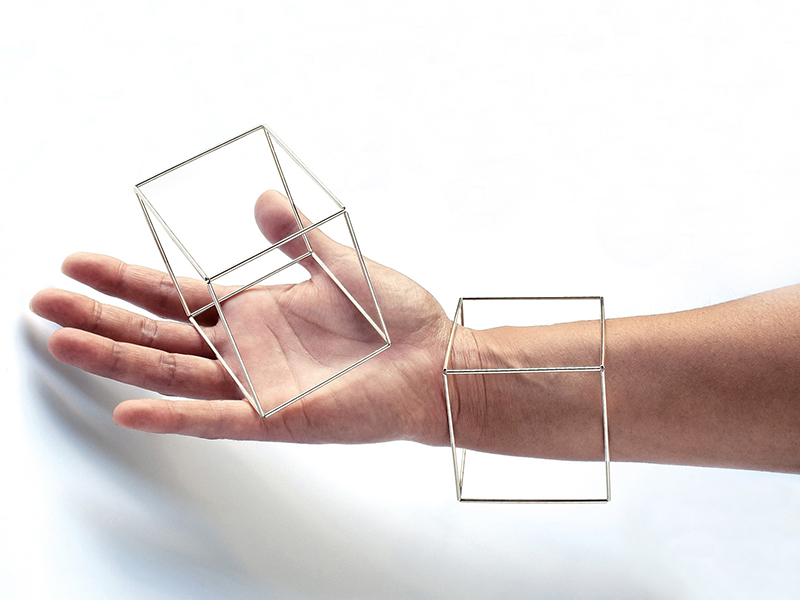 Artist: Yoko Takirai and Pietro Pellitteri
Gallery: Galerie Elsa Vanier
Contact: ELSA VANIER
Retail: €290
Yoko Takirai and Pietro Pellitteri create innovative jewelry. Sometimes enigmatic, sometimes in geometric forms, their pieces reveal in the moment of encounter with the body a lightness and elegance. Thanks to a devotion to workshop research, their jewelry manages to achieve forms that are pure, elegant, and comfortable. The creative impulse of their Cube collection is inscribed inside a primordial space in which to act, experimenting with digressions which decline in small mobile sculptures, oscillating between solids and voids, the visible and invisible.
ESTABLISHED ARTIST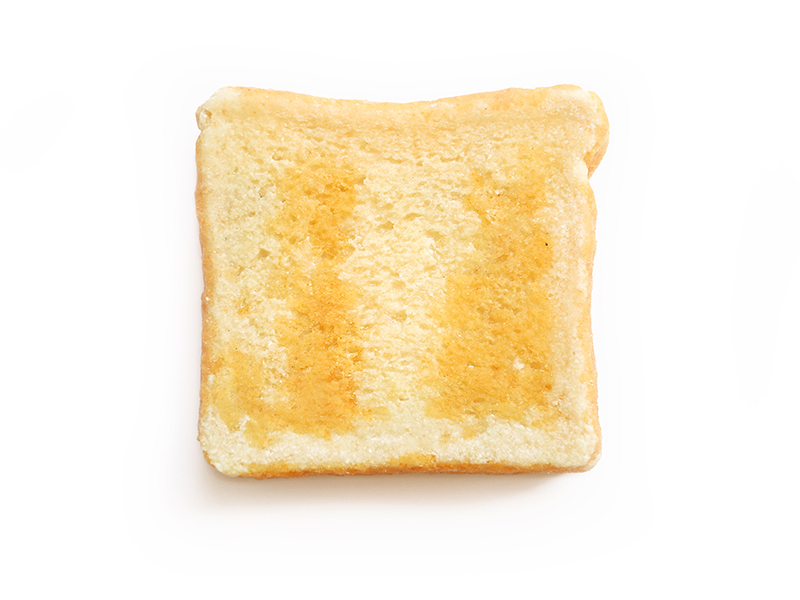 Artist: Gisbert Stach
Gallery: Galerie LA Joaillerie par Mazlo
Contact: Céline Robin (curator)
Retail: €1,554
As a true heretic, Gisbert Stach has chosen to appropriate Baltic amber, a legendary stone and once a symbol of power and prestige, but now associated with a dusty vision of jewelry. The titles of his works sound like excerpts from the menu of a food truck: Golden Toasts, Schnitzel, Fritz's Snack, Gold Fingers, Calamari Fritti, and Sushi unveil as simulacra of the most popular dishes of urban cuisine, often associated with fast food or even junk food. The precious material is literally pulverized and crushed, before being mixed with silicone and sprinkled like bread crumbs on the surface of pins, which invite themselves more to be bitten into than to be worn. For Stach, derision is indeed a way of revisiting our relationship to jewelry as an investment object (emotional, sentimental, material?) and of questioning our value system.
MID-CAREER ARTIST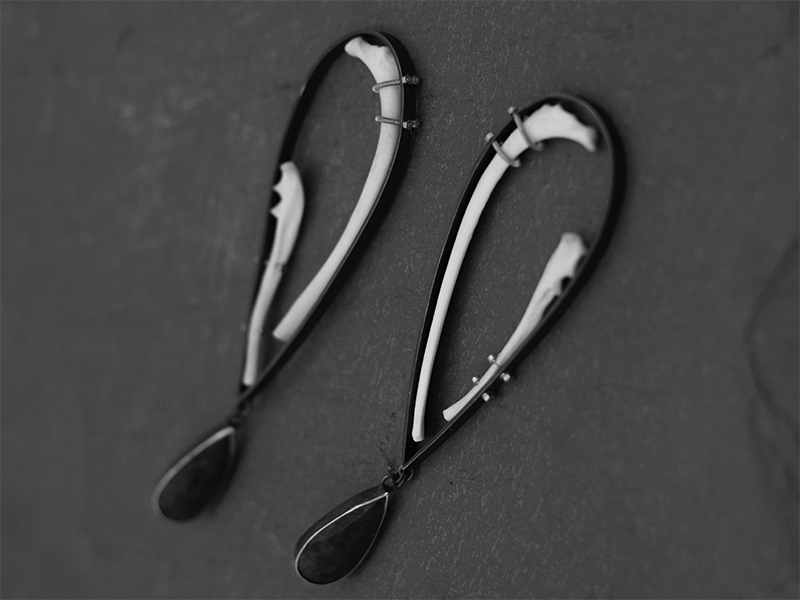 Artist: Carin Jones
Gallery: Metal Museum
Contact: Alicia George
Retail: US$560
The mix of organic natural stones, modern oxidized sterling silver, and 22-karat gold detail with bobcat bones is the perfect balance of nature and contemporary design.
EMERGING ARTIST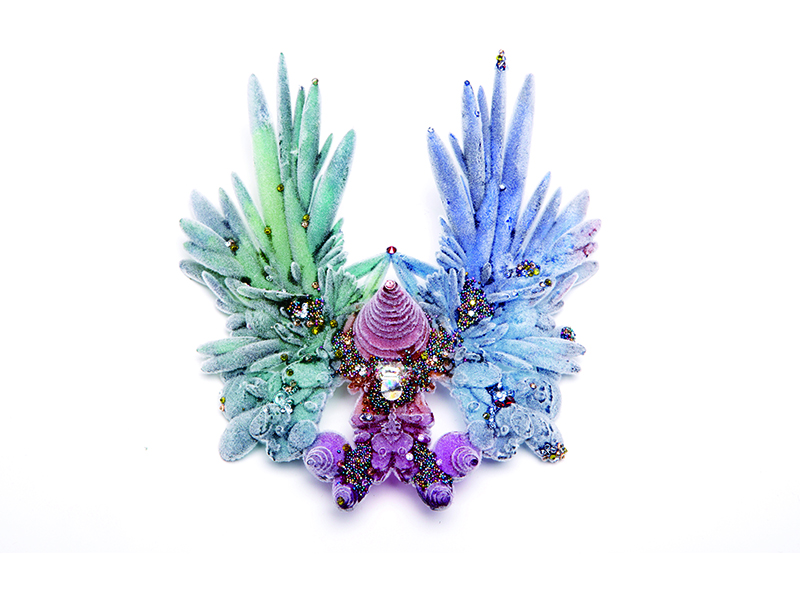 Artist: Xiaodai Huang
Gallery: Four
Contact: Karin Roy Andersson
Retail: €1,500
Variants is inspired by the 2011 nuclear explosion in Fukushima. The accident was a huge trauma, both physically and psychologically, and the full effects are still not known. Xiaodai Huang uses a 3D printer to create industrial objects with colorful decorations that combine graphical stylizations of wings, stones, and flowers with new organic shapes. But what is it that causes the mutations? Is it radioactivity and pollution, or is it an evolution leading to useful new attributes?
EMERGING ARTIST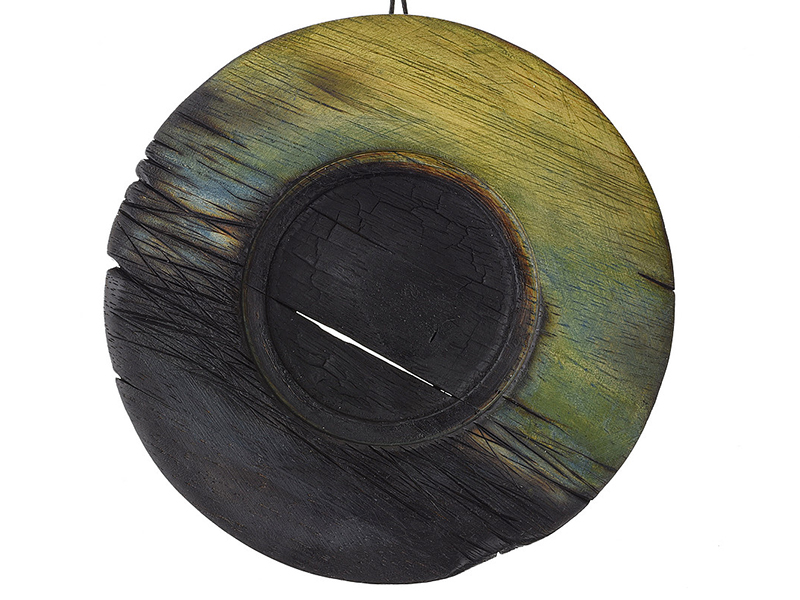 Artist: Nina van Duijnhoven
Gallery: FINGERS GALLERY
Contact: Lisa Higgins
Retail: NZ$690
Nina van Duijnhoven is a contemporary jewelry artist born in The Netherlands and based in New Zealand. "The burning in my work represents a collaboration between myself and forces of the natural world," she says. "I carefully manipulate the burning process, but in this negotiation with the raw material, my ability to control the exact outcome of the work is being challenged. Relinquishing control in favor of collaboration. These pieces ask to which extent mankind can or should control nature."
EMERGING ARTIST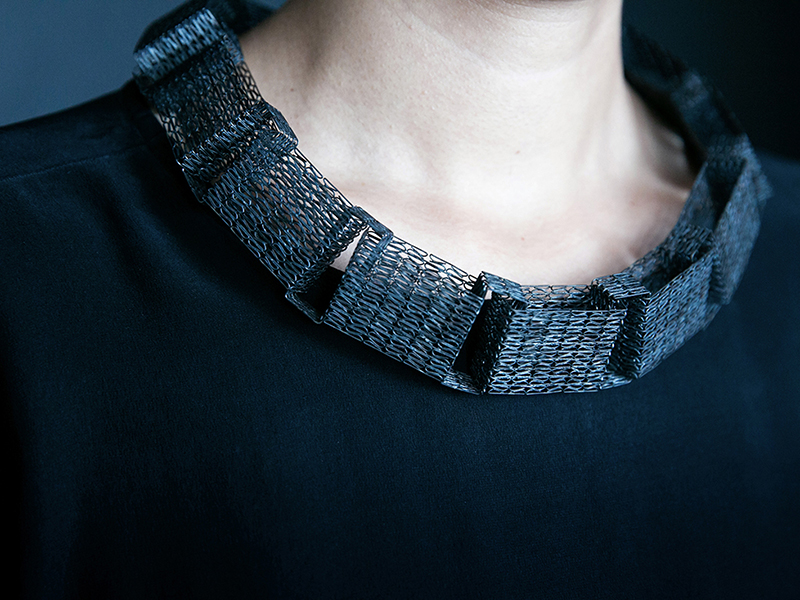 Artist: Jess Tolbert
Gallery: In the Gallery at Brooklyn Metal Works
Contact: Brian Weissman
Retail: US$1,700
Jess Tolbert's work explores and reconsiders the commonplace, where everyday mass-produced materials become personal, intimate objects. Here Tolbert's jewelry builds a tangible link between the repetitive actions that create the humble staple to the pattern and rhythm of the staple's daily use. With this process, Tolbert produces complex, elaborate, and ultimately beautiful pieces of wearable art.
EMERGING ARTIST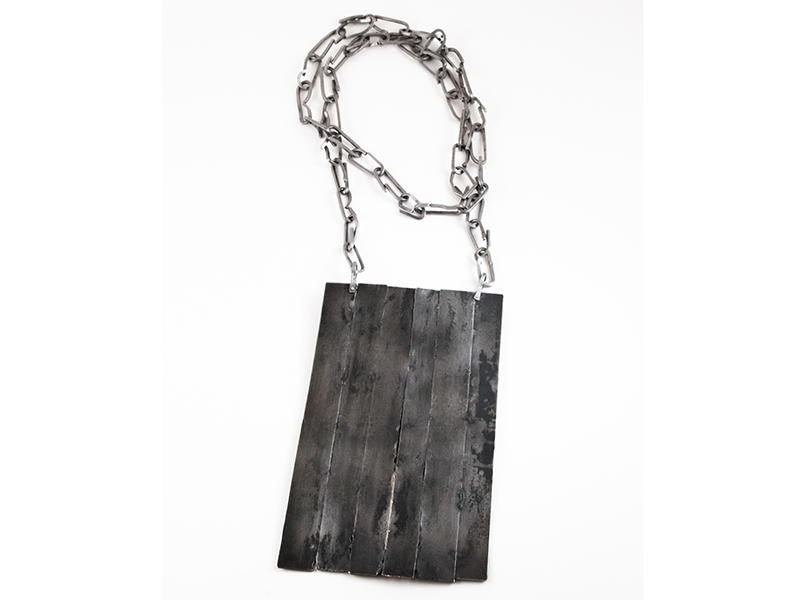 Artist: Cathryn Jasterzbski
Gallery: Baltimore Jewelry Center
Contact: Shane Prada
Retail: US$700
Cathryn Jasterzbski is a jeweler and metalsmith from the Mid-Hudson Valley region of New York. Through jewelry, she explores her working-class upbringing as it relates to her contemporary jewelry practice. Her research is built upon theory relating to class construction, working-class identity, and repair. Jasterzbski's attention to ethical metalsmithing drives much of her practice. Through her use of reclaimed metal, she welds steel in the format of jewelry and reflects on the collision of class structures present in her life. The exhibition Site Specific is a continuation of Jasterzbski's exploration of steel jewelry in response to the working-class history, architecture, and industrial legacy of the city of Baltimore. This body of work captures the various time periods presently coexisting within this industrial city through photography and jewelry. Jasterzbski was recently awarded the Marzee Graduate Prize for 2019 and Ethical Metalsmith's Emerging Artist Prize.
EMERGING ARTIST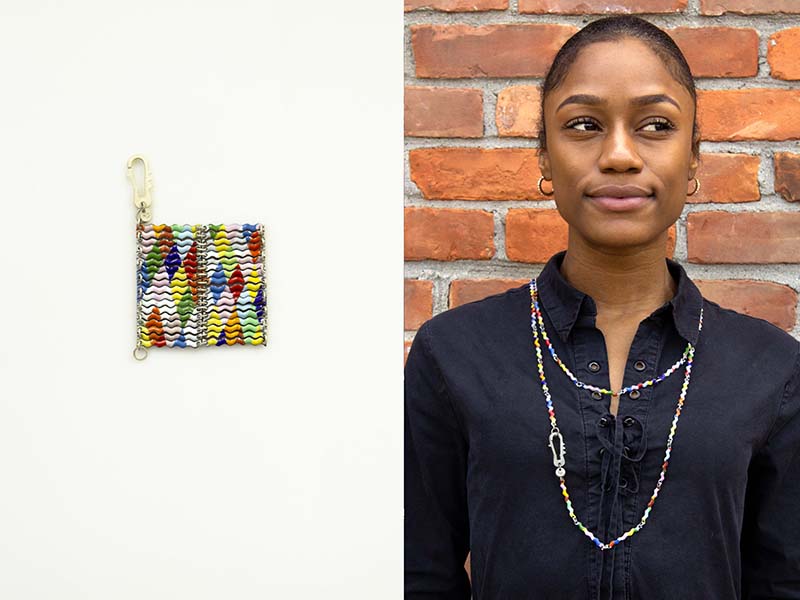 Artist: Aaron Decker
Gallery: Ornamentum
Contact: Stefan Friedemann
Retail: US$1,200
American artist Aaron Decker (MFA Cranbrook) has been finding a unique and personal voice in enameling. Decker mines his childhood, using forms reminiscent of an army child's memories of toys and machinery alike, creating works that are conflicted images of silly fun confused with machismo seriousness … a comment on growing up gay among guns, tanks, and planes. The necklace Harlequin #1 is a light-hearted and interactive piece. It lies folded as a miniature painting showing the iconic clown patterns, and unravels into a long, airy, and very wearable necklace.
GALLERY CHOICE
Artist: Laura Wood
Gallery: Gallery 2052
Contact: Nora McCarthy
Retail: US$440
As of January 2019, American women make an average of 80 cents to the dollar of men. This is an average among full-time, year-round employees. This percentage varies from state to state, but it's prevalent in all occupations, with minorities experiencing the greatest wage disparity. This brooch is a messenger of this fact and a visual cue to be worn in an effort to spark more conversations on this topic and on other economic biases, including the current federal minimum wage in the United States ($7.25 per hour). The average living wage is currently $15.12.
GALLERY CHOICE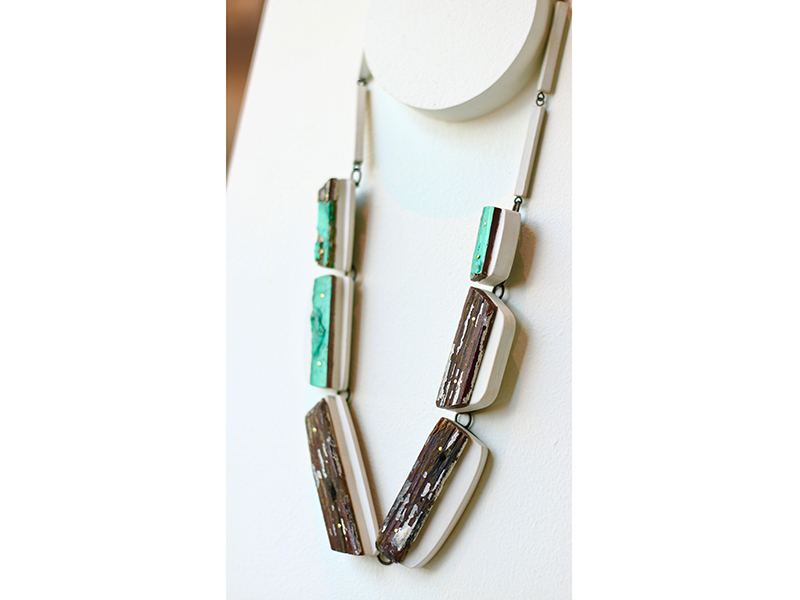 Artist: Audrey Peck
Gallery: 108|Contemporary
Contact: Susan Baley
Retail: US$195
Audrey Peck is a jewelry artist living and working in Oklahoma. Peck completed an MFA from East Carolina University in 2014 and a BFA from Oklahoma State University in 2004. Her jewelry explores our relationship with nature. The use of renewable materials like wood becomes a reminder of life beyond technology for the wearer and an escape from today's hectic digital everyday life. Her work has appeared in many exhibitions, including the Baltimore Jewelry Center, Maria V. Howard Arts Center, Craft Alliance Center of Art and Design, and the Greenville Museum of Art.
GALLERY CHOICE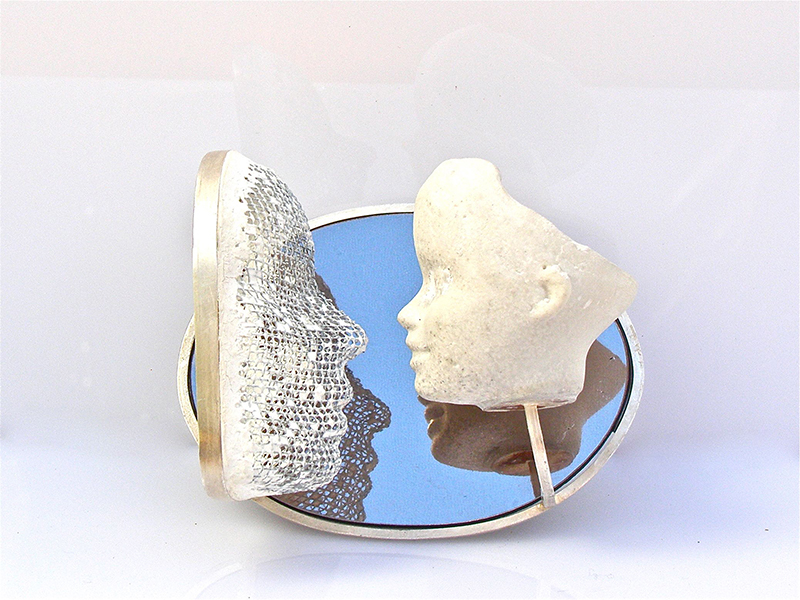 Artist: Alina Carp
Gallery: myday-byday
Contact: Laura Helena Aureli
Retail: €650
Romanian artist Alina Carp presents her brooch Forever Young, from the jewelry collection Undisclosed, at myday-byday gallery. "It represents a dialogue of me as a child with me as an adult," says Carp. Every one of us probably asks this question, how will I be when I will grow up? And this mystery only reveals itself after we grow. And once we are grown-ups, we surely want to change something in the past, and we have things to comment and advice to give to the children that we were once. Only we don't have this chance in reality. But the beauty of the art is exactly this, that in an imaginary way, we can do almost anything. And this brooch is about this imaginary dialogue that I would like to have: me the adult and me the child. This is why the adult face is blurred, not exactly clear, because it is still in the process of definition, but the child is clear, defined, happy, and unafraid. The mirror represents the impartial proof or the spectator of this surreal dialogue."
GALLERY CHOICE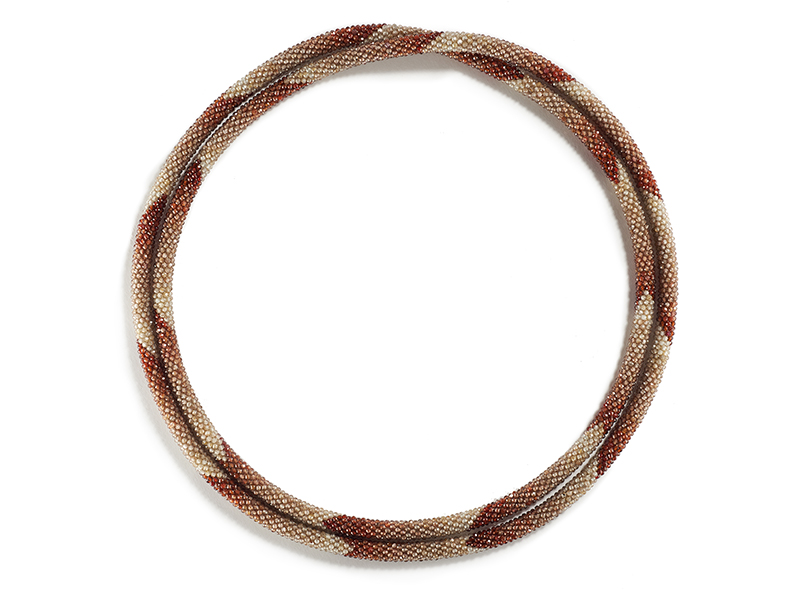 Artist: Claire Kahn
Gallery: Patina Gallery
Contact: Allison Barnett
Retail: US$10,000
Sparkle, shimmer, and dazzling radiance emit unrelenting shine and intoxicating opulence upon this piece's glistening throw. For her new collection, Signs of Life, opening October 18, 2019, artist Claire Kahn is attuned to the birthstones of the 12 months to imagine an array of soulful expressions in color and pattern. For her December necklace, Kahn brilliantly strings an arresting assemblage of sheer zircon to contrive her extraordinary composition. Floating in a slow progression of pale gray to champagne, gradually to a deep auburn hue, she creates a marvelous portrait of the calming wintry season of December's birth. When graced with light, the little gems twinkle with every turn of the body. To the eye, a stunning arrangement, and a feast to the heart that is forever spellbound by its beauty. A one-of-a-kind vision to appease one who readily surrenders to its unyielding charm.