Art Jewelry Forum is pleased to share the news that people in our community find noteworthy. Do you think something's missing? The success of this compilation of compelling events, exhibitions, and items of interest to the jewelry community depends on YOUR participation.
Providing a place to share interesting news is one way AJF is celebrating our 20th anniversary. We believe our donors, as dedicated jewelry aficionados, have a unique outlook on the world, and the monthly report is a place to relate news, opportunities, events, and articles. Be a part of the dialogue.
If you're a donor to AJF, you can add news and ideas to the monthly report by going to artjewelryforum.org/news. If you aren't a donor but would like to become one, go to artjewelryforum.org/donate. We'd love for you to be a part of our community!
MAJOR AWARD
David Bielander has received the Swiss Grand Award for Design, which honors established designers who have contributed to the advancement of Swiss design nationally and internationally. The Confederation granted Bielander the award "in recognition of [an] unconventional point of view and his critical method, which yield unconventional and striking results that set him at the forefront of international jewellery design."
The exhibition of the Swiss Awards runs parallel to the Art Basel fair and Design Miami/Basel, June 13–18, where the works and projects of the nominees and winners can be viewed. The exhibition aims to not only make the projects available for public viewing but also to put them into critical context by holding events and lectures. The Swiss Art Awards opening is on June 12 from 5:30–10:30 p.m. with an after-party at 10 p.m. at the Volkshaus in Basel.
---
MAJOR JEWELRY EXHIBITION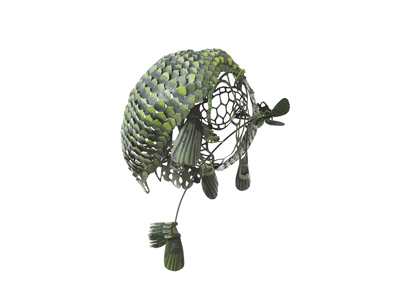 The exhibition Transformations—Six Artists from Sweden will open on Thursday, May 11, 2017, at the Museo di Palazzo Mocenigo, a Renaissance palace in the center of Venice. The six jewelry artists Tobias Alm, Sara Borgegård Älgå, Hanna Hedman, Catarina Hällzon, Agnes Larsson, and Märta Mattsson will contribute a total of 57 works to this exhibition, which will coincide with the 2017 Venice Biennale.
The exhibition is the result of a partnership between the Nationalmuseum and the Musei Civici di Venezia (Venice City Museum), of which the Palazzo Mocenigo Museum is a part. While the Nationalmuseum is closed for renovation (it's due to reopen in 2018), it has curated an international exhibition program for the year which includes Transformations during the Venice Biennale. This show is curated by Inger Wästberg, an art historian, author of Contemporary Swedish Art Jewellery (2013), and one of Sweden's leading experts in art jewelry. The exhibition will be open from May 11–October 1, 2017.
---
MAJOR JEWELRY EXHIBITION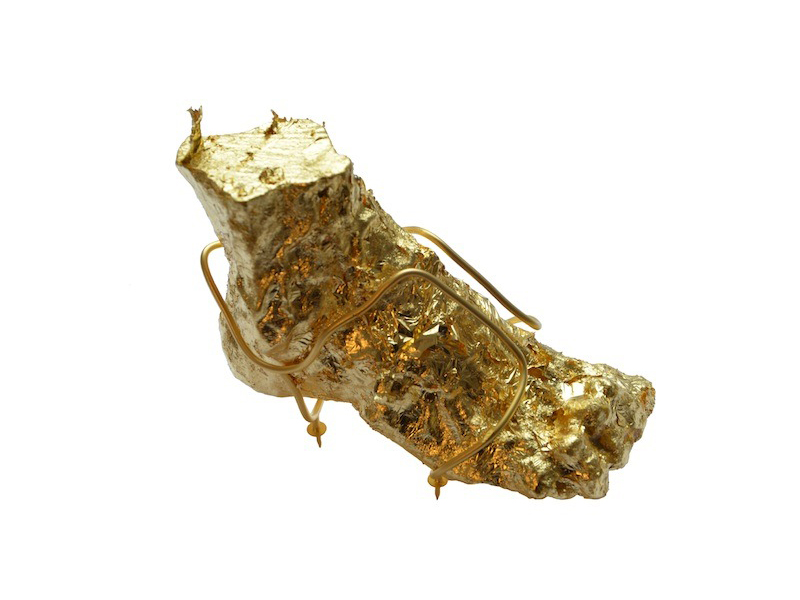 Artists from 19 countries were invited to reflect on the concept of time at the main exhibition of the 7th Tallinn Applied Art Triennial, held in Tallinn, Estonia, from April 22–July 23, 2017.
Almost a third of the works displayed in the exhibition were created by jewelry artists, among them Adam Grinovich, Ruudt Peters, Estela Saez Vilanova, Tanel Veenre, Eunmi Chun, Patrìcia Domingues, Sofia Björkman, Annelies Planteijdt, Céline Sylvestre, Edu Tarín, Kay Guo, Sara Chyan, and Ulla Ahola.
Alongside jewelry, the exhibition includes ceramics, glass, textiles, and blacksmithing. The subjective nature of a person's sense of time is examined through traditional and smaller formats, as well as video and large-scale installations. In total, 49 works are displayed, chosen out of 256 submissions by an international jury. The main exhibition of the 7th Tallinn Applied Art Triennial takes place at the Estonian Museum of Applied Art and Design (Lai 17, Tallinn).
---
MAJOR JEWELRY EXHIBITION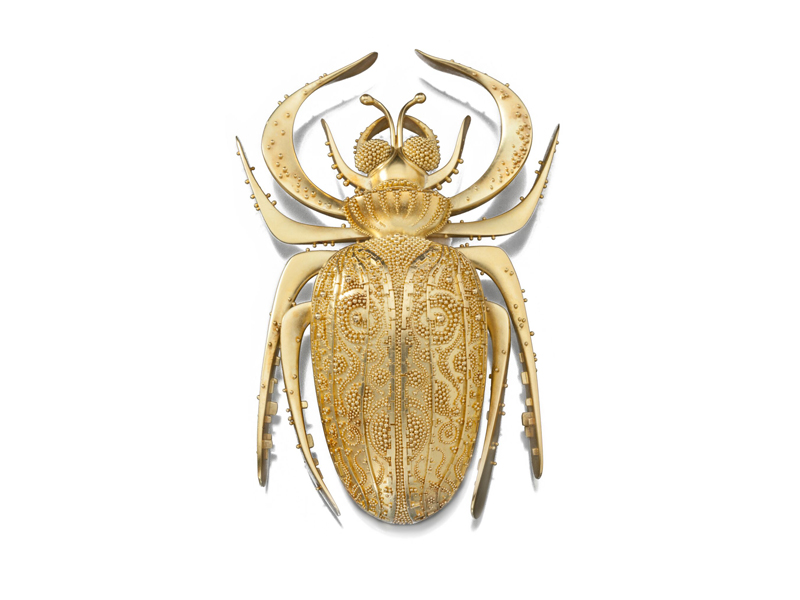 Museo del Gioiello, Basilica Palladiana, Vicenza, 2nd edition 2017–2018: Ten sections comprise the current exhibition at the Museo del Gioiello in Vicenza. The selection of jewelry for the section called Design and Art, curated by Helen Drutt, has been sourced from artists who are living, or have lived and worked, in the United States of America. This decision was made in an effort to introduce the Italian community to an aspect of American jewelry not frequently seen in their country. Selections range from post-World War II to the present. The twentieth century is represented with work from the years 1965–1998, and the twenty-first century with pieces made between 2002 and 2016. Among the artists, eight are deceased: Alexander Calder, Mary Kretsinger, John Paul Miller, John Prip, Olaf Skoogfors, Art Smith, Ed Wiener, and J. Fred Woell. In addition, living artists Jamie Bennett, Doug Bucci, Sharon Church, Elizabeth Garrison, Thomas Gentille, William Harper, Lisa Gralnick, Ron Ho, Betsy King, Kim Overstreet/Robin Kranitzky, Stanley Lechztin, Richard Mawdsley, Bruce Metcalf, Eleanor Moty, Judy Onofrio, Albert Paley, Joseph Pillari, Helen Shirk, and Nancy Worden are included. The resulting exhibition is composed of the works of these 28 artists, drawn from their studios or private collections throughout the United States.
---
ANNIVERSARY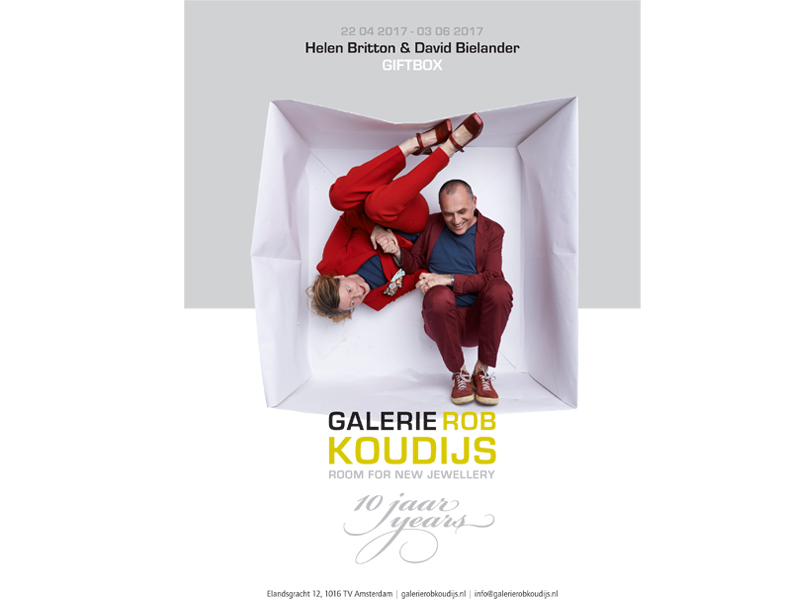 Galerie Rob Koudijs celebrates its 10th anniversary! The saying "time flies" was never more appropriate. Ten years in which we made 125 exhibitions and participated in 20 art fairs, both in the Netherlands and abroad. Besides that, we have organized lots of other things: museum shows, book productions, lectures, and special events.
So now we're putting on the 126th exhibition, which will consist of 10 works by Helen Britton and David Bielander. Many other artists represented by the gallery made new work especially for the occasion. Which means that at the opening on April 22, only new, freshly made pieces were on display!
---
CONFERENCE
The 39th Annual Antique Jewelry & Art Conference ("Jewelry Camp"), the leading resource for antique and estate jewelry education, brings together jewelry professionals and collectors for in-depth learning and networking opportunities August 4–6, 2017, at Hofstra University in Long Island, NY. The conference includes lectures and hands-on sessions by highly regarded industry leaders to facilitate attendees' success in today's antique, estate, and vintage jewelry markets.
Jewelry Camp kicks off on Friday, August 4, with a special lecture and networking. Saturday, August 5, and Sunday, August 6, include two full days of presentations led by industry dealers, museum curators, art history professors and more. The popular Dealer's Night, with dealers from around the country displaying their unusual and hard-to-find pieces for sale, caps off Saturday evening. To register, please contact Mr. Lewand at 516-429-2622 or [email protected]. Learn more at www.jewelrycamp.org.
---
EVENT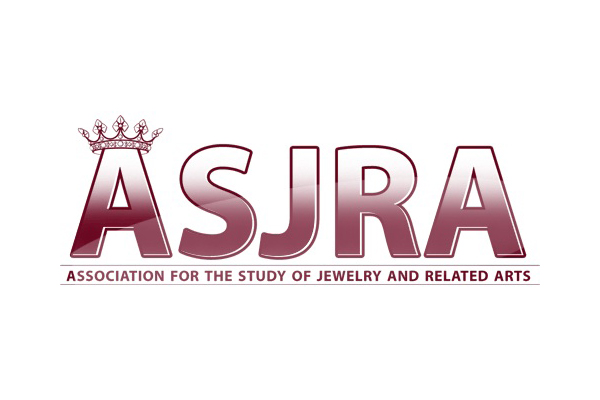 You are invited to join the Association for the Studio of Jewelry and Related Arts (ASJRA) for a delightful and exciting panel of speakers—including curators, historians, gemologists, and jewelry artists—offering perspectives from diverse areas of the jewelry world. The event takes place in Boston, Massachusetts, from June 9–10, 2017.
---
INTERESTING LINK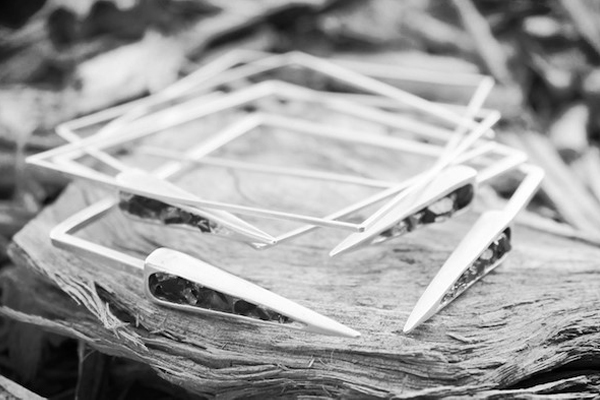 Have you ever wondered what goes on behind the scenes of a juried jewelry grant? It's more complicated than you might think. Halstead Bead awards a grant each year, and Cathleen McCarthy wrote about her experience serving as a juror in the 2016 cycle.
Take a look—it always helps to go behind the scenes to understand how things work.
---
INTERESTING LINK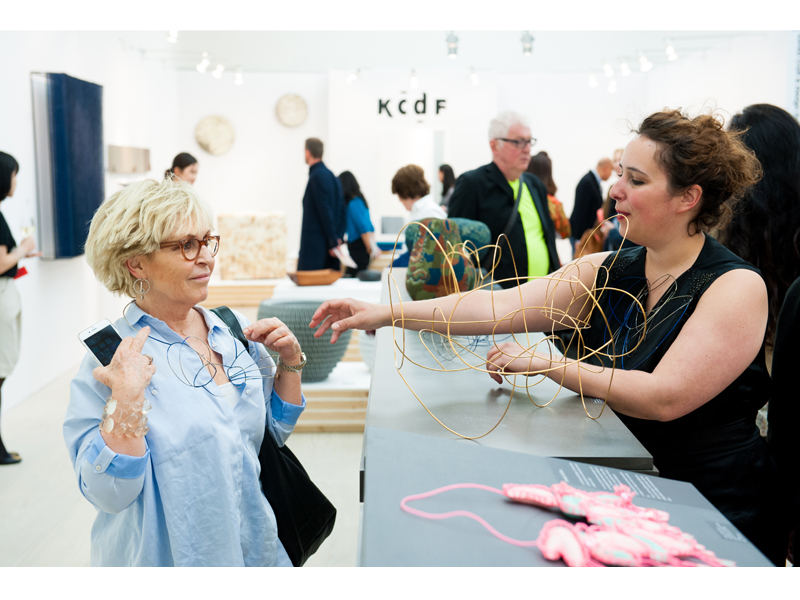 Two recent New York Times articles look at art fair art markets around the world. First, take a look at the complexities of the worldwide art market in an article that examines the shifting statistics and the vagaries of value. Then follow up with a review of the newer Art Fairs in Brussels and how they contribute to the constantly changing possibilities available to artists, galleries, and collectors alike. As someone recently commented, how is it possible to see them all?! For a guide to the jewelry world's art fairs, take a look at Surging and Hopeful: Jewelry Weeks around the World for an inside look at our own art market dilemmas.
---
INTERESTING LINK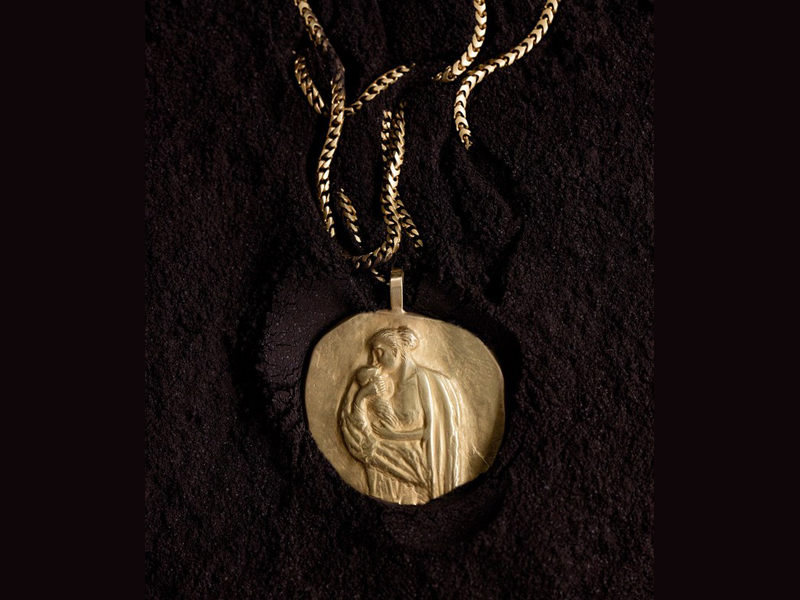 "I wanted to create something that represented timeless love," explained Kanye West. The Yeezy designer was speaking about his first jewelry collection, a line of sculptural gold rings and heavy chain pendants that launched in early April. A collaboration with Jacob the Jeweler's Jacob Arabo, the 12 pieces were inspired by 14th-century Florentine art, such as Donatello's bas-relief portraits, and they evoke a certain classical romance.
What do you think?…
---
OBITUARY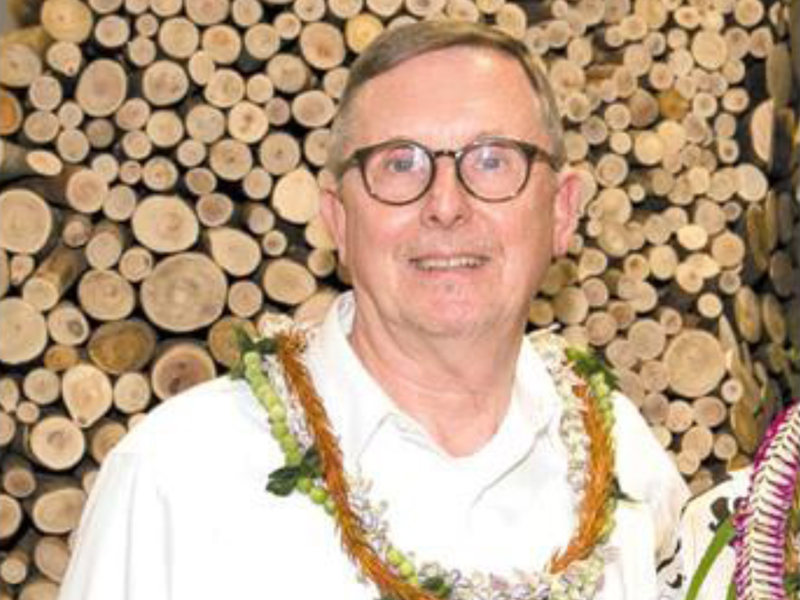 James Jensen, chief curator of contemporary art at the Honolulu Museum of Art, died on April 12, 2017, in Honolulu. His physical departure leaves an enormous void for all who knew him personally and through the amazing exhibitions he organized during his career.
Though deeply immersed in modern and contemporary painting, sculpture, photography, and conceptual art, he was no stranger to ethnographic, modern, and contemporary jewelry. In 1986, Jensen brought the Helen Williams Drutt Jewelry Collection to the Contemporary Museum in Honolulu (now merged with the Honolulu Academy of Art to become the Honolulu Museum of Art). Brooching It Diplomatically: A Tribute to Madeleine Albright was exhibited in 1999. In the year 2000, Manfred Bischoff: Jewelry and Drawings and Kiff Slemmons's The Thought of Things were both exhibited at The Contemporary Museum in Honolulu.
Under his guidance, it was not unusual to observe a museum showcase of ornaments indigenous to the Hawaiian Islands with contemporary responses in jewelry by regional artists alongside—in particular rare carved ivory contemporary leis or fabricated assemblages of unique stones and native shells. From an appreciation of Slemmons and Bischoff to the romance of the rare Ni'ihau shells, Jay was encyclopedic in his knowledge as well as in his constant search for unique creative expressions in jewelry.
At the time of his death, we were organizing an exhibition that would be central to international contemporary jewelry, scheduled for 2019. That project cannot continue without James Jensen—a man for all seasons!
—Helen W. Drutt English, April 19, 2017
---