Art Jewelry Forum's network of gallery supporters has increased to more than 60 international galleries focused on featuring art jewelry. On Offer is a monthly series that allows AJF galleries to showcase a piece that they've personally selected to tempt and inspire you. Please contact the gallery directly for inquiries. Enjoy!
MUSEUM WORTHY
Facèré Jewelry Art Gallery—Jan Yager is an important American jewelry artist whose works are part of major collections around the world, including the Renwick Gallery of the Smithsonian American Art Museum and The Museum of Fine Arts, Boston. She had a solo exhibition at the Victoria and Albert Museum in 2001. This chicory leaf brooch with tire mark imprint is part of her Flora/City Flotsam collection of jewelry made between 1990 and 2000. During this time, Yager collected the detritus of the city block surrounding her studio, including weeds, spent cartridge casings, and syringes, which she used directly in her pieces or interpreted in metal. Yager is highlighted in the "Landscape" episode of the PBS series Craft in America, in which she speaks of this body of work as messages and mnemonic devices—tokens of society's defining struggles, past and present. This is a deeply researched series with a limited number of pieces produced. We are pleased to have this seminal brooch for purchase in the gallery.
RETAIL: US$2,860
CONTACT: Madeline Courtney
---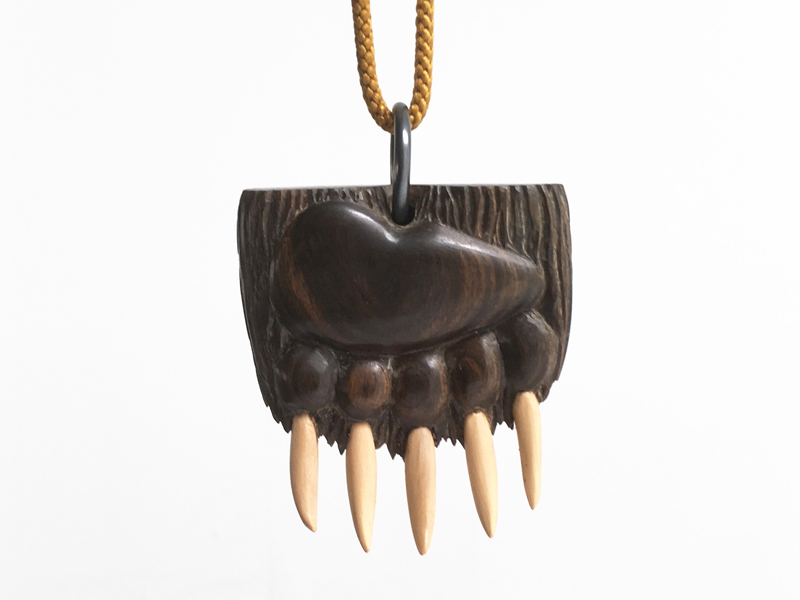 Velvet da Vinci—Jane Dodd's meticulously carved bone and wood pendants take the form of wearable objects, each representing symbolic elements drawn from the natural world. "With these pendants," Dodd states, "I want to honor the simple, elegant forms of the animal world. The subject of the work is the battle between nature and culture."
A group of Dodd's pendants were featured in the Schmuck 2017 exhibition in Munich. Her work can be found in the permanent collections of the Museum of New Zealand Te Papa Tongarewa, The Dowse Art Museum (New Zealand), Hawke's Bay Museum (New Zealand), and many private collections.
RETAIL: US$1,250
CONTACT: Mike Holmes
---
ESTABLISHED ARTIST
De Novo Fine Contemporary Jewelry—Joan Parcher is known for creating rich matte finishes in enamel. This bracelet has a gorgeous palette of rich, warm hues. It moves nicely on the wrist and also makes a lovely sound when you wear it as the disks move against each other.
RETAIL: $750
CONTACT: Cherry LeBrun
---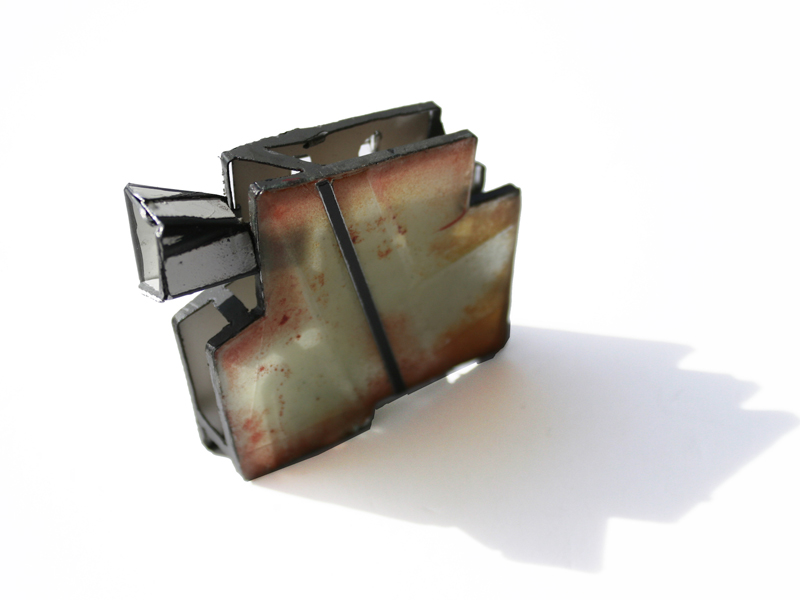 Galerie Noel Guyomarc'h—Silvia Walz studied metals design at the Fachhochschule Hildesheim between 1985 and 1991, followed by a year spent studying at the Escola Massana in Barcelona from 1988 to 1989, where she later taught. She is married to Catalan jeweler Ramon Puig Cuyàs and lives in Barcelona. Her jewelry is expressive of her Mediterranean environment.
Walz works in mixed media, including various metals, tissue papers, enamel, textiles, woods, resin, and ceramic. The titles of her brightly colored assemblages link them to figures from history and myth. Walz's intention is to create visual records of emotion, which might be shared by the wearer. She is attracted to the magical qualities of jewelry as charms or talismans, and as a conceptual link between people. Her jewelry has been exhibited internationally at venues in Germany, France, Spain, the United States, and Canada. Galerie Noel Guyomarc'h has represented Walz since 2006.
RETAIL: US$890
CONTACT: Noel Guyomarc'h
---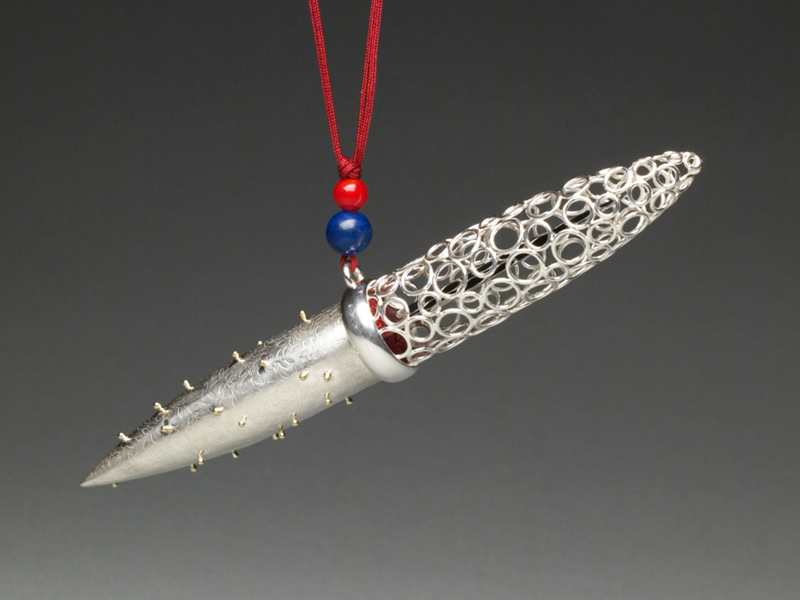 L.A. Pai Gallery—A retrospective of Kye-Yeon Son's sculptural work will be displayed at the Korean Cultural Centre beginning May 4. Simultaneously, from May 5–25, L.A. Pai Gallery presents Kye-Yeon Son, A Retrospective Jewellery Exhibition.  The opening is May 5, 2017, from 5–7 p.m.
Born in South Korea, Kye-Yeon Son earned a BFA at Seoul National University and an MFA in jewelry design and silversmithing at Indiana University. Son has been an influential teacher at the Nova Scotia College of Art and Design since 1995. She's a recipient of the Saidye Bronfman/Governor General's Award (2011) and a member of the Royal Academy of Arts (2000).
RETAIL: CAN$1,600
CONTACT: Lisa Pai or Brenda Dunn
---
Slavik—This colorful fan brooch is a cooperation between Helfried Kodré and Heidemarie Herb—a successful composite work. It combines Kodré's technical perfection and Herb's sense of colors and ornament in a perfect way.
RETAIL: €4,400
CONTACT: Renate Slavik
---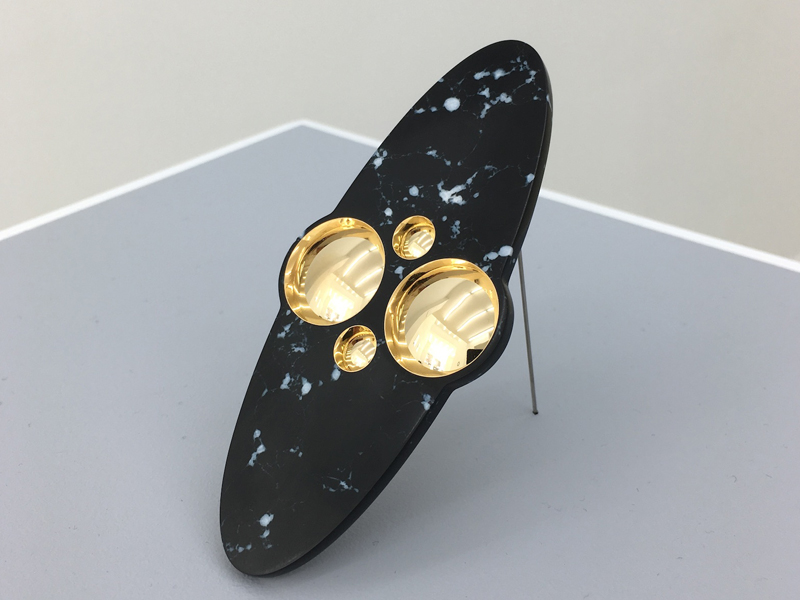 galerie beyond—This piece of jewelry by Jiro Kamata is about the sun. It is a strong memory in his mind of seeing the incredible sunrise at Atacama Desert in Chile. At this moment, he understood clearly why the ancients saw sun and gold as one and the same. Flare is the explosion of the sun's surface, but at the same time flare also means the reflection of light which happens inside of a camera lens.
RETAIL: €2280
CONTACT: René Darmont
---
EMERGING ARTIST
Gallery Loupe—Matt Lambert investigates the material of mirror by its use in the decorative arts as an element found in a room to alter the feeling of space, and as a confrontational device. Physically wearing a mirror confronts others who approach and question who the work is meant for. The mirror works as armor to deflect and distract from the one who is wearing it, thereby presenting the confronted with their own image. Simultaneously, the mirror also draws attention to the physical wearer as an object of bling and its fractal projection of light onto those who surround the wearer. The interaction between the wearer and the observer creates an additional layer of meaning in the work, because the observer becomes a "forced" wearer as he or she is reflected in the mirror. This piece is part of a series featured in our current exhibition, The Body Electric.
RETAIL: US$1,500
CONTACT: Eileen David
---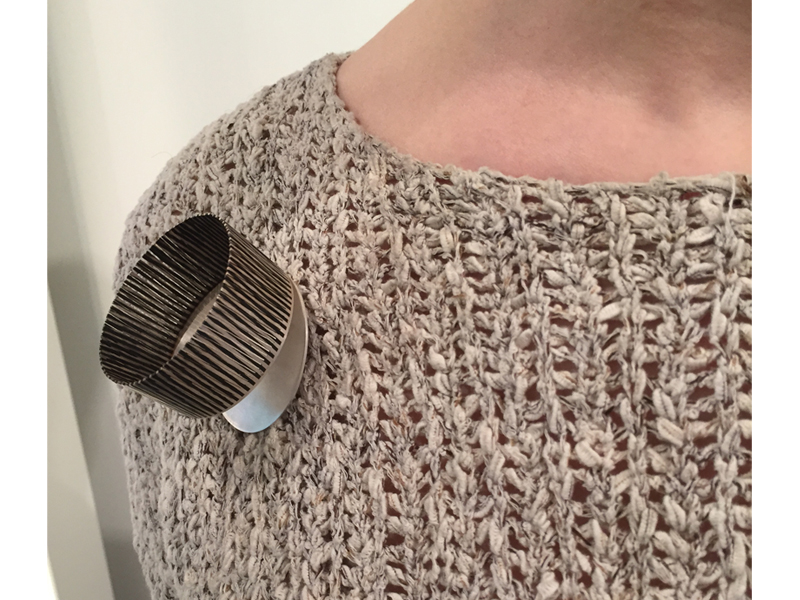 The Gallery at Reinstein|Ross—Lynn Batchelder, who refers to this brooch as "a marriage of metals," works with a steel and sterling silver sheet to combine and create the complex patterning reminiscent of moire fabric. The delicate cuts on the brooch are made using a jeweler's saw and reflect the quality of a line drawn by hand. Aware of the shadows of the cuts that are cast on the inside of the brooch, she gave the brooch a structural "lip" that allows the shadows to be seen with the naked eye.
RETAIL: US$1,275
CONTACT: Bella Neyman
---
GALLERY CHOICE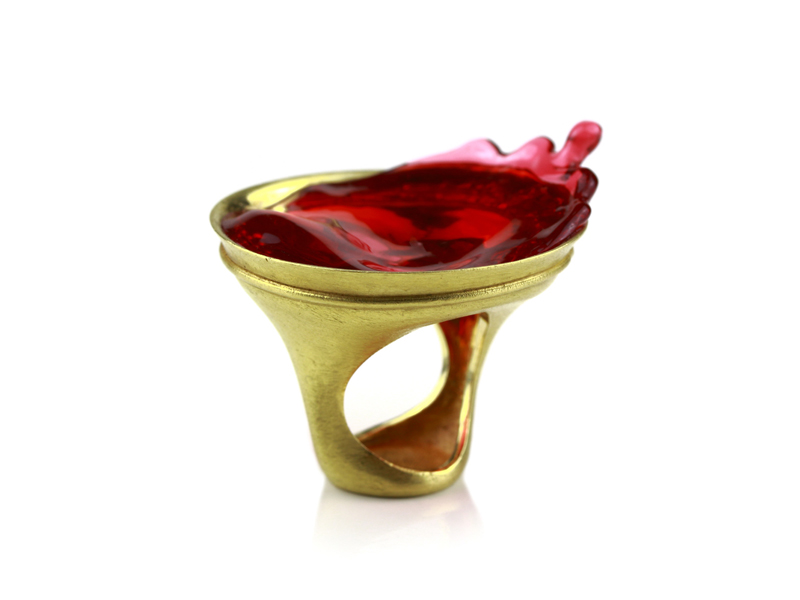 Alternatives Gallery—Luisa Bruni is intrigued by rings. In this piece, the artist makes a fascinating exploration of time, intended as the ability to capture and freeze a particular moment, just like we do when using a camera to take a picture. To achieve this, she uses a combination of sculpting and goldsmith techniques.
RETAIL: €8,895
CONTACT: Rita Marcangelo
---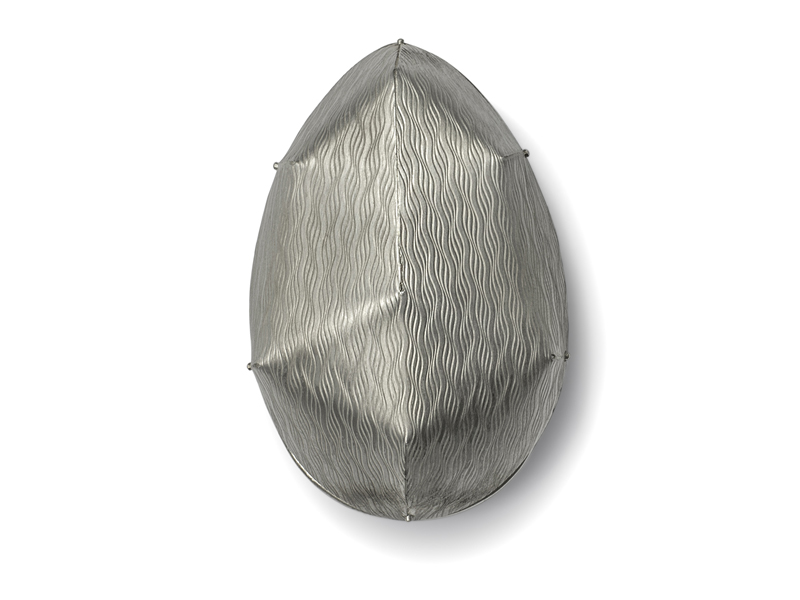 Four—Frieda Dörfer's piece carries two seemingly incompatible expressions. It's strict and straight and at the same time sensual and romantic. The hard and cold metal, the symmetry, and the tight shape confront a sensitively patterned surface that gives the piece a soft appearance reminiscent of lace and textile. The brooch shifts from what is traditionally connected to masculinity to what is often referred to as feminine and it illustrates how elusive and indefinable these concepts are. The Egg Shell brooch was inspired by Fabergé eggs, but the piece is only one half of an egg—it needs a wearer to be complete.
RETAIL: 11,200 SEK
CONTACT: Karin Roy Andersson
---
Hedone Gallery—Federica Sala's work is deeply based on a scientific approach to materials that she manipulates to create things never seen before. By pushing the boundaries of glass, she has learned how to embed metal and stones directly into it, rather than using it as a support structure. Her focus is always on finding and stressing the inner tension of things in order to create pieces impossible to even imagine.
An emerging artist, Sala holds an MFA in contemporary jewelry from Alchimia Contemporary Jewellery School in Florence and an MA in fashion design. During her studies, she was tutored by several noted international jewelers, including Jorge Manilla, Ruudt Peters, Peter Bauhuis, and Giorgio Vigna. Her master's thesis, True Lies—A Collection of Oxymorons, was nominated for the Stanislav Libenský Award 2015 and was exhibited at the Glass Museum in Prague. Her piece called Unbearable Lightness was selected as one of the 10 best jewelry pieces of Munich Jewellery Week 2016. In the same year, she received the Marzee International Graduate Prize 2016, an international competition featuring the work of over 100 students from 40 schools, and her pieces are part of the Marzee private, permanent collection in Holland.
Her work has been exhibited at the Museum of Arts and Design in New York; the Wheaton Arts and Cultural Center's Glass Weekend; the Society of Arts and Crafts in Boston; SOFA Chicago; and Munich Jewellery Week, among others.
Sala lives and works in Milan, where she has just become the head of the jewelry department of IED – the European Institute of Design.
RETAIL: $1,700
CONTACT: Bonnie Levine
---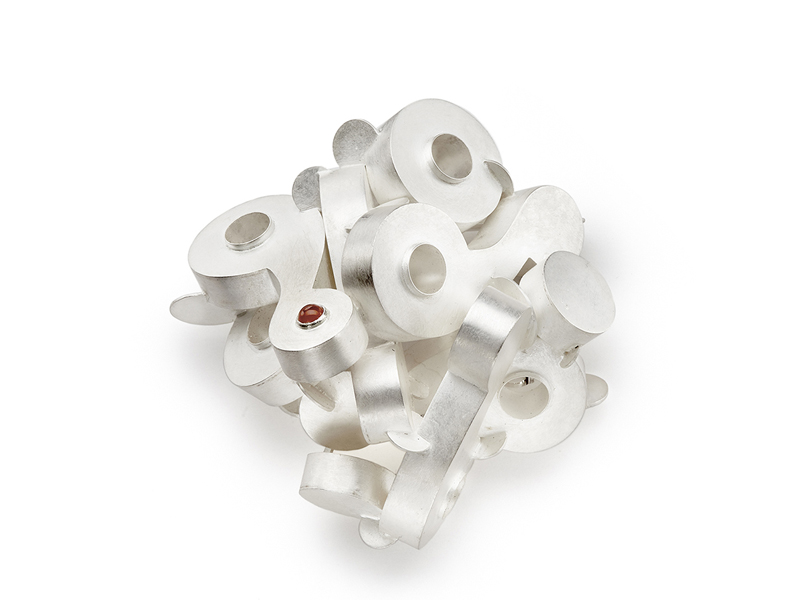 In the Gallery @ Brooklyn Metal Works—Ping #5, by David Hardcastle, is the result of a jewelry dialogue and exchange between two artists. Utilizing the process of jewelry making to initiate a conversation, Hardcastle and Samuel Guillén exchanged a piece of jewelry made by each and given to the other to spark a response that takes the form of another, new piece of jewelry.
Beginning in 2015, the first two pieces, Ping #1, were exchanged, resulting in two new pieces, Pong #1. Continuing through 2017, this project consists of five iterations, or conversations, for a total of 20 pieces on view. Each Ping-Pong grouping is the exploration of process in terms of aesthetic achievements, discoveries, and technical specificity.
Hardcastle continues to be enthralled by the problem-solving discipline of jewelry design and the captivating physicality of a sculptured object. From this perspective, and with considerable technical and metal fabrication skills, he creates miniature worlds of wonder whose weight and substance can be held in the hand and felt around the neck, wrist, and finger. See more work in the exhibition Ping-Pong: David Hardcastle & Samuel Guillén: 2 Jewelers in Conversation, through May 21, 2017.
RETAIL: US$4,200
CONTACT: Brian Weissman
---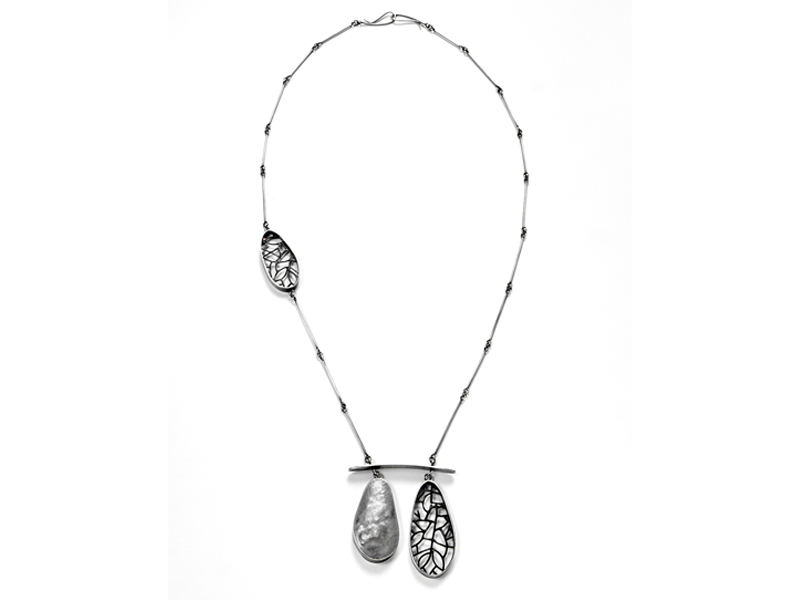 Lillstreet Gallery—Baltimore-based jewelry artist Beverly Tadeu is the Lillstreet Gallery Featured Jewelry Artist for the month of May. Her Duality Necklace is indicative of her affinity for sculpture, yet has all of the elegance and delicacy required of jewelry. Entirely hand fabricated, the chain contains an element of Tadeu's signature flora-inspired open structure. The necklace finishes asymmetrically in a pendant that is half hollow-formed and half open-work, but wholly organic.
RETAIL: US$720
CONTACT: Nora McCarthy
---
OONA Gallery for Contemporary Jewellery—The elements of this necklace are moving, slightly tinkling, evoking summer with blades of grass blown by smooth winds. Karin Johansson combines gold and aluminum with acrylic. The different materials in a beautiful range of green-lime-yellow, both shiny and matte, generate a lively piece of jewelry.
RETAIL: €2900
CONTACT: Anna Schetelich
---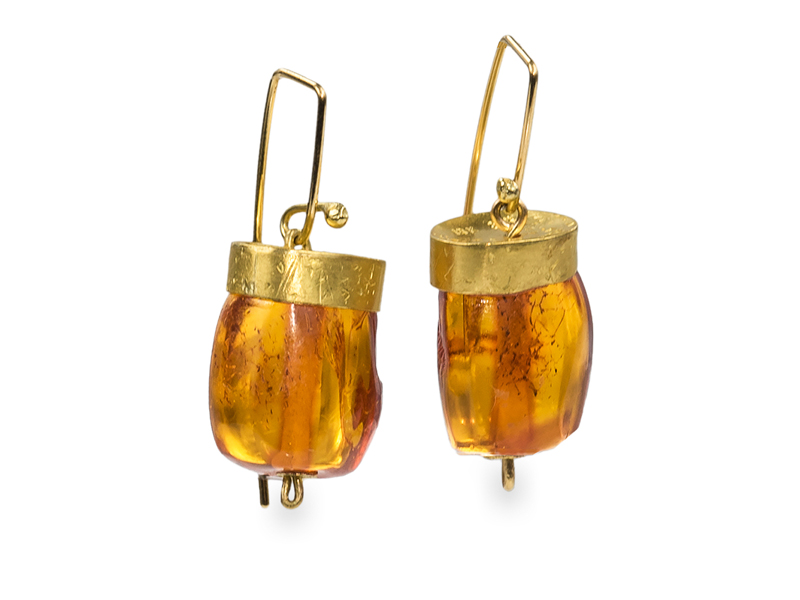 Patina Gallery—It's said that amber is at once soothing, calming, and energizing … and yet mysterious. What secrets do these amber earrings hold deep inside the glassy shell of the gem? That intrigue will hold the attention of everyone who sees you wearing these earrings. Alexandra Watkins augmented these irregular, honey-gold amber drops with settings in high-karat gold. She chose amber for a reason: Fine contemporary design teases out the unknown that is locked inside amber's ancient grip.
RETAIL: US$2,115
CONTACT: Linda Childers
---