Art Jewelry Forum is pleased to share the news that members of our community find noteworthy. Is something missing? The success of this compilation of compelling events, exhibitions, and items of interest to the jewelry community depends on YOUR participation.
If you're a member of AJF, you can add news and ideas to the monthly report by going here. If you aren't a member, but would like to become one, join AJF by making a donation.
MUSEUM EXHIBITION–CLOSING SOON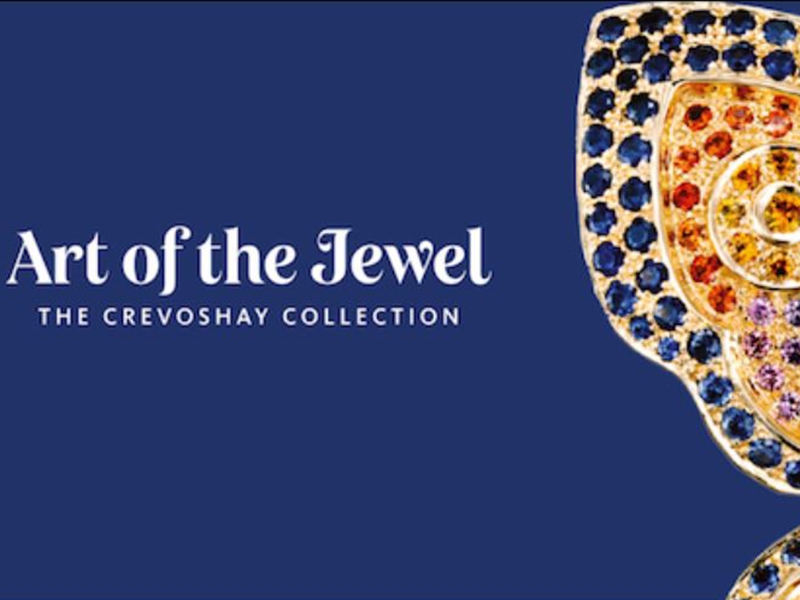 Art of the Jewel: The Crevoshay Collection. Journey through the masterpieces of jewelry designer Paula Crevoshay, witnessing the transformation from mineral to gem to jewel. The Gem and Mineral Vault at the Natural History Museum of Los Angeles County features over 50 luxurious pieces of jewelry—including earrings, bracelets, and brooches—made of California tourmaline, Montana sapphire, moonstone, pearl, and black diamond, among others. Inspired by Crevoshay's passion for art, science, and the natural world, the jewelry takes the form of plants, animals, and insects, including orchids, butterflies, spiders, and more. Discover the natural process of mineral creation, the characteristics that define a gem, and the art that transforms them into elegant jewels. Known as the "Queen of Color," Crevoshay is a renowned artist and jewelry designer. Her deep understanding of mineralogy, gemology, and the art of carving and cutting stone transforms raw minerals into luxurious jewelry. Through May 12, 2019.
MUSEUM EXHIBITION–CLOSING SOON
Le Temps des Collections VII: Did Someone Say Jewellery? This program, launched in 2012 at the Museum of Fine Arts in Rouen, is one of the first initiatives in France to put collections back at the heart of museum exhibitions. In this seventh edition, fashion and textiles are the opportunity to unveil to the public the rich collection of jewelry held by the Réunion des Musées Métropolitains. Ornaments from Oceania, 18th-century necklaces and chatelaines, Merovingian fibulae, amulets from New Guinea, Gallo-Roman treasures, traditional jewelry of Normandy—the collections of the museums of the Réunion des Musées Métropolitains are rich in an exceptional diversity of pieces which allow us to question the place of jewelry and adornment in human societies. With an emphasis on the symbolic, social, sentimental, gender, or political values attached to these ornaments, this exhibition presents pieces from the collections of the Museum of Antiquities, the Fabrique des Savoirs, the Museum of Natural History, the Museum of Fine Arts, and the Museum Secq des Tournelles, gathered together for the occasion. While some works are regularly featured in the permanent collections, others are on display here for the first time. Through May 19, 2019.
MUSEUM EXHIBITION–CLOSING SOON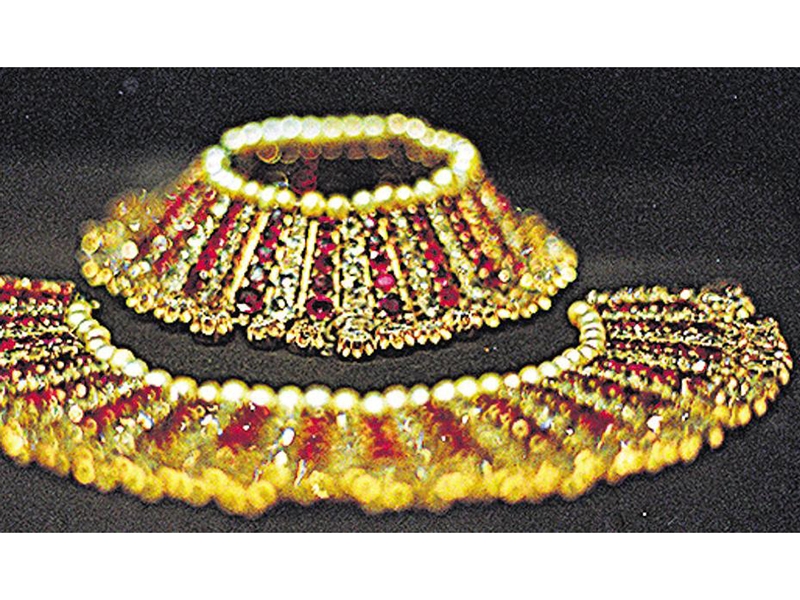 Jewels of India: The Nizam's Jewellery Collection. This collection includes sarpeches, necklaces, belts and buckles, bracelets and bangles, earrings, armlets, toe rings, finger rings, pocket watch and watch chains, buttons and cufflinks, etc. While the diamonds from the celebrated mines of Golconda and Colombian emeralds predominate, Burmese rubies and spinels and pearls from Basra and the Gulf of Mannar, off the east coast of India, also form part of the exhibition. All the jewels are flamboyant, yet amidst the dazzle of precious gems, individual pieces stand out by virtue of their antiquity and craftsmanship. Most outstanding among this collection is the imperial diamond now known as the Jacob diamond, weighing 184.75 carats, a fabulous weight for any single gemstone—almost double the size of the Kohinoor Diamond (in its present shape). There are also an exceptionally large variety of cut emeralds, emerald drops, emerald beads, Taveez and many other shapes of jewelry from Colombia and Russia and two ornamented belts, one studded with a cut and the other with a carved emerald. The quantity of emeralds may run into a couple of thousand carats. At the National Museum in New Delhi, through May 5, 2019.
MUSEUM EXHIBITION–CLOSING SOON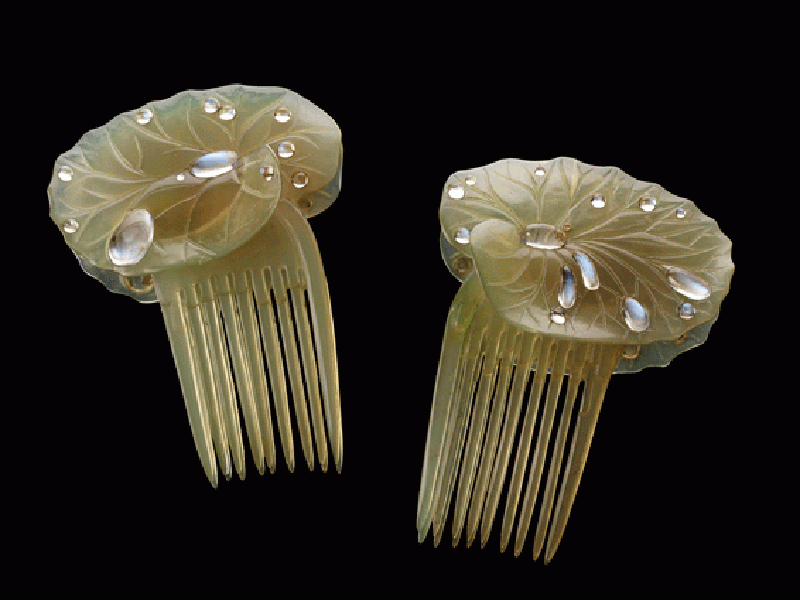 Maker & Muse: Women and Early 20th Century Art Jewelry, at the Flagler Museum in Palm Beach, FL, USA, until May 27, 2019, features more than 250 pieces of jewelry created in the early decades of the 20th century. During this vibrant period, jewelry makers in the world's centers of design created audacious new styles in response to the growing industrialization of the world and the changing role of women in society. Their "alternative" designs—boldly artistic, exquisitely detailed, handwrought, and inspired by nature—became known as art jewelry. This exhibition explores five different areas of art jewelry design and fabrication: the Arts and Crafts Movement in Britain, Art Nouveau in France, Jugendstil in Germany and Austria, Louis Comfort Tiffany in New York, and American Arts and Crafts in Chicago. Works created by both men and women are exhibited together to highlight commonalities while illustrating each maker's distinctive style. In regions or movements that saw few women present in the workshop, the female nonetheless remained unquestionably present in the mind of the designer. Not only did art jewelers intend to highlight the fashionable clothing and natural beauty of a woman during this period, they also often represented her within the work itself.
EXHIBITION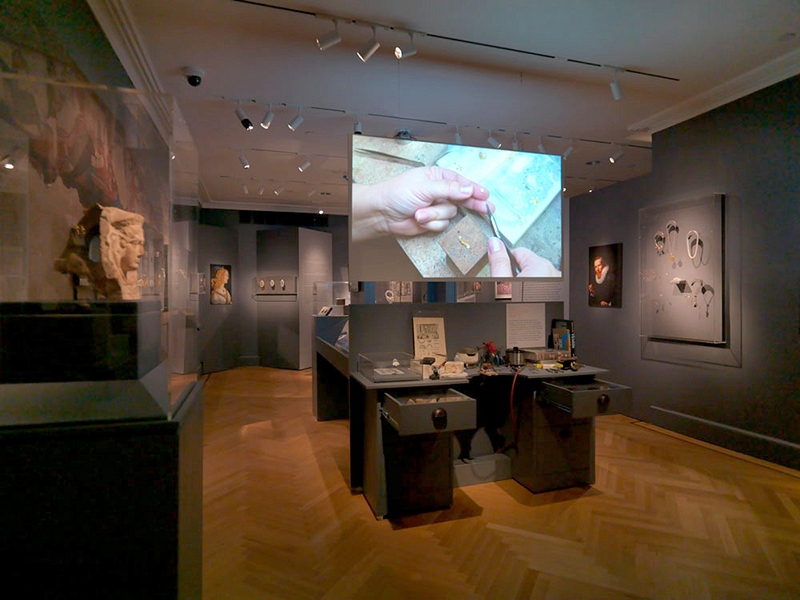 A View from the Jeweler's Bench: Ancient Treasures, Contemporary Statements. This exhibition, at the Bard Graduate Gallery through July 7, 2019, explores how contemporary jewelry makers are drawing from antique forms and techniques to create modern works of art. It's curated by Sasha Nixon, a recent alumna of Bard Graduate Center. The gallery presents the exhibition at a time when art and academic institutions are increasingly focused on contemporary art jewelry, and in a moment when ancient jewelry has become a prevalent source of inspiration for contemporary jewelry artists. The exhibition focuses on how contemporary artists working with jewelry create the final form of a piece at the jeweler's bench. To convey this process, the exhibition includes a bench, sketches, and tools. It also considers how jewelry from the ancient world to the present informs contemporary practice by comparing recent pieces to their precedents. This organizational structure illuminates the connections between present and past—in terms of form, technique, and materials—so that visitors can better see how artists are reconsidering the art of adornment and age-old jewelry forms in exciting new ways.
MUSEUM EXHIBITION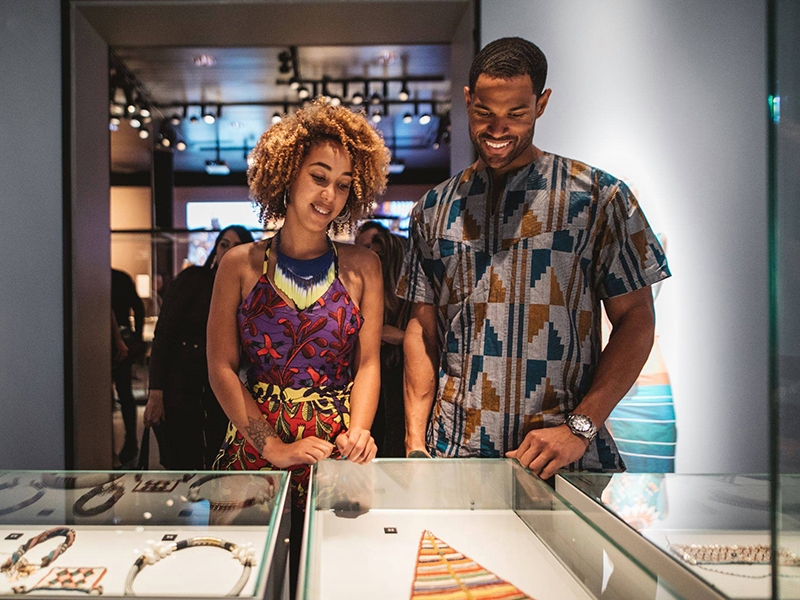 The exhibition Jewelry – Made by, Worn by presents jewelry of gold, silver, beads, and natural materials, including wood, feathers, hair, paper, and copper, covering a period of many centuries. It also includes contemporary jewelry by designers from around the world. Their work shows an appreciation of traditional techniques, motifs, and materials, sometimes as a source of inspiration for new applications, sometimes in combination with contemporary techniques. This yields exciting and impressive jewelry, such as the rings of Johanna Dahm, who learned the casting method of an Asante master goldsmith from West African Ghana. Billed as one of the largest collections ever of jewelry in a Dutch museum, the exhibit is on view at the Afrika Museum, located in Berg en Dal, a village near Nijmegen, in the Netherlands, through June 2, 2019. A special catalog has been compiled for the show; in addition to beautiful background stories, it takes the reader into the world of different materials, with information about the 700 different objects on display.
MUSEUM EXHIBITION
Ornamental Traditions: Jewelry from Bukhara, at the Art Institute of Chicago, through June 30, 2019. Located in present-day Uzbekistan, the Emirate of Bukhara (1785–1920) was an important center of Islamic religion and scholarship and a major oasis on the Silk Road, which traversed Central Asia from ancient times. Some of the most magnificent examples of Uzbek jewelry come from the court of the last emir of Bukhara, Mohammed Alim Khan (1880–1944), where men and women dressed in embroidered silks, fine silver, and enameled jewels. Their jewelry served various functions, often simultaneously: indicating political status and wealth, signifying religious and spiritual practice, and marking important rites of passage or ethnic identity. This exhibition brings together nearly 50 jeweled objects from the Central Asian region of Bukhara—promised gifts from the private collection of Barbara Levy Kipper and her late husband, David—and rare ikat and embroidered textiles from the Art Institute's permanent collection. The jewelry and decorative objects presented in this exhibition offer an exceptional experience of a rich and vibrant artistic heritage rarely seen outside the former Soviet Union.
MUSEUM EXHIBITION
Vikings: Beyond the Legend is the largest touring exhibition of Viking artifacts in the world. The immersive experience, with 650 artifacts ranging from exotic jewels to three Viking warships, includes the 37-meter Roskilde 6, the longest Viking warship ever found, featuring approximately 1,000-year-old wooden planks and metal supports showing the ship's original lines. Multimedia and 11 interactive stations bring this historic exhibition to life. At the Royal Alberta Museum through October 20, 2019.
MUSEUM EXHIBITION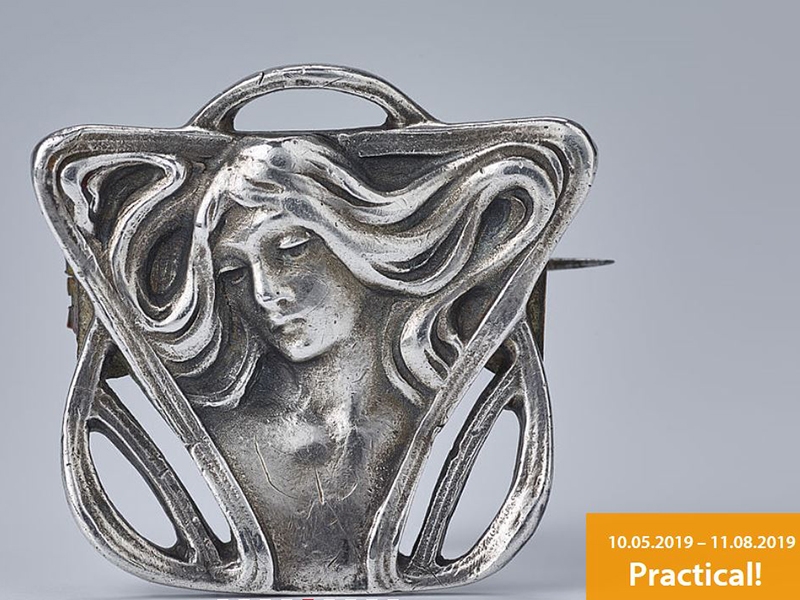 Alltagstauglich! Schmuck von Jugendstil bis Art Déco (Practical! Jewelry from Art Nouveau to Art Deco). From simple to extravagant, but always original and creative—this is how fashionable jewelry primarily for everyday use was designed in the first three decades of the 20th century. Even more strongly than today, a distinction was made between day jewelry and evening jewelry: day jewelry was usually "no diamonds before 6 pm." The favorite material was often silver, sometimes gilded, set with less precious gemstones. As a result, these cheaper to manufacture and purchase pendants, brooches, or bracelets worn by ladies during the day offered plenty of space for innovative solutions and the implementation of new stylistic influences such as Art Nouveau or Art Deco. More than 350 objects, mainly from Germany and Austria and never before shown in public, all come from the private collection of Astrid Ratz-Coradazzi, who invested her pocket money on her first Art Nouveau piece at the age of seven. Not just collecting but also exploring interests and preoccupies her. Having long been assisted by her husband, she successfully works through archives and libraries to link the jewelry with its manufacturer. The exhibition is thus also a "who's who" of German and Austrian jewelry design. At the Hessisches Landesmuseum Darmstadt, in Germany, through August 11, 2019.
MUSEUM EXHIBITION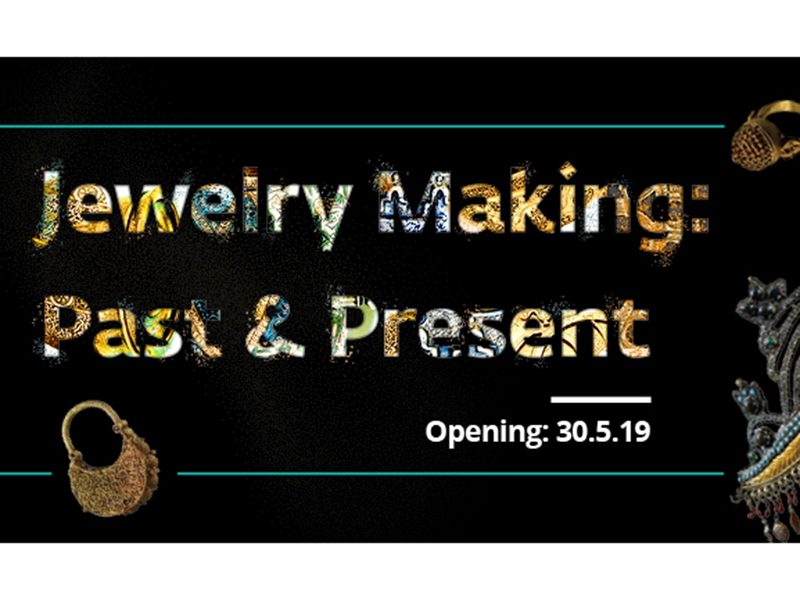 Jewelry Making: Past and Present. This jewelry exhibition brings together traditional Islamic jewelry and contemporary jewelry created in Israel. Also displayed is a juxtaposition of a selection of Jewish, Christian, and Islamic jewelry and items that give an additional dimension to the craftwork of the three religions in Israel. Opening May 30 at the Museum for Islamic Art, Jerusalem, through November 16, 2019.
MUSEUM EXHIBITION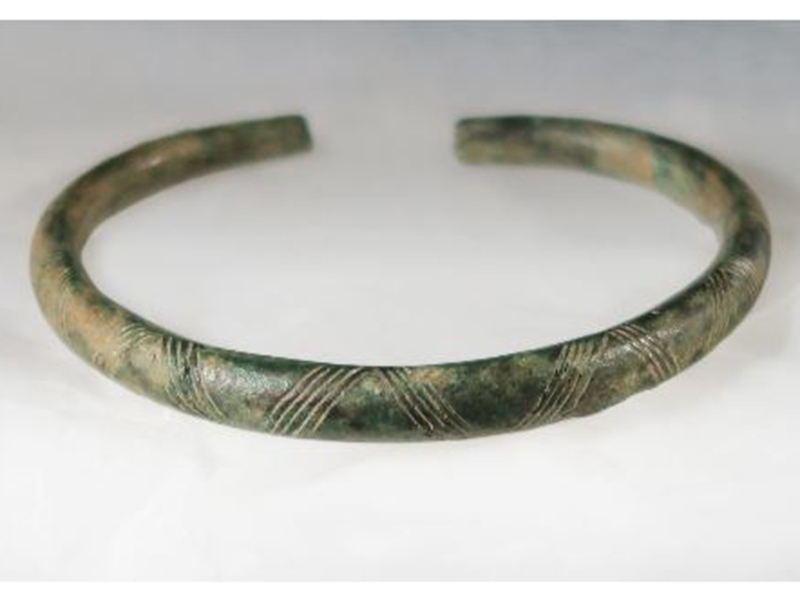 Toujours paré.e.s, de Néandertal aux Romains (Always Adorned, from the Neanderthals to the Romans). Today, the oldest known ornaments are more than 100,000 years old. The jewel represents one of the oldest objects of humanity, still used. It's particularly interesting to employ these objects to better understand the evolution of human societies, from the first Paleolithic beads to Roman rings. The timelessness of jewelry results in continuous types and shapes, plunging us into the distant past but becoming accessible today. At the same time, adornment as an archaeological object is a support to learn and understand these ancient societies and see mirrored the great social transformations that have created the world of today. At the Musée du Colombier, in Alès, France, through September 22, 2019.
MUSEUM EXHIBITION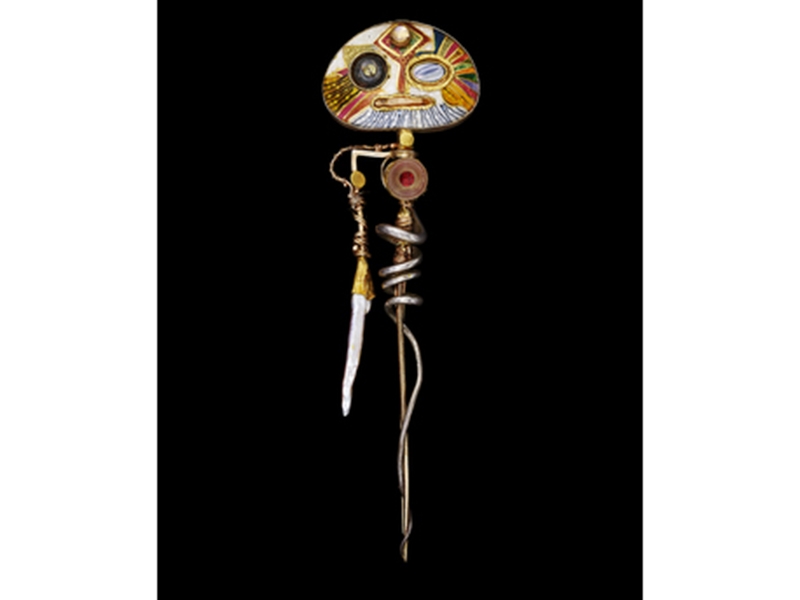 William Harper: The Beautiful & the Grotesque. A 20-year retrospective running through June 14, 2019, at the Cleveland Institute of Art, the more than 60 works of art on view include Harper's exquisitely crafted fine jewelry; display boxes built from assemblages of found objects; paintings; and Japanese-style folding books.
EXHIBITION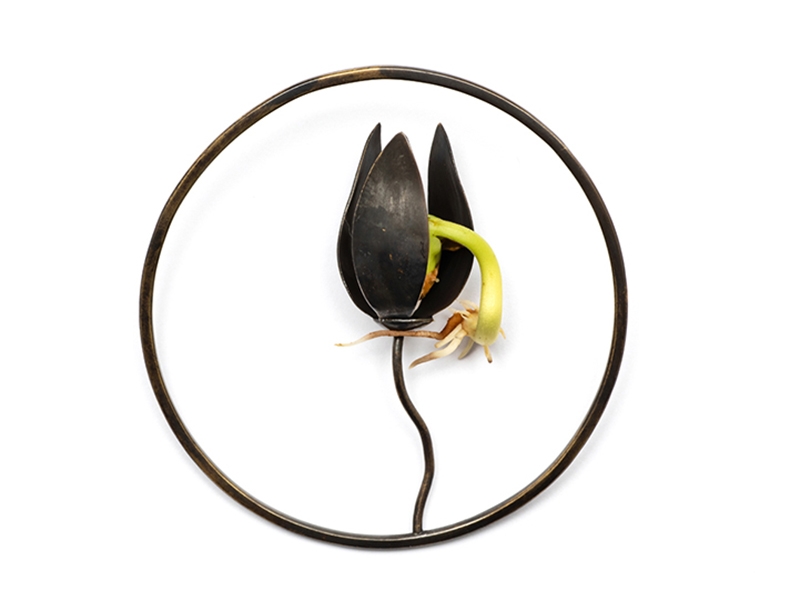 In In Process 2, Dania Chelminsky set beans in metal jewelry and placed the brooches on elevated tables throughout the gallery, as part of an experiment. She designed circles made of blackened brass that relate in size to Petri dishes used in lab experiments. The image of the round dish and the possibility of attaching the jewel to the sprouting action and life process fascinated her. In Process is in fact a connection between two systems—one that is highly planned, man-made, the IN, and the other, PROCESS, as an act of nature. Curated by Michal Castiel, at Vitrine Gallery, Holon Institute of Technology, Israel, through May 3, 2019.
EXHIBITION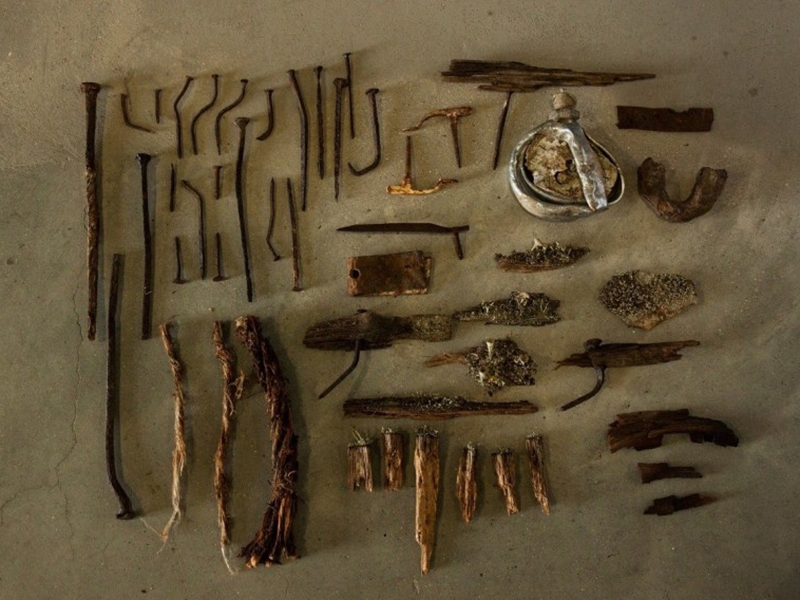 The Vittoria Street Gallery presents Flux, an exhibition showcasing jewelry and artifacts created by the current cohort of artists in residence at the School of Jewellery. Flux is the substance used in soldering and brazing processes. It's also an appropriate term defining the state of the creative process when ideas seem to be in a state of changeability or fluidity. According to the Oxford English dictionary, it's also defined as "the action or process of flowing or flowing out," an apt reference in relation to these "AiRs" who, as recent graduates, are in the process of flowing out into their professional worlds and are also conduits, or the flow of experience, back to students. Through May 10, 2019.
CALL FOR ENTRY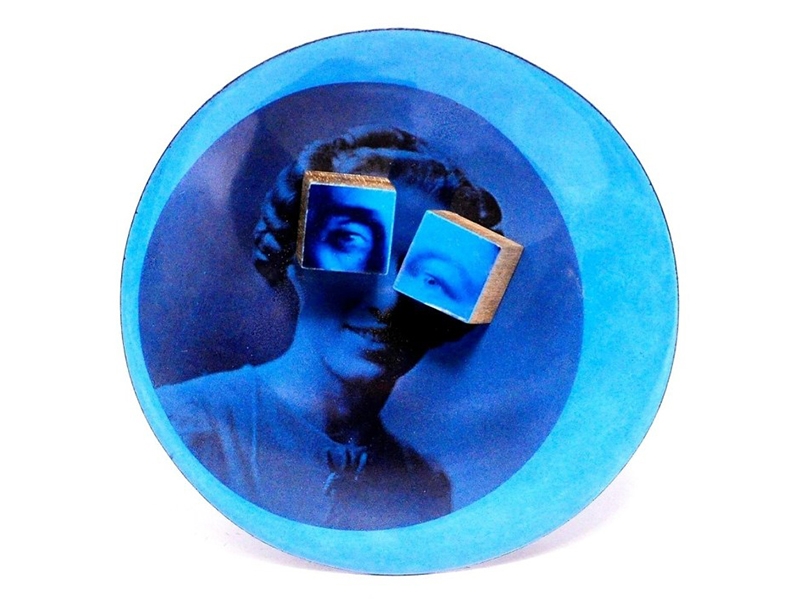 If you'd like to join the Vittoria Street Gallery's School of Jewellery Artist in Residence program, applications are now open for 2019–2020. This is a fantastic opportunity to develop new work and technical skills in a creative environment, working collaboratively within the artist in residence team. You will have an opportunity to exhibit your work in Vittoria Street Gallery and engage with the vibrant and rich community in the school. Applications due by May 31, 2019.
CALL FOR ENTRY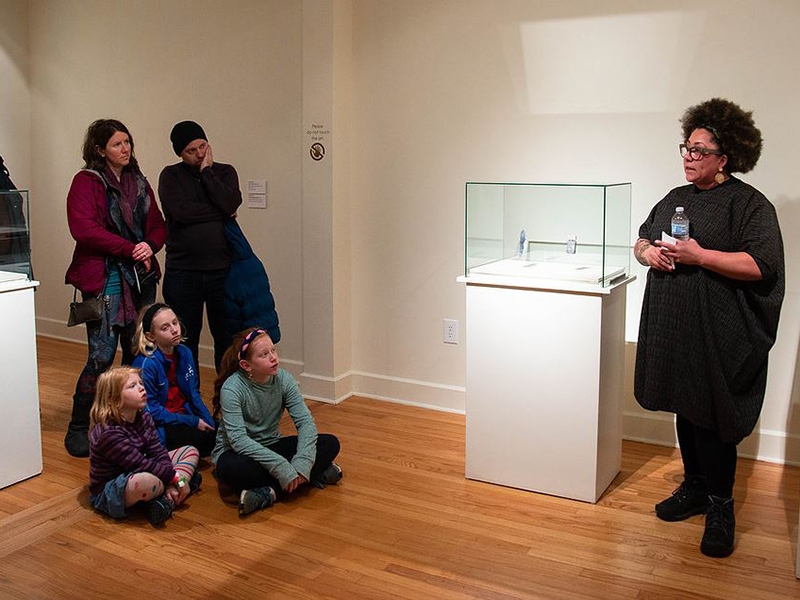 Applications for potential Tributaries exhibitions, which are held at the Metal Museum, are accepted on a rolling basis. The Tributaries exhibition series began in 2008 with the goal of supporting underrepresented and under-recognized metal artists with solo exhibitions at the museum. Derived from the museum's location along the Mississippi River, as well as from the focus of the exhibition series, Tributaries features artists whose work is beginning to have a significant impact on the metal arts community. Along with the exhibition, Tributaries artists travel to the museum to present a gallery talk or slide lecture and some artists elect to teach workshops in the museum's smithy, foundry, or small metals studio. Apply here.
JEWELRY IN THE NEWS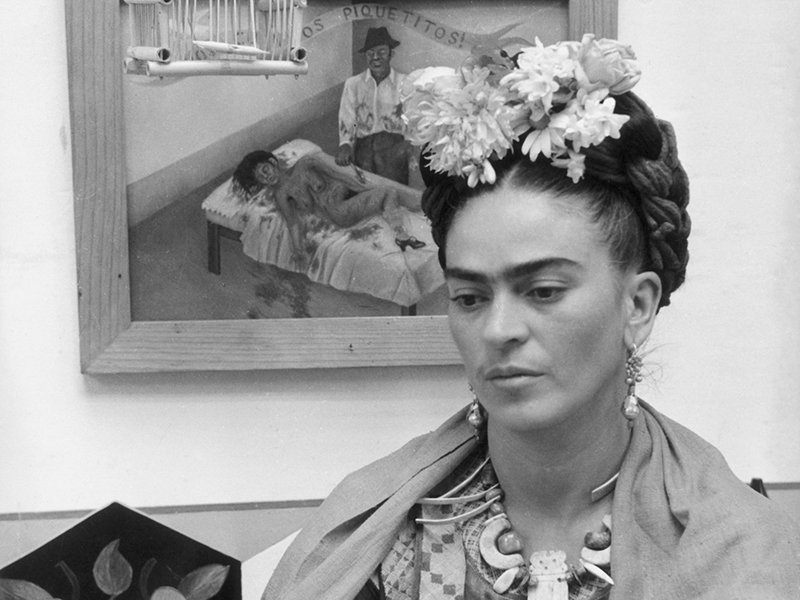 The New York Times recently ran an article titled Cool Jewelry Inspired by Frida Kahlo. The artist was debilitated throughout her life by a spinal injury, and heaping on trinkets was a way of arming herself against pain. In the wake of an exhibition on Kahlo at the V&A, she's described as the original influencer.
JEWELRY IN THE NEWS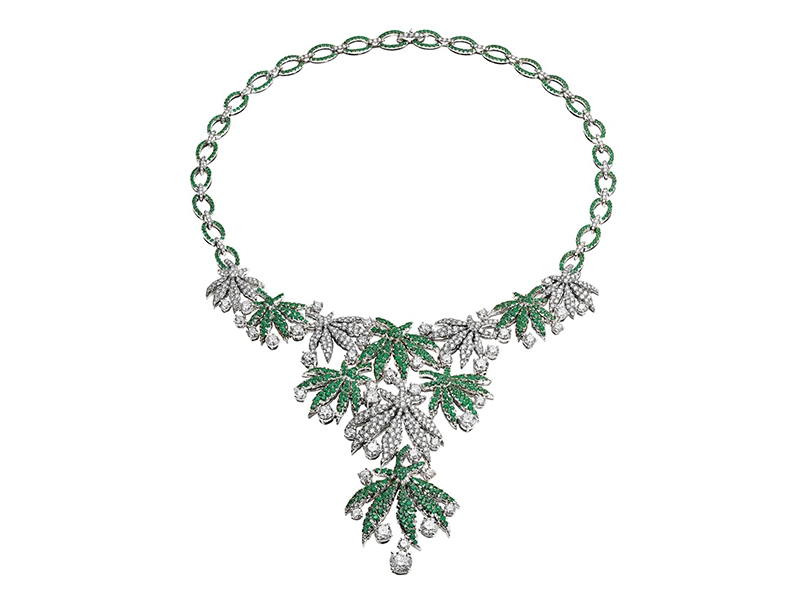 Marijuana Motifs Go From Hippie to High (Jewelry, That Is), says a New York Times headline. "Marijuana is on its way to becoming a billion-dollar industry," said Stellene Volandes, editor in chief of Town & Country, which featured a malachite and diamond version of a Bulgari necklace as part of "an etiquette guide for the high elite" in its February issue. "For jewelry not to reflect that is almost impossible."
JEWELRY IN THE NEWS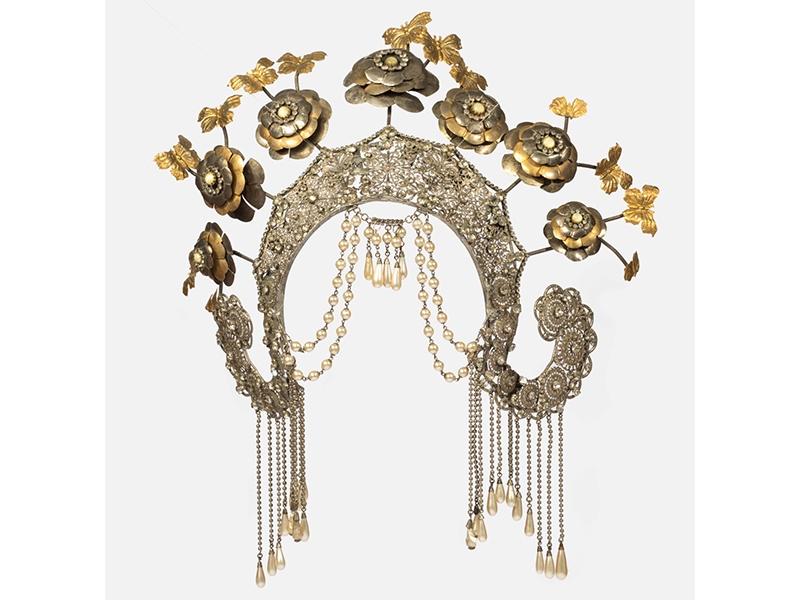 Corbella Milano, a new book, describes the armor, jewelry, and accessories that the company Corbella has made for the opera over almost a century. Read the New York Times article about it, called Adorning the Stars of La Scala.
JEWELRY IN THE NEWS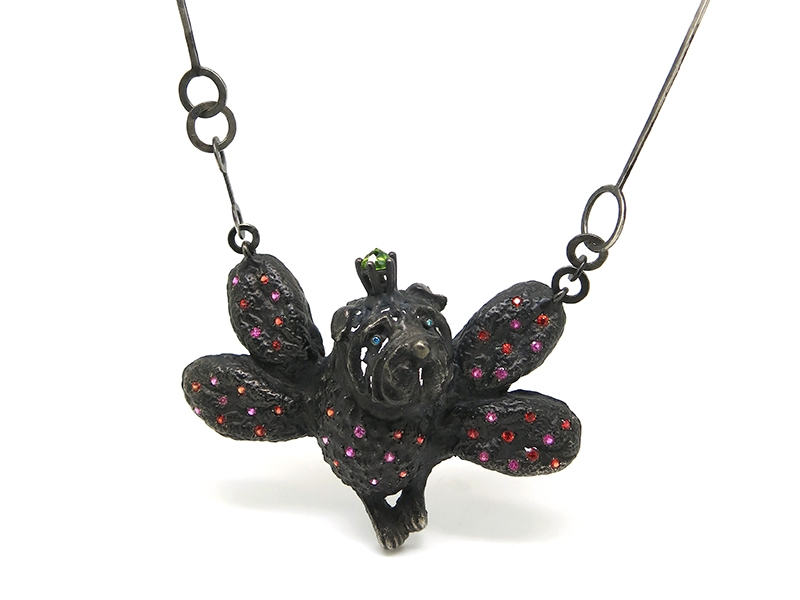 Evolution 2.0 Darwins Darlings are cross-species mutations from crunchy fruits and odd animals. They were part of a discontinued series of experiments on the breeding of meat-producing plants and escaped from an Eastern European laboratory in 2018. They live in a fantasy world that does not seem so far away from our real world. Darwin's Darling Lycheepug Guido, for example, is a sparkling hybrid of a pug crossed with a lychee and a kumquat. Thanks to his black color, he is perfectly camouflaged in the dark. At mating time, his wings sparkle in seductive pink and orange. If Guido feels loved and carried despite his non-conformist appearance, he drops his black cover and switches to the light side. About the Darwins Darlings: "I wanted to counter the serious possibilities of genetic engineering and the serious intentions of the self-improvement movement with a playful examination of the theme of improved nature," says Bruna Hauert. "The Darwins Darlings are cast in wafer-thin wax. I wanted to make them very thin and very light—the silver should be translucent, fragile, and sometimes a bit perforated after casting, underlining their vulnerability. The black color is the perfect camouflage in the undergrowth. The black is removed on the silver by rubbing, then the silver becomes light."
JEWELRY IN THE NEWS
Check out AJF's 2019 Susan Beech Award Recipient Tiff Massey​ featured in Cultured Magazine​, and read about her group exhibition at Red Bull Arts (Detroit)​, where she has spent the last three months in residence.