Art Jewelry Forum's extensive network of international
gallery supporters
is dedicated to celebrating and showing art jewelry. On Offer is a monthly series that allows AJF galleries to showcase a piece that they've personally selected to tempt and inspire you. Please contact the gallery directly for inquiries. Enjoy!

MUSEUM WORTHY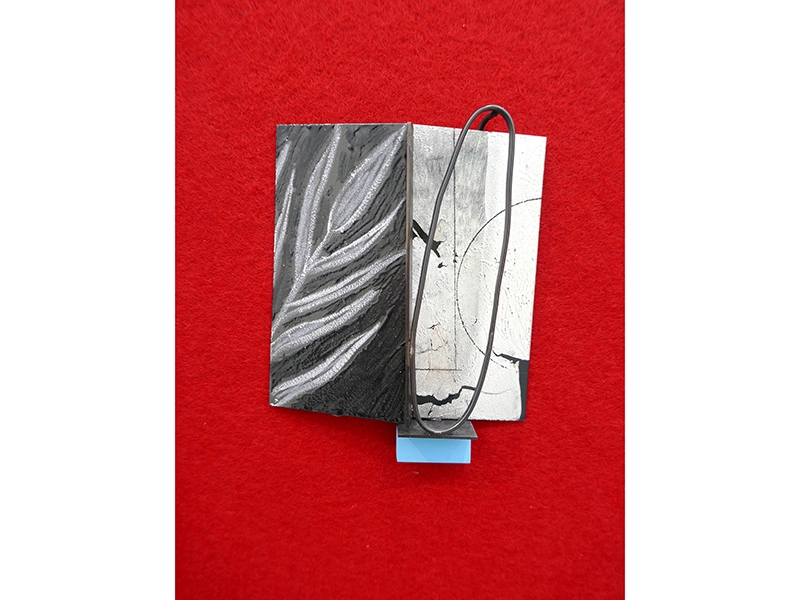 Artist: Ramón Puig Cuyàs
Gallery: Galerie Spektrum
Contact: Jürgen Eickhoff
Retail: €1,670
Ramón Puig Cuyàs (Barcelona, Spain/Catalonia) was professor of jewelry and head of the department at the Massana school in Barcelona until 2017. He's one of the most important jewelry artists of Spain and has a strong influence on the younger generation. This brooch from his 2017/2018 series, Maps to Get Lost in the Forest, is a very prominent work and would be a highlight in any collection.
MUSEUM WORTHY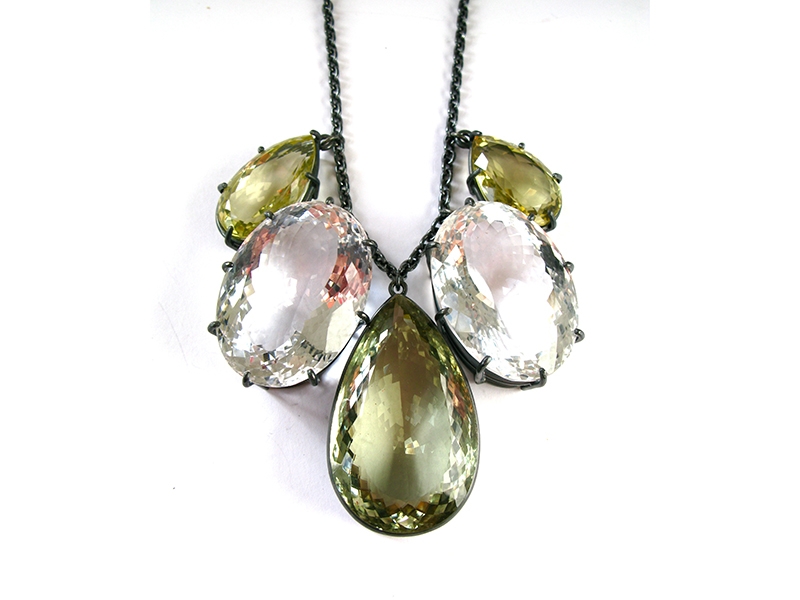 Artist: Georg Dobler
Gallery: Gallery Loupe
Contact: Eileen David
Retail: US$6,500
Georg Dobler's most recent work investigates the big, the bold, and the beautiful. In contrast to the simplicity of his much earlier Constructivist pieces, Dobler's later years bring a playful extravagance, evidenced here by the use of exaggerated, oversized gemstones. We view it as slightly "overdone opulence"— but never at the expense of elegance.
MUSEUM WORTHY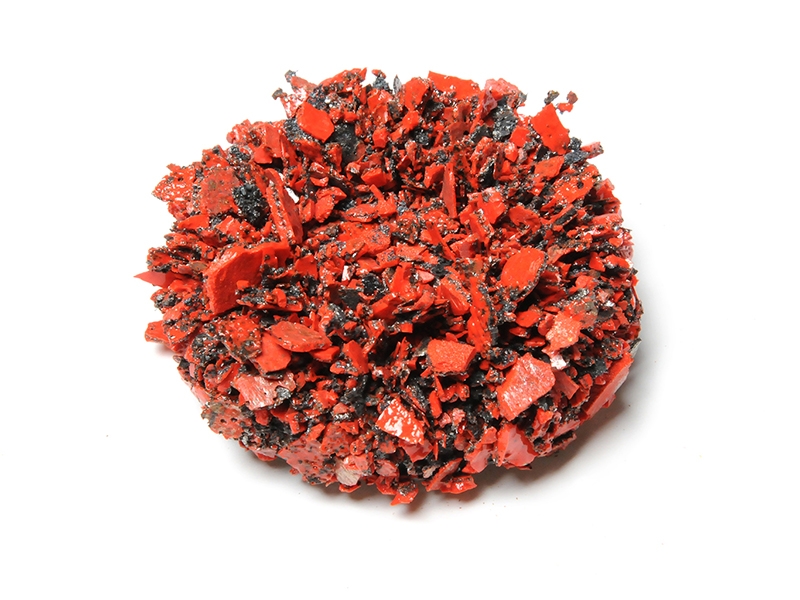 Artist: Bettina Dittlmann
Gallery: Galerie Noel Guyomarc'h
Contact: Noel Guyomarc'h
Retail: CAN$18,000
Bettina Dittlmann lives and works in her native Germany. After completing a goldsmithing apprenticeship in Neugablonz, she joined the prestigious Kunstakademie in Munich, where she studied under Hermann Jünger until 1989. She then completed a master's degree at SUNY New Paltz, in New York state, before returning to the Kunstakademie to complete her diploma, in 1993, under Otto Künzli's supervision. Having moved her studio between the US and Europe on several occasions, she has been settled in Breitenbach, in Western Germany, since 2008. Well known for her enameled iron wire brooches, Bettina is presenting new work made with iron mill scale, which consists of ferrous oxides that form onto iron when heated and forged. Coupling this material with rare earth magnets, she takes advantage of physical laws in order to determine the orientation and organization of each element of the piece. Through the power of magnetic fields, Dittlmann metaphorically represents the social and political turbulence in which we all evolve, constrained by invisible and uncontrollable forces. Arranged concentrically by the magnet's force, like petals, Dittlmann's brooches express turmoil, change, and the ephemeral aspect of life. Some pieces of this limited series are already in major collections.
ESTABLISHED ARTIST
Artist: Oliver Schmidt
Gallery: Galerie Elsa Vanier
Contact: Elsa Vanier
Retail: Starting at €300
The knot is the most comprehensive theme in Oliver Schmidt's entire jewelry collection. This captivating image recurs in many variations and several metals. His knots are tightly tied or loosely looped. This award-winning goldsmith was born near Lake Constance, Germany, in 1970. He first chose an apprenticeship in goldsmithing and then took courses at the University of Applied Arts and Jewelry in Pforzheim. For this jeweler, a piece of jewelry is a snapshot of a movement. The shapes of the design evoke connotations and tell their own tales. They speak of nature, relationships, bonds, and turning points. They can have human references and can spark emotions … in her and in him.
ESTABLISHED ARTIST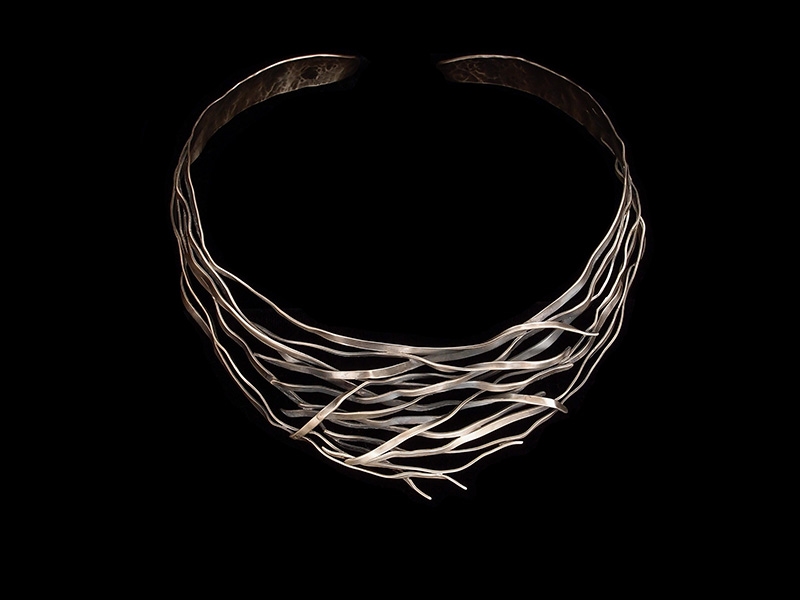 Artist: Beverly Tadeu
Gallery: De Novo Fine Contemporary Jewelry
Contact: Cherry LeBrun
Retail: US$950
This sculptural necklace has a fragile, ethereal quality that belies its inherent strength and durability. The open structure allows you to glimpse inside to the play of shadows and layers revealed. In her pieces, Tadeu endeavors "to capture certain elusive and contradicting qualities, asymmetry with symmetry, rawness with opulence, and fragility with strength."
ESTABLISHED ARTIST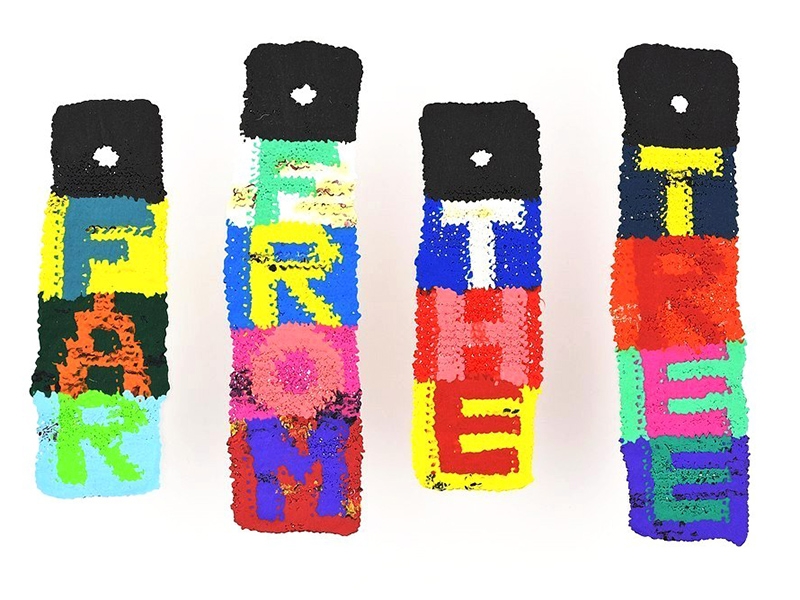 Artist: Shelley Norton
Gallery: Fingers Gallery
Contact: Lisa Higgins
Retail: Each NZ$350–450
The general concept that underpins Shelley Norton's work is the notion of meaning and how we construct it, and how this fascinating production in turn defines, supports, and constrains us in our daily existence. By taking the discarded or the lesser valued—in this instance the humble plastic shopping bag—Norton seeks to create pieces that engage the viewer, to draw attention to existing knowledge while at the same time being aware of new ways of looking and understanding, to liberate a degree of free association in the viewer's consciousness. Norton's making practice spans 20 years and was further supported by undertaking a BVA at Auckland University in the early 2000s. She lives and works in Auckland, New Zealand.
ESTABLISHED ARTIST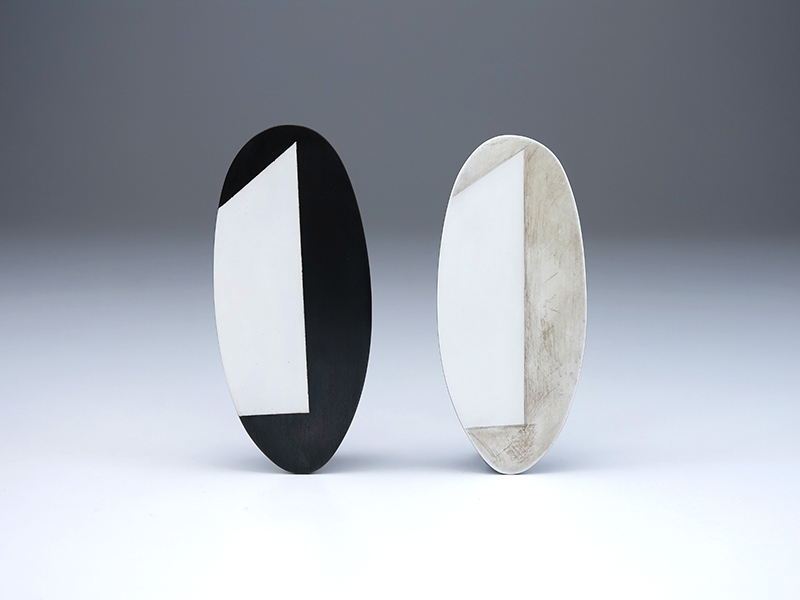 Artist: Jim Bové
Gallery: Baltimore Jewelry Center
Contact: Shane Prada
Retail: $600 for the pair
Jim Bové is a practicing artist and educator living just outside of Pittsburgh, Pennsylvania. He is an associate professor at California University of Pennsylvania and served as a board member of the Society of North American Goldsmiths. These brooches are part of his Drawing Series, which explores his love for line, shape, and the mark of a tool on a surface. Utilizing minimalism and abstraction, he creates compositions inspired by nature and human-made structures. The designs on these brooches are achieved through drawing on the surface of metal coated with industrial auto paint.
ESTABLISHED ARTIST
Artist: Robert Ebendorf
Gallery: Gallery 2052
Contact: Nora McCarthy
Retail: US$800
Curated by Gail M. Brown, Mastery in Jewelry & Metals: Irresistible Offerings! is a celebratory exhibition for the Society of North American Goldsmiths (SNAG) at 50, on view at Gallery 2052 May 22–June 23, 2019. Playfulness Sense of Place, by Robert Ebendorf, is constructed of objects found in and around Santa Fe, and will be part of the exhibition. Ebendorf received his MFA in 1962. Following graduation, he received a Fulbright Fellowship to study in Norway. He taught at the University of Georgia, SUNY New Paltz, and East Carolina University. In 1995, he was awarded the American Craft Council Fellowship for his achievement in crafts and commitment to the craft movement. Ebendorf is co-founder and past president of SNAG and is represented in many collections including the Metropolitan Museum of New York, the Victoria and Albert Museum, the British Museum, The Museum of Fine Arts, Houston, the Museum of Fine Arts, Boston, Schmuckmuseum, Pforzheim, and the Museum of Art and Design, New York, to name a few. In 2014, the Smithsonian Institution invited him to participate in its Archives of American Art Oral History Program. He was awarded the 2014 Lifetime Achievement Award from SNAG.
ESTABLISHED ARTIST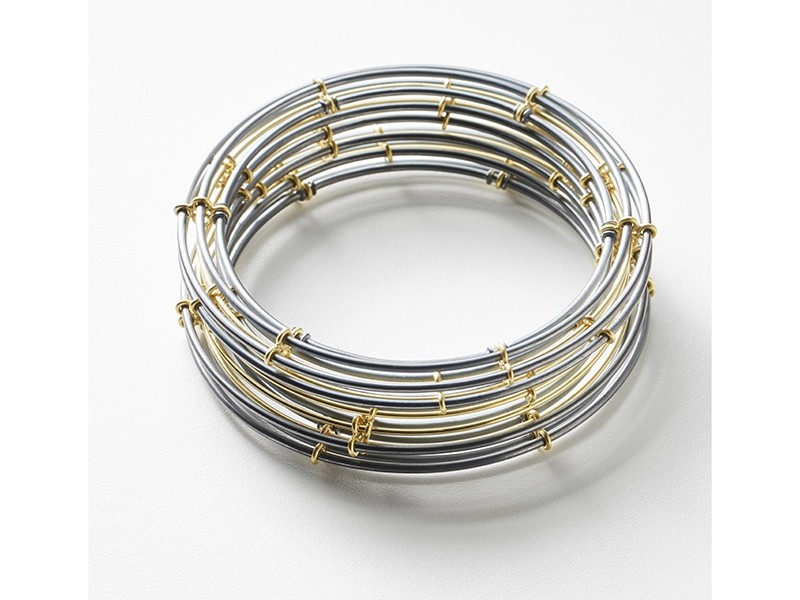 Artist: Annemie De Corte
Gallery: Galerie Beyond
Contact: René Darmont
Retail: €4,200
Annemie De Corte's silver lines are created with passion, endless patience, and a steady hand. The artist assembles, arranges, and combines. She threads the elements onto thicker thread to form a jewel, object, or sculpture. Using traditional methods, she painstakingly shapes her own delicate world of proportion, movement, light, and shadow. A sober and poetic world. She made her first wireworks around 1998. The narrative, more traditional aspects of her early work made way for a purer, repetitive, more architectural artistic idiom. Cube, case, bowl. Less seems so much more. Objects to be used, jewelry to be worn. Quiet, timeless beauty. Convicting. Monumental despite their sometimes modest size.
MID-CAREER ARTIST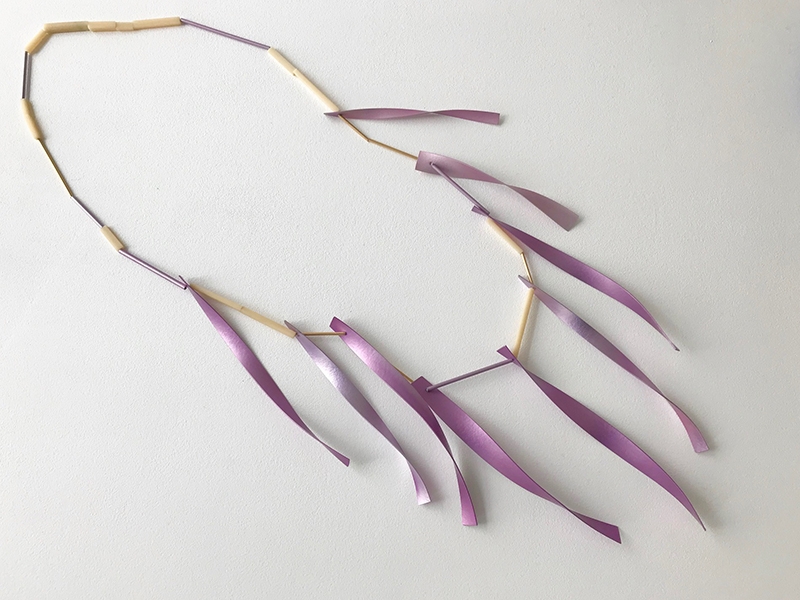 Artist: Karin Johansson
Gallery: OONA Galerie
Contact: Anna Schetelich
Retail: €2,900
Karin Johansson's work is a well-balanced composition of colors, materials, and shapes. The slightly bent stripes of anodized aluminum seem to catch a moment of being blown by wind; it even makes a nice sound while being worn. The artist achieves a beautiful range of colors by anodizing, which gives a very light and fresh appearance.
MID-CAREER ARTIST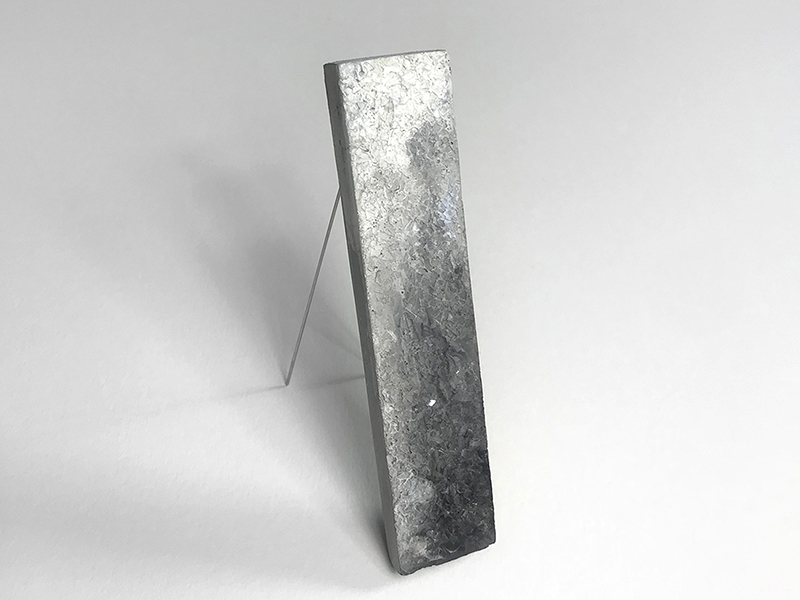 Artist: Inari Kiuru
Gallery: Gallery Funaki
Contact: Katie Scott
Retail: AUS$850
Inari Kiuru is a Melbourne-based Finnish artist who examines the connection between post-industrial landscapes and the natural world. Using the ubiquitous materials of mass construction, she interprets light, texture, and atmospheres, drawing out the magical details of our surroundings. Kiuru's series A Forest Spirit Visits the City Alone (2017-2018) was a meditation on the qualities and surprising beauty of concrete, as she combined it with various other nonprecious materials. Together, the series of 22 works forms a poetic narrative of the urban inner city, with the titles of each a crucial component. Navigating by the Stars is a key piece from the series.
EMERGING ARTIST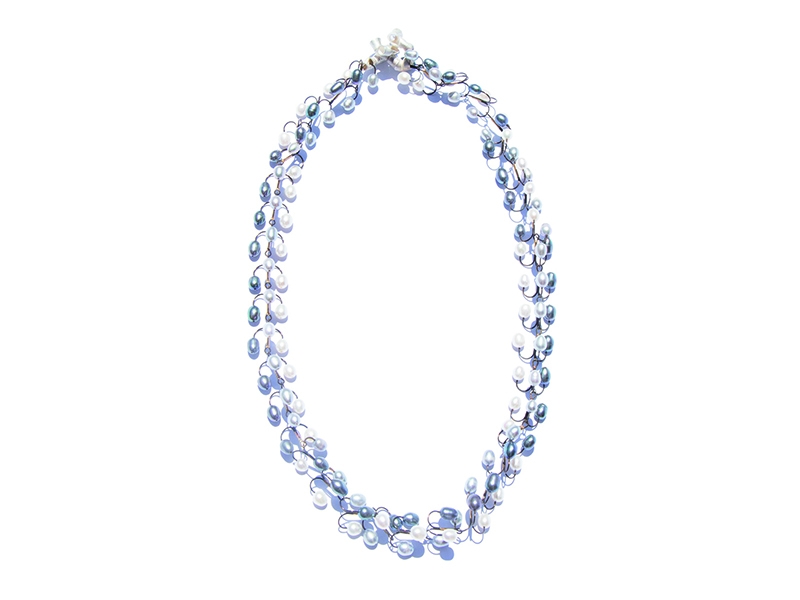 Artist: Bérénice Noël
Gallery: Irene Belfi
Contact: Irene Belfi
Retail: €800
Bérénice Noël is an emerging artist originally from Réunion Island who now resides in Paris. The wearables in this current body of work are inspired by the legend of a mysterious island. A story of fatal seduction in which a mermaid attracts men on the island and traps them by hiding sharp fish hooks under hidden treasures. In some of the jewelry pieces, pearls, stones and bone-like structures hide the hooks and seem to float magically. It's only by getting closer that one realizes the ploy. The rock crystals, evoking as much sea salt as drops of water, seem to disappear once the jewel is worn around the neck.
EMERGING ARTIST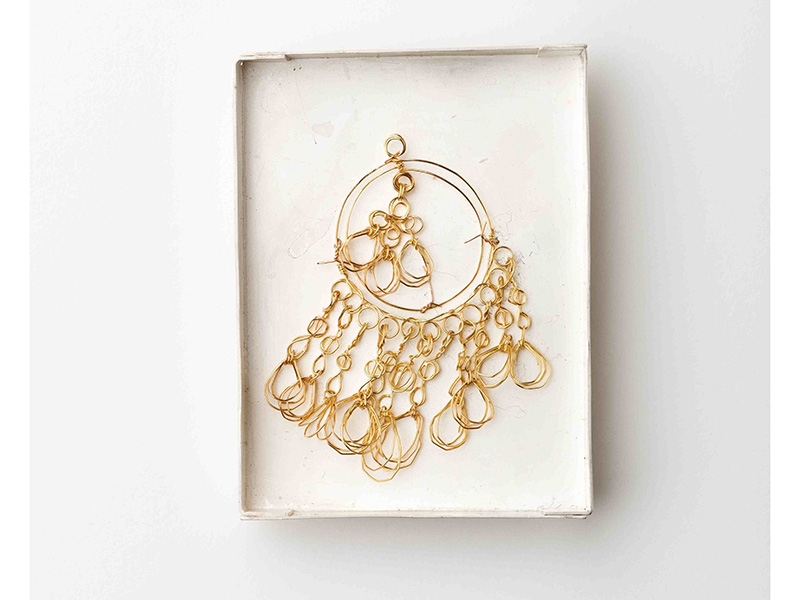 Artist: Galatée Pestre
Gallery: OHMYBLUE
Contact: Elena Rizzi
Retail: €1,600
Galatée Pestre has been collecting lost jewels for 10 years now. Moved by these objects full of life, the artist perpetuates them and so in turn manufactures pieces of jewelry. She enjoys reproducing some of their shapes, paying tribute to them in silver or gold, like in this piece. The Lost Jewelry body of work by Pestre feels like a nourishing form of meditation that brings the artist to reshape the world so as to find herself reflected in it.
GALLERY CHOICE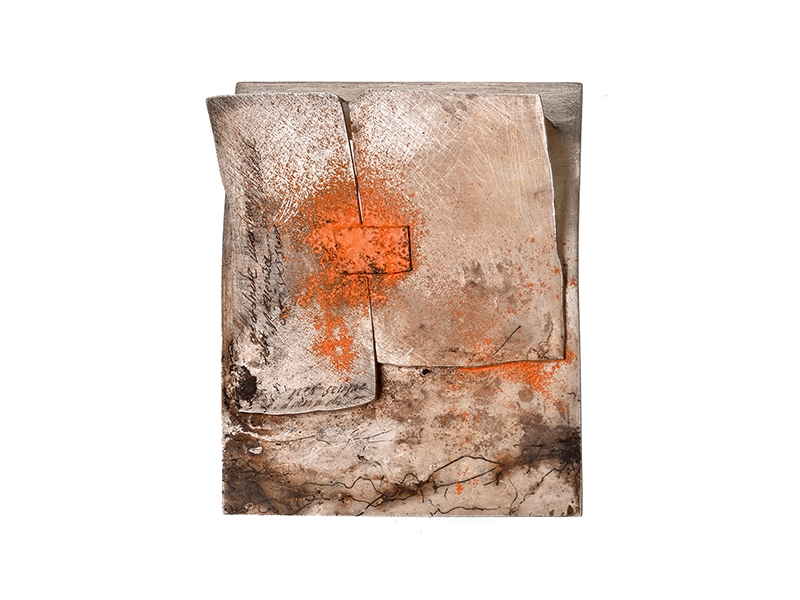 Artist Name: Heidemarie Herb
Gallery Name: Galerie LA Joaillerie par Mazlo, Paris
Contact: Céline Robin
Retail: €1,900
Heidemarie Herb's work is outstanding for her use of color and pictorial approach in the field of art jewelry. This brooch is part of a series entitled Minipictures, which investigates the drawing gesture and also the expressive power of colors and patterns in order to evoke "feelings and thoughts, sounds, the life cycle from birth to death, mysteries and secrets concealed by nature." Herb's work is featured in the permanent collection of the Amber Museum, (Poland), Malbork Castle Museum (Poland), the permanent collection of the Cominelli Foundation (Italy), and private collections in Austria, the US, and Lithuania.
GALLERY CHOICE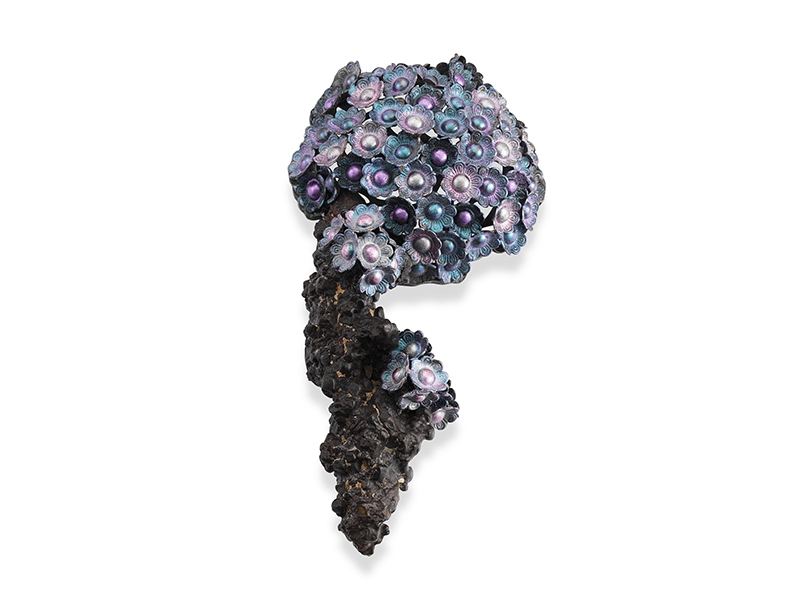 Artist: Tamara Grüner
Gallery: Galerie Annick Zufferey
Contact: Annick Zufferey
Retail: €1,130
"In 2009 I started using old metal pieces and glass stones for creating artist jewelry," says Tamara Grüner. "The ideas of the historical jewelry pieces were transformed into my own work. Today I make 'shadows' of the Art Nouveau pieces: the original form of a historical piece will be created in bone, plastic, or agate. After that I combine them with other historical materials by using a variety of formal elements. Repetition and layering will stress the importance of the form. For me the reverse side of a jewelry piece is as important as the front one. I often create very complex reverse sides; this will be a little secret for the one who is going to wear the jewelry in future. Opulent jewelry parts are created, being complex and offering again and again new ways of contemplation. Each work is the template for the next one and each finished jewelry piece gives the possibility to communicate with a viewer."
GALLERY CHOICE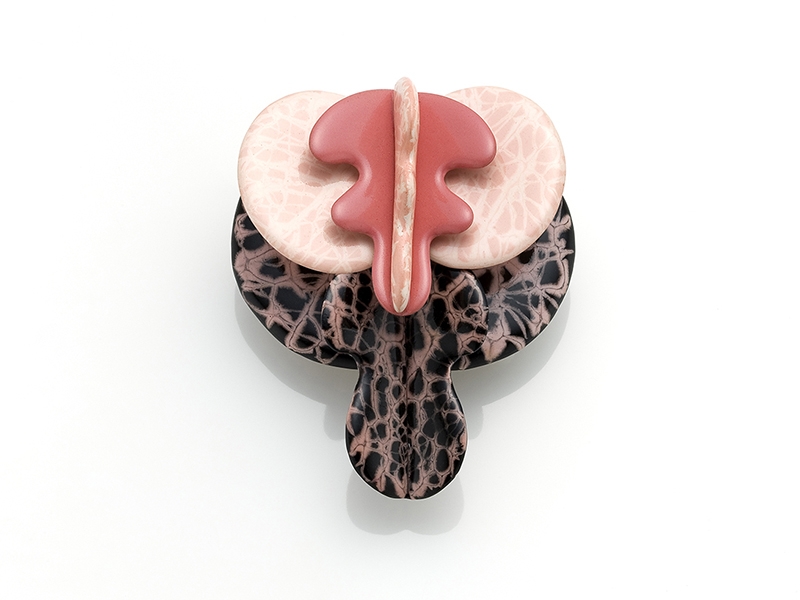 Artist: Hanna Kim
Gallery Name: myday-byday
Contact: Laura Helena Aureli
Retail: €800
The Korean artist Hanna Kim presents Guineafowl-cactus, her brooch in resin and sterling silver, at myday-byday gallery in Rome. "Patterns, textures, and forms from animals and plants are not only the objects of aesthetic appreciation, but also are already settled all over human life. Those elements have a strong influence on many parts, from ambits of everyday life like colors and patterns of a garment to a formation of an art trend. The intrinsic characteristics of natural objects can actively stimulate the observer's imagination and at the same time, it makes their vitality thoroughly special. Unfamiliarity always excites my curiosity and awakens an ordinary daily life. An unknown forest like a tropical rainforest makes me entertain a fantasy about the indeterminate beings, and their limitless births and deaths lead immanent movement of life. Likewise, the nature expands a framed life even more by all means and brings out a new insight. Colors, forms, and sizes of animals and plants in a tropical rainforest present an extreme vividness. The way of imaginatively reconstructing the world expands the actual world by building a relationship with the reality."
GALLERY CHOICE
Artist: Sanna Svedestedt Carboo
Gallery: Four
Contact: Karin Roy Andersson
Retail: €1,100
Sanna Svedestedt Carboo works with leather, a material strongly connected to traditional Scandinavian craft. She treats the leather with ancient techniques in search of a contemporary look. The expression is fragile, but the material is strong. The brooch weights only 16 grams but it has a massive impact on both wearer and viewer.
GALLERY CHOICE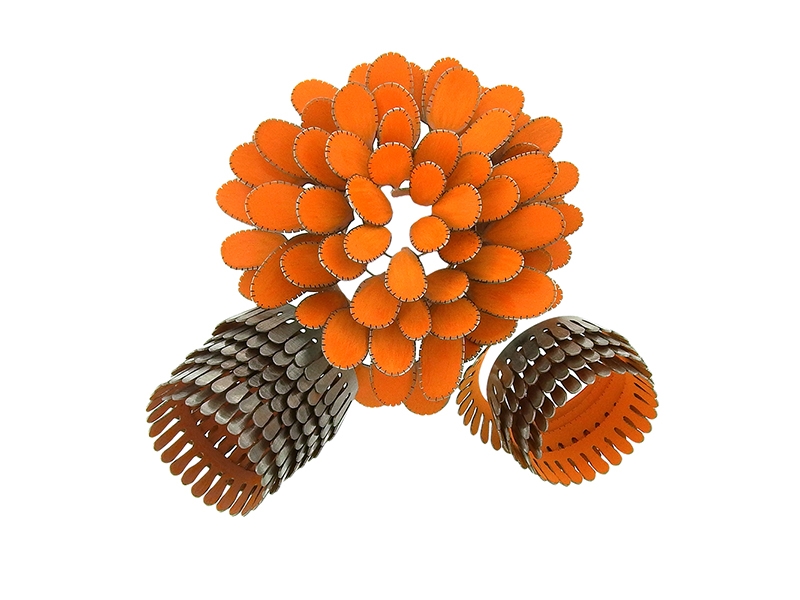 Artist: Mirjam Hiller
Gallery: Aaron Faber
Contact: Patricia Faber
Retail: $2,900
Mirjam Hiller is a noted German jewelry artist whose oversize art jewels are made by hand, laboriously sawn from a single sheet of stainless steel, formed and enameled in bright colors. The creation of each is a painstaking process, belied by the exuberant shape and colors of the finished works. She commented in Art Aurea, "The finished piece should surprise, fascinate, and amaze me. Like a maelstrom, the piece of jewelry has to catch my eye and take me into its world, touch my senses. It should be something unique, curious, something beautiful, exotic, but also something familiar. It should invite people to explore it, collect it, and wear it."