Art Jewelry Forum is pleased to share the news that members of our community find noteworthy. Is something missing? The success of this compilation of compelling events, exhibitions, and items of interest to the jewelry community depends on YOUR participation.
If you're a member of AJF, you can add news and ideas to the monthly report by going here. If you aren't a member, but would like to become one, join AJF by making a donation.
ANNOUNCEMENT—2021 SUSAN BEECH MID-CAREER GRANT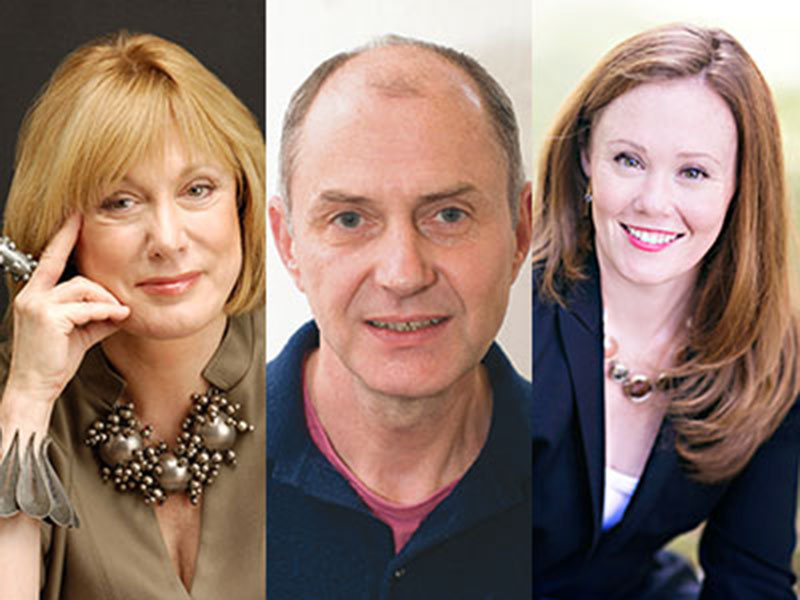 If you've always wanted to realize a significant jewelry-related project and you're aged 35–55, you simply must apply for this $20,000 grant! It recognizes a mid-career artist who has made a substantial contribution to the field of art jewelry. Besides the financial support and the accolades, the prestige of having this on your resume will open many doors—a fact many past AJF award winners have testified to. The grant was established by jewelry collector Susan Beech, who will serve as a juror for it along with contemporary jewelry artist Daniel Kruger and curator Emily Stoehrer. Now accepting applications. Deadline: January 10, 2021. Get the guidelines and the link to apply.
Sharon Berman recently interviewed Beech for the podcast The Jewelry Journey. Listen to it here to learn more about why Beech created the $20,000 award. Berman also recorded an interview with Bonnie Levine that focuses on the logistics and administrative side of the application process; you can hear it here.
ANNOUNCEMENT—LINKS TO AJF LIVE
If you missed any of our 30+ (!!!) AJF Live events, no problem—we record them all and post them on our website so you can watch whenever you like. Here's a list of the most recent ones, with links to the videos. To see the full range of AJF Live events, go here and keep scrolling down using the gray arrow at the center of the bottom of the home page.
AJF Live with Tanya Crane
AJF Live with Noel Guyomarc'h, Marie-Ève Castonguay, Catherine Granche, and Brooke Marks-Swanson
AJF Live with Ruudt Peters
AJF Live with Fingers gallery
AJF Live with Parcours Bijoux 2020
AJF Live: AMEND, a Secret Identity Project exhibition—curated by Kerianne Quick & Jess Tolbert
AJF Live with Robert Lee Morris
AJF Live with Erin S. Daily and Brian Weissman, of Brooklyn Metal Works
AJF Live with Rebekah Frank
AJF Live with Iris Eichenberg
AJF Live with Jewellery and Protective Objects for the 21st Century, Concept by Cristina Filipe
AJF Live with matt lambert
AJF Live with Georgina Treviño
AJF Live—Heaven in New Haven: American Jewelry at the Yale University Art Gallery
ANNOUNCEMENT—GALLERY RELOCATION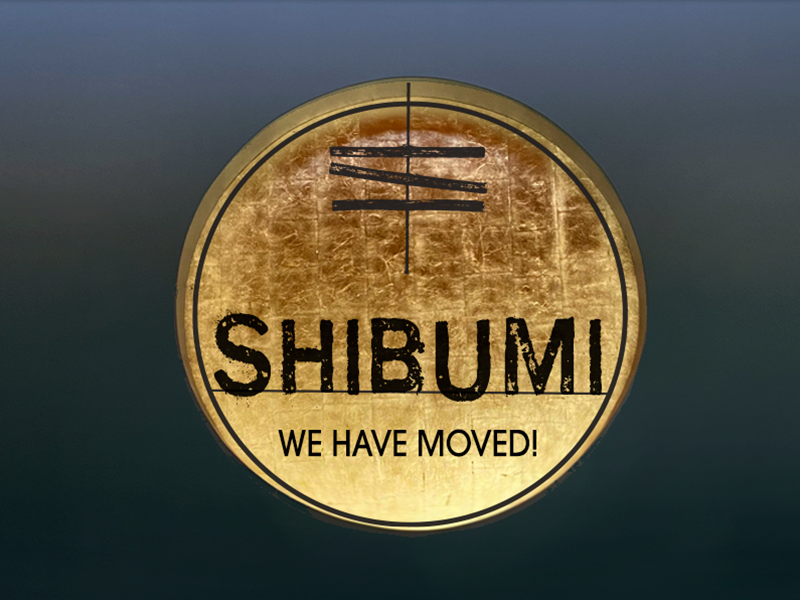 Shibumi Gallery reopened at a new location on November 7. The shop is now at 1816 Fourth Street in Berkeley, California.
ANNOUNCEMENT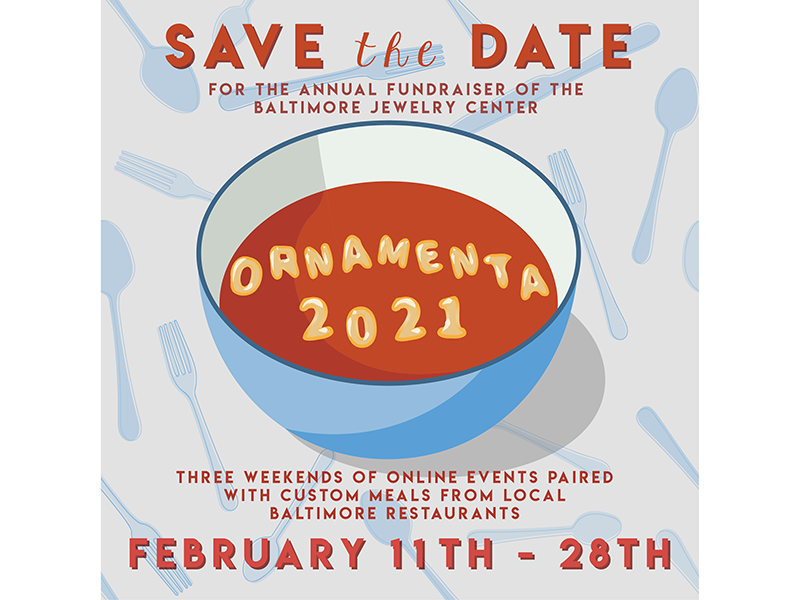 Mark your calendars: In February, Baltimore Jewelry Center (BJC) will curate a multifaceted fundraising event for its local Baltimore community and those beyond. Ornamenta, the BJC's annual fundraiser, will find its way onto your screens and into your homes. For three weekends that month, attendees will dine, learn, and explore jewelry, metalsmithing, and art together via Zoom. Each weekend will hold different scheduled events, such as demonstrations, artist and art historian talks, and live music. Weekend raffles and a silent auction will accompany these events. Ornamenta 2021 events will take place between February 11 and February 28.
EXHIBITION—GALLERY
Fog, mist, blur, silence, loneliness, intangibility. Ruudt Peters recently installed his new exhibition, Nebula, at Galerie Rob Koudijs. It was accompanied by a dreamy video, which you can watch here. Then view photos of the work. The show is on view through December 19, 2020.
EXHIBITION—GALLERY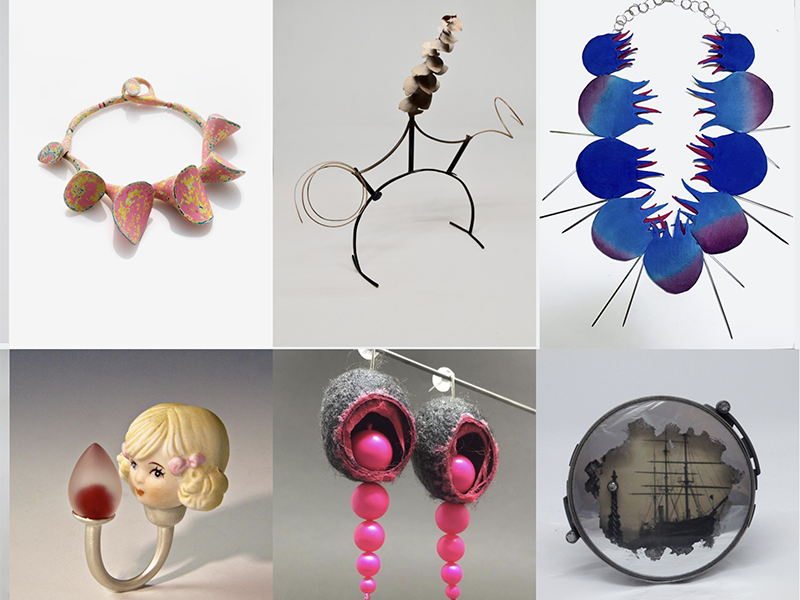 Join Yun Gee Park Gallery & Atelier for Beyond Wearable 2020, its annual exhibition of art jewelry/wearable sculpture that celebrates the artwork of nationally and internationally recognized artists. Contact the gallery for a personal viewing: (520) 901-0013 or [email protected]. By appointment, through January 9, 2021.
EXHIBITION—GALLERY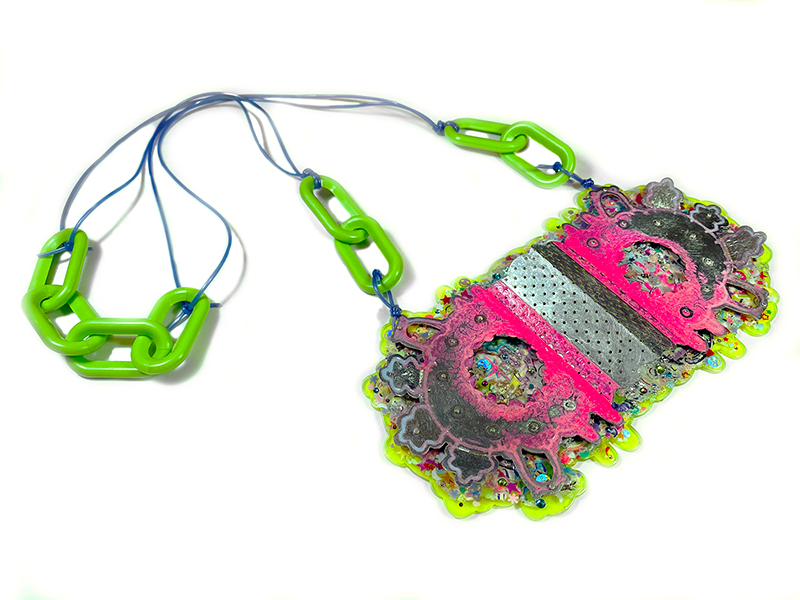 Guidelines Volume 2 is on view at the Baltimore Jewelry Center until February 13, 2021. Guidelines was developed by artist and curator Brie Flora, who was interested in exploring how artists find and maintain inspiration outside of a traditional academic setting. Artists in the BJC community responded to a prompt created by Flora as a design challenge: "Take a look at a piece of jewelry you made in a class setting, undergrad, getting your masters, or in a workshop. It can be from a year ago or more. How has your work changed? Did you learn more since the making of this piece? How has your style progressed out of that original educational setting? Study your older work, pick a piece, and remake it, highlighting and/or overexaggerating a part you would want to change. You can choose a piece you love or hate, but you must want to change/expand upon part of the original." The exhibition features both pieces of jewelry by each artist, to illustrate growth, change, and how education outside of a classic setting informs an artist's work and process.
EXHIBITION—MUSEUM, OPENS THIS MONTH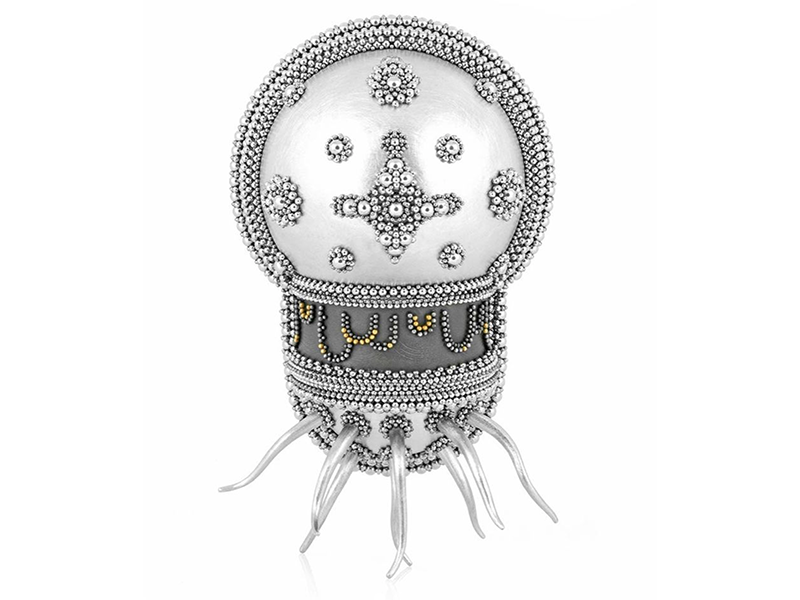 In the Tributaries—Ben Dory: Kissing Numbers exhibition, artist and metalsmith Ben Dory pays homage to traditional granulation by using contemporary metalsmithing techniques to create Victorian-inspired jewelry. Always with an air of mystery, granulated objects convey the ongoing power of repeated minutiae: the captivating (and useful) qualities of pattern and patterning. Dory received his BFA in metalsmithing/jewelry from the University of Kansas and his MFA in metalsmithing from Southern Illinois University Carbondale in 2014. While maintaining his studio practice, he explored various disciplines in the arts, including technician work, product design, nonprofit programing, research, and workshop instruction. At the Metal Museum, in Memphis, TN, US, December 13, 2020–March 7, 2021. Reception and artist talk on Zoom, January 17, 2021.
EXHIBITION—CLOSING SOON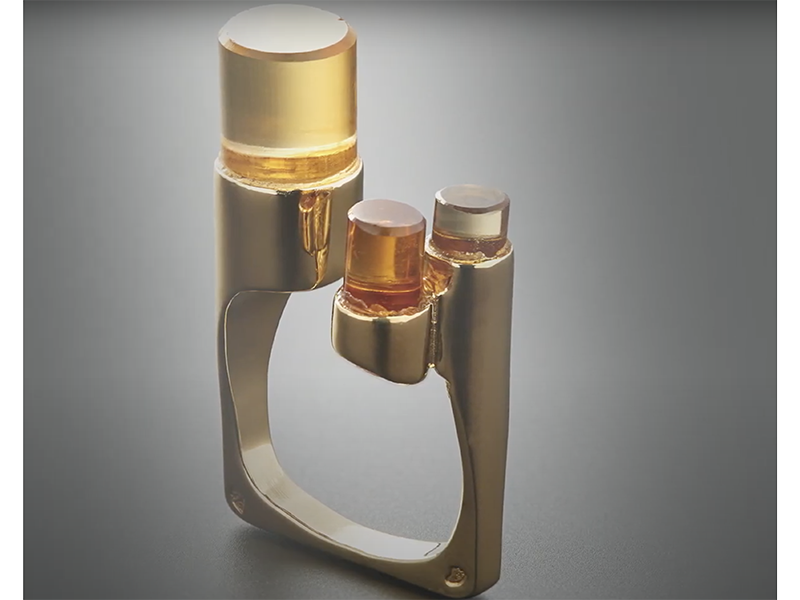 Jean Vendome, whose real name was Ohan Tuhdarian, created his first jewelry collection in 1950, heralding 67 years of creative effervescence. Jean Vendome, Artist Jeweler focuses on this avant-garde designer, who merged the art of sculpture and jewelry. You can watch two videos on L'École's website. One is a guided tour that lets you discover the exhibition as if you were there with Marie-Laure Cassius-Duranton, a gemologist art historian, and teacher at the school, or you can watch the video Jean Vendome, a Jeweler at the Heart of the Avant-Gardes. At L'École, School of Jewelry Arts, in Paris, through December 18, 2020.
EXHIBITION—CLOSING SOON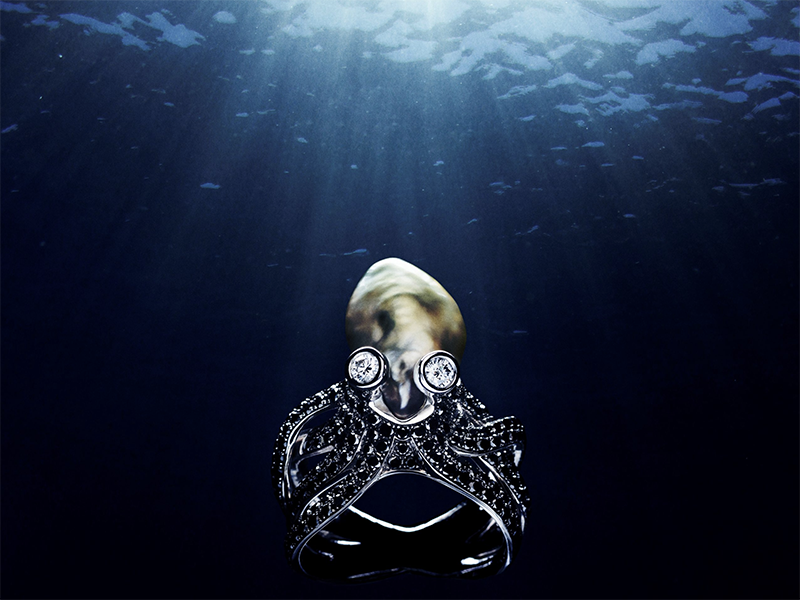 The The Jewels of the Sea exhibition is built around the sea's three jewels—coral, pearls, and amber. Forty Danish jewelers and jewelry designers were each asked to design a creation using one of these materials. The works serve as various abstractions on the theme of the sea and range from the myth of Atlantis to the environmental changes and plastic pollution that the world's oceans suffer from. Participants include Bodil Binner, Lone Løvschal, Rosgaard Collection, Rebekka Notkin, Marry & Me, Mads Heindorf Jewelery, Malene Helweg-Larsen, Milas Jewelery, Anja Eriksen, Kgl. Court jeweler P. Hertz, Karin Castens, Erik Aulkær Andersen, Karen Fly, portable, Josephine Bergsøe, Felix, Jens Alstrup Engemann, Jytte Kløve, Nanna Schou, Christine Bukkehave together with Rikke Lunnemann, Jørgen Meincke, J-Meincke Design, Linda Jakobsen, Guldsmed Sche, Louise Degn, Maria Wulff, Pind J. Design, Per Borup Design, Joakim Hjort, Birgitte Munch, Kære Ven, Charlotte Balle, Rosing Fine Jewelry, Dulong Fine Jewelry, Ninna York, Dauf & Pede, C. Antonsen Guld- and Sølvsmedie, Lene Vibe, Bolou, Ro Copenhagen, and Lobelune. Curated by Nina Hald. At the Kjøbenhavns Guldsmedelaug, in Copenhagen, through December 30, 2020.
EXHIBITION—CLOSING SOON
All Is Possible: Mary Ann Scherr's Legacy in Metal highlights one of the first female industrial designers, and the first woman designer to work in the automobile industry. Curated by jewelry historian Ana Estrades, All Is Possible includes numerous examples of Scherr's innovative jewelry, body monitors, and design work, reuniting 143 of her jewelry pieces and covering a career that stretched over six decades, from Scherr's first two pieces, made in 1951—a sterling silver cuff and matching earrings—to her most recent personal commission, an amethyst necklace from 2012. Includes Scherr's pioneering heart pulse bracelet, on loan from the Museum of Arts and Design, in NYC, a sort of early Fitbit designed in the late 1960s. View the virtual tour. At the Gregg Museum of Art & Design, in Raleigh, NC, US; closes sometime in December 2020. (Thanks for the uncertainty, coronavirus.)
EXHIBITION—MUSEUM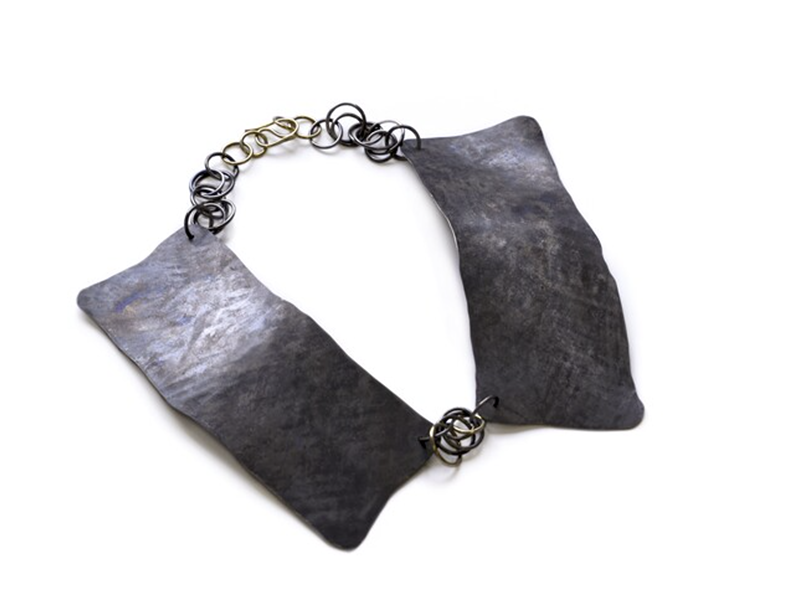 See an overview of Dorothea Prühl's recent jewelry in the exhibition Ornament & Sculpture. Prühl's work is without exception large, sculptural, and technical, with great precision and craftsmanship. Wood, titanium, gold, silver, stainless steel, and aluminum are her materials, a preference that has barely changed over the years. Pure, fragile, and monumental all at once, Prühl's jewelry speaks a language entirely its own. At CODA Museum through January 24, 2021.
EXHIBITION—MUSEUM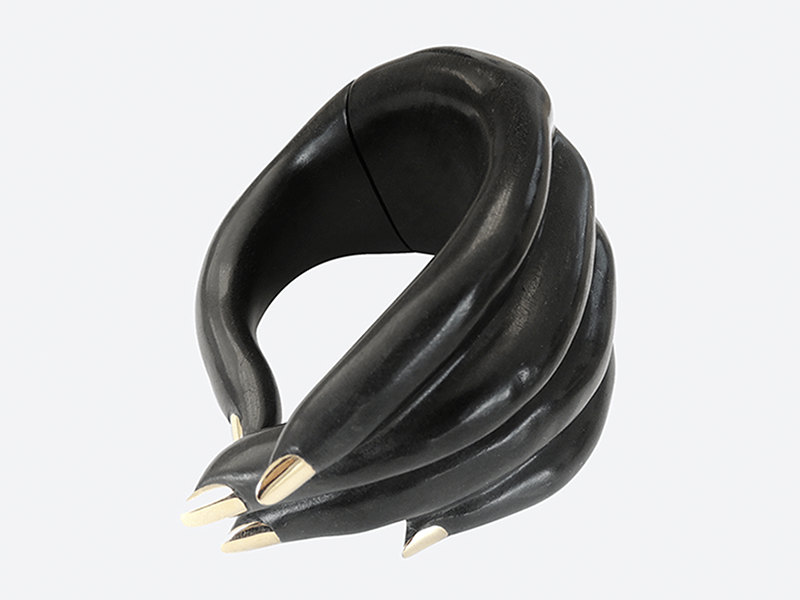 The Designed in Vicenza exhibition, curated by Alba Cappellieri and Livia Tenuta, focuses on eight designers from Vicenza who, through new visions and new languages, have captured the spirit of the time and made it tangible in jewels and projects that contain ideas, truth, and beauty. The 35 works—including jewels and products—are by Atelier Crestani, Brogliato and Traverso, Aldo Cibic, Matteo Cibic, ivdesign, Cleto Munari, Reggiani Ceramica, and Joe Velluto. Historically, jewelry has always been a middle ground between art, craftsmanship, and design. On the one hand art, with the arrogance of its authorship, on the other fashion, with the transience of its present, and in the middle the jewel with the defense of precious materials as bulwarks of eternity. For a long time, the value of a jewel was synonymous with preciousness and therefore with the physical cost of the material, but today this idea is outdated, and the value of a jewel is the result of the quality of the project, of the designer's ability to generate storytelling around the object thanks to formal choices, materials, or production technologies and techniques. At the Museo del Gioiello di Vicenza, in Vicenza, Italy, through January 31, 2021.
EXHIBITION—MUSEUM
View the virtual exhibition of The Jeweller's Art: Revolutionary Jewellery from the 1960s and 70s online. The swinging London of the 60s—Twiggy, Mary Quant, The Beatles, the Stones—also engendered an explosion of innovation in the jewelry industry, which spread to the rest of Europe and the US. A new generation of jewelry designers flouted the rules of jewelry and experimented with new techniques, materials, and influences. Besides jewelry, the exhibition showcases fashion, music, and design from this vibrant period. The 100+ items of jewelry on display all come from the private collection of Kimberly Klosterman, who started collecting jewelry from the 60s and 70s about 30 years ago. Includes pieces by Bulgari, Cartier, Van Cleef & Arpels, and Masenza, designed by illustrious names like Andrew Grima, Arthur King, Cesare De Vecchi, Charles de Temple, and David Webb, and jewelry by Fernand Demaret, the Belgian pioneer in modern jewelry art. These pieces have never been on display together. At DIVA, in Antwerp, Belgium, through March 14, 2021.
EXHIBITION—MUSEUM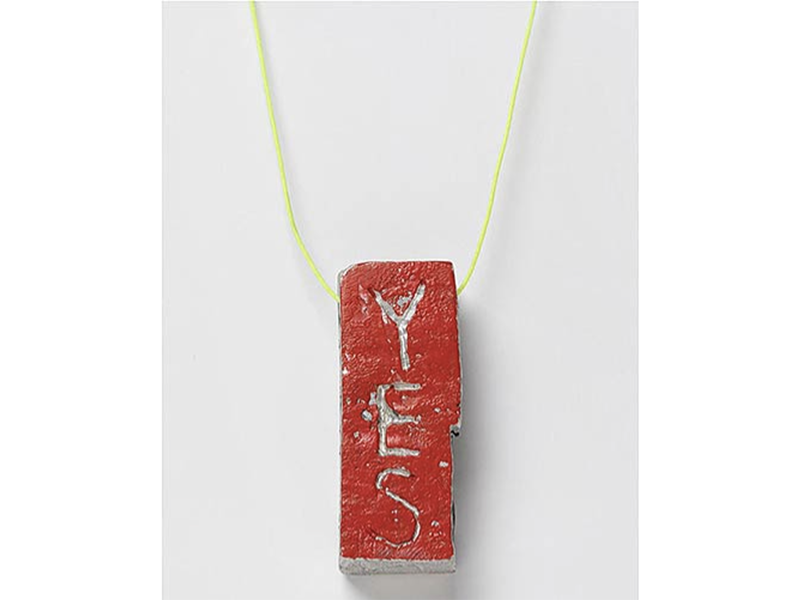 Since the end of the 19th century, goldsmithing has become an increasingly important craft in Munich, so much so that many goldsmiths and jewelry artists live and work in the city today. This is in no small part due to the internationally renowned course for jewelry and hollowware offered by the Academy of Fine Arts Munich. The Münchner Stadtmuseum has been fortunate to acquire a stunning collection of Munich jewelry dating mainly from the period between the 1880s and 1930s. It has joined forces with students from the Academy of Fine Arts and Karen Pontoppidan, their professor, to mount an exhibition called MUC/Schmuck. Perspectives on a Private Munich Jewelry Collection that not only offers visitors insights into these historical works and their backgrounds, but also showcases today's budding jewelry artists, their curriculum, academic approaches, and creative works. The collection itself was assembled over a period of several decades by the great jewelry connoisseur Dr. Beate Dry-von Zezschwitz, and is the perfect complement to the museum's own collection. At the Münchner Stadtmuseum, through April 5, 2021.
EXHIBITION—MUSEUM
Out of this World! Jewelry in the Space Age, curated by Elyse Zorn Karlin, features vintage and contemporary jewelry with celestial and Space Age designs. Over 200 pieces of fine and nonprecious jewelry from around the world offer a window into the history of space exploration and our fascination with space. At Tellus Science Museum, in Cartersville, GA, US, through October 24, 2021.
EXHIBITION—MUSEUM
In the cities of Wismar, Germany; Hasselt, Belgium; and Lappeenranta, Finland, three innovative training centers for jewelry design have developed in recent years. Their students participated in the 6th International Steel Jewellery Competition. This resulted in a multifaceted exhibition called Fe: Stahlpreis 2020, which shows the broad spectrum of steel. The exhibition includes the works of the prize winners as well as a selection of other submitted pieces ranging from jewelry and tools to objects that highlight the special characteristics of steel. The pieces of jewelry are both stable and astonishingly light, hard and delicate, or rigid and flowing. Even in the designs, the emergence of patina is partly taken into account. Beyond that, it's about ideas of beauty or the material and its history—from enthusiasm for mechanics to criticism of industrialization. At Schmuckmuseum Pforzheim, until February 12, 2021.
EXHIBITION—MUSEUM
With the exhibition Collect/Connect, the Musée des Arts Décoratifs takes part in the triannual Parcours Bijoux 2020 by presenting original pieces from jewelry designers Julie Decubber and Stefania Lucchetta.
Decubber continues to immerse her work in the eclectic world of contemporary ceramics. Fifteen ceramic artists supplied her with their rejected waste: materials meant to be destroyed. She celebrates them by creating a collection of "jewelstories," using their shards as materials, revealing the personalities of the ceramic artists while overlaying her own. In turning them into jewels, she gives the fragments new, intimate significance. Lucchetta, meanwhile, is a pioneer in the use of 3D modeling software and prototyping machines in the field of jewelry. For nearly 20 years, she has used these novel technologies to produce complex forms that are impossible to achieve through traditional techniques. Titanium, her preferred material, allows her to combine lightness and expressivity. The 15 pieces of jewelry on view are true sculptures in miniature form. Unfortunately, the museum is currently closed due to COVID restrictions; check its website for reopening. Through January 3, 2021.
EXHIBITION—UNIVERSITY
In the exhibition Robert Baines, Living Treasures and Fabulous Follies, renowned goldsmith Robert Baines tells three "jewelry stories," groupings that explore the ways in which artistic styles and forms change over time. Baines is a specialist in the study of archaeometallurgy (ancient jewelry production) and he incorporates ancient techniques into his art and the presented narratives. The artist is recognized as a "Living Treasure" in his native Australia and his work has been exhibited and collected internationally throughout his long career. In celebration of the connections between ancient and modern art that are highlighted in Baines's work, a selection from the Eskenazi Museum's ancient jewelry collection is on display in an area adjacent to the Baines exhibition. The exhibition is curated by Juliet Graver Istrabadi, Curator of Ancient Art. At Sidney and Lois Eskenazi Museum of Art, Bloomington, IN, US, through early or mid-April, 2021 (thanks for the havoc, COVID).
CALL FOR PAPERS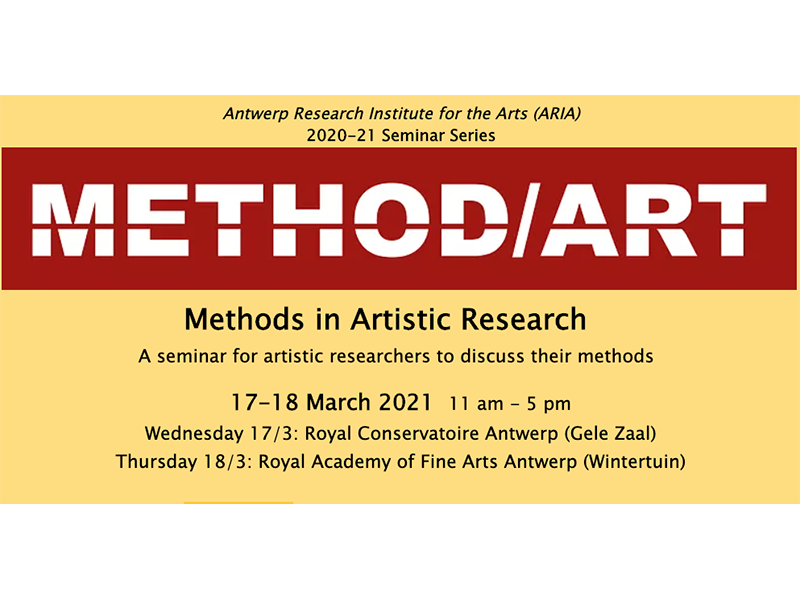 As part of the Antwerp Research Institute for the Arts seminar series, the third edition of METHOD/ART—initiated by Dr. Adilia Yip, Vivi Touloumidi, and Umut Eldem—will focus on artistic research methodologies which incorporate history as a core component. Researchers across different artistic disciplines and media are invited to discuss and share their methods and concerns on several criteria: distilling meaning from the past, drawing attention to the overlooked, unlearning old beliefs and existing biases, and proposing new concepts and angles for the future. In the process of developing discourses about the past, present and future, history can be a point of departure and a means to reinterpreting phenomena. The seminar wishes to simulate discourses which (re)examine history and create space for polyphonic narratives. Questions to consider can be found at the link below.
The presentation can be in the format of paper presentation or lecture-performance, with a duration of 20 minutes plus 10 minutes of Q&A. The seminar will be conducted in English and will take place March 17–18, 2021, online or hybrid depending on COVID-19 conditions. Proposal deadline: January 4, 2021. Get more information.
CALL FOR ENTRY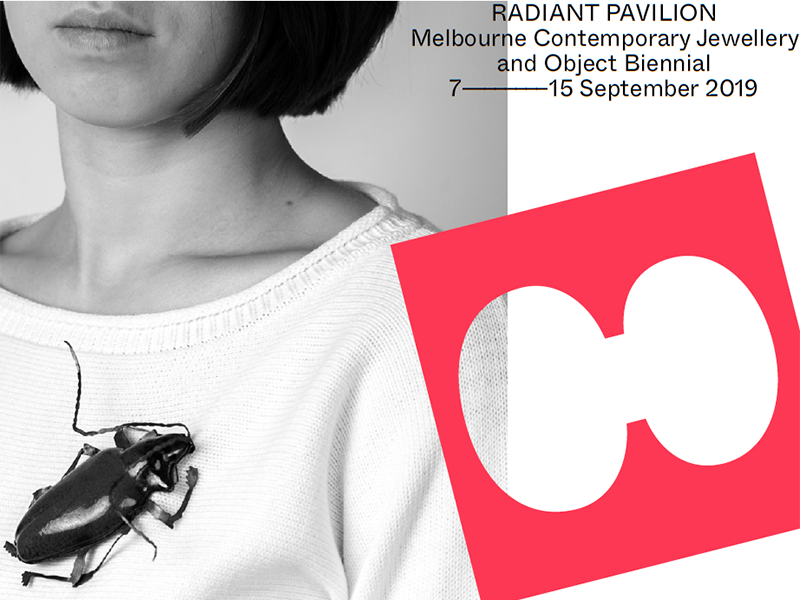 Radiant Pavilion is now accepting proposals for its 2021 edition, which will take place September 4–12, 2021. "With so many unknowns these days, one thing's for sure," say its organizers, "Radiant Pavilion 2021 will be different to previous years. While it may not be possible to make the kind of projects or present them in the ways we have in the past, it also opens up possibilities to collaborate and connect in ways that we haven't before. However you choose to be part of Rad Pav 2021—physical or digital, big or small—let it be something that's manageable and meaningful for you." Proposal deadline: January 24, 2021. Get information.
EDUCATION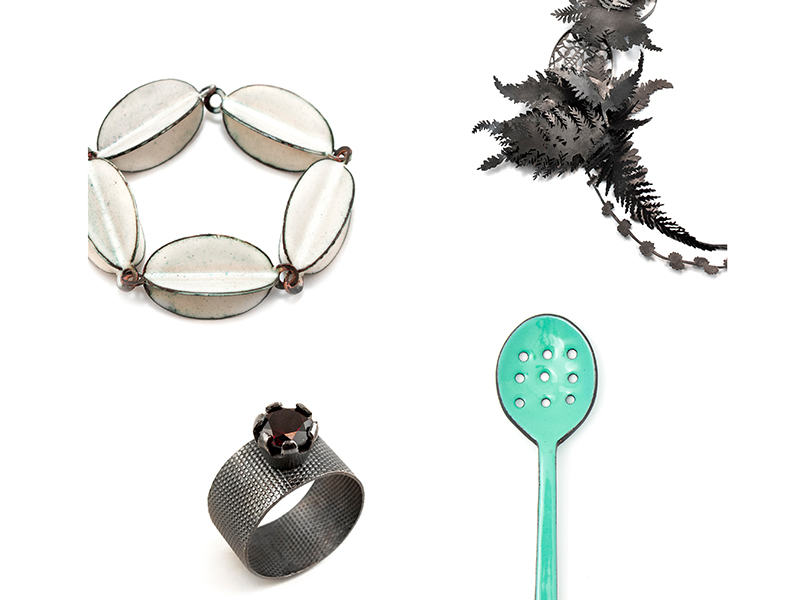 Winter 2021 classes at the Baltimore Jewelry Center have been released. Visit BJC's website to see the array of intensives, workshops, and longer courses they have coming up, ranging from in-person to online offerings, beginning level to advanced, and technique-based to jewelry history.
EDUCATION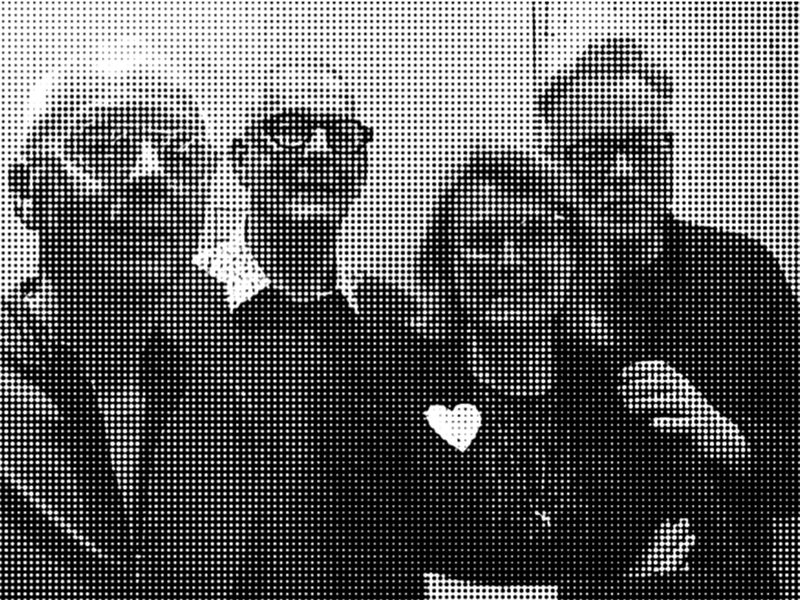 MASieraad, the new two-year master's program launched by Gijs Bakker, Liesbeth den Besten, Ted Noten, and Ruudt Peters at PXL-MAD, is accepting applications through January 17, 2021. MASieraad expects students to accept the challenge of critically questioning jewelry—both individually and while working in groups, and to think beyond the boundaries of jewelry—and to understand the importance of explorations in interdisciplinary theoretical studies as an integral part of the Masterclass program. Get more information.
JEWELRY IN THE NEWS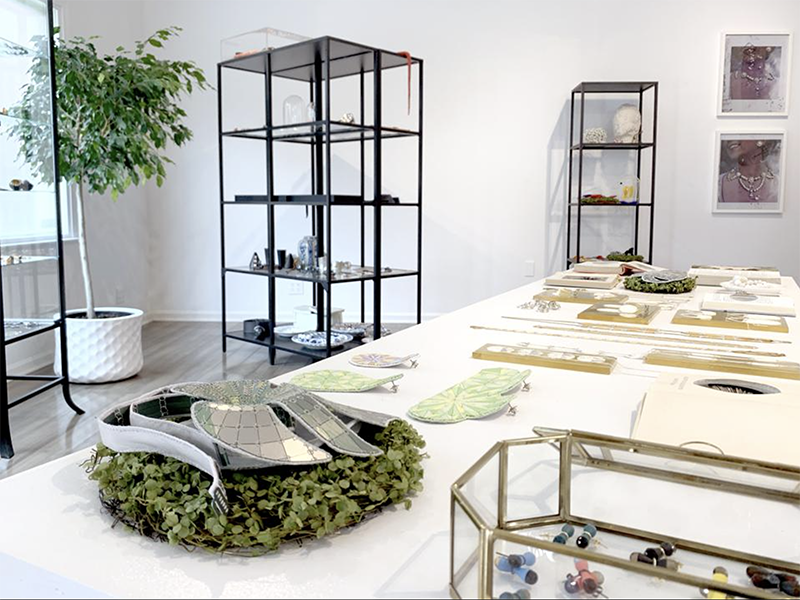 With the headline "There's a High-End Jewelry Gallery Hidden in the Berkshires," Forbes magazine turned it readers on to Sienna Patti, the gallery which features works from some the top studio jewelry artists in the world. Read the article.
JEWELRY IN THE NEWS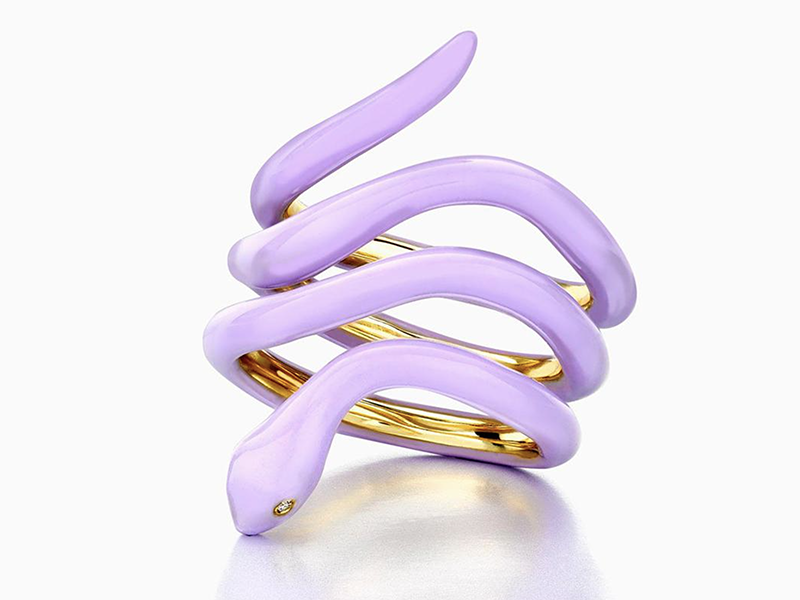 Wallpaper* reports that Los Angeles-based artists the Haas Brothers have teamed up with jewelry designer Jessica McCormack to create a jewelry collection. "Jewelry is a completely different mindset," say the Haas Brothers. "We labor on these huge things that are fun to look at, but to touch such a meaningful practice as jewelry making is wild. Having the opportunity to create something that could potentially live on someone's body for the rest of their lives, or the opportunity to create a physical version of love, or intimacy and commitment—that's awesome … Jessica's jewelry is beautifully chic and smart, but still effortless. And our world is kind of psychedelic; it's cartoonish and strange. The collaboration feels like the perfect coming together of all those elements." Read the full article.
JEWELRY IN THE NEWS
Jeweler Vicki Mason recently spent 14 days locked up in hotel quarantine in Auckland, Aotearoa New Zealand. "[I] found myself making on a patch of carpet 1 x 1.2 meters in size. I inhabited a hotel room with two family members, and room for making was at a premium. We were there … traveling to see a loved family member as he came to the end of his life. I hadn't planned to make any work while waiting, but a patch of grass outside our room covered in lawn daisies drew on an innate impulse to make. The flowers were duly picked and transformed into a daisy chain, all while being monitored by a security guard who informed us we were only allowed 1 meter outside our room. Making it catalyzed the genesis for this series. The garlands and necklaces I made over this difficult time are daily dedications to a gentle man. They helped us celebrate and tell and hear stories about a beloved person who made our lives better." Read the full article, published by Garland.
JEWELRY IN THE NEWS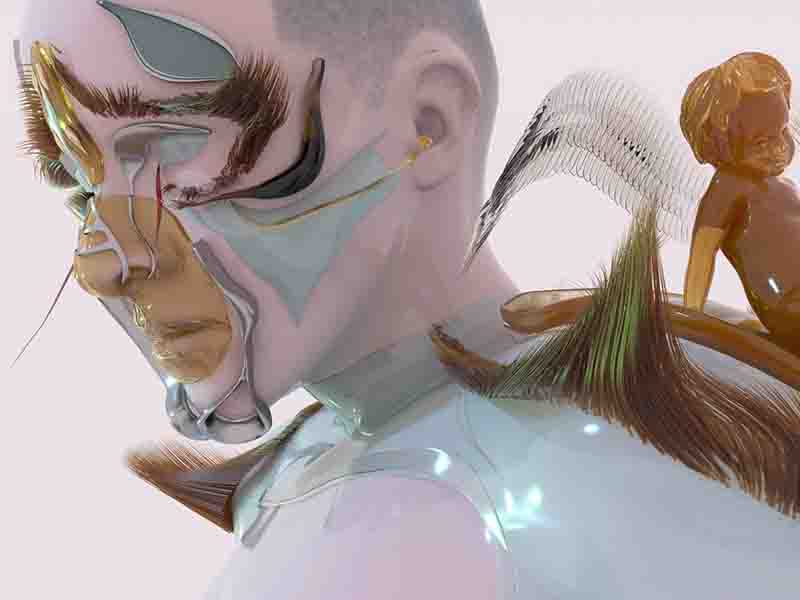 Gender dysphoria describes the distress that can be experienced by people whose biological sex and gender identity do not match—a feeling Marcel/a Baltarete describes as "grief, discomfort and inadequacy all at the same time." The Royal College of Art graduate experiences feelings of gender dysphoria and has created a series of short animations depicting themselves as otherworldly beings to alleviate and interrogate this. Baltarete 3D scanned their head to create a virtual avatar of themselves, which is digitally enhanced and animated to transform into virtual beings with fur, translucent horns, or impossibly glossy skin. There's a lot of facial adornment. Watch the videos on Dezeen.
JEWELRY IN THE NEWS
The Racine Art Museum recommended Sculpture to Wear's Feel the Frill exhibition as follows in its recent newsletter: "In honor of the late Supreme Court Justice Ruth Bader Ginsberg, Sculpture to Wear has curated a timely virtual exhibition of multimedia art jewelry inspired by or representing the achievements of the 'Great Equalizer.' Feel the Frill: The Ginsberg Gauntlet is available to view online through Thursday, December 3. Among the eight judges for this exhibition is RAM's own Lisa Englander, Principal of Guest Experience and Retail Division. In addition, RAM Executive Director and Curator of Collections, Bruce W. Pepich, is featured as Honorary Chair". Winners from three categories and the People's Choice Award were announced December 3; visit the website to learn who received accolades!
JEWELRY IN THE NEWS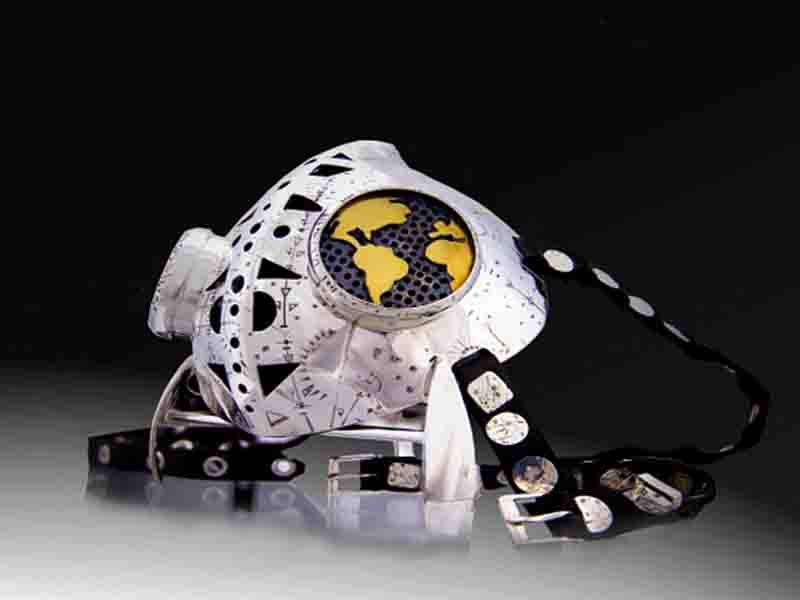 With the COVID-19 pandemic raging on, studio jeweler Jason McLeod applied his signature metalsmithing technique to new, one-of-a-kind works in the form of gold and silver protective masks. The updated Time Traveler collection offers accessories to wear as the world counts down the days until the pandemic's end. The collection's tour de force is the Time Traveler Shamanic Mask. Inspired by the coronavirus, the mask is fully functional. Proceeds from its sale will be donated to charity. Read the full article, from TJM.
JEWELRY IN THE NEWS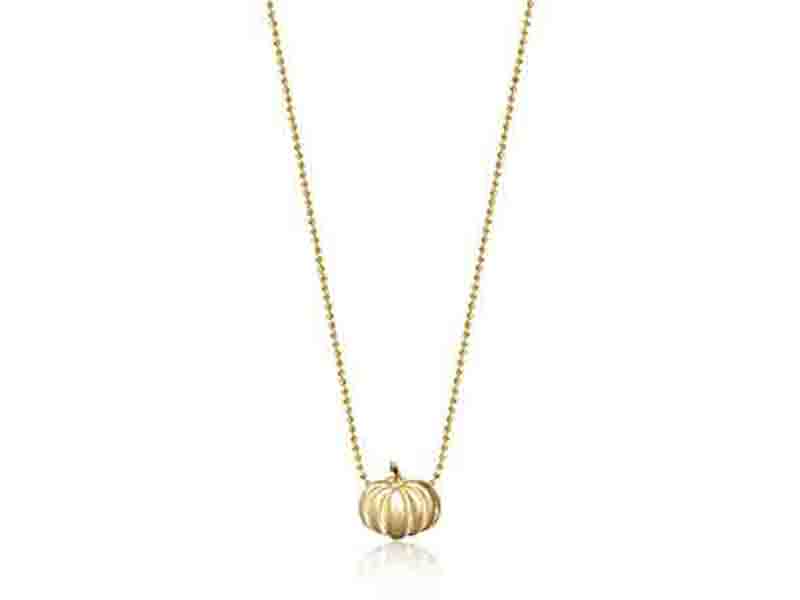 TJM also featured some fun and spooky—and decidedly pricey—Halloween-themed jewelry. With Halloween just behind us, get planning for next year!
JEWELRY IN THE NEWS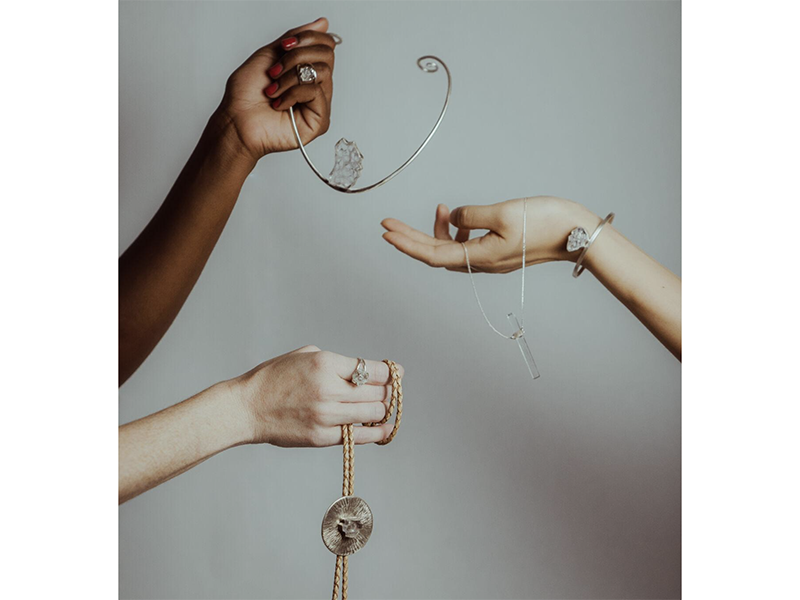 The Guardian reported that the Gibbes Museum of Art, in Charleston, SC, US, stopped selling a controversial line of jewelry commemorating black victims of police brutality after black activists criticized it for coopting trauma. Titled Wear Their Names, the collection featured jewelry made out of shattered glass from windows smashed during the May 2020 Black Lives Matter protests in Charleston. Pieces of jewelry were named after victims of police brutality, with differing prices for each. There was a US$240 necklace named The Breonna (for Breonna Taylor); a US$45 set of earrings called The Trayvon (for Trayvon Martin); and a US$480 necklace called The Elijah (for Elijah McClain). Black activists lambasted the collection, comparing it to a slave auction and criticizing those involved for not donating proceeds to the families of victims of police brutality. Sophie Ming, an 18-year-old activist, argued that naming each accessory after victims of police brutality and pricing them differently felt "as if the name attached to the product determines the monetary value of each life." The couple behind the line, Paul Chelmis and Jing Wen, told a Charleston publication that they wanted to "make something beautiful out of the rubble" of the protests. They intended to give profits from the jewelry line to charity, but their actions came under heavy criticism because some felt their efforts used black deaths for commercial gain. Their actions were likened to souvenirs white southerners would take after a lynching. Chelmis and Wen have shut down their brand's website. Read the full story.
JEWELRY IN THE NEWS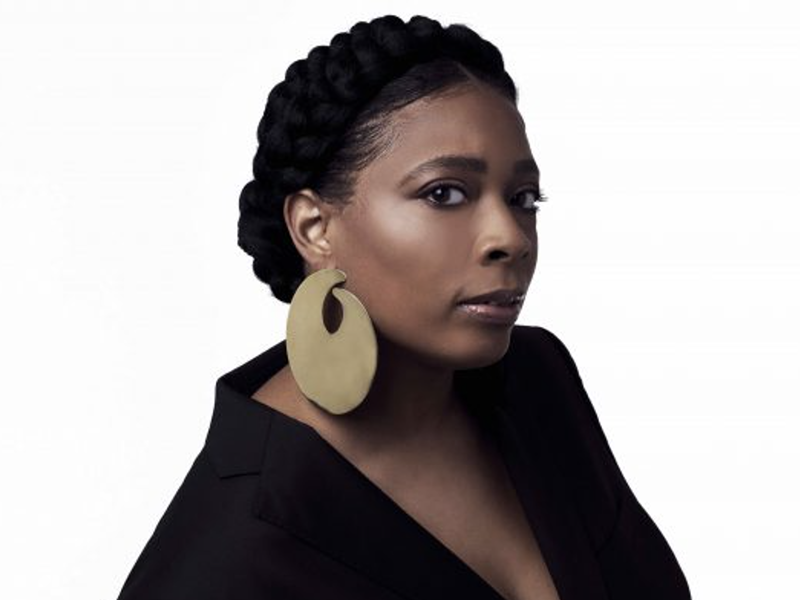 Read The Adventurine's interview with Lorraine West last month. From the beginning of her career 20 years ago, West attracted a stellar list of stylish clients when her work caught the eye of Andre 3000, Erykah Badu, and Common. "One piece that stands out for me is the brass nine-inch wings I designed for [Erykah Badu's] Out My Mind, Just In Time tour in 2010," remembers West. "They were entirely hand fabricated and took a month to create." More recently, Beyoncé's wore West's massive earrings in Black Is King. These earrings have sold out repeatedly.
JEWELRY IN THE NEWS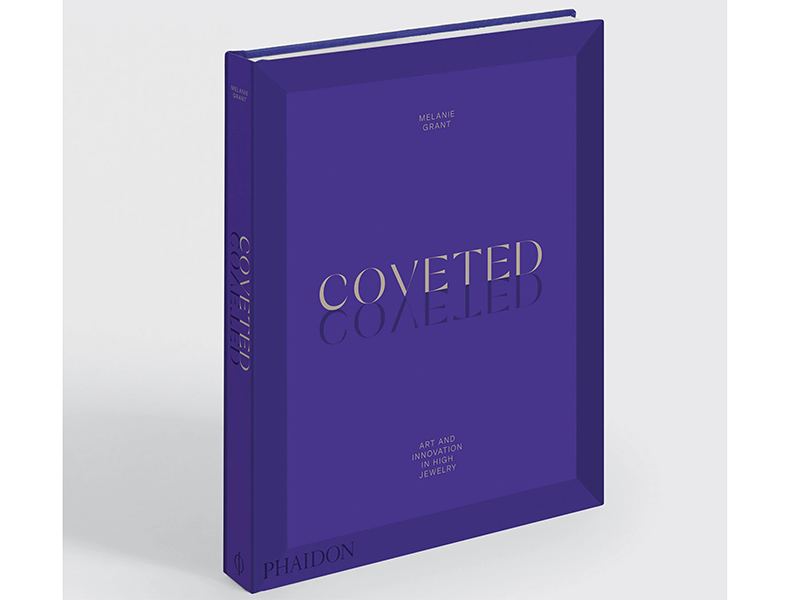 Why is jewelry coveted? We may know why, but the author of a new book explains it for readers of the New York Times. "Jewelry, Melanie Grant said, has always been perceived as inferior to fine art. "I wanted to challenge this hierarchy," added the author of Coveted, a new book that recounts the social, technological and artistic shifts that have revolutionized high jewelry. "We struggle to call jewelry art because of its intrinsic value, because it's perceived as being about craft and materials, where fine art is about ideas," Ms. Grant said. But, she continued, art has its own commercial ties, and jewelry is much more than the beauty or cost of its elements. The book quotes Robert Lee Morris, the American sculptor and jewelry designer: 'Good jewelry raises your frequency every time you look at it.'" Read the article.
JEWELRY IN THE NEWS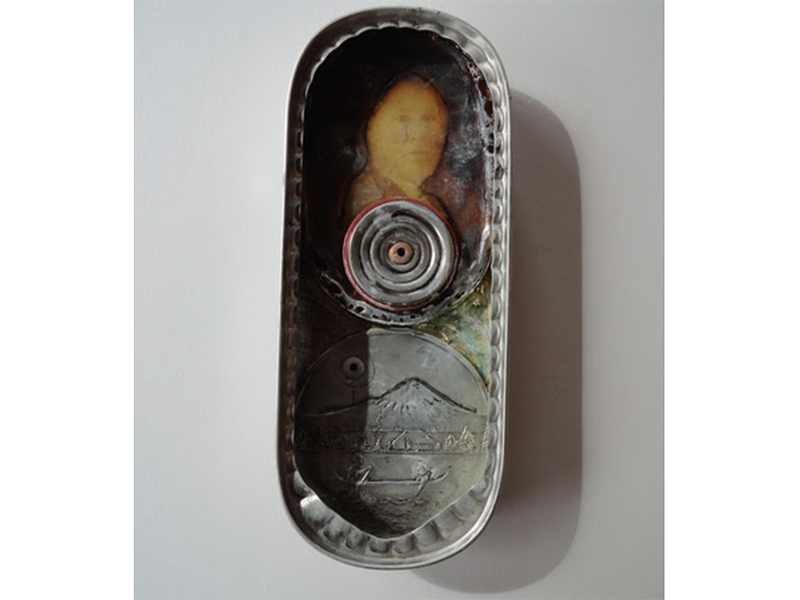 J. Fred Woell's estate has announced that three pieces of his work will be placed in the collection of the Cranbrook Art Museum—the bronze sculpture Jesus Saves Everything (Part II) (1969); and two jewelry pieces: Last Chapter (2012), and On Moonlight Bay (2009).
OBITUARY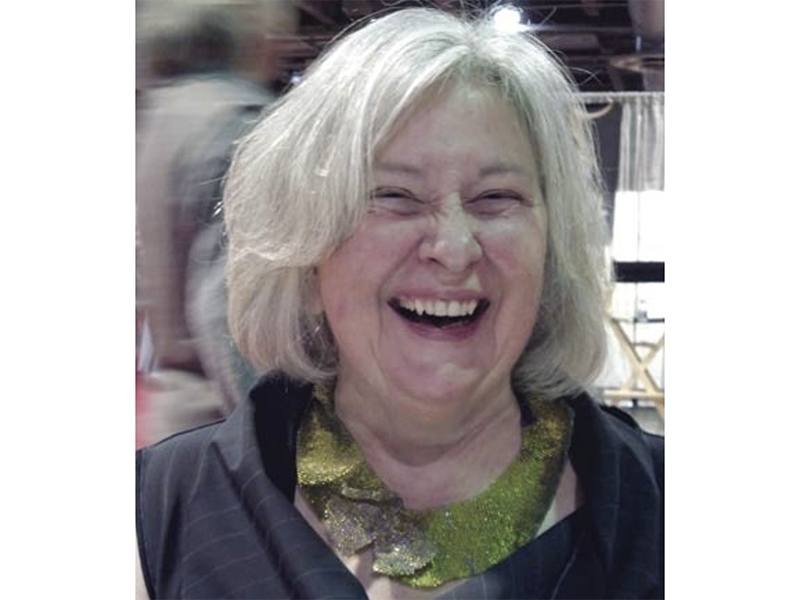 Carolyn L. E. Benesh, the coeditor of Ornament, died of breast cancer on September 30, 2020. She cofounded the magazine in 1974 (it was originally called Bead Journal) with her husband, Robert Liu. As the magazine's focus changed, so did its name. Benesh traveled widely documenting jewelry and textile arts. She had served as a board member of Craft in America since its beginnings.
Read the remembrance published by her husband and their son, Patrick R. Benesh-Liu. Jeweler Andy Cooperman filmed a YouTube remembrance; you can watch it here.
OBITUARY
Ruth DeYoung Kohler II, 79, died November 14, 2020 at her home. Kohler was a tireless champion of under-recognized artists and art forms. She saw the arts as a driver of positive social change, upholding the pillars of diversity, inclusiveness and community involvement. Through her work at the John Michael Kohler Arts Center, Kohler Foundation Inc., National Endowment for the Arts, and the Wisconsin Arts Board, among others, she promoted equitable and inclusive access to the arts in her local community, her home state of Wisconsin, and on national and international levels. She served as the John Michael Kohler Arts Center's director from 1972–2016, having started as a volunteer and holding the position of assistant director from 1968–1972. Through her guidance, the Arts Center grew from a local arts center to an internationally recognized institution presenting contemporary art, the work of vernacular artists, performing arts, and the work of art-environment builders. Kohler and her brother collaborated as the driving forces behind the unique intersection of industrial manufacturing and contemporary art through the formation of the Arts/Industry residency program in 1974 with Kohler Co. This one-of-a-kind collaboration with a manufacturer of plumbing products became world-renowned as one of the most remarkable alliances of art and industry in the United States. Nearly 500 residents have benefited from her visionary idea that artists and industrial craftspeople can find commonality in the exchange of creative ideas and technical expertise. Read the full Chicago Tribune obituary.