Art Jewelry Forum's extensive network of international
gallery supporters
is dedicated to celebrating and showing art jewelry. On Offer is a monthly series that allows AJF galleries to showcase a piece that they've personally selected to tempt and inspire you. Please contact the gallery directly for inquiries. Enjoy!
MUSEUM WORTHY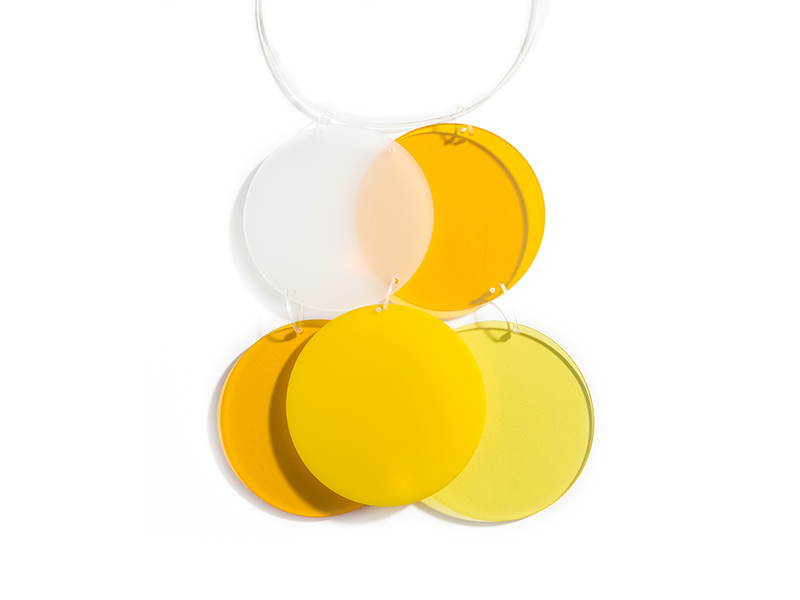 Artist: Hermann Jünger
Gallery: Quittenbaum Gallery
Contact: Nadine Becker
Retail: €1,800
In the complete works of Hermann Jünger, the episode of V-Jewelry stands out clearly. This intensive examination of a single base material, namely acrylic, only took place between 1968 and 1971. During that period, Jünger created around a hundred different pieces of jewelry and prototypes, including necklaces, brooches, and earrings. Structurally, the fashionable jewelry designs remain an exception in his work. Find more information in the catalog Hermann Jünger: 50 Years of V-Jewelry.
MUSEUM WORTHY
Artist: Ruudt Peters
Gallery: Galerie Rob Koudijs
Contact: Rob Koudijs
Retail: €3,800
Dutch artist Ruudt Peters is accustomed to fog in his native country. It's a fascinating phenomenon: the feeling of loneliness it causes, the silence amid the blurry shapes of an alienated world. While walking through the fog, one finds the daylight almost tangible; even so, it's hard to perceive what used to be familiar. It was an experience that made Peters start to contemplate the sliding scale between knowing, suspecting, forgetting, being unaware, and, ultimately, losing. The artist started out to try to catch this effect in his new jewelry pieces: eventually he created brooches made from an often angular, abstract silver shape, covered by a handblown, matted glass dome. Elusive work yet, once worn, movement makes the light reveal the subtle contradictions between the shapes and the space existing between them. Even though the Nebula series was conceived before coronavirus took the world in its grip, these pieces provide an apt metaphor for our present predicament. Caught up in our own worlds, we're left to ourselves, disconcerted by the circumstances, uncertain of what lies ahead…
ESTABLISHED ARTIST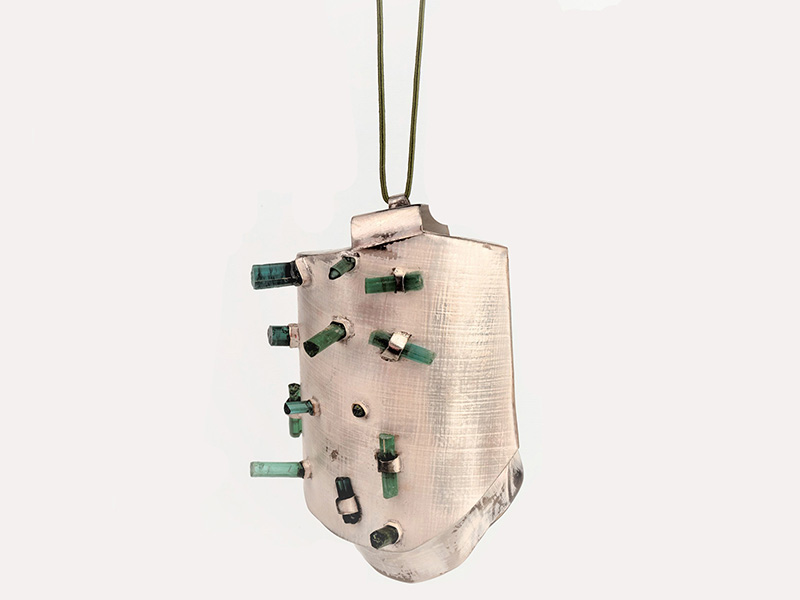 Artist: Estela Sàez
Gallery: Tamagit
Contact: Marta Tamagit
Retail: €1,100
Habibi I (Sweetheart I) belongs to the series Maybe Days, by Estela Sàez, and it is a personal expression of the memories the artist kept in her mind when experiencing post-revolutionary Cairo. The moon-like landscape, its people, the richness of its culture, and the specific energy that this part of the world offers are unique to the artist. Sterling silver has been textured with Egyptian papyrus. Silver as the moon, papyrus as the sun: both symbolize their eternal relationship. The intense tourmalines seem to highlight the "green" of life and hope within an ocean of sand and dust.
ESTABLISHED ARTIST
Artist: Claire Wolfstirn
Gallery: Galerie Elsa Vanier
Contact: Elsa Vanier
Retail: €3,990
Claire Wolfstirn trained as an industrial and graphics designer before falling under the spell of jewelry-making, for its physical contact with materials and the body/object relationship. Inspired by the consistency and strength of geometric forms and nature, she presents sober, refined pieces. Passionate about matter, she pushes metal to its physical limits. Lightly brushed surfaces greet the light gently. Wolfstirn's jewelry is born of formal research which she confronts both with graphic principles and her ideas as to the wearing of the object or its relation to the body. Her intention is that the object should give the illusion of fragility (through its transparency) while remaining strong and resistant. Oxidized steel and very thin titanium allow her to consider large graphic necklaces that offer an interesting contrast between the light passing through the cuts and the colors obtained by the oxidation. Wolfstirn's designs testify to her deep insight into form and dynamic graphics. She teaches at AFEDAP and is a member of "D'un bijou à l'Autre," an association for the development of contemporary jewelry.
ESTABLISHED ARTIST
Artist: Octavia Cook
Gallery: Fingers Gallery
Contact: Lisa Higgins
Retail: NZ$1,900
"Octavia Cook is known for work that evidences an encyclopedic interest in jewelry and its value—monetary, social, sentimental, and aesthetic," said Anna Miles. "Her fascination for the discipline she is trained in spans traditional forms like the cameo, the mourning brooch, and the locket, as well as all aspects of the packaging, marketing, and provenance of jewels. In particular, she is drawn to the social role of jewelry, especially its identity-projecting possibilities." Cook has a bachelor's degree of 3D design in jewelry from Unitec Institute of Technology, Auckland, and has exhibited extensively throughout New Zealand and internationally since 1999. Her work is held in a number of private and public collections, including the Auckland War Memorial Museum, Te Papa Tongarewa, Dowse Art Museum, MIMA (UK), MFA, Boston (US), and the Govett-Brewster Art Gallery.
ESTABLISHED ARTIST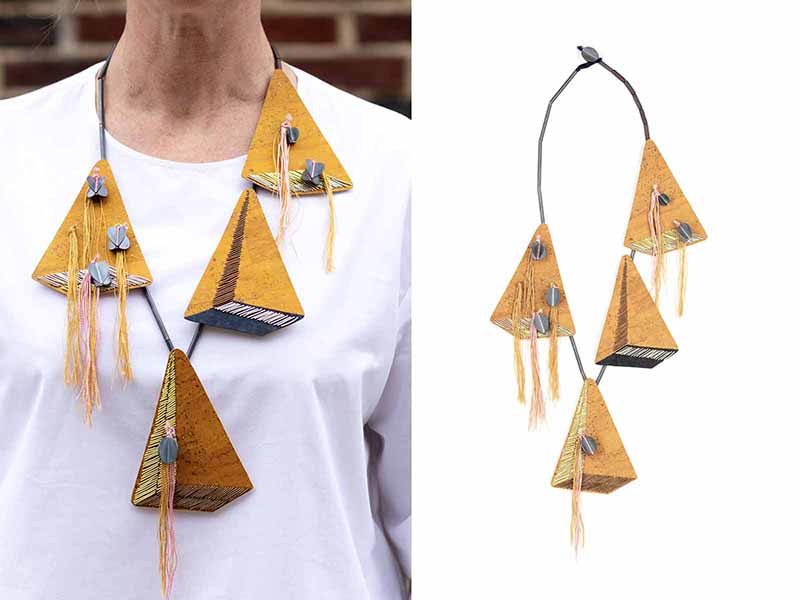 Artist: Brooke Marks-Swanson
Gallery: Galerie Noel Guyomarc'h, bijoux et objets contemporains
Contact: Noel Guyomarc'h
Retail: US$1,950
Brooke Marks-Swanson introduces her latest body of work, Topiary Circus. Always inspired by her immediate environment and daily life, Marks-Swanson translates her own observations or obsessions through an approach to jewelry that combines metalsmithing with textile construction. This new series is a response to the upheavals caused by the pandemic, a desire to translate anxiety and fear while seeking an escape through the ritual of creation. She draws her inspiration from topiary art, which involves patience, meticulousness, and a close interaction with nature's fluctuations, resulting in an eclectic combination of geometric shapes, not without recalling the chaos in which we're living at the moment. This series of colorful and flamboyant works cleverly combines rigor and frivolity and, by means of a visual reference to circus through shapes and colors, offers a brighter vision of the period we're going through.
ESTABLISHED ARTIST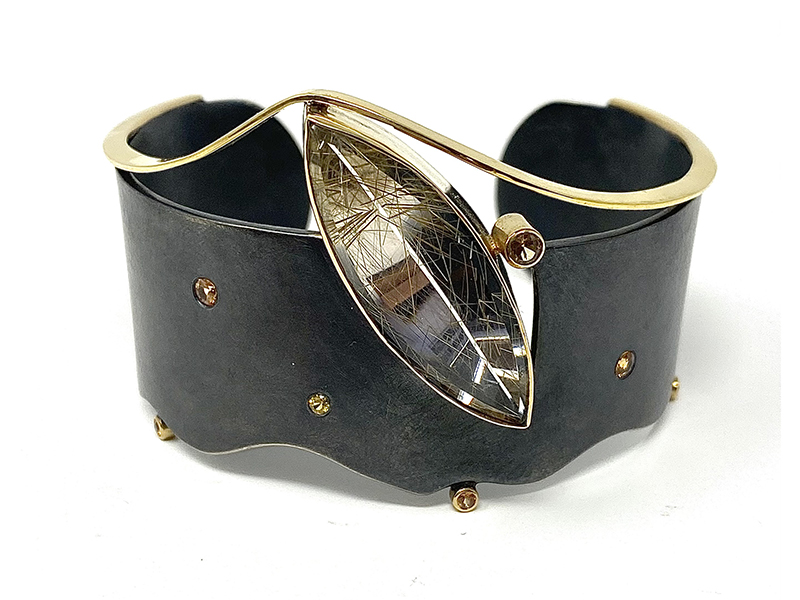 Artist: Julie Harris
Gallery: Taboo Studio
Contact: Jane Groover
Retail: US$3,300
Julie Harris is known for her sculptural take on contemporary jewelry. Her influences include Richard Serra, David Smith, and Brancusi, as well as the jewelry of Mughal India. Her pieces reflect a timeless and elegant sense of design, often incorporating one-of-a-kind gemstones as accents of form, color, and texture.
ESTABLISHED ARTIST
Artist: Herman Hermsen
Gallery: Galerie Spektrum
Contact: Jürgen Eickhoff
Retail: €850
Stop-Chain is a statement of the times, of rules and distance. Times of change in the manner in which we have contacts with friends and others. It's a necklace, ironically, and at the same time it lets you think about the situation in which we live. Herman Hermsen, born in 1953 in the Netherlands, was professor for jewelry- and product design at the University for Applied Science and Art in Düsseldorf, Germany, until two years ago.
ESTABLISHED ARTIST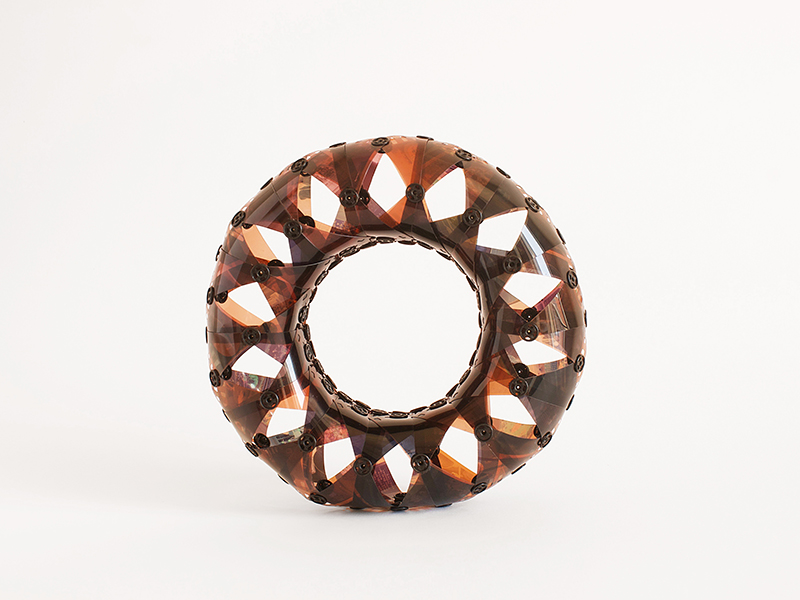 Artist: Ritsuko Ogura
Gallery: Galeria Tereza Seabra
Contact: Tereza Seabra
Retail: €870
Ritsuko Ogura is a Japanese artist known for using cardboard in her jewelry, giving new life to a material that is normally used for packaging and then discarded. She recently started to use photographic film from her own photos, transforming it into beautiful three-dimensional sculptural pieces. Her work is in major collections, including the Philadelphia Museum of Art (US); Cooper Hewitt, Smithsonian Design Museum (New York); Los Angeles County Museum of Art (US); The Design Museum (Helsinki, Finland); and the State Hermitage Museum (St. Petersburg, Russia).
ESTABLISHED ARTIST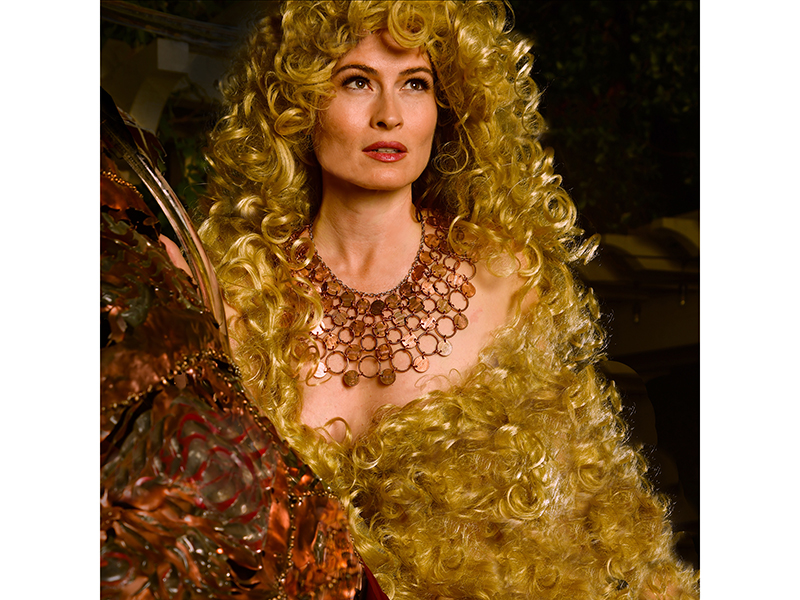 Artist: 2Roses
Gallery: Sculpture To Wear
Contact: Lisa M. Berman
Retail: US$1,500
Emancipation Collar, by 2Roses, was created for the Feel the Frill exhibition—also known as Holler with Your Collars—honoring Supreme Court Justice Ruth Bader Ginsburg and hosted by Sculpture To Wear. From the husband and wife team of 2Roses: "Pennies symbolize many things. They are the fundamental building block, the common denominator, the most basic unit, and they embody the equality of American society. They are ubiquitous, taken for granted, an omen of good luck and currency for your innermost thoughts." The reversible, one-of-a-kind collar is comprised of US pennies, copper, and sterling silver chain, with a diameter of 318 mm. Featured in the Racine Art Museum promotion.
MID-CAREER ARTIST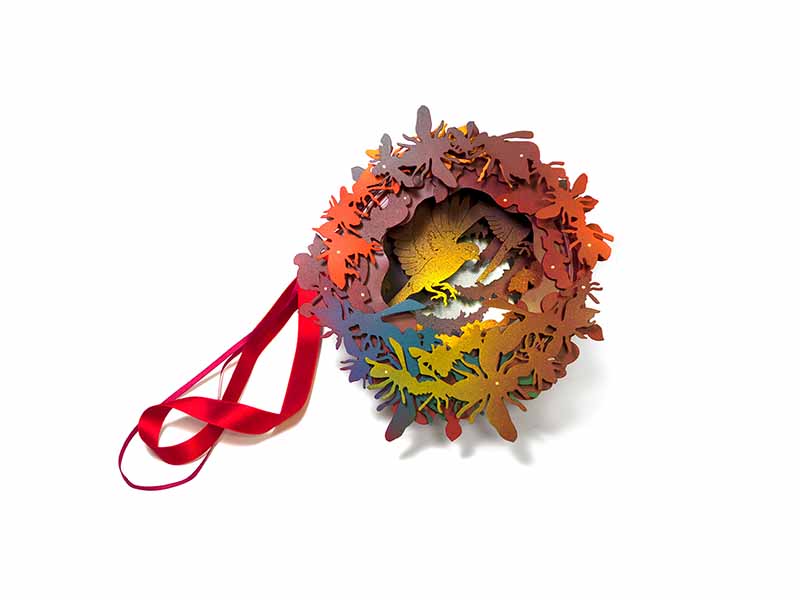 Artist: Anna Talbot
Gallery: Platina
Contact: Sofia Björkman
Retail: US$2,000
Anna Talbot's jewelry tells stories through characters, colors, and materials. The artist is inspired by fairy tales, nursery rhymes, songs, and stories. Birds, animals, insects, plants, and forests are all central elements in her universe, and they don't necessarily stick to their traditional places. Strong colors and different surfaces illustrate and create atmospheres. Layers of landscapes, stories, and fairytales build a mini universe and a picture you can carry with you, wear on your body, or hang on the wall. Talbot lives and work in Oslo.
EMERGING ARTIST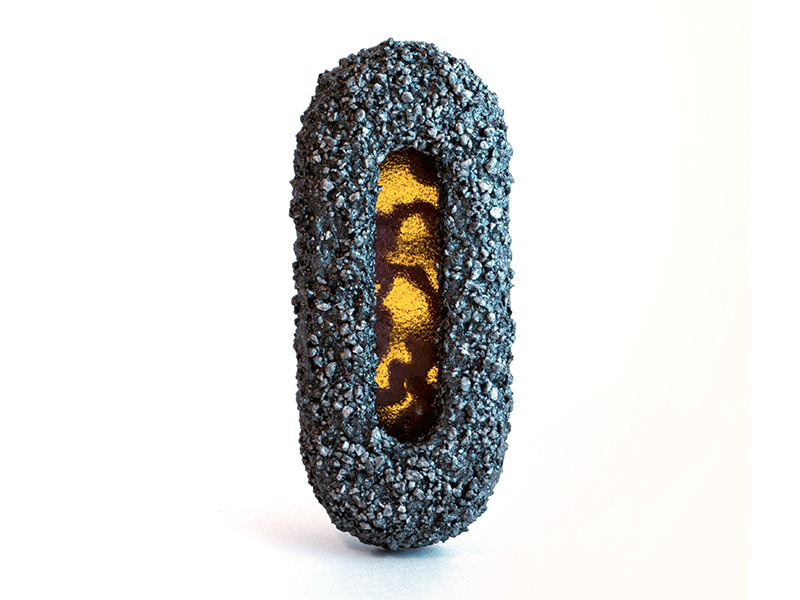 Artist: Samira Saheli
Gallery: Baltimore Jewelry Center
Contact: Shane Prada
Retail: US$275
Samira Saheli, who received her BA in art from San Diego State University in 2019, was a recent artist-in-residence at the Baltimore Jewelry Center. Her artwork is informed by oral history and culture passed down through her family. Growing up in a house that was perpetually under construction and in constant threat of foreclosure instilled in her an overwhelming desire to feel safe. Craft provides Saheli with an outlet to heal while simultaneously allowing her to give validation and comfort to the viewer through their interactions with the objects. A familial belief in magic has also shaped her approach to using personal adornment as a means of protection. Saheli approaches jewelry-making with a collage-like process, allowing each piece to tell a story.
GALLERY CHOICE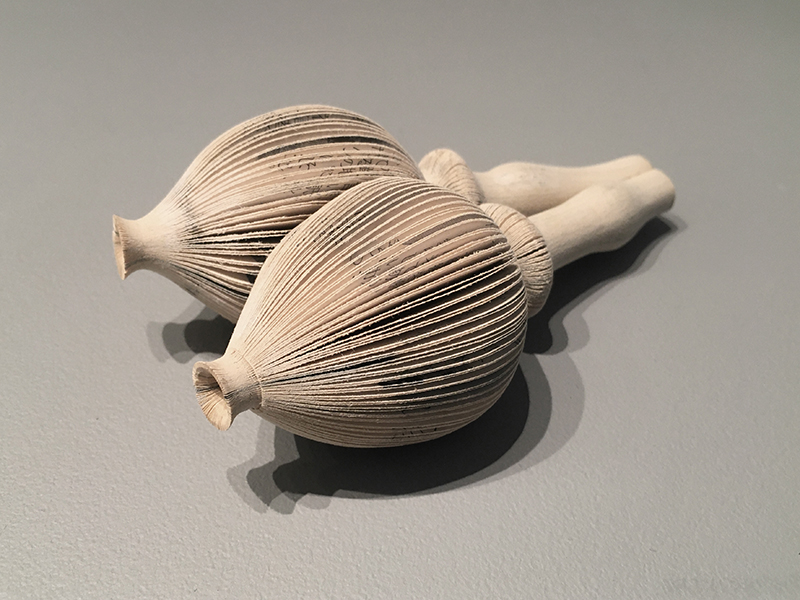 Artist: Michihiro Sato
Gallery: Four
Contact: Karin Roy Andersson
Retail: €900
Fragility is often associated with a fear of something breaking or changing, but the Japanese jewelry artist Michihiro Sato gives the concept a different meaning—an opportunity for development. This piece is a delicate organism. Maybe it will break if you touch it, maybe it will react in a completely different way.
GALLERY CHOICE
Artist: Kaori Juzu
Gallery: Galeria Reverso
Contact: Paula Crespo
Retail: €3,450
Says Kaori Juzu of the piece Holy Beige, "Beige has been always one of my essential colors to work with, though it's a kind of weird process trying to cover over a simmering glorious copper color with such a pure natural unbleached wool color… Under my working process, since I often work with enamel on copper, I never have a white canvas as a starting point. I see various colors over the copper color. It has never been an issue. Anyway, what is color? Technically, it can be [described as 'a reflection of the light frequency.' Trying to reconstruct a beige color is just like seeking the ocean's color or the sky's color from my limited color array… Is it purely a poetic working process, or an ambitious process? So, what is beige?"
GALLERY CHOICE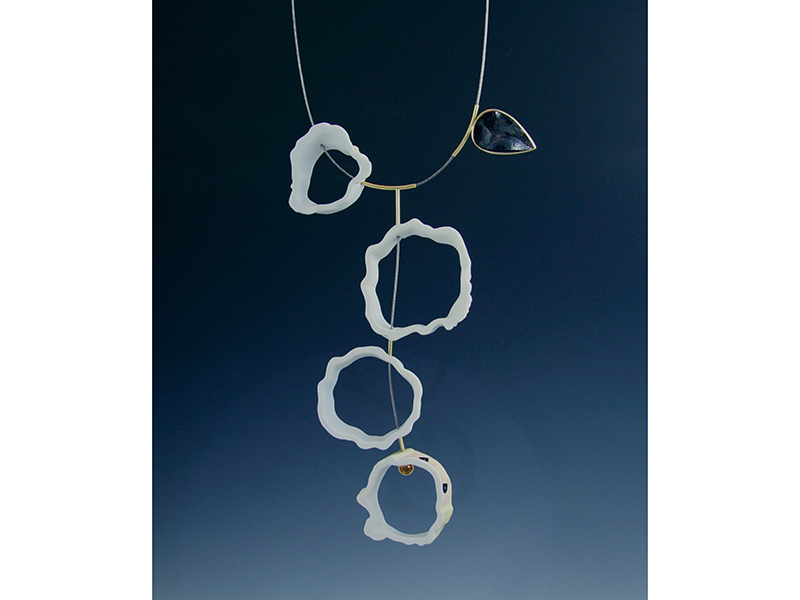 Artist: Cindy Sumner
Gallery: Yun Gee Park Gallery
Contact: Scott Duerstock
Retail: US$3,900
This cluster pendant necklace from artist Cindy Sumner's Dissections series is part of an ongoing exploration of nontraditional materials in functional adornment. Ceramic Hummel and Precious Moments figurines, slabbed into cross section, become the framework for pieces yielding unpredictable organic forms suggestive of both bone and cell. On edge, the original form reveals itself with a sliver of a hand or a face, a nod to the parent material and the body it adorns. Sumner states, "These glowing, ruffled undulations hum a melody. Their arrangement on the body is the beat. Colored gems, odd objects, and various metals add contrast that sounds out the texture and rhythm of the growing composition. The tension between valuable and mundane materials drives the tempo."
GALLERY CHOICE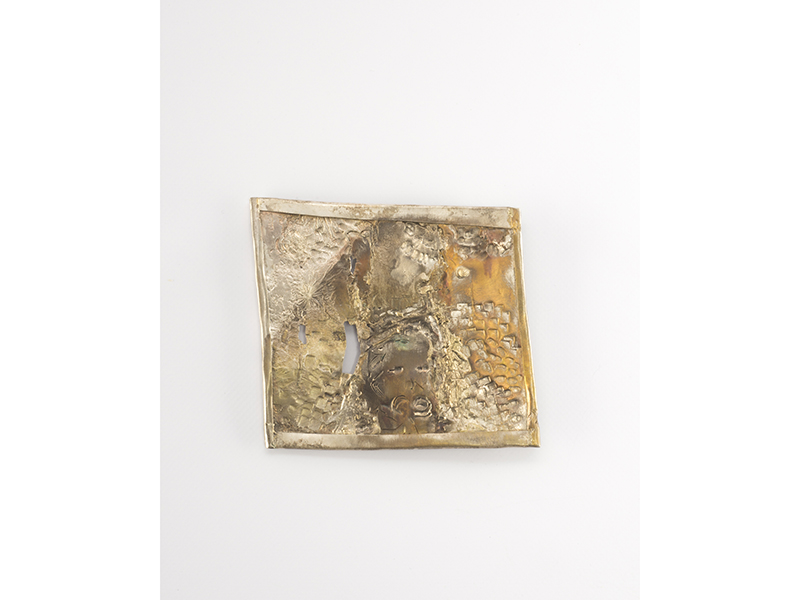 Artist: Rudolf Kocéa
Gallery: Galerie Marzee
Contact: Marie-José van den Hout
Retail: €2,000
Created in 2016, Rudolf Kocéa's brooch Oh Donald is perhaps even more pertinent today than it was back then. Working in silver, copper, and gold, Kocéa engraves and chisels, building up layers of alloy to capture, in perpetuity, an image of Donald Trump taken from a Frankfurter Allgemeine Zeitung article published in the run-up to the 2016 US presidential election. Like a sculptor, Kocéa breathes life and energy into static, frozen photographs of subjects drawn from the global political stage to the Super Bowl, Beyoncé, and beyond in this ongoing brooch series.
GALLERY CHOICE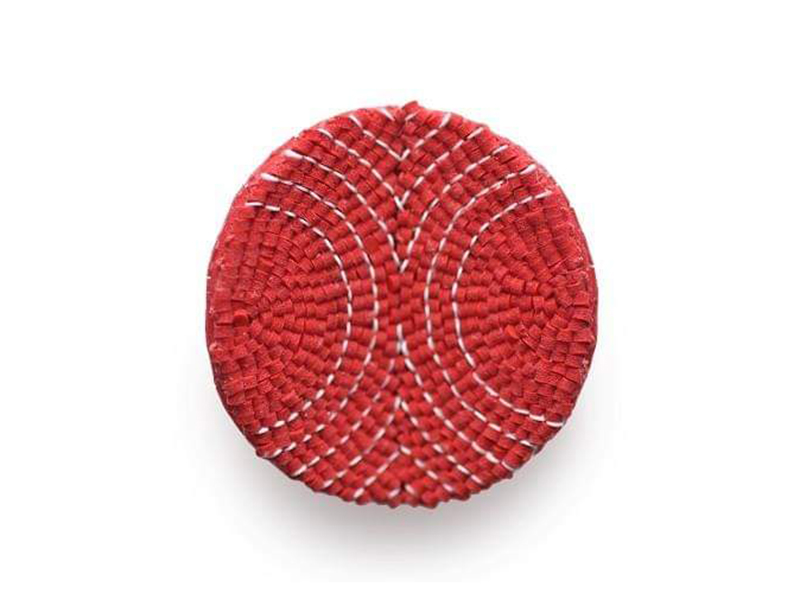 Artist: Karin Seufert
Gallery: Mydaybyday Gallery
Contact: Laura H Aureli
Retail: €375
Karin Seufert features Butterflies, her latest jewelry collection, in Rome at Mydaybyday Gallery, wishing you all a Merry Christmas this very special year. Butterflies fly high in the sky, taking our hopes and dreams to fly free up in the blue skies. Please fly with us this holiday season, says Laura Aureli. "The circle folded in half is the radical reduction of all butterfly shapes," explains Seufert. "The back is covered with scale-like arrangements, the front displays fine geometric patterns. The narrow ridge on which the wings meet sets the shape in permanent motion. Within a second the magic has passed."