Art jewelry turns tradition on its head. What constitutes a piece of jewelry is open to interpretation.[i] Material choice becomes radical. The definition of wearability shifts from person to person.
A jewelry collection is intimate in scale and has a different range of prices than one consisting of sculpture or painting. This means it can grow quickly. You can wear these pieces on your body but also store and display them compactly. All this and more is why we are here: Jewelry artists, collectors, and curators are as unique as the jewelry we love. We want to be good stewards of these objects. So let's consider the ways we can care for art jewelry while still enjoying the beauty of the pieces.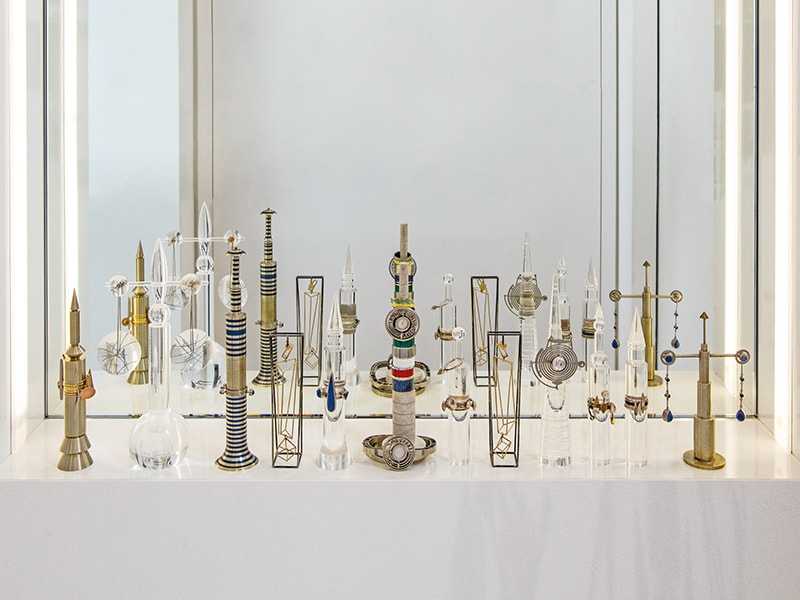 Let's start with the basics. Conventionally, jewelry was fabricated from gold, silver, and platinum. These precious metals share an important key characteristic: resistance to corrosion. This stability gives them the distinctive title of noble metals,[ii] the go-to for jewelry for millennia.
Noble metals are often alloyed with other metals to produce different hues, increase strength and ductility, and stretch limited resources. This introduces corrosion. Alloys of silver, copper, and other metals tend to tarnish or corrode, but proper storage helps to mitigate the inevitable.
Art jewelry goes a step further than metal alloys. While a single piece of art jewelry can utilize gold, silver, and platinum, as well as precious and nonprecious stones, it can also include other materials. Horn, leather, paper, shells, plastics, textiles, wood, and base metals like steel, copper, zinc, or aluminum—the list of materials used in art jewelry is endless.
So … how do you store these beautiful creations?
The basics of storage are:
Gravity
It is not best practice to hang jewelry for long periods of time. Gravity is no one's friend. Eventually, the thread will stretch, or a thin chain may kink at the hang point. While hanging is a popular way to display jewelry for ease, visibility, and enjoyment, be sure to choose the pieces you hang with the long-term effects of gravity in mind.
Air flow
Let the jewelry breathe! While exposure to air causes oxidation in silver, most natural materials want to breathe. For silver, you can use plastic bags treated with an oxidation inhibitor. Keep a polishing cloth on hand to remove small buildups of tarnish easily. For natural materials, allowing some air flow will keep mildew and other insidious forms of degradation from taking hold.
Moisture
Avoid moisture at all costs. Humidity can cause paper to mold, steel to rust, and animal hide to soften. Dehumidifiers remove moisture from the air of a large room and desiccants absorb moisture within a small space, like a box or a drawer.
Sunlight
Keeping your pieces out of prolonged exposure to direct sunlight will help them last. Sunlight bleaches color from natural and synthetic textiles, plastics, and most natural materials. Worse, it hastens decay, making pieces brittle and frail.
The best way to store your jewelry is flat, accessible, dark, and dry, but not sealed. Sounds easy, right? For most of us, that would simply mean a jewelry box, cabinet, or closet that allows the pieces to rest flat and separate from each other. When you picture a classic jewelry box with segmented trays and shallow drawers, that's the tried-and-true solution.
However, depending on the size of your collection, you may need to scale up. An example could be stackable jewelry trays in a drawer or on a closet shelf. Many jewelry collectors actively wear their jewelry and want to find pieces easily. Clear plastic boxes and flat drawers or trays leave pieces visible to aid in locating the perfect piece to wear.
Review past interviews on AJF with collectors with an eye toward glimpsing their jewelry storage solutions. Or, if you are a member of AJF you might have the opportunity to visit some collectors' homes in person. This will let you see how they store their jewelry. It is an inspiring way to start thinking about how you would solve your own storage conundrums. Every collector approaches the solution differently, based on their relationship to the pieces and their style of collecting. The options are endless and are as unique as you and your collection of jewelry.
Here are some storage and display possibilities from AJF readers: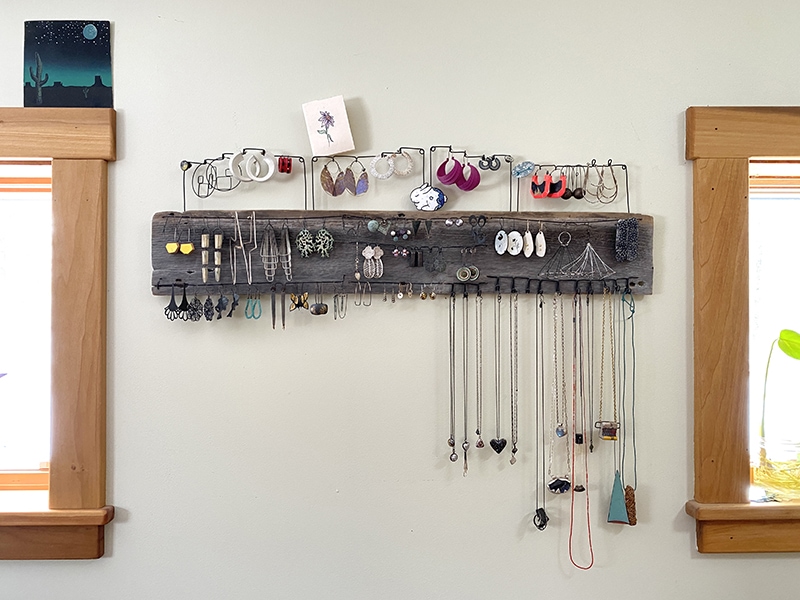 A custom wall mount
Artist Jera Lodge picked up a weathered board while at Haystack Mountain School of Craft in Deer Isle, Maine. She used a simple wire bending technique learned from fellow artist Ellen Wieske to create a custom wall display for her earrings and necklaces. Lodge actively wears her pieces, so they don't hang for too long and she's careful to make sure they stay out of direct sunlight.
Shadow boxes
Donald Friedlich has amassed quite a collection of jewelry through trades with other artists he meets when he attends conferences and craft shows, and other travels. The Wisconsin-based artist displays his pieces in a gridded wall display using shadow boxes purchased from a craft store. Shadow boxes are deep framed boxes traditionally made to store mementos. This makes them ideal for showing jewelry that has more dimension. Shadow boxes have linen or other fabric backing that is slightly padded. The padding lets you pin pieces in place. Some shadow boxes are even hinged with magnetic closures to provide frontal access. This solution provides a way to protect the work from both dust and sunlight. Be sure to check that the glass is UV rated.
Display the work around your home
An easily accessible approach is to surround yourself with your jewelry collection. Massachusetts-based artist Efharis Alepedis displays work throughout her entire home and artist studio. On a tour of her house, you'll find jewelry on the back of doors, on walls, and on every available surface, artfully arranged and begging to be worn. The names of artists are written on the wall in pencil. This lovely personal touch helps Alepedis remember not only the artist's name but also where to return a piece after wearing it.
Clear plastic containers
Deedie Rose,[iii] a Texas-based collector and philanthropist, uses practical clear plastic lidded bins to store her extensive collection in her closet. She keeps them in her bedroom closet, hidden behind a custom-designed headboard and extending into the closet. As someone who wears pieces from her collection daily, Rose wants the work to be accessible without having to fuss with too many barriers when she is getting ready. She keeps track of her collection with cards printed with the artist's name and other important information.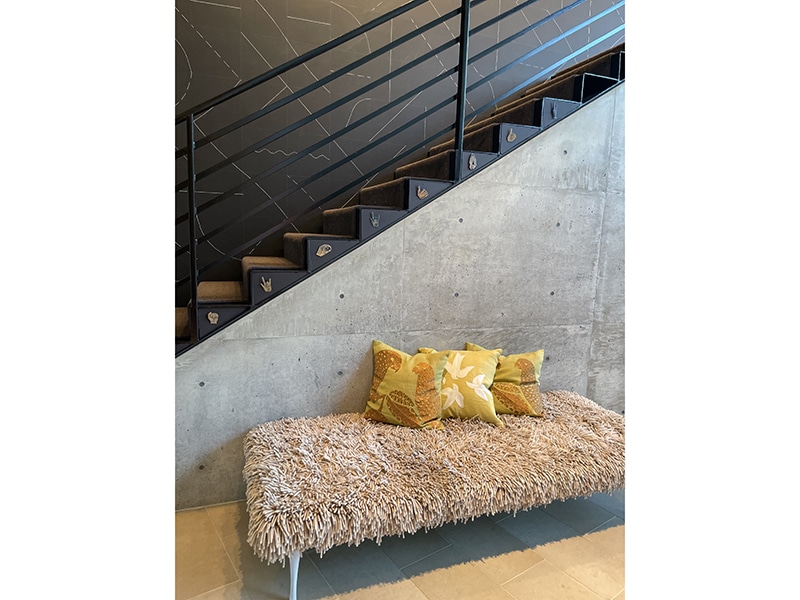 Furniture
Rose also displays work throughout her home, installed in interesting ways. Some pieces from her jewelry collection are displayed in the living spaces on whimsical shelves while others are playfully mounted on the staircase. These displays create interesting conversations between her guests and the larger pieces of art.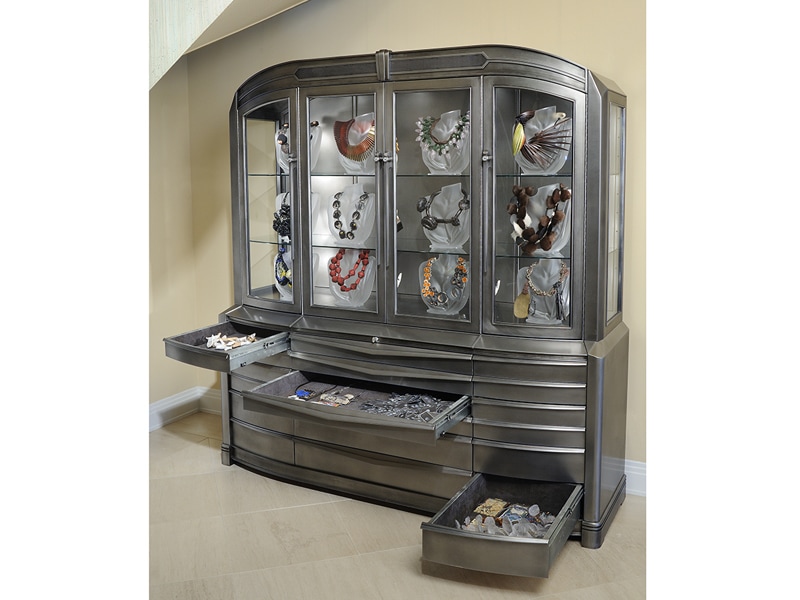 For California-based collector Susan Beech,[iv] wearability is a determining factor in her purchasing decisions. She wears pieces from her collection regularly. Her storage solution includes having furniture created specifically to hold her jewelry. This allows the work to be displayed while keeping it accessible for her to wear. The furniture itself is a piece of art and a statement in her beautiful home as well.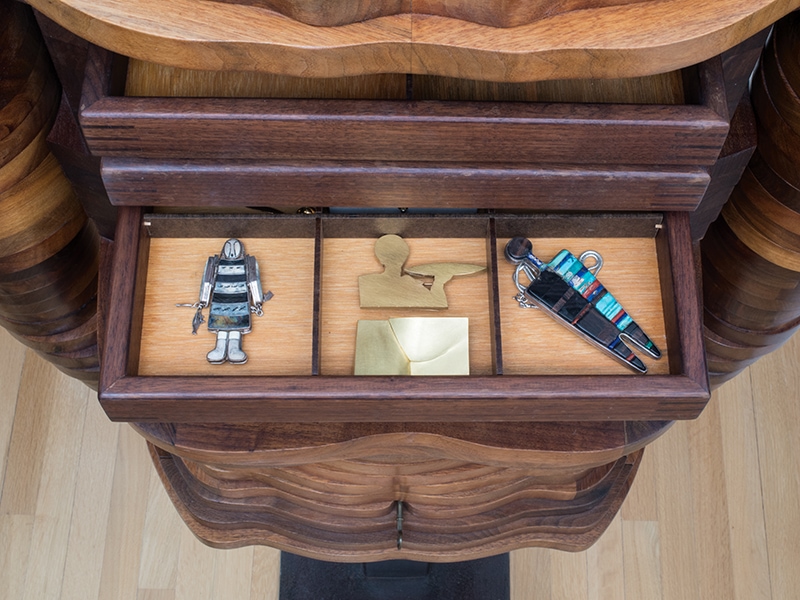 Artist-built mounts
The late Sandra Grotta's art-filled home, in rural New Jersey, includes work from jewelers Charles Loloma, Wendy Ramshaw, and Gerd Rothmann, among many others. They are displayed on artist-built mounts.[v] The book The Grotta Home by Richard Meier: A Marriage of Architecture and Craft includes several photos of the displays within the beautiful building designed for the Grottas to live with the beautiful craft objects they collected over their lifetimes.
As her husband, Lou Grotta, recently said to their son Tom, "what really made [her] jewelry collection unique—besides the fact that she wore it all—was that the jewelry was taken out of the chests and drawers and displayed on the walls as pieces of art itself. The hung-on-the-wall, removable frames enabled her to display necklaces that she could pull off the frame and wear and provided a rotating selection of her favorites to see and appreciate between wearings."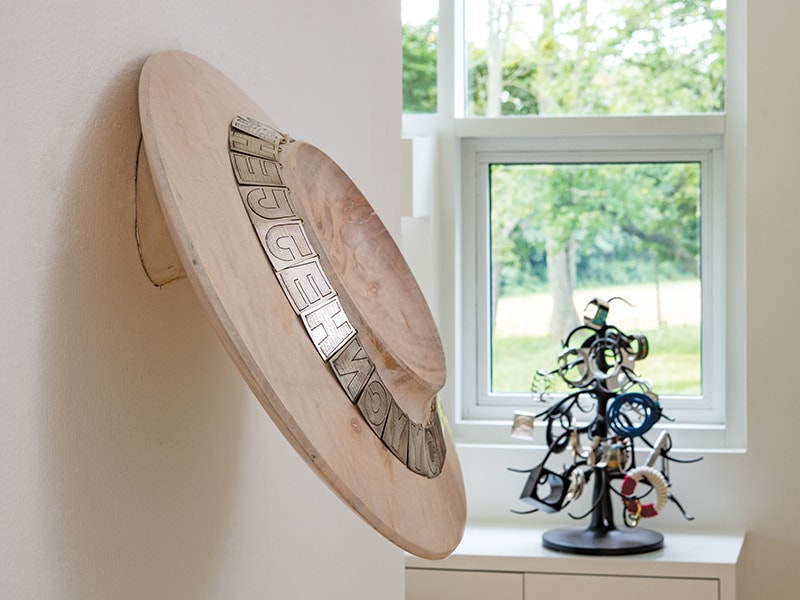 Museum-quality displays
Conversely, Susan Cummins[vi] is well known for not wearing the jewelry she collects. Instead, she had a museum-quality display built to showcase her extensive jewelry collection. The elegant display opens in stages, allowing the work to be selectively displayed or expansively exposed. She updates the display regularly to feature different pieces, so each visit to her home reveals new work to appreciate.
These are just a few ways jewelry lovers live with their jewelry collections. The possibilities are endless, as varied as home-decorating approaches and jewelry taste. Art Jewelry Forum wants to see how you've solved storing your beautiful amalgamations—send images to this link!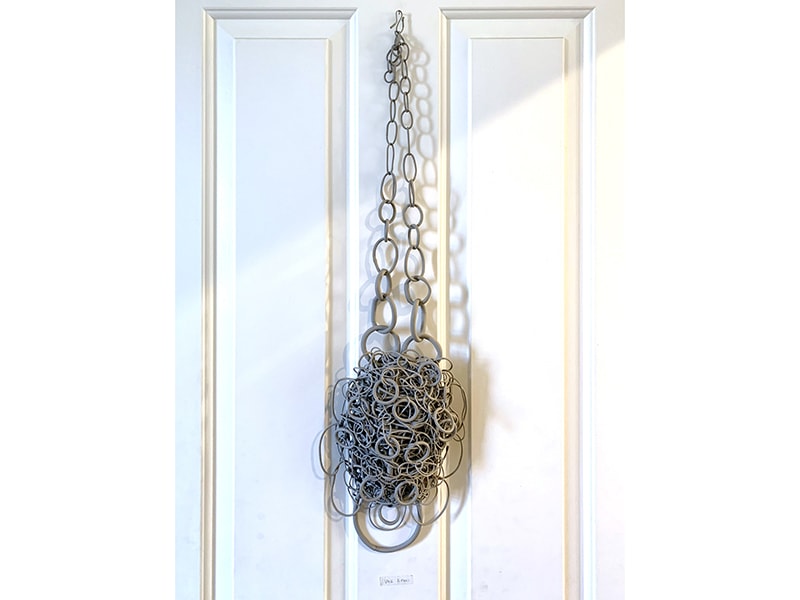 RELATED: Read another article by Rebekah Frank on the importance of cataloguing and archiving your art jewelry collection, as well as some ways to begin this important process, here. And for an academic look at the difficulties of art jewelry conservation,
please see the 2018 AJF article by Astrid Ubbink, The Concerns of Conservation.
[i] https://artjewelryforum.org/articles/how-do-you-define-art-jewelry_jan22/
[ii] https://www.thoughtco.com/introduction-to-noble-metals-608444
[iii] https://artjewelryforum.org/interviews/deedie-rose/
[iv] https://artjewelryforum.org/interviews/conversation-with-susan-beech-about-her-mid-career-grant/
[v] See other examples here: https://artjewelryforum.org/articles/a-shy-lady/
[vi] https://artjewelryforum.org/interviews/susan-cummins-in-conversation/