During the first days after Russia invaded Ukraine, I could not believe it had happened. I'm here to tell you a few words about jewelers from Ukraine, along with a bit of my own story. I was born in Belarus, a state bordering both Russia and Ukraine, and lived there until just a few weeks ago. I have many friends and colleagues both in Russia and Ukraine. I've been in both countries hundreds of times. I woke up February 24, 2022, and the first news I read was about the war. Although this is not Belarus's war, I still immediately realized that life would never be the same again.
A few days later, I decided to leave the country where I live, where I have a career, all my friends, colleagues. Back in 2020–2021, after illegitimate elections, hundreds of my friends were detained. Many of them are still in prison with terms from two to 18 years. Many were terribly beaten. Hundreds of my friends left Belarus, running away from the regime.
Back then I decided that I would have to leave the country. But I didn't think I'd have to run so soon. And I had to do it quickly, to not get stuck in a country where the pressure of the regime from one side and the sanctions from the other grow with each hour.
On March 4, I arrived in Uzbekistan, the only country to which it was possible to fly quickly and affordably. I have no friends or colleagues. I have never been here. And although it's hard for me and I don't know where exactly I will go next, I understand that my burdens are incommensurable with the burdens and pain of the Ukrainian people.
Immediately upon arrival in Uzbekistan, realizing that now a new reality had come, I decided that something had to be done. Each day I post useful information for Ukrainians in my Instagram account. I also pulled myself together and began to prepare this photo essay about Ukrainian jewelers. Most of them are still in Ukraine and helping their country.
This is a proud, strong people that I love with all my heart.
Editor' note: In the descriptions of the jewelers' work in the photo captions below, you will find their personal stories from their new lives, as well as links to their Instagram pages, where you can directly contact them to help. Elena Karpilova has also supplied these four links, which you can click on to find out more about how you can help the Ukrainians in their resistance:
Also, this is the first of two photo essays Elena Karpilova produced about Ukrainian jewelers. You can find the second one here.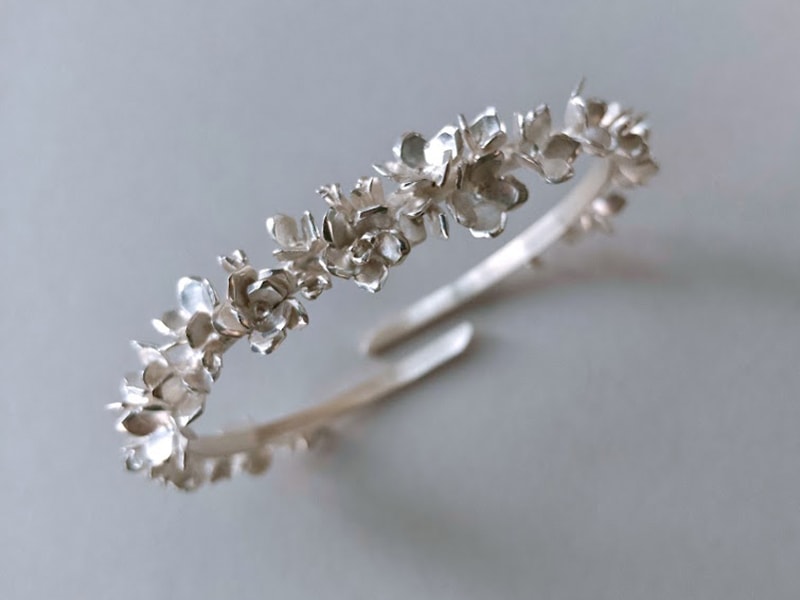 Danylo Lychko graduated in 2013 from Lviv Academy of Arts. He started to make jewelry in 2014. "With the outbreak of the war," he says, "in the first two days, I thought only about my family and how to find time to prepare for the worst. From the first day, everyone lost their 'I' and became 'we,' a single organism. 'We,' as the immune system in the fight against a severe virus." | Lychko Jewelry, bracelet, 2021, silver, photo courtesy of the artist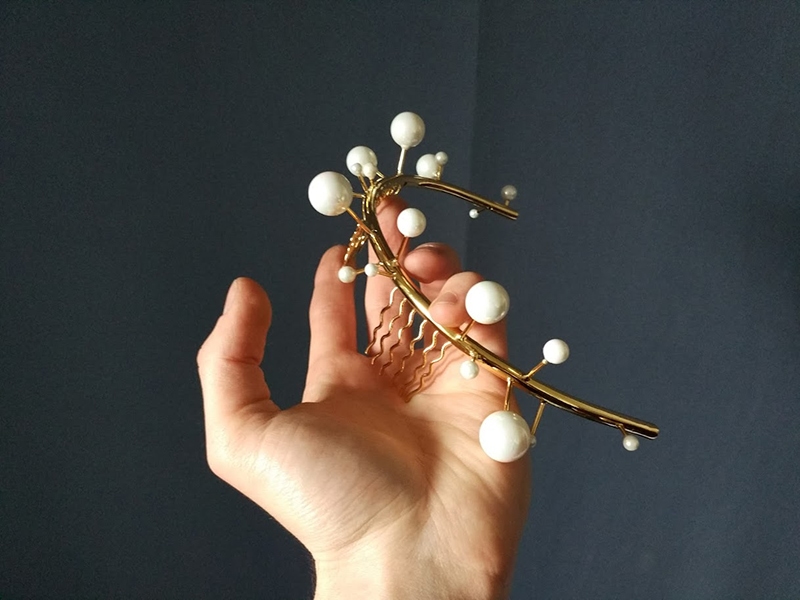 "Every day is a new occupation, volunteering or informational struggle, or creating posters to support Ukraine," says Lychko. "Elena Karpilova's request about some information about me literally reminded of my 'I,' my personality, and I hope that I will soon be able to return to this state." Lychko is now safe with his family and has no plans to leave Ukraine. If you want to help the family or volunteers helping people in areas of the country where fighting is taking place, write to him. INFO: @lychkojewelry | Lychko Jewelry, 2017, diadem with gilding and pearls, made for hat designer Ruslan Baginskiy, photo courtesy of the artist
This jewelry is from the collection Independence. It was released in collaboration with the Ukrainian brand Gunia Project for Ukraine's 30th anniversary of independence, in 2021. Its artist designers are women, and the brand is also dedicated to women. It is designed to demonstrate that modern Ukrainian women are strong, independent, able to take responsibility and make decisions. "Now, during the war, we are forced to suspend sales," says Valeria Guzema, "because part of our team is hiding in bomb shelters, and part has left the country for security reasons. We provide humanitarian aid to Ukraine. We transferred UAH 1 million for the needs of the Ukrainian army. Every day we help to distribute necessary information for victims. We have a large audience on Instagram, so we publish a lot of information on the page in order to quickly find help." INFO: guzema.com  @guzema_jewelry  @gunia_project | Guzema Fine Jewelry, 2021, two mono-earrings from the Independence collection, 14-karat yellow gold, photo: Stephan Lisowski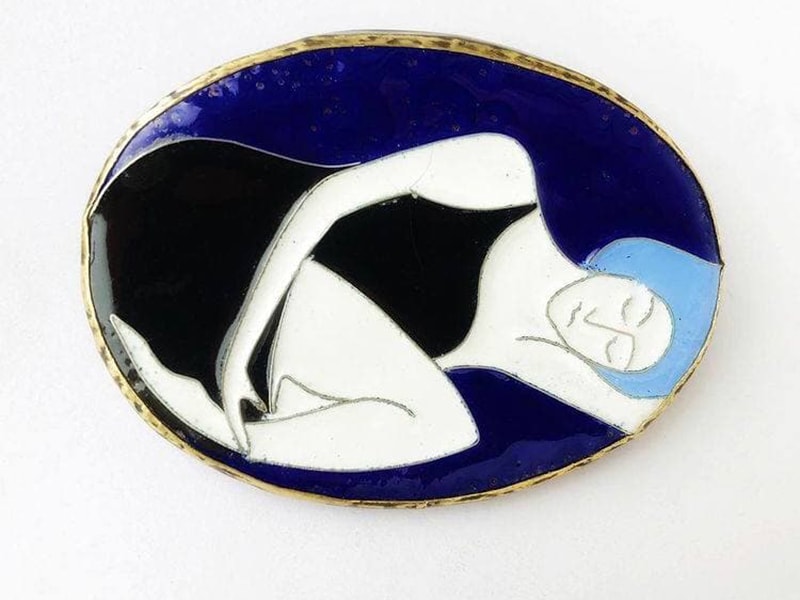 "I started making jewelry when I was in my last year at the Lviv Academy of Arts," says Maya Kotelnitskaya. "I have been doing this since 2008. At first I made jewelry from semiprecious stones and metals, and over time I became interested in enamel. I've participated in many jewelry exhibitions in Ukraine. Now I am designing new jewelry and working as a psychotherapist for those who need psychological help, since my other higher education is in psychotherapy. I am in Lviv, where I plan to stay. There are many different initiatives to help now. I think a great way for foreigners to help Ukraine is to pay for airbnb housing for refugees. A lot of them are now leaving Kharkiv and Kyiv, and finding a place to live temporarily is a big problem." INFO: maya-showroom.com  @mayakotelnitskaya | Maya Kotelnitskaya, Endless Night, 2020, brooch, enamel, brass, photo courtesy of the artist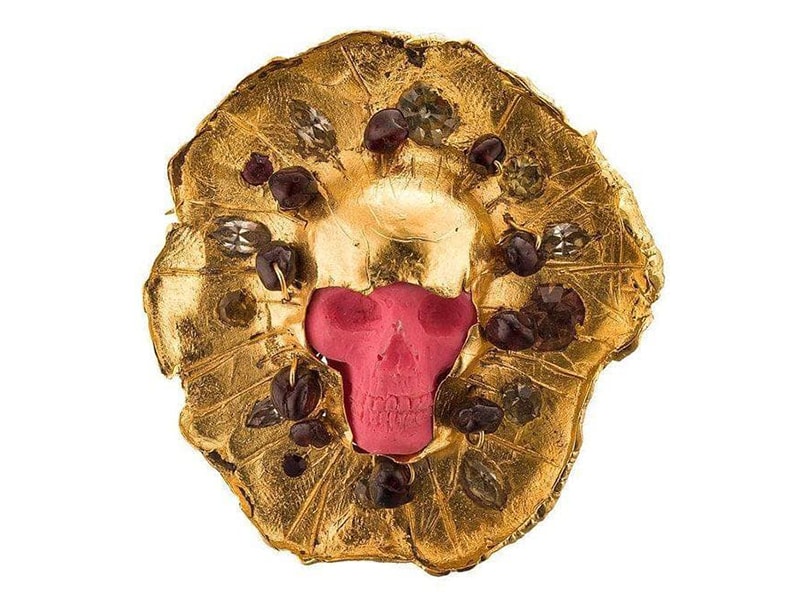 The brand name Zhernov Artifactory comes from the word "artifact," since most of the products are one of a kind. The brand was founded by Sergey Zhernov. He grew up in a family of self-taught artists. His grandfather and father were engaged in the restoration of icons, and he helped them. In 2014, Zhernov decided to apply his skills to working with metal in small formats—jewelry. He was nominated for the "six jewelers worth knowing and wearing" award (Buro 24/7, 2015), referred to in "Treasures of the Nation" (Harpers Bazaar Ukraine, 2015), and has participated twice in SIERAAD (Amsterdam, 2017, 2018). | Zhernov Artifactory, The End of a Beautiful Era, 2021, brooch, copper, gilding, garnets, plastic, photo courtesy of the artist
"At the moment we are refugees," says Lilia, Sergey Zhernov's wife. "We are now in Geneva, after leaving Ukraine a couple of days ago with our two small children. We are looking for an opportunity to hold an exhibition of our works that we brought with us, and are looking for some kind of workshop here. However, all our tools, materials, and sketches have remained in Kyiv. But with us the main thing is our family, and also our hands, which are the most valuable tool." INFO: the-artifactory.com  @zhernov_artifactory | Zhernov Artifactory, The End of a Beautiful Era (back), 2021, brooch, copper, gilding, garnets, plastic, photo courtesy of the artist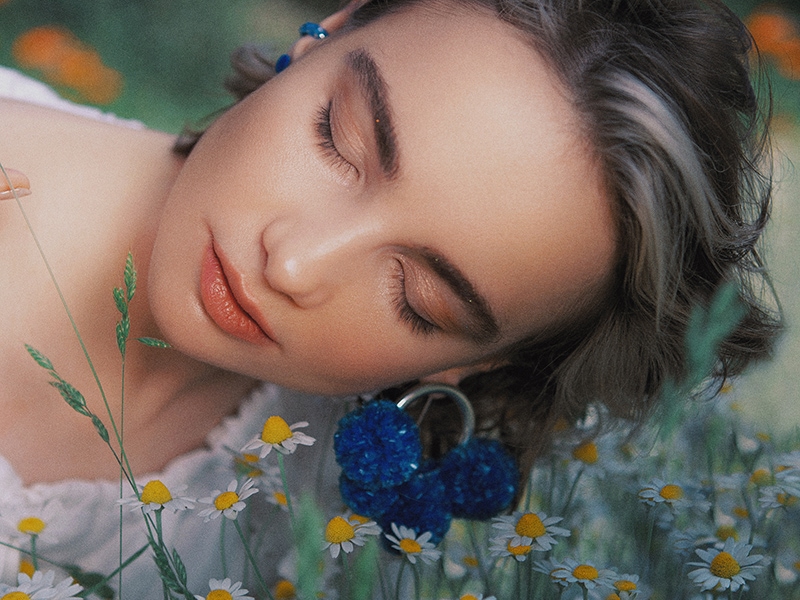 "I want to show the value of what has been forgotten, thrown away, missed," says Lena Yastreb, of Yastreb jewelry. "The RE collection is made from recycled silver and nonrecyclable plastic. In this series I used one of the forgotten methods for finishing Ukrainian folk clothes: pompoms. These spherical decorations are usually made from thread, but in my version they're ribbons cut from plastic bags. The word "pompom" comes from the French pompe, which means magnificence." | Yastreb Jewelry, mono-earring from the RE collection, silver, plastic bags, synthetic threads, 50 mm in diameter, with a number of pompoms from the bottom (3 or 5 units), photo: Alex Butko
"I've been in the jewelry business for about 10 years," says Yastreb. "I came to the jewelry business after almost 20 different professions. Today our company can't accept orders. We can't fulfill them until the war is over. Me and my friends are now in civil defense. We are working on organizing warehouses for medicines and food in the central part of Ukraine." INFO: yastreb.jewelry  @yastreb.jewelry | Yastreb Jewelry, ring from the RE collection, silver, plastic bags, synthetic threads, photo: Alex Butko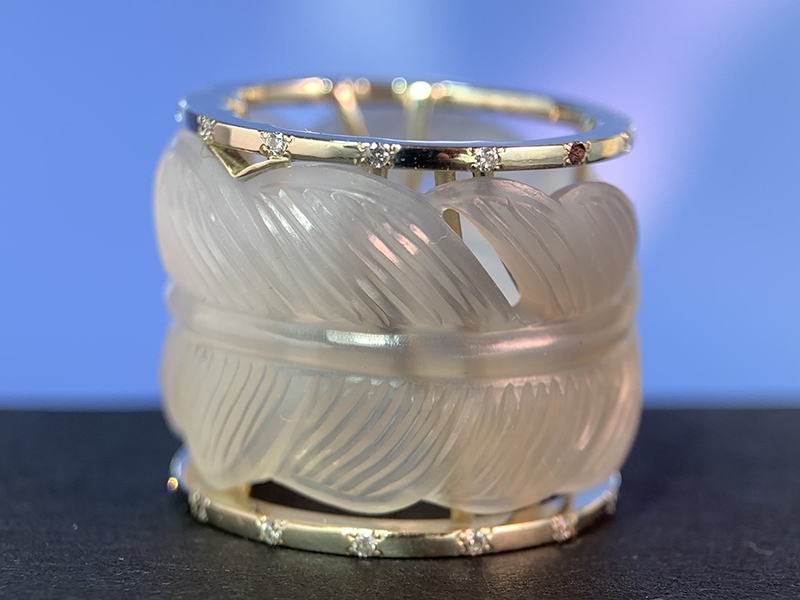 Oleg Pavlyk was born in Lutsk, Ukraine. He graduated from art school, and also from the ceramics department at the School of Culture and Arts, in Lutsk. In 2005, he entered the Department of Decorative and Applied Arts, Department of Artistic Metalworking, at Lviv National Academy of Arts. He graduated in 2012 and started working in a private jewelry workshop, where he began to study and research this profession, "which I fell in love with," he says. "So far, Lviv is calm and not bombed. I signed up to patrol my area, but they put me on the third list, since a large number of people had already signed up. To help my country, I am looking for foreign jewelers in Instagram's newsfeed. I go to their page and write in the comments, requesting help for Ukraine, protection for its borders, and humanitarian aid. I do this all day long." INFO: @pavlyk_jewelry  YouTube | Pavlyk Jewelry, Feather, 2019, ring, agate, hand-carved stone, gold, 28 diamonds 1mm in diameter, 18.5 mm/23 mm, photo: Anastasia Komarova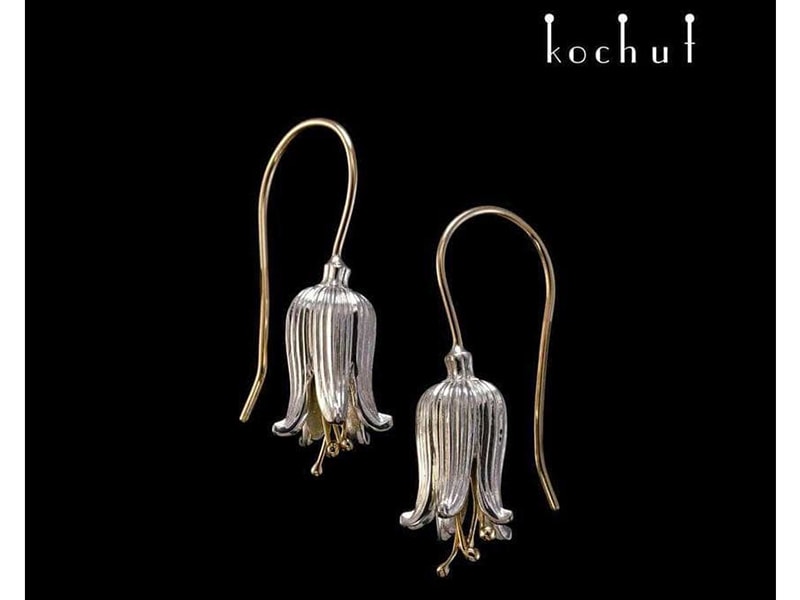 The Kochut brand was created in 2013 by three brothers. Its name is their last name. For some time, the guys were engaged in medieval reconstructions. They made armor and chain mail. This gradually led them to the jewelry business. Production and two stores are located in Ukraine. There are also several partner stores in Europe and America. "During the war, for 12 days now, we have been trying to help as best we can—with money, actions, information. It's difficult for everyone." The idea behind these earrings is a story about simplicity. About the simple joys of life, such as finding a bell-shaped flower in a field, smelling the scent of flowers. "I see the ripe sky in your eyes. And your laughter is ringing in my imagination like bells, as a signal that the world is still good. Symbolically. We hope that ringing laughter will soon return to every home," say the artists. INFO: jewellery.kochut.org/en/shop/  @kochut_jewelry | Kochut Jewellery, Dzvinochki (Bells), 2019, earrings, silver, 14-karat yellow gold, approximately 33 mm tall, photo courtesy of the artists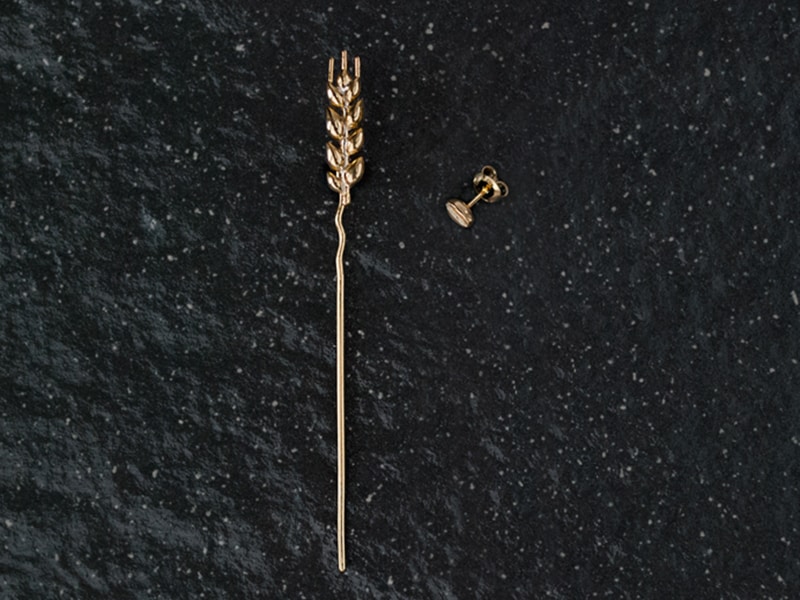 "Koval means 'blacksmith' in Ukrainian," says jewelry designer Nataliia Koval, "a person who makes different objects from metal. After working as an art director at the biggest advertising agency in Ukrainian, now, as a reflection of the meaning of my family name, I create designer jewelry under the trade name Koval and am proud of it. Among my brand's assortment of choices, you won't find individual pieces or custom orders. I offer only complete collections, designed and crafted by me. Completed collection—completed story!" INFO: kovaljewellery.com.ua/en  @koval.jewellery | Koval Jewellery, Grains, 2020, sterling silver, gilding, 2.5 g, 5 x 70 mm long (leg length 55 mm), pusetta 12 x 5 mm, photo courtesy of the artist
"In pre-war life," says Anna Yasynska, "I was a designer and jeweler for my own jewelry brand, Jewelry by Anna Yasynska. My love story with jewelry began as a child. My dad is a jeweler. I loved spending time in his studio, making wax molds, watching the work process. From the age of 15 I knew that I wanted to be a jeweler, so I entered the Lviv National Academy of Arts. Now I have had to leave Kyiv, the city where I live, to move my workshop to a safer one in the west, at my parents' place. I am currently volunteering, searching for military ammunition abroad and weaving camouflage nets for the army. I never planned to go abroad, so I stay to help in the rear. I believe in the Armed Forces of Ukraine, in which my father now serves, and I believe in the indomitable strength of the spirit of the Ukrainian people." INFO: annayasynska.com  @jewelry_by_anna_yasynska | Anna Yasynska, earrings from the Rope series, 2021, cast silver, cultured pearls, 37 x 28 mm, photo courtesy of the artist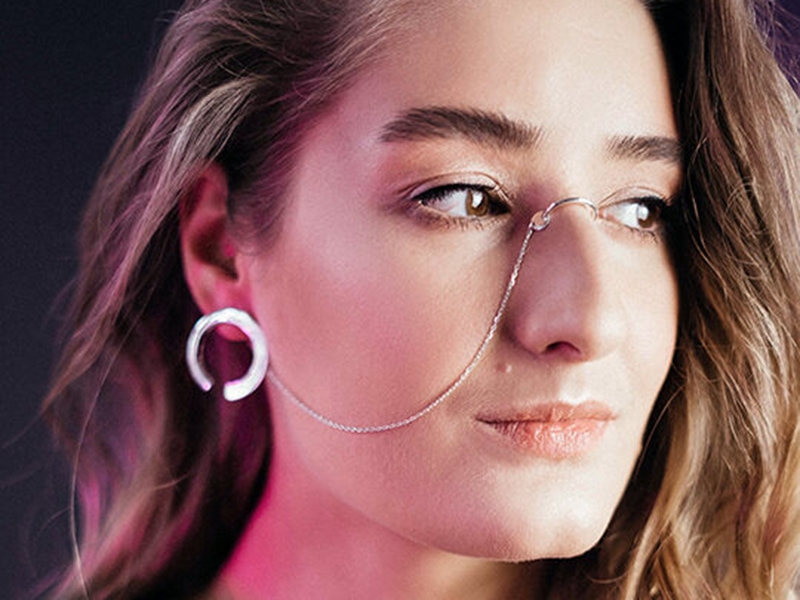 "We live in Lviv," says Myroslava Kozar. "As soon as the war started, we immediately put down all our tools and began to house people from cities located in the most dangerous areas in our workshop. One of the rooms is in the basement. It serves as a shelter, and the Detenpylagallery gallery is self-organized there. We believe in victory, or rather we know that we have already won, because the people have united like never before." | Myroslava Kozar, Nose Cuff Disks & One Chain, connected with Saturn earring, sterling silver, photo courtesy of the artist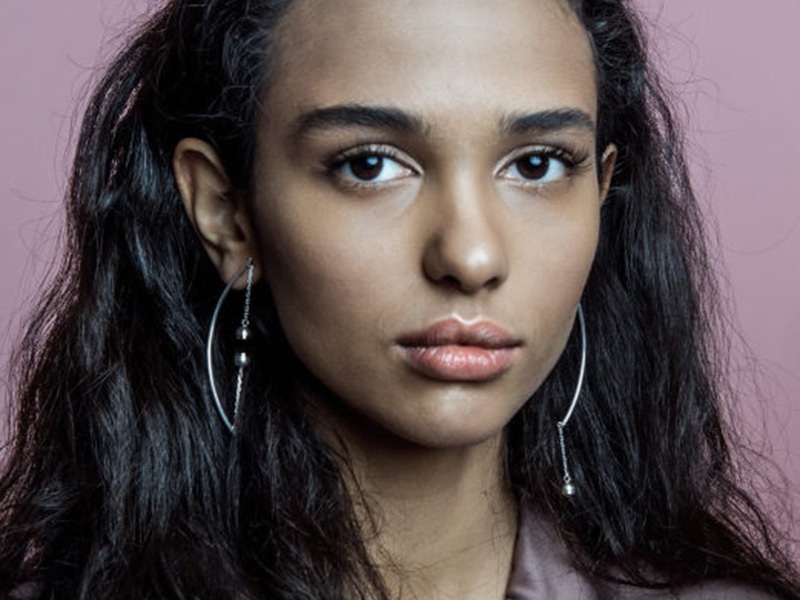 "From the city and regional council, we received a pass for permission to move around the city during curfew, from 10 p.m. to 6 a.m.," says Kozar. "For the eleventh day I have been transporting people at night, mainly mothers with children, the elderly, and people with disabilities from the station. We bring them to relatives, to friends, or to places where they are temporarily accepted. We deliver about 700 people per night. During this time, the tears of different people have mixed up in the back seat of the car. So many destinies. Drivers from Lviv Art Center help a lot." INFO: kozar.jewelry  @kozarmyroslava | Myroslava Kozar, Earrings with Magnets from Magnetic Capsule, sterling silver, 60 x 35 mm, the magnets can be connected or disconnected, photo courtesy of the artist
Denis Muzyka is a designer and jeweler, and the founder of the Denis Music Jewelry brand since 2013. He was born in St. Petersburg in 1975, and has been living in Ukraine for more than 35 years. Before becoming a jeweler, he worked as a graphic designer for over 15 years. In 2012 he received a diploma from the Jewelry College in Kyiv. Of this ring, says Muzyka, "I used rebar in it as a base for decorations, I wanted to cut off everything superfluous and show only a foundation. Back in 2019, I spoke about the crisis of the modern world and the need to return to the roots, to revise meanings, values, ​​and norms in the world. Now with Russia's military aggression against Ukraine, we see it and feel it with every cell of our body." | Denis Muzyka, Cradle, from the Reinformation collection, 2019, ring, rebar, 100 х 100 х 130 mm, photo courtesy of the artist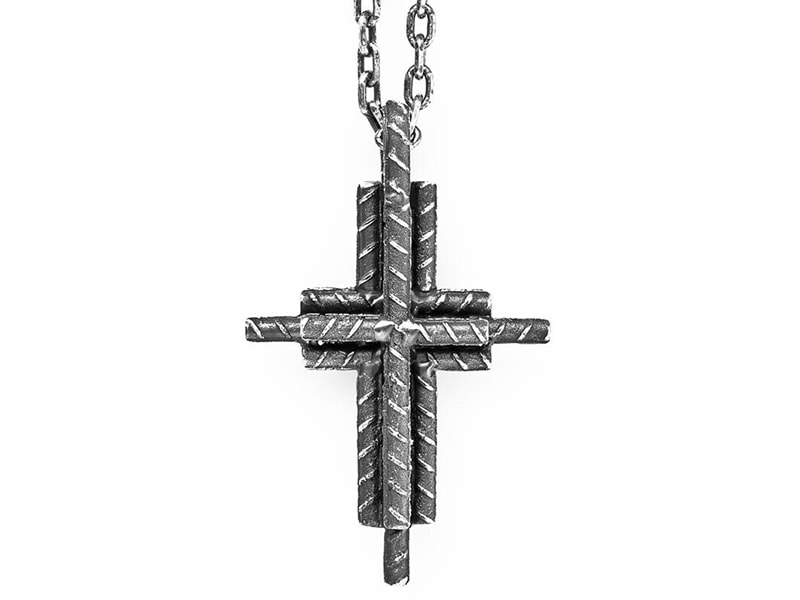 With the outbreak of war in Ukraine, Muzyka was forced to close the jewelry school he founded and take his family out of the suburbs of Kyiv, since they had been without electricity and heat for almost a week. Now he and his family are in a relatively safe region of Ukraine and are engaged in helping people. INFO: denismusic.com.ua  @denis_music_jewellery | Denis Muzyka, Idol, from the Reinformation collection, 2019, pendant, rebar, 70 х 40 mm, photo courtesy of the artist
"In about 2008 or 2009, when Crimea still belonged to Ukraine, my sister and I created our joint brand there," says Katia Sleptsova, founder of the brand Kontora Sisters. "I made jewelry, she made illustrations. Back then, the jewelry was far from the concept of jewelry, but over time I learned some basic skills and then, through trial and error, some kind of jewelry began to come into being. I don't have a professional education, that's why I call my style 'intuitive-naive.' In 2014, when Russia annexed Crimea, my sister left for Ukraine. I stayed with my husband and mother in Crimea, and our brand was divided. I recently went to visit my mother in the Crimea and war broke out, so I was cut off from my loved ones in Odessa, where my husband, dog, and I had moved in 2020. I am trapped, with no chance of returning until this madness stops. I read the news 24/7 and hope to hug and kiss my husband and the dog and put my life back together." INFO: @kontorasisters_jewelry | Kontora Sisters, earrings, 2021, silver, sizes from 10 x 7 mm to 15 x 20 mm, photo: artist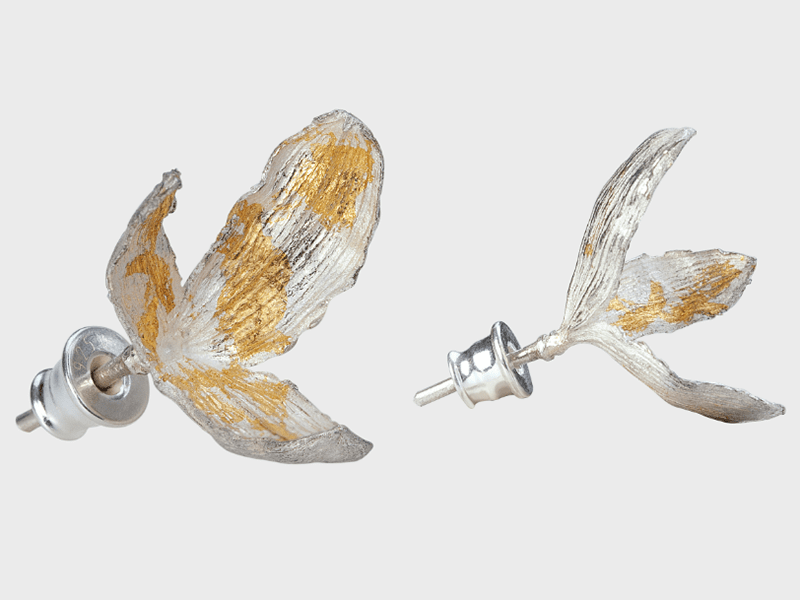 "These earrings are from the Logvin Christmas collection," says Vadim Logvinenko, founder of the brand. "Traditional symbols of the winter holidays lose their relevance by the first days of January, and we wanted to create jewelry that would warm people with pleasant memories all year long. And I thought about cardamom. With the advent of cold weather, I add it to coffee, tea, mulled wine. For me, cardamom is a way to remove myself from the hustle of life and switch to things that are light and inspiring. I have come a long way in finding my business. I was an office worker before, and the impetus for change was a feeling of emptiness and pointlessness, although I had reached considerable heights at the time. Afterward came a creative studio, many trips to India. I got into the jewelry business by accident and felt that I could not leave. Creating with my hands is exactly mine." On March 10, the family of jewelers was still in Ukraine, but their workshop is in the war zone and it's not possible to work. They are going to Romania for a few months. They hope to get help in Romania, to find a workplace and be able to participate in Romanian Jewelry Week 2022. INFO: logvin.jewelry  @logvin.jewelry | Logvin, Earrings, 2021, cardamom, silver, gold, keum-boo technique, photo: Alina Riabenko, Dmitriy Bershak