March 2022, Part 1
Art Jewelry Forum is pleased to share the news that members of our community find noteworthy. Is something missing? The success of this compilation of compelling events, news, and items of interest to the jewelry community depends on YOUR participation. If you're a member of AJF at the Silver level or above, you can add news and ideas to this bi-monthly report by going here. If you aren't a member, but would like to become one, join AJF here.
Listings gathered with assistance from Carrie Yodanis.
MALLORY WESTON WINS THE 2022 YOUNG ARTIST AWARD
And the four finalists are Taisha Carrington, Aaron Decker, Marion Delarue, and Cong Ma. All will exhibit their work at Platina Stockholm during Schmuck, July 6–10, 2022. Read the press release. Watch the video of the announcement. Congrats to all five artists!
FEEL LIKE SEEING A JEWELRY SHOW?
Find these listings and many, many more on our dedicated exhibition page:
+ Sound of Trace: New Jewelry by Seulgi Kwon, at Mobilia Gallery
+ Philipp Spillmann (pictured at left) at Four
+ Butterflies and Hurricanes, at Galerie Door
+ A Word after a Word, at Baltimore Jewelry Center
FROM OUR MEMBERS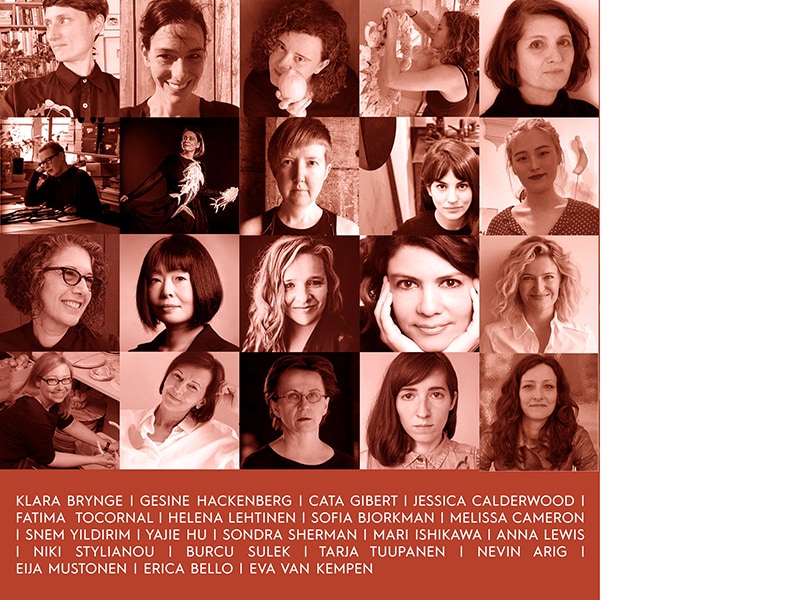 SOFIA BJÖRKMAN INVITES YOU TO "DECLARATION OF SENTIMENTS"
At Platina Stockholm. The curators have brought together 20 international artists within the framework of gender-based women's struggle in the art environment—women artists who have not been reluctant to work hard, who have continued their art practices in their own way, acquired high positions at art academies, organized international events, started their own galleries or exhibition spaces, and much more. This exhibition is named after the Declaration of Sentiments at the Seneca Falls Congress, held in 1848 and signed by 100 men and women. It was the first organized women's rights record in history and advocacy for equal rights for women.
CALL FOR ENTRY—BRAZILIAN CONTEMPORARY JEWELRY CONTEST
FIO is organized by AJF member Alice Floriano (Galeria Alice Floriano), Nina Lima (Studio Escambo), and Nicole Uurbanus. Open to international jewelers and jewelry students who produce contemporary jewelry. Only jewelry that relates to the body will be accepted. Four categories: NATIONAL (only for Brazilians residing in Brazil) (1) student (2) professional; and INTERNATIONAL (3) student (4) professional. Jurors: Lisa Walker, Theo Smeets, Astrid Berens, Nina Lima, and Laura Cattani. Artists will be evaluated based on originality, coherence with the theme chosen by the artist, statement, and technique. Deadline: May 29, 2022. Get additional info or email. Register here.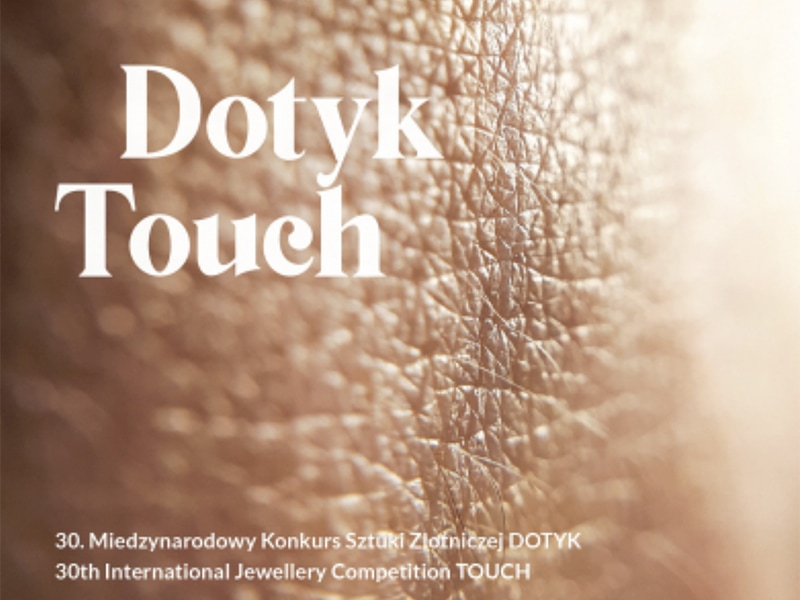 OPEN CALL—LEGNICA SILVER FESTIVAL
The theme of Legnica Silver Festival's 30th international jewelry competition: Touch. Submitted works should be jewelry in a broad sense and include a clear reference to the theme. There are no limits regarding materials and techniques but, emphasizing the Festival's tradition, the organizers suggest the use of silver. Submission deadline: March 27, 2022. Info.
JEWELRY JOURNEY INTERVIEWED DANIELA MASCETTI
In her most recent podcast, Sharon Berman spoke to the scholar, who specializes in the history of jewelry. Listen here.
ARIEL LAVIAN TAKES PART IN NEW EXHIBITION
Coral reefs are among the most spectacular sights in nature. In recent years they have fallen in danger of extinction. The 10 artists participating in Acqua Marina: Works Inspired by Sea Creatures give their own interpretation of the magical creatures living on the reef. At the Geological Museum, in Ramat-Hasharon, Israel, March 13–April 28, 2022 (+972-3-5497185). In recent years, the museum has positioned itself at the forefront of the contemporary jewelry field in Israel, with a large number of exhibitions dedicated to it. Senior curator Raquel Sasporte has generously brought exhibitions dedicated to contemporary jewelry into the museum, giving a stage to artists from Israel and abroad.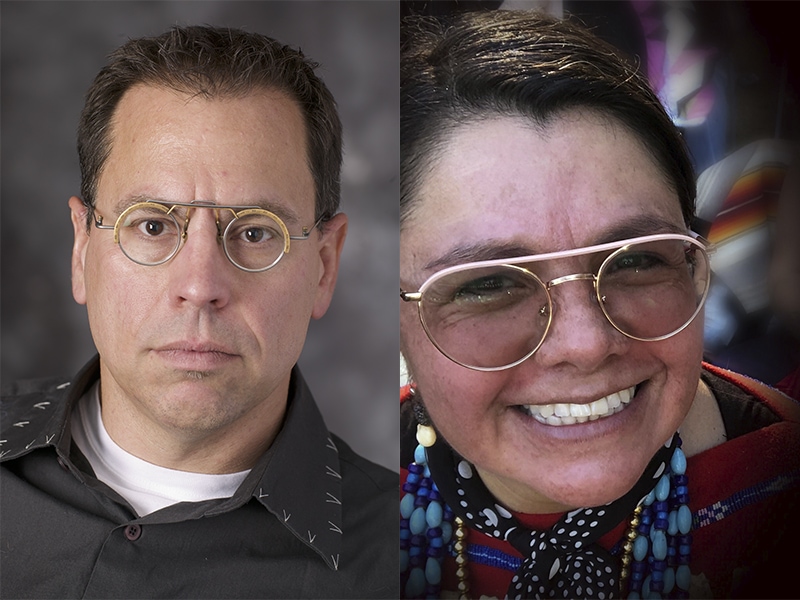 KEITH LEWIS AND TERI GREEVES NAMED AMERICAN CRAFT FELLOWS
Since 1970, the American Craft Council has recognized significant contributions to the field of craft. These two jewelry artists demonstrated leadership in the field, outstanding ability as artists and/or teachers, and 25 years or more of professional achievement. More info.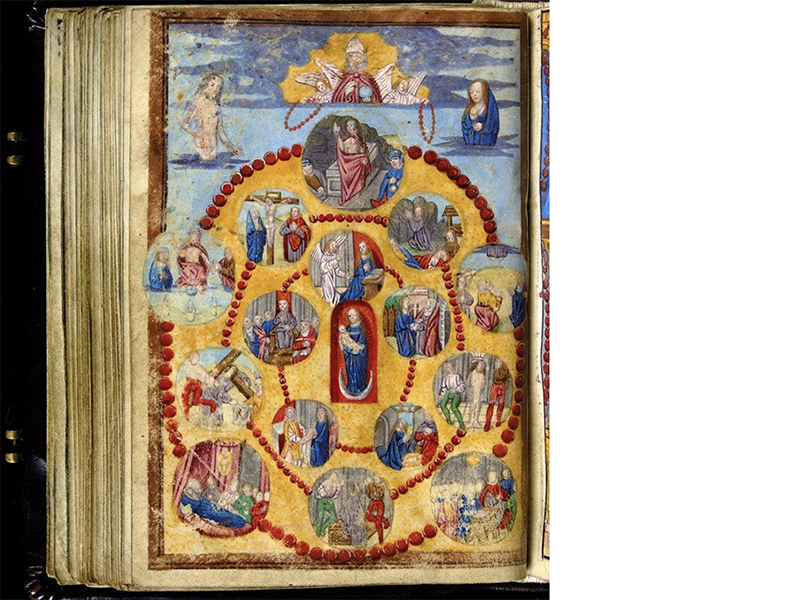 KARIN VAN PAASSEN RECOMMENDS 5,000 YEARS OF BEADS
The exhibition is at the Dutch National Museum of Antiquities and features hundreds of beads and bead necklaces mostly excavated in the Netherlands and dating from prehistory to the 17th century. Includes depictions of people wearing or using beads to show the importance of beads to people in the past. Watch an 11-minute guided tour on the info page.
HELEN BRITTON HAS A SOLO SHOW OF NEW WORK IN MUNICH
Horses and the Sky at Night consists of jewelry, paintings, and sculpture. "It is rare that I start with words," says Britton, "but this small group of new works came from a title determined well over one year ago as a way of providing myself space to explore and create under increasingly challenging circumstances. My focus turned inward to elements that inspire my imagination, the horse a symbol of the untamed mind and the night sky, its mysterious darkness sprinkled with stars, that in themselves speak of something vast and compelling."
DORIS RAYMOND RECOMMENDS BALZAC AND THE LITTLE CHINESE SEAMSTRESS
"It's a great, relatively short novel, by Dai Sijie, from about 10 years ago," she says. "It was one of those books that transported me to a real place and time in history."
EVENTS
SNAG x PROVIDENCE 50TH ANNUAL CONFERENCE
Providence, RI, June 1–4, 2022. Early bird registration ends March 31. Info.
OPPORTUNITIES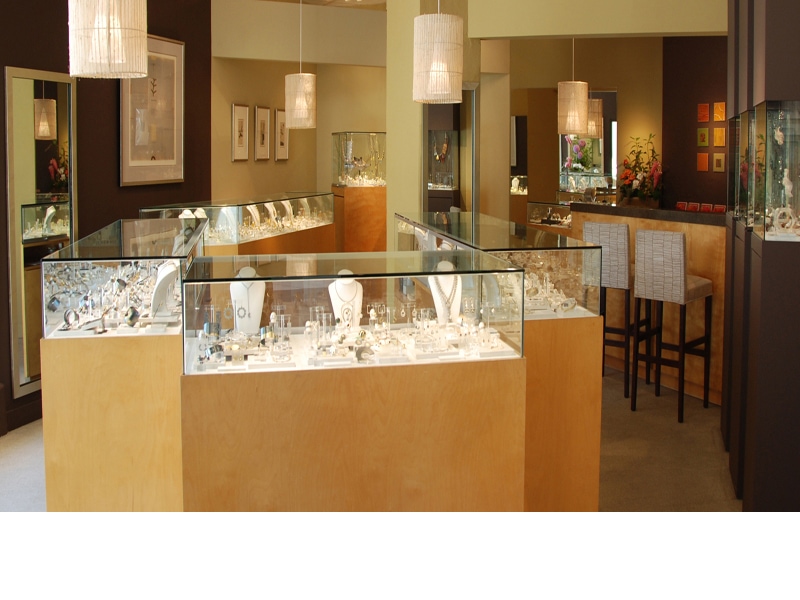 DE NOVO IS HIRING A RETAIL SALES ASSOCIATE
De Novo Fine Contemporary Jewelry, located in downtown Palo Alto, CA, seeks a retail sales associate for either a full-time or part-time position. They're looking for someone who loves contemporary jewelry and is enthusiastic about sharing their knowledge with others. The ideal candidate will have retail sales experience in jewelry, fashion, or art gallery sales. A background in fine arts or training as a jeweler is a plus. Submit resumé to [email protected].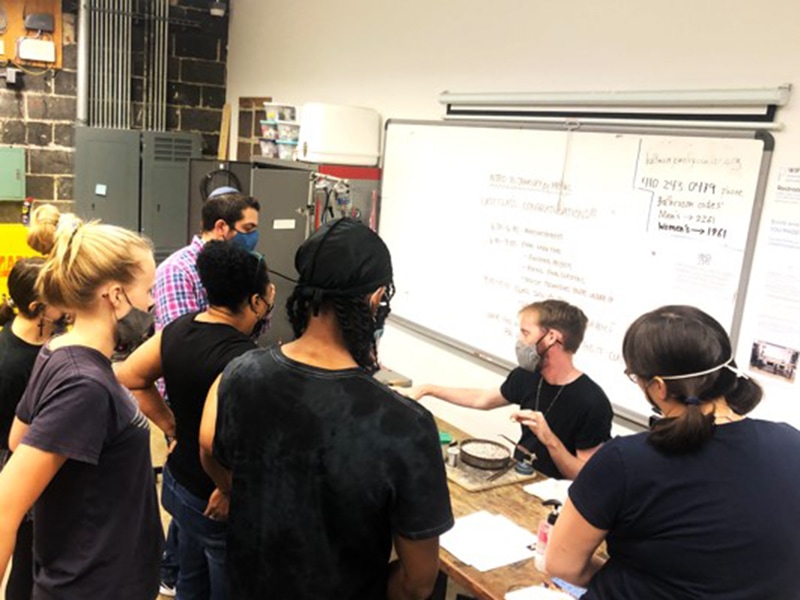 TEACHING FELLOWSHIP AT BALTIMORE JEWELRY CENTER
BJC is offering one three-year teaching fellowship. In addition to gaining teaching experience, the selected fellow will develop pedagogical skills, build leadership experience, and play an influential part in a vibrant community. Applicants should have an MFA in metals and/or jewelry, or a BFA in metals and/or jewelry with work experience. Some prior teaching experience highly preferred. Location: Baltimore, MD, US. Application deadline: April 15, 2022 (decision by May 31). Start date: late August 2022. Additional information.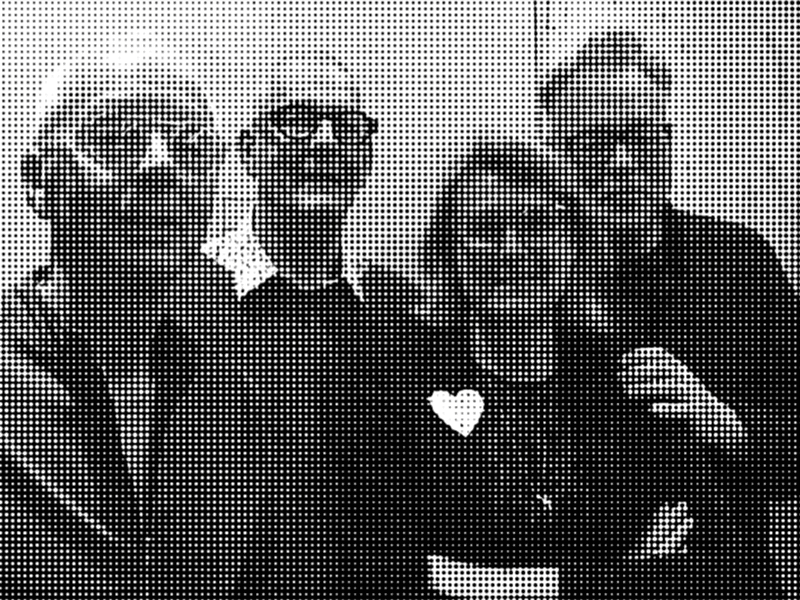 MASIERAAD'S APPLICATION DEADLINE IS MARCH 21, 2022
Questioning jewelry critically as art or design is essential for the future of the jewelry profession. MASieraad takes a broad view of jewelry. Its program recognizes the making of jewelry, in its intimate, symbolic, human, and material facets, as a learning model for contemporary design in a broad sense. Info.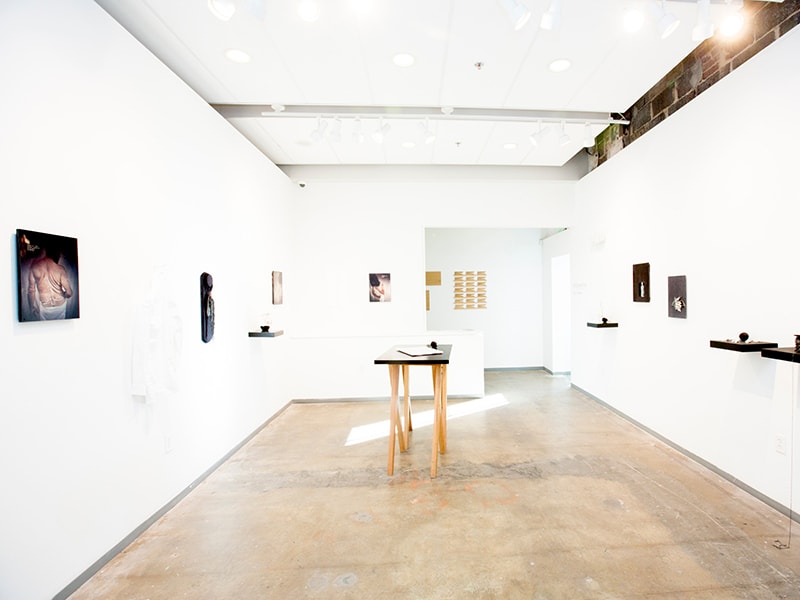 BJC SEEKS MEMBERS FOR EXHIBITIONS COMMITTEE
To provide a broader perspective to its exhibition development, the Baltimore Jewelry Center seeks new volunteer members for its Exhibitions Committee. BJC is committed to creating a diverse and inclusive studio and gallery to elevate underrepresented voices. It recognizes the historic lack of representation of people of color in positions of authority and oversight of artistic spaces. For this reason, BJC is particularly interested in welcoming voices of color to its committee. The volunteer-based exhibitions committee meets approximately every 6–8 weeks for 1 ½–2 hours. Email [email protected] with a statement of interest and CV. Deadline: March 31, 2022. More info.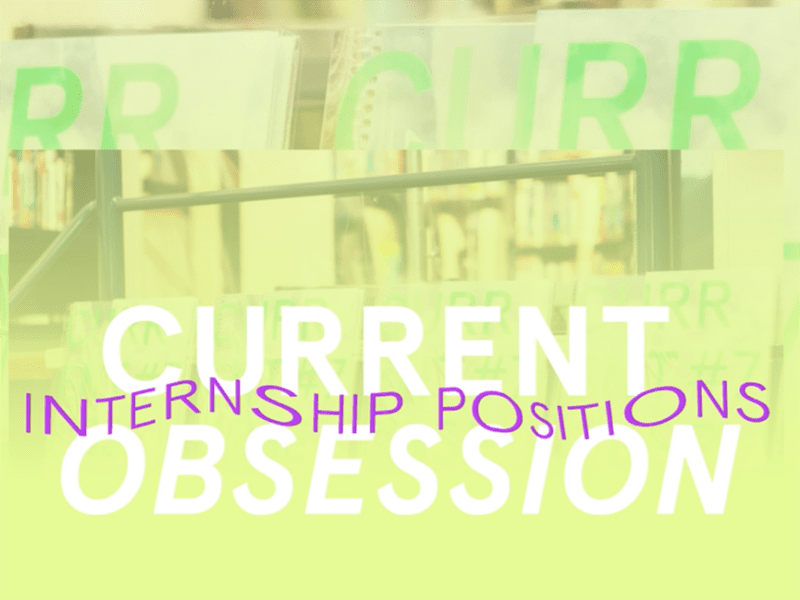 INTERNSHIPS AT MUNICH JEWELLERY WEEK + CURRENT OBSESSION
Want to help organize, plan, and manage for Munich Jewellery Week, scheduled in July? Do communication and PR for upcoming projects? Or research, content development, writing, and editing? Or even graphic design, animation, video and audio editing, photography and videography? Apply now.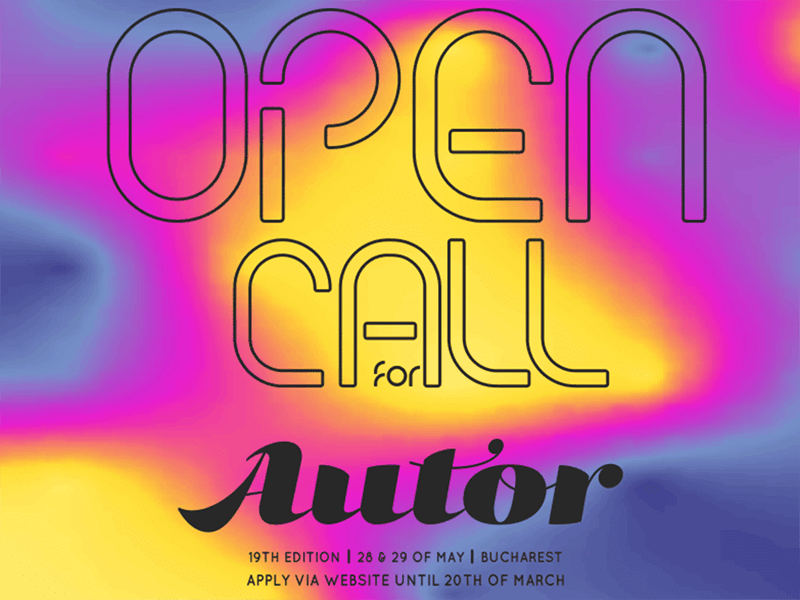 AUTOR OPEN CALL
The 19th edition of AUTOR International Contemporary Jewelry Fair takes place May 28–29, 2022, in Bucharest, Romania. Selected artists will have access to the buying clientele. Beyond the actual fair, AUTOR is an active platform that encourages and creates a true dialogue between artists and their public. Application deadline: March 20, 2022. Info.
RESIDENCY AT JOHN MICHAEL KOHLER ARTS CENTER
The program offers artists the time and space to focus on the creation of new work and a unique location for their studios. Artists-in-residence work at the Kohler Co. factory in the Pottery and/or Foundry, in Sheboygan, WI, US. Application deadline: March 14, 2022. Info.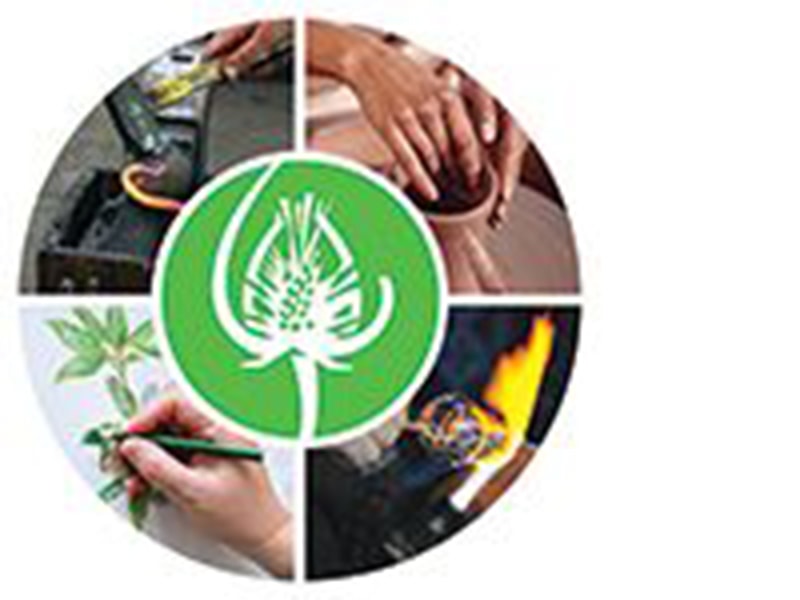 ARTIST RESIDENCIES AT TOUCHSTONE CENTER FOR CRAFTS
May 9–23, 2022, 10–12 two-weeks. The Short-Term Artist-in-Residence Program offers a unique environment for artists and makers to live and work within a creative community in Farmington, PA. Info.
CALL FOR ENTRY: GALLERY 2052'S #MADFORHOOPS 2022
In an attempt to place art jewelry within the American cultural phenomenon of basketball, this call for artist-made hoop style earrings will be held during the NCAA's March Madness, celebrating a millienia-old form of adornment and a favorite sport. Selected hoops will be exhibited at Gallery 2052 March 31–May 15, 2022. Applications due via Instagram by March 18, 2022. Info.
OPEN CALL: SMCK ON REEL
Open call for artists, galleries, institutions to participate in the First International
Jewelry Video Festival at SCHMUCK, Munich's jewelry week 2022. SMCK On Reel takes place July 7–10, 2022 at Weltraum Gallery Munich. Application deadline: May 15, 2022. Info.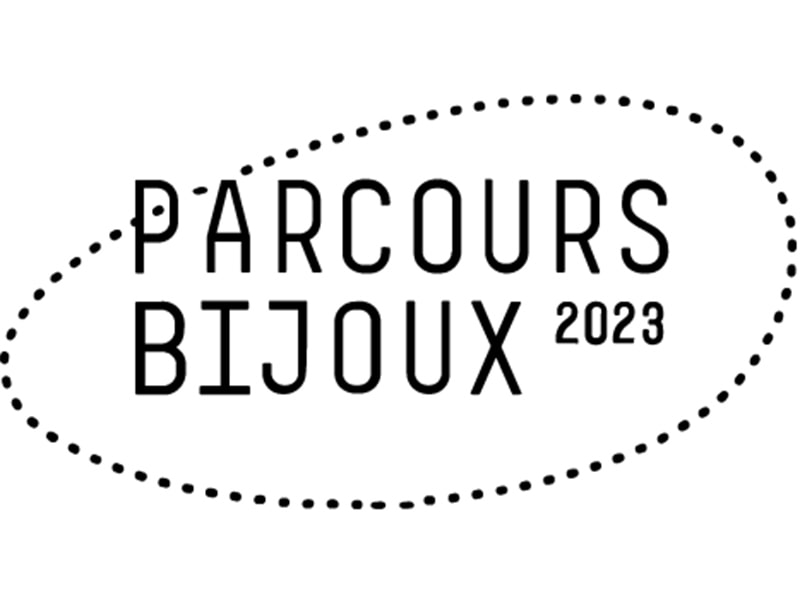 CALL FOR PROJECTS: PARCOURS BIJOUX 2023
Parcours Bijoux is a tri-annual gathering held in Paris around more than 50 jewelry events. The call is open to makers and thinkers: artists, contemporary jewelry makers, visual artists, photographers, experts, historians, performers … those with a practice or research related to the intimate and complex relation between body and adornment. Application deadline: May 31, 2022. Info.
EDUCATION
VIRTUAL COURSES  + VIRTUAL SPRING SYMPOSIUM AT METALWERX
Many online jewelry courses, including one on hand-fabricated threaded catches with swivel mechanisms, taught by Tom Muir. More course listings. And the Virtual Spring Symposium, held March 21–25, 2022, will include five feature presentations by established artists from across the fields of metalsmithing and jewelry, paired with five studio visits with emerging (or "re-emerging") artists. Also: three social events, giveaways, and new resources. Info.
TWO-WEEK SUMMER WORKSHOPS AT HAYSTACK
A range of unique topics including "Radical Jewelry Takeover," with RJM's Kathleen Kennedy, June 12–24; and "Sentiment & Sediment: Narrative Enamel," taught by Marissa Saneholtz, July 31–August 12. Info.