March 2022, Part 1
There are so many reasons to purchase art jewelry…
You got that hard-earned promotion—celebrate!
You're experiencing a once-in-a-lifetime occasion—honor it.
You wrapped up that major accomplishment—pay it tribute.
You want to mark the beginning of a new relationship or the end of one—commemorate it.
Perhaps it's an investment—do it!
It's the perfect piece to round out an aspect of your collection—pounce!
Or maybe it's as a treat to yourself—just because.
Art Jewelry Forum's international gallery supporters celebrate and exhibit art jewelry. Our monthly On Offer series allows this extensive network of international galleries to showcase extraordinary pieces personally selected to tempt and inspire you. Take a look. You're bound to find a fantastic piece you simply have to add to your collection! (Please contact the gallery directly for inquiries.)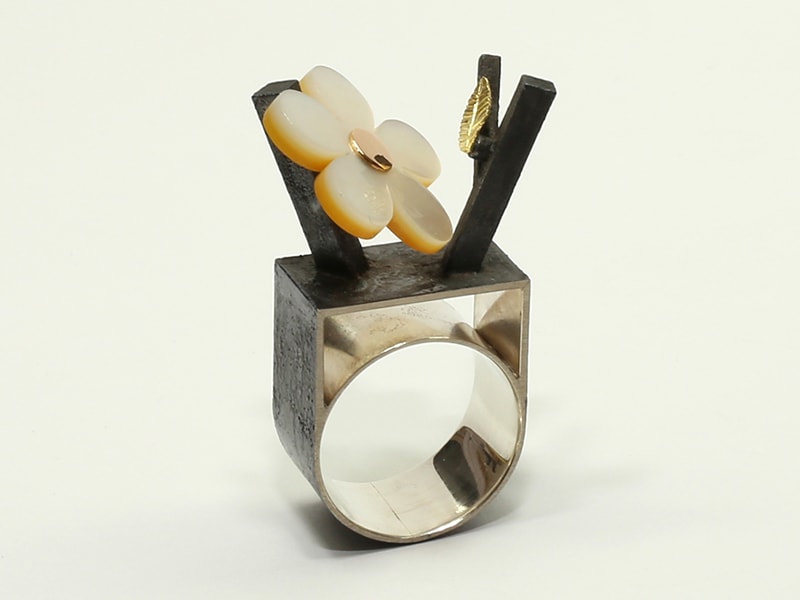 Gallery: Jewelers'werk Galerie
Contact: Ellen Reiben
Artist: Violeta Adomaitytė
Retail price: US$1,750
Violeta Adomaitytė, a Lithuanian artist, is a new artist for Jewelers'werk. She uses the process of niello—a compound of sulfur with silver, lead, or copper. It is a technique rarely used in contemporary applications (the process is toxic) and the outcome is a lustrous and permanent surface that is etched into the metal—in this case, silver. The dark niello surface contrasts handsomely with the silver, mother-of-pearl, and gold in the ring.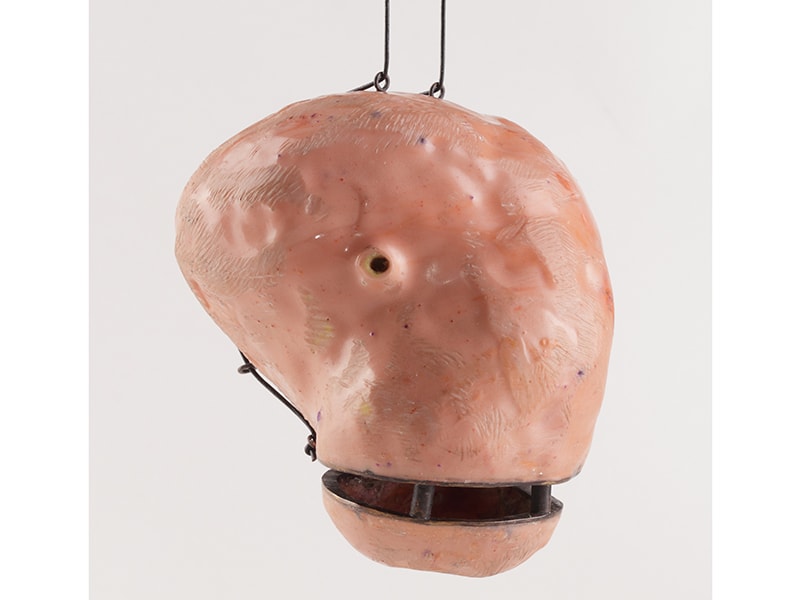 Gallery: Galeria Tereza Seabra
Contact: Tereza Seabra
Artist: Teresa Dantas
Retail price: €2,000, plus shipping
"The work presented seeks to understand the nature of waste, recyclability," says Teresa Dantas of her pieces. "These jewels travel through the transformation and metamorphosis of other 'values' in terrestrial space. The silence that the jewels breathe seeks the truth, which is achieved through the use of the elements that cover and shape the object."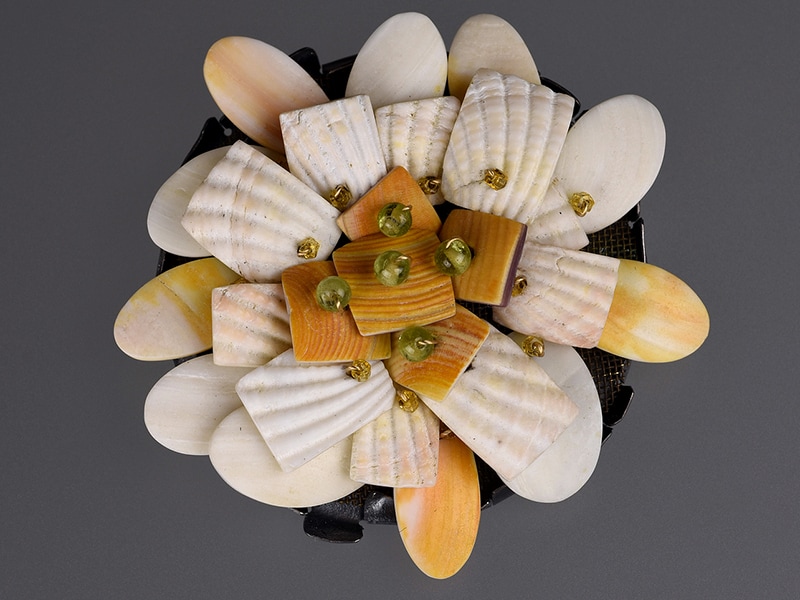 Gallery: Fingers Gallery
Contact: Lisa Higgins
Artist: Pauline Bern
Retail price: NZ$1,000
Pauline Bern is a self-taught jeweler who began making in the 70s while living in the US. She has exhibited consistently in New Zealand since the mid 80s, working as a lecturer in craft design from 1988 and as head of jewelry since 1992. She continued to work at Unitec Institute of Technology, Auckland until the department was disbanded in 2012. Her most recent work reflects the rhythms of everyday life and the natural world—the weather, walking, and shells on the beach. "I want the works to elicit curiosity, intrigue, surprise, humor, and perhaps nostalgia," she says. "I'm not attempting to emulate botanical forms, [but] rather to appropriate the extraordinary, unexpected, and often unnoticed details in nature into a contemporary jewelry context."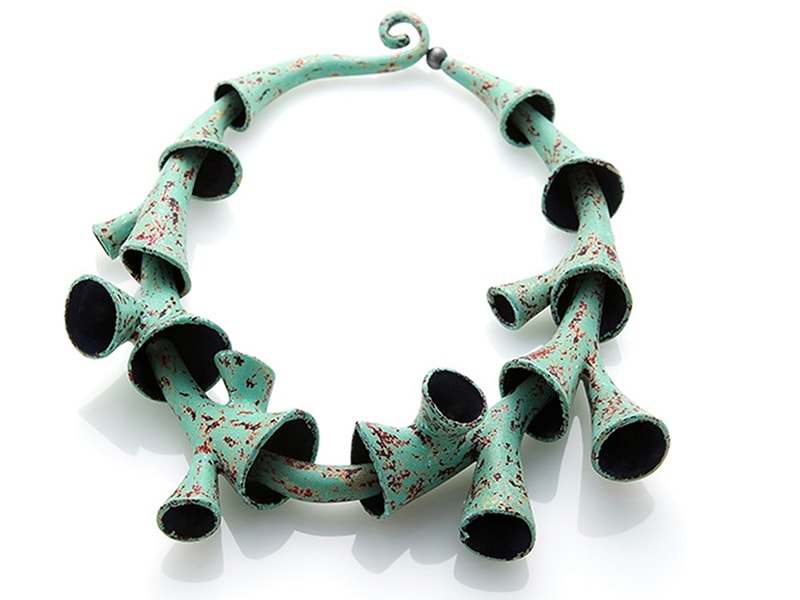 Gallery: Galerie Noel Guyomarc'h
Contact: Noel Guyomarc'h
Artist: Heejoo Kim
Retail price: CAN$3,400
By using the electroforming technique, a process that encompasses an object previously sculpted with thin layers of copper and then enameled—a metaphor for life—Heejoo Kim offers a unique universe inviting multiple interpretations, references to the known or the unknown.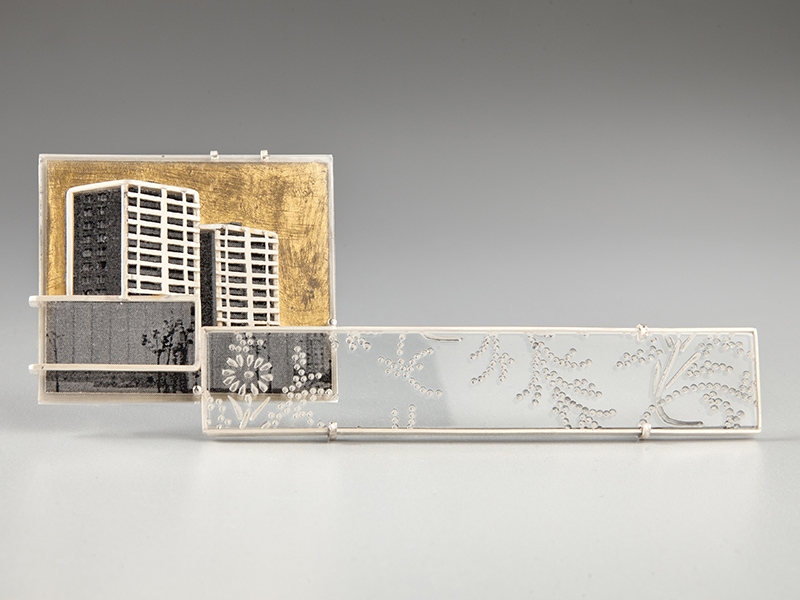 Gallery: Thereza Pedrosa Gallery
Contact: Thereza Pedrosa
Artist: Jana Machatová
Retail price: €1,700
Jana Machatová's artistic research is focused on memories. She often works with her personal history, taking family pictures and old photographs and setting them into a new context. By using the sentimental value of the old images, Machatová narrates new stories and expresses her own opinions and ideas. With each work the artist shows her experience with the political system and social situation from her childhood and compares it with the contemporary situation.
Gallery: Galerie Spektrum
Contact: Jürgen Eickhoff
Artist: Florence Lehman
Retail price: €1,450
Florence Lehman has taught jewelry at the Haute École des Arts du Rhin, in Strasbourg, France, since 2005. She often works with phosphorescent and thermoluminescent materials. Screens—Adam and Eve, from 2020, is a wonderful example for her way of working with this phenomenon.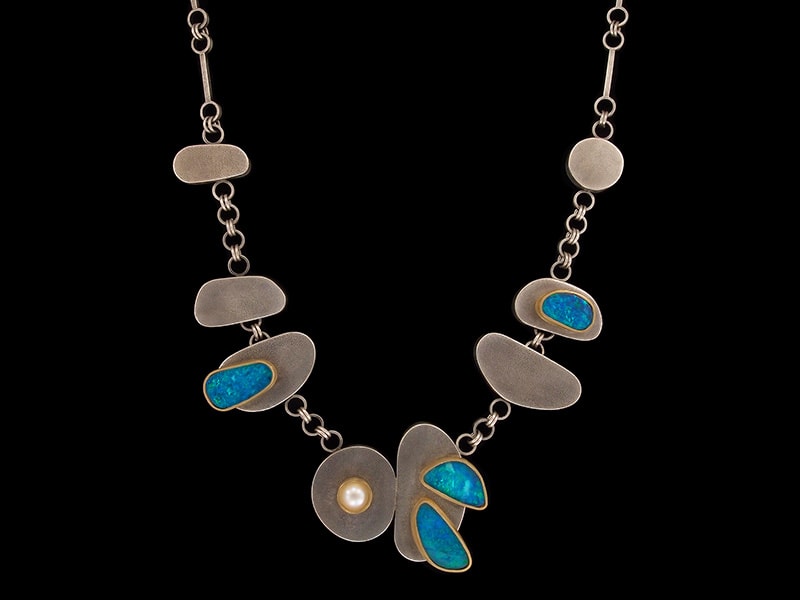 Gallery: De Novo Fine Contemporary Jewelry
Contact: Cherry LeBrun
Artist: Linda Perry
Retail price: US$2,200
Linda Perry loves to work with opals. In this necklace she has created forms in metal that echo the gentle shapes of the stones. Her lightly oxidized finish provides a subtle background to the dramatic blues of the stones, while the pearl offers a perfect point of contrast in the design.
Gallery: Galeria Reverso
Contact: Paula Crespo
Artist: Melanie Isverding
Retail price: €2,975
"In my approach to weaving processes and the underlying philosophy," says Melanie Isverding, "I lead the thought to the Greek mythology of the weavers. The creation of textile fabrics was a metaphor for the creation of mental structures, stories, and a design to look at the world. Here the thread becomes a symbol of words that lay down verbally and non-verbally—just as the word 'text' is etymologically derived from the Latin textus, like "woven." In the common sense, text and textile are the result of techniques that combine certain materials, processes, and forms of thought into a structure and, as it were, depict an intellectual process or rhythm."
Gallery: Platina Stockholm
Contact: Sofia Björkman
Artist: Julia Maria Künnap
Retail price: US$2,750
Julia Maria Künnap is a jewelry artist from Estonia celebrated for her contemporary approach to gem-cutting and stone-carving. For more than 10 years she has used natural stones in her artwork, shaping them into touching pieces of jewelry that speak of time. The conceptual core of Künnap's artistic practice lies in the contradiction between the persistence of a stone and the disappearance of a moment. The title of this brooch reveals such a moment: a daughter beside a working mother.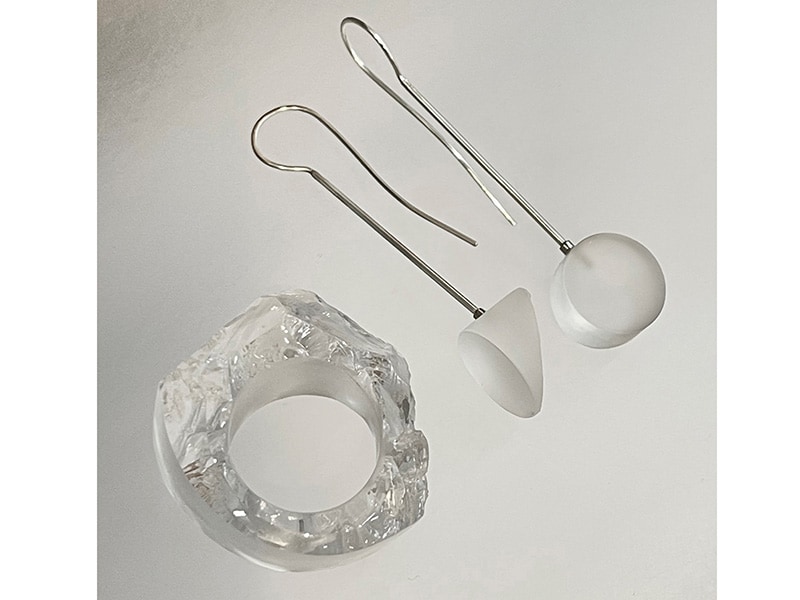 Gallery: Zu design – jewellery + objects
Contact: Jane Bowden
Artist: Jane Bowden
Retail price: Ring: AUS$2,215; earrings: AUS$1,380
"This piece was created for Beresford White Inspired, an exhibition at Zu design in 2021," says artist Jane Bowden. "Beresford was a friend and mentor to me for many years. He loved problem-solving and had an appreciation of so many craft and art forms. I created a series of stone rings as an homage to him. Beginning with the rings I was inspired to use every part. The cores becoming earrings. This pair of earrings were made because the core naturally cleaved, which created a beautiful shape. I only wish I could have shared this work with my friend."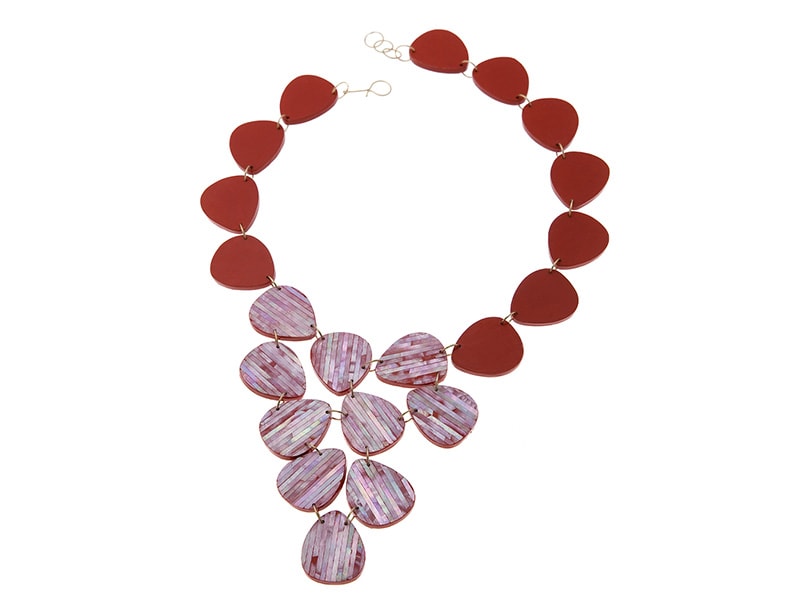 Gallery: Gallery Loupe
Contact: Patti Bleicher
Artist: Seung-Hea Lee
Retail price: US$1,600
Korean jeweler Seung-Hea Lee's work is inspired by an interest in natural forms and colors, specifically those which reflects seasonal change. "In spring," she states, "everything is blooming, and the feeling of color is light; in winter the colors change to dark. I try to communicate [this] along with nature." Lee received a BFA from California College of Arts and Crafts, Oakland, CA, and an MFA from Rhode Island School of Design, Providence, RI, where she received the RISD Award of Excellence in recognition of her outstanding talent. She was a member of the metals faculty at RISD until she returned to Korea.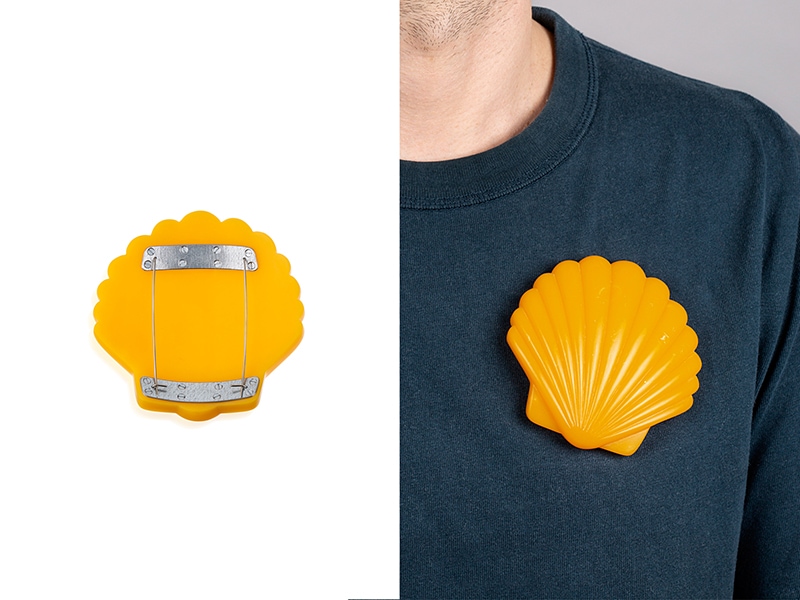 Gallery: Four Gallery
Contact: Karin Roy Andersson
Artist: Philipp Spillmann
Retail price: US$1,350
Philipp Spillmann trained as a goldsmith, and [in his work] the classic craft has survived his journey toward more artistic jewelry and objects. Materials such as gold and silver are familiar to a jeweler. In Spillmann's work, they are combined with horn, wood, composite materials, and plastic that he finds in his surroundings—at flea markets, in rubbish bins, or, like in this piece, thrown into nature. The objects give associations and ideas that Spillman playfully explores. Their potential and formability lead him to completely new reinterpretations.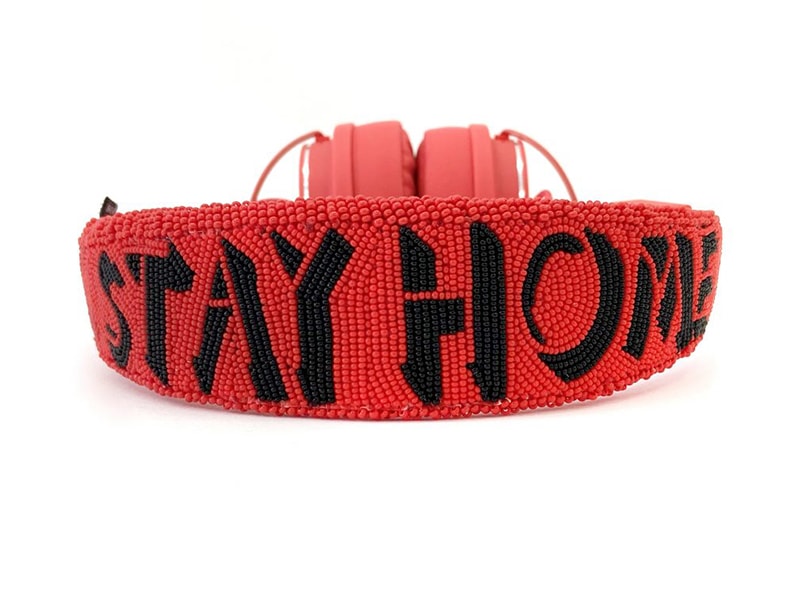 Gallery: Baltimore Jewelry Center Gallery
Contact: Shane Prada
Artist: Catherine Blackburn
Retail price: CAN$7,000
This work, Stay Home, is an extension of Blackburn's practice in which she reflects on the adornment of Indigenous bodies via beadwork, centering Indigenous adornment techniques as labors of love. She is specifically referencing self-love and the connection and ability to use her body as a tool to create love and space for herself as she maneuvers through the heaviness resulting from these complex pandemic times. She was interested in utilizing the COVID-19 measure "stay home" as a lens to cite the body as home, referencing homelands to further explore the idea of "nationhood." This piece is currently on view at the Baltimore Jewelry Center as part of the exhibition A Word after a Word, which explores the importance and many nuances of language; the exhibition runs through March 26, 2022.