May 2023, Part 2
Art Jewelry Forum is pleased to share the news that members of our community find noteworthy. Is something missing? The success of this compilation of compelling events, news, and items of interest to the jewelry community depends on YOUR participation. If you're a member of AJF at the Silver level or above, you can add news and ideas to this bi-monthly report by going here. If you aren't a member, but would like to become one, join AJF here.
Listings gathered with assistance from Carrie Yodanis.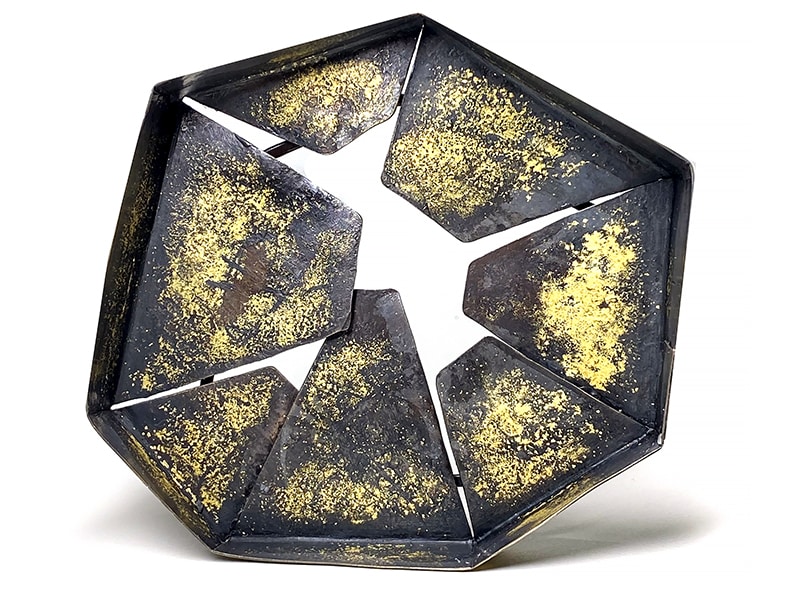 FEEL LIKE SEEING A JEWELRY SHOW?
Find these listings and many, many more on our dedicated exhibition page:
Fliegenschmuck: Pour Les Precieuses Presque Ridicules, at Galerie Noel Guyomarc'h through May 13
New Makers, at ATTA through May 14
Colorful Minds, at the Baltimore Jewelry Center through May 19
Terhi Tolvanen + Yaksh Verma, at Galeria Reverso through May 20
Chain Reaction: Biba Schutz, at Jewelers'Werk through May 26 (shown at left)
Colour Shift: Blanche Tilden + Marcus Sholz, at Gallery Funaki through May 28
Breeze | Ute Kolar, at Thereza Pedrosa Gallery through May 28
Sawa Aso, at Four Gallery through June 3
Pearl, at Platina Stockholm through June 3
Restringing the Pearl, at The Jewelry Library through June 6
Timothy Veske-McMahon | Vanillaroma, at Gallery Loupe May 6–June 10
At Sienna Patti: Leslie Shershow, May 12–June 11; Something Old, Something New, June 17–July 16
At Ornamentum: Hanna Hedman, through June 11; Terhi Tolvanen, through August 26
FROM OUR MEMBERS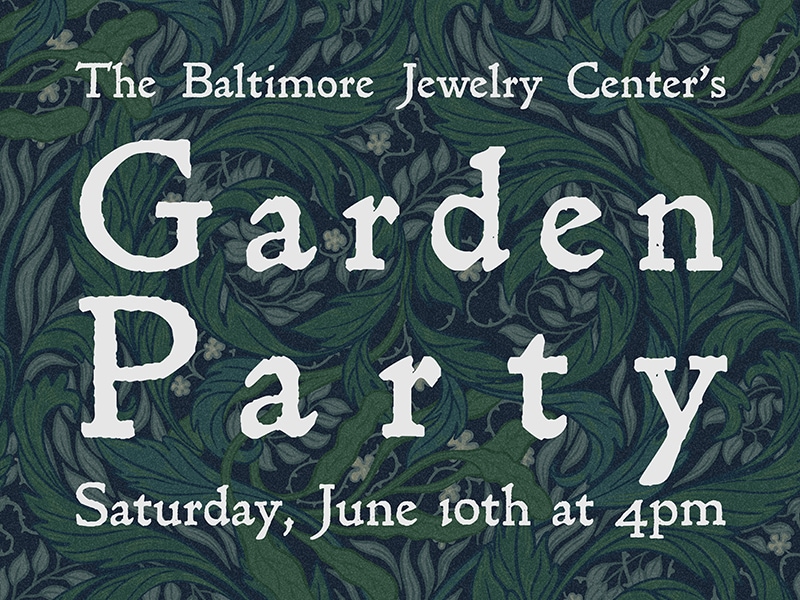 ATTEND A GARDEN PARTY TO BENEFIT THE BJC
Join the Baltimore Jewelry Center at Anne Barone's award-winning garden on Saturday, June 10, 2023, at 4 p.m., for an enchanting afternoon garden party! Anne's home is a testament to her love of gardening, and has been featured in Garden Gate Magazine, Stroll Guilford, and The Guildford News. Tickets are limited for this summer soirée. Learn more about the garden party and purchase tickets here.
---
RING REDUX NOW ON VIEW AT NEW ORLEANS ART MUSEUM
One hundred innovative rings with a distinctly contemporary sense of experimental craft highlight the vision of Susan Grant Lewin, one of the most influential collectors of 20th- and 21st-century art jewelry. The exhibition tells the story of the emergence of art jewelry in the postwar era via objects that were neither traditionally made luxury goods nor low-cost, mass-produced costume jewelry. "Visitors will be amazed and surprised by the way these rings challenge notions of design and form," says Laura Ochoa Rincon, NOMA's Decorative Arts Trust Curatorial Fellow. The 90 designers on show—including AJF member Ariel Lavian, whose work is pictured—"use inventive techniques to redefine what a ring is. Through these innovative formats, notions of connection, love, and longevity are all explored." Through February 4, 2024. Info.
---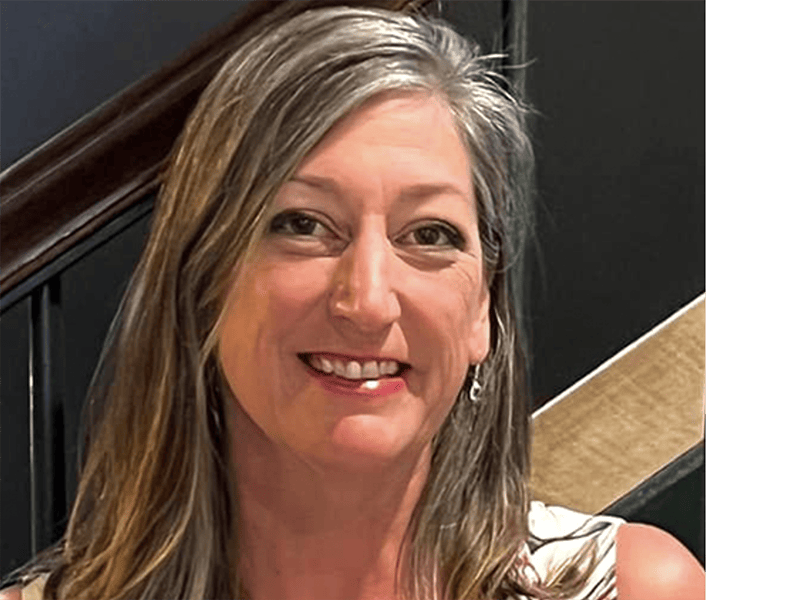 THE JEWELRY JOURNEY INTERVIEWS JOANNE SPILLER
The trendsetting Black jewelry designer Bill Smith did everything from Cartier collaborations to costume jewelry. His designs were seen on the likes of Lena Horne and Cicely Tyson. Yet in the 30 years since his death, his impact has been largely forgotten. JoAnne Spiller, director of education for the Jefferson County Historical Society, hopes to change that with her recent exhibit, Bill Smith: Madison's Visionary Jewelry Designer, and a forthcoming book. Listen to the podcast.
---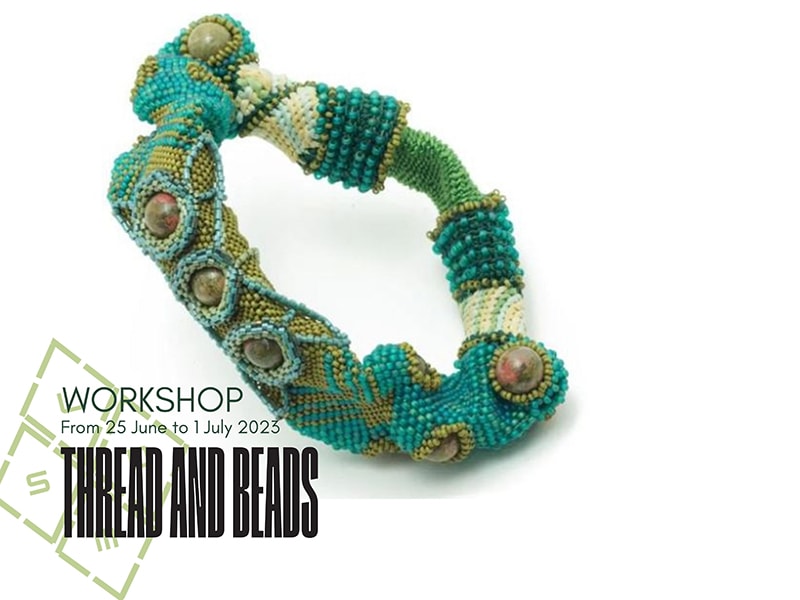 LEARN TO BEAD WITH SÉBASTIEN CARRÉ AT HIS "THREAD AND BEADS" WORKSHOP
You'll explore different textile techniques with the aim of associating and mixing them: beadwork with the needle in embroidery or in peyote stitch (weaving), crochet techniques, macramé or embroidery will be approached according to your projects and desires. Train around different modules to discover or deepen your beading, crocheting, or macramé. All skill levels welcome. You'll start by conceptualizing your creation by drawing or making a model, and get the basics to produce and finalize a work. June 25­–July 1, 2023, in Varen, France. Cost: 650€, includes meals, materials, and tools. Registration deadline: June 1. Info.
---
SEEKING IMAGES OF POWDER-COATED JEWELRY TO PUBLISH IN BOOK
Jewelers and artists are invited to submit images of their powder-coated work to be included in Powder Coating for Jewelry Artists (working title). This book focuses on powder coating as a means of applying color as a finishing process for jewelry objects. Photographs of unique, colorful, well-crafted pieces that showcase different kinds of powder-coating techniques and applications (ESD, gradients, sift & dump, stencil, decal, transparents, etc.) are desired. Selected images will be used in image galleries throughout the publication. Accepted artists receive full credit in captions. Application deadline: June 21, 2023, at 11:59 pm (EST). Info.
---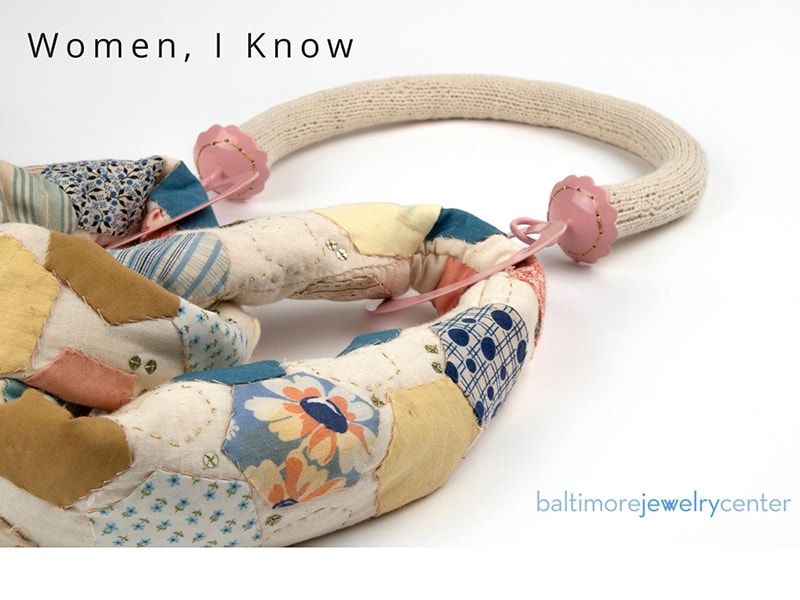 EXHIBITION AT THE BJC: WOMEN, I KNOW
The body of work in Women, I Know, an exhibition by Angela Caldwell, represents the strength and support women offer each other through their making. Utilizing familiar tools associated with traditional female crafts, Caldwell creates wearable, armor-like representations that embody the spirit of women and offer a perspective on the strength they provide. Using contemporary practices and materials like powder coating and metallic thread, Caldwell positions her modern voice within the context of a rich history of female makers. On view at the Baltimore Jewelry Center May 26–July 7, 2023.
---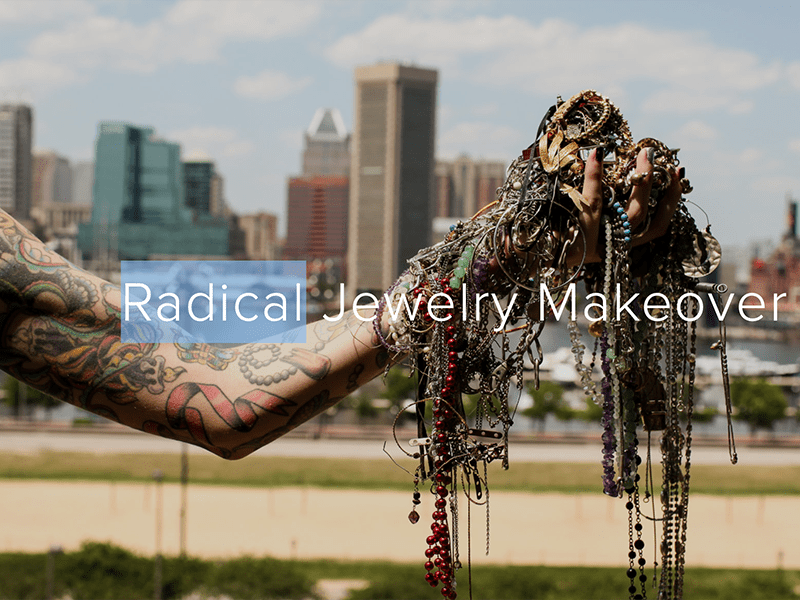 CALL FOR ENTRY: THE REJEWELRY COMPETITION
Apply to the first-ever Radical Jewelry Makeover (RJM) juried jewelry competition and exhibition, The Rejewelry Competition! Top prizes include a solo exhibition at Alma's Gallery, in Richmond, VA, US, and an invitation to join the RJM Artist Project. RJM raises awareness of the connection between mining, metalsmithing, activism, collaboration, and art. It takes donations of broken, unwanted, or out-of-date jewelry and redistributes these already-mined persistent raw materials full of creative potential into the hands of makers. Deadline: June 1, 2023. Info.
---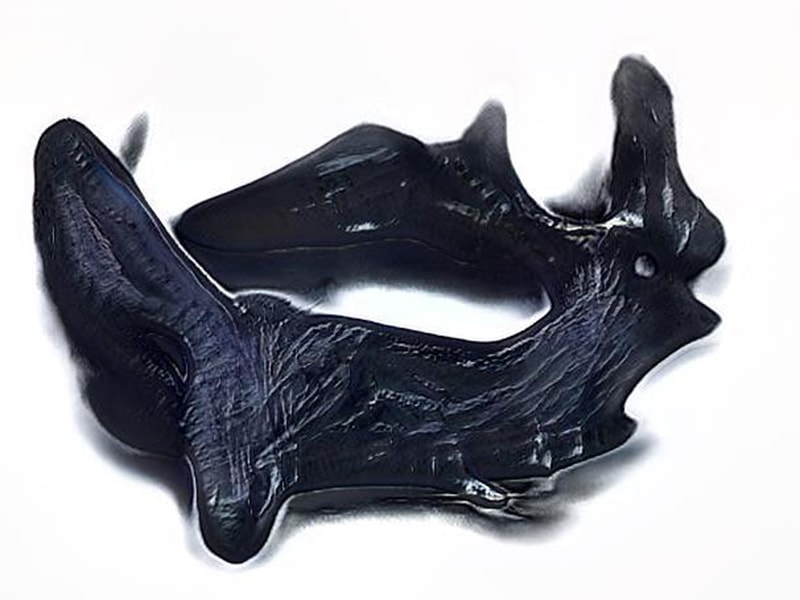 CONTRIBUTE PHOTOS TO PARTICIPATE IN ARTISTIC RESEARCH ON JEWELRY AND AI
Anneleen Swillen, lecturer and researcher at PXL-MAD School of Arts and Hasselt University, and founder of Artificial Intelligems, explores intersections of AI and jewelry. For the current Artificial Intelligems project, she invites you to participate by sharing photos of jewelry being worn. By contributing your photos, you'll help train a machine learning algorithm and co-create Ornamisms. Through this experiment, Artificial Intelligems aims to explore the artistic potential of machine learning in the context of jewelry, but also the possible risks of these self-learning technologies for making, presenting, and experiencing jewelry. Visit the website to learn more and join the project. Questions? Email. Deadline: June 4, 2023.
---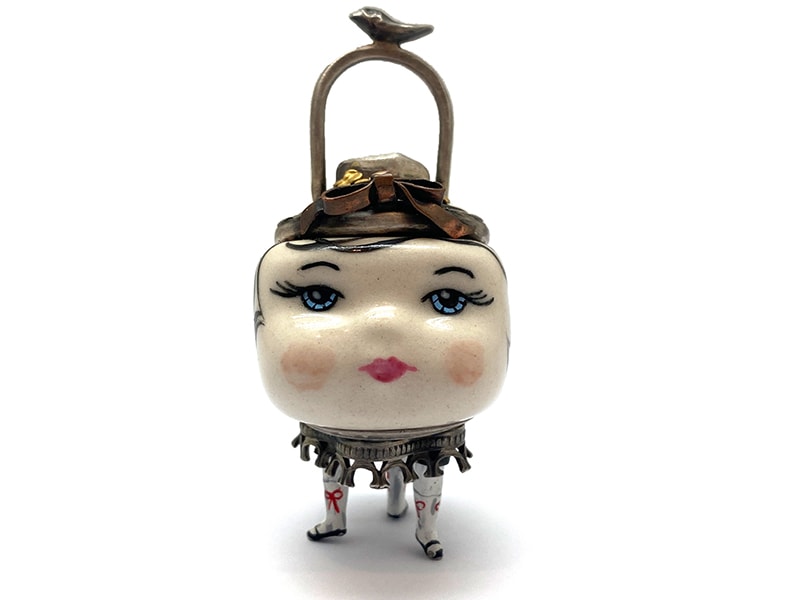 BETWEEN REALMS: ON VIEW AT PISTACHIOS
Pistachios has chosen three contemporary jewelry artists who use imaginative and representational imagery within their pieces to create work that is playful and whimsical. Jessica Calderwood, Seth Michael Carlson, and Melinda Risk turn recognizable forms into wearable sculptures, blurring the lines between figurative and abstract. Learn more.
---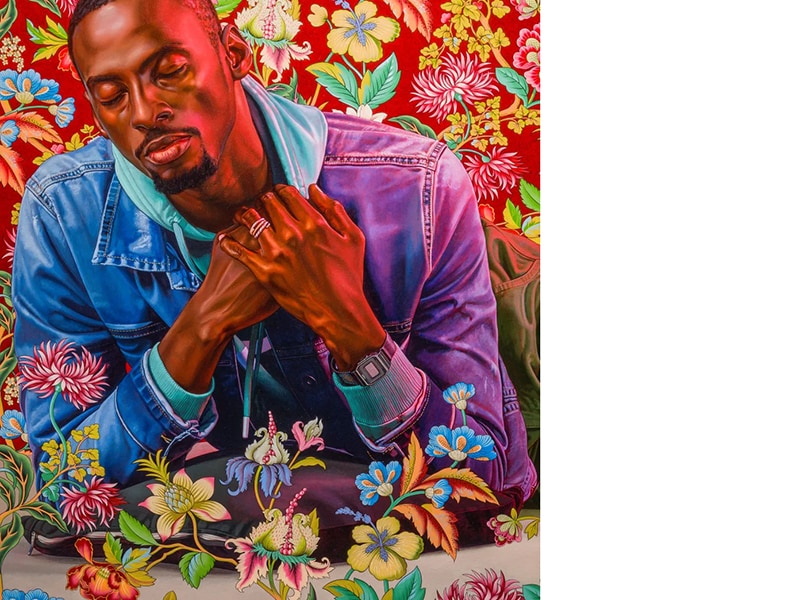 SUSAN CUMMINS RECOMMENDS KEHINDE WILEY: AN ARCHAEOLOGY OF SILENCE
The museum text explains it well: "Wiley's new body of paintings and sculptures confronts the silence surrounding systemic violence against Black people through the visual language of the fallen figure. It expands on his 2008 series, Down, a group of large-scale portraits of young Black men inspired by Hans Holbein the Younger's The Dead Christ in the Tomb (1521–1522). Wiley investigates the iconography of death and sacrifice in Western art, tracing it across religious, mythological, and historical subjects." See the exhibition at the deYoung Museum, in San Francisco, through October 15, 2023.
OTHER NEWS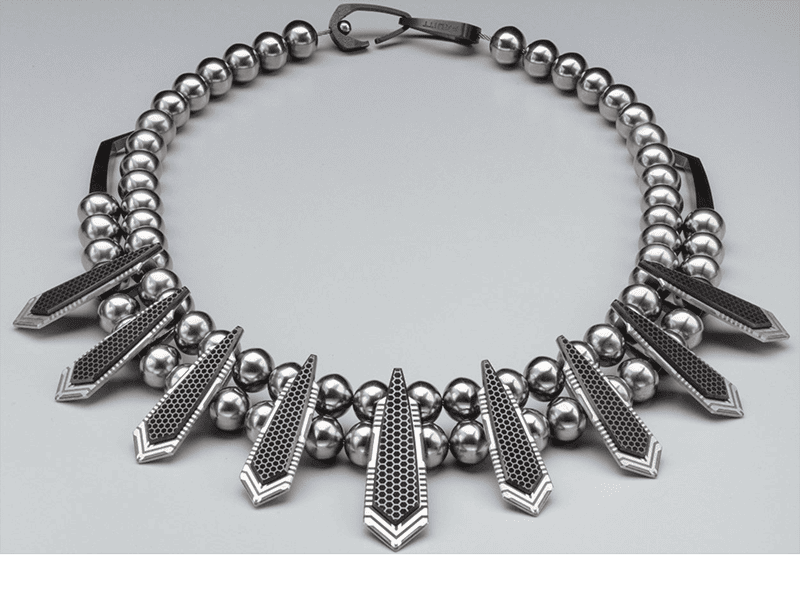 VIRTUAL TALK WITH ARTIST AND METALSMITH PAT PRUITT, MAY 18, 2023
The Native American artist and metalsmith uses industrial metals, a mechanical engineer's know-how in fabrication, and a futuristic approach to design. Presented by the Newark Museum of Art. May 18 at 7 p.m. Free, registration required.
---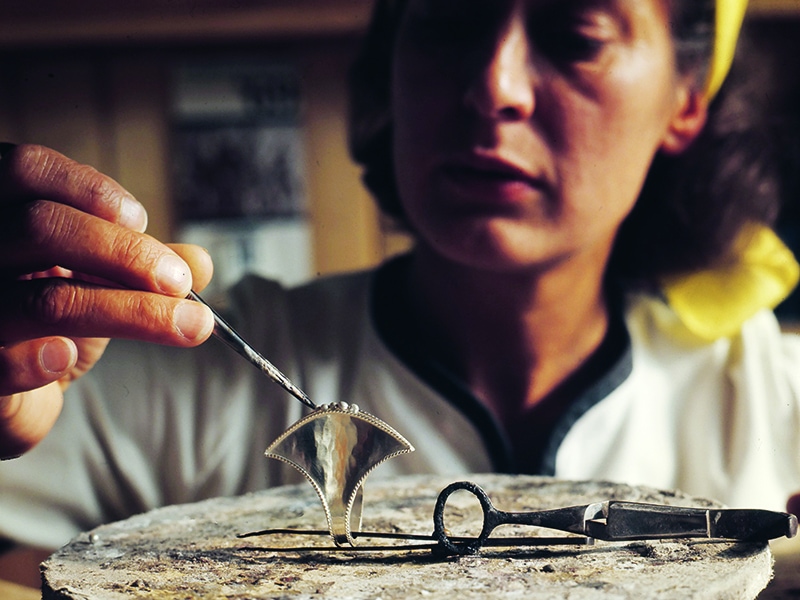 TALK—ROSA TAIKON: JEWELLERY AS A MEDIUM OF STRUGGLE, JUNE 1, 2023
Christina Zetterlund will discuss Roma silversmith Rosa Taikon, whose work challenged institutional racism while renewing two different traditions—Modern Swedish Art jewelry alongside a Roma jewelry practice. Taikon staunchly advocated for her people's rights in Sweden without sacrificing the sensuous beauty of silver. June 1 at 9 a.m. Stockholm time. Register here. JF published Zetterlund's review of the permanent Taikon exhibition here.
---
WINNERS OF LEGNICA JEWELLERY FESTIVAL SILVER ANNOUNCED
Awards went to Youjin Um, Iris Hummer, Susanne Hammer, Tadeusz Jaśkowiak, Christina Karababa, Teresa Dantas, Magdalena Szadkowska, Arek Wolski, Marcin Boguzław, and Sharareh Aghaei. The theme was "Quality." Twelve exhibitions remain up until July 16, 2023.
---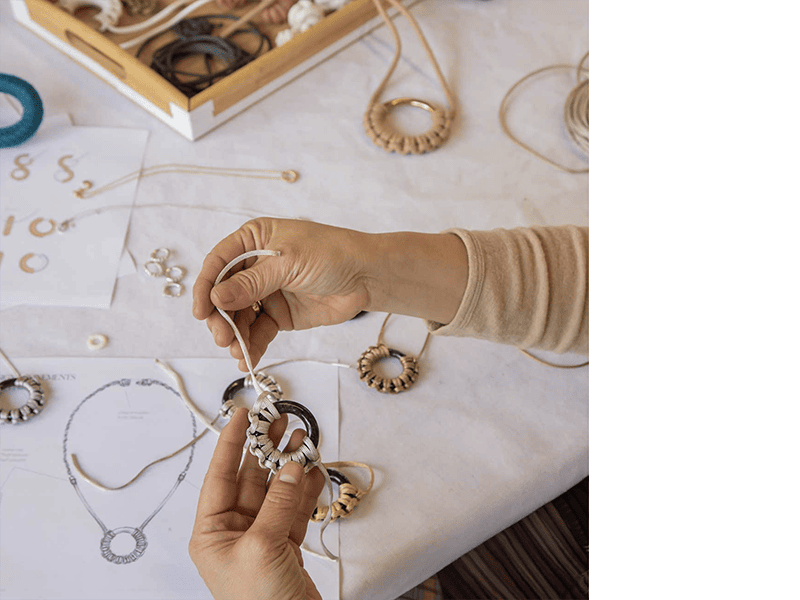 KNOTWORK ARTIST TO DO A JEWELRY COLLAB
Windy Chien will translate her fiber art into fine jewelry for the Cast jewelry company, creating eight pieces that include earrings, rings, and pendants. Chien's large-scale work is exciting, and the collab seems to be creating a stir, but does the jewelry really warrant that? Read an interview with Chien.
---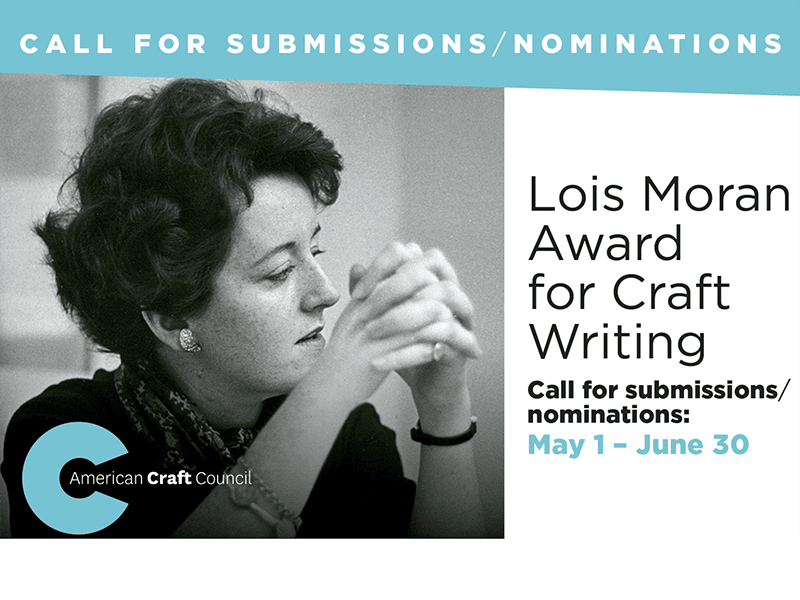 OPEN CALL: LOIS MORAN AWARD FOR CRAFT WRITING
The award honors a thoughtfully written and dynamic individual article or essay on some aspect of American craft. International applicants are welcome if the writing is in English and addresses American craft. Submit here.
---
ENDING TODAY: THE JEWELRY SYMPOSIUM FOR THE ADVANCEMENT OF JEWELRY MANUFACTURING TECHNOLOGY
Speakers included Nanz Aaalund, Chris Ploof, Pat Pruitt, and G. Phil Poirier. See the topics.
INTERESTING LINKS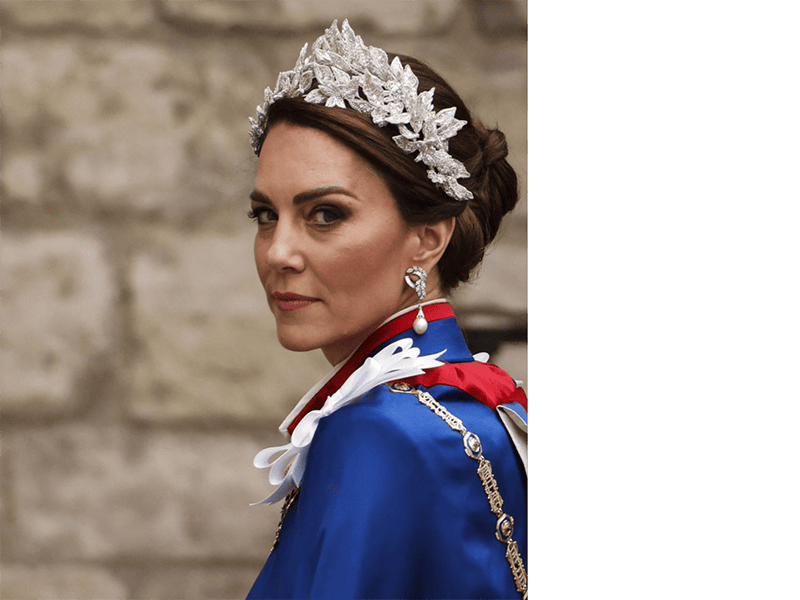 CORONATION JEWELRY
Take a look at the bling royals from around the world wore to King Charles's coronation.
---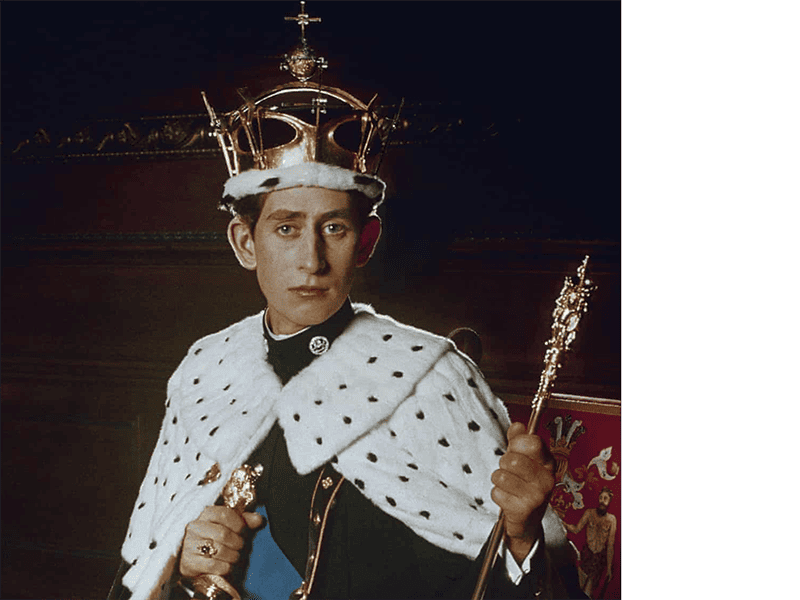 PING-PONG BLING-BLONG
Royal headwear may have reached its climax with the crown topped by Scorpio symbols and a ping-pong ball that Charles wore in 1969 when he was invested as the Prince of Wales. Perhaps it's an apt symbol of the monarchy, with its hollow plastic orb wrapped in a sparkly veil of hokum. This article covers the hidden history of British crowns.
---
PRINCESS DIANA DESIGNED JEWELRY
Among the coronation celebrations and the crowning of Queen Camilla, there's the opportunity to buy some of the jewelry Diana designed for herself. No sign of any ping-pong balls here. Read the story.
---
ENTERTAINMENT ROYALTY WON'T BE OUTDONE BY SOME PUNY CORONATION
Across the ocean, celebrities in the US shone in their opulent display of jewels and crystals at the Met gala. Lil Nas X covered himself in 218,784 Swarovski crystals. See the looks.
---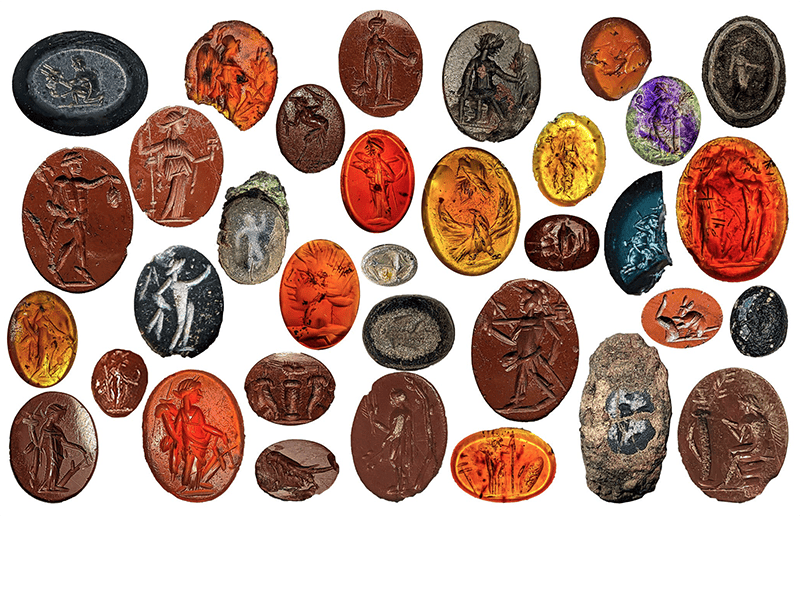 DISCOVERED DOWN THE DRAIN: 36 ANCIENT ROMAN INTAGLIOS
"The statesman Cicero observed that people wore portraits of their favorite philosophers on their rings," writes NYT reporter Franz Lidz, "a tradition that has not survived on today's QVC Network." Wealthy visitors to bathhouses preferred the risk of losing the stones down the drain to leaving jewels in the changing rooms and having them stolen while bathing. Read the article.
---
LUZ CAMINO MARKS 50 YEARS OF MAKING BUT IS LITTLE KNOWN
However, anyone with a passion for jewelry will know of her, says Emily Stoehrer, the curator of jewelry at the Museum of Fine Arts, Boston. "A collector will whisper Luz's name to another jewelry lover as someone you need to know or collect." Read the article.
---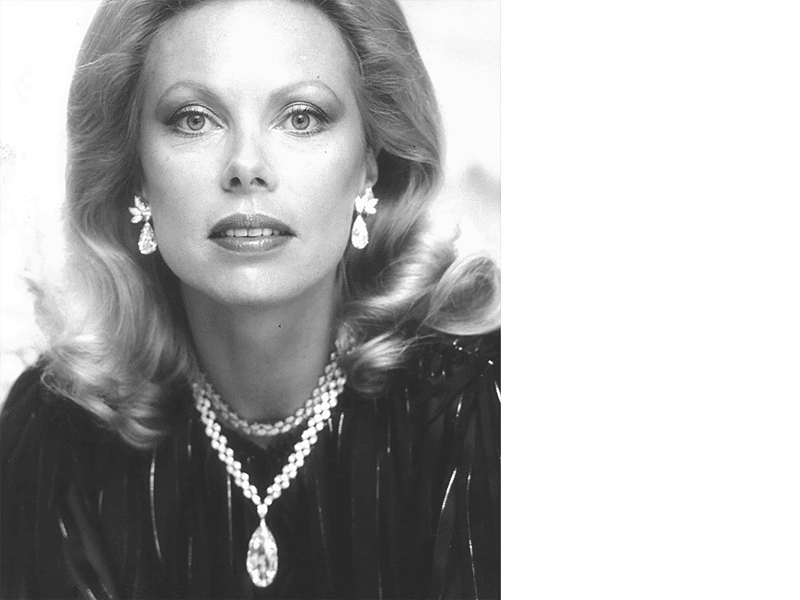 NAZI CLOUD HANGS OVER JEWELRY COLLECTION ON THE BLOCK
"One of the most beautifully curated collections that will ever come up on auction in the jewelry world," according to the president of Christie's, is being criticized for the appalling past that led to its possession. More. The sale takes place May 3–15, 2023. We'll see how bothered potential buyers are by its ugly past.