Catherine Blackburn was born in Patuanak, Saskatchewan, of Dene and European ancestry. She is a member of the English River First Nation. Blackburn is a multidisciplinary artist and jeweler whose common themes address Canada's colonial past, often prompted by personal narratives.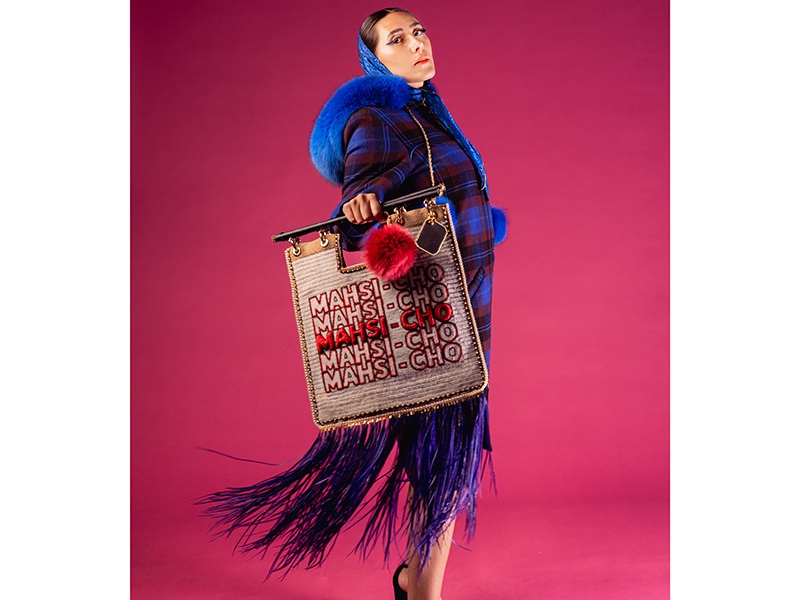 In her practice, Blackburn merges mixed media and fashion to create dialogue between historical art forms and new interpretations of them. US Secretary of the Interior Deb Haaland—the first Indigenous cabinet member—wore Blackburn's jewelry in her well-known shoot for June 2021's InStyle magazine, and the artist's jewelry has also been featured in Vogue.
By working with beadwork and other historical adornment techniques, Blackburn creates a space to explore Indigenous sovereignty, decolonization, and representation. Visit her website here.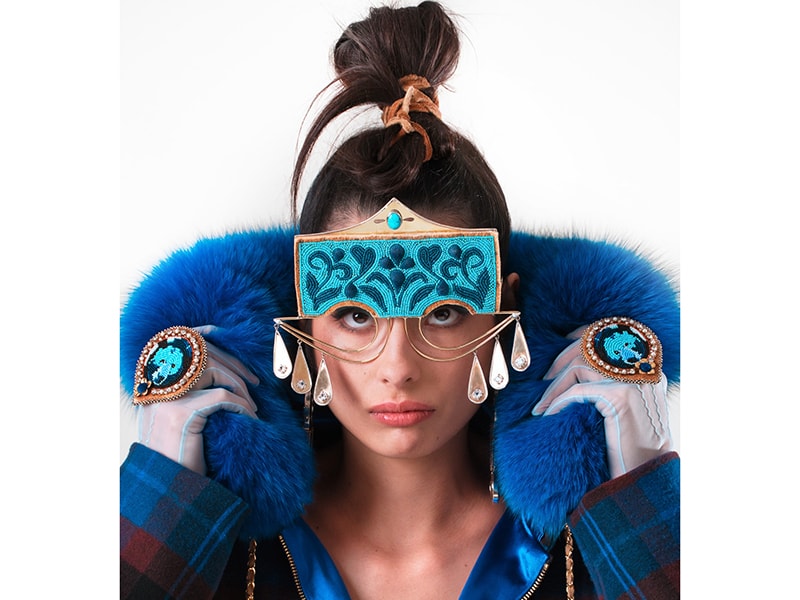 Art Jewelry Forum: Congratulations on being one of the finalists for the 2023 Susan Beech Mid-Career Grant—what an accomplishment! Please tell us about yourself. How did you become interested in making jewelry? What inspires your work?
Catherine Blackburn: On my maternal side, I come from a family of traditional garment makers, beadwork artists, trappers, and fishermen who utilize their exceptional skills to live in relationship with the land. As a child, on visits to Patuanak, I would watch as kin returned from hunting trips downriver with wild game tucked away in their hand-built wooden skiffs as Grandma waited on shore, knife in hand, ready to begin preparing all the goodies that would be consumed or reused.
My Setsuné (grandmother) created incredible beaded garments from these animal skins. I would watch in wonder as she skinned, stretched, and smoked them into golden brown hides, a process that can take weeks and requires precision and expertise. Afterward, she would station herself at her beading table, stitching into them beautifully bright and intricate motifs.
When I create using traditional techniques or materials, such as smoked moose hide or animal hair, I am directly linked to my culture through a powerful connection that is rooted in ancestral knowledge, sovereignty, and love. Just as my grandmother created work imbued with intention and meaning using slow-fashion processes—processes defined as labors of love—I create work inspired by her. For me stitching is medicine, and when I sit at my beading table, I fall into making in a way that isn't considered labor.
Tell us about the project with which you applied for the grant.
Catherine Blackburn: I was excited to expand into more site-specific documenting that would include some of my wearable collaboration work from the latest collection, Convergence. These works are living vessels on the body, moving present into future as carriers of ancestral knowledges. It is important that these wearable works be documented and activated as I continue to explore embodied connections to the land.
The scope of this project is large. As components of this newly debuted collection are in demand and become dispersed for various exhibitions, it was always my hope to have them embodied through film. My transition into larger collaborative projects over the past four years has been critical to my practice and resulted in fully realized components not attainable through solo exploration. For this component I would continue to collaborate with other Indigenous artists. The geographical barriers and finances required to work with these artists has me at a standstill in its development. This grant would allow the time, travel, and resources to bring this component to fruition.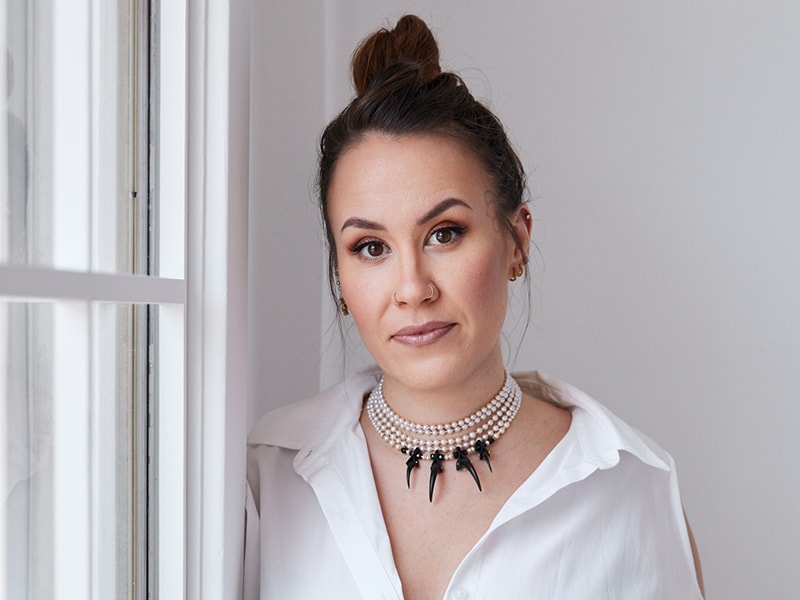 How do you think being a finalist will affect you? Will it influence you in the future?
Catherine Blackburn: I am not sure. Perhaps it will allow more exposure to my practice internationally.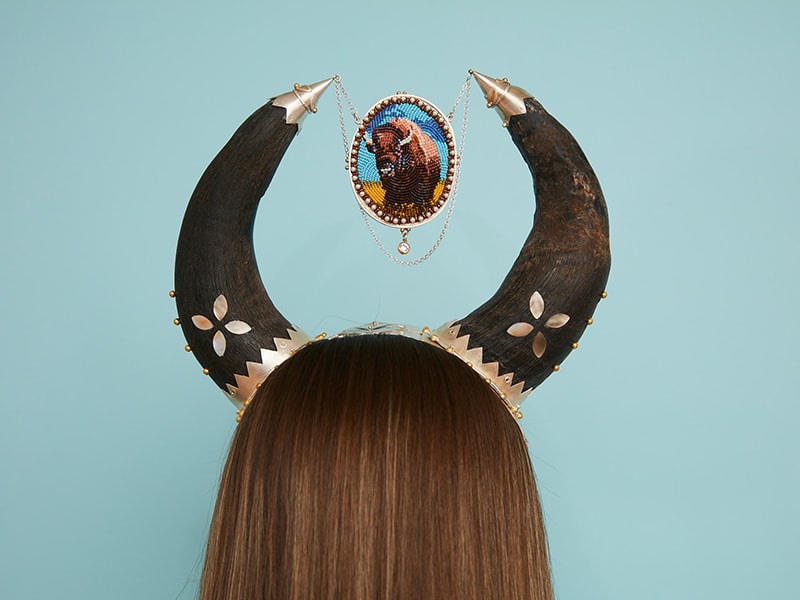 What excites you about the art jewelry field?
Catherine Blackburn: Adorning Indigenous bodies has always been a way of life for Indigenous people. The suppression of these art expressions began in the early 19th century through forced assimilation by the Canadian government and Christian missionaries. My work in wearable work explores the duality of Indigenous presence and absence through exploring tactics of colonial erasure. In this way, adornment is an act of resistance. It's a political statement in its survival and through its reclamation. In this way stitchwork is a statement of power in its refusal to be erased by the oppressive history of colonization, by instead celebrating the continuum of Indigenous presence and identity.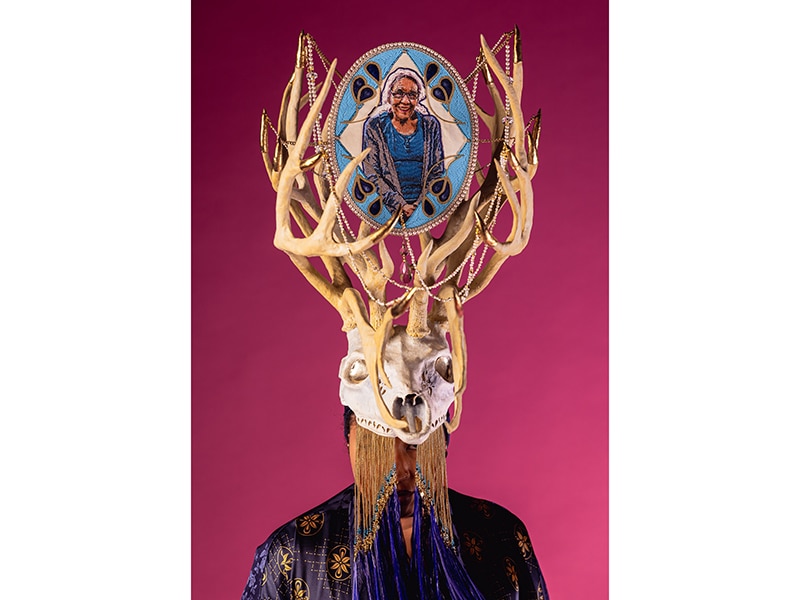 Have you experienced any frustrations with the field?
Catherine Blackburn: I feel it is difficult for people to see beadwork jewelry as anything more than a commodity at times. This type of stitchwork and the materials it is made with go far beyond "product" and "commodity." Their materiality describes history, medicine, and love for our communities. When you purchase beadwork/stitchwork jewelry, you are investing in an heirloom item that is celebrating culture and honoring an immense amount of love and respect.
For centuries this work has been devalued and viewed as "craft," when it is one of the oldest forms of high-end, exquisitely luxurious couture work.
What direction do you think art jewelry as a whole is going? Do you see any new and inspiring trends?
Catherine Blackburn: I feel that, much as with clothing trends, more consumers are interested in wearable "artworks" and sustainability within their fashion choices. I feel there is more of an interest in knowing where your product comes from, how it is made, and what story it tells. I hope that consumers can continue to learn about the artworks they wear and the deeper connections they offer.
Where would you like your practice to be five years from now?
Catherine Blackburn: I hope to have expanded on new modes of making that add to my wearable works practice, perhaps shifting more into moving image. Mainly I hope to continue to find joy in the making while having my works worn and celebrated.