February 2022, Part 2
Art Jewelry Forum is pleased to share the news that members of our community find noteworthy. Is something missing? The success of this compilation of compelling events, exhibitions, and items of interest to the jewelry community depends on YOUR participation. If you're a member of AJF at the Silver level or above, you can add news and ideas to the monthly report by going here. If you aren't a member, but would like to become one, join AJF here.
Listings gathered with assistance from Carrie Yodanis.
AJF LIVE
WHO WILL WIN AJF'S $7,500 AWARD???
AJF Live: Announcement of the Winner and Four Finalists of the 2022 Young Artist Award! Wednesday, March 2, 12 p.m. EST. Free. Register here to find out who gets the prize.
FEEL LIKE SEEING A JEWELRY SHOW?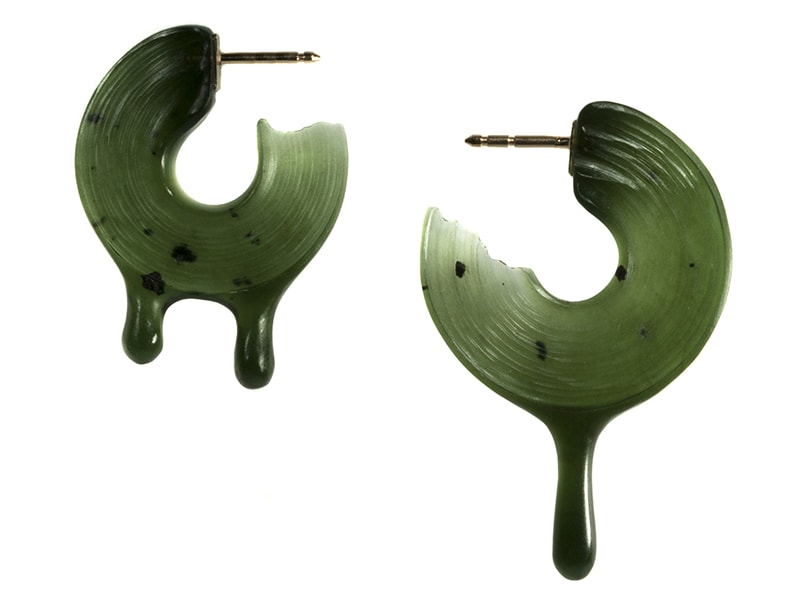 Find these listings—and many, many more—on our dedicated exhibition page:
A Matter of Time: Julia Maria Künnap, at Platina, through February 26, 2002.
Winter Exhibition 2021–2022, at Galerie Door, through February 27, 2022.
Staffan Jonsson, at Four Gallery, through March 5, 2022.
Katharina Dettar, at Galerie Marzee, through April 3, 2022.
FROM OUR MEMBERS
OPEN CALL—LEGNICA SILVER FESTIVAL
The next edition of the Legnica Jewellery Festival SILVER will take place in Legnica, Poland, on May 13–14, 2022. The most important event of the festival is the 30th International Jewellery Competition TOUCH. Deadline for submitting: March 27, 2022. The festival also features numerous individual and collective exhibitions. Within the exhibition series About the Artists, Silver Schools and Debuts, the organizers present both well-known artists with a rich artistic output and students at art colleges studying jewelry design and creation.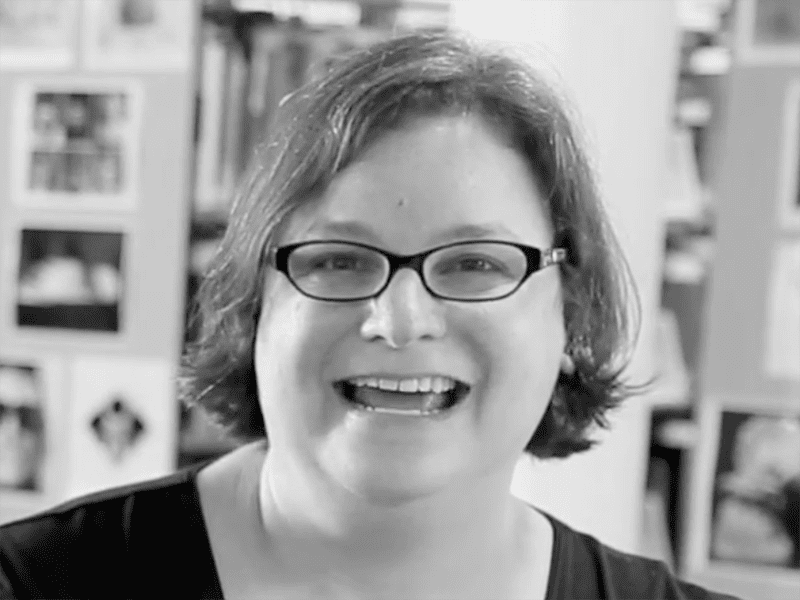 JEWELRY JOURNEY INTERVIEWED CURATOR CINDI STRAUSS
Listen to Sharon Berman's most recent podcast here.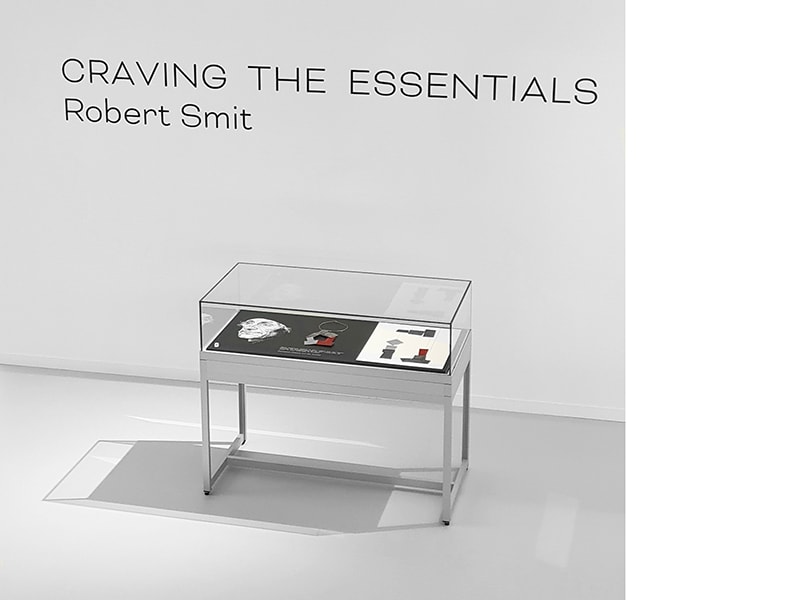 THEREZA PEDROSA RECOMMENDS ROBERT SMIT EXHIBITION
With Craving the Essentials, through April 24, 2022, CODA presents an overview of the rich and varied oeuvre of visual artist Robert Smit. Although he mainly gained fame as a jewelry maker, this exhibition shows the wide range of his oeuvre and his development as a visual artist. Craving the Essentials combines his photography, drawings, and recent digital prints with jewelry from museological and private collections from the Netherlands and abroad.
MARILYN DA SILVA RECEIVES PRESTIGIOUS FELLOWSHIP
A pioneer who devised and refined the application of gesso and colored pencil on metal, da Silva has been named a Montgomery Fellow, one of Dartmouth's highest honors. This is the first time in the Ivy League college's history that a jeweler/metalsmith has won a Montgomery Fellowship. Mobilia Gallery is planning a retrospective of da Silva's work for 2022.
30 FINALISTS ANNOUNCED FOR LOEWE FOUNDATION CRAFT PRIZE
The jewelers among them: Trinidad Contreras, Julia Obermaier, and Vera Siemund. The winner will be announced June 30. An exhibition of all shortlisted works opens July 1 at the Seoul Museum of Craft Art. Peter Bauhuis and Ramón Puig Cuyàs served on the Experts Panel. See all finalists.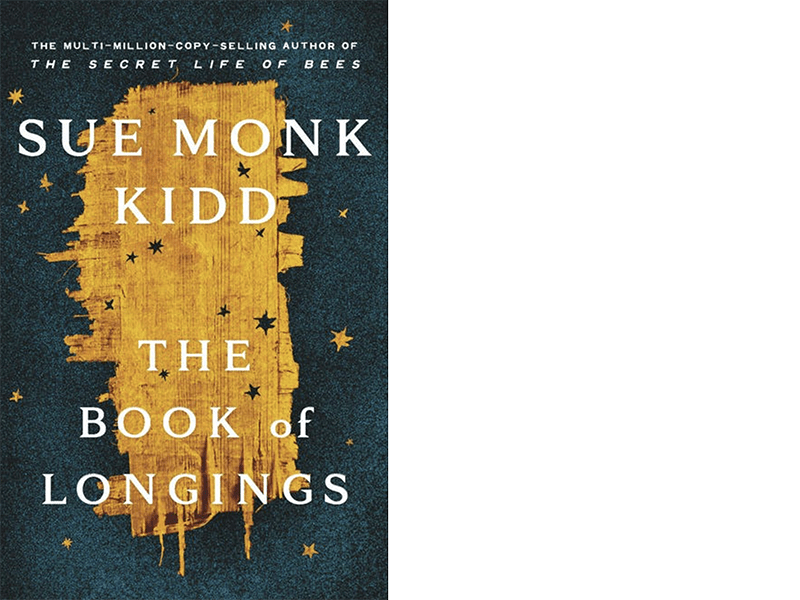 BOOK RECOMMENDATION
Julie Simpson has enjoyed The Book of Longings, by Sue Monk Kidd—maybe you would, too? "I love books that consider what life would look like if women had been included in history. This book imagines who would have been the most silenced woman in history if she had existed: the wife of Jesus."
OPPORTUNITIES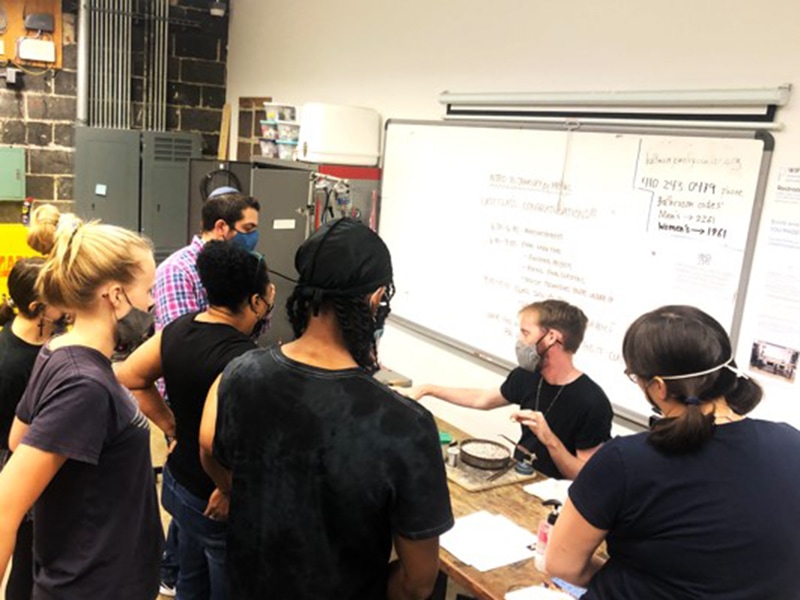 TEACHING FELLOWSHIP AT BALTIMORE JEWELRY CENTER
BJC is offering one three-year teaching fellowship. In addition to gaining teaching experience, the selected fellow will develop pedagogical skills, build leadership experience, and play an influential part in a vibrant community. Applicants should have an MFA in metals and/or jewelry, or a BFA in metals and/or jewelry with work experience. Some prior teaching experience highly preferred. Location: Baltimore, MD, US. Application deadline: April 15, 2022 (decision by May 31). Start date: late August 2022. Additional information.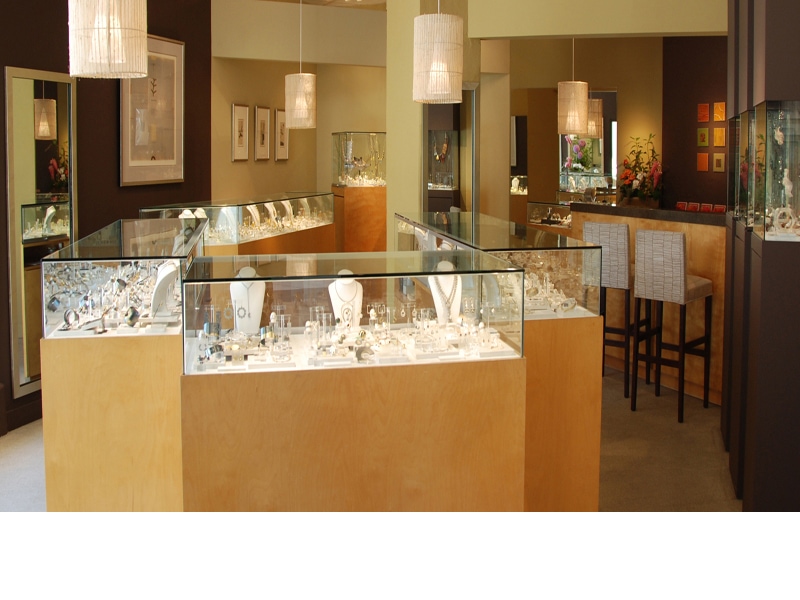 DE NOVO IS HIRING A RETAIL SALES ASSOCIATE
De Novo Fine Contemporary Jewelry, located in downtown Palo Alto, CA, seeks a retail sales associate for either a full-time or part-time position. They're looking for someone who loves contemporary jewelry and is enthusiastic about sharing their knowledge with others. The ideal candidate will have retail sales experience in jewelry, fashion, or art gallery sales. A background in fine arts or training as a jeweler is a plus. Submit resumé to [email protected].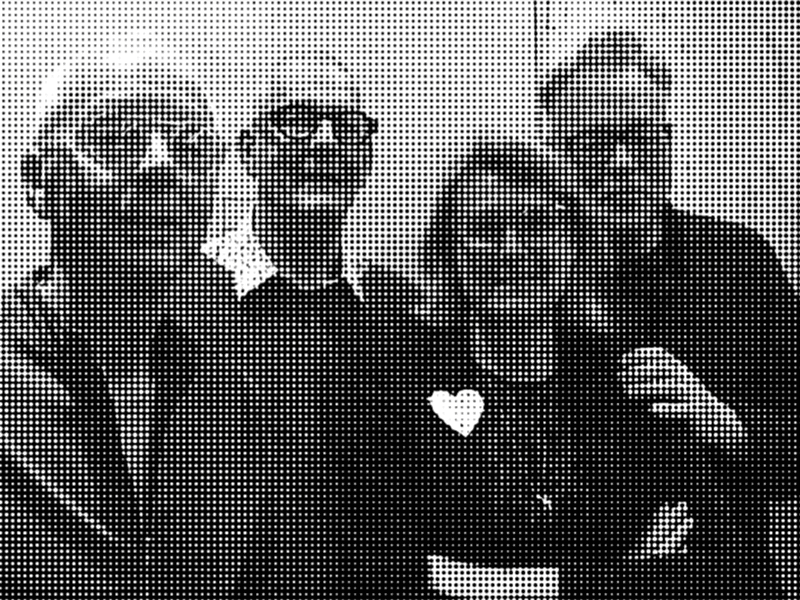 MASIERAAD APPLICATION DEADLINE EXTENDED TO MARCH 21, 2022
Questioning jewelry critically as art or design is essential for the future of the jewelry profession. MASieraad takes a broad view of jewelry. Its program recognizes the making of jewelry, in its intimate, symbolic, human, and material facets, as a learning model for contemporary design in a broad sense. Info.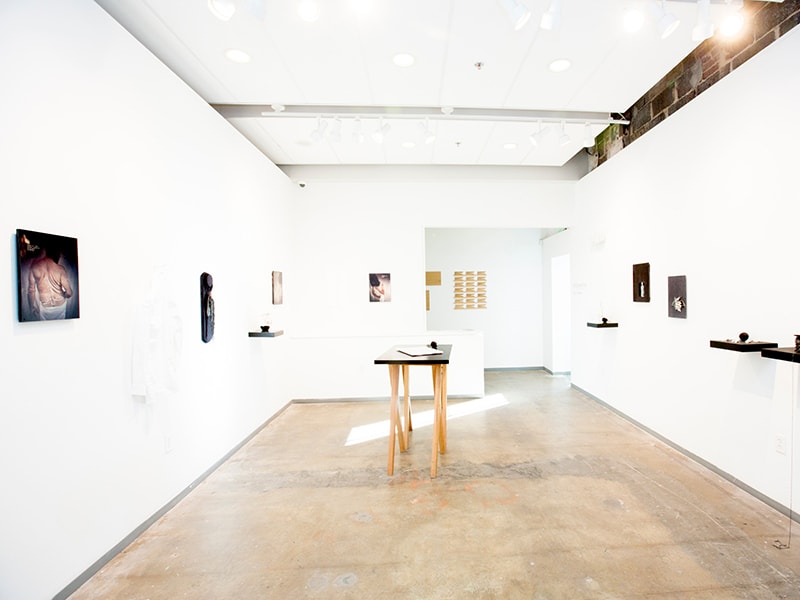 BJC SEEKS MEMBERS FOR EXHIBITIONS COMMITTEE
To provide a broader perspective to its exhibition development, the Baltimore Jewelry Center seeks new volunteer members for its Exhibitions Committee. BJC is committed to creating a diverse and inclusive studio and gallery to elevate underrepresented voices. It recognizes the historic lack of representation of people of color in positions of authority and oversight of artistic spaces. For this reason, BJC is particularly interested in welcoming voices of color to its committee. The volunteer-based exhibitions committee meets approximately every 6–8 weeks for 1 ½–2 hours. Email [email protected] with a statement of interest and CV. Deadline: March 31, 2022. More info.
ONLINE COURSE—FANTASY, FAKE, OR FAUX: THE FABULOUS HISTORY OF COSTUME JEWELRY
Taught by curator, jewelry historian, AJF board member, and co-founder of NYC Jewelry Week Bella Neyman. Four lectures and two virtual visits with costume jewelry aficionados will focus on themes including prominent names in costume jewelry, Bakelite, jewelry produced for fashion houses, major centers for the production of costume jewelry, as well as materials and techniques. February 24–March 31, 2022, $200. Register here.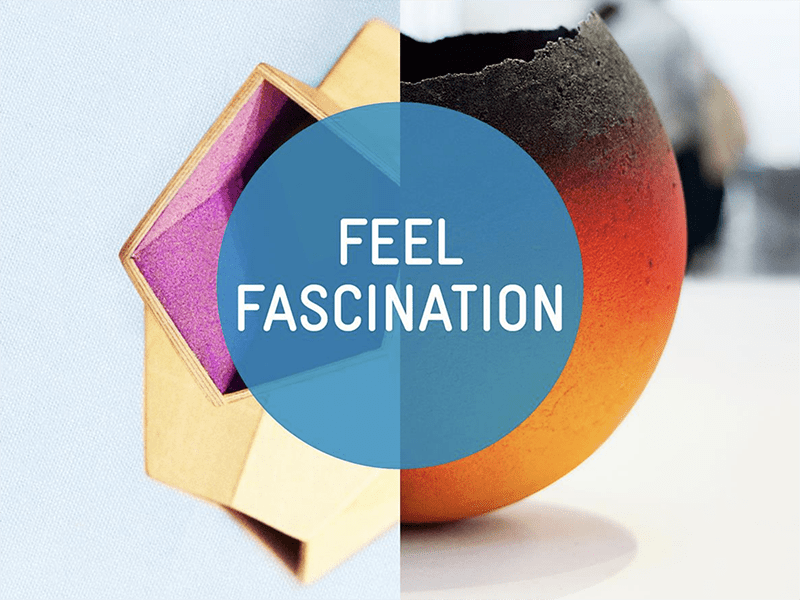 APPLY NOW TO TAKE PART IN FRAME
The open call is aimed at galleries in the fields of applied arts, crafts, and design. Frame will take place during Schmuck, July 6–10, 2022. Application deadline: May 15, 2022. Information.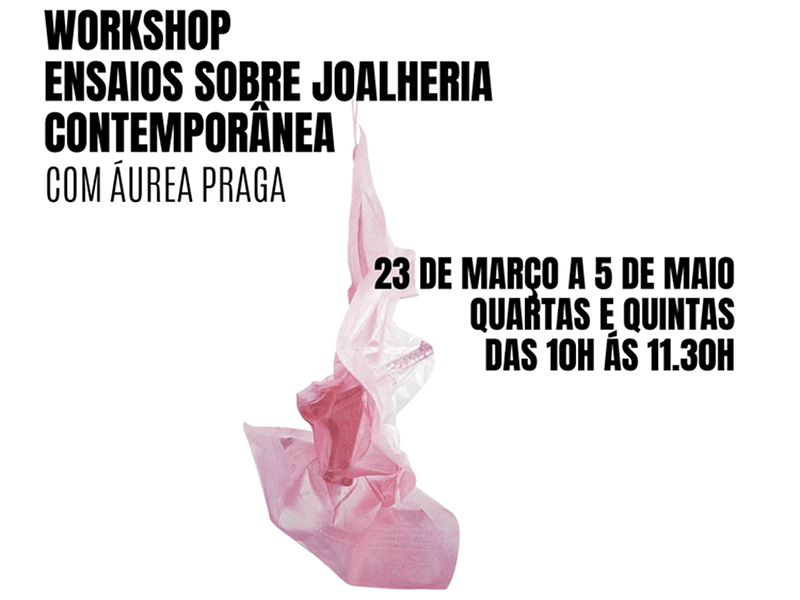 ONLINE WORKSHOP
Essays On Contemporary Jewelry, with Áurea Praga. Over 14 sessions, participants will build a critical discourse about the diversified context of contemporary jewelry. A practical exercise will be carried out, with each participant creating a contemporary jewel, following defined guidelines. At the end of the course, attendees will have more tools to understand how to place their own work in the broader context of jewelry and its main events. Offered by Galeria Alice Floriano. Info.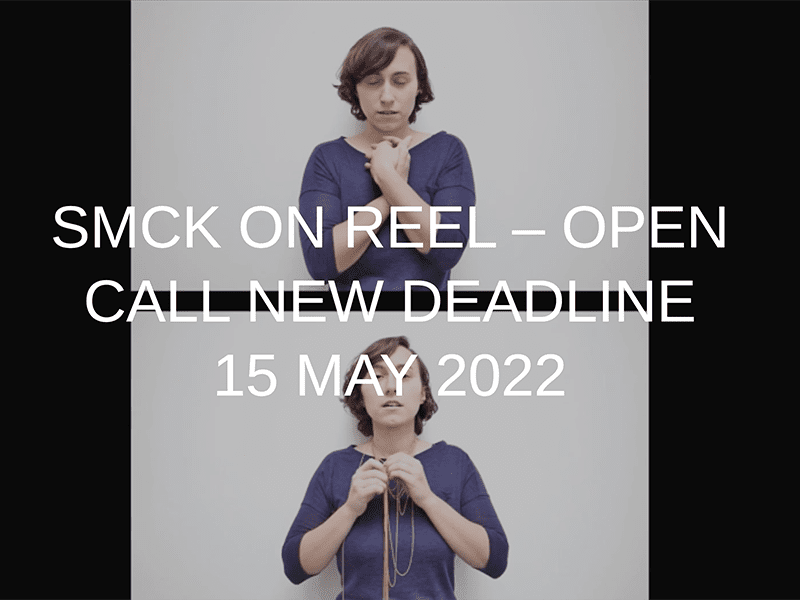 SMCK ON REEL DEADLINE EXTENDED TO MAY 15, 2022
This program introduces video works by participating artists; watch the preview trailer. Deadline revised due to the date change of Schmuck/jewelry week. Artists, gallerists, schools, institutions, and corporations may participate in the international video festival from July 7–10, 2022. Information.
OPEN CALL FOR AUTOR 2022
All countries and nationalities eligible. The jury seeks strong concepts, powerful ideas, meaningful pieces, storytelling, and originality. No restrictions regarding material, size, or concept. Application deadline: March 20, 2022. Info. Autor will take place May 28–29, 2022, in Bucharest, Romania.
SNAG HOLDS IT 50TH ANNUAL CONFERENCE THIS YEAR
With the theme The Creative Capital, the conference will take place June 1–4, 2022, in Providence, RI. Info.
PAGES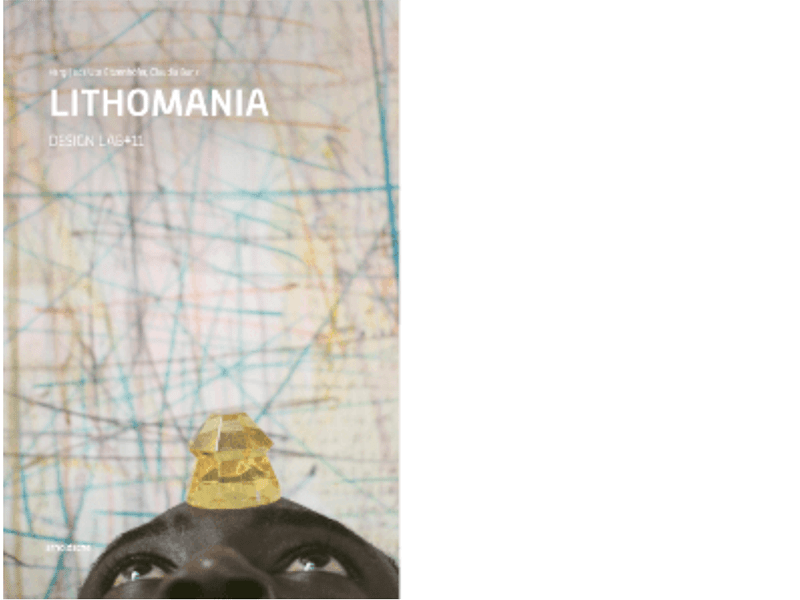 BOOK
LithoMania: Design Lab #11, edited by Claudia Banz and Ute Eitzenhöfer; from Arnoldsche. Rare stones have fascinated people for thousands of years. They trigger longings and prompt criminal activity. Their extraction causes bloody conflicts, but the trading and processing of stones also brings together people from the most remote regions of the world. In LithoMania, students at the Idar-Oberstein Campus confront these ambivalent imperatives.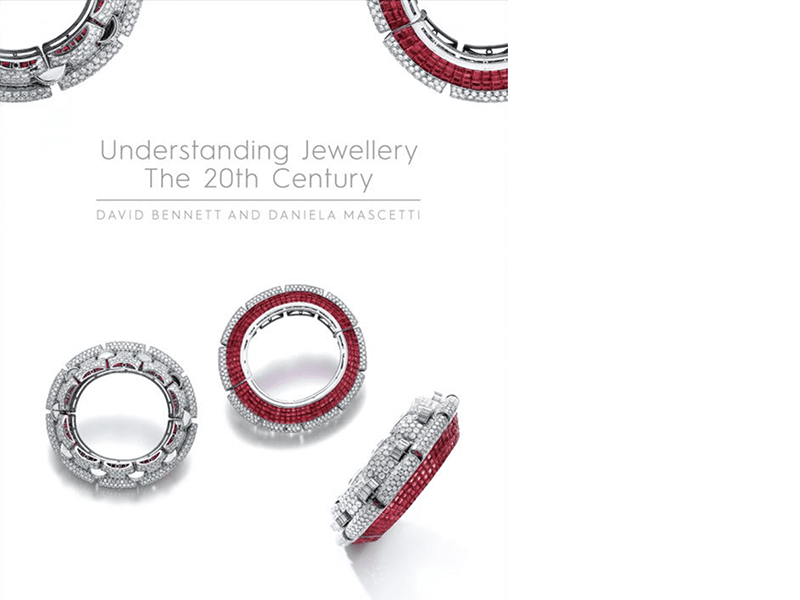 BOOK
Understanding Jewellery: The 20th Century, by David Bennett Daniela Mascetti; from Acc Art Books. First published in 1989, Understanding Jewellery has remained in print ever since. In this new work, the authors have taken the original concept a step further. With the benefit of 20 years of hindsight, they have concentrated on the 20th century alone, conducting a detailed survey of each decade and identifying the key players, trends, and movements. An encyclopedic history of the various forms, techniques, and materials employed by the companies and individuals who defined jewelry in the 20th century.
Buccellati: A Century of Timeless Beauty; from Assouline. Since its establishment in Milan in 1919 by Mario Buccellati, a jeweler's apprentice, the famed Italian jewelry house quickly became one of Italy's most respected jewelers, with prestigious clientele including the famous dandy and poet Gabriele D'Annunzio, the royal families of Italy, Spain and Egypt, the Pope and cardinals of Rome, and international celebrities.
Cartier and Islamic Art: In Search of Modernity, by Pascale Lepeu, Violette Petit, Heather Heynon-Renaud, Évelyne Possémé, Heather Ecker, Sarah Schleuning; from Thames & Hudson. A sumptuous exploration of the ways in which the Islamic arts have inspired the famous jewelry house Cartier, this book accompanies a major exhibition at the Musée des Arts Decoratifs, Paris, and the Dallas Museum of Art.
Louis Cartier (1875–1942), the grandson of Cartier founder Louis-François, was an impassioned collector and patron of the arts. He was particularly entranced by Islamic arts, especially Persian book arts: their geometric shapes, color combinations, and motifs are apparent in Cartier jewelry to this day.
Tadema Gallery London: Jewellery from the 1860s to 1960s, by Beatriz Chadour-Sampson and Sonya Newell-Smith; from Arnoldsche. Tadema Gallery was founded in 1978 by Sonya and David Newell-Smith. They showed an eclectic choice of jewels from significant designers of the Revivalist, Art Nouveau, Arts & Crafts, Jugendstil, Art Deco, and Modernist movements. With over 500 unique jewelry pieces, the book reflects the 40-year history of the gallery and the superb eye of its inspirational founders.
BOOK
Jewellery Illustration and Design, Vol. 2: From the Idea to the Project, by Manuela Brambatti and Cosimo Vinci; from Hoaki. Having learned about geometry, perspective and representation of materials in the first volume, this second book in this two-part series delves deeper into the process of designing jewelry, from the first sketch to the final representation, with special emphasis on how to work on ideas, plan a collection, and design and depict a wide variety of pieces.
INTERESTING LINKS
KAREN PONTOPPIDAN TO BECOME PRESIDENT OF THE ACADEMY OF FINE ARTS, MUNICH
Considered one of the most renowned jewelry artists of her generation, the professor and curator will assume the role on April 1. Learn more. Congratulations!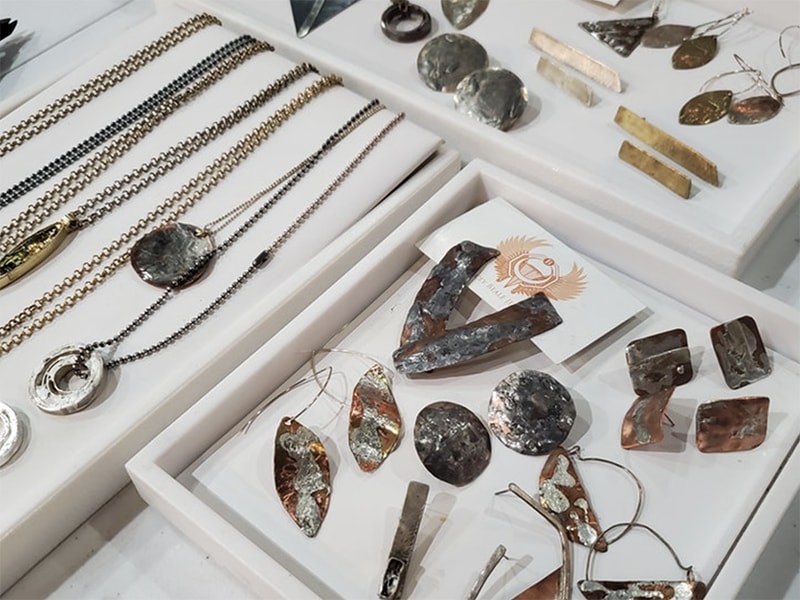 THE QUEUE INTERVIEWS TRACEY BEALE
Beale creates metal jewelry and copper wall art that she describes as modern relics. Beale's interest in African artifacts and articles of adornment informs much of her work. Read the interview.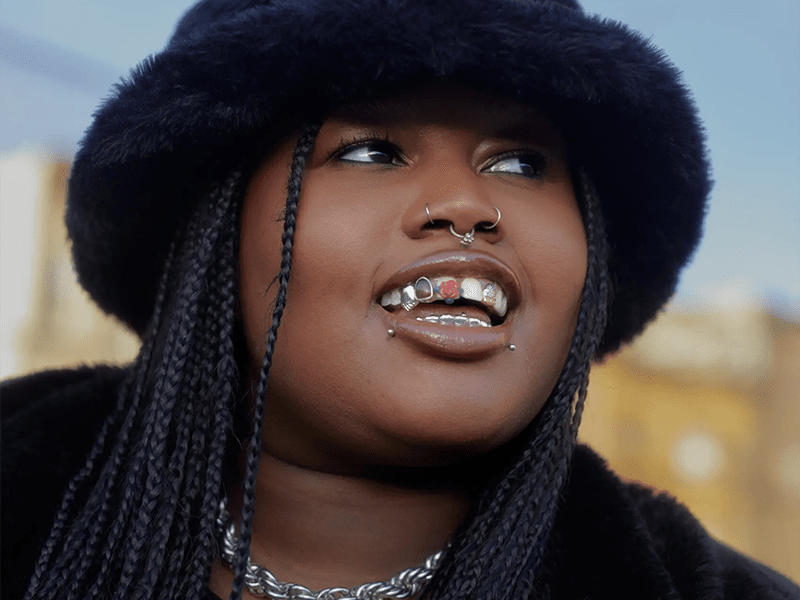 GRILLS, GRILLS, GRILLS!
A fascinating in-depth article about Helen Harris, who makes intricate grills using a network of vendors in New York City's diamond district. Read it.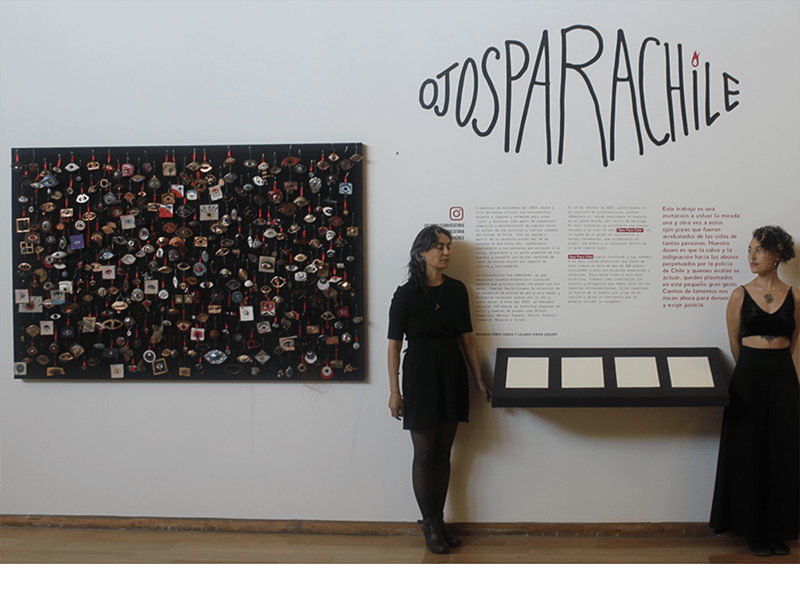 THE EYES HAVE IT
Liliana Ojeda and Aranda Feres Ojeda initiated a call for jewelers and silversmiths to create "eyes" that would serve as a symbolic reparation and repudiate the actions of the police and armed forces of Chile. Learn more about the subsequent exhibition in Garland.
REUT RINGEL ADAPTED CAR MANUFACTURING TECHNIQUES TO MAKE BLACK GOLD
Ringel uses outsize, irregular Baroque pearls, each enhanced with black gold made using a patent-pending process the 27-year-old developed by evolving techniques used in aerospace and automobile manufacturing. Read an interview here.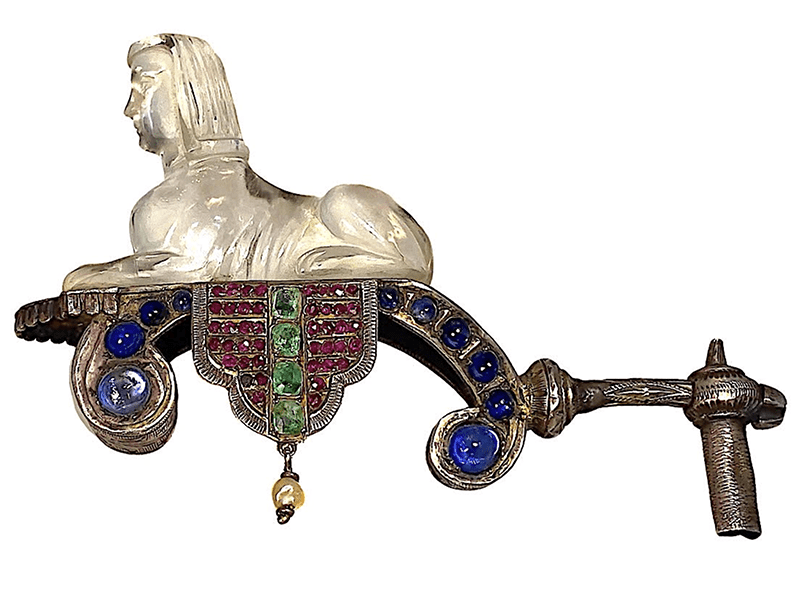 COULD CONSERVATIVE CHRISTIAN ICON PAT BOONE ALSO BE A JEWELRY EXPERT?!?
The bizarro story of the Talisman of Napoleon, once traded on Ebay for a pair of golf clubs. Its owners now hope to sell it for a cool $250 million.
HEALING CRYSTALS AS JEWELRY TREND
During the last couple years of stress, people turned to crystal jewelry for comfort.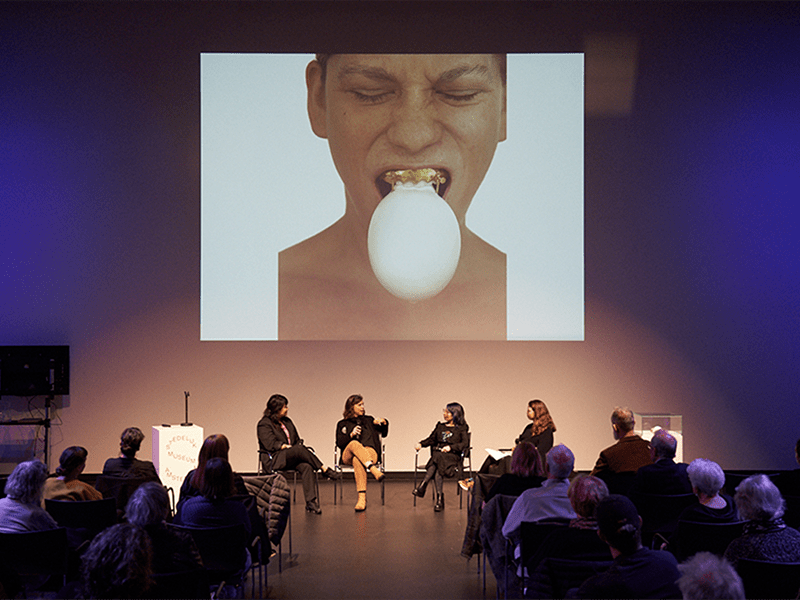 "DESIGNING ADORNMENT, QUESTIONING BEAUTY" SYMPOSIUM
Watch the complete symposium on the Stedelijk Museum Amsterdam's YouTube channel. Read the review by Saskia van Es. Read Nina Groeskamp's blog post on Modemuze.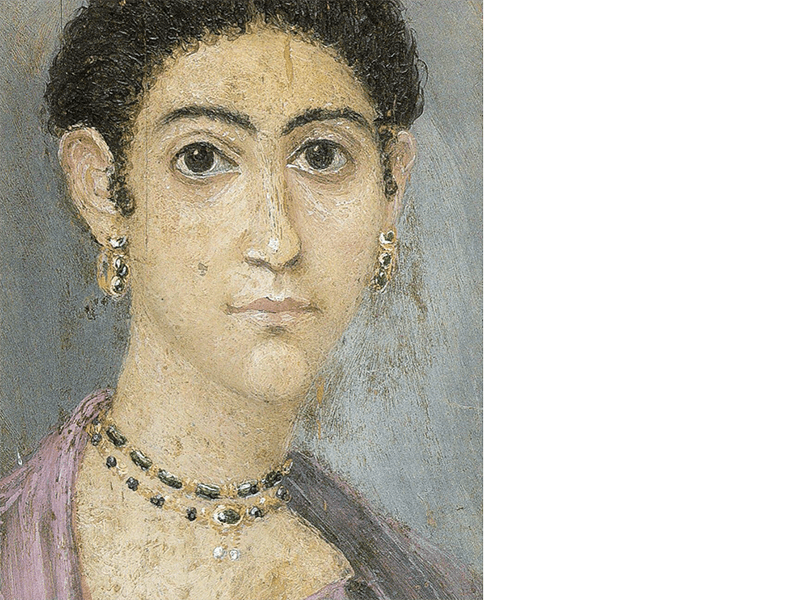 CHOKERS—LITERALLY ALWAYS IN STYLE
From ancient times to today, the neck-hugging style has consistently had fans. It seems to be riding a new wave of popularity. A search engine that tracks fashion trends spotted an increase of 25.6 percent of choker "use" (how specific!) from 2021 to 2020. Is this really news? Seems like the fashion writers are reaching. Read the article.
LAB VS. MINED DIAMONDS
Everything you need to know about mined versus lab-grown diamonds, if that's your bag. This article doesn't focus on art jewelry, and it's super commercial, but it got lots of attention on social media.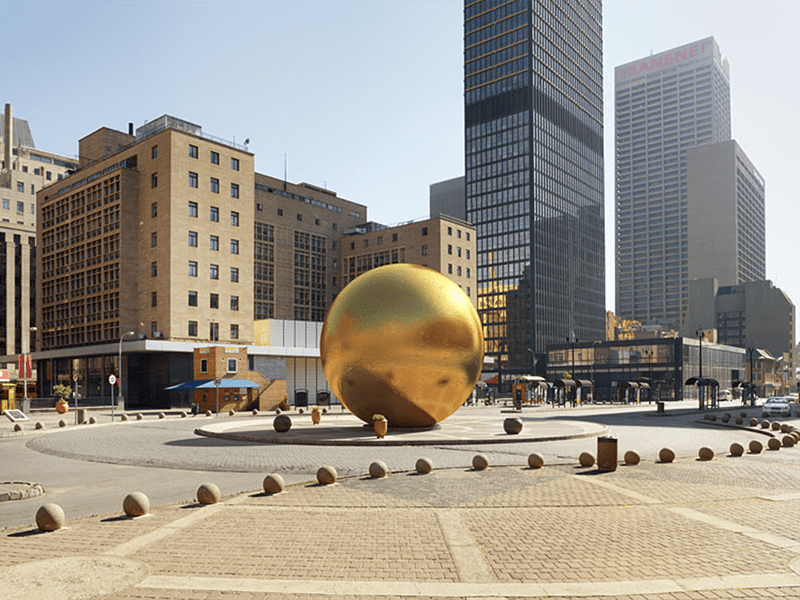 DILLON MARSH EXPLORES A TENUOUS RELATIONSHIP
With mines, humans scar the landscape, extracting value from the earth but also exacting a price. The CGI objects in these photos represent scale models of the materials removed from the ground to visualize the output of various mines in South Africa. See more.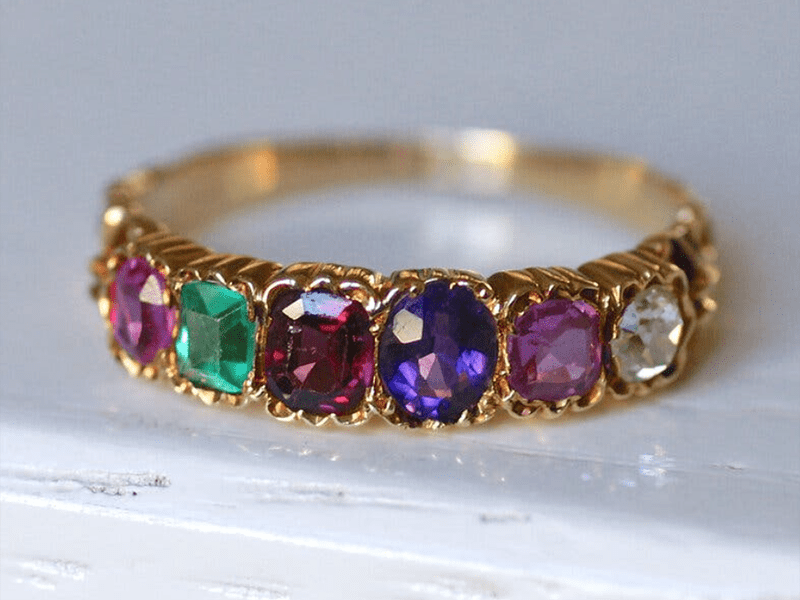 ACROSTIC JEWELRY
An old and new-again trend with a message coded in gems. The first letter of each stone spells a word; for example, lapis, opal, viridine, and emerald equals "love." Can you spell "G-I-M-M-I-CK"?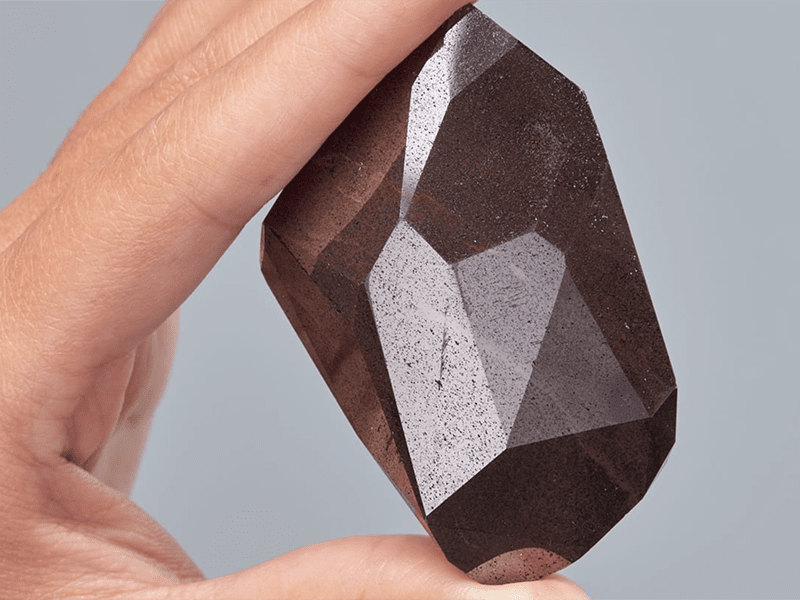 FOR SALE: 555.55-CARAT BLACK DIAMOND FROM OUTER SPACE
A natural faceted black diamond of this size is an "extremely rare occurrence," according to Sotheby's, which expects it to sell for as much as $6.8 million. Read the article.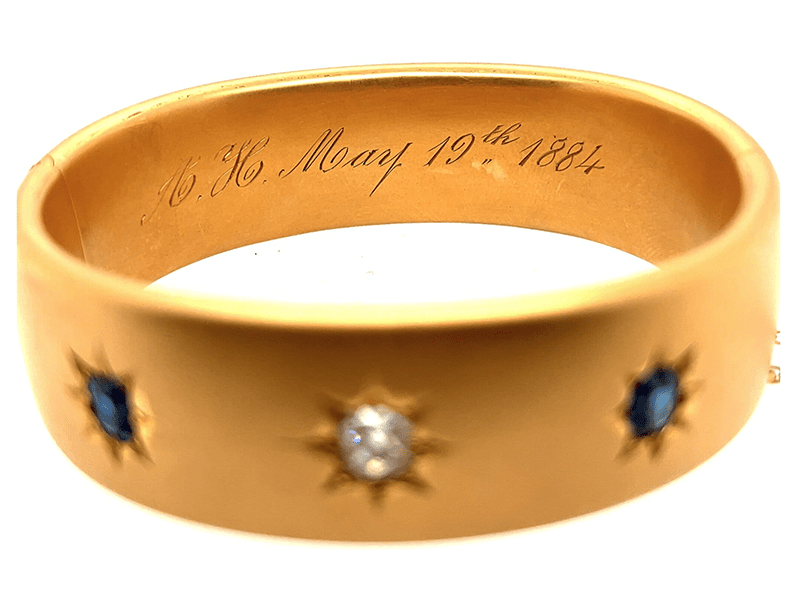 VINTAGE JEWELRY IS HOT HOT HOT
Experts give advice for maneuvering the market.